In this article we look at the top breakout shows of the past week. Breakout shows are the most in-demand series that have premiered in the past 100 days.
In its first full week since premiering on July 14th, Resident Evil had an outstanding premiere on Netflix. In the past week, it had 25.7 times the demand of the average series and ranked as the second most in-demand show that has premiered in the past 100 days. The show is an adaptation of the popular video game series, which has already been adapted for TV and film several times before. Netflix and other streamers have had recent successes creating in-demand series from video game IP.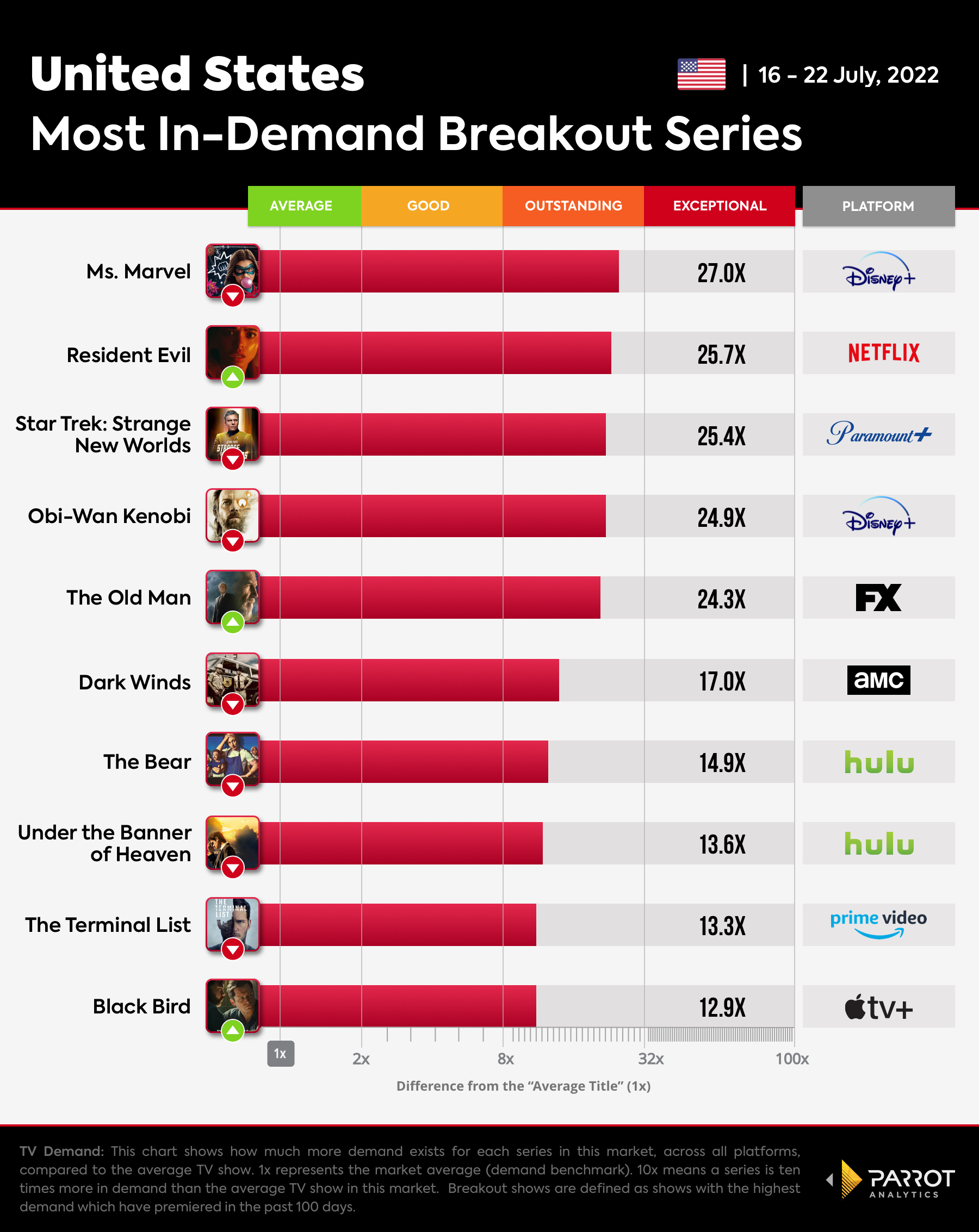 Ms. Marvel ranked as the most in-demand breakout show this week, with 27 times the average series demand. This was more a function of demand for Obi-Wan Kenobi and Star Trek: Strange New Worlds rapidly falling off this week. Ms. Marvel had its season finale on July 13th and reached its peak demand that week. The show consistently grew in demand each week of its release, an indicator that while it might not have been the most in-demand Marvel series premiere, it was able to retain and grow its audience throughout its first season. Star Trek: Strange New Worlds and Obi-Wan Kenobi both saw double digit percentage declines in their demand this week, dropping from first and second place respectively.
The Old Man from FX saw a slight uptick in demand this week as it released its season 1 finale on July 21. It has already been renewed for a second season. Additionally, two other series in the top ten this week were released on FX on Hulu - The Bear and Under the Banner of Heaven. FX continues to be a powerhouse when it comes to putting out content that attracts audience attention.
Black Bird from Apple TV+ was on of the biggest gainers this week. Demand for the series was 12.9 times the demand of the average series, a 35% increase from last week. This jump in demand comes midway through the limited series' six episode run, so there is still room to grow as the shows build momentum going into its finale.
---