If you haven't been watching The Last of Us you should be. Specifically the third and latest episode which aired on January 29th. It features Nick Offerman and Murray Bartlett as Bill and Frank, two minor characters from the video game, whose story gets filled out to an incredibly poignant subplot in the show. Global demand for the show hit a new high following the third episode.  It was 68.9 times the demand of the average series globally on January 31st and ranked as the fifth most in-demand show worldwide.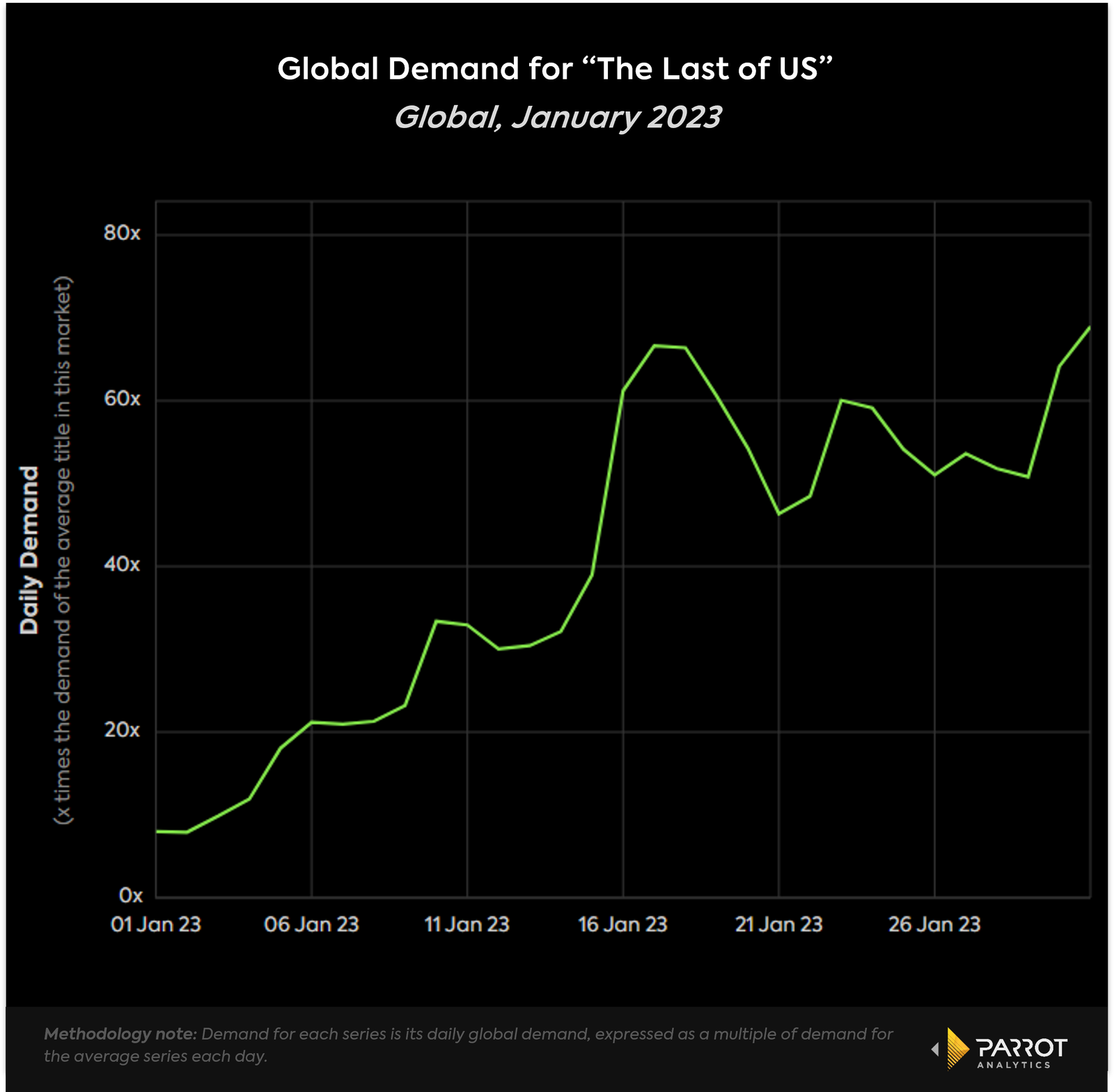 Critical acclaim is rolling in for the episode and its actors, who are understandably getting most of the attention from the episode.  As of January 31st, US demand for Nick Offerman and Murray Bartlett had reached the highest point in the past three years at 168x and 102x respectively. While Nick Offerman's prospects for next year's awards ceremonies are already being talked about, the person who looks set to benefit most from this episode in the short term might be Linda Ronstadt.
Wait who?
That's right. The 76 year old singer is experiencing a surge in interest after a song from her 1970 album Silk Purse featured in the latest episode of The Last of Us.  "Long, Long Time" (not coincidentally also the title of the episode) provided the musical backdrop to one of the episode's most touching moments.
We've seen this before.  Recall last year's surge in demand for Kate Bush following the key role her song "Running Up That Hill" played in the fourth season of Stranger Things. By playing a part in one of this generation's cultural touchstones Kate Bush was exposed to an entirely new audience that had likely never heard of her, but came to love her through her music's associations with a beloved piece of content.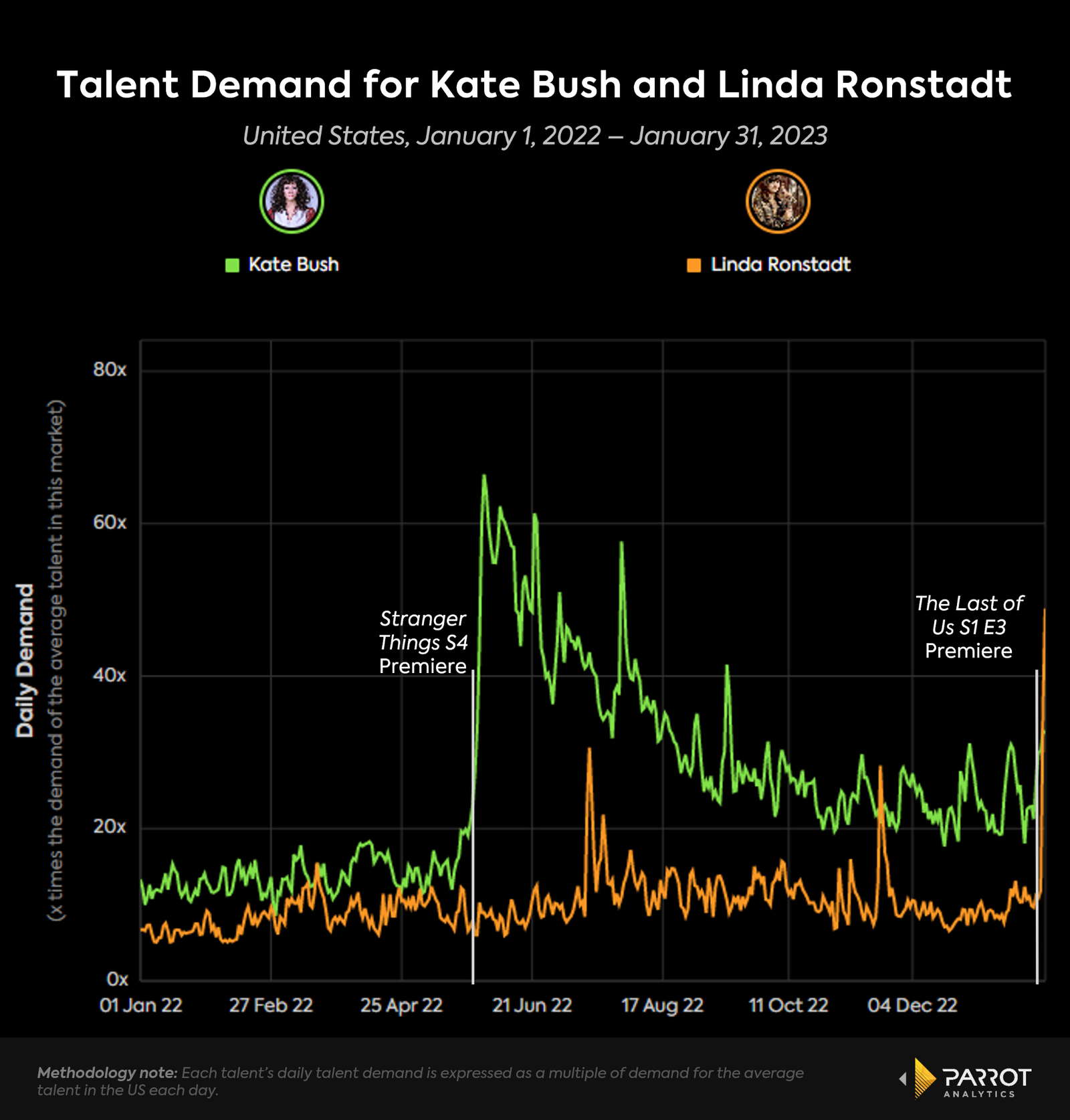 So far, two days after the third episode of The Last of Us premiered, US demand for Linda Ronstadt has more than quadrupled, going from 11.9x on January 29th to 48.9x on the 31st.  Compare this to Kate Bush's surge in demand following the premiere of Stranger Things Season 4 on May 27th. Her demand was starting from a higher point already on the day of the premiere (27.1x) and climbed to 44.6x two days later. By this metric Linda Ronstadt is outpacing Kate Bush in both absolute and % growth terms.  
Demand for Kate Bush peaked four days after the Stranger Things premiere on May 31st at 66.5x. Her demand fell gradually throughout the summer but ultimately settled at a higher baseline than she had been at prior to her newfound fame. This seems to indicate that she found new audiences who stuck around rather than being a fleeting summer trend.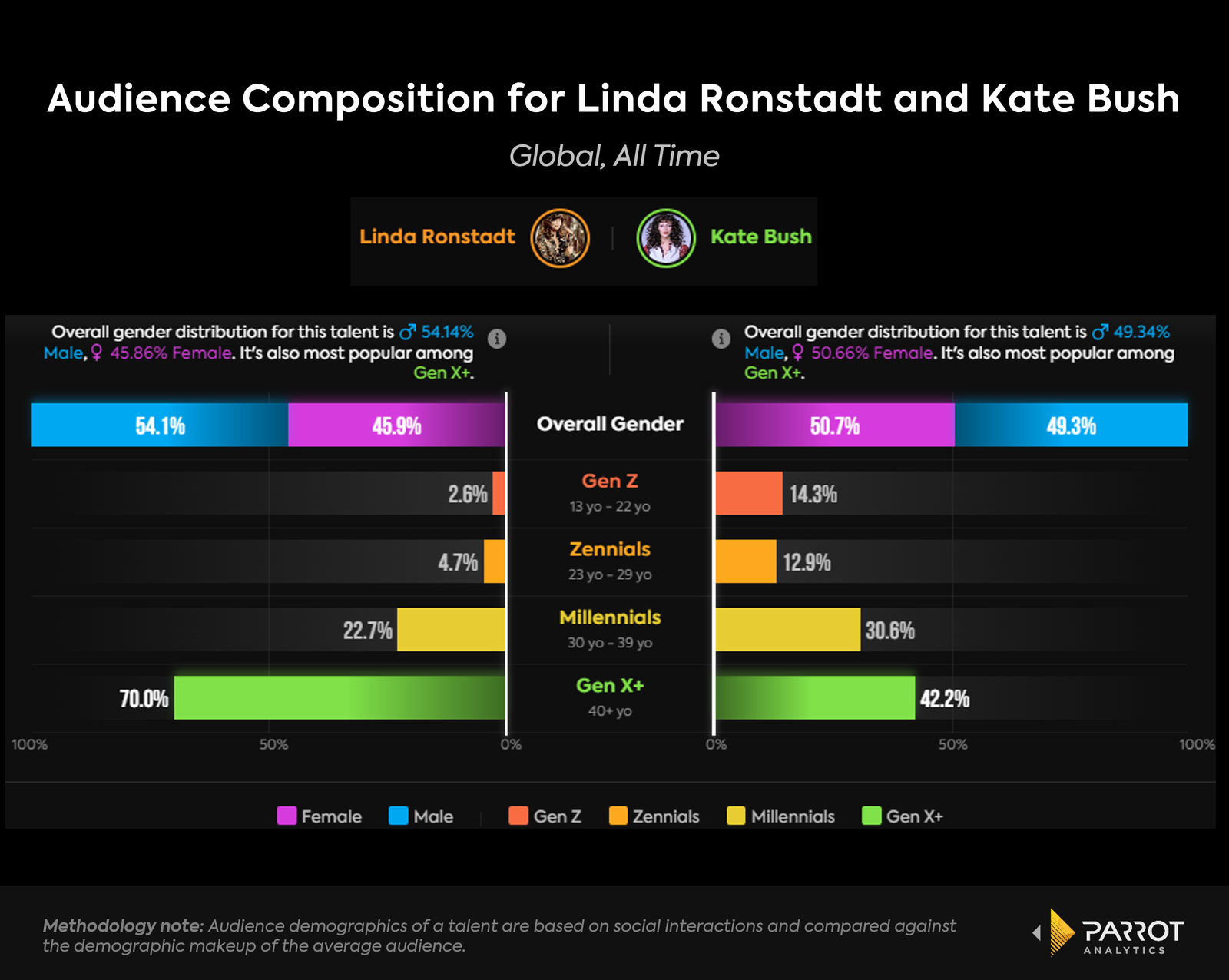 It remains to be seen how this surge in demand will play out for Linda Ronstadt, but one positive indicator we can look at are the demographics of her current audience.  Unsurprisingly, her current fanbase skews heavily towards older generations.  70% of her audience is made up of members of Gen X and older.  This presents an opportunity however.  Just like Stranger Things introduced Kate Bush to younger audiences, it looks like there is an even larger potential for Linda Ronstadt to  make inroads with younger audiences.  While it is a bit harder to imagine "Long, Long Time" getting the same dance remix treatment that "Running Up That Hill" received at the peak of its popularity in 2022, we'll have to wait and see.  In the meantime, sit back and watch those Spotify numbers tick up, Linda.
---