Amazon Prime Video is becoming more popular with American audiences. In the third quarter of 2022, Prime Video accrued the second-highest US demand share among SVOD platforms for original series at 9.3%, behind just Netflix. Importantly, Amazon has seen that number rise by 0.4 percentage points since the third quarter of 2021. Among the the top SVOD platforms, only HBO Max enjoyed higher demand growth in that period.
Amazon's biggest hope for the second half of 2022 is The Lord of the Rings: Rings of Power, allegedly the most expensive TV show ever produced. Released on September 1st, the series was the most in-demand Prime Video original in its release month as well as one of the 10 most in-demand digiatal originals, with more than 30 times more demand than the average show in the US market. Despite its outstanding demand, the Rings of Power performance is arguably not meeting lofty expectations considering the massive financial investment. The show has been a hit, but its far from being an unrivaled success among US audiences. In fact, Rings of Power was less in-demand than less costly shows like Netflix's Monster: The Jeffrey Dahmer Story and Apple TV+'s Ted Lasso in September.
Rings of Power is closely followed by The Boys, Amazon's second most in-demand production in September. That show is also the most successful superhero series in the US that is not part of either the Marvel or DC franchise. Another aspect of the top 10 Amazon Prime Video originals that stands out is the longevity of The Expanse. Almost seven years after the release of its first season and nearly a year after the release of the last one, the show is still one of Amazon's top streaming originals (the show's first three seasons aired on Syfy before moving to Prime Video).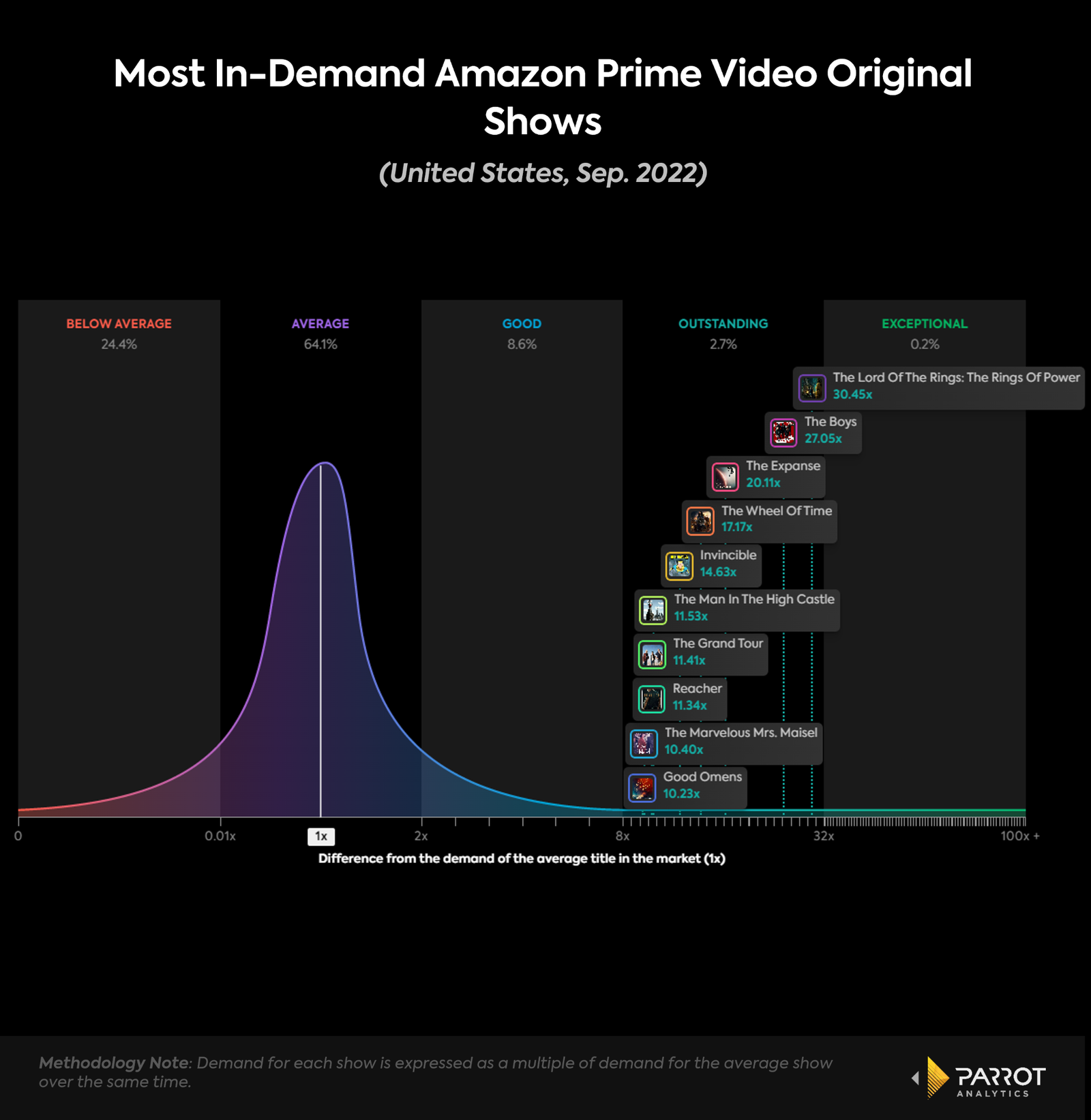 Amazon Prime Video operates with a different business model than its main streaming competitors. The SVOD platform, as well as Amazon Studios - the production arm of Amazon - are housed in a much larger holding company where streaming is not the core business (unlike Netflix). In the US Prime Video subscription is part of Amazon Prime membership, which provides benefits unrelated to streaming services such free shipping or same-day grocery delivery. In that sense, Prime Video subscribers are considered Amazon customers and production decisions are made considering how they help reduce Prime churn and increase the number of Amazon Prime subscriptions. 
This raises an important question: who is Amazon Prime Video attracting to Amazon Prime?  Using Parrot Analytics generational index, which shows how much content on a platform over or under indexes with each generation, we can see that Amazon Prime Video's catalog over indexes more with younger audiences (Generation Z and Zennials) and under indexes with the older ones (Millenials and Generation X Plus). This means that Amazon Prime Video is more capable of attracting younger audiences to the whole Amazon ecosystem, which may be complementary to the other benefits given to Amazon Prime members. These numbers are in line with data recently released by Amazon. The company reported that the average age of the audience for Thursday Night Football on Prime Video is six years younger than the typical NFL audience (47 years old on Prime Video vs. 53 years old on linear).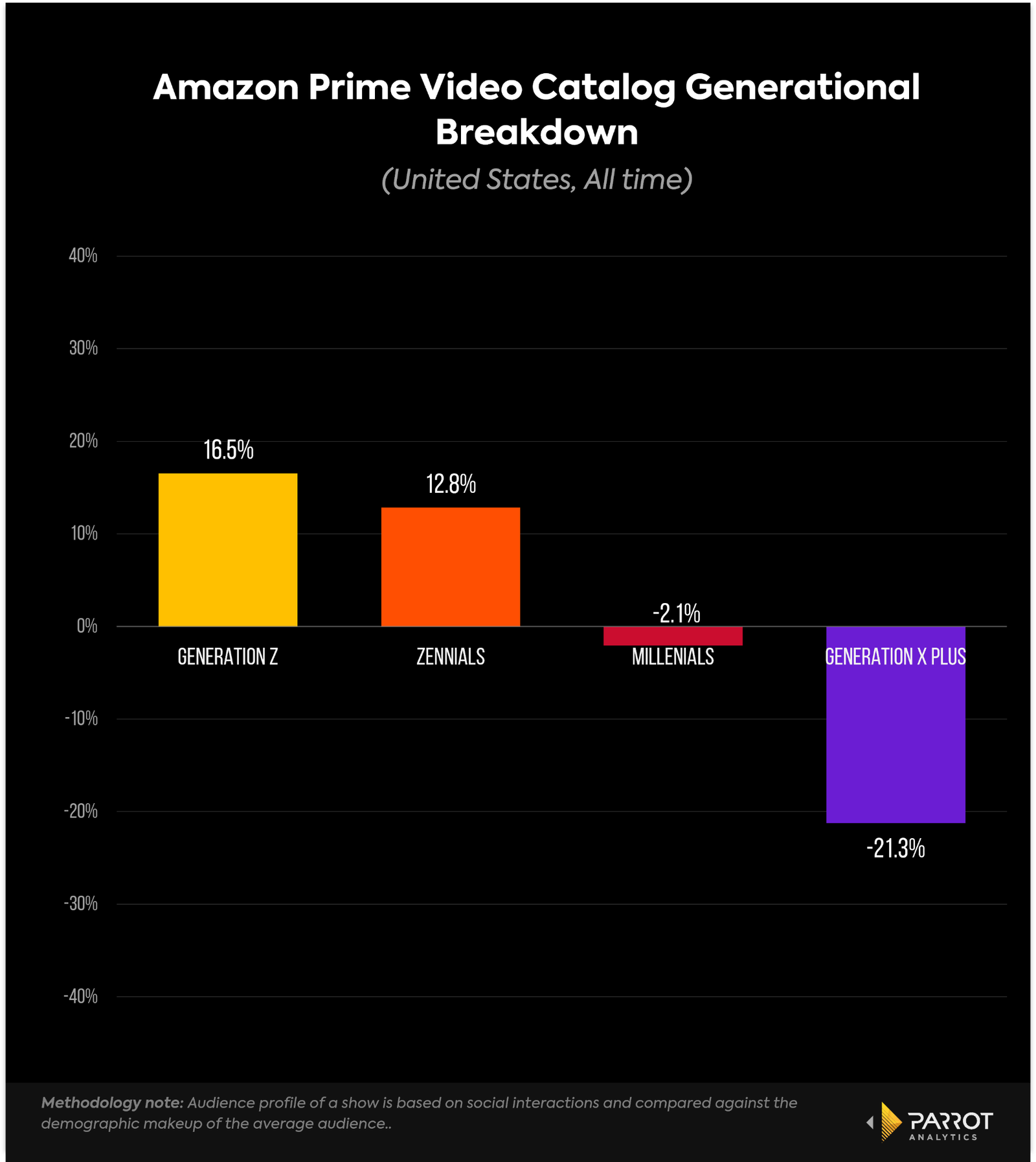 ---