Apple recently announced that it would be increasing the monthly price of a subscription to Apple TV+ from $4.99 to $6.99.  This 40% price hike is the first time the streamer has raised its price since launching in 2019.  The platform's $4.99 sticker price made it one of the most affordable streamers in the US, even considering its smaller catalog size relative to competitors.  The $5 price point was half the price of Netflix Basic, Paramount+ Premium, and Peacock Premium Plus - all ad-free tiers of competitors.
In a statement about the price increase, Apple said: "We introduced Apple TV+ at a very low price because we started with just a few shows and movies. Three years later, Apple TV+ is home to an extensive selection of award-winning and broadly acclaimed series, feature films, documentaries, and kids and family entertainment from the world's most creative storytellers."
When we look at how demand for all shows available on the platform has changed since 2021 this is measurably true.  Demand for shows on Apple TV+ more than doubled from January 2021 to September 2022.  From this perspective, Apple TV+ is making good on its value proposition to subscribers.  The rapid growth in both the amount of content on Apple TV+ and the total demand for its catalog appears to justify the price hike.  Even at the new price, the platform is still among the lowest cost ad-free plans available, now tied with discovery+ who's ad-free tier also costs $6.99.
A benefit of Apple TV+'s focus on building out a platform of must-watch original content is that all this content is exclusive to the platform.  Therefore, while Apple TV+'s total catalog of content might be smaller than other streamers, its ability to draw in subscribers punches above its weight because all of this content is only available on Apple TV+.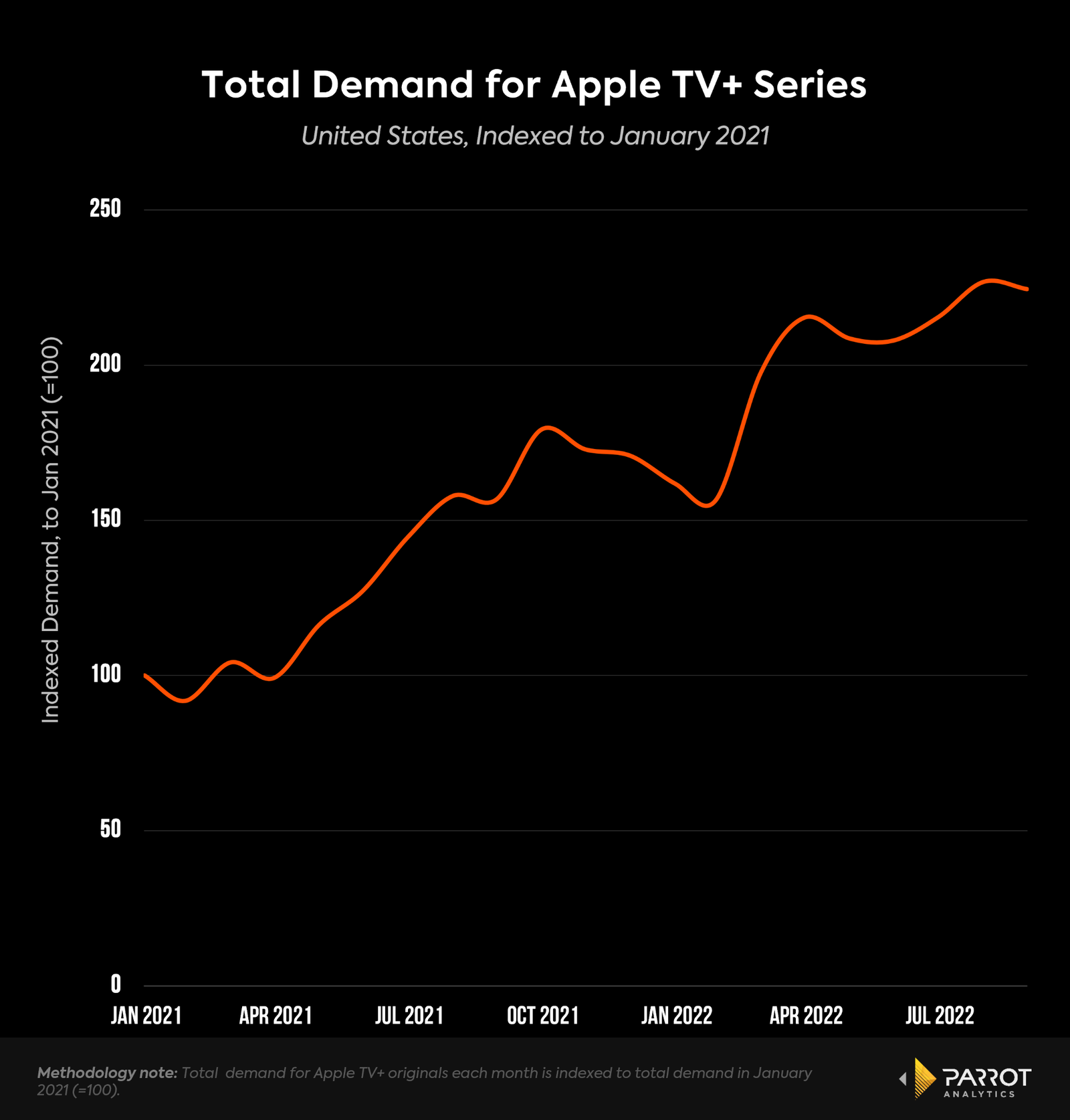 Apple TV+ has managed this growth not by recklessly pouring money into ballooning the amount of content on its platform but by making smart content investments that have resulted in a library of high quality content that has won critical acclaim. At this year's Emmy awards both Ted Lasso and Severance were among the most awarded shows of the night. CODA became the first Best Picture winner distributed by a streaming platform at this year's Academy Awards.
But it isn't just critics and Academy voters falling in love with Apple TV+ - its shows are also winning the hearts of audiences around the world. In Q3, the average Apple TV+ series had 4.4 times the demand of the average series. This puts it ahead of other major streamers in terms of the amount of attention its series attract on average. It even leads Disney+ slightly in this measure. While Disney+ continues to crank out mega-hits from its Marvel and Star Wars franchises, a number of less in-demand series from the platform have brought its average original demand below that of Apple TV+.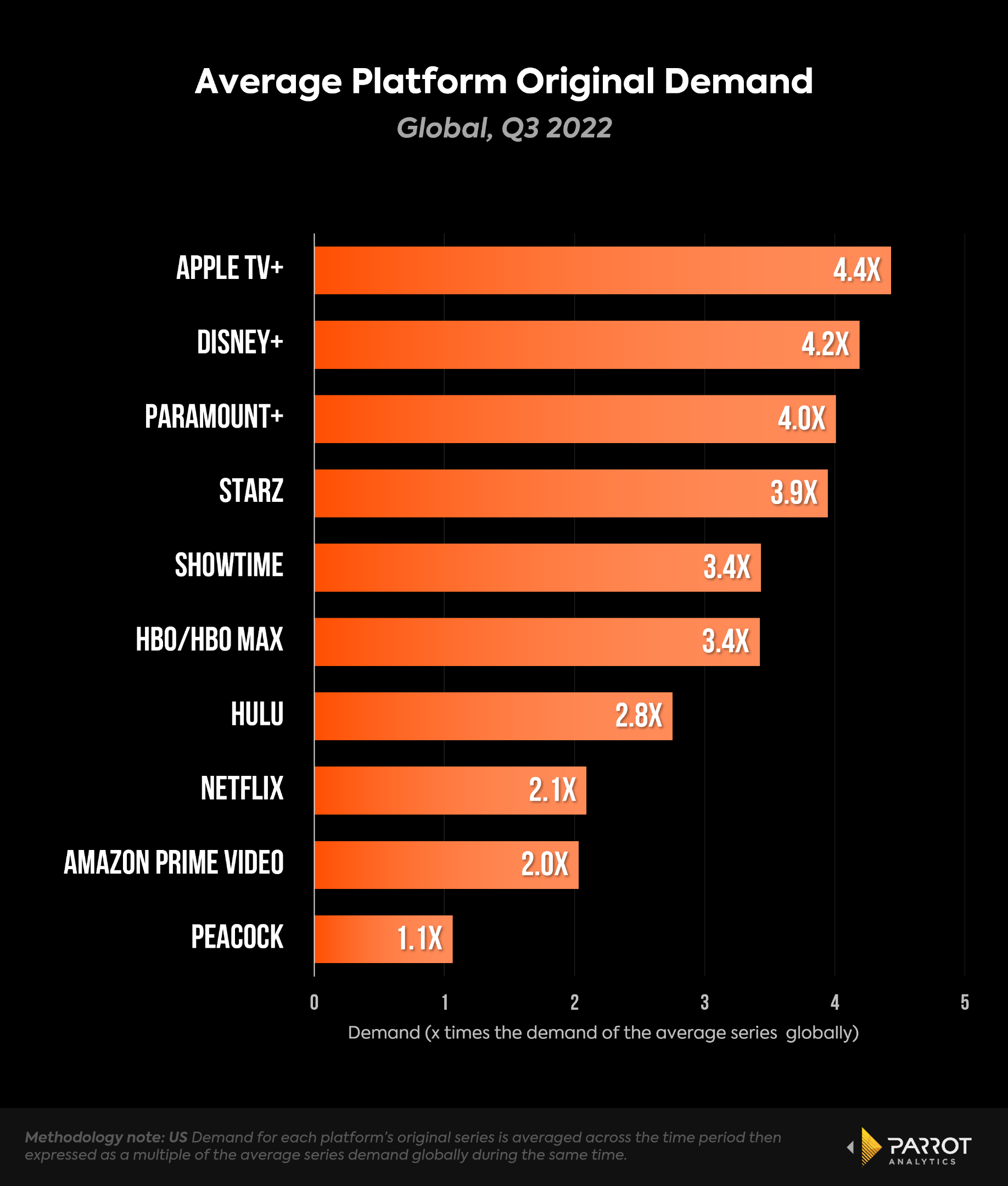 Another way to think about the quality of content from these platforms is in terms of their hit rate - in other words the share of their shows that reach a critical level of demand.  In this respect Apple TV+ is also a leader.  Let's assume that 8.0x is the level of demand that quantifies a show as a hit (less than 3% of shows reach this level of demand).  19% of Apple TV+ series had above this level of demand globally for the quarter.  Compare this to Netflix, where only 6% of its original series reached this level of demand or Disney+ where that number was 12%.  The odds that the next Apple TV+ series stands out amid the competition are greater.
All of the ten most in-demand Apple TV+ original series for the quarter comfortably surpass this 8.0x threshold.  Its two most in-demand series for the quarter, Ted Lasso and For All Mankind, are among the top 0.2% of shows with greater than 32x demand. Ted Lasso has been the platform's biggest hit to date, consistently ranking as the most in-demand Apple TV+ series, so it is a positive sign that For All Mankind is able to nearly match its level of demand.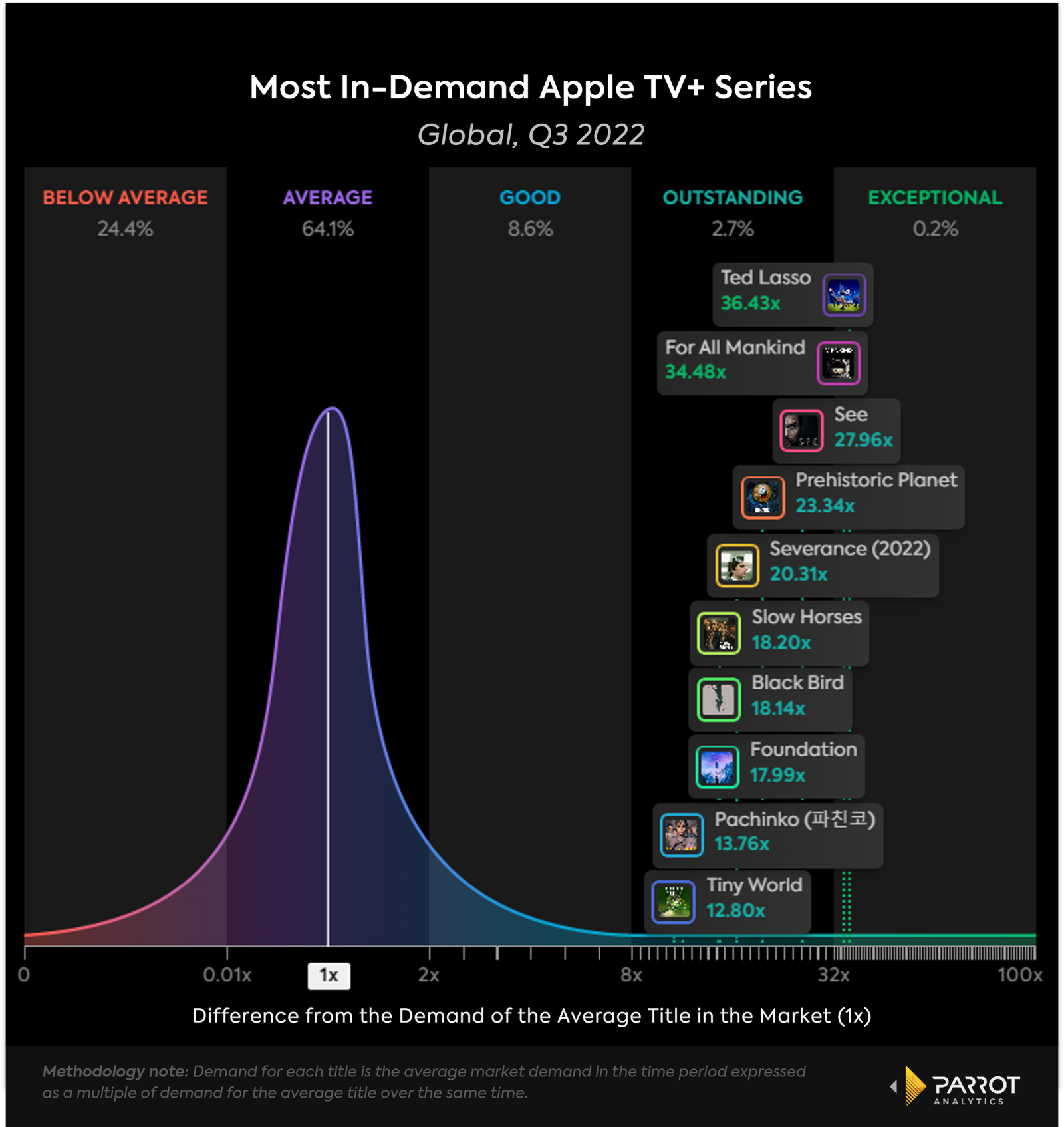 Two documentary series featured in the ten most in-demand Apple TV+ originals for the quarter - Prehistoric Planet and Tiny World. The documentary genre has been one of the fastest growing genres and Apple TV+ seems to be positioning itself to capitalize on growing demand for this type of content.
Pachinko stands out as a non-English series from Apple TV+ that has found global success recently. It had nearly 14 times the average series demand for the quarter. Apple TV+ was a global platform from the day it launched, unlike many of its domestic competitors who have had fragmented international rollouts. Continuing to invest in international content like Pachinko will be key to winning audiences around the world.
If Apple TV+ continues with its focus on quality and is able sustain its hit rate in the coming years, it will make good progress towards organically building a premium streaming service, essential to subscribers, that can compete with other platforms at a higher price point.
---