Image: All Elite Wrestling: Collision, TNT
In this article we look at the top breakout shows of the past week. Breakout shows are the most in-demand series that have premiered in the past 90 days.
This week the trend of declining demand for new series continued, although two shows still  managed to stay ahead of the competition. The top position remained with Adult Swim's My Adventures with Superman which had 38.5 times the average series demand, a 4% decline from last week.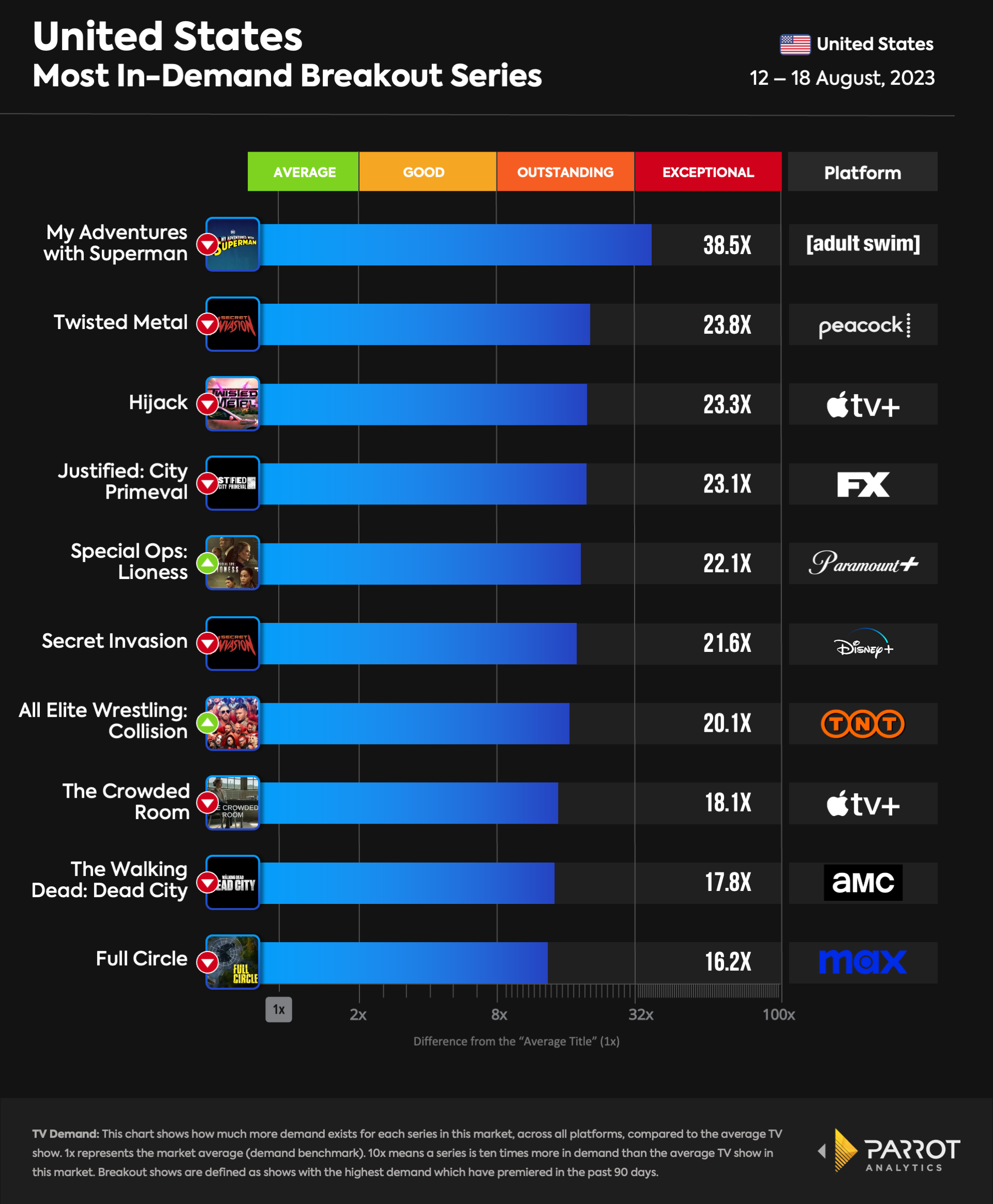 A change in rank was noted for the remaining shows in second and third place. Disney+'s Secret Invasion had a further 25% decline in demand which saw it drop down to sixth place from its position in second last week. The movement saw Peacock's Twisted Metal move up to second place (despite a 14% decline) and Apple TV+'s Hijack move up to third place despite having a similar double digit decline in demand. 
Justified: City Primeval also moved up the ranks to take fourth place with 23.1 times the average series demand this week; this is also a double digit 12% decrease in demand from last week. On the other hand, Paramount+'s new series Special Ops: Lioness held strong for yet another week in a row, moving up to take fifth place with 22.1 times the average series demand - a 2% increase from last week. The series has been maintaining a consistent level of demand since its premiere date, which is standard for most Sheridan shows, likely because they draw similar audiences.
TNT's All Elite Wrestling: Collision was the only other show in the ranking this week to have an increase in demand. The show had an 8% spike ahead of Part 3 of the fifth annual Fight for the Fallen event, which aired on August 19. It moved up to take seventh place with 20.1 times the average series demand, pushing Apple TV+'s The Crowded Room down to eighth place as the latter saw a 6% decline this week.
---