Image: One Piece, Netflix
In this article we look at the top breakout shows of the past week. Breakout shows are the most in-demand series that have premiered in the past 90 days.
Two new series made their way into the U.S. breakout shows ranking this week, capturing audience attention with a double digit increase in demand. While Disney+'s Ahsoka and My Adventures with Superman remained in first and second place with almost the same level of demand as last week, we did see a new contender in third place, hot on the heels of the latter.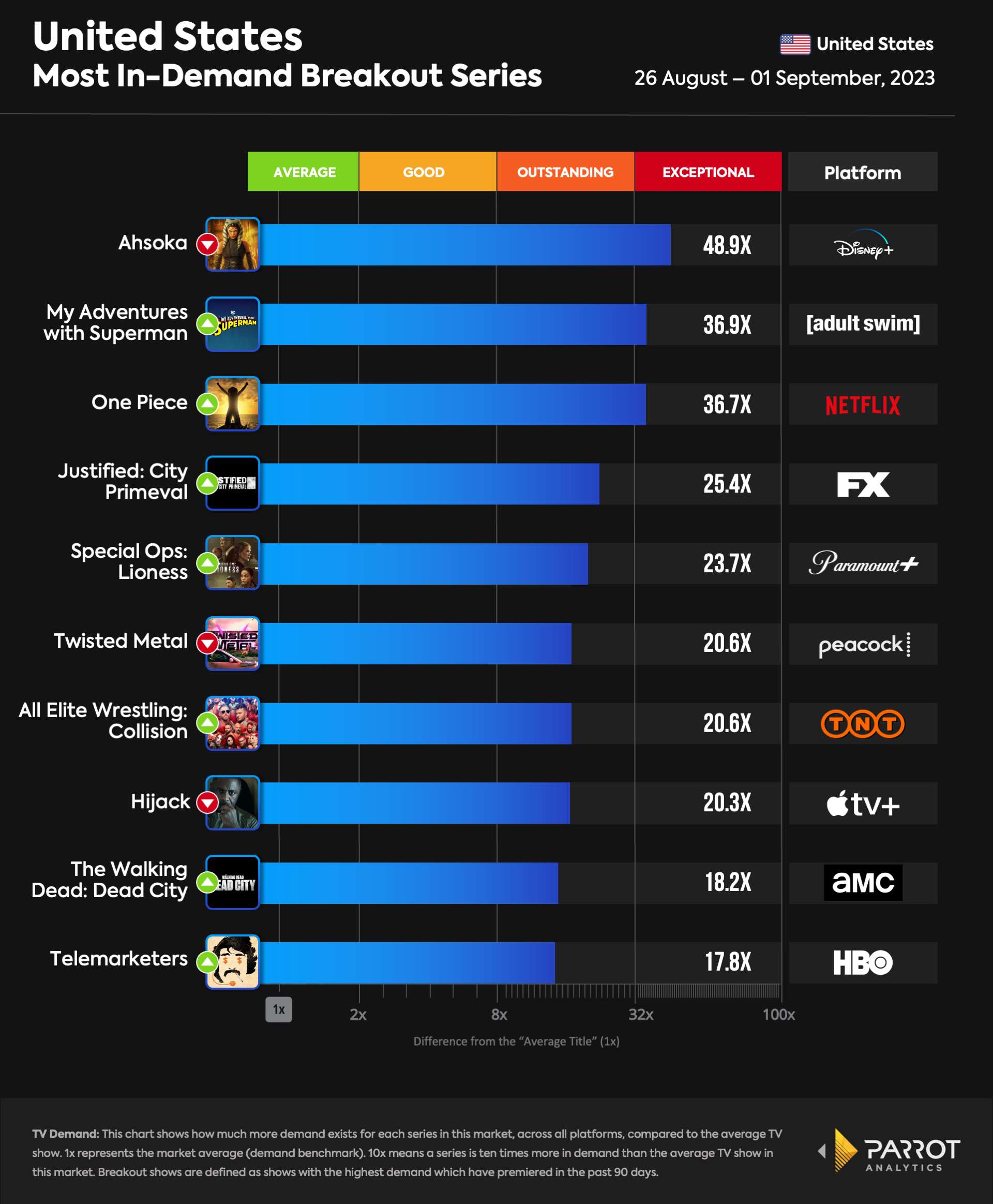 Netflix's latest live action anime adaptation One Piece had an impressive debut week with 36.7 times the average series demand. The series only just launched on August 31, and in just a day after its release it had an impressive 74% increase in demand. The show isn't Netflix's first foray into the live action anime adaptation space, but it is looking like its most successful one to date. Given the highly positive reviews for the series already, it's highly likely that we'll be seeing another spike in demand for One Piece once more viewers catch up to the show and more data comes in next week.
FX's Justified: City Primeval remained in fourth place for yet another week but it also had an 11% increase in demand after its finale on August 29, which made it 25.4 times more in demand than the average series this week. Paramount+'s Special Ops: Lioness slid down to fifth place this week; this wasn't due to a decline in demand (in fact it had a minor increase), but was the result of audiences' focus being more on other shows in the ranking. 
Apple TV+'s Hijack slid further to seventh place this week, as a result of a 7% decline in demand. Meanwhile, AMC's The Walking Dead: Dead City had a 5% increase in demand which saw it remain in ninth place for another week with 18.2 times the average series demand. In tenth place we see HBO's true crime documentary series Telemarketers make its debut in the ranking after its finale aired on August 27. As with most shows that air episodes weekly, it is likely that viewers caught up to all the episodes closer to the finale date which explains the notable 41% increase in demand Telemarketers had this week. 
---