In this article we look at the top breakout shows of the past week. Breakout shows are the most in-demand series that have premiered in the past 100 days.
Star Trek: Strange New Worlds ended on a high note on July 07 - the finale saw a 6% increase in demand, boosting the show up to number one position on the chart with 35.3 times the average series in the U.S. for the week. After a very successful season one, the second season of the series has already been confirmed, with co-showrunner Akiva Goldsman promising the next season will be "bigger and better".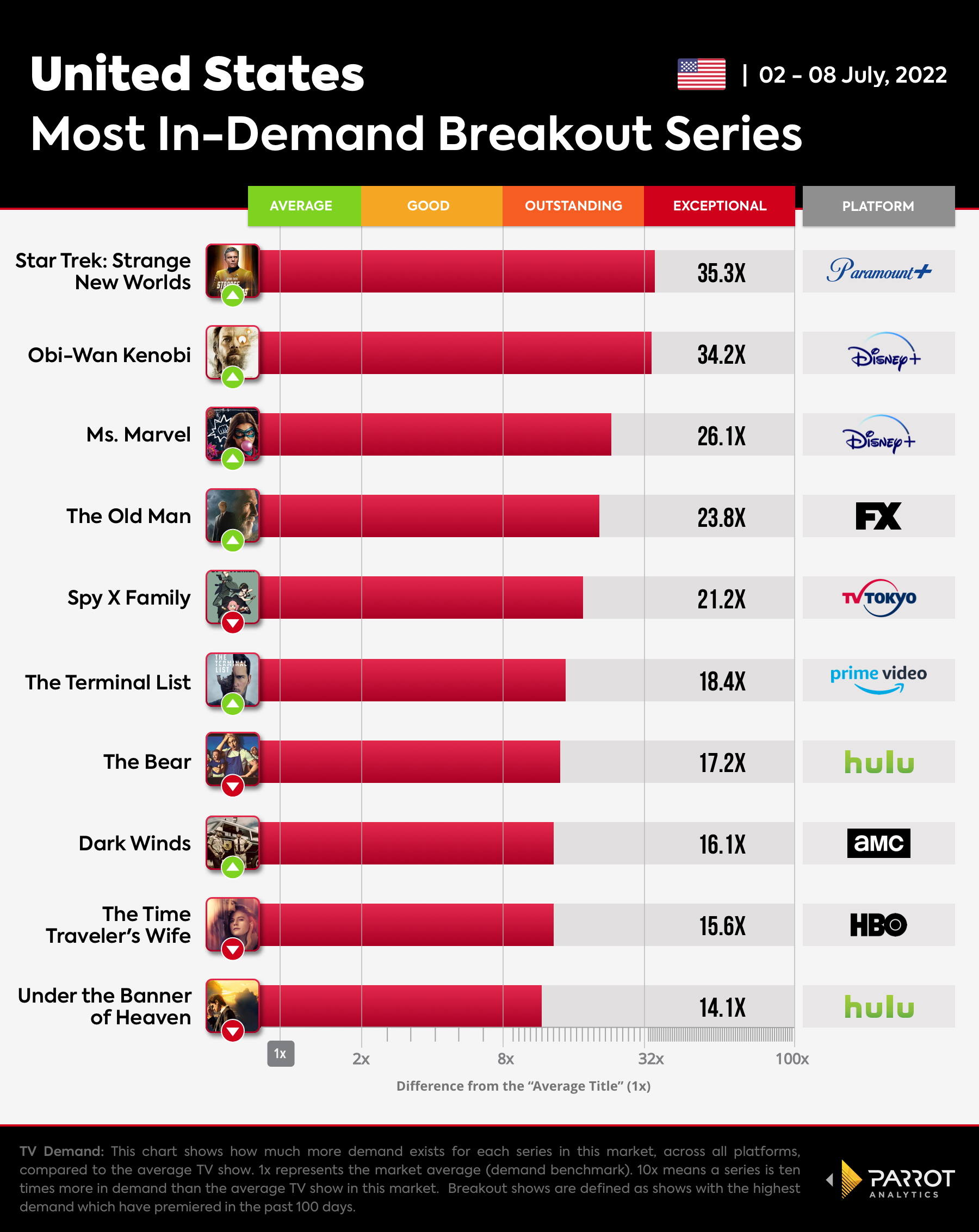 Obi-Wan Kenobi slid to second place for the first time in weeks after Star Trek saw a jump in demand. The Disney+ series also had a successful run, but could perhaps have benefitted more from not taking on Stranger Things on its opening weekend. As of this week Obi-Wan had 34.2 times the average series demand, almost the same as last week. Another Disney+ series, Ms. Marvel, had a better week with 26.1 times the average series demand in the U.S. - a 6% increase from last week. The spike in demand came after the penultimate episode of the series aired on July 06 and has since been the subject of hot debate and mixed reviews. Co-creator Sana Amanat also revealed last week that this episode was the one she is "most nervous" about, as they (the creators) took some risks with it. While the internet does seem torn about the twists and revelations in this episode, it will be interesting to see how the series wraps it up in the finale.
Prime Video's The Terminal List had a strong first week after it debuted on July 01. The series had a 22% increase in demand, and climbed up the rankings to sixth place on the chart. The action thriller series has also had its share of mixed reviews since its release, but fans of the novels (by Jack Carr) seem unperturbed and demand for the series seems to reflect that. As of this week, The Terminal List had 15.1 times the average series demand.
Another new series made its appearance in the rankings this week - AMC's Dark Winds saw a 9% increase in demand after of its finale release on July 10. From executive producers George R. R. Martin and Robert Redford, the psychological thriller series is based on the "Leaphorn & Chee" novel series by Tony Hillerman and has already been renewed for a second season. The show became the eighth most in-demand breakout show this week, with 16.1 times the average series demand.
---