Image: Full Circle, Max
In this article we look at the top breakout shows of the past week. Breakout shows are the most in-demand series that have premiered in the past 100 days.
This week Max's latest crime drama mini-series, Full Circle debuted in the breakout series ranking with 18 times more demand than the average series in the U.S. The show only just premiered its first two episodes on July 13 (and the next two on July 20), but still managed to see an impressive 198% increase in demand in the first week since its release.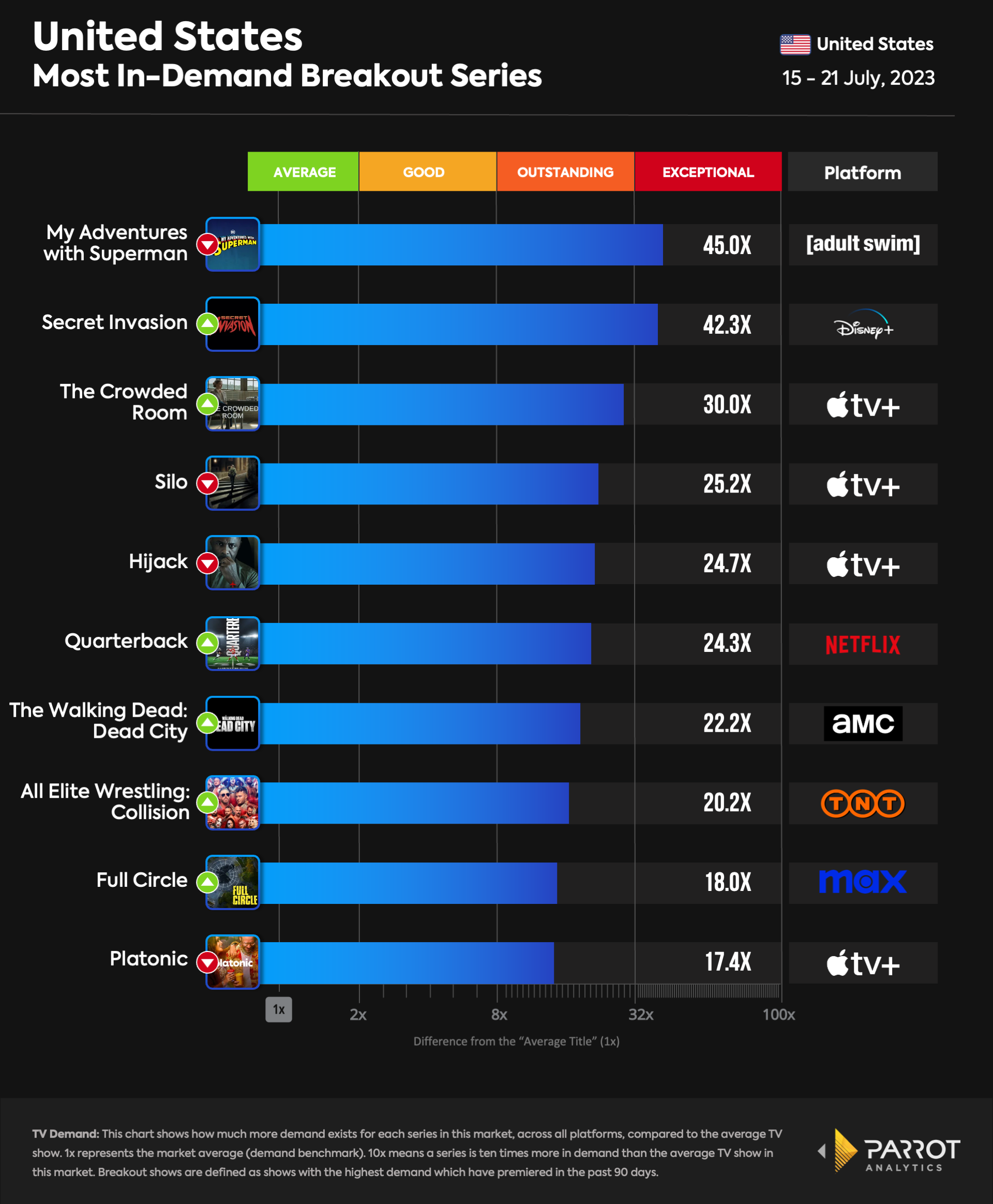 The top breakout show this week was Adult Swim's My Adventures with Superman with 45 times the average series demand. The animated show had an impressive level of demand last week too, although it fell by 7% this week. Disney+'s Secret Invasion maintained robust demand with a further 6% increase in demand this week. While there's been much talk of franchise fatigue surrounding the Marvel TV shows, it seems as though audiences are still quite interested in the MCU seeing that Secret Invasion had 42.3 times more demand than the average series this week. 
Apple TV+'s The Crowded Room took third place with 30 times the average series demand this week, a 23% increase since last week. The psychological thriller mini-series starring Tom Holland and Amanda Seyfried is based on a non-fiction novel "The Minds of Billy Milligan" by Daniel Keyes, and has had considerably high audience attention since it premiered on June 09. The spike this week seems to have come ahead of the penultimate episode, which aired on July 21. With the finale set to air next week, it will be interesting to see how much more audience attention it will command at that time. 
Netflix's Quarterback was another show that had a double digit (+68%) increase in demand this week. The first documentary with the NFL and Netflix, Quarterback has drawn considerable audience attention since its premiere on July 12. It remains to be seen if the show will maintain a high level of demand for a little longer, or if this is the highest level the series will reach as audiences binge and move on to other content. The Walking Dead: Dead City took seventh place this week, a further 4% increase from last week ahead of its finale which is set to air on July 23. Rounding out the breakout series ranking this week, we see Apple TV+'s Platonic (which aired its finale on June 28) take tenth place. The show had 17.4 times the average series demand, almost the same level as last week albeit with a minor decline.
---