Image: Special Ops: Lioness, Paramount+
In this article we look at the top breakout shows of the past week. Breakout shows are the most in-demand series that have premiered in the past 90 days.
Adult Swim's My Adventures with Superman remained at the top of the breakout shows ranking for yet another week in a row, and maintained almost the same level of demand as last week at 45 times the average. Since its premiere on July 07, the shonen inspired anime has received largely positive reviews from critics and fans, so it will be interesting to see how much more demand it generates as it heads closer to its finale on August 11.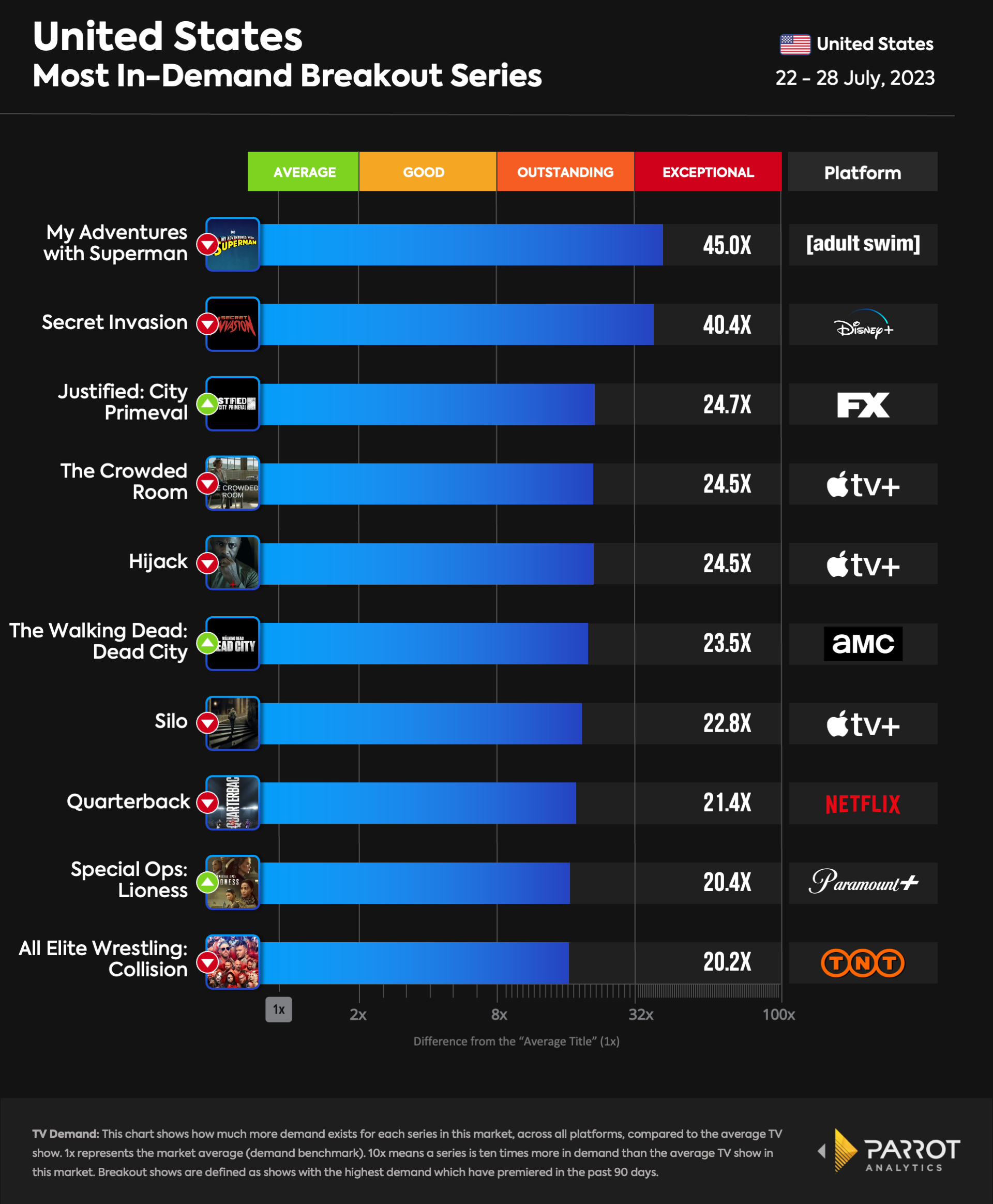 Disney+'s Secret Invasion maintained its position in second place this week as well, despite seeing a 4% decline in demand. The latest MCU offering has actually managed to command very high demand compared to the other shows from the universe, coming second only to WandaVision, the biggest MCU show from Disney+ to date. 
FX's Justified: City Primeval made its way to third place in the ranking with 24.7 times the average series demand this week in the U.S., a 52% increase since last week The neo-Western crime drama series has so far received generally positive views from critics and audiences since July 18, when it premiered with back-to-back episodes. Meanwhile as the FX show climbed up the ranking, it pushed Apple TV+'s The Crowded Room (which had a 14% decline in demand) down to fourth place this week. 
AMC's The Walking Dead: Dead City moved up to sixth place in the ranking, as a 5% increase made it 23.5 times more in demand than the average series in the U.S. this week. The spike in demand for the show came right after its season finale premiered on July 23 earlier this week. Finally in ninth place this week we see Paramount+'s Special Ops: Lioness debut in the ranking for the first time with 20.4 times the average series demand, a whopping 144% increase. The latest offering from Taylor Sheridan, the spy thriller series only just premiered on July 23 with back-to-back episodes to mixed reviews so far. Although, it also has quite the cast - starring heavy hitters like Zoe Saldanha, Nicole Kidman and Morgan Freeman, which could have led to the increase audience attention for the show as well. 
---