In this article we look at the top breakout shows of the past week. Breakout shows are the most in-demand series that have premiered in the past 100 days.
Demand for The Old Man from FX held up well this week, following its finale on July 21. Its demand for the week (24.6x) was only marginally higher than last week, but due to falling demand for three series, belonging to some of the most popular franchises, it rose to the top rank this week. Notably, demand for Ms. Marvel cratered by 25% this week causing the show to fall to fourth place after being the most in-demand breakout show last week. Demand for Star Trek: Strange New Worlds and Obi-Wan Kenobi also dropped this week. All three series have concluded their first seasons in the past month.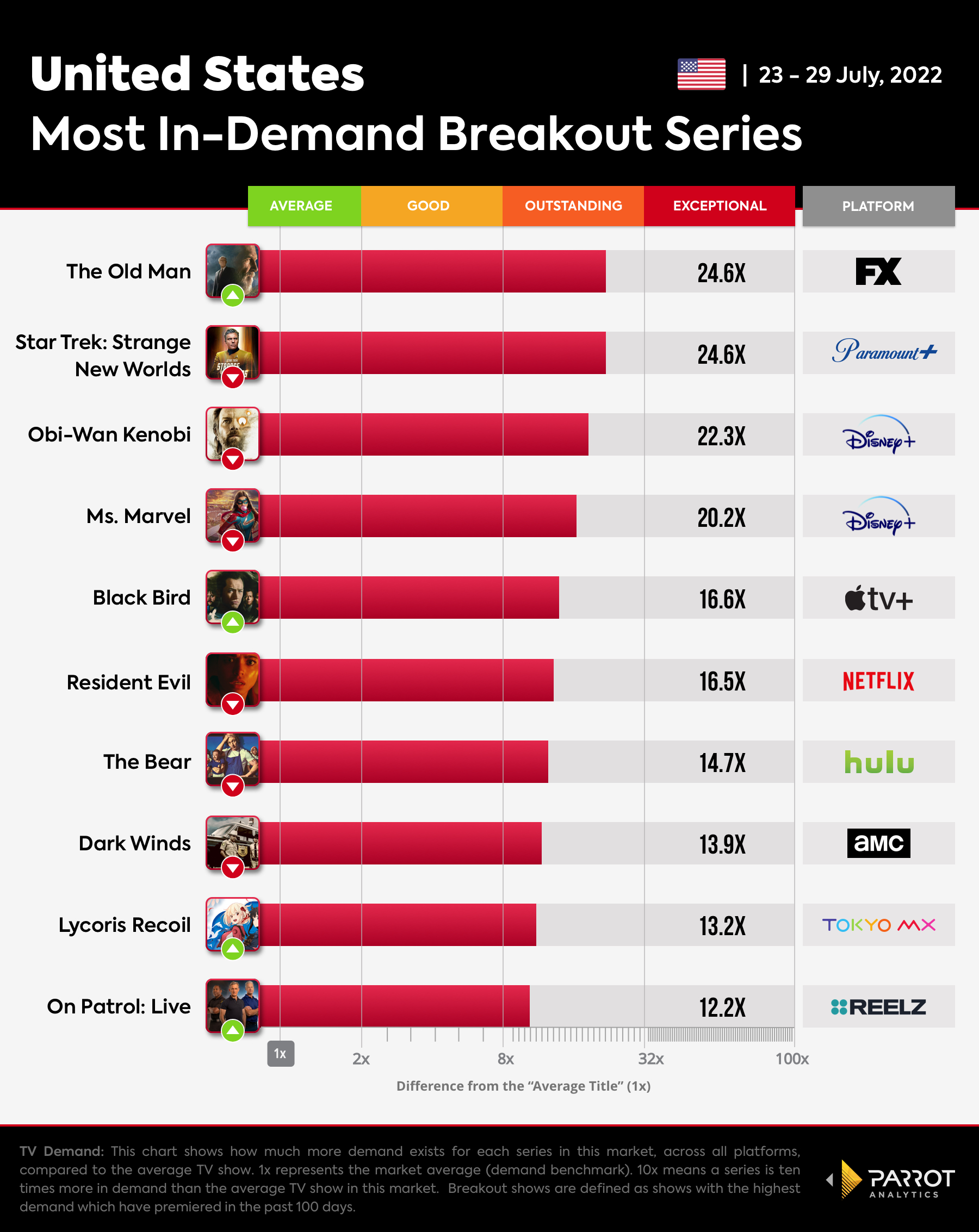 Black Bird from Apple TV+ had another week of strong demand growth. Its demand swelled by 29% this week and the show rose to fifth place in our weekly ranking, up from 10th place last week. The final episode is scheduled for August 5th so there is time for the show to keep up its momentum going into its finale. While Black Bird has done a good job sustaining demand over a weeks-long build-up, demand for Resident Evil looks like it will be more fleeting. The Netflix original had the second highest demand in our breakout shows ranking last week, but this week demand for the series has dropped by 35%. Large spikes in interest followed by rapid drop-offs are a hallmark of Netflix's all-at-once episode releases.
Two new series made it into this week's ranking. Lycoris Recoil is a new anime which premiered on July 2nd. On Patrol: Live premiered on July 22nd and reunites the team behind Live PD, which was cancelled in 2020 following nationwide protests against police violence. Executive producer and host, Dan Abrams, has spoken about learning from mistakes on Live PD but it remains to be seen how different this new series will be or whether it is just a rebrand and move to a new home - from A&E to Reelz.
---