Image: Twisted Metal, Peacock
In this article we look at the top breakout shows of the past week. Breakout shows are the most in-demand series that have premiered in the past 90 days.
This week the top two positions in the ranking remained unchanged, but we did see a new entrant come in to take third place thanks to an impressive 152% increase in demand. Peacock's latest offering, Twisted Metal, had 29.6 times the average series demand and rose up the ranks rapidly since its premiere on July 27. The show debuted all its episodes on the same day, so it will be worth keeping an eye out to see if it manages to hold audience attention next week as well, or if this surge is the highest level of demand the show will reach post premiere.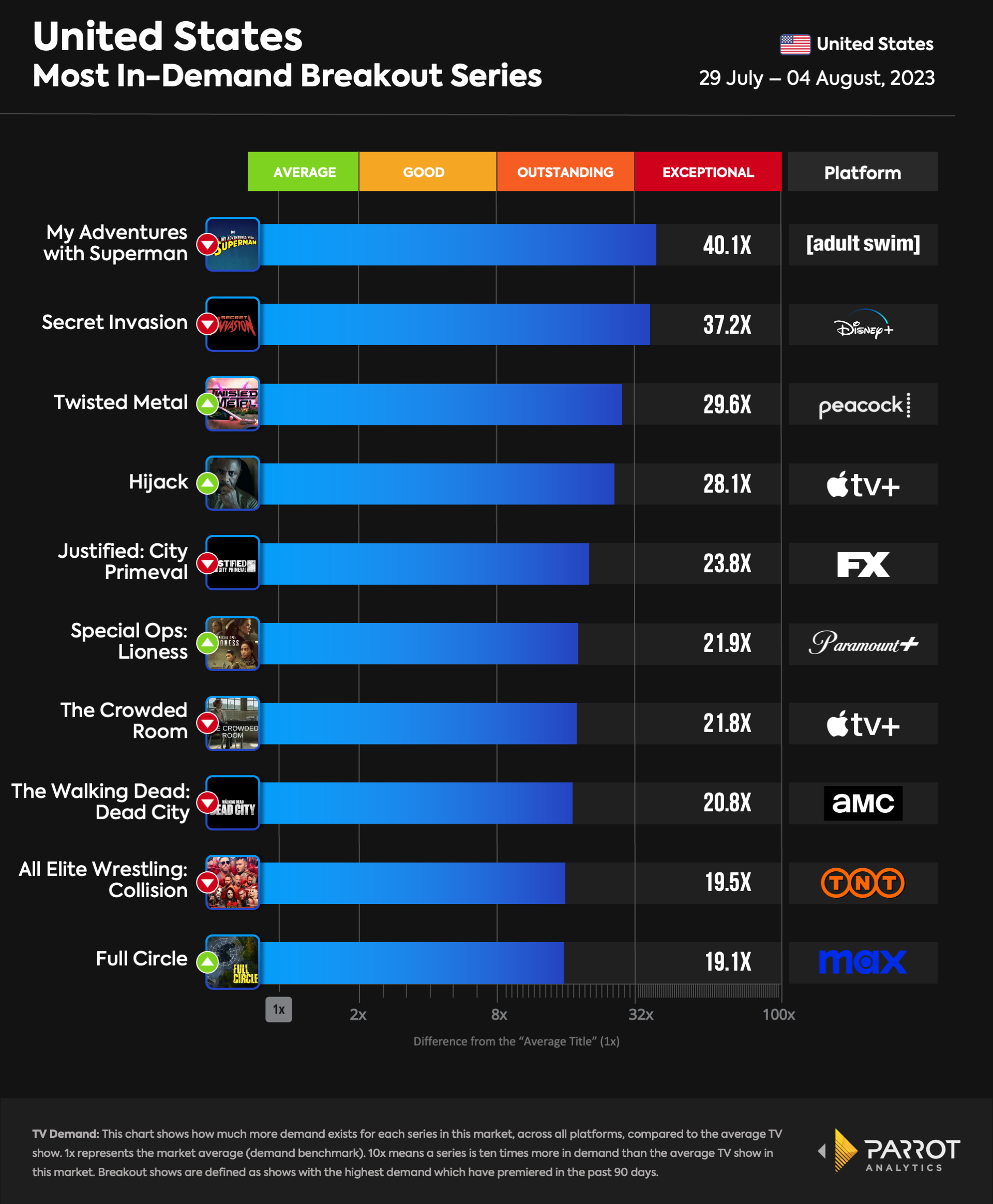 My Adventures with Superman maintained its position at the top of the ranking for another week, although the show did see a 10% drop in demand, bringing it down to 40.1 times the demand average. Secret Invasion also had an 8% decline in demand, yet it still managed to hold on to its position in second place with 37.2 times the average series demand. Given that the show just aired its finale on July 26, it's likely that we will see demand for Secret Invasion continue to drop next week onwards.
Apple TV+'s Hijack had a 14% increase in demand this week, in the lead up to its finale which aired on August 02. The thriller mini-series starring Idris Elba has received largely positive reviews and has regularly featured in the breakout shows ranking since it premiered on June 28, underscoring its ability to maintain audience attention every week. This week, it moved up to take fourth place in the ranking and had 28.1 more demand than the average series in the U.S. for the week.
Paramount+'s Special Ops: Lioness (which debuted in the ranking last week) had a further 7% increase in demand and moved up to take sixth place in the ranking this week. The latest spike for the Taylor Sheridan series, which made it 21.9 times more in demand than the average, came after its third episode premiered on July 30, and is quite expected given the reviews for the show. Rounding out the breakout shows ranking this week, we see Max's Full Circle take tenth place with 19.1 times the average series demand, a 4% spike since last week. The slight increase for the mini-series was observed right after its finale premiered on July 27.
---