In this article we look at the top breakout shows of the past week. Breakout shows are the most in-demand series that have premiered in the past 100 days.
This is the first full week of post-release demand for The Peripheral, Amazon Prime Video's new series from the creators of Westworld. It had 22.1 times the demand of the average series and ranked as the tenth most in-demand new series. It is a savvy move for Amazon to release a buzzy new hit on the heels of the Rings of Power finale. If Rings of Power was a strong driver of subscriber sign-ups, The Peripheral could serve as an incentive for these new subscribers to stick around. It is scheduled to release episodes weekly until December 2nd. If it succeeds in holding audience attention until then it will keep Prime subscribers on the platform until the holiday shopping season - a key revenue driver for Amazon.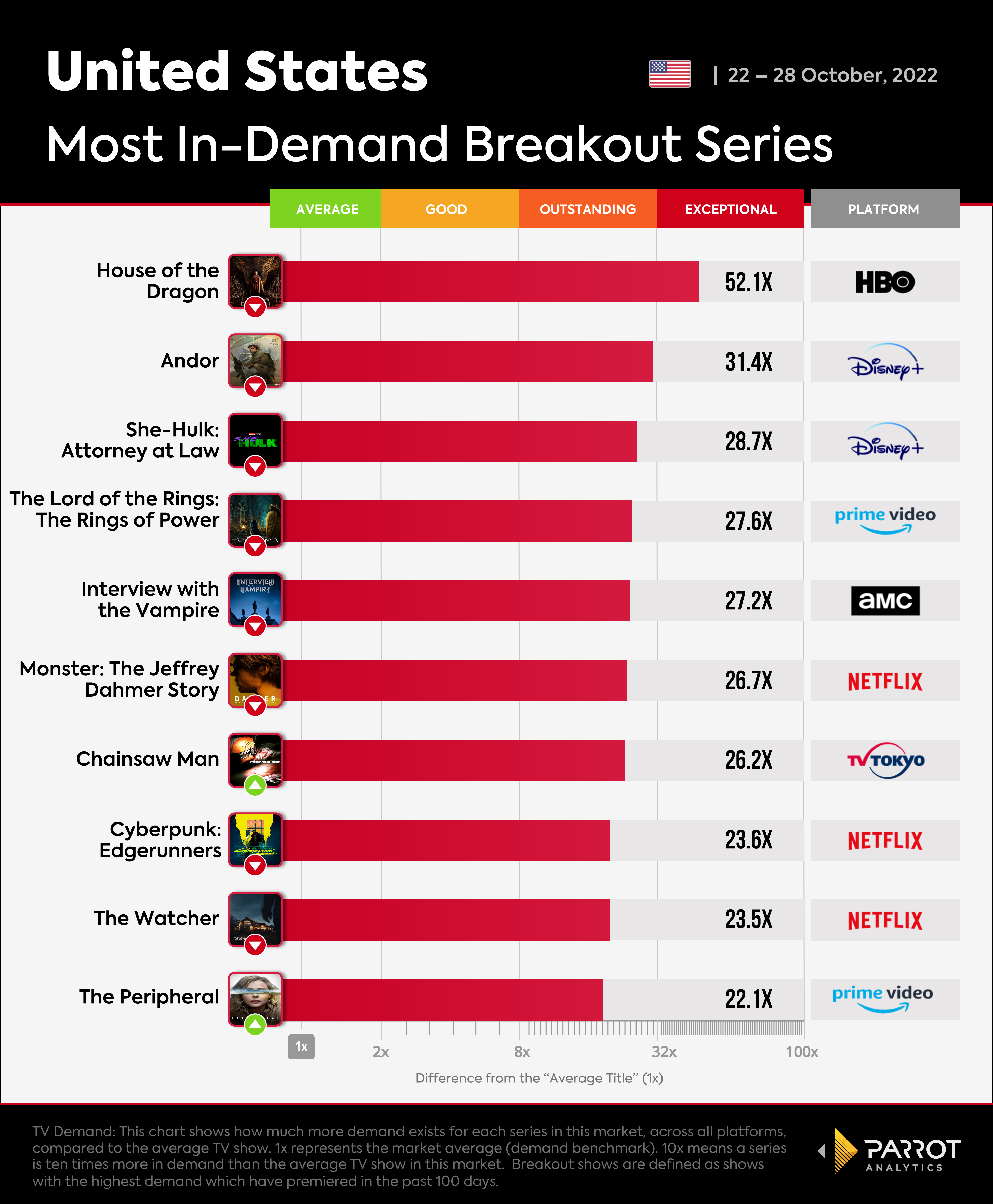 This week saw demand across the top breakout shows crater, following the finales of several of the most popular recently released series. For eight of the top ten breakout shows demand was lower this week than it had been last week. Lord of the Rings: The Rings of Power saw the biggest drop off in audience interest, down by 36% from last week when it hit the highest peak in demand in the entirety of its first season. Demand for She-Hulk: Attorney at Law and House of the Dragon fell by 21% and 16% respectively.

Andor moved up two spots in the weekly ranking to become the second most in-demand breakout show despite its demand being down slightly from last week. With five episodes remaining in the season it looks well positioned to take advantage of the attention vacuum left by other top series. If demand for the show begins to pick up going into the finale, scheduled for the end of November, it could be on track to take the top spot.
Chainsaw Man, the latest anime series to feature in the weekly breakout shows chart was one of only two series in the top ten that grew in demand this week. Demand for the show from TV Tokyo grew by 3% from last week and it moved up one spot in the ranking to seventh place.
---