In this article we look at the top breakout shows of the past week. Breakout shows are the most in-demand series that have premiered in the past 100 days.
Tales of the Jedi is proving to be an immediate hit with audiences. The show premiered October 26th on Disney+ and had 37.4 times the demand of the average series this week making it the second most in-demand recently released series in the US. Demand for the show even surpassed Andor, which had 33.8x demand. The decision to release all six episodes of the show at once drove a large spike in demand that helped it overtake "Andor" which has been releasing episodes weekly since September 21.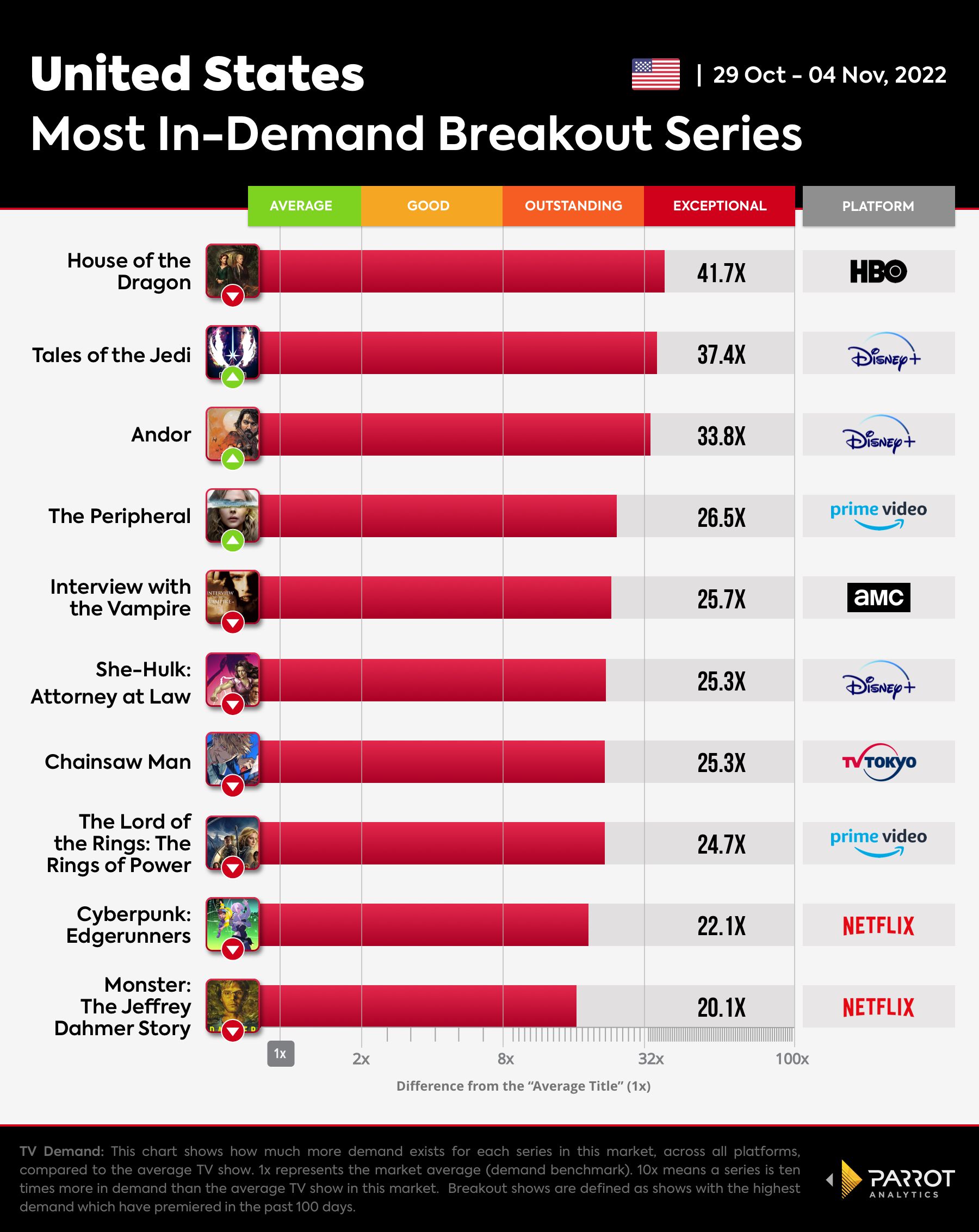 Even though it was surpassed in demand by Tales of the Jedi this week, Andor still saw a 7% increase in its demand. In fact, the show had its all time highest daily demand this week on November 3rd when it reached 39.3x demand. This uptick could be a good sign that interest in the show is picking up ahead of its final three episodes. With demand for other series like House of the Dragon falling, "Andor" looks positioned to be in contention for the top spot in the coming weeks.

Amazon's The Peripheral had another great week. Demand for the show rose by 20% to 26.5x as it kept its momentum following a successful premiere on October 21st. Its growing demand is an indicator that a broader audience is continuing to discover the new show.

Four series that dominated the breakout series ranking for weeks all saw double digit declines in their demand this week. Demand for Monster: The Jeffrey Dahmer Story is fading the fastest, down 25% from last week. Although House of the Dragon remained the most in-demand breakout show for yet another week, its demand fell by 20% bringing it down from the stratospheric highs it saw following its finale. She-Hulk: Attorney at Law and The Lord of the Rings: The Rings of Power also fell down the ranking to the 6th and 8th spots respectively.
---