Image: One Piece, Netflix
In this article we look at the top breakout shows of the past week. Breakout shows are the most in-demand series that have premiered in the past 90 days.
As predicted last week, Netflix's One Piece has shaped itself into the streamer's most successful anime live adaptation yet. Last week, just a day into its release the show saw its demand surge by 74%. Now a week in since its debut, One Piece has seen another 87% increase, pushing its way up to the top of the ranking with 68.7 times the average series demand in the U.S., maintaining a wide lead over the rest of the shows in the ranking.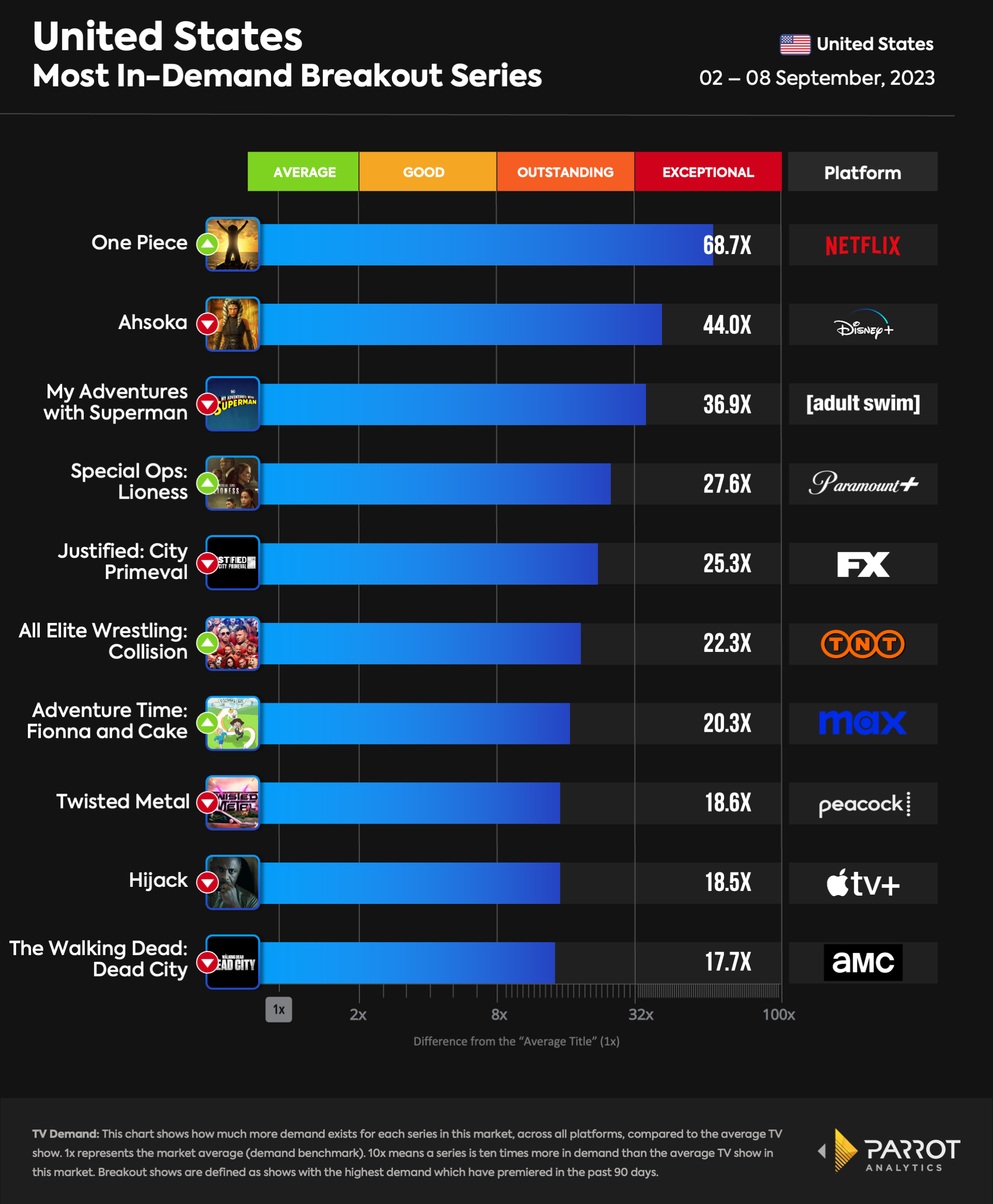 Disney+'s Ahsoka took second place this week, seeing a 10% decline which made it 44 times more in demand than the average series. On the other hand, My Adventures with Superman took third place while maintaining almost the same level of demand as last week, 36.9 times the average series. The show just aired its season finale on September 01, but it looks like it flew under the radar as audiences seemed to have their eyes trained on One Piece and other content during this period.
Taylor Sheridan's Special Ops: Lioness ended on a high note on September 03, increasing in demand by 16% this week as more audiences flocked to watch the series. It rose up to take fourth place with 27.6 times the average series demand in the U.S., an impressive feat for a new show. It's unclear if this is the last we will be seeing of the show, since season 2 rumors have already begun swirling considering that Special Ops: Lioness debuted as Paramount+'s most watched global premiere.
All Elite Wrestling: Collision had another 8% increase, with 22.8 times the average series demand in the U.S. this week. Another new series appears to have captured audience attention this week - Max's animation series Adventure Time: Fionna and Cake had an incredible 172% increase in demand after its debut on August 31. While the show is a spin-off of the Cartoon Network series Adventure Time, it is different in that it's made for young adult audiences with alternative versions of main characters from the original series. With 4 episodes out already, Adventure Time: Fionna and Cake is set to keep airing episodes until September 28 so it will be interesting to see how much demand the show will garner over its run. 
---