Procedural dramas have become a staple of the TV landscape, their formulaic episode format enables quantities of content to be produced without the same challenge of crafting a longer term story arc that other dramatic genres may have to contend with.  This winning strategy has produced some of the longer running shows on TV, many of which have spawned spinoffs that have expanded their franchise.  But even though these shows are consistently among the most in-demand, they largely still originate from linear channels.  Streaming platforms have either not yet cracked the code for a successful streaming original procedural drama or are perfectly content to be the homes for the second life of procedural dramas from linear channels.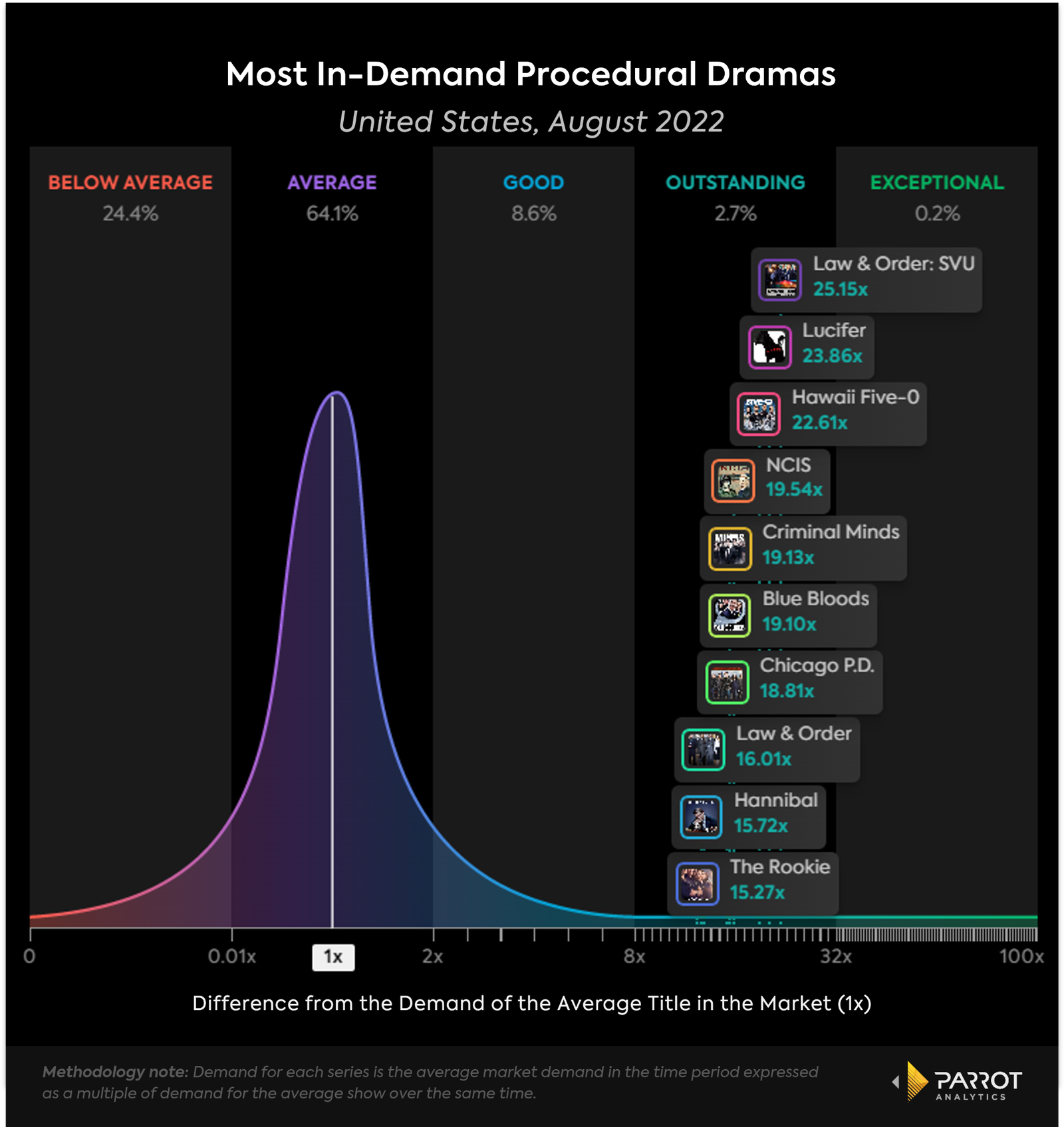 The most in-demand procedural drama in the US last month was Law & Order: Special Victims Unit, which had 25.15 times the average series demand for the month.  It was also joined in the top 10 by the original Law & Order which was revived for its 21st season this year, after having ended in 2010.  It will be returning for its 22nd season later this month, a testament to the longevity of the Law & Order franchise in particular and the procedural genre more generally.
Lucifer is the only streaming original procedural drama to feature in the top ten.  Although it had its series finale a year ago it still remains highly in-demand. While the last three seasons were released as Netflix originals, this show was acquired by the platform after originally airing on Fox and proving to be extremely popular there.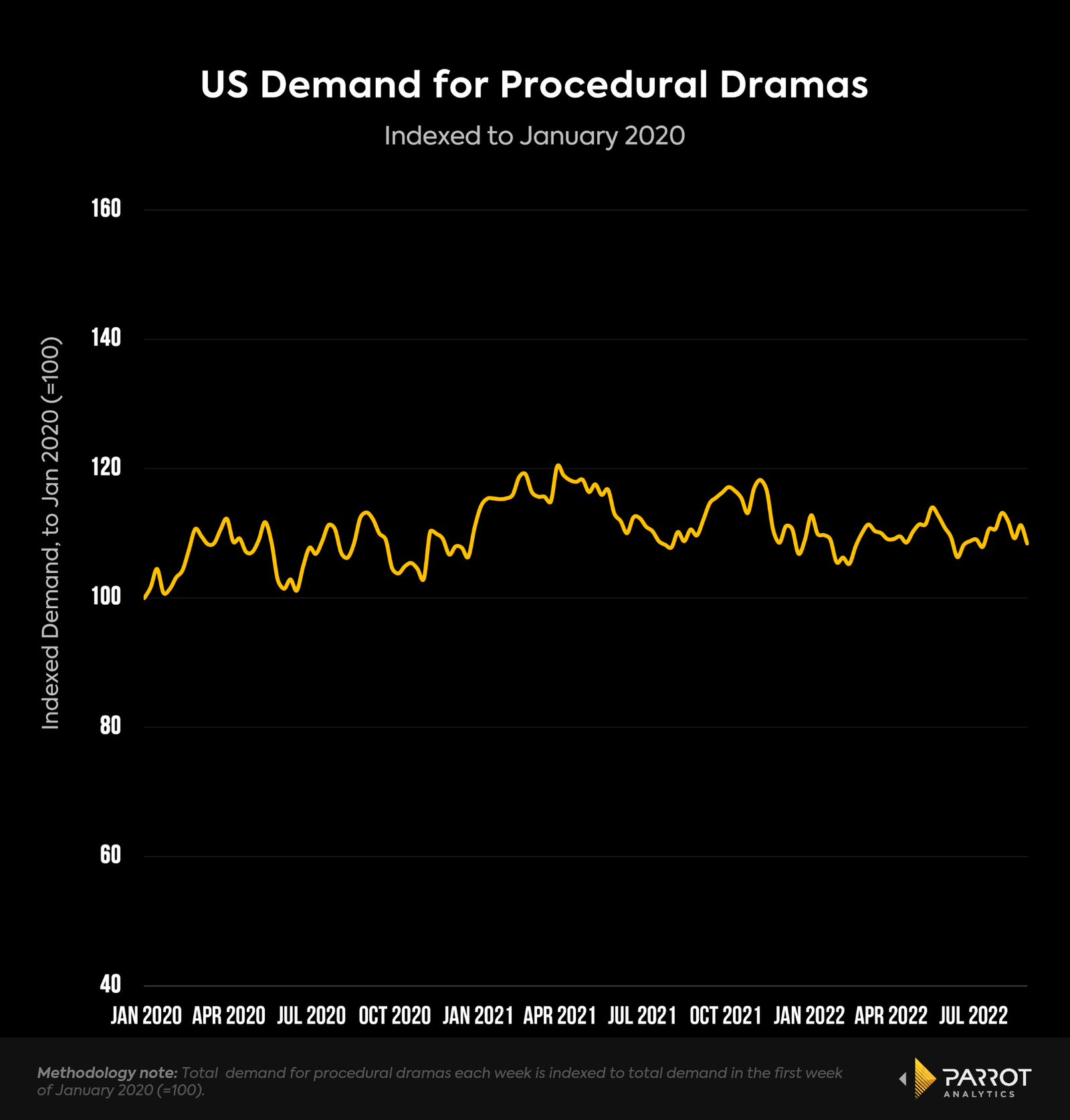 As a more established genre, procedural dramas have not seen the explosive growth that some other trending genres have seen recently.  With multiple long-running franchises from network TV accounting for the bulk of demand for the genre, demand has largely remained stable and predictable.  In the first week of September 2022, total demand for the genre was only 8% higher than it was in January 2020.  Contrast this with some of the fastest growing genres like true crime whose growth in demand has been hyper-charged by streaming platforms chasing the trend and churning out original content.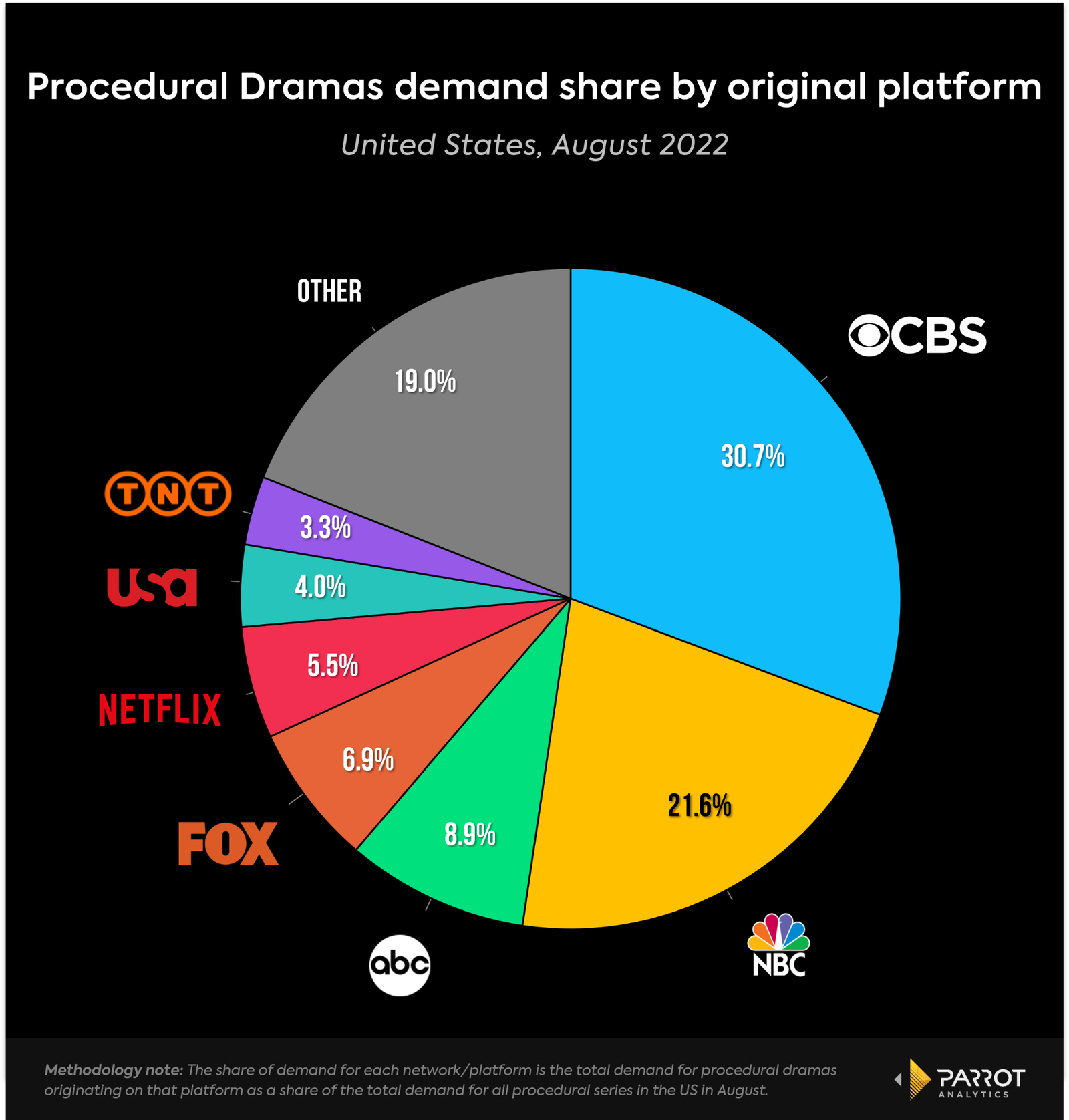 Linear channels' dominance in the procedural drama genre becomes very apparent when we look at how demand for the genre breaks down by original platform/network.  CBS is the clear leader in this space. 30.7% of demand for all procedural dramas in the US for the past month was for a show that originally aired on CBS. NBC ranked second with a respectable 21.6% share of demand for the genre. Shows from these two networks alone account for over 50% of demand for procedural dramas in the US. 
No other platform comes close to matching CBS or NBC's share and the remaining platforms each had under a 10% share of demand for the month.  Netflix was unique as the only streaming platform with a significant share of demand for its original procedural dramas, thanks largely to the success of Lucifer.  While content from linear networks continues to dominate the genre these shows often have a successful second life on streaming platforms, for example Criminal Minds regularly features in the top shows on Netflix. It remains to be seen if a truly original (not just acquired) procedural drama from a streaming platform could shake up the genre and potentially fuel top level demand growth for this type of content.
---