The general consensus in the TV industry is that linear network content is on the way out, an obsolete medium surviving through niche content such as sports, news and live event programming. This argument seems solid in regards to linear children's TV: The UK's CITV shut down this year, Disney transferred their programming to Disney+ in 2020 and CBBC is shutting down in 2025. The U.S. is similarly affected, with kids' primetime viewing falling between 2017 and 2021 according to a 2022 report by MoffatNathanson.
The motivation behind this trend seems clear: Younger viewers want choice over what they watch and when they watch it. Demand for all types of streaming content surged by 22.5% during COVID, but demand for children's streaming content over the same period more than doubled that amount, rising by 58%. The data seems conclusive when examining COVID-era programming, but what about children's viewing habits since then? Is freedom really the sole guiding principle in children's viewing habits? And what advantages do linear network content and digital original content offer in the children's entertainment space? 
Linear network children's content is a safe bet for parents worldwide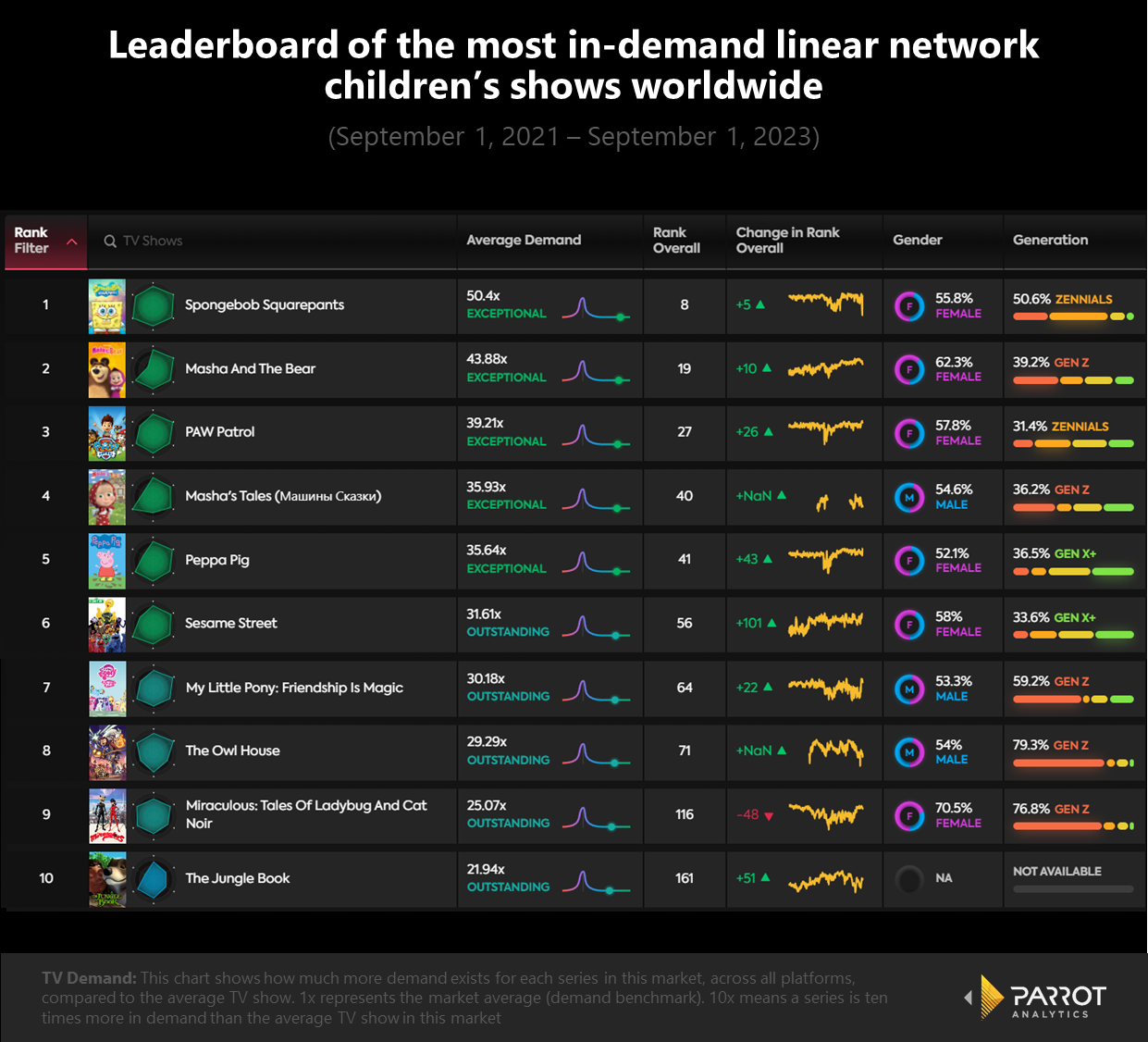 The most in-demand linear children's content is immediately recognizable even to older viewers thanks to its slate of legacy titles with brand name recognition, such as Sesame Street and Pokémon. Part of this recognition may owe itself to easily identifiable titular characters, such as Spongebob and Peppa Pig. These linear TV series also range across the globe, with shows such as Masha and the Bear drawing in viewers from non-English speaking countries including Russia, Ukraine and Italy.
As the traditional content viewing experience, linear network TV carries an air of reputability. Parents choosing content for their children may look first to the channels that entertained themselves as kids, a product of brand loyalty. Parents can also rest assured that large networks regulate inappropriate content in kids' TV, a large determining factor according to Olivia Browne, Sky's Marketing Director of Entertainment. Lastly, linear network content alleviates the stress of choosing from among an endless gamut of content options by providing a single, pre-approved programming schedule for children. With linear content, parents can pop on the TV and get back to remote work or household chores quickly.
Digital original content provides variety and control to satisfy children's whims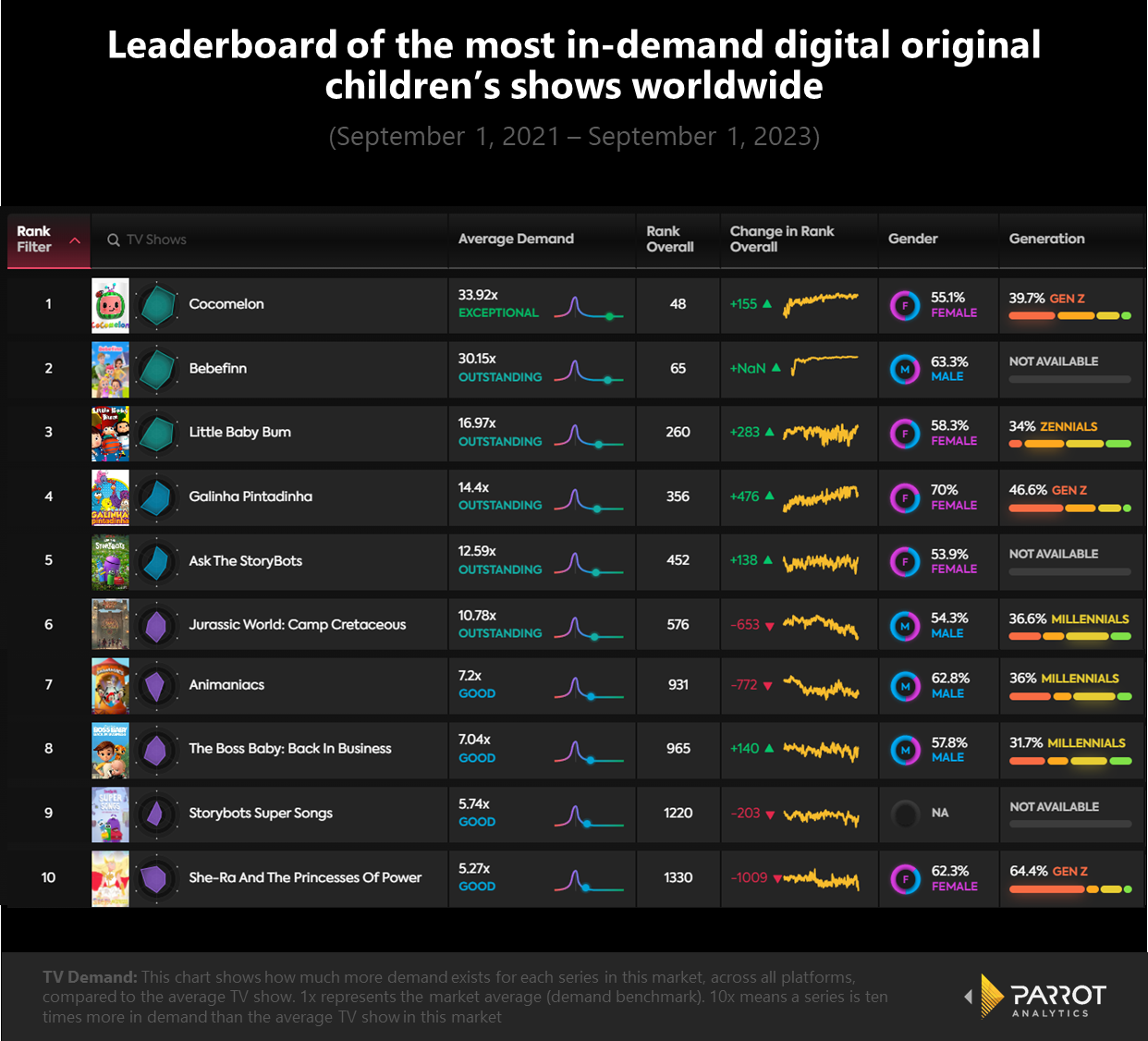 The most in-demand digital original content is mostly familiar to new parents and their children, consisting of Netflix original titles and YouTube titles that have since been acquired by Netflix such as Moonbug Entertainment's Cocomelon. These titles typically appeal to preschoolers with bright, vivid 3D animation, such as the Baby Shark inspired series Bebefinn and the educational series Ask the StoryBots.
This new wave of OTT content provides a diverse array of shows that can be accessed at any time - a great benefit for parents who have clear ideas on what shows they want their kids to watch. Kids given free reign over YouTube or Netflix also love the sheer amount of digital original content to jump between. Digital original content can also be accessed instantaneously - an edge which cannot be understated as it has historically propelled Netflix to content dominance over established opposition such as Blockbuster.
Digital original content continues to justify its existence post-COVID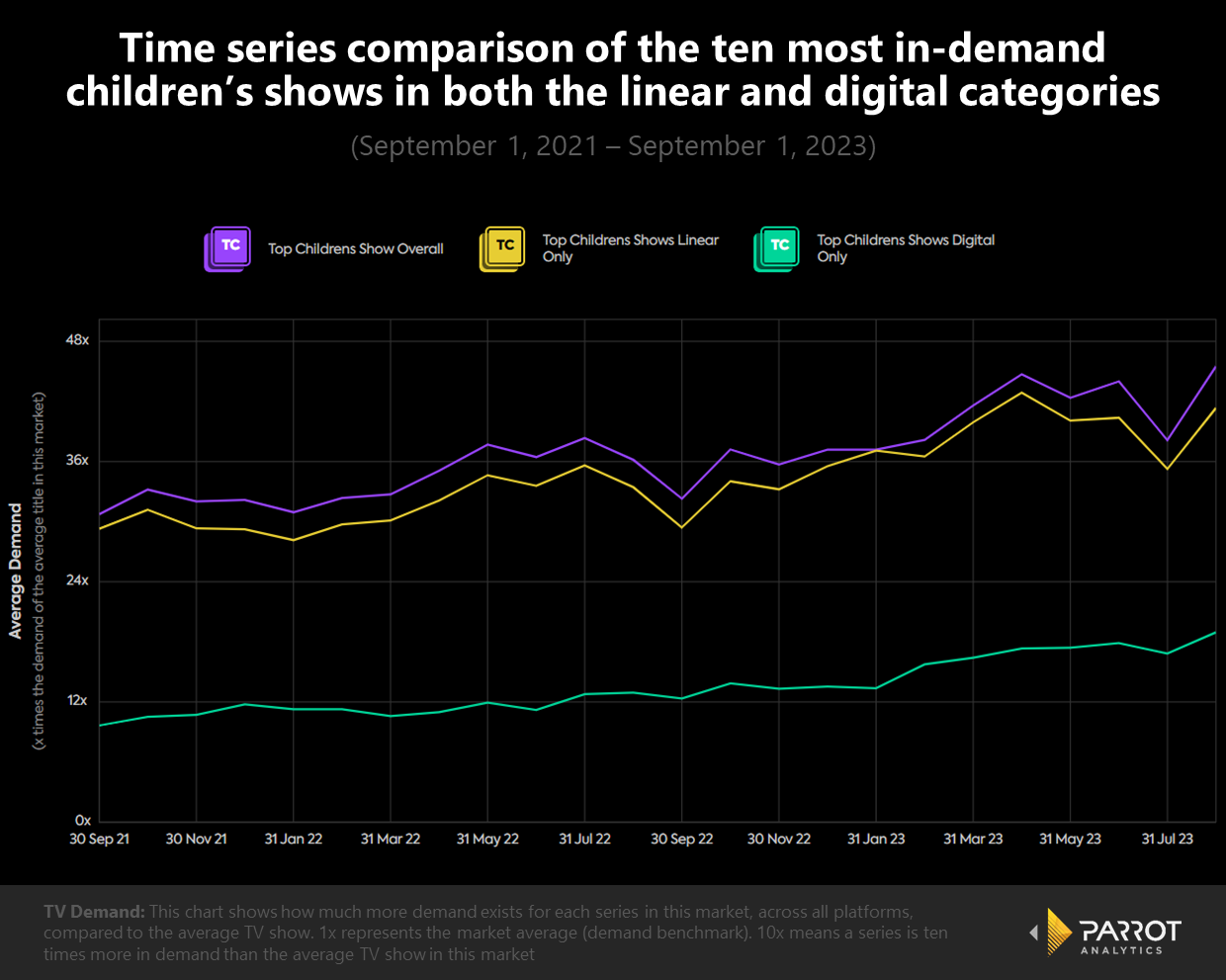 As mentioned previously, much industry speculation over digital content's rise to dominance was produced during the COVID era - but how has demand for linear and digital content changed since then? Notably, 8 of the top 10 most in-demand children's shows worldwide are still linear network originals (the exceptions being Cocomelon and Bebefinn). The demand for both linear and digital content continues to rise, with the top 10 linear series collectively reaching 41.4 times the demand for a series worldwide.
However despite this high peak, the data supports digital original content's popularity moving into the future. To begin with, the demand for digital original content is rising more consistently while linear content experiences peaks and troughs. Secondly, while both types of content rose by nearly the same amount (12.1 times for linear, 9.3 times for digital), one could argue that the demand for digital original content nearly doubled over the past two years from 9.7 to 19.0 times the average demand for a series worldwide.
Additionally, children's media makes up a significant share of demand for streaming platforms, exceeding 15% of total demand for platforms such as Paramount+ and Amazon Prime.
The case for keeping linear network children's content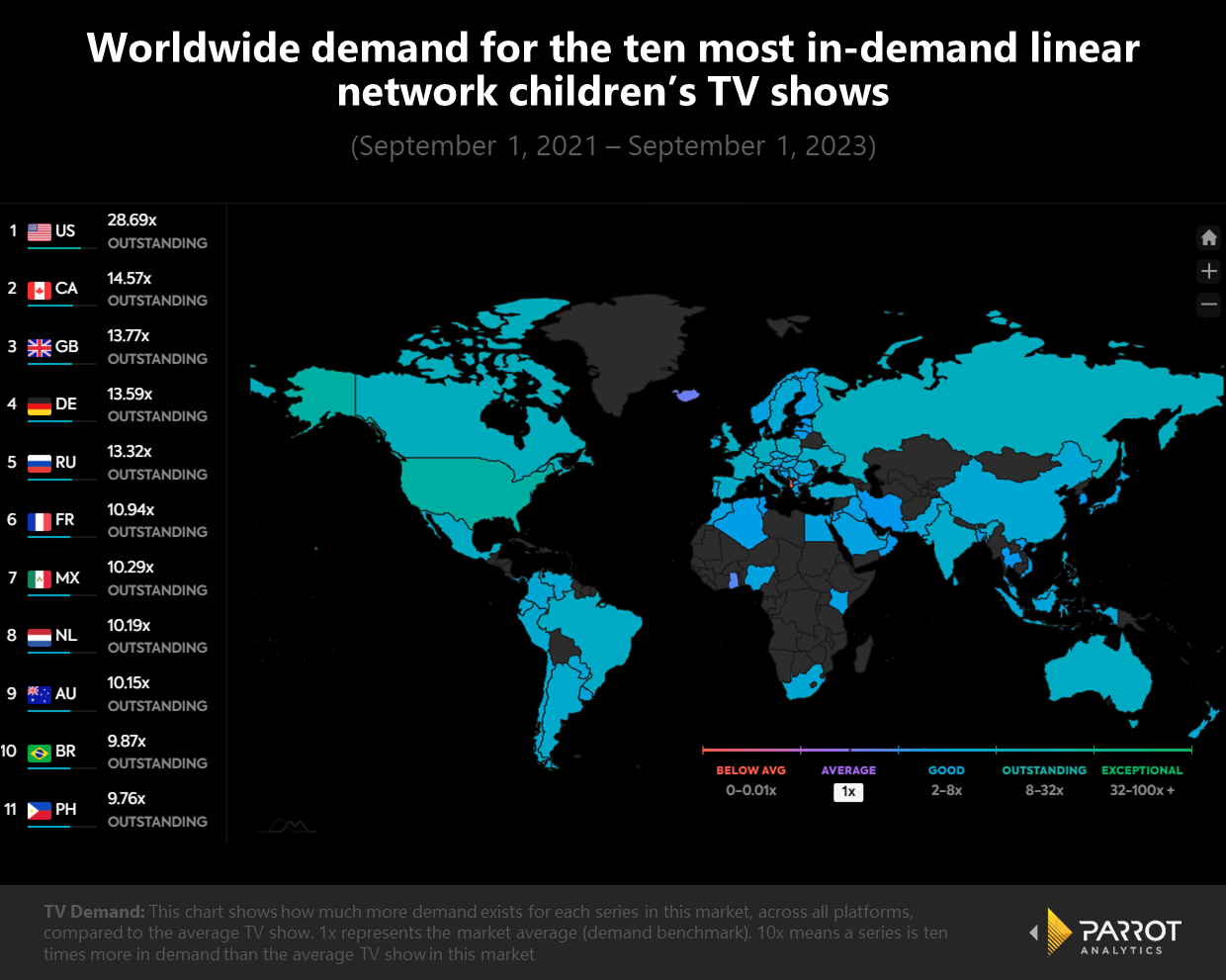 Given digital original content's rapid growth, one must ask where linear network children's media fits in the future TV landscape. Globally, this content still maintains high demand even compared to digital original content. Nicolas Eglau , Managing Director for Moonbug Entertainment's EMEA and AsiaPac divisions, notes that linear 24/7 services are still vital to many non-English speaking countries such as Malaysia, Indonesia and Turkey. Even with digital hits such as Cocomelon and Bebefinn, Moonbug Entertainment isn't ready to leave behind linear network distribution just yet.
Linear network content appears to target an alternative audience locally as well. Rita Ferro, President of Disney's Advertising Sales, comments that the audiences for their linear channels such as FX differ from the audience tuning into digital channels such as Hulu. Given this split in the audience, treating linear network content as a complementary approach to emerging OTT streaming services allows shows to reach the widest possible fanbase.
Taking a hybrid approach to children's media
 Industry discourse frames linear network content and digital original content as two mutually exclusive forms of entertainment vying for kids' attention, a fork in the road that distributors must pick between. But another option exists: Give kids both.
 A hybrid approach to release methods would capitalize on the strengths of each, using long-form, high-investment content on linear network TV as a staple while bolstering this with shorter, more easily produced content via streaming platforms such as YouTube. This system isn't new - the episode-centric featurettes of Game of Thrones are one such example. Often digital content is released alongside mainline content as a marketing tool to drive hype for the series.
However, this digital original content could be more ambitious, serving to not just promote the mainline series but to instead flesh out its world, characters, themes and so on. Fan-made projects often serve this purpose by providing more content for other fans to engage with. One hybrid approach could involve commissioning these fans' work to boost franchise output, as Sega did with The Murder of Sonic the Hedgehog. Used in this way, the dual linear-digital strategy is a form of transmedia storytelling.
Sky Kids reports that parents want "the ad-free, safe environment of a CBeebies with the franchise content and the entertainment of a Nickelodeon". Ultimately, this hybrid approach satisfies both desires while encouraging adoption of unfamiliar content types by new audiences. Concerned parents may trust digital-only content to be safe if it is connected to a linear network franchise, while impatient children might attempt to watch linear TV if it features characters they've grown to love through digital-only content. Finding the utility of both linear network content and digital original content is the key to tapping into the largest possible audience.
---