Hulu is one of the most interesting players in these colloquial streaming races if only because trying to answer the question, "What is Hulu?" seems to change every few years. 
For a while, it seemed that Hulu was the aggregate commander. Since it initially had multiple parent company investors across NBCUniversal, Disney, Fox, and Warner Bros. Discovery (neé WarnerMedia), it was an SVOD platform for companies who didn't have an SVOD platform of their own and, at the time, weren't interested in owning one. That all changed around 2015, when Disney made it clear that it wanted to get into the streaming game — followed by NBCUniversal and Warner Bros. Discovery. Fox was acquired by Disney in 2019. 
Under Disney ownership, Hulu has changed from a platform to drop content to a Netflix and HBO Max competitor. It's a general entertainment streaming service controlled by Disney and operates within Disney's streaming bundle as a prominent platform for its own original series as the company explores a more walled garden approach to content — and continues to operate as an alternative for partners to bring their series other than Netflix. It's also working.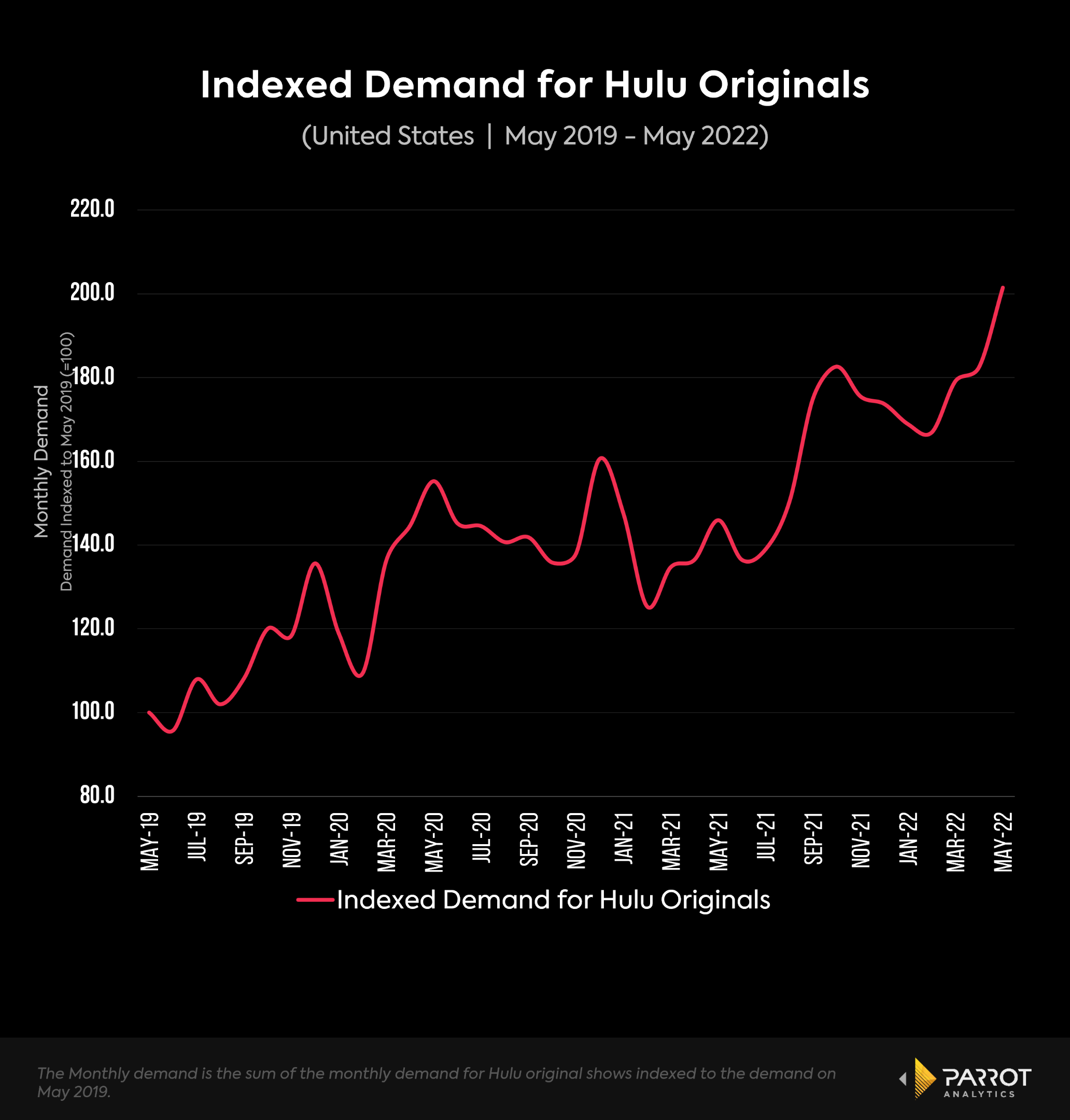 Demand for Hulu originals over the last three years has grown exponentially. This coincides with an influx of Hulu originals, and some FX series moving exclusively to Hulu. In order to make Hulu a more attractive offering to subscribers, especially as other partners pull back on some of their own content being shared with the platform to focus on growing their own services, highly in-demand originals are needed to create a new value perception around Hulu that may not have existed previously. While Hulu has seen some notable hits prior to Disney's renewed investment (most notably, The Handmaid's Tale), it may have lacked the pizzaz that Netflix originals carried. 
The average demand for Hulu's Top 10 originals that premiered between January 1st 2022 and June 27th 2022 has increased exponentially compared to demand for original titles for Hulu between 2015 and 2016. In those earlier years, demand for Hulu originals hovered on average between good and average, which 64.1% of shows reach in the United States. Over the last six months, however, the average demand for Hulu's Top 10 shows has sat within the outstanding category, which only 2.7% of shows reach. These include new titles like Only Murders in the Building, Under the Banner of Heaven, Dopesick, and The Dropout.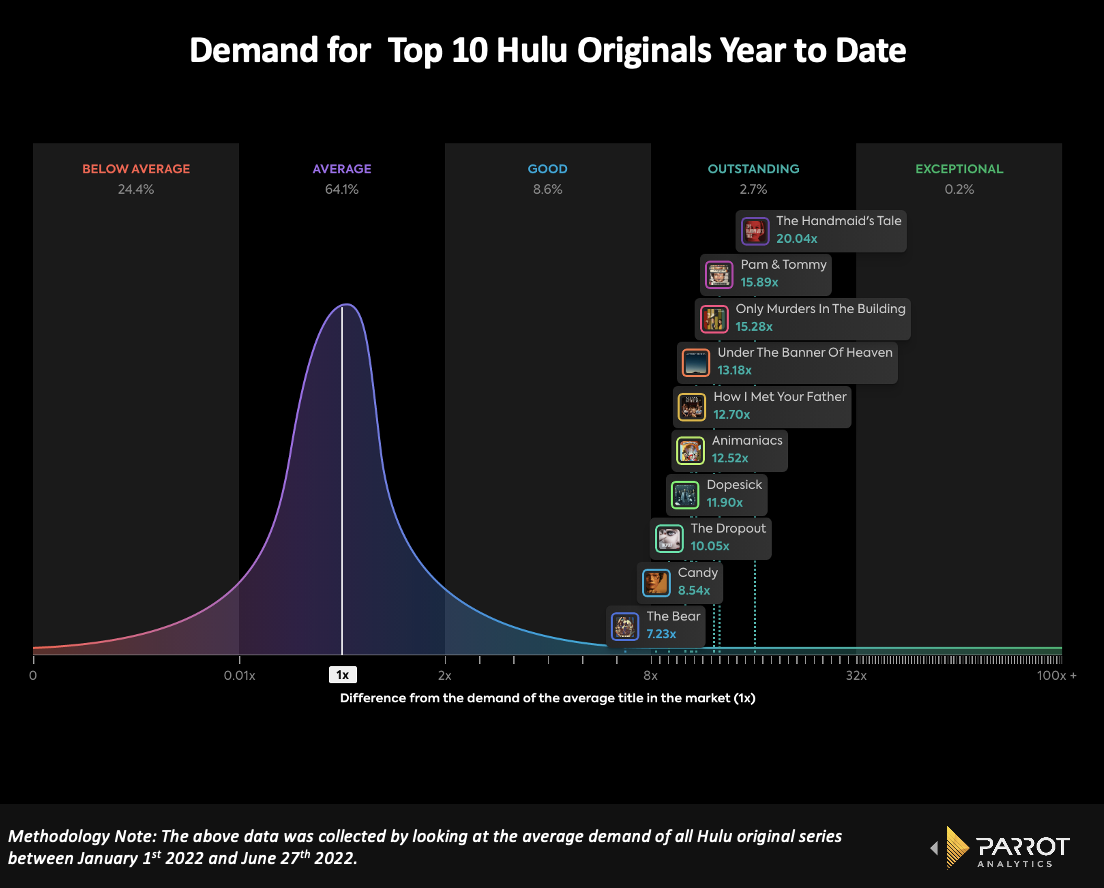 There are still plenty of questions about Hulu that analysts and reporters have brought up over the last few years, including the key one: what is Hulu's future in a world where Star is the global Disney general entertainment brand? There isn't any specific answer, but Hulu's continued growth over the last several quarters, and its impressive average revenue per user figure ($12.77 as of Q2 2022), means that it's still a viable business opportunity for Disney, especially on the ad-sales front. As demand for more original programming drives continued engagement, subscription, and affinity for the platform, Hulu's role may become more pronounced. 
As of right now, it's licensed fare still represents the largest share of demand within the Disney+ bundle (when examining Disney+ and Hulu alone as standalone entertainment streaming platforms). That's followed by the licensed content on Disney+, the original series on Disney+, and original series on Hulu. Original titles tend to have the largest effect on subscriber acquisition, while library content has the biggest effect on retention. As Hulu prepares to potentially lose some of its biggest retention shows, it needs to ensure that its acquisition titles are working in overdrive mode to keep customers coming in as others potentially leave.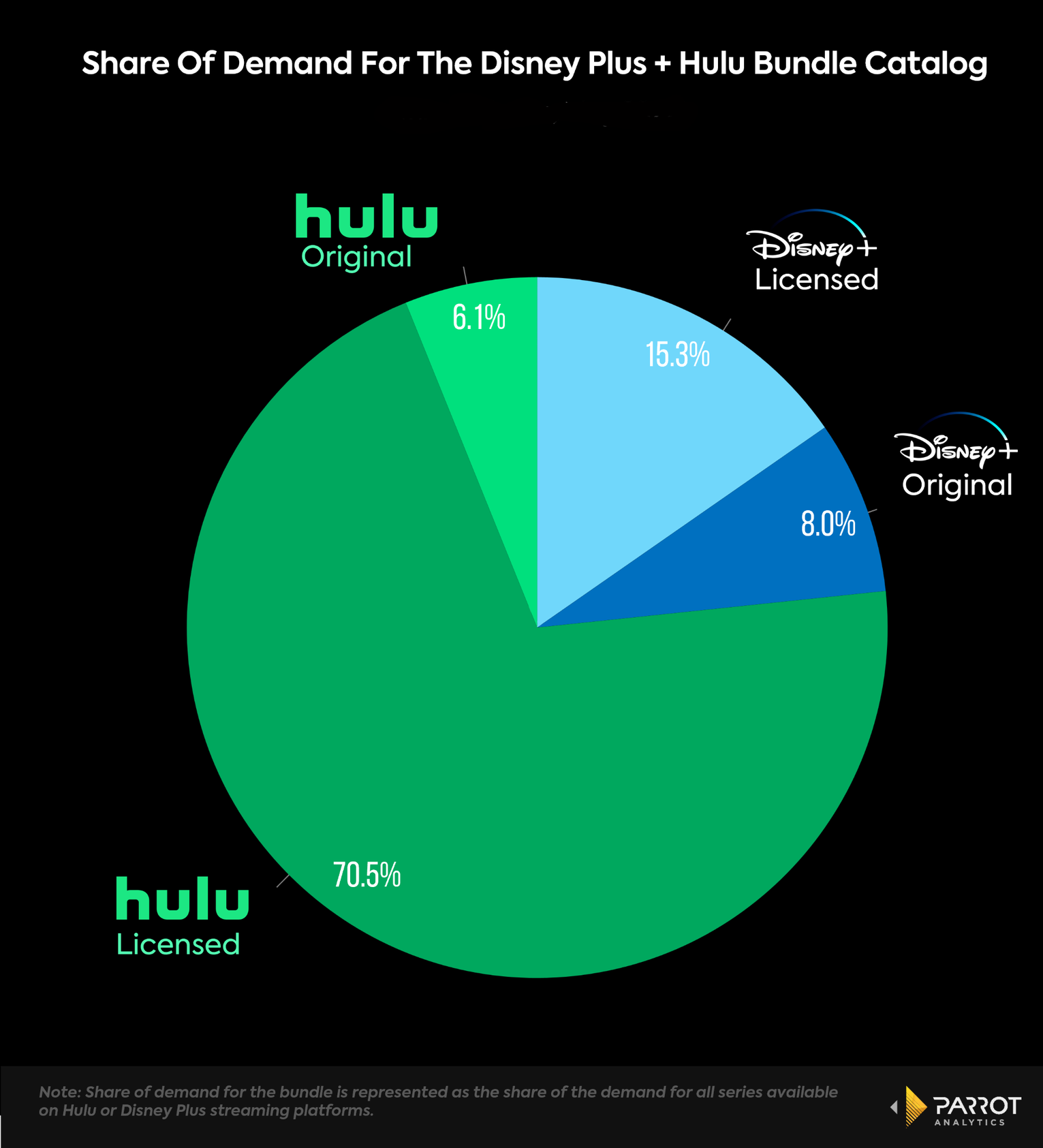 Hulu is in an interesting position. It's not the crown jewel of the Disney streaming bundle, but it's got a large audience with large demand from advertisers to have their ads run on the platform. It's still growing quarter after quarter, and is doing so only existing in one main market. The big question is whether Hulu and the Disney programming teams can keep up the pace, producing in-demand series that are critically beloved and sought out by viewers, and do it amidst a swarm of competition. 
---