There are still many questions swirling around about Apple TV+ nearly three years after it debuted. 
All of these are fair questions and, while no one outside of Apple's teams know exactly how many subscribers Apple TV+ has, there is proof of sustainable and growing demand for its original programming across a wide breath of genres. It's not just Ted Lasso anymore. To better understand where demand for Apple TV+'s programming is coming from, the below chart breaks down the Top 10 series on Apple TV+ in the United States.
While Ted Lasso is still the most in-demand series on Apple TV+ between March 18th and May 18th 2022, seeing an outstanding 24x the average demand of all other series in the United States (something that only 2.7% of all shows reach), it's closely followed by Severance and For All Mankind. The former saw a litany of buzz around the Adam Scott-led show when it premiered in February. It quickly racked up a ton of demand as the week-to-week word of mouth for the show picked up. The latter is one of the most critically acclaimed shows, and in its third season, has become a cornerstone of the Apple TV+ service. 
Both aforementioned shows amassed a demand score of 16.9x and 15.7x the average demand of all series in the United States respectively, again putting them both in the outstanding category. One of Apple TV+'s biggest strengths is that its originals feel especially curated that's reminiscent of HBO, FX, Showtime, and Starz. Although there isn't as much content as what's available on its competitors — including Netflix, Disney+, and Hulu — the originals that Apple TV+ does have are generating significant demand. This results in a higher hit ratio than some of its competitors. 
Titles like Pachinko, WeCrashed, and Servant are great examples of shows that appeal to different taste clusters and have enough demand to appeal to different audience segments. Servant, a horror series, has 13.9x the average demand of all other shows. Pachinko, a South Korean drama, has 14.2x the average demand of all series, while WeCrashed, a prestige style drama starring Jared Leto and Anne Hathaway, has 14.3x the average demand. WeCrashed is also brought up in conversation alongside Hulu's The Dropout and Showtime's Uber series, putting it in line with other prestige programming. 
What remains unclear is whether or not Apple TV+ has the critical mass to convert potential viewers, or enough content to keep those customers once they've signed up and watched the show they're interested in. The chart below compares Apple TV+'s demand distribution to two key competitors — HBO Max (not including HBO) and Netflix for original programming. While Apple TV+ has a fraction of the content available on Netflix, it has a stronger hit rate on average, with more shows appearing in the outstanding and good category than in the average or below average category. HBO Max is about on par with Apple TV+.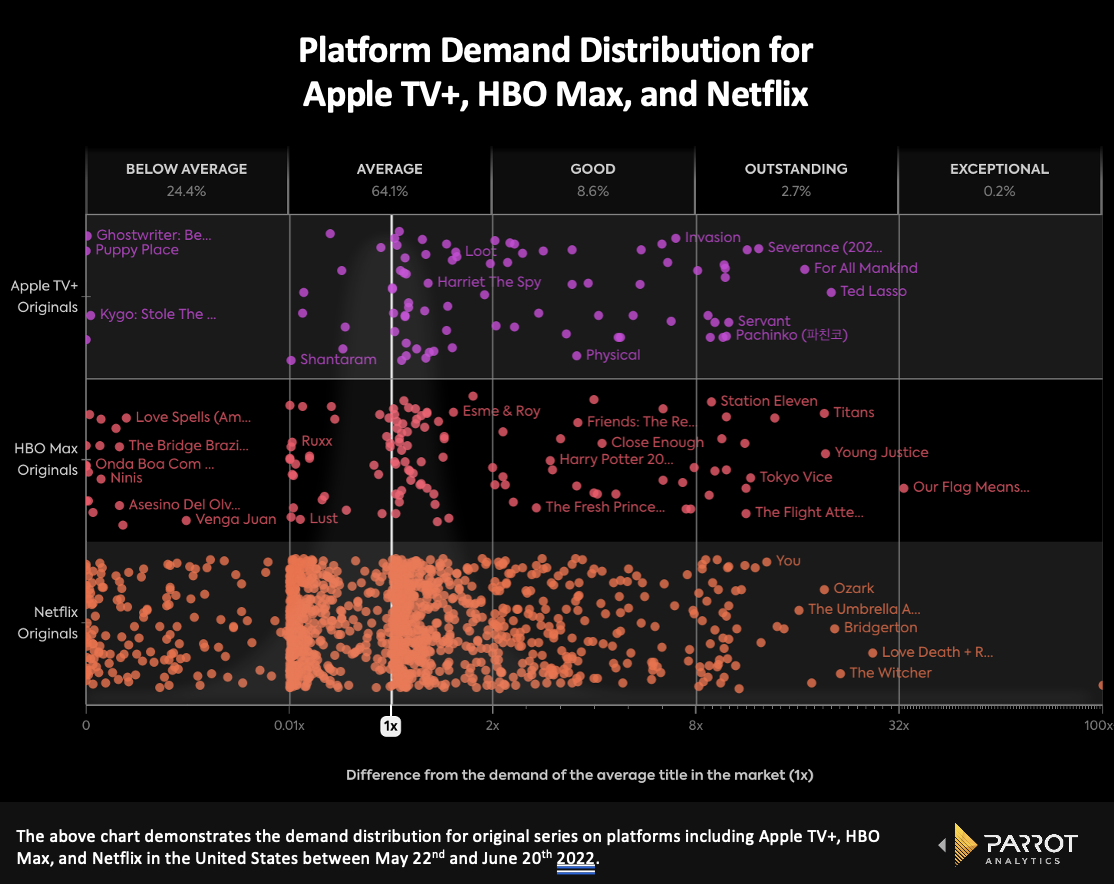 This is significant. The demand for Apple TV+'s programming is strong, which suggests there is enough to draw in subscribers. But without a library offering, it's still difficult for Apple TV+ to find a sizable audience on scale with some of its competitors. 
So what does this mean for Apple TV+? As more programming becomes available on the platform, including potential franchise-style series and longer running programming, Apple TV+ could see sustainable growth even as competition increases domestically and internationally. The demand for its original programming is there — in a very noisy market, Apple TV+ has managed to make continuous noise and draw people in. The remaining hurdle is generating enough series, with strong demand, consistently enough that people who are interested to start converting into longtime subscribers. 
---