Reality content is a uniquely valuable genre. Its low production cost compared to other genres lowers the financial risks of making a new series. This, combined with seemingly endless varieties of reality content create an environment where it is feasible to give even the craziest sounding idea a chance to be the next hit. Look no further than Netflix's latest attempt, Is It Cake?.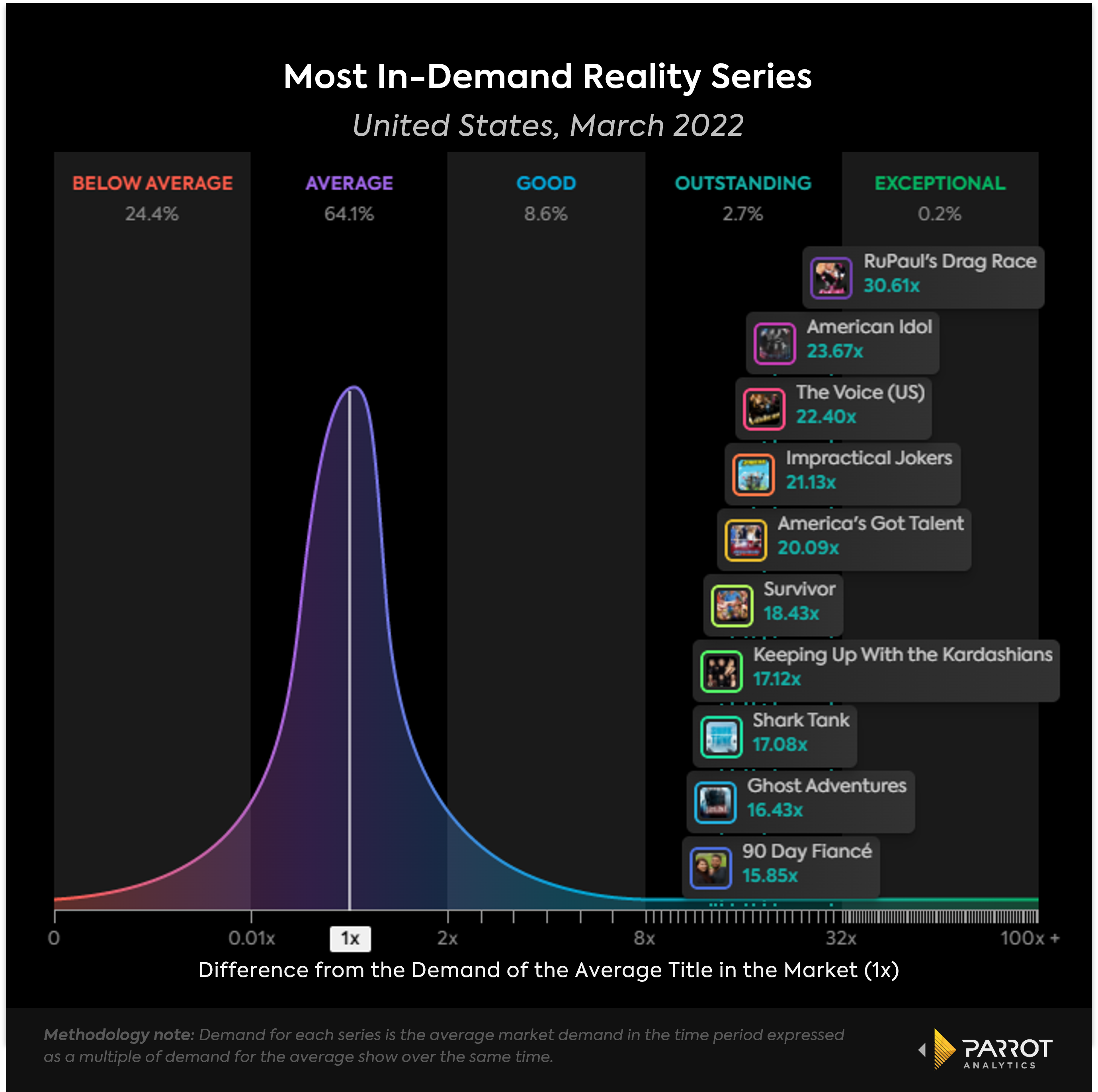 Looking at the most in-demand reality series in the US in March, it is clear how popular competition reality is.  RuPaul's Drag Race was the most in-demand reality series last month with 30.6 times the average series demand.  Several other competition reality series like Survivor and American Idol are also among the ten most in demand reality series for the month.  Only one romance reality made the top ten - 90 Day Fiancé.  The share of demand for romance reality has been shrinking over the past two years as other types of reality content like property reality become more popular. 
While the total demand for reality content in the US has grown by 24% since January 2020, demand for Netflix original reality series has grown by over 50% during the same time as the streamer has invested in developing its original offerings in this genre.  Netflix original realities like Love is Blind, Indian Matchmaking, and The Circle all premiered in 2020 and have new seasons coming this year.  
Love is Blind is an interesting example of Netflix embracing the spinoff potential of the reality genre.  Netflix's global footprint lets it unlock the full value of a franchise with spinoffs like Love is Blind: Japan and Love is Blind: Brazil tailored to local audiences around the world.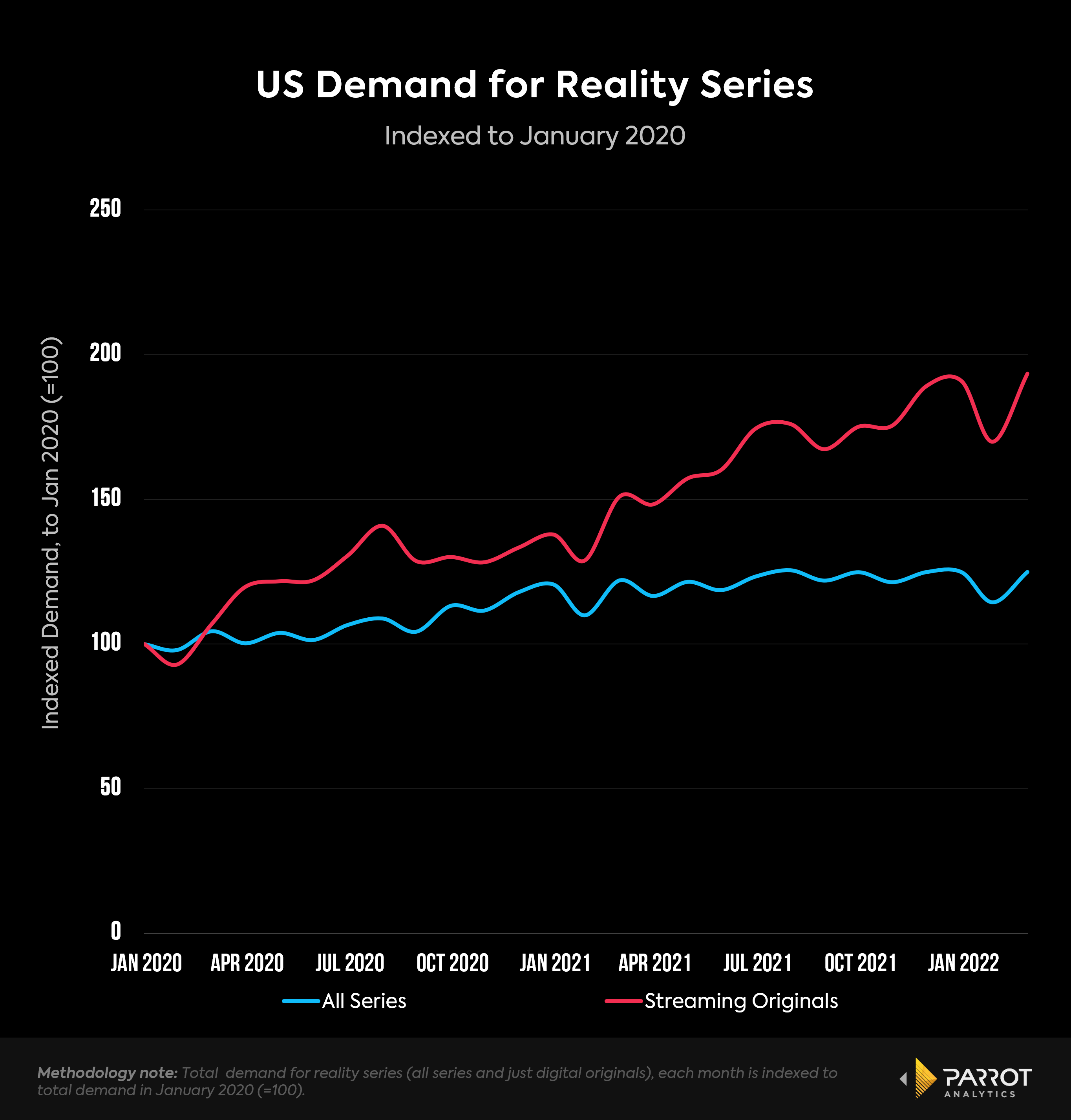 Although Netflix is making inroads into the genre with its innovative original reality series, these are a small fraction of all the reality content US viewers have to choose from.  Discovery+ is the top dog when it comes to the demand for reality content available on platform.  More than a third of demand for reality series available on SVODs in the US is for reality series on Discovery+.  The platform has focused on being a specialist in unscripted series drawing on the vast reserves of content from Discovery's linear channels.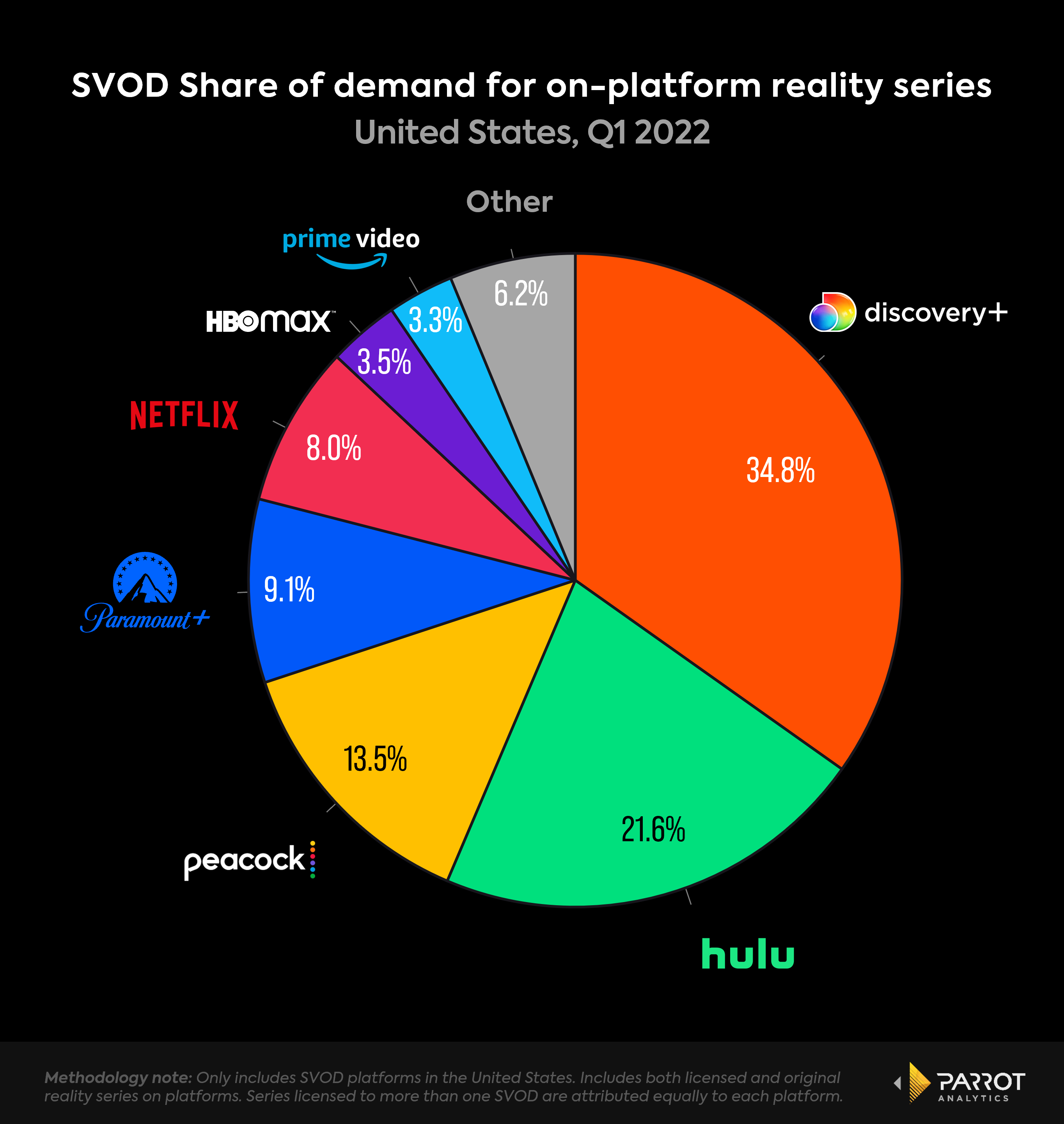 Keeping in mind the upcoming merger of WarnerMedia and Discovery, this chart drives home how complementary the streaming libraries of these two companies are.  While Discovery+ is the dominant player in the reality genre, HBO Max hardly dabbles in this genre.  Reality series on its platform only account for 3.5% of demand for reality content on SVODs in the US.  If the new Warner Bros. Discovery conglomerate were to consider combining or bundling its streaming services they would be bringing together distinct audiences.
---