When you load up the Netflix app today, you're likely to see many Netflix Originals, whether due to its popularity or recent release. However, this was not always the case. Before Netflix created and released series like House of Cards and Orange is the New Black, they solely licensed series and films and made them available to stream on their app. One of the most prominent examples is Breaking Bad, which initially was a little watched series on network channel AMC, but then exploded in popularity once people started discovering it on Netflix. 
Breaking Bad is arguably the quintessential example of the so-called Netflix Bump, the phenomenon where a show doesn't have much following but then becomes incredibly popular after being made available on Netflix. One could argue though that this is not the only type of licensed series receiving the benefit of increased demand. There are other series that were popular on their original networks, and either maintained or even increased their reach due to their stints on Netflix. Some notable examples include The Office and Lost. This article will examine two series that have had a positive impact due to Netflix.
The power of the Netflix original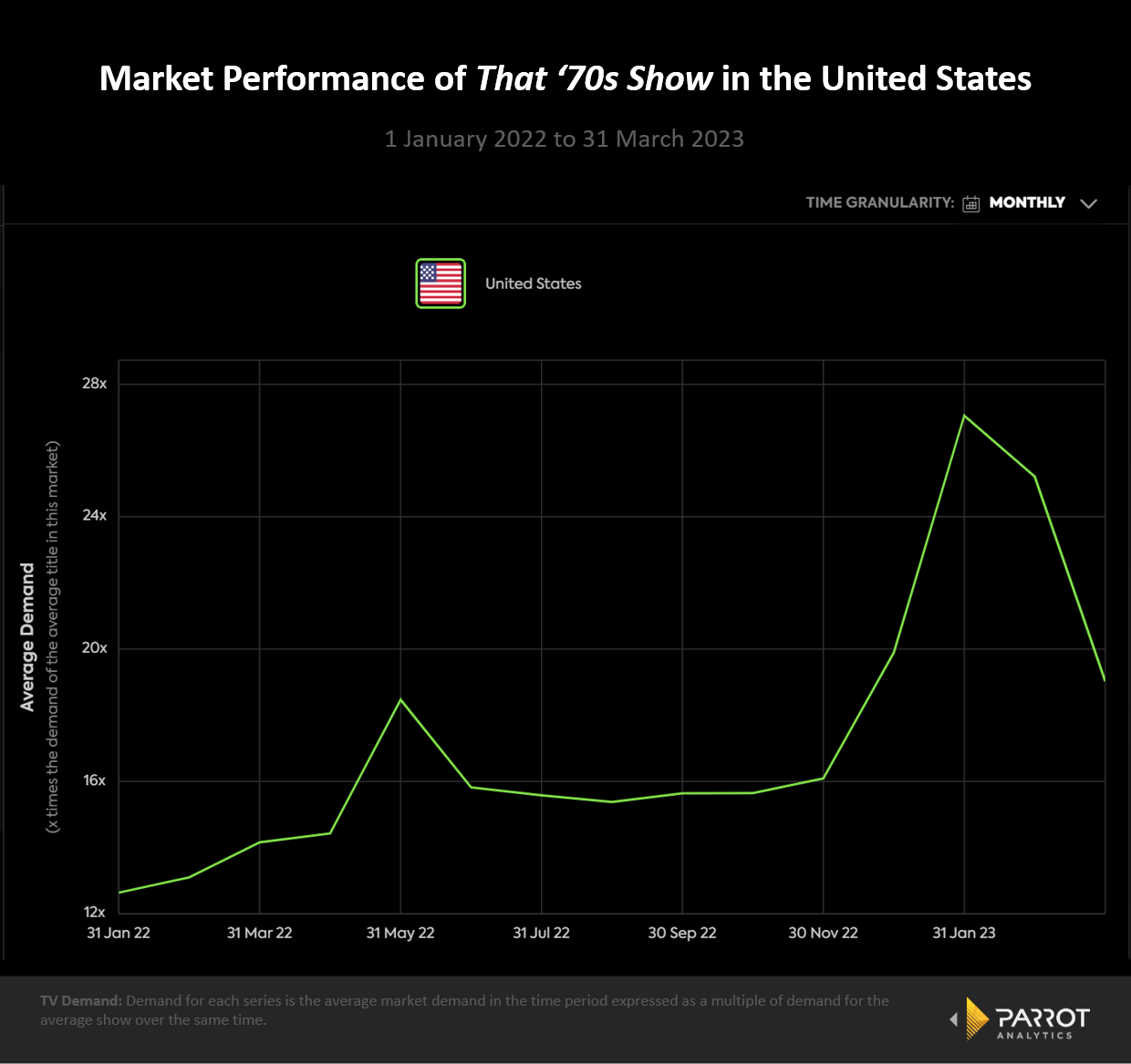 That '70s Show ran from 1998-2006 on Fox. During the 2010s, you could find it on Netflix. While the series ended before the Netflix app even debuted, That '70s Show had outstanding demand in the second part of the 2010s. From January 2016 through August 2020, it had an average demand of 8.4x and a peak demand of 20.2x in the US. Back in September 2020, Netflix removed That '70s Show as the contract expired. Since then, Netflix has developed a sequel series titled That '90s Show. It was first announced in October 2021 and released on 19 January 2023. Even after its removal, That '70s Show has maintained outstanding demand and grown since then, which may not have happened had the show not been made available by Netflix in the first place.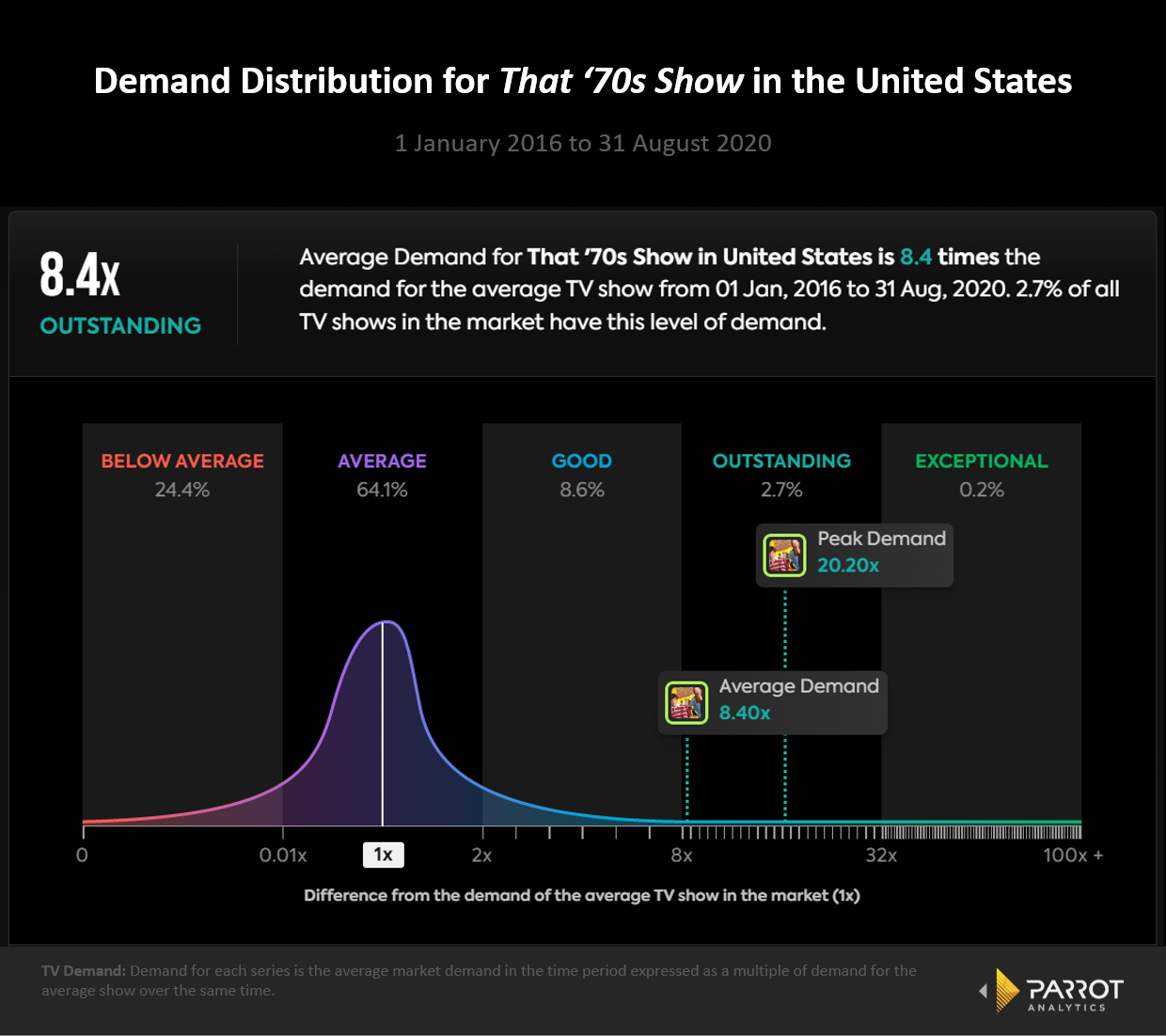 What's interesting to note is the increase That '70s Show received after the release of the That '90s Show. From 1 January 2022 to 30 November 2022, That '70s Show had an average demand of 15.2x. That figure increased significantly to 22.7x from 1 December 2022 to 31 March 2023 and a peak of 27x the average demand in January in the lead up to and release of That '90s Show. Between That '90s Show average demand of 7.8x and peak of 25.7x, one could argue there is strong correlation between the release of That '90s Show and the surge in demand for That '70s Show.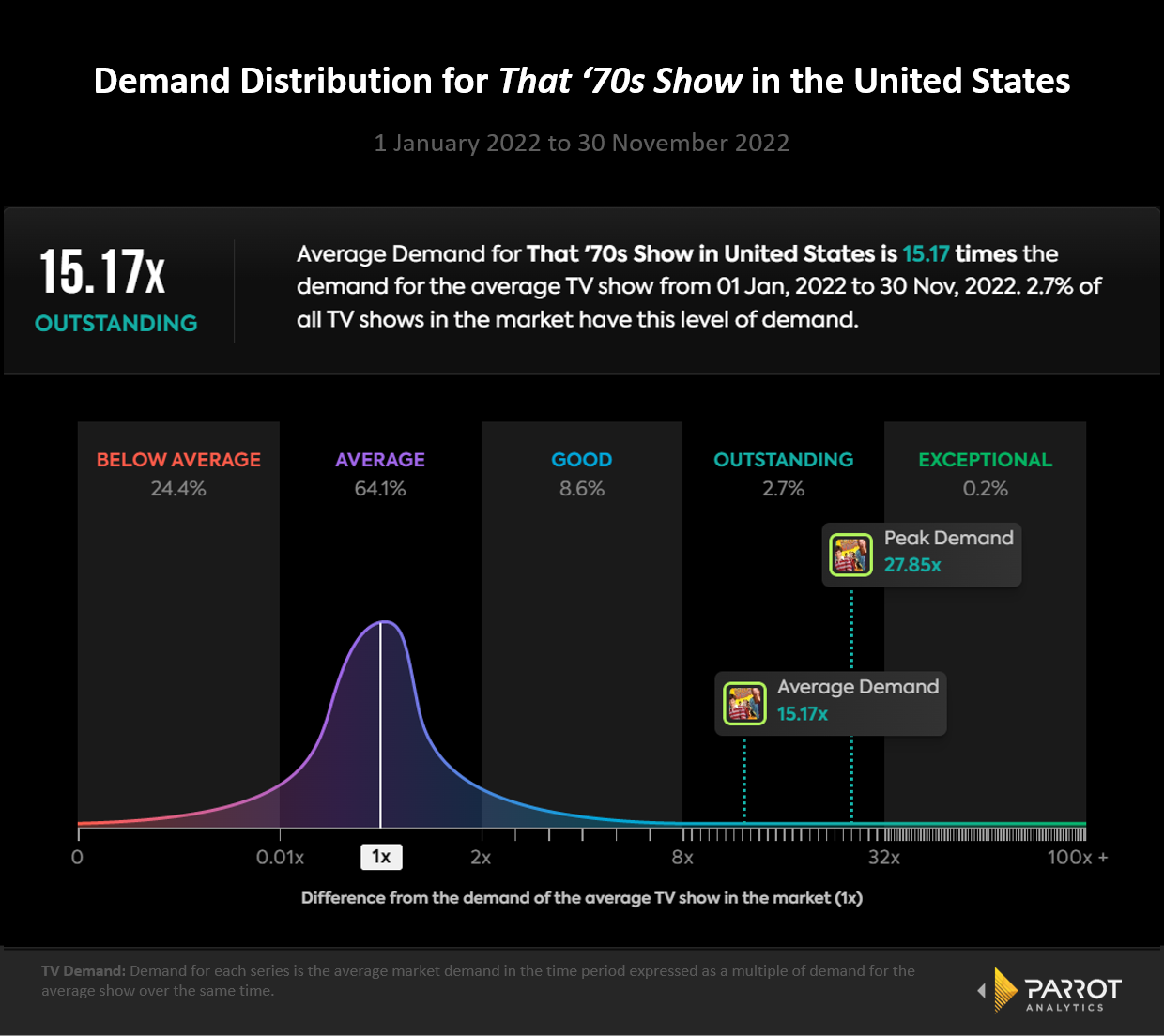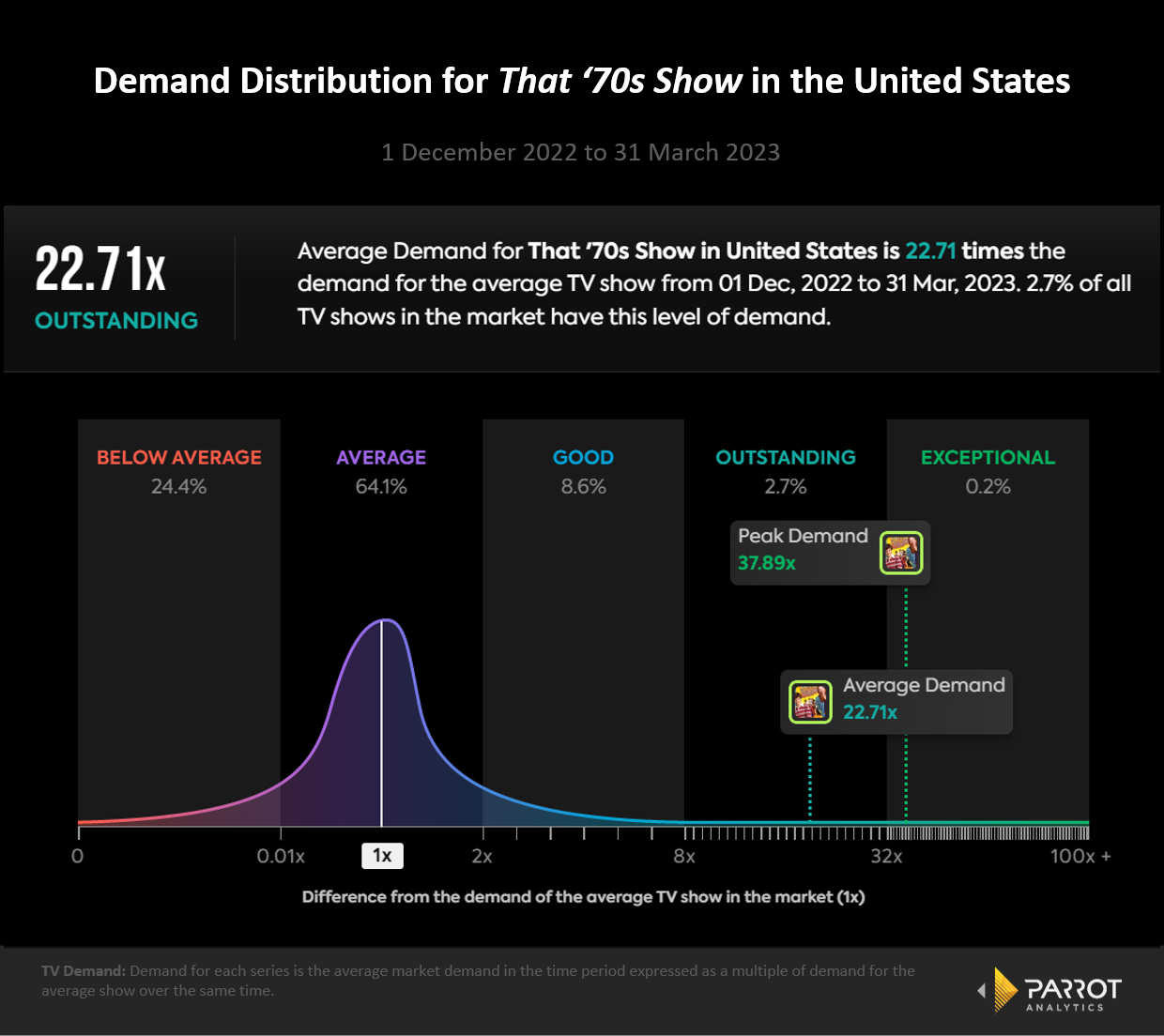 Successful network show to successful show on Netflix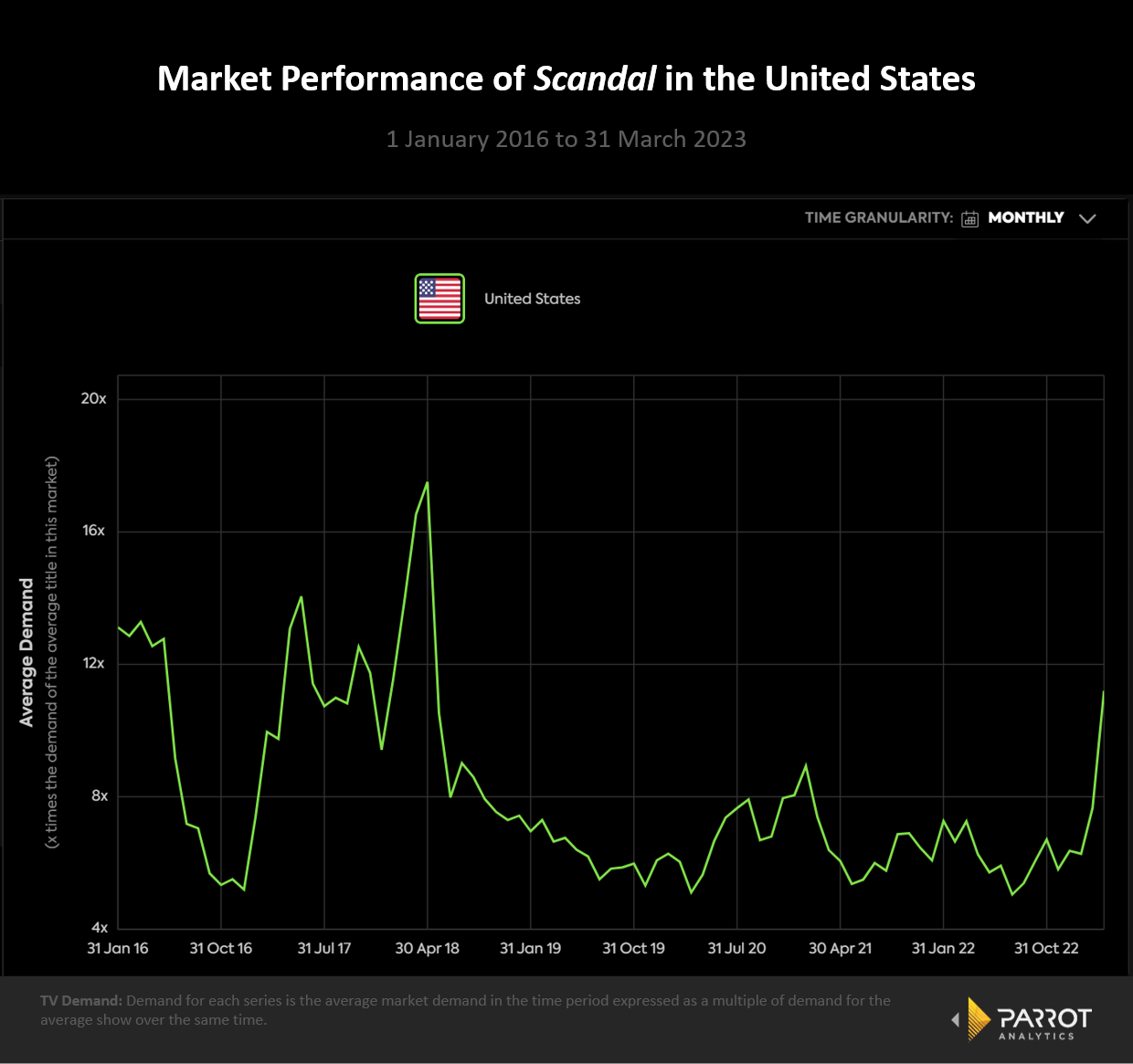 Shonda Rhimes is one of the more well known showrunners in television. Before her deal with Netflix, she started successful series like Grey's Anatomy and Scandal, which were broadcasted by ABC. From 1 January 2016 to 30 April 2020, Scandal had 8.9x the average demand in the US. Each season would get added to Netflix sometime after it finished airing on ABC.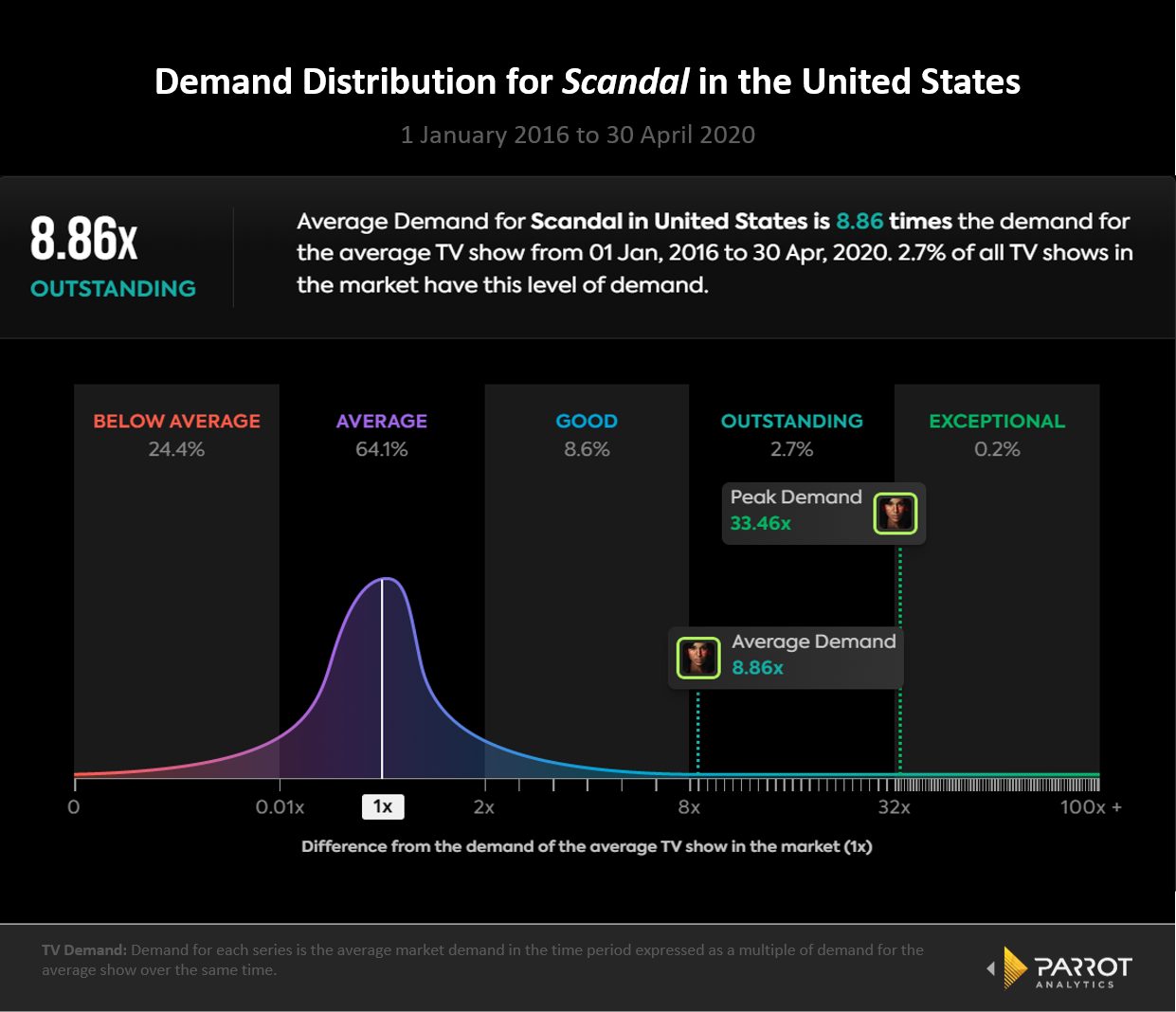 In May 2020, Scandal was removed from Netflix, and the series eventually moved to Hulu. From 1 May 2020 to 31 March 2023, average demand in the US dropped to 6.7x. The series did conclude in 2018, so some decay is fair enough to expect (in the Market Performance chart, there is a significant decrease occurring after April 2018, when the series finale aired), but the drop-off is notable nonetheless. It's also possible that demand only remained as strong as it did due to its availability on Hulu, and may have decayed even further had it not been picked up and made available on another app.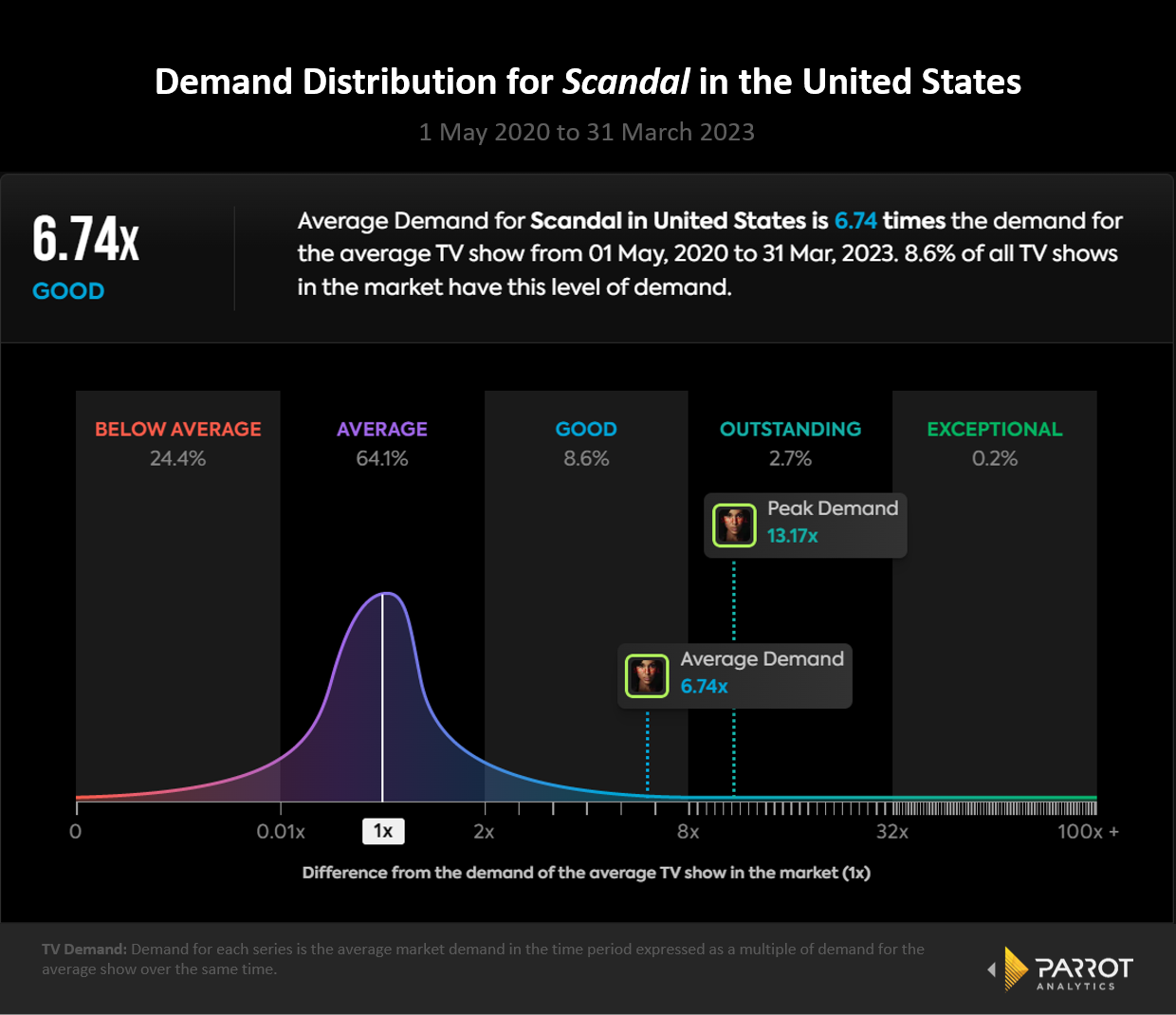 Why companies may consider increased licensing
As companies continually evaluate how to make the most out of their content, they may want to consider more licensing rather than keeping it exclusive to their own app. Between the additional revenue and increased demand, companies may realize there are benefits to sharing their content that are worth exploring. As more apps increase in subscribers and popularity, other companies may reap the benefits of sharing and developing content together beyond just Netflix.
---