Advertising is back in vogue, with platforms such as Netflix and Disney+ announcing Ad-supported Video on Demand (AVOD) packages while Warner Bros. Discovery is set to join Paramount Global, NBCUniversal, Fox and Amazon in offering a free streaming service under the Free Ad-supported Streaming Television (FAST) modality.
As the industry recreates the linear ad-supported model over the internet, established FAST services such as Fox's Tubi are emerging as key growth engines thanks to rapid expansion into new markets such as Latin America.
In the United States, Hulu has seen consistent subscriber growth under the AVOD modality, through which it offers a lower subscription cost and, in return, includes advertisements across its content titles.
As AVOD and FAST are increasingly embraced by the industry, it's worth exploring the recipe that players like Tubi, Pluto TV and ViX have followed to grow their audiences in Ibero-America.
But before diving into the data, we set out to corroborate hypotheses that we consider relevant for free services to be able to offer content that is attractive enough to bring together audiences, and that can later be monetized profitably via advertising.
Ad-dependent streaming services need:
Hypothesis 1: Minimize the cost of content production and licensing, which is best accomplished by offering titles non-exclusively in second or third windows.
Hypothesis 2: Maximize their inventory for ad sales by focusing on content that generates a large number of views with a preference for shows with long-term formats and a high volume of episodes.
Hypothesis 3: Rely on content that manages to attract audiences through pre-existing emotional links with talents, franchises or genres of interest.
Now, let's examine what the data says about each approach.
The retirement home for old shows
Free streaming services have effectively become a retirement home for older library titles. When we compare the Pluto TV, Tubi and ViX catalogs with those of Netflix, HBO Max and Disney+, it is clear that the former concentrate content that has already been released. On paid platforms, more than 25% of titles debuted on screen less than two years ago, while on free platforms only 1% of all titles were released that recently.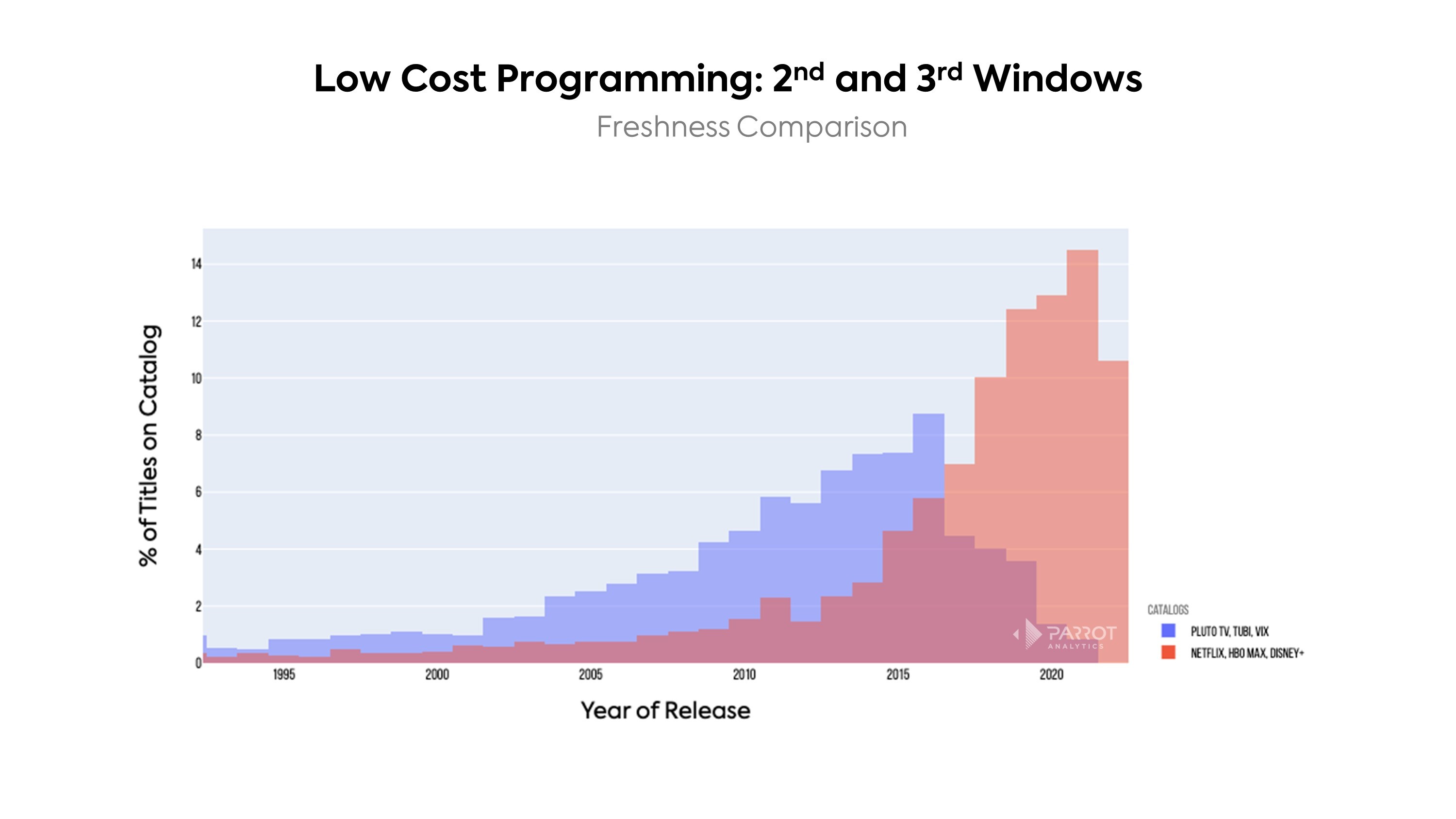 The great differentiator is being free of cost
Similarly, less than 10% of the titles on free platforms are exclusive to that platform. Premium services, for their part, offer catalogs where most of the titles are exclusively housed.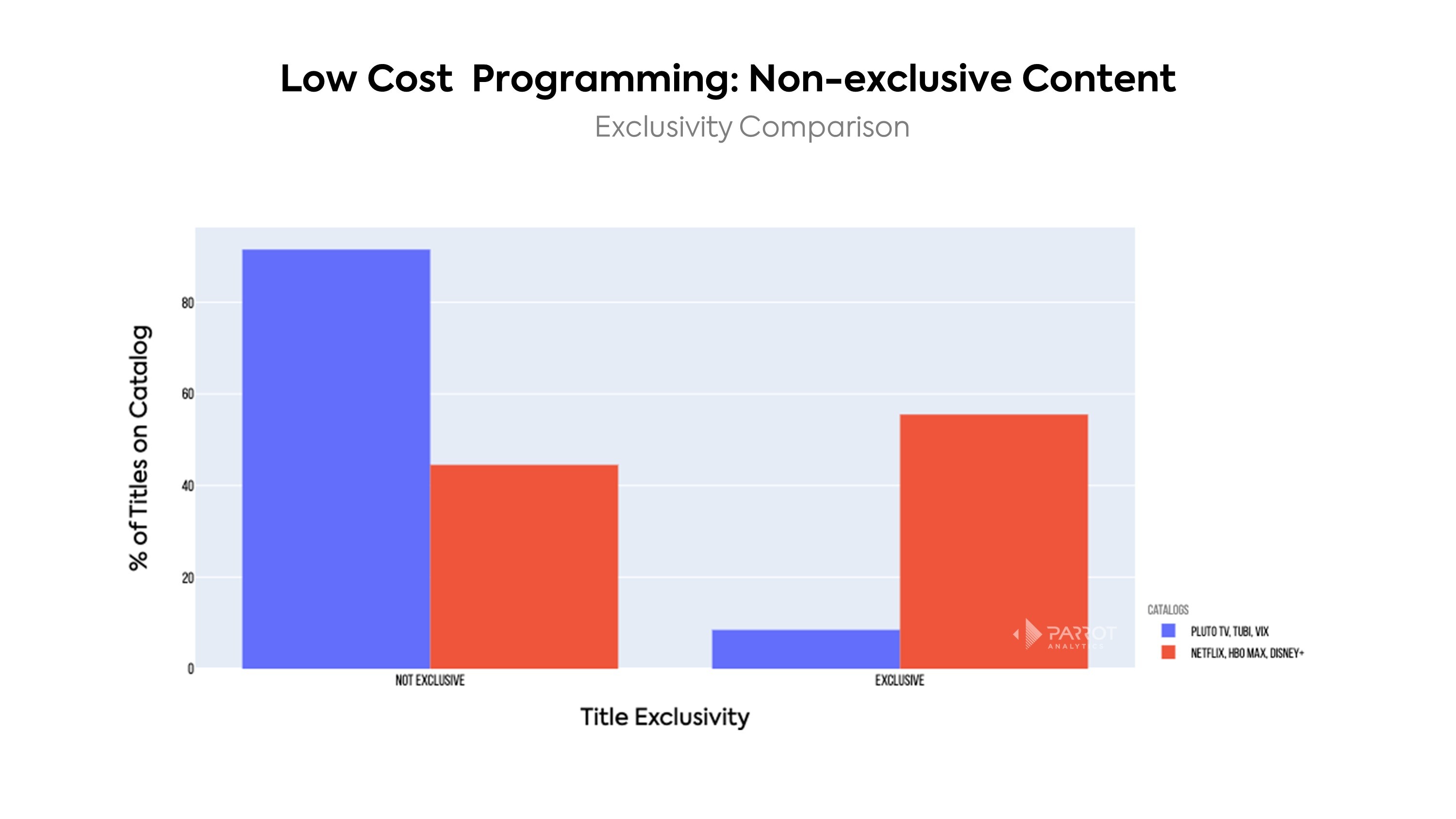 By licensing previously released content on a non-exclusive basis, free platforms reduce their operating costs and position themselves for the amortization of their content through formats that facilitate the introduction of advertisements.
Search content with many episodes
To accommodate commercials, the catalogs of services like Pluto TV, Tubi, and ViX tend to have TV shows that have a large number of episodes. In fact, most of the available titles on these platforms have at least 24 episodes. In contrast, half of the available titles do not exceed 10 episodes on services like Netflix, HBO Max and Disney+.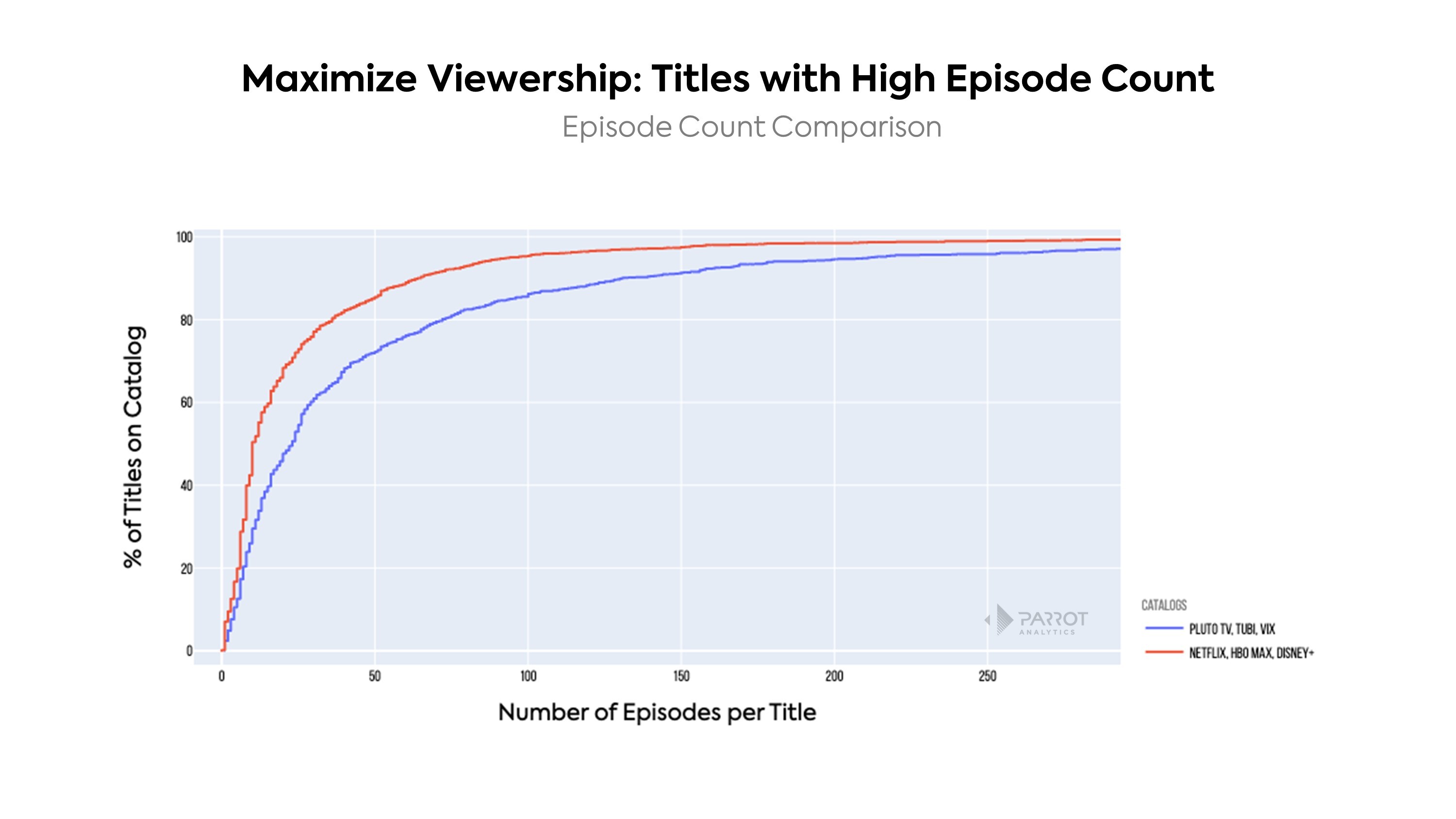 Telenovelas as a vehicle to make audiences fall in love
In the search for content with a large number of episodes (ideal for consistently engaging an audience that monetizes itself with advertising inventory), free streaming services have turned to traditional soap operas. Although soap operas concentrate around 10% of the demand for all types of dramas consumed in Ibero-America, their specific weight and degree of importance is even greater for free streaming services. For the audiences of Pluto TV, Tubi and ViX, soap operas represent almost 50% of the dramas in demand and the appetite for them has been growing steadily since 2019, when it barely exceeded 30%.
Apart from betting on advertising as a source of income and the soap opera as a monetization instrument, there are notable differences between the nature of the advertising-based streaming business and open TV. The open TV mantra of programming four-quadrant titles that appeal to a variety of audience demographics in order to maximize ratings is no longer valid on TV via streaming. The preponderance is no longer preventing a captive audience from changing the channel, but rather a fragmented audience looking for you. The most effective way to be discovered is by exploiting pre-existing emotional ties.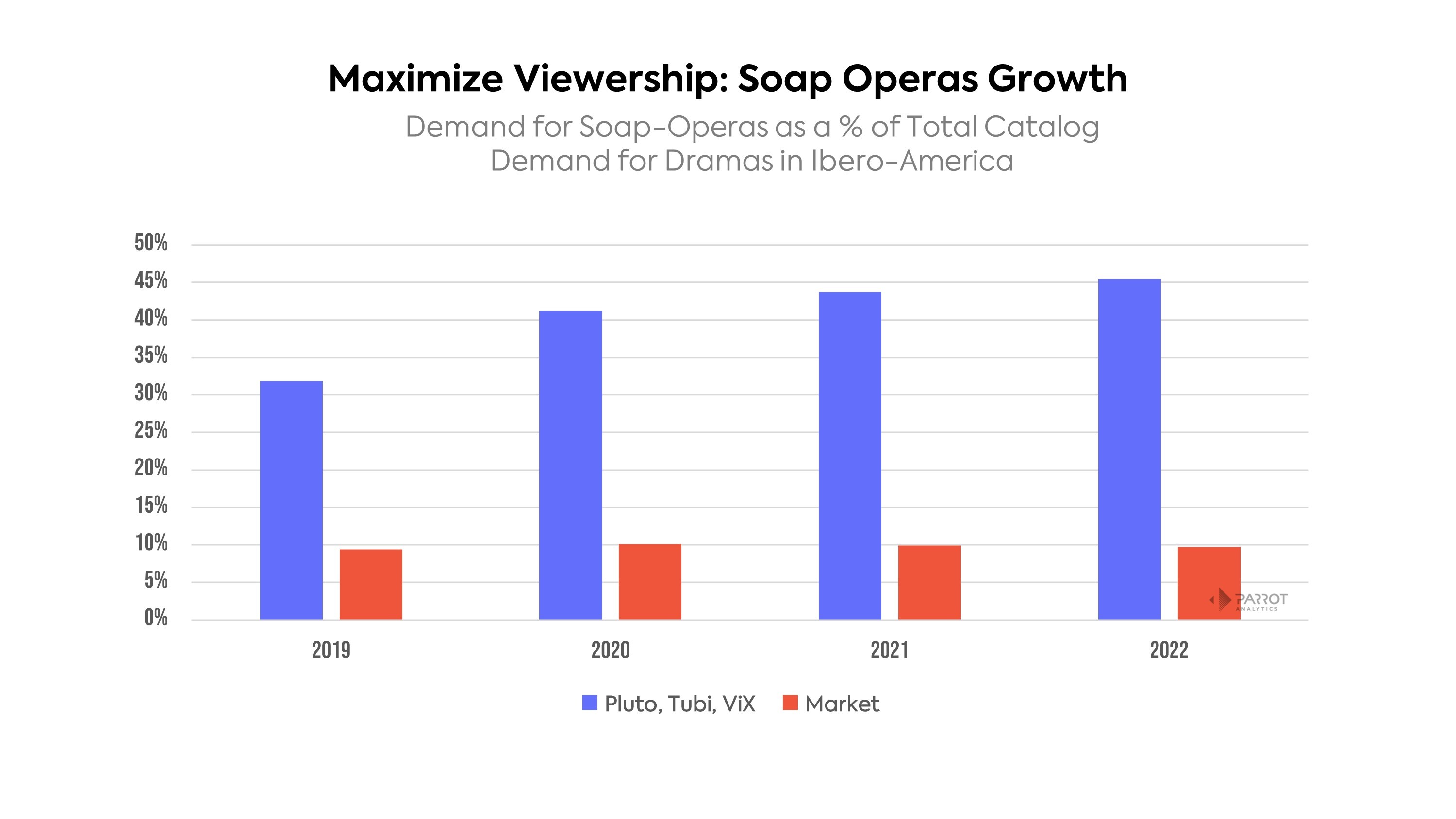 Talents as incentive
Free platforms can leverage the fame of specific talent to viewers for titles they star in. For example, a demand analysis of the Turkish actors most in demand in Mexico, as shown below, can support the licensing of Turkish novels that manage to take advantage of the connection between Turkish talent and the Mexican audience.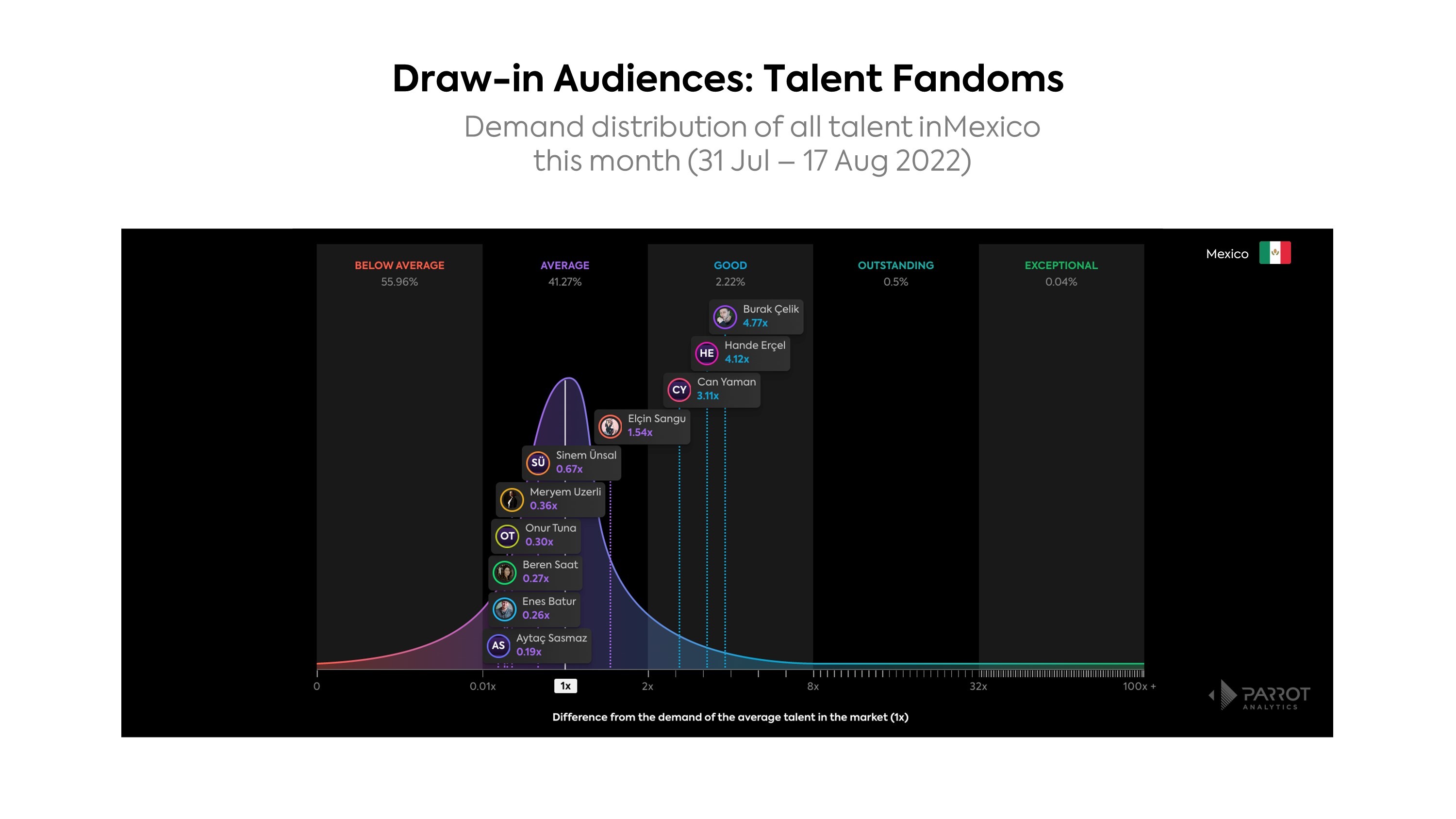 Links with existing content franchises such as MasterChef, Lego or Naruto can also be successfully used to attract super-fans.
Franchises established as a gateway
At a macro level, the use of these emotional bonds is reflected in the strategy of offering animation and reality programs that are 1.6 and 1.4 times more in demand than the market average. In other words, free platforms focus on offering titles that are already highly popular and take advantage of this high degree of "fandom" to acquire users efficiently and effectively.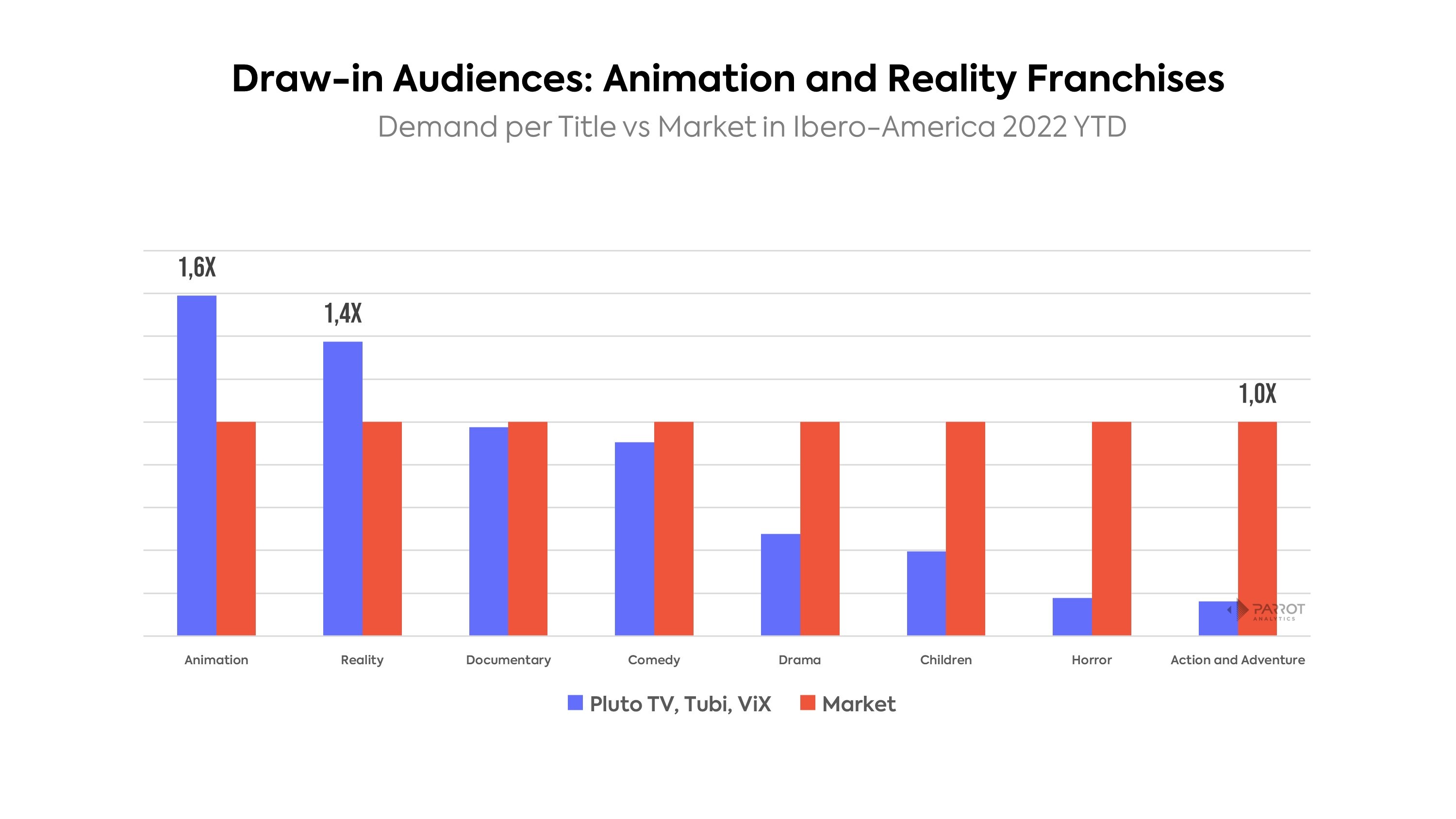 The case of children's content is another example of how free platforms have sought to strengthen their appeal by attracting parents looking to entertain their children. The strategy implemented has resulted in demand growth for this genre at a rate higher than that observed for the rest of the market participants, without necessarily implying the acquisition of the most successful properties.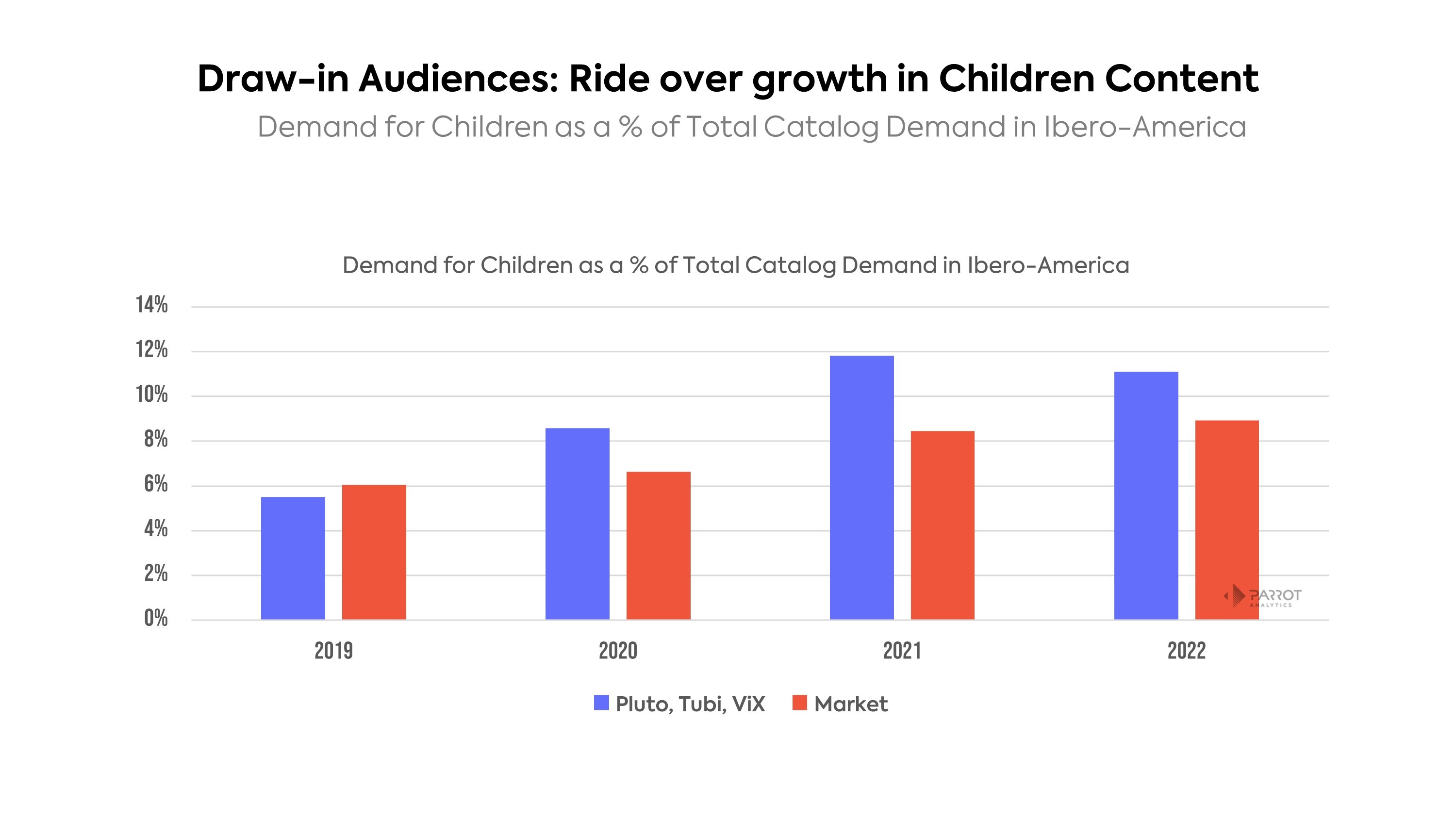 Algorithms as a monetization engine
This FAST X-ray of content and demand provides a surface understanding of the steps necessary to reach a sufficient scale to open the way for sustainable profitability in the future. But, it is essential to have sophisticated algorithms that manage to maintain the attention of visitors through recommendations tailored to each user.
Successfully predicting which title to recommend next will determine the number of ads that can be billed.
Predicting the affinity that a user has with a possible advertisement to be shown will determine how effective said advertising is for the advertiser and, therefore, the CPM (cost-per-thousand) that can be charged.
Predicting with greater certainty the type of content and the type of release - weekly episodes or seasonal binge - that maximize user retention and their migration to more premium services with higher monetization, is only possible with the extensive use of algorithms. Through continuous learning, this enables platforms to build a differentiating user experience from other entertainment options.
Interestingly, predicting industry winners largely depends on the robustness of their prediction algorithms.
---