Pluto TV is a free ad-supported streaming service that is part of the Paramount ecosystem, which also includes Paramount+ and Showtime. Pluto TV's catalog relies on licensed content from different sources, especially CBS productions. Combined, shows that are originally from CBS and Showtime are responsible for more than one-quarter of the total demand for Pluto TV's catalog.
Of the platforms that fall under Paramount's umbrella, Pluto TV is the one that resonates most with older audiences.  Content on Pluto TV over-indexes with people over 40 by 24.7%, more than the other two platforms. This number means that the over-40 age group interacts 24.7% more with the shows available on Pluto TV than with the average show. On the other hand, Pluto TV's catalog under-indexes with both Gen Z (22 and younger) and Zennials (between 23 and 20 years old). In that sense, Pluto TV's audience is very similar to Showtime's, the main difference being that Showtime is slightly more successful with Millennials and Zennials and less with the other generations.  
The audience for content on Paramount+ has a very different generational breakdown than the other two platforms. In particular, younger audiences engage more with shows on Paramount+ than Showtime and Pluto TV. Overall, the audience make-up for shows on Paramount+ is much closer to the average audience composition. This makes sense for a platform trying to appeal to as many subscribers as possible that is core to Paramount's strategy.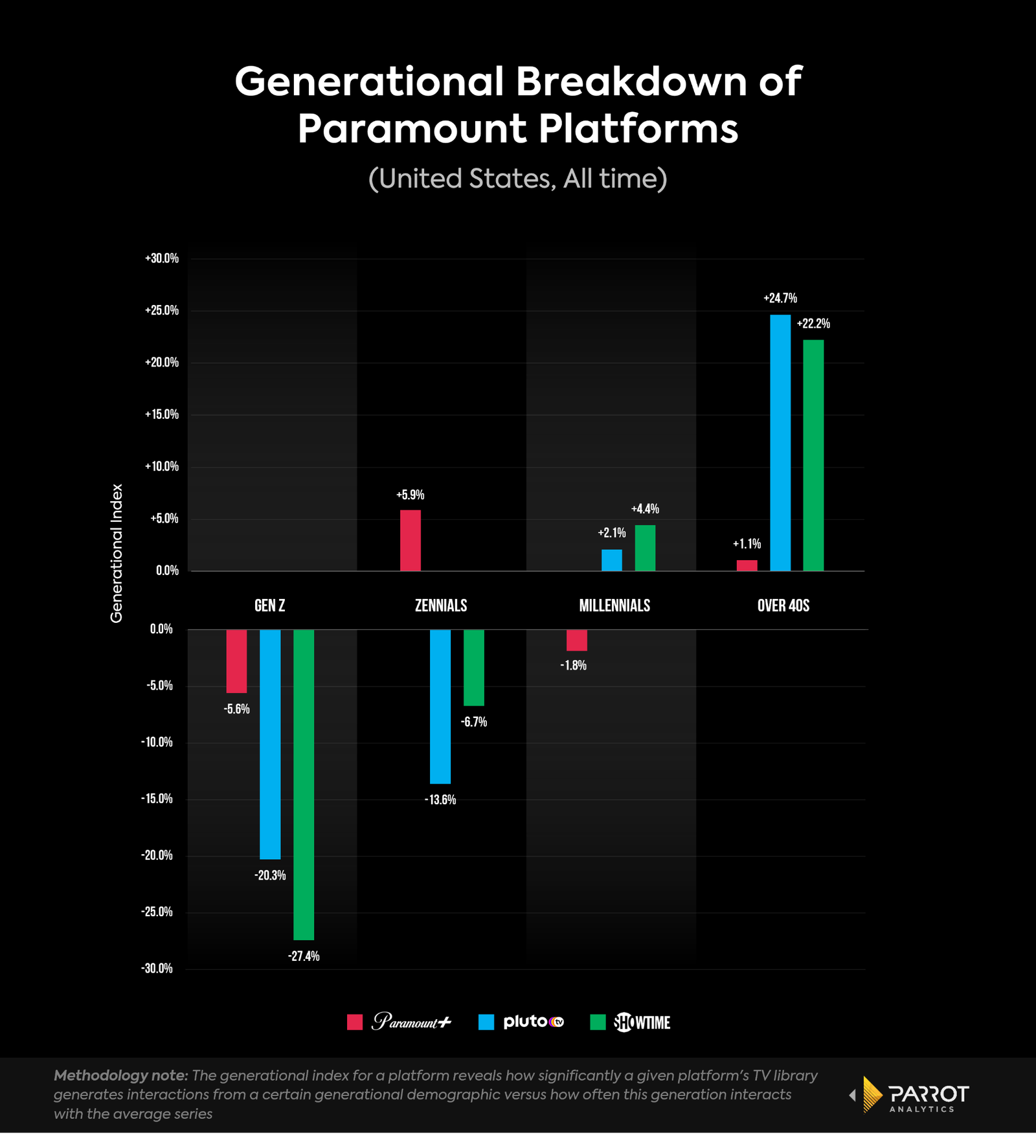 Besides being a platform focused on more mature audiences, anime, a genre that is popular with younger audiences, is a strong point of Pluto TV's catalog. The most in-demand show available on Pluto TV in August was One Piece, a classic and long-running anime series. Two other anime titles also made the top 10 list - Naruto and Jojo's Bizarre Adventure.
The list of most in-demand shows on Pluto TV also includes a number of CBS and Showtime productions. These shows are the dramas Billions, NCIS, and Blue Bloods; and The Late Show with Stephen Colbert, a variety show. These shows, along with the reality show Alone, generate more engagement from older audiences.  
From a Paramount strategy perspective, it makes sense to give linear CBS shows a second life on an ad-supported streamer to continue to monetize this content in a different way for the company. While it may be surprising to see shows like Billions from the premium Showtime channel on a free platform, lowering the cost barrier to accessing this content has the potential to get a larger audience hooked, who may ultimately sign up for the premium offering to continue watching.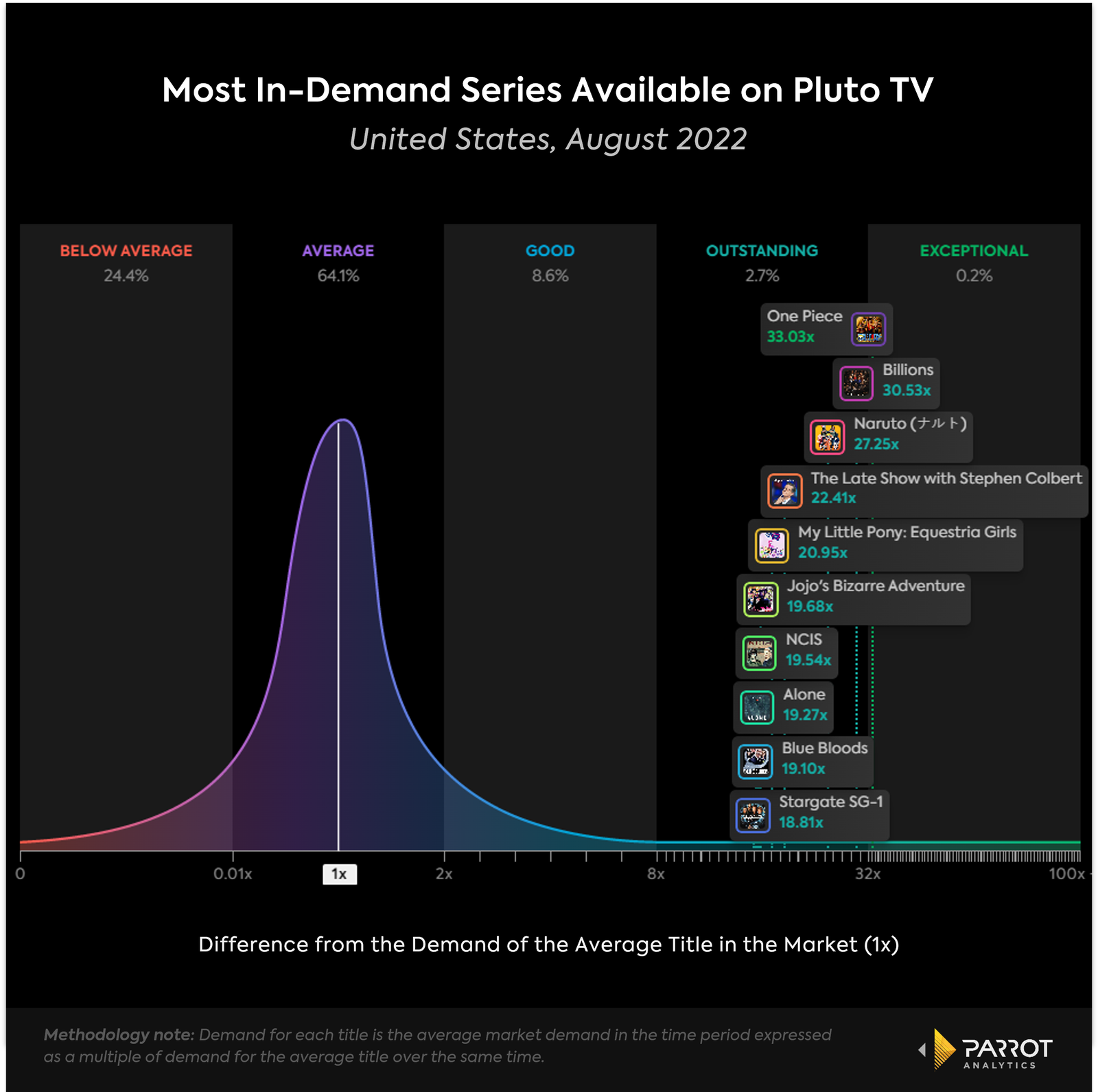 Pluto TV also has a number of movies available in its catalog. In August 2022, Robert Rodriguez's From Dusk Till Dawn was the most in-demand of those movies with 9.88 times more demand than the average film. This title is followed closely by the classic horror movie The Evil Dead (9.72x) and the more recent documentary The Phenomenon (9.61x). Two movies from the Transformers franchise feature in the top 10 movies, Transformers: Dark Of The Moon and Transformers: Revenge Of The Fallen.
It is interesting to note that most of the top in-demand movies on Pluto TV are older movies. Besides The Phenomenon, RBG, and The Invitation all the movies on that list were released more than 10 years ago.  Contrast this with the top series on the platform, which were more current and attracted much higher levels of demand.  Clearly it is the shows on Pluto TV that have the most potential to draw viewers in.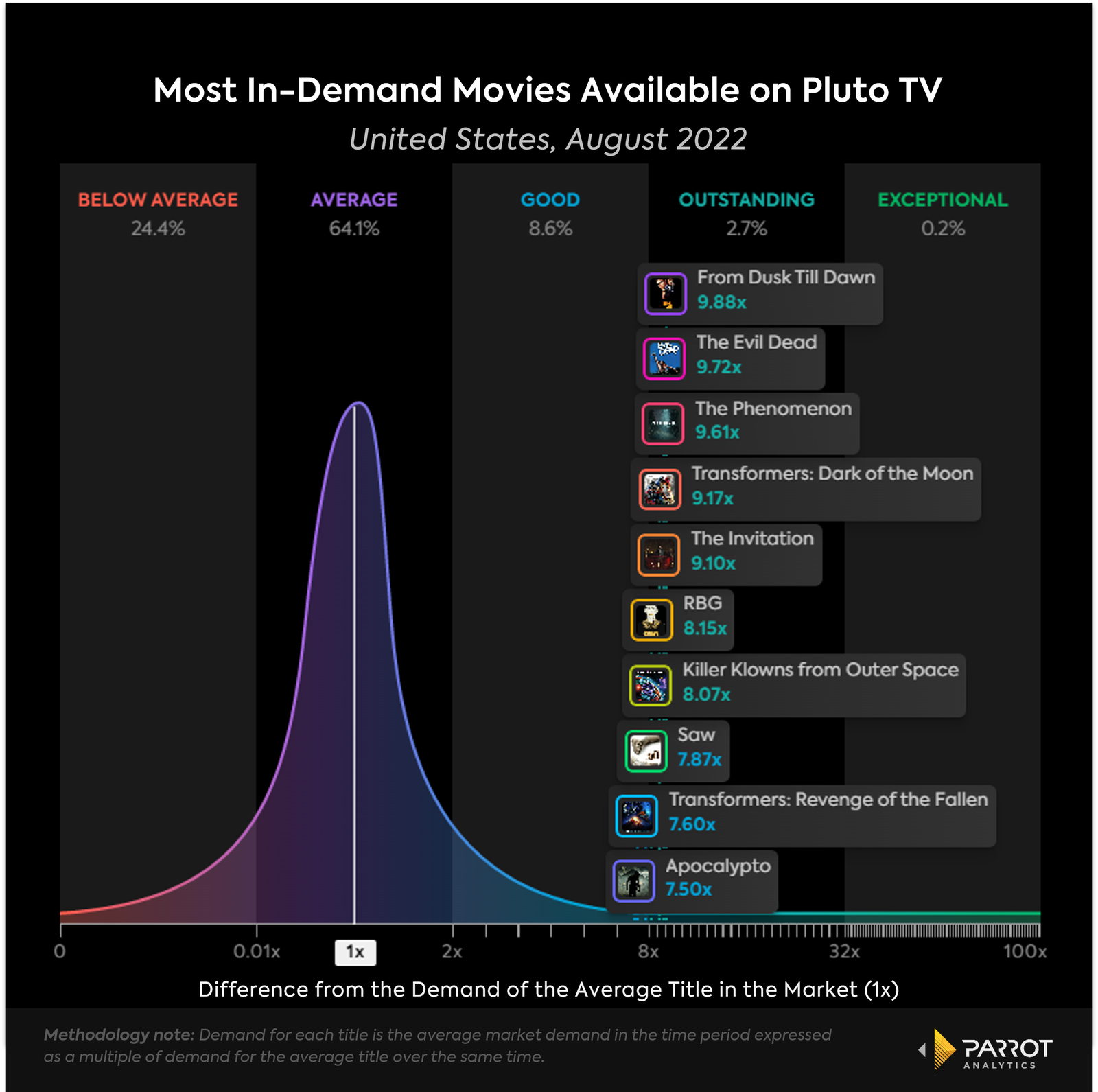 ---