Chances are that if you know someone between the ages of five and 21, the only thing they're talking about is Minions: Rise of Gru. The film became one of 10 animated films to cross the $100 million domestic opening weekend box office line, amassing another $100 million internationally. Spurred on by a viral TikTok trend called "GentleMinion" and the familial love for the little guys in yellow who love to kick, punch, and trip one another, Rise of Gru has seen the type of animated success that other studios hope happens for their animated fare. 
Parrot Analytics' new Movie Demand measurement system tracks demand for films, including theatrical releases and those available on streaming platforms, to help better drive marketing, strategy, finance, and programming teams decisions about their pipelines. By understanding where audience demand for films is strongest, what genres of films over indexes on revenue when compared to budget, and what potential whitespace is available — alongside creative decision making — the changing world of film can be better navigated. 
For example: animated fare.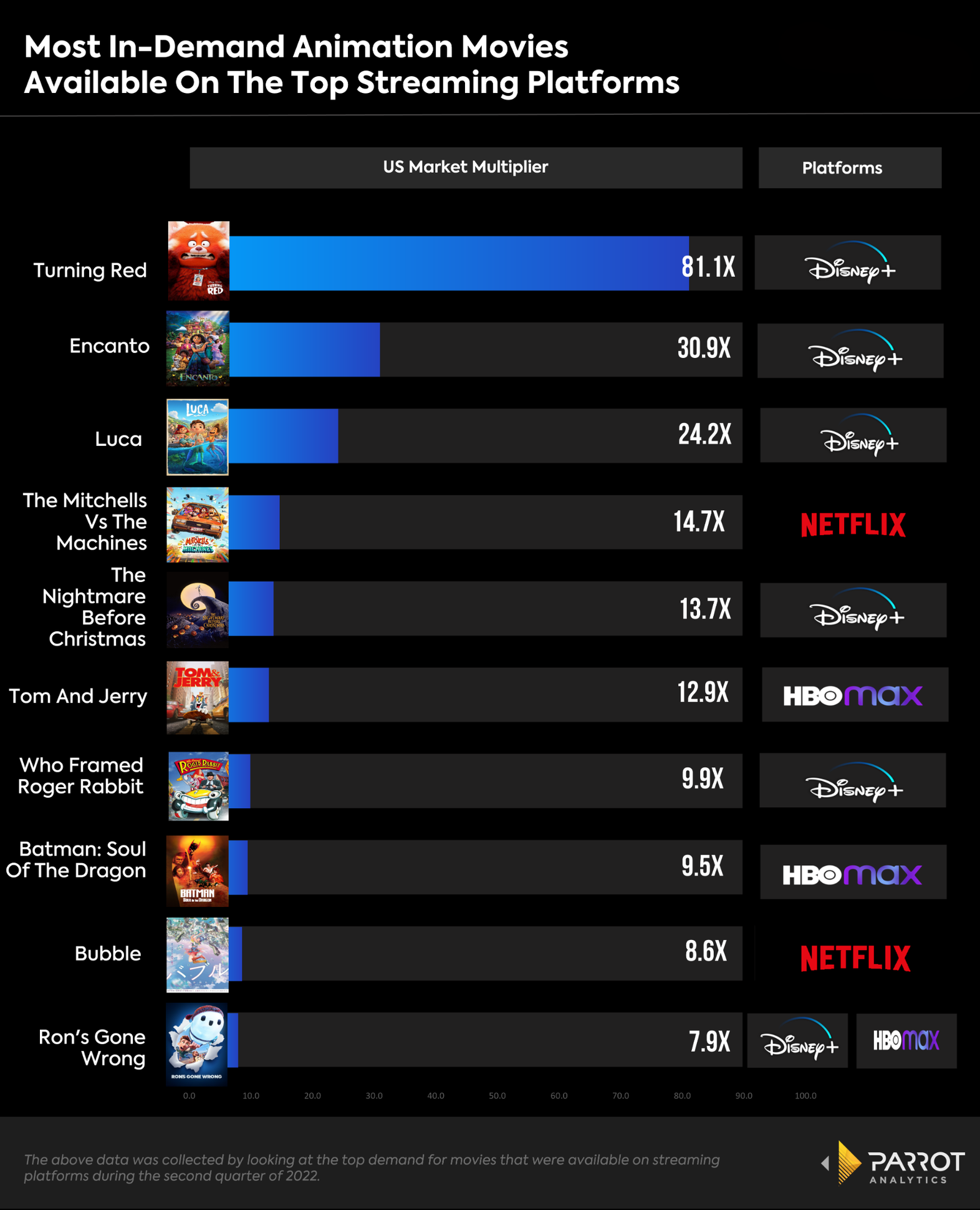 It's unsurprising that Disney dominates the animated film landscape. The top three animated films in Q2 were Turning Red, Encanto, and Luca, demonstrating continued demand and adoration for both Pixar and Disney Animation titles. Turning Red saw a staggering 81x the average demand of all other films in the United States, putting it in the exceptional category, which only 0.2% of films reach. Encanto and Luca, both of which debuted on Disney+ months ago, still saw an outstanding 30.9x and 24.2x the average demand of other films in the US, respectively. 
This is key. Children's content, including family animated fare, has a stickiness that other films don't have. The continued demand for these three films reiterates that if children's content is done well, and done correctly, the engagement with those titles will last longer than other films, creating an extended run on overall demand and a potential stronger return on initial investment. For a company like Disney, if someone's favorite movie is Encanto or Luca, as long as those films are available on the platform, the value of that subscription to the subscriber is paramount. 
The same goes for classic titles like A Nightmare Before Christmas and Who Framed Roger Rabbit, an animated/live-action hybrid film. These titles still show strong demand showing from consumers who will seek them out on platforms, and pay for access to those titles. This is the intrinsic value of a title to a platform when it comes to key metrics: growth, retention, and referral value to other titles on a platform.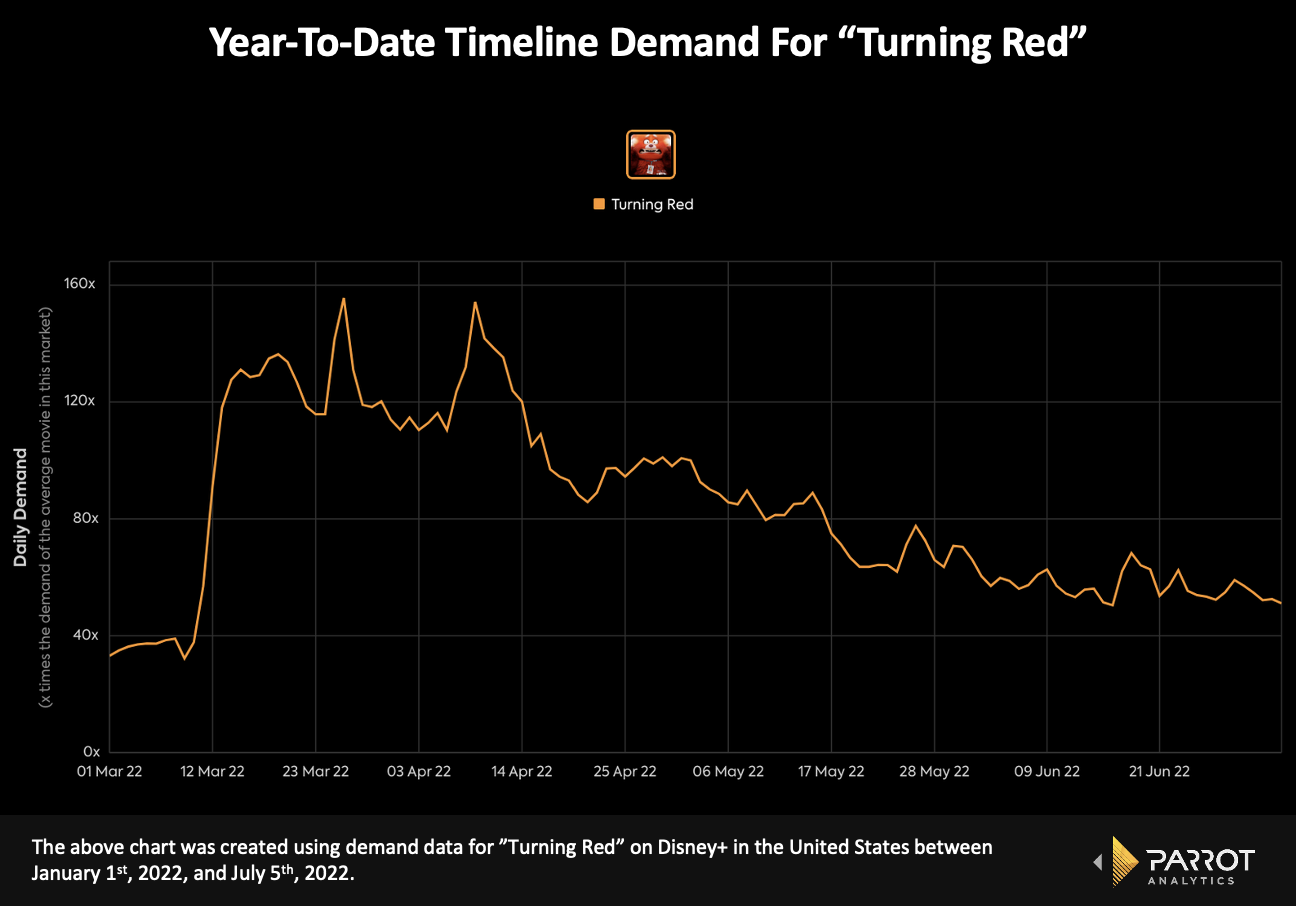 Disney isn't the only player in the game, though. The fourth most in-demand animated movie available on streaming platforms is The Mitchells vs the Machines, which Sony sold to Netflix during the pandemic. The Oscar-nominated film quickly found an audience on Netflix, and it's still showing strong demand today. Family entertainment was a strong investment from Netflix over the last couple of years, with Netflix wanting to release six animated features a year — more than Disney Animation and Pixar. With the shift in macroeconomic headwinds, however, and Netflix facing a massive drop in market capital, that may change as Netflix refocuses strategies. 
What is still evident, however, is that animated titles are a core offering on streaming services. They can help bring in customers and, once subscribed, offer the type of sticky content that is necessary for continued subscriber retention. 
---