Parrot Analytics' Q2 2022 global audience demand data lines up with Netflix's own public projections that the beleaguered streaming giant is in for another rough earnings report.
Netflix's global demand share for streaming originals plummeted from 45.2% in Q1 2022 to 41.2% in Q2 2022, another all time low. The last time Netflix's global share dropped more than this was in Q4 2019, when both Disney+ and Apple TV+ entered the market.
This demand share hit comes during the same quarter that Netflix expects to lose two million global subscribers. 
It's not surprising to see Netflix drop down or set another record low in global original demand share, but the scale of this quarter's loss - especially without a major new streamer launching - is jarring.
Netflix can often count on healthy overall demand growth even when its share drops, but the total demand for Netflix originals remained virtually flat in Q2 2022, despite record setting US and global demand for new episodes of Stranger Things.
Consumers in the US and worldwide are responding to content available on Netflix's competition. In Q2 2022, Netflix's six primary competitors in demand for original content, Amazon Prime Video, Disney+, HBO Max, Apple TV+, Hulu and Paramount+, had a combined global demand share that was larger than Netflix's for the first time ever. 
As Netflix's share price has dropped over the last three quarters, the company is rethinking its entire business philosophy, preparing to launch an advertising tier while cutting personnel and trimming content budgets. 
These moves should boost revenue and potentially draw in new consumers turned off by its relatively high price point, but above all Netflix needs to get back to the fundamentals of the streaming business - releasing highly in-demand original content to grow and retain its subscriber base.
Global Demand for Original Content - Netflix vs. Competitors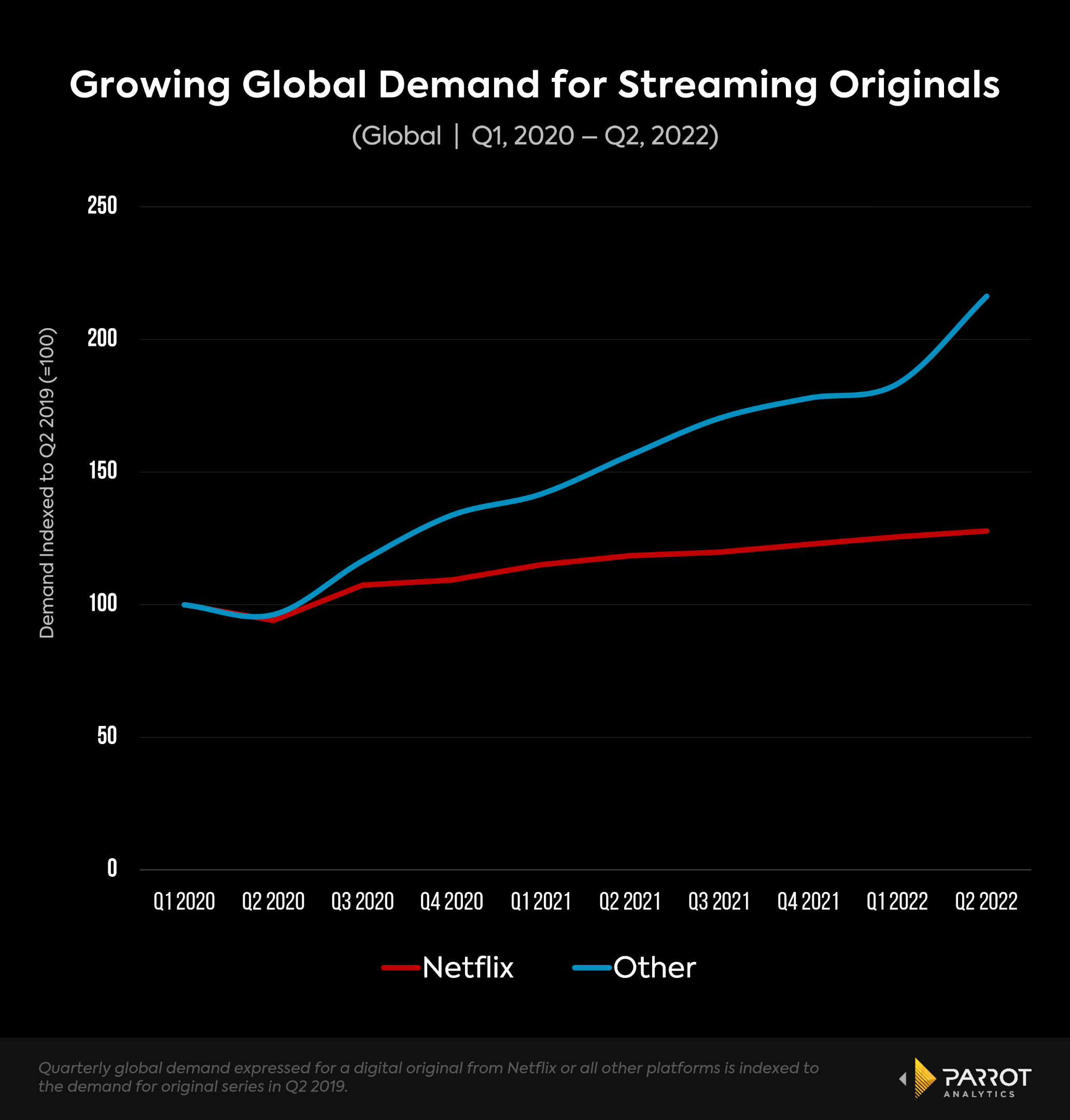 The total global demand for Netflix originals was up 1.8% last quarter, while the demand for originals from all other SVODs grew 17.9%. It's likely that without new episodes of Stranger Things, Netflix would have seen a loss here.

From Q1 2020 to Q2 2022, global demand for Netflix originals grew 27.8%, while its competition was up 116%. Netflix's global demand share dropped from 55.7% to 41.2% over the same time.

From Q1 2020 to Q1 2022, Netflix's global subscribers grew from 182.9 million to 221.6 million, a 21.3% increase in total subscribers. This tracks very closely with the 25.5% growth in total demand global for Netflix originals from Q1 2020 to Q1 2022, showing the key link between demand for original content and subscriber growth.
Global Streaming Originals Demand Share - Q1 2020-Q2 2022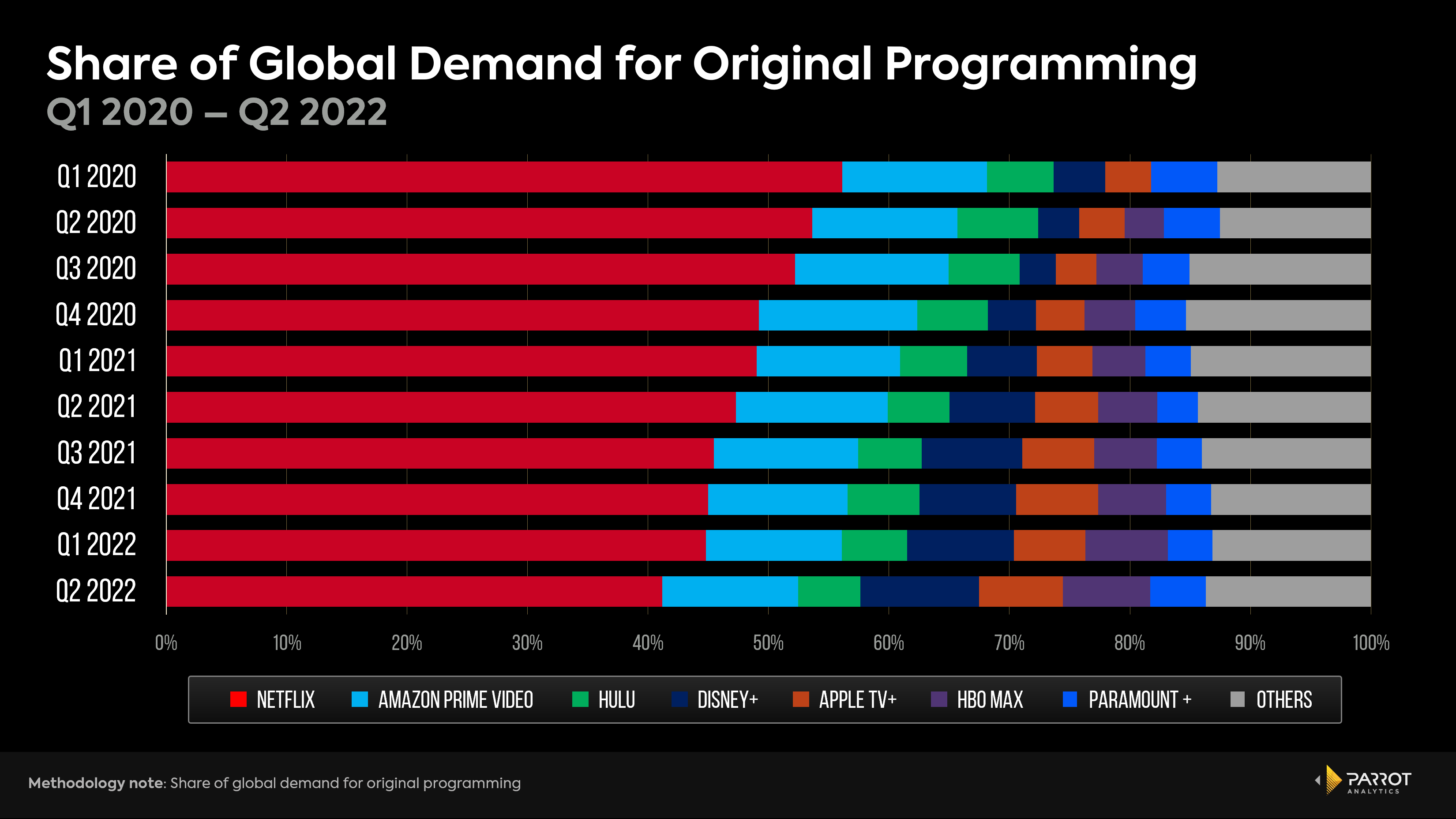 Netflix's global demand share held somewhat steady over the previous three quarters, going from 45.8% in Q3 2021 to 45.2% in Q1 2022.

Thus, a four point drop in just one quarter - without a new SVOD launching - should serve as a warning sign that the competition is successfully growing audiences for its originals, while Netflix is slipping in the very category that it pioneered - globally in-demand streaming original content.

From Q2 2020 - the first quarter in which Apple TV+, Disney+ and HBO Max were available - to Q2 2022, those three streaming services' combined global demand share grew from 10.5% to 24.1%. This 13.6% gain contrasts with Netflix's 13.8% drop from 55% to 41.2%, implying HBO Max, Apple TV+ and Disney+ account for virtually all of Netflix's global demand share losses over the last two years.
Global Streaming Originals Share - Q2 2022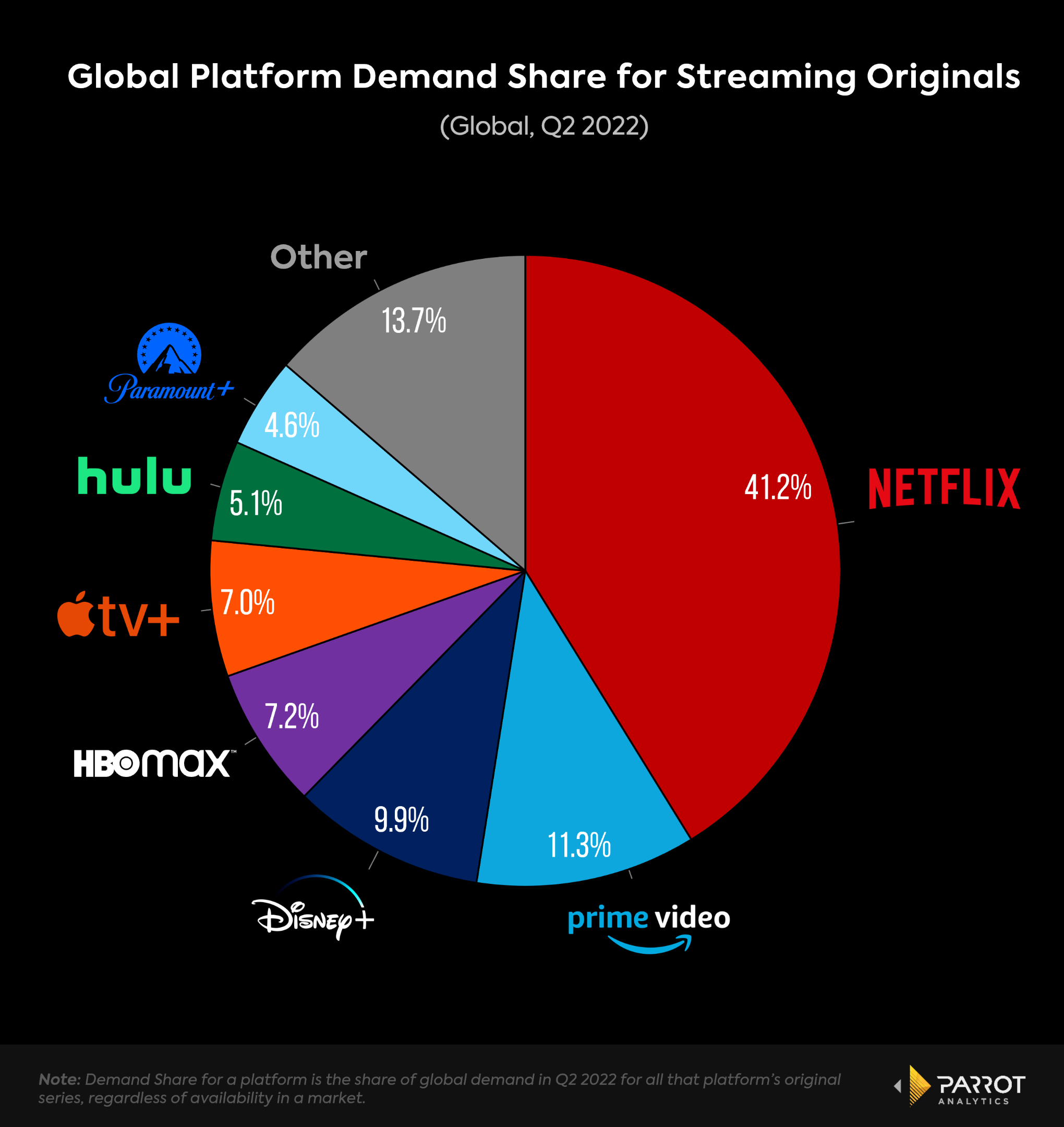 This is the first ever quarter in which Netflix's six main competitors have a combined demand share (45.1%) that is higher than Netflix's (41.2%). 

This is almost a mirror image of Q1 2022, when Netflix was at 45.2% and the six others were at at 42.4%. Two years ago, Netflix's top six competitors combined for 33.4% global demand share, while Netflix stood as 55%.

In Q2 2022, Disney+ grew from 8.8% to 9.9%, Apple TV+ was up to 7% from 6%, HBO Max grew from 6.7% to 7.2%, and Paramount+ hit a personal best of 4.6%, from 3.8% last quarter. This combined 3.4 percentage point gain for these four streamers accounts for almost all of Netflix's losses last quarter.

In another example of Netflix's shrinking influence over global audiences, Netflix accounted for just six of the top 20 most in-demand streaming originals worldwide last quarter, down from 14 of the top 20 in Q3 2019. 
One Major Bright Spot: Stranger Things
(Stranger Things data is through June 30, 2022, does not include demand after the season four part two release)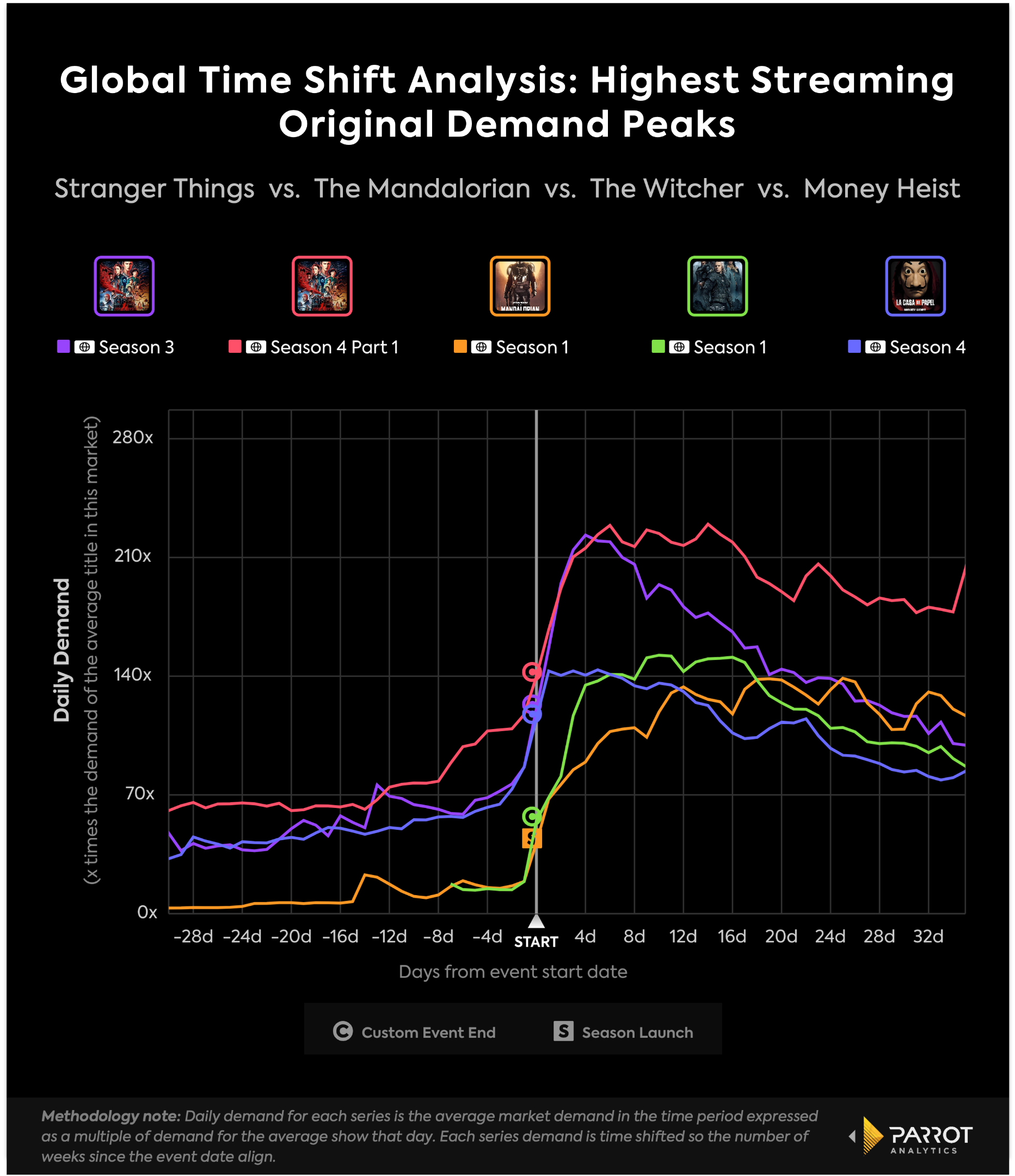 After a nearly three year wait, global audiences flocked back to Stranger Things in droves. The show hit a new streaming original record of 229.6x more demand than the average show worldwide in the days following its May 27th debut. Only the final season of Game of Thrones had higher peak audience demand (data goes back to 2015).

The other four highest peaks achieved by streaming originals are in the chart above. Season three of Stranger Things is the only one that comes close to the new record, and both of the Stranger Things peaks dwarf those hit by The Mandalorian, The Witcher, and La Casa De Papel (Money Heist).

Demand for Stranger Things was so massive that it actually gave Netflix a lift in monthly demand share. Between May and June 2022, Netflix's global demand jumped from 40.5% to 41.1%, while in the US it went up from 40.1% to 41%. 

From May 27, when part one dropped, to June 30, Stranger Things averaged 193.2x with US audiences - making it 279% more in-demand than the next closest streaming original, Amazon Prime Video's The Boys (51x). During this time it averaged 200x globally, 124% ahead of second place The Boys (89.2x).

All that said, Netflix must look beyond Stranger Things to power subscriber growth for its entire platform. The platform is simply too big to rely on one show, even if that show is setting audience records. 

However, Netflix has a questionable track record in creating homegrown franchises, with notable missteps including the Korean version of La Casa De Papel (Money Heist) hitting just a fraction of the original's audience demand last month, and Jupiter's Legacy getting canceled shortly after its series debut last year - complicated efforts to build out the "Millarworld."
---