Paramount Global reported a mixed bag of results when it released its Q3 earnings on Wednesday.  While the net subscriber additions for the company's flagship streaming platform, Paramount+, came in at 4.6 million (comfortably ahead of the 3.25 million forecast), the company's revenue fell short of expectations.  Wells Fargo downgraded the stock and its share price has slid by more than 10% since reporting earnings.  Markets are questioning the financial prudence of the company's investments in streaming which have impacted its profitability in the near term.
This is the fundamental dilemma Paramount has been faced with for a while now.  Does it make sense to play the role of "content arms dealer" for the industry with valuable licensing deals at the expense of developing its own platforms to compete in the direct-to-consumer race?  Paramount has been aggressively investing in its DTC offerings which has hit its bottom line.  However, with new subscribers coming in above expectations, its investment has clearly given audiences a reason to sign up.  The company is betting that long term success lies in directly competing for consumer attention with its own platforms, even if its bottom line takes a hit in the short term.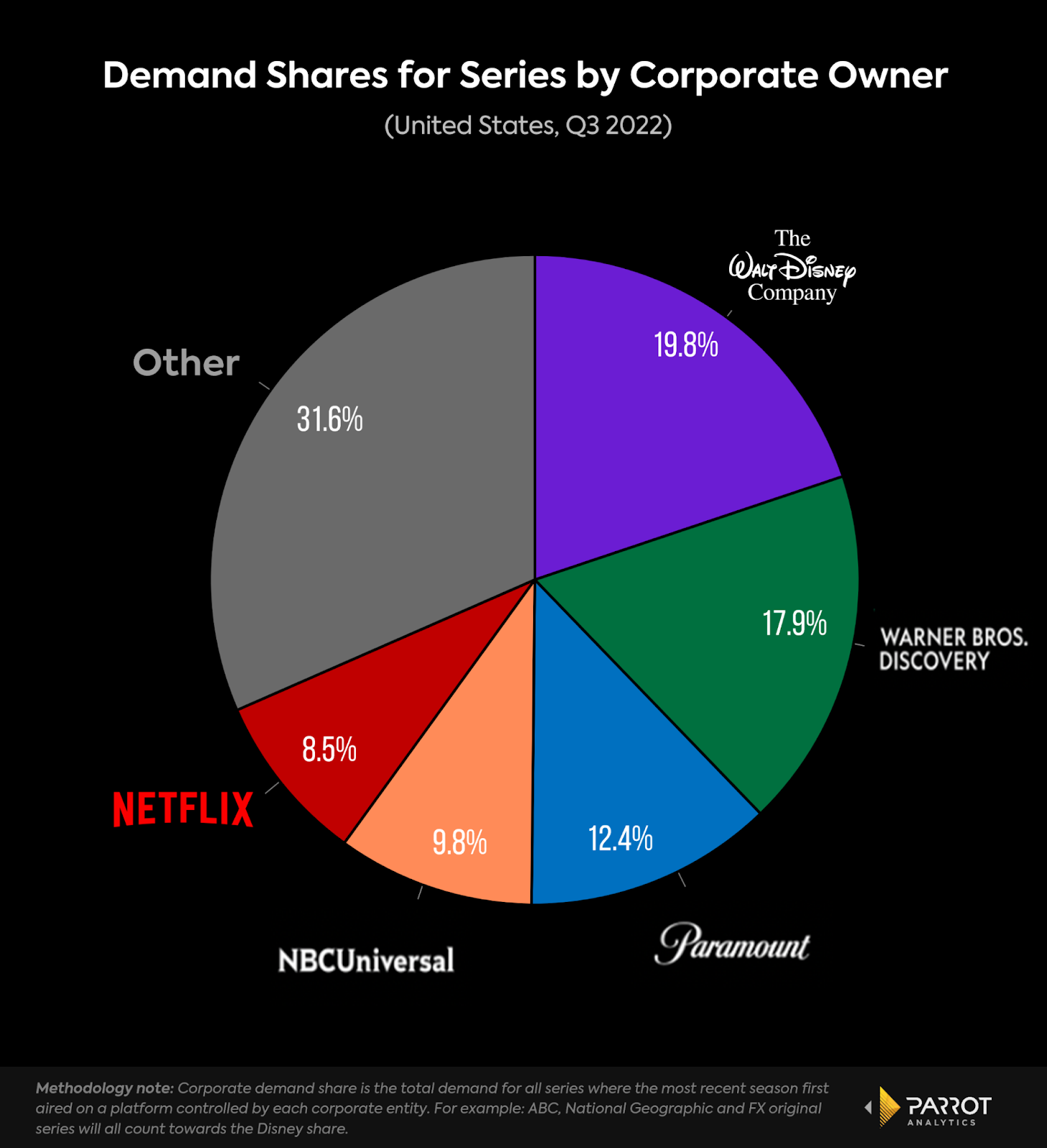 Paramount Global (12.4%) had the third-highest corporate demand share with US audiences in Q3 2022, trailing only Warner Bros. Discovery (17.9%) and The Walt Disney Company (19.8%).  The bulk of its corporate demand share comes from its strong linear TV operation although it has been hoping to replicate its linear success in the streaming space.  Paramount's corporate share of demand has shrunk this year, down from 13.1% in Q1 2022.    
Before the Warner Bros. Discovery merger, Paramount's corporate share of demand was second only to Disney.  With continuing consolidation like this in the industry, companies are looking to bring larger content libraries under their control with the aim of making their original content exclusive to their own platforms.  A business model based on lucrative licensing deals seems less viable in the long term as companies focus on powering their platforms with their own content.  Against this backdrop, Paramount's focus on investing in its own direct-to-consumer offerings looks to be prudently forward-looking.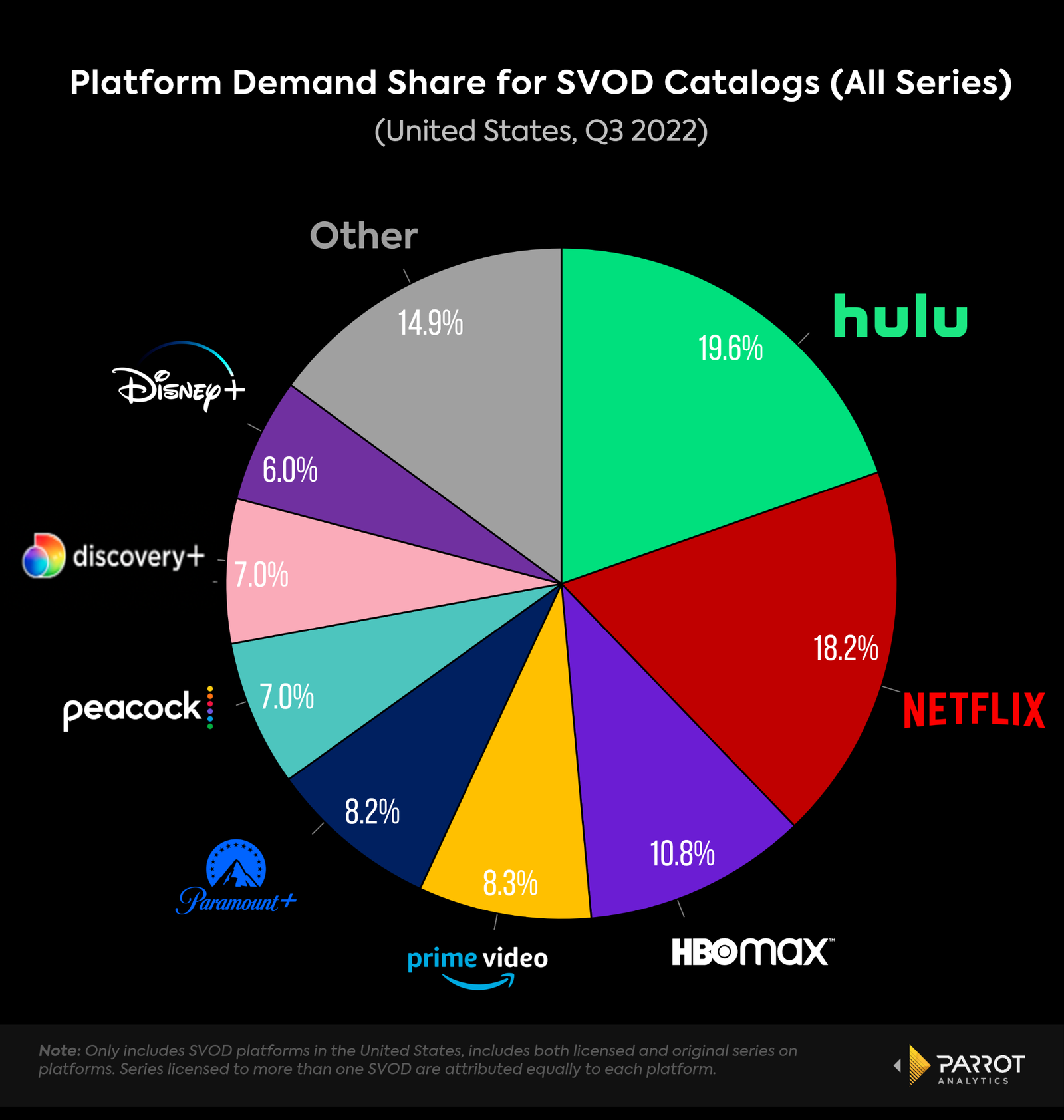 Paramount is faced with a more challenging landscape in the US when considering how the Paramount+ catalog of shows stacks up against other streaming competitors.  Hulu and Netflix are the leaders in this space with each controlling about a fifth of demand for shows available to stream on SVODs in the US.  
HBO Max has been making gains and a planned combination with Discovery+ would put it in a tight three way race with Hulu and Netflix.  Paramount+ is currently ranked fifth among SVODs in the US in terms of demand for its on-platform shows, with only a thin margin of demand separating it from its closest competitors.  While the platform beat expectations for the number of new subscribers this quarter, there are questions how much of this was driven by partnerships with T Mobile and Walmart+ and how willing these subscribers would be to stick around long-term.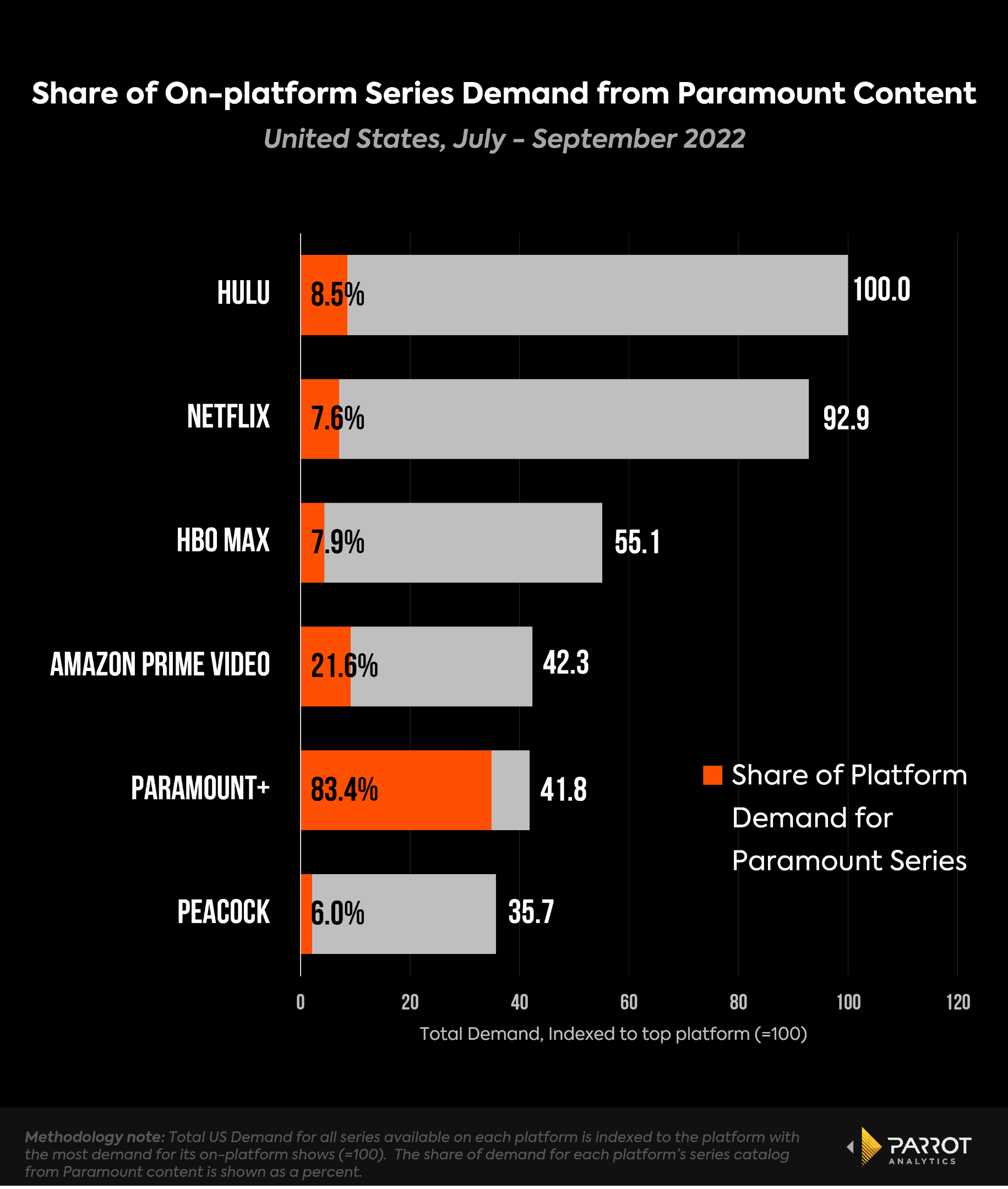 While Prime Video only has a slight edge over Paramount+ in terms of the total demand for series on its platform, Amazon is actually the platform with the largest share of its demand coming from shows licensed from Paramount.  Over one fifth of demand for shows available on Amazon Prime Video was for content from Paramount.  If Paramount wanted to land a blow on Amazon and leapfrog it in the ranking it could pull back the rights to some of this content.  Relative standing matters because surveys suggest consumers are willing to pay for three to four streaming services. Securing a top three ranking is crucial for a platform's long term viability as a standalone streaming service.
Ultimately, Paramount's decision to take a revenue hit while it invests in its direct-to-consumer business looks to be a move that will keep the company growing in line with industry changes.  However, the direct-to-consumer space is very competitive and Paramount+ still has some work to do if it wants to make the cut as a must-have platform for audiences.
---