This section of the Parrot Analytics MIP Cancun 2022 Whitepaper explores content trends across Spain for the first half of 2022.
We reveal the market's SVOD demand share by original platform for digital originals and also present our findings on the genre preferences of audiences here, the whitespace opportunities, and the top 20 overall most in-demand series across all platforms.
Which platform's originals are most in-demand in Spain?
Netflix still manages to keep a market-leading share of demand for originals in Spain, even though the demand for Netflix's original content has dropped from more than 50.0% in 2020 to 40.2% in 2022.

Movistar+ manages to still hold a considerable share of demand for its content in Spain,
despite fierce competition from Disney+ and Amazon Prime Video, platforms that
have been growing in the country.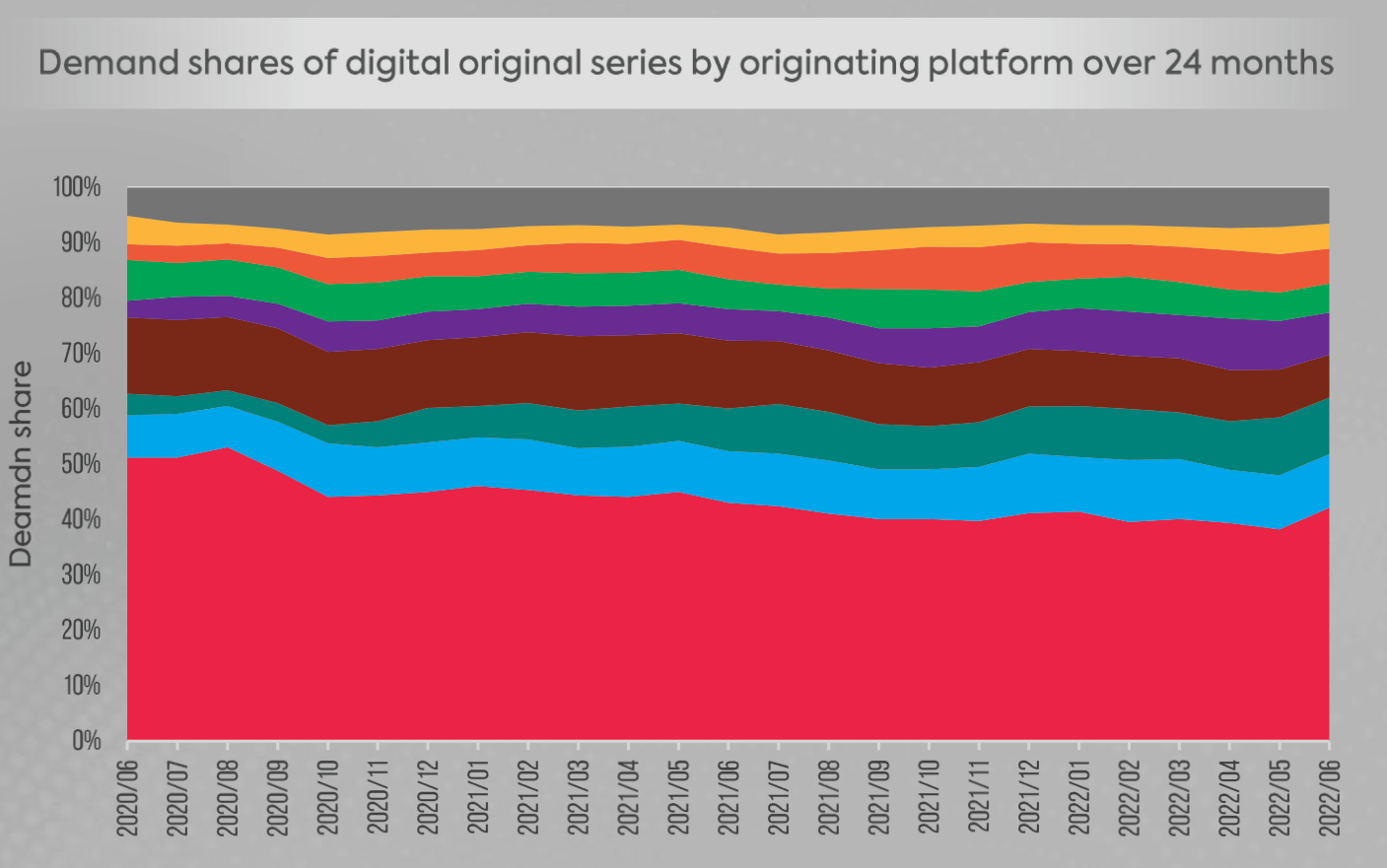 • In Spain, the local platform Movistar+ has a respectable share of demand for originals, 9.1%, behind of only Netflix, Amazon Prime Video, and Disney+.
• As a result of the considerable demand for local content, demand for foreign platforms is smaller in the country. Disney+ and HBO Max have smaller demand shares in Spain than in the LATAM countries in this report, 9.4% and 8.2%.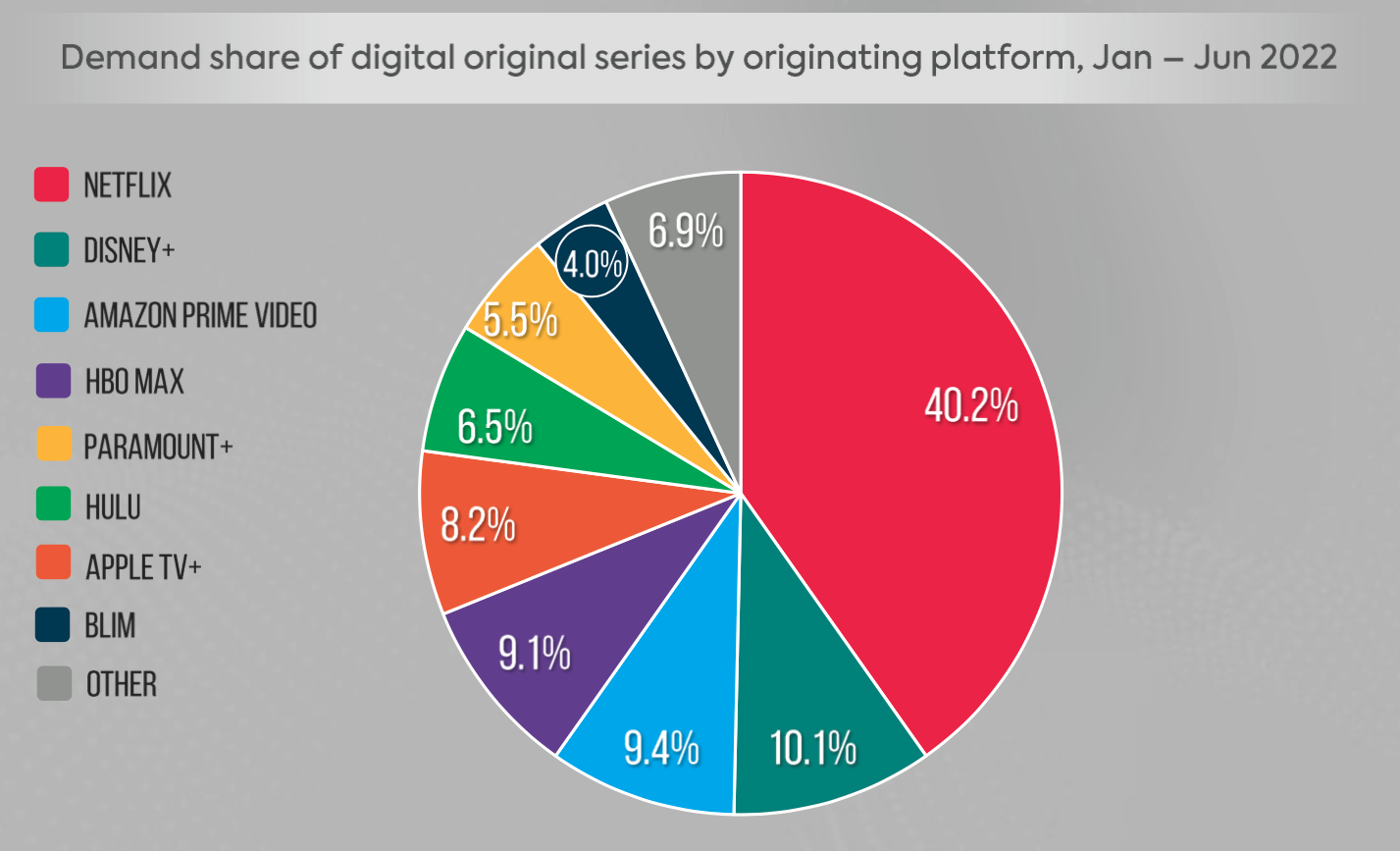 How do Spain Genre Preferences compare to the Global Average?
• There are some differences between Spain and the other countries in this report when it comes to genre demand. Spanish audiences have a predilection for dramatic shows. The drama genre has a higher demand share in this country than in any other from this report.
• Animation is less popular in Spain than in the other analyzed countries. This genre is 26.8% less in demand in Spain than globally.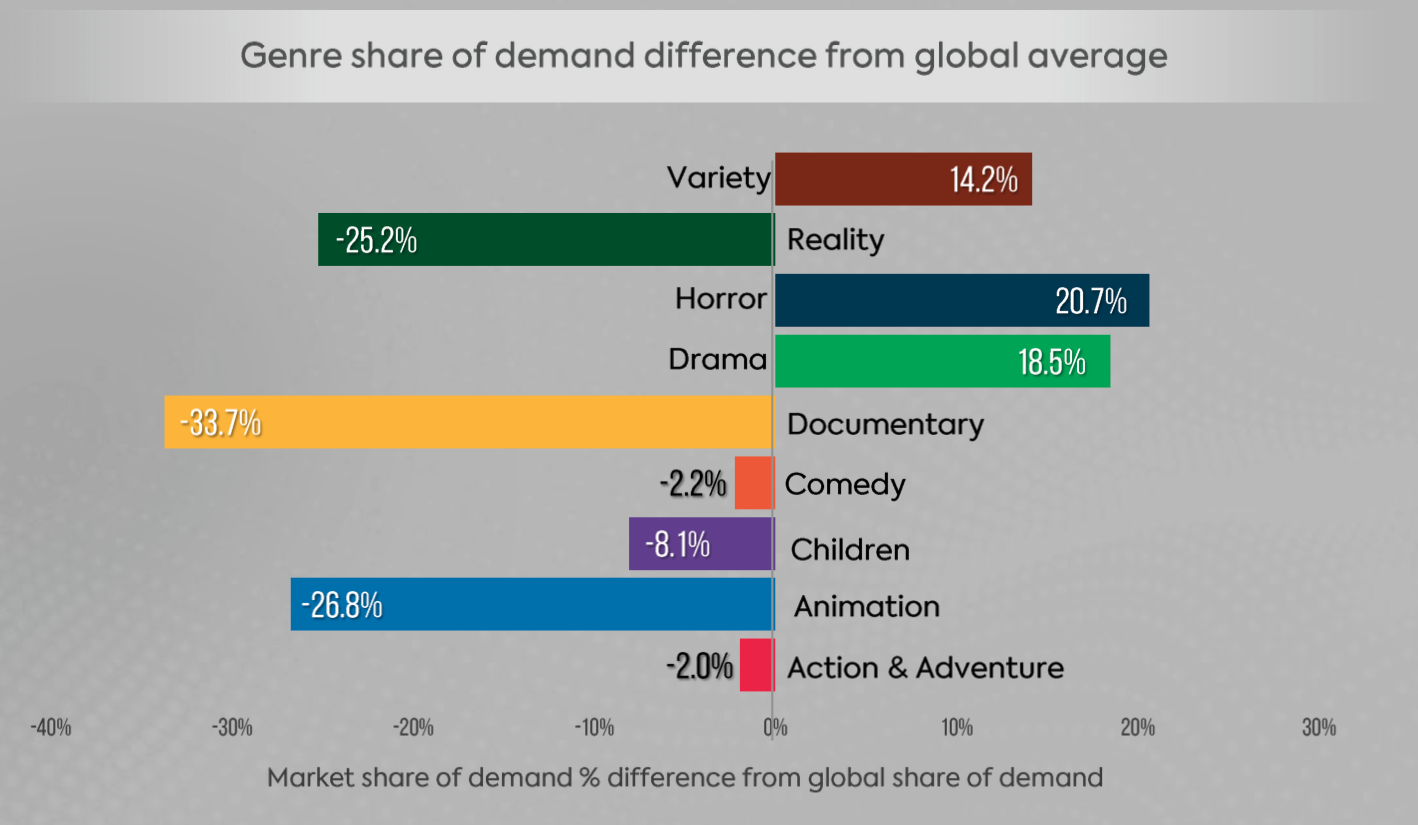 Where are there Whitespace opportunities to satisfy demand in Spain?
In Spain, superhero shows have lower demand than in the LATAM countries analyzed in this report. Even so, this microgenre is still very under-supplied in Spain.

Contrary to most LATAM countries, soap operas have average demand in Spain. Suspense shows appear as a whitespace opportunity in Spain, with above the average microgenre demand but fewer than half of the titles.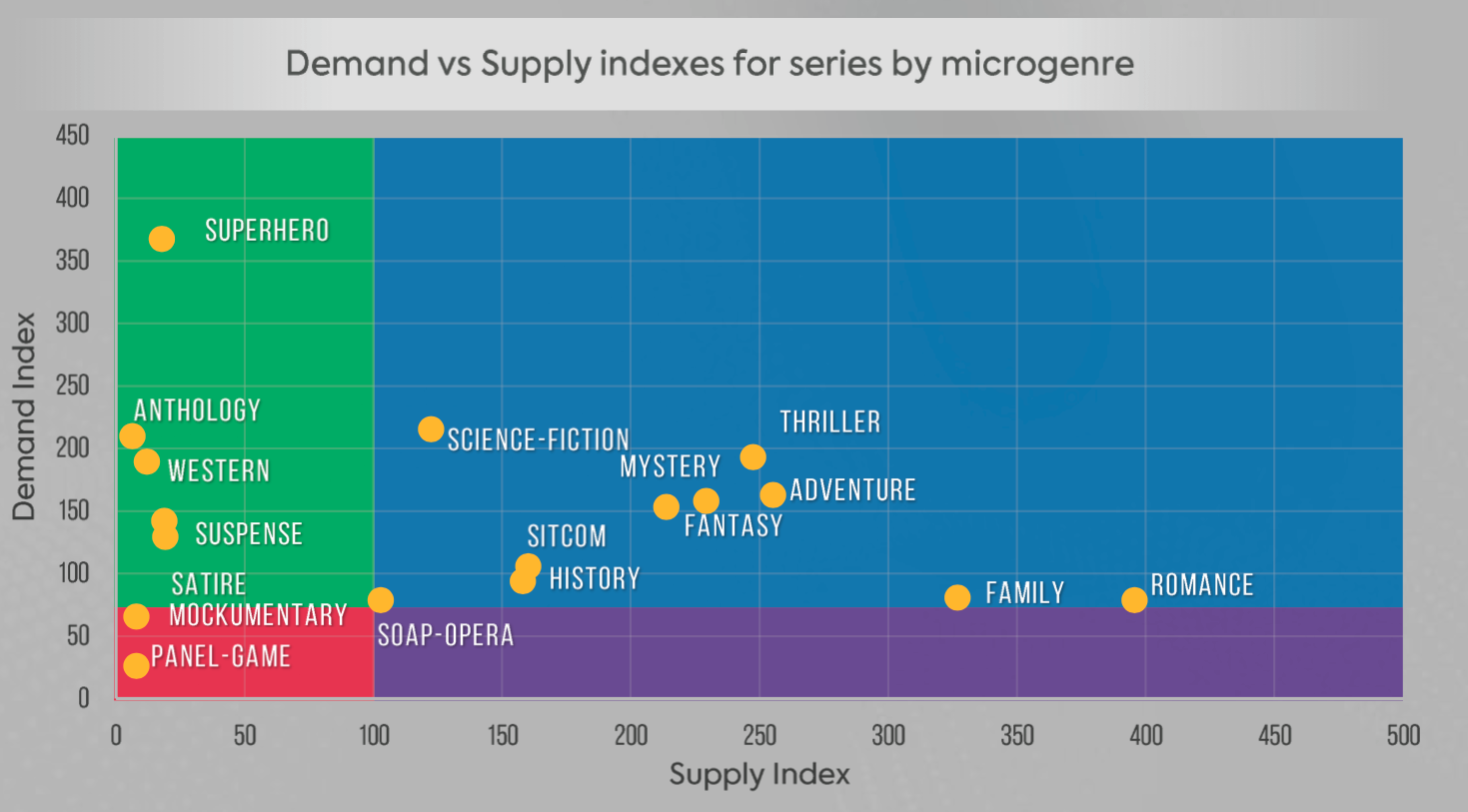 Top Series in Spain
Here are the top 20 most in-demand series for the first half of the year in Spain across all platforms and networks: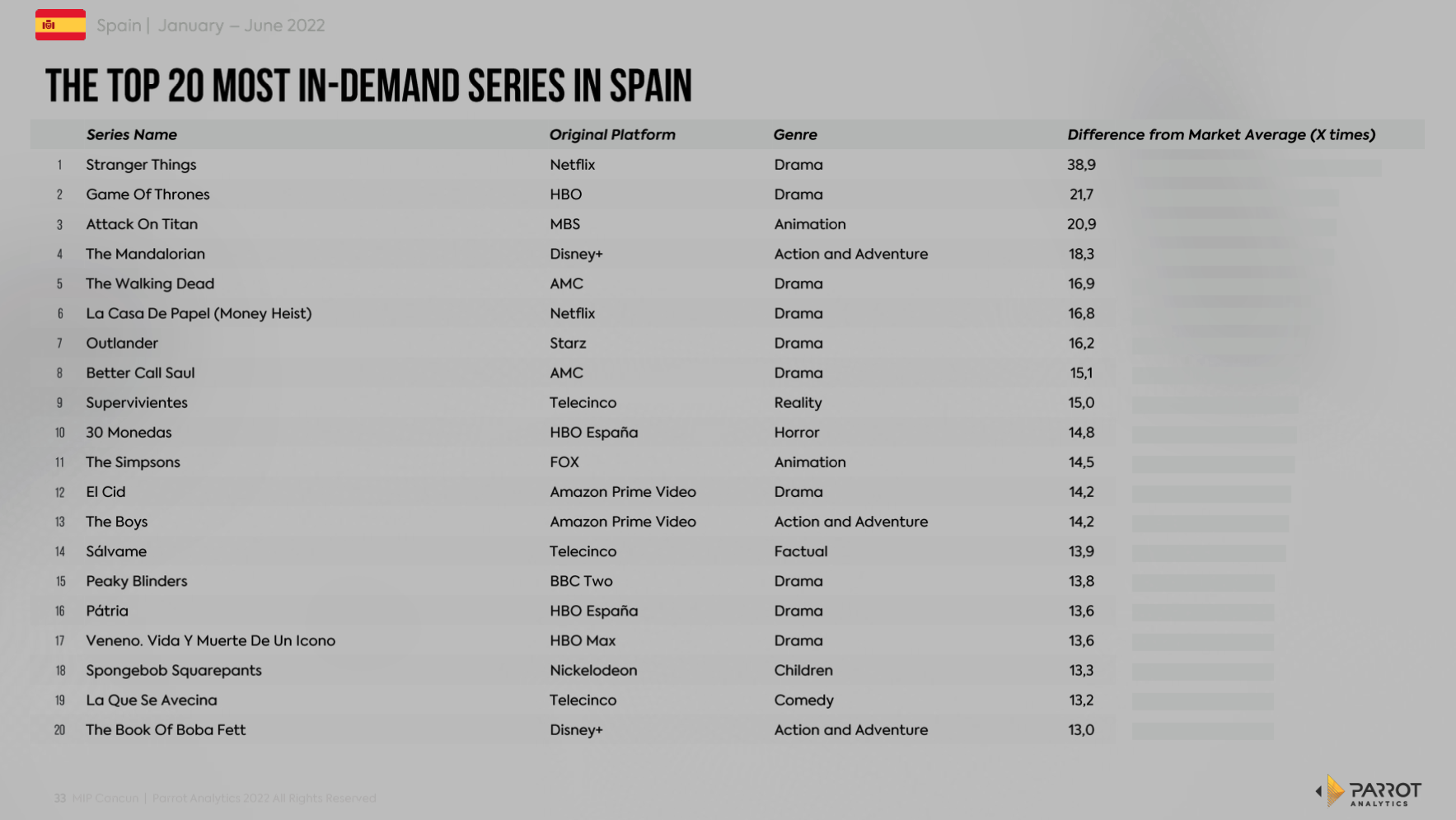 The Parrot Analytics MIP Cancun 2022 whitepaper is now available with a DEMAND360 subscription. To access the full report, click here.
---