Anna Scott entered an old-fashioned bookstore called The Travel Book Co in a district of West London, she had just finished the shoot of her latest movie and she wanted an excuse to stay in the city.  She had a gift with her and in front of Will Thacker, the young British guy who runs the place, Anna said probably one of the best known quotes in the history of romantic comedies "and don't forget, I'm also just a girl… Standing in front of a boy, asking him to love her". 
From Julia Roberts playing a famous actress in Notting Hill or listening to a whole restaurant singing in My Best Friend's Wedding, to Reese Witherspoon discovering a crime because of hair care needs in Legally Blond and Jennifer Lopez falling in love with a senate candidate in Maid in Manhattan, it's fair to say that romantic movies had their peak in box offices during the '90s and early '00s. Although the genre was falling out of favor at the beginning of the last decade, romantic films aren't dead at all, but are finding new ways to win the hearts of today's audiences.
Something Old and Something New: Established stars are back in the game genre
After 5 successful years producing and starring in acclaimed TV series such as Big Little Liears and The Morning Show, Reese Witherspoon returned to the rom-com genre on Netflix's Your Place or Mine (which premiered on February 10th) - another comeback from an established actress to this genre in the past year. With Parrot Analytics' Talent Demand, we can measure how Jennifer Lopez, Sandra Bullock, and Julia Roberts all saw a boost in demand after their respective new rom-coms were released.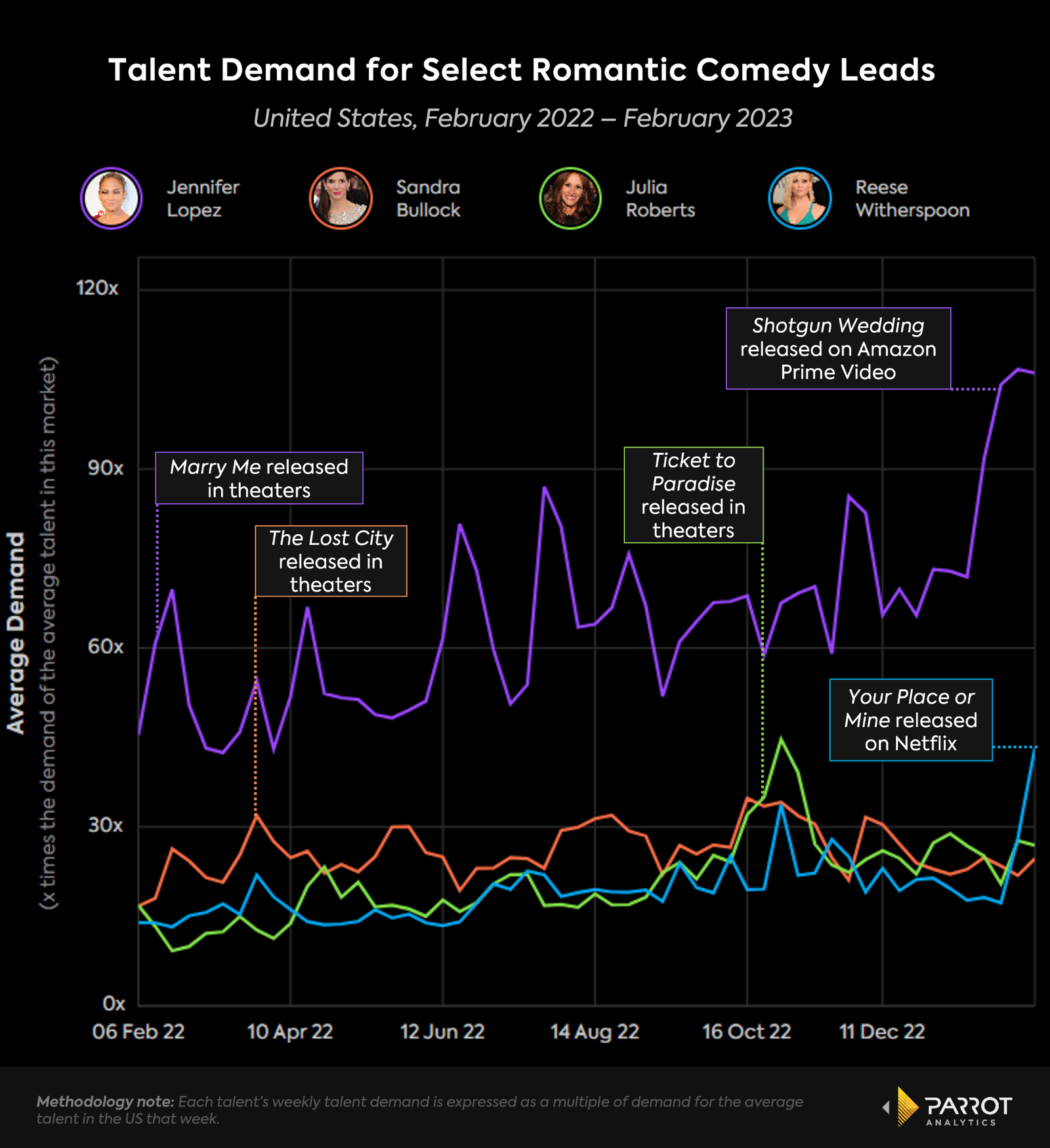 Audiences are not only interested in these actresses during the release of a new project, they are also revisiting classic films. Like they say, classics never go out of style. Even in 2022, romantic films from the heyday of the '90s and early '00s were still attracting a solid level of demand. Titanic led the field with 28.64 times the average movie demand in 2022. With the movie returning to theaters this year to celebrate its 25th anniversary, we are expecting it to reach fresh highs. Following Titanic are high-school rom-coms 10 Things I Hate About You and Clueless, a safe bet category for the genre.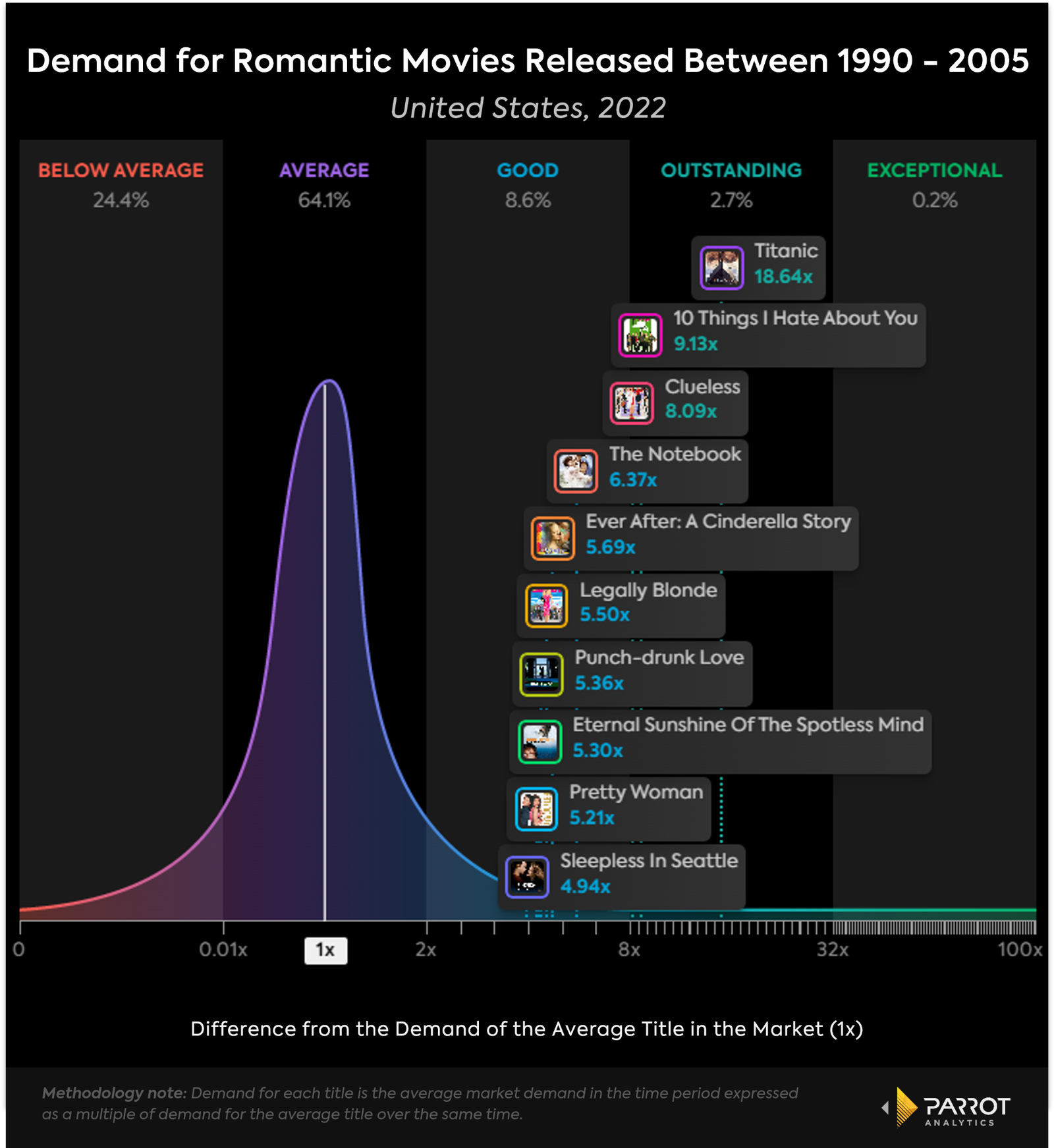 Something Borrowed and Something Blue: Streaming and diversity became a must
Between established classics and comebacks, streamers, in particular Netflix, saw a potential for the genre and invested in developing new franchises. Before the $400 million deal with Rian Johnson for two Knives Out sequels or the eye-watering amount of money paid to Dwayne Johnson, Gal Gadot, and Ryan Reynolds for Red Notice, the streaming company saw an opportunity in telling stories about high school sweethearts – conveniently without having to pay too much.
To date, The Kissing Booth and To All the Boys I Loved Before are the only non-Christmas Netflix original franchises with three movies released.  Both film series were adapted from novels. We all know that borrowing a universe from books isn't new for the genre, but developing a franchise from a pre-existing IP, plus having the right marketing campaign, can be the winning formula that helps a movie succeed. 
While the first Kissing Both generated an outstanding demand in the United States during its first-month post-premiere, the first To All the Boys movie generated an exceptional demand, with almost 50 times the demand of the average title. Although their last chapters struggled to reach the same level of demand as the first, the movies were still able to maintain solid numbers in their home market.
Another important factor in the recent revival of the genre has been increasing diversity. Love stories with Asian, Black, Latino, and LGBTQ+ characters showed that they could also resonate with the audiences and bring a fresh perspective to the genre. In previous years, the top performing movies led by one of these characters generated at least 10 times higher demand than the average title during their first-month post-premiere, with Crazy Rich Asians seeing the best performance.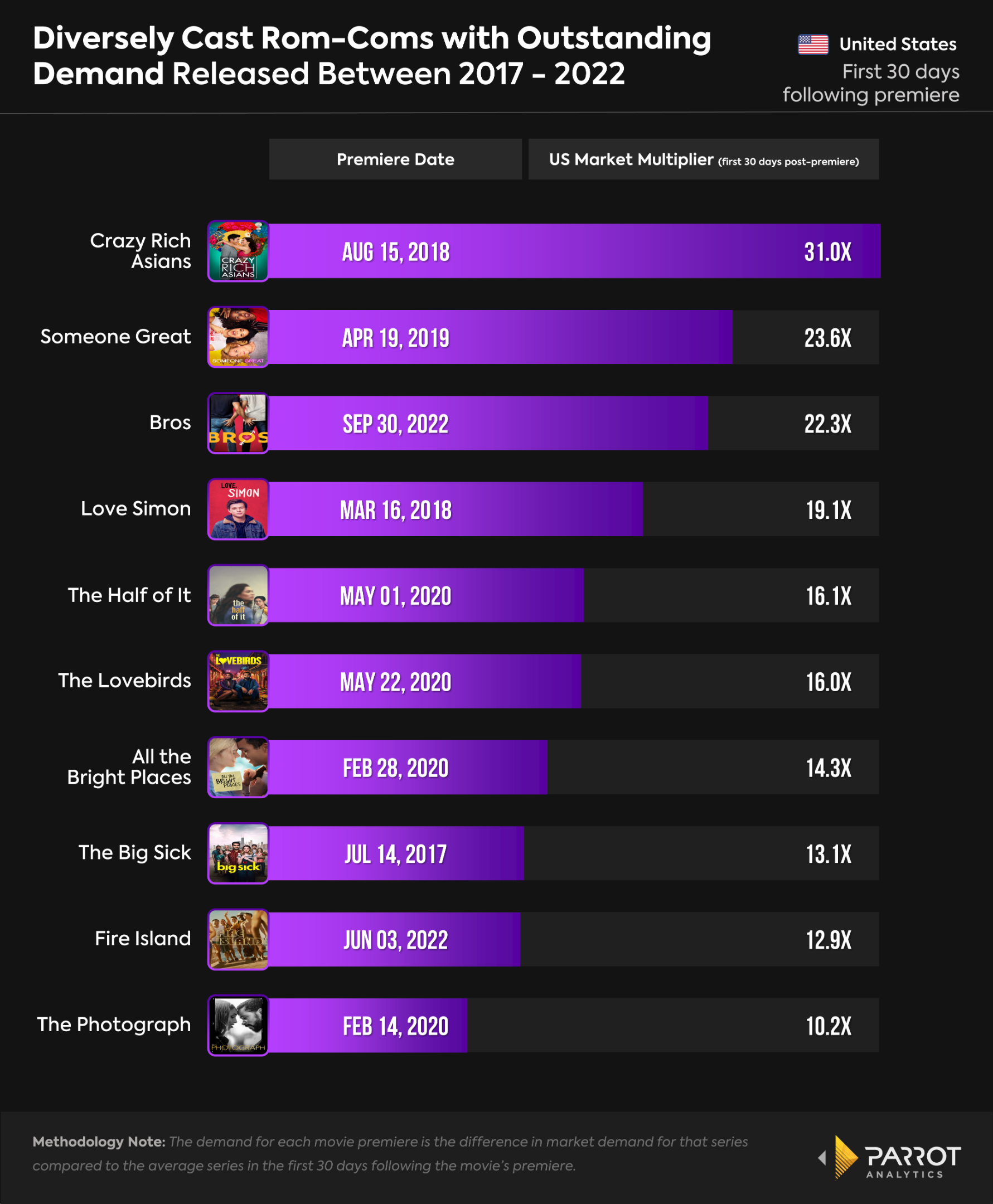 TV series also show how there is demand for these stories. "Heartstopper", another Netflix original and graphic book adaptation, conquered the world during its release. The coming-of-age story about two boys falling in love had an outstanding global demand, generating around 20 times the demand of the average title in key markets like the United States and Brazil, in addition to its home market.
If all else fails, rom-coms will still have Christmas
Every year as the Christmas season is getting into full swing, a new movie about the power of Christmas and how love can heal everything is released. While there is a clear seasonal pattern to demand for these movies, rom-coms have become an important part of seasonal movie demand, even being the basis of franchises such as Netflix's A Christmas Prince and The Princess Switch – two other Netflix trilogies. 
Last Christmas was no different, with two former child stars standing out in the genre during the holidays. While Lindsay Lohan had her comeback in Falling in Christmas on Netflix, Emma Roberts starred in her second holiday movie, About Fate, available on Amazon Prime Video. Both films reached an outstanding level of demand after premiering, and both actresses already have new rom-coms planned to be released in 2023.  Romance and Christmas are a winning combo.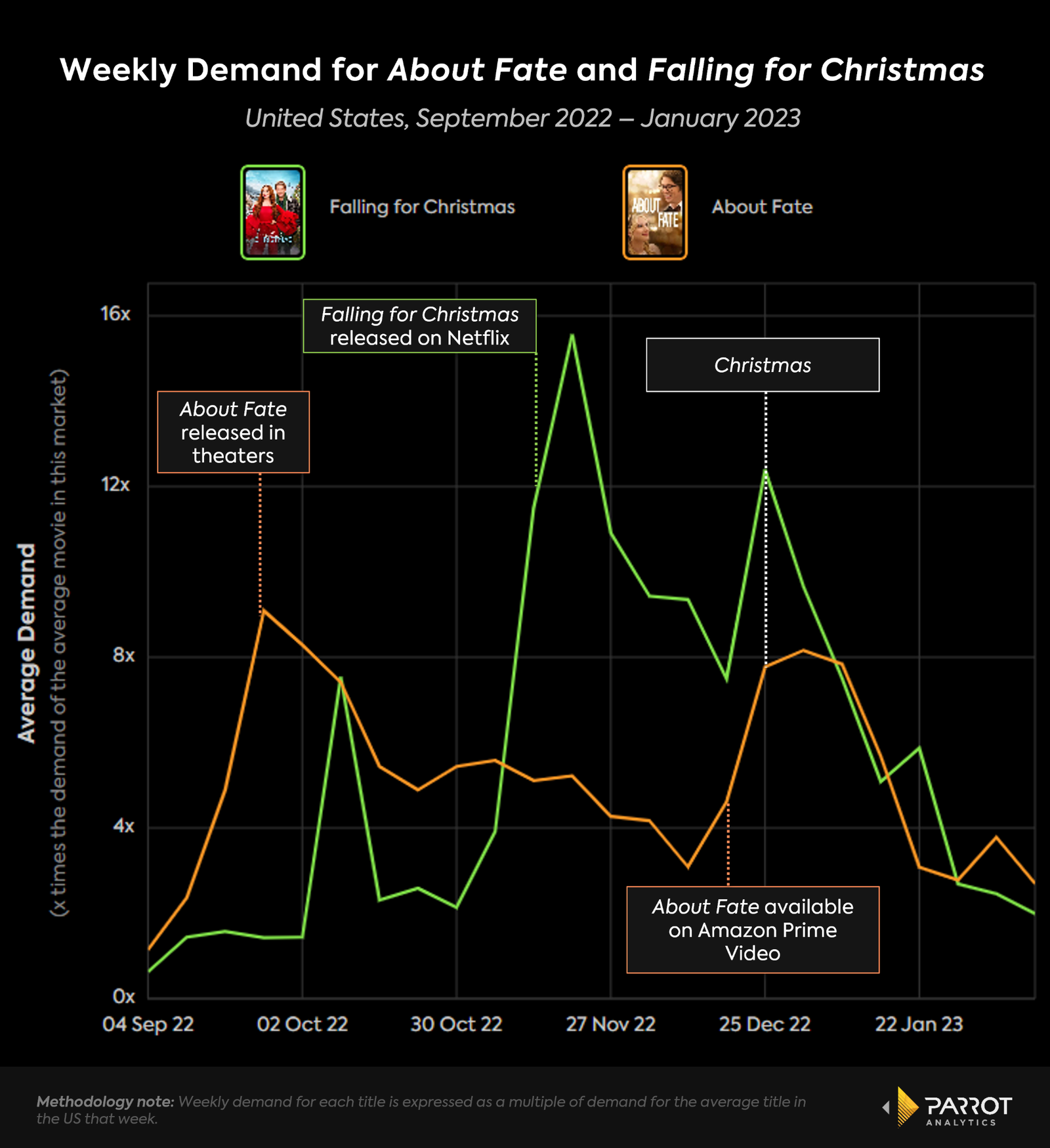 The era of big box office rom-coms may be behind us but the genre is still alive and well today. Today's rom-coms are winning over audiences by leaning into nostalgia, diversifying their casts and the stories they tell, and relying on Christmas as a safe bet.
Bringing it back to Notting Hill, when Anna Scott decides to stay in London after Will Thacker interrupted her press conference asking her to stay, Julia Roberts's smile lights up the screen. 
Everything will be alright. For Anna and Will, and for rom-coms. 
---