Image: The Simpsons, FOX
Over the past week (8/27 – 9/2), the list of the top 10 TV series in Argentina has in part held steady from previous weeks. Specifically, The Simpsons has surged to the number one spot after consistently remaining in the top 50 throughout 2023. Ahsoka, which held the top spot in Argentina last week, falls one spot to number two as it nears the halfway mark of season 1 with the release of episode 3, "Time to Fly". Meanwhile, El Payaso Plim Plim: Un Heroe Del Corazon, an extremely popular Argentinian kids show, remains, as it has all year, among the top five TV series by demand at number 3, despite the show having ended in 2016.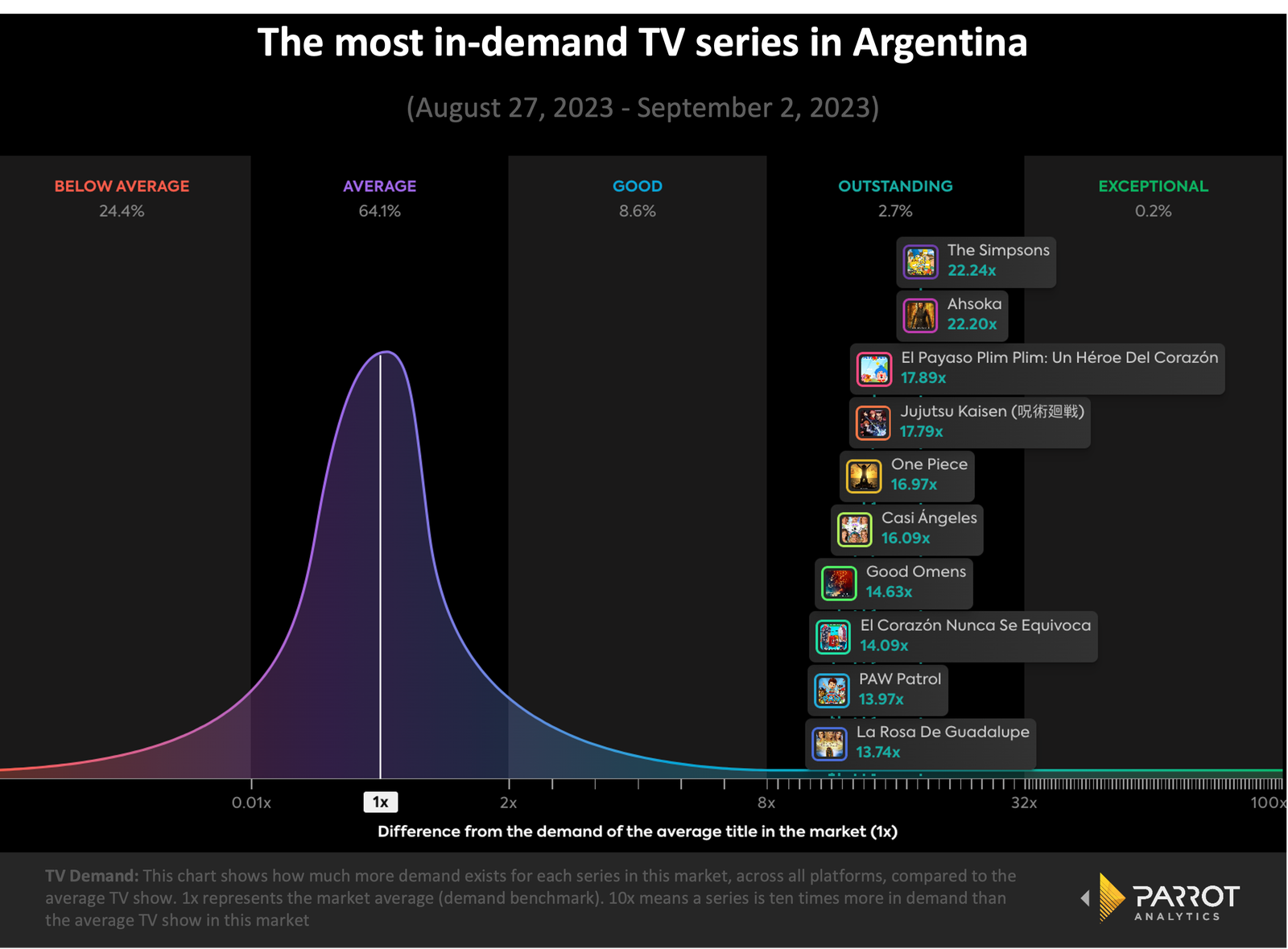 On the other hand, there are a few notable shifts from previous trends that are evident in this week's top 10 TV series from Argentina. First, the official launch of One Piece on Netflix on August 31st propelled the show into the top 10 to number five, whereas in the weeks leading up to its release, One Piece sat much lower. Additionally, the demand for Good Omens is starting to wear off more than a month after the second season was released on Amazon Prime Video. It ranked number seven on average over this past week, but when looking at September 2nd individually, Good Omens placed 27th for the Argentinian market.
In addition to One Piece another anime, Jujutsu Kaisen, is in the top 10. Unlike One Piece, however, this show is a Japanese original and has held steady at the top of the charts for most of 2023. One Piece is an American, live action adaptation of a Japanese anime and has only just begun to "get hot" when it comes to demand. Sticking with the theme of animation, PAW Patrol, a Canadian kids show with over 225 episodes and counting, comes in at number nine on the charts. Three TV soap operas round out the top 10 with Casi Angeles, El Corazon Nunca Se Equivoca, and La Rosa De Guadalupe, each remaining relatively unchanged from the prior week.
Surprisingly, only two series in this week's top 10 actually originate from Argentina: El Payaso Plim Plim and Casi Angeles. Three shows come from the United States, two from Mexico, and one each from Japan, Canada, and the United Kingdom. When looking at only digital originals, none of the top 10 series come from Argentina and only three shows from the overall top 10 are digital originals: Ahsoka, One Piece, and Good Omens.
Compare this with the top 10 digital original series in the United States for the same week, in which all but one come from that country. It seems that when it comes to network shows, consumers in Argentina are more likely to watch programs from their home country and around the world than they are when it comes to shows on streaming, which skew heavily American. This is likely due to the fact that the most in-demand digital originals are located on American streaming platforms such as Hulu, Disney+, etc. Argentinian streaming platforms do exist, but the content does not have nearly enough of an audience to surge past the originals of American platforms.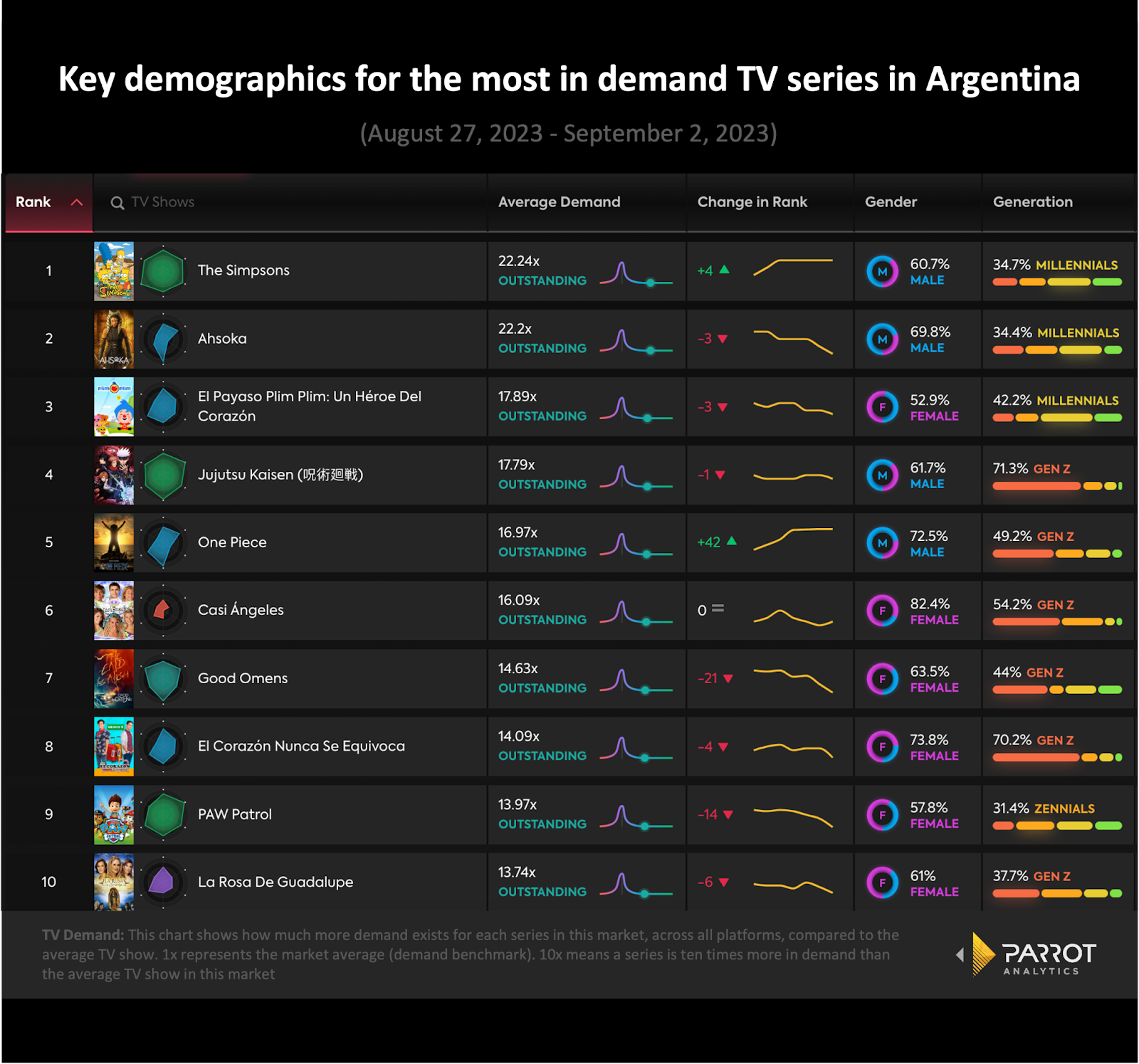 In terms of the demographic mix, the top 10 seems to skew female, with the audiences of six of the shows being more than 50% female. Seven out of the 10 shows have either Gen-Z or Zennials as its most popular audience age but interestingly enough, the top three shows are all favorites of millennials more than anyone else, according to demand data. Looking at prior weeks, this seems to be in line with previous trends.
Overall, the top 10 TV series by demand in Argentina for the week ended September 2nd saw some new risers in the form of The Simpsons and One Piece but also remained stable from previous weeks as shows like Ahsoka and El Payaso Plim Plim continued to rank high.
---