The demand for TV series in the Gen Z demographic during the first quarter of 2023 is a perfect sampling of genres, themes and trends that appeal to a younger audience. Gen Z is reported as preferring video games and music for entertainment over TV, yet the kinds of shows they engage with follow simple, historically-proven trends. To keep this article relevant to popular shows targeting a younger audience, all shows discussed have at least 65% of their audience composed of Gen Z viewers, with upwards of 15 times the demand for an average TV series worldwide.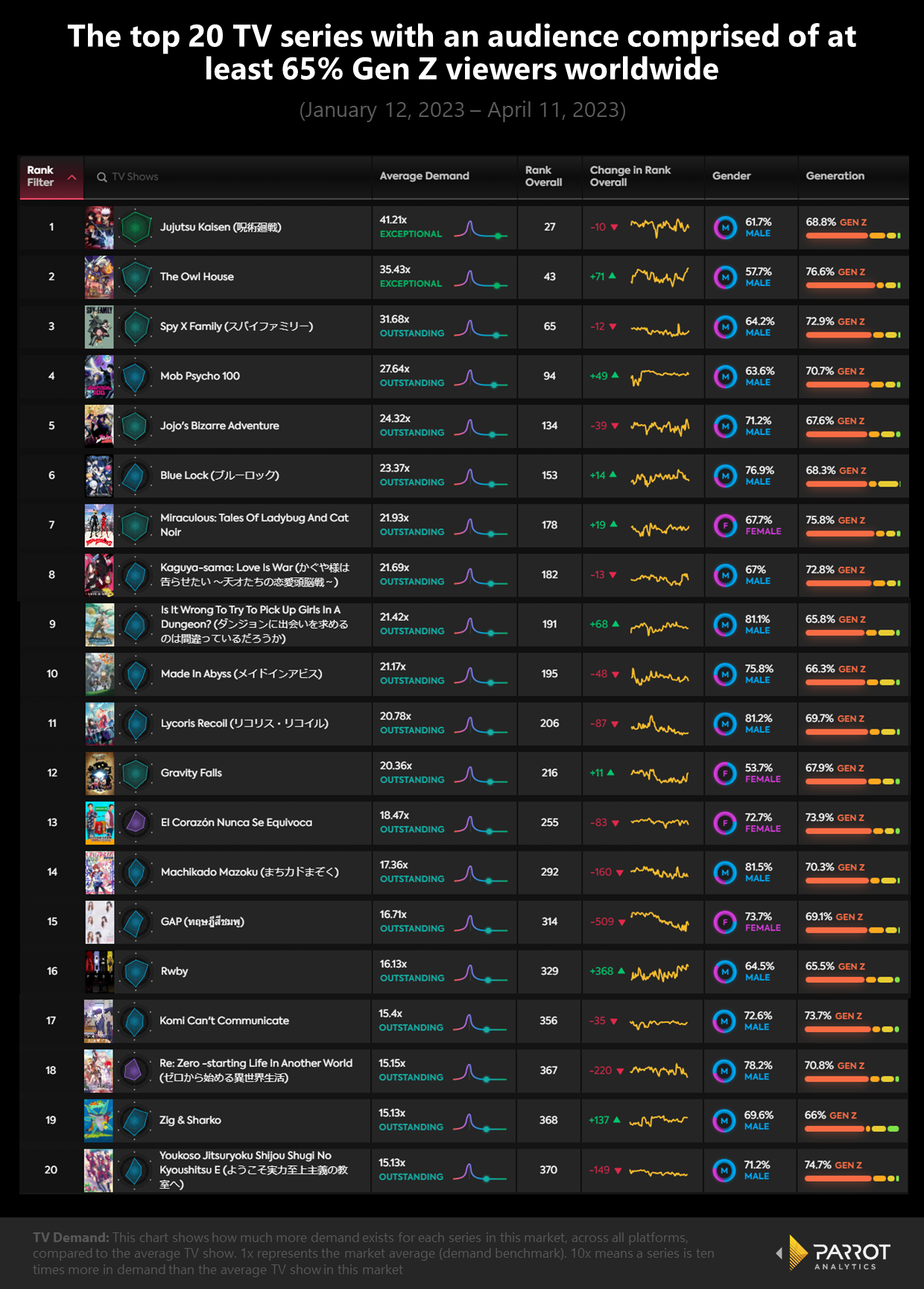 Animation dominates the Gen Z market, with anime leading the way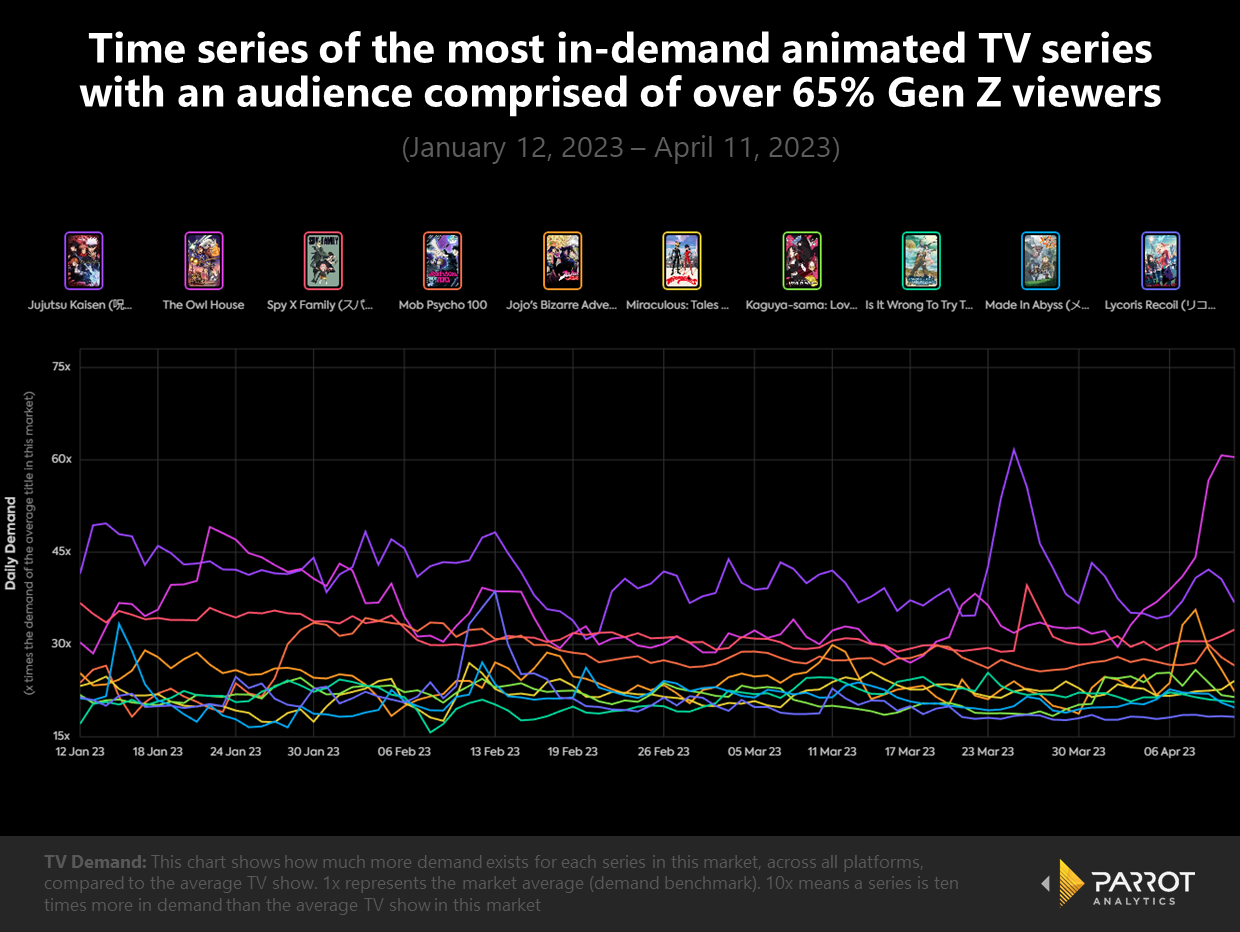 Of the top 20 TV series with an audience comprised of over 65% Gen Z viewers, 18 of these are animations. The only two exceptions are the Mexican telenovela El Corazón Nunca Se Equivoca and the Thai romantic drama GAP - these will be addressed later. Additionally, of the 18 animations mentioned, 14 are anime (or anime-inspired, as with RWBY). Anime's continued appeal to younger audiences may be due to its edgy content, depicting sexual and violent scenes that would be considered too extreme for Western animation producers. The Western animations that do succeed are noticeably more kid-friendly (e.g. The Owl House and Zig and Sharko).
Following this train of logic, it's no surprise that action series are the most popular genre - 14 of the top 20 series in the given demographic are action-oriented. Action offers the greatest opportunity for animation to shine, while still weaving in comic or horrific moments between set pieces. Popular action series range from heightened action in semi-realistic scenarios (Blue Lock, Spy X Family) to pure fantasy action (Jujutsu Kaisen, Mob Psycho 100). The only series lacking any action at all in the chosen demographic are pure comedies, which rank lower overall than action (the highest ranked comedy being Kaguya-sama: Love is War at Number 8).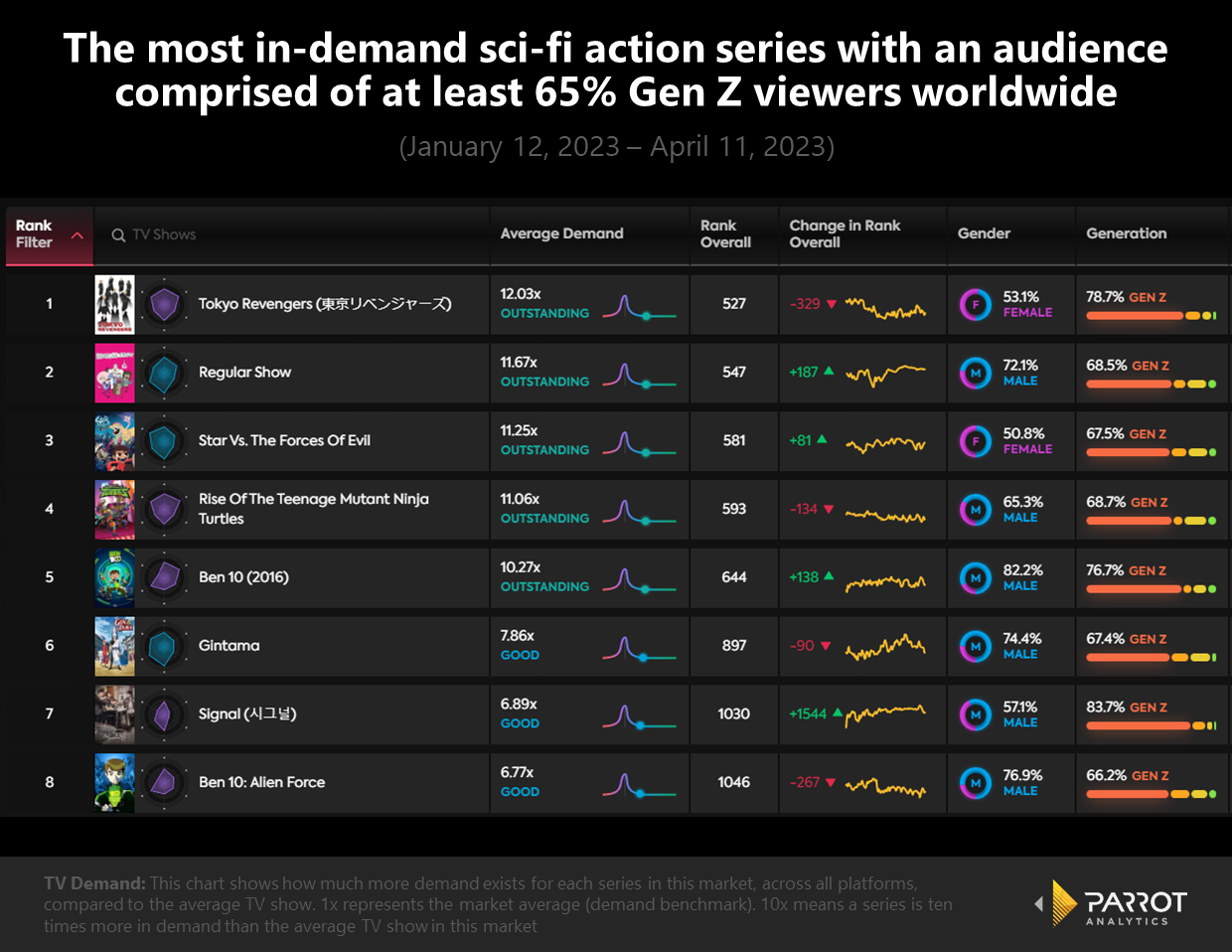 Intriguingly, sci-fi action tends not to appeal to a Gen Z audience. As seen above, even the top sci-fi action series with a >65% Gen Z audience, Tokyo Revengers, has only 12.0 times the average demand for a series. Popular sci-fi action series appealing to Gen Z certainly do exist, but they tend to appeal to other age groups as well (e.g. My Hero Academia and Cyberpunk: Edgerunners with 61.2 and 24.7 times the average demand for a series respectively). Of the top 20 series with an audience comprised of over 65% Gen Z viewers, only two feature sci-fi elements at all: Lycoris Recoil and Made in Abyss, the latter of which leans more into fantasy yet features an ancient-tech robot companion.
Instead, the most popular series appealing to Gen Z feature supernatural action, set in horror or spirit-themed worlds. Jujutsu Kaisen is the most obvious example with 41.2 times the average demand for a series. The protagonist Yuji is possessed by an evil demon and must band together with demon-banishing Jujutsu sorcerers to dispel his curse. While Jujutsu Kaisen is a particularly dark take on the supernatural premise with its brutal violence, other series take a lighter approach. The Owl House uses Halloween-like aesthetics for its supernatural world, while Mob Psycho 100 and JoJo's Bizarre Adventure feature characters with ESP-like powers that manifest as spiritual energy.
Gen Z favors stories about romance, social expectations and awkwardness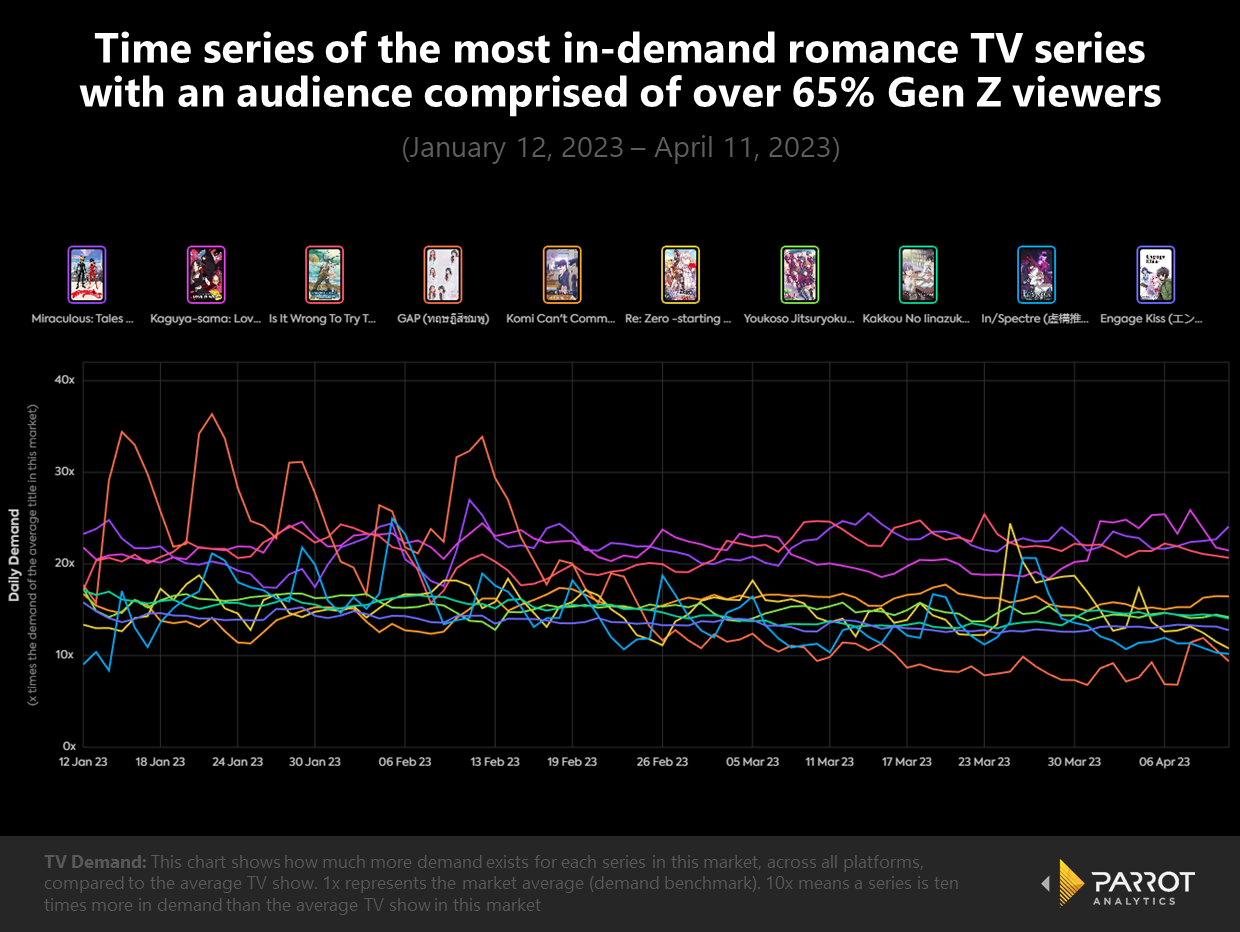 Unsurprisingly for a mostly teenage audience, Gen Z viewers prefer TV series that explore romance and sexuality. Anime has a distinct advantage over Western media here, frequently depicting gratuitous shots of fetishized characters as fan service. Is It Wrong To Try To Pick Up Girls In A Dungeon? is the foremost example of this strategy, bringing in 21.4 times the average demand for a series. The show occupies a subgenre known as Harem anime in which a male protagonist is surrounded by female love interests. These Harem anime are particularly good at drumming up online discourse around the series, with fan art and "waifu" debates generating buzz.
Not all romantic interest for Gen Z is sexualized, however. Kaguya-sama: Love Is War pits two mastermind geniuses against one another in romantic subterfuge. The twist is: they secretly like each other, and their overthinking is the only barrier to their happily ever after. With 21.7 times the average demand for a series, Kaguya-sama is one example of many successful romance plots that see two equals developing an attraction to one another (e.g. Spy X Family). These series forego the more common classroom idol-worshipping plots of many romance anime.
Romance is just one social situation Gen Z audiences are learning to navigate, but other shows take a broader approach. A few series in the chosen demographic follow introverted protagonists that struggle to express their own feelings. In Mob Psycho 100, the Number 4 spot with 27.6 time the average demand for a series, the protagonist Mob's ESP ability grows as he suppresses his emotions. Mob's journey to understand and control his emotions may be particularly relatable to a younger generation whose seminal social interactions occur online. Komi Can't Communicate puts a comic twist on this formula by having the idolized female classmate turn out to be socially stunted, earning its spot at Number 17 with 15.4 times the average demand for a series.
Gen Z's male audience is open to diverse characters in TV series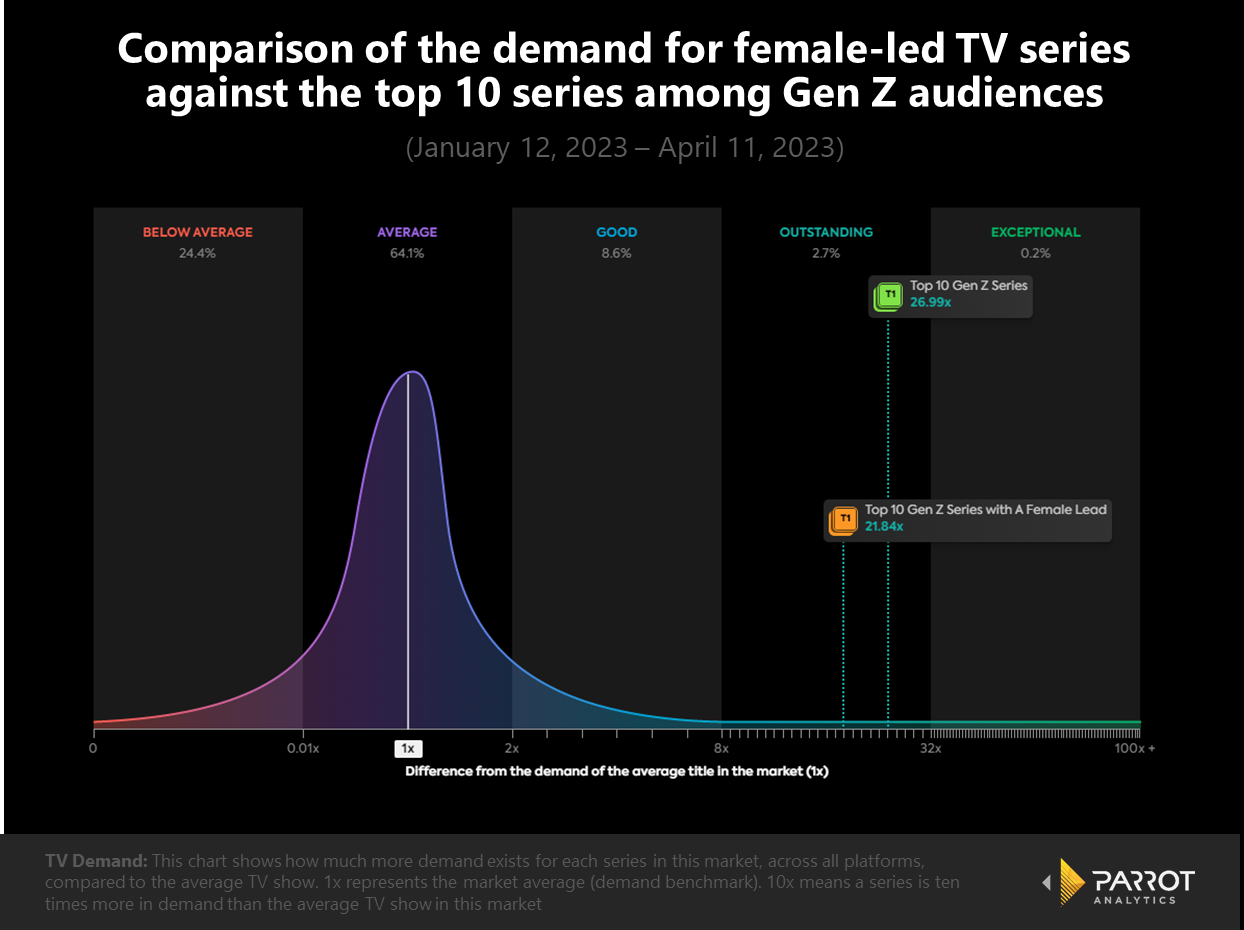 Most TV series with an audience comprised of over 65% Gen Z viewers attract a majority male audience. Of the top 20 series in this category, just four have majority female audiences and two of these are live-action. It's clear that animation viewers are mostly male, but there are notable exceptions that suggest female Gen Z viewers can find animation engaging and relatable. Miraculous: Tales of Ladybug and Cat Noir has a 67.7% female audience, focusing on a superhero duo whose secret identities and real identities form a bizarre love triangle.
One may argue that Miraculous is popular among female audiences due to its female protagonist, with the commonly held wisdom being that men do not relate to female protagonists. However, the slate of popular shows with Gen Z audiences suggests otherwise. Kaguya-sama and Spy X Family are both two-handers with differently-gendered protagonists that are popular among men, with a greater than 64% male audience each. A number of shows with sole female protagonists also attract a majority male audience, including The Owl House (57.7%), JoJo's Bizarre Adventure (71.2%), Lycoris Recoil (81.2%), RWBY (64.5%) and Machikado Mazoku (81.5%). Gen Z therefore provides a commercially viable audience to target with diverse gender representation.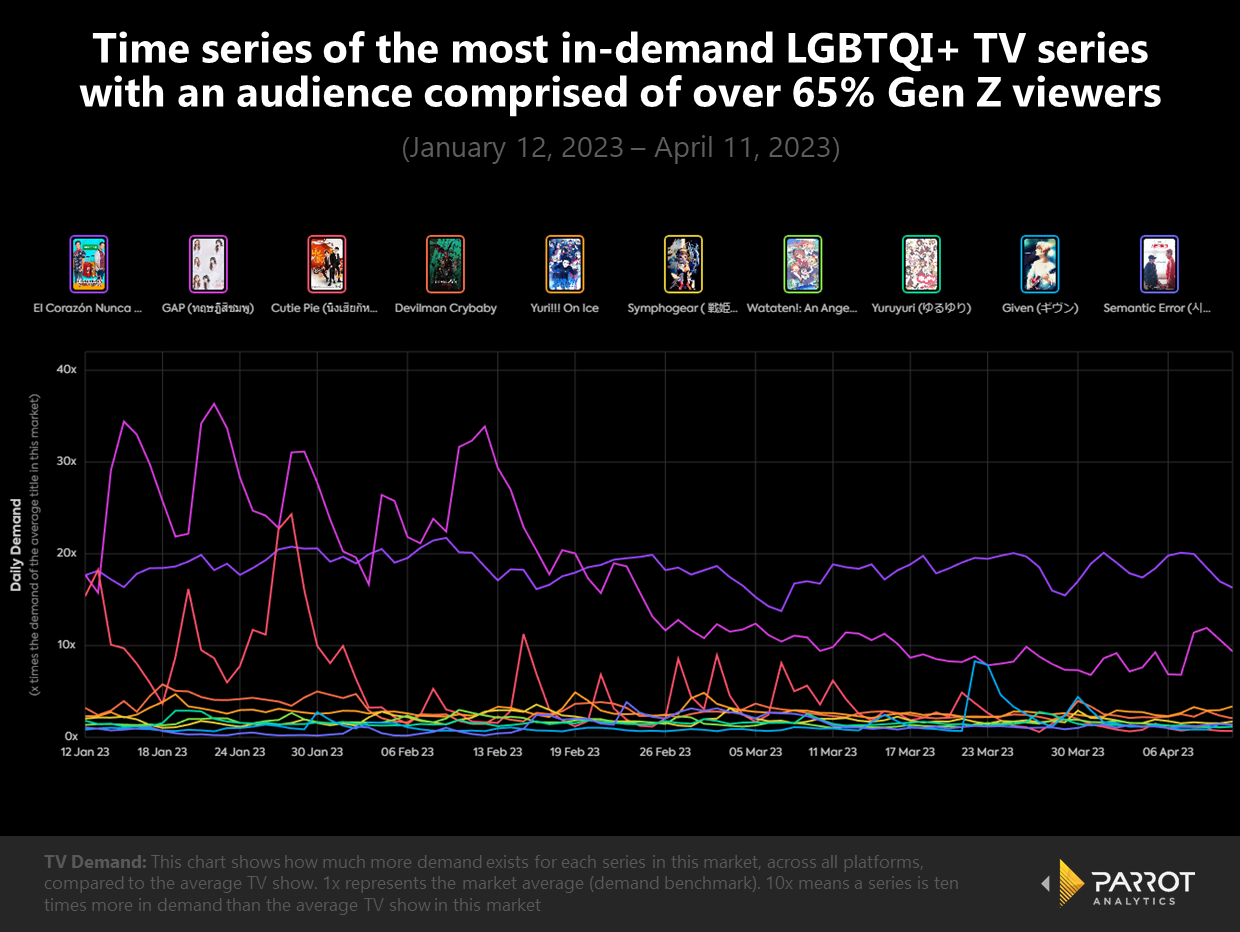 The same may not be true for LGBTQI+ representation, however: only the two live-action series have performed well in the chosen demographic. El Corazón Nunca Se Equivoca follows a gay couple as they move to Mexico City to pursue music and politics, navigating prejudice to achieve their goals. GAP is a classic age-separated love story, but following two business women in Thailand. Notably, both these shows take place in countries where non-heterosexual relationships are disfavored, adding to the drama of the series. Beyond these titles (and Cutie Pie), the LGBTIQ+ subgenre has a lackluster performance, quickly dropping below 4.0 times the demand for the average series.
Romance, sexuality, diversity, belonging and acceptance have always been at the forefront of the teenage mind, making them timeless coming-of-age themes. But for Gen Z, the internet has also connected them to a global community. Teenagers must balance and navigate the social expectations of many different cultures. Shows from places as diverse as The US, Thailand, France, Mexico and Japan give Gen Z a window into the wider world. TV storytelling is a modern form of travel for Gen Z - creating shows that appeal to this sense of exploration and the hunt for diversity is the key to pulling in a younger audience.
TV forms the cornerstone of a transmedia franchise, establishing a world that can be spun off into video games, fashion, merchandise and music. This formula has been put to great success by anime throughout the 2000's. Targeting Gen Z with TV is therefore crucial to building trust with that audience, inviting them into a community of like-minded individuals with similar aesthetic sensibilities.
---