Apple TV+ is gaining a reputation as a streaming platform with consistent quality programming. Across its catalogue of 111 shows, roughly 25% of these score above the 97th percentile for the average demand of a TV series. Apple seems committed to the strategy of building a brand reputation for quality programming with fewer shows, as opposed to platforms like Netflix that produce shows en masse in hope of striking a breakout hit.
Perhaps part of Apple's success can be attributed to targeting an older audience. Almost every popular series on Apple TV+ has a majority audience of Millenials or Gen X. Again, this contrasts with the youth-oriented marketing strategies of Disney and Netflix (for instance, producing more animated series). The top 10 most in-demand series on Apple TV+ illuminate the trends in storytelling and presentation that captivate this older audience.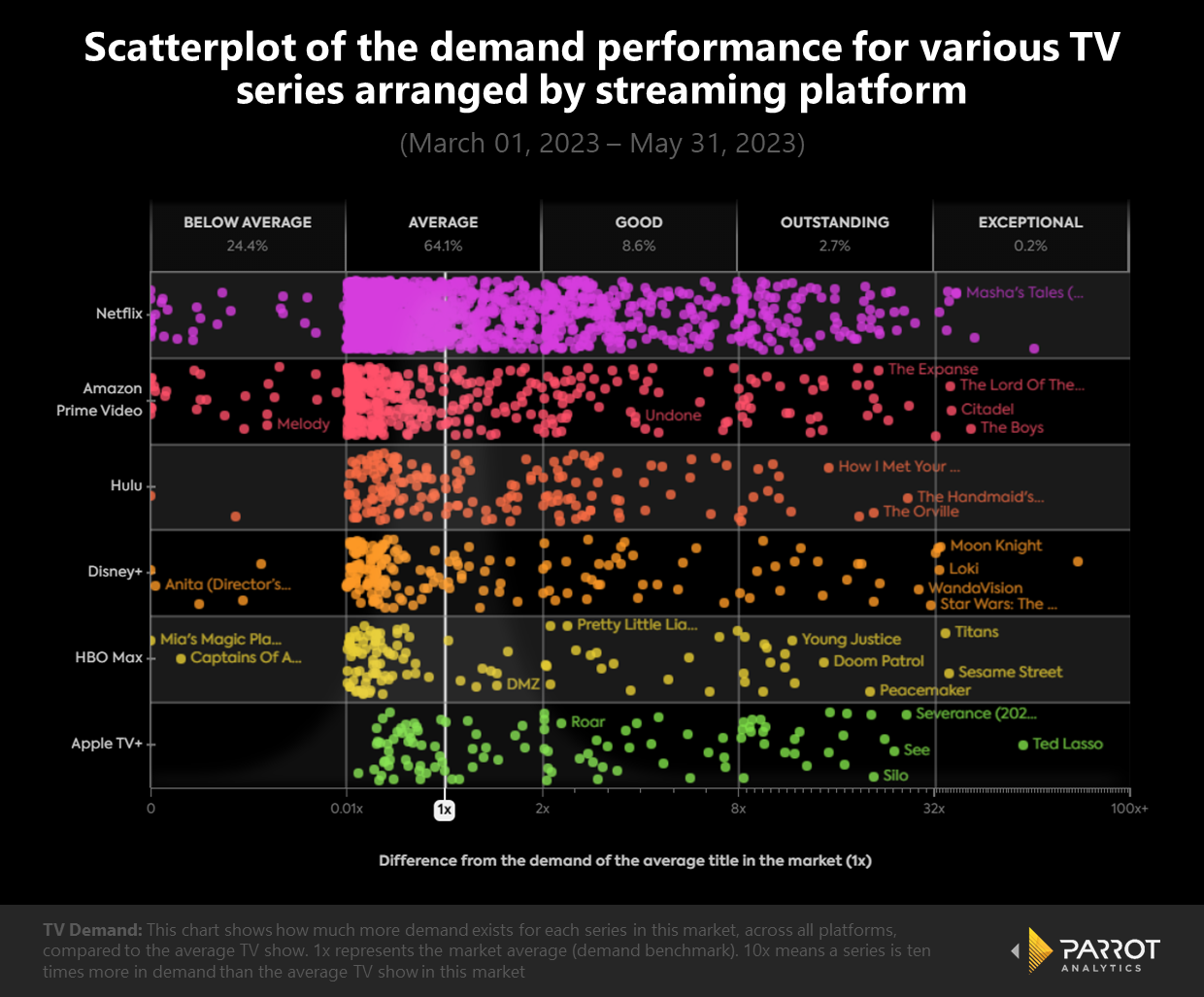 Apple TV+'s comedies with mature leads offer relatability for older audiences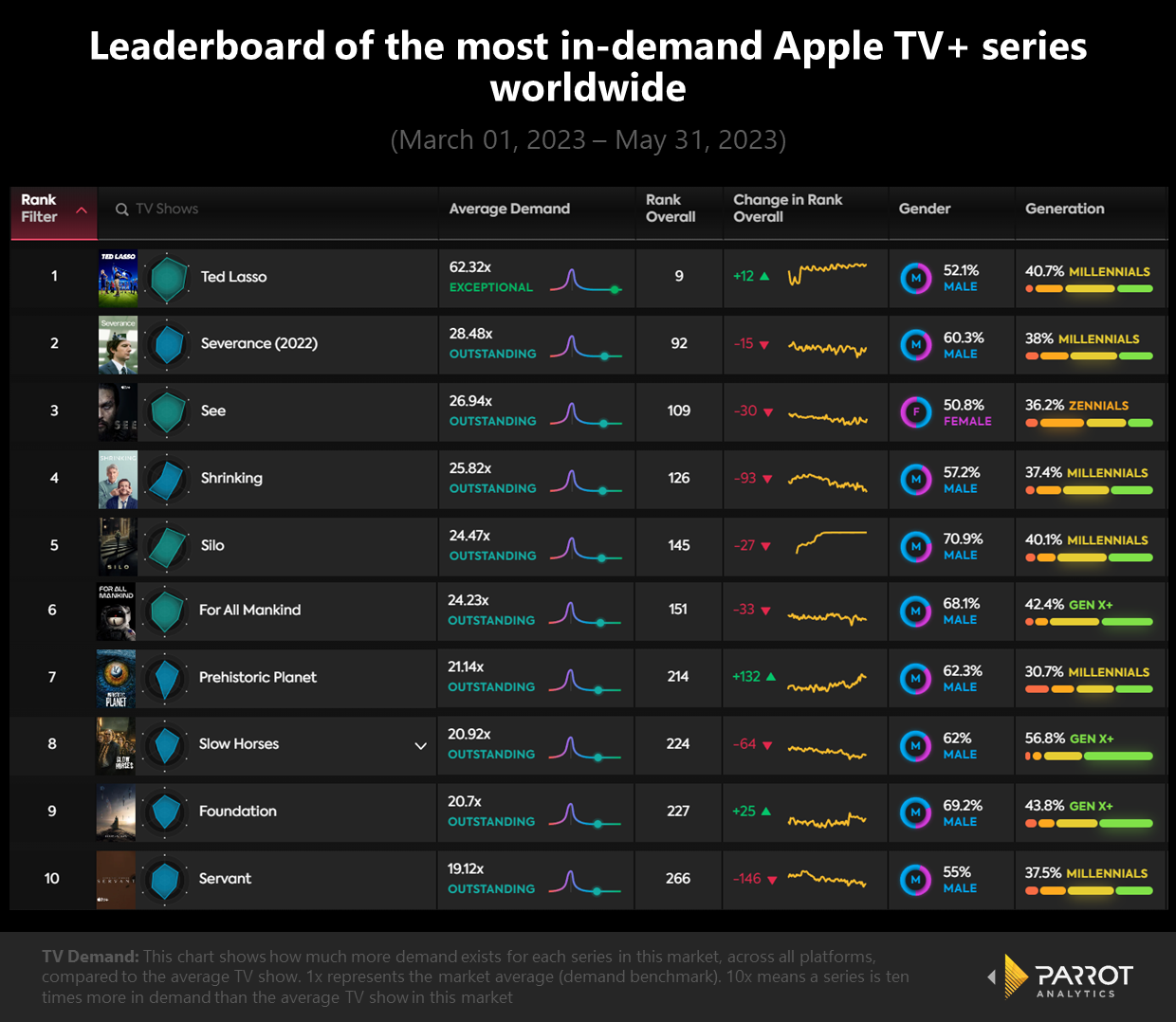 As the biggest hit on Apple TV+, Ted Lasso is the only comedy to lead its respective platform in demand. Most other platforms rely on tent pole fantasy, superhero and sci-fi series such as The Mandalorian for Disney+, The Boys for Amazon Prime Video and Stranger Things for Netflix. Although Apple TV+ has plenty of their own fantasy/sci-fi series (as discussed below), Ted Lasso breaks this trend with 62.3 times the average demand for a series worldwide. This abnormal surge in demand is typically attributed to the series' uplifting themes of acceptance and empathy in an otherwise bleak 2020 (the year in which Ted Lasso first aired).
Crucially, however, the series also captured the attention of older viewers thanks to its mature protagonist. Ted Lasso is played by Jason Sudeikis, best known for his work on Saturday Night Live between 2005 and 2013. Millennial audiences will therefore be most familiar with Sudeikis' work, supported by 40.7% of the audience being comprised of Millennials. The same trend is observed in Apple TV+'s fourth most in-demand series, Shrinking. The series stars Jason Segel, another comic actor in his 40's mostly known for his work in the late 2000's (having starred in How I Met Your Mother).
While both Ted Lasso and Shrinking have mature themes and older protagonists, their older fan bases correlate most strongly with casting choices. Shrinking heavily features Harrison Ford in its marketing, an actor mostly known for his work in the 80's which attracts a 34.9% Gen X audience. Slow Horses uses a similar strategy by casting Gary Oldman in the part of Jackson Lamb, the head of a group of MI5 rejects. Gary Oldman carries the bulk of the humor in the show with his sarcastic, defeatist attitude. Again, there's something for older audiences to enjoy in his resigned yet morally-upstanding personality.
High-concept thrillers are an easy sell for streaming on Apple TV+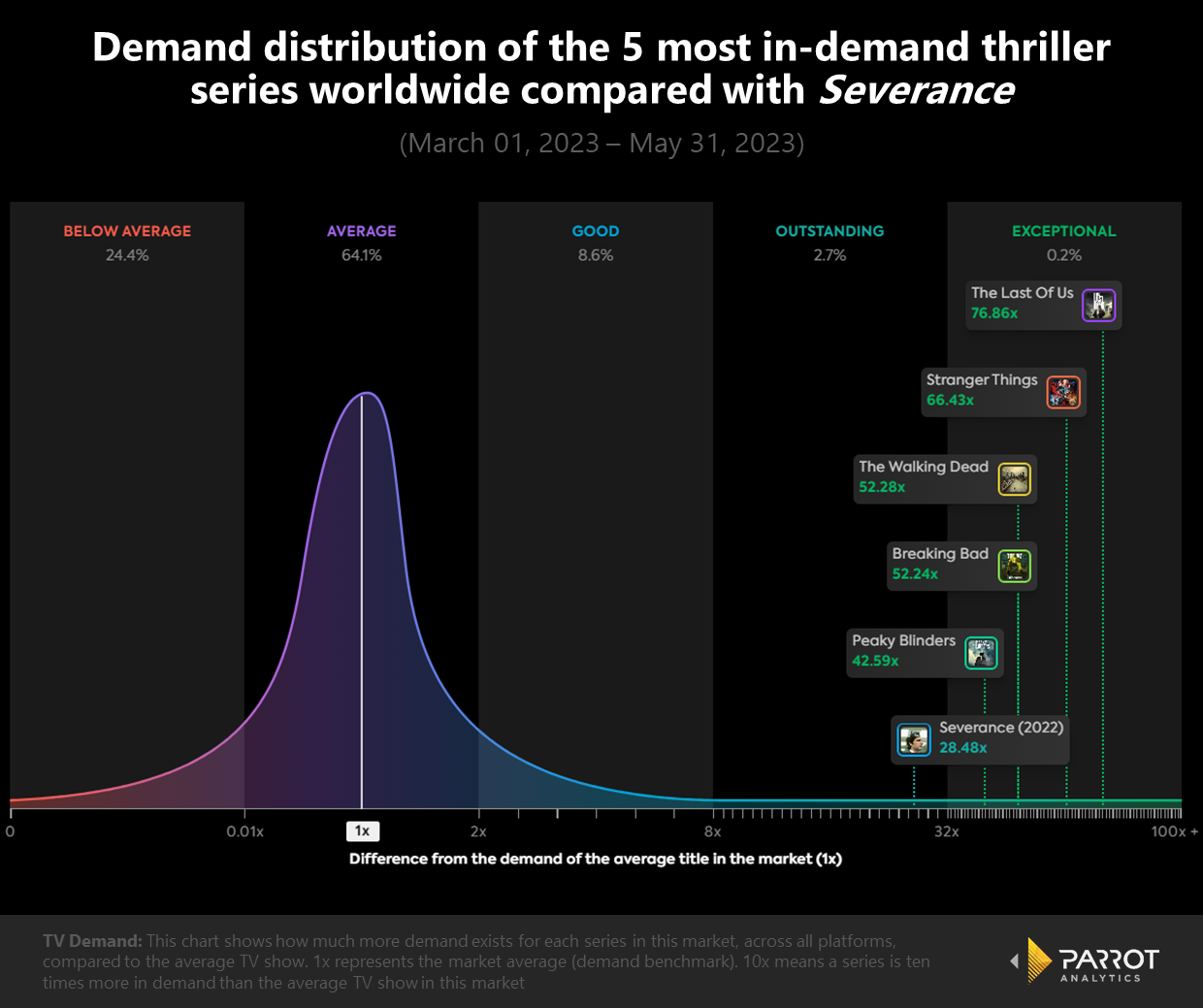 Apple TV+ also focuses on a number of high-concept thrillers to keep audiences hooked. Despite its dry British wit, the aforementioned Slow Horses is primarily a thriller. The series has 20.9 times the average demand for a series worldwide, proving that the cop/spy genre can still hold audience attention.
Apple TV+'s usual thriller blueprint, however, involves taking Twilight Zone style concepts and extending them out into full series. Severance is set inside a biotech company that "severs" the consciousness of its employees from their at-home personalities. The literal disjoint between at-home and at-work lives appears to thematically evoke our post-COVID world in which people are increasingly aware of maintaining a work-life balance. This may explain Severance's popularity with 28.5 times the average demand for a series worldwide. Demand for Severance still falls significantly short of the most in-demand thrillers, like Peaky Blinders which pulls in 42.6 times the demand for the average series worldwide.
As with their comedies, big names are another reason for the success of Apple TV+'s thrillers. Severance features an ensemble cast of movie stars including Patricia Arquette, John Turturro and Christopher Walken. Similarly, M. Night Shyamalan acts as the draw card for Apple TV+'s 10th most in-demand show, Servant. Shyamalan brings audiences his trademark mixture of horror and mystery which proves an intoxicating combo for binge-watchers (as seen with The Haunting of Hill House and American Horror Story). Given his reputation for mind-blowing twists, viewers are guaranteed to stick with the series until the final episode.
Sci-fi series leverage Apple's spectacular new worlds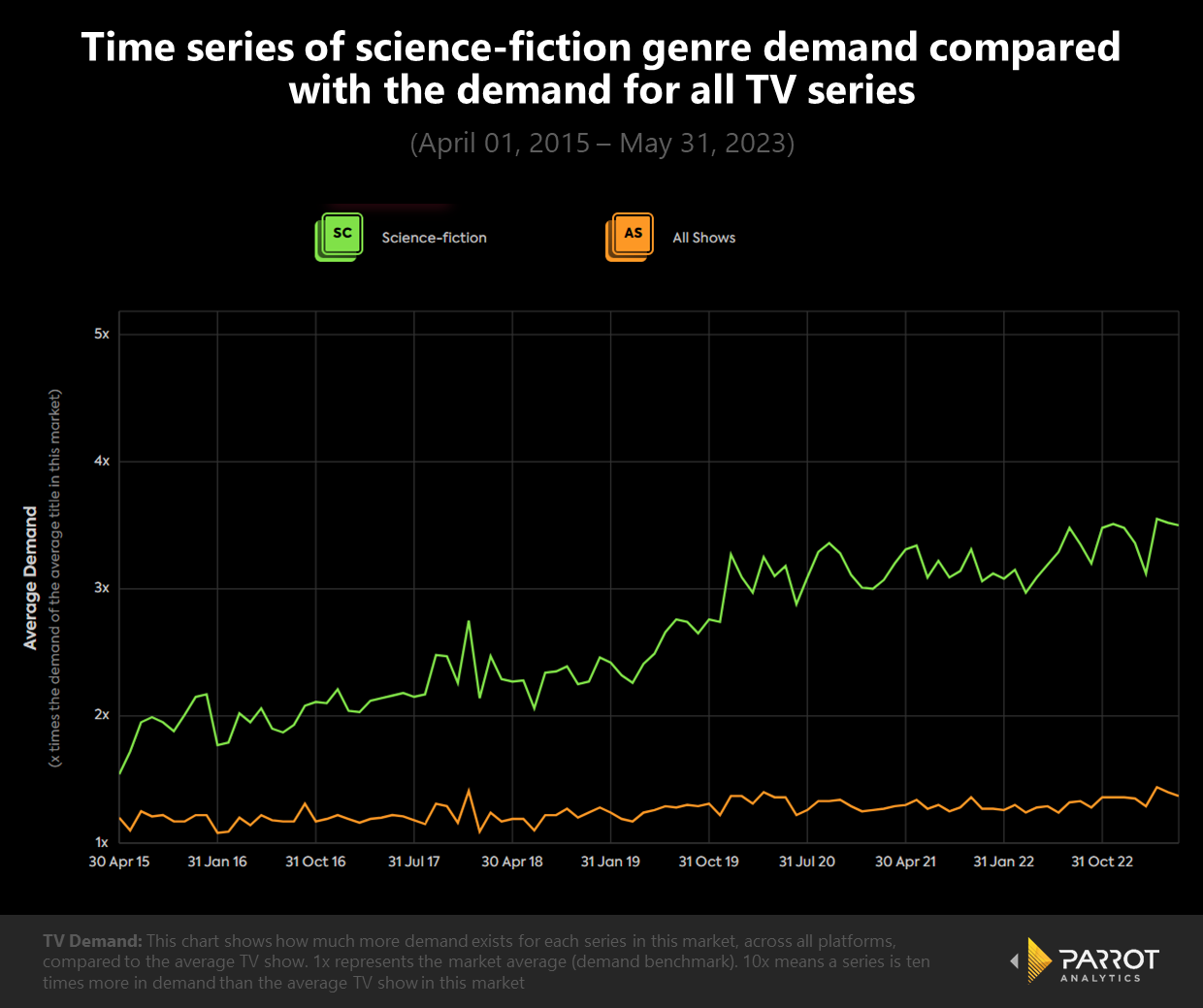 The bulk of Apple TV+'s popular line-up still falls into the classic modern template for a hit TV show: sci-fi series. Demand for the sci-fi genre has risen from 1.5 to 3.5 times the average demand for series worldwide over the past 8 years. With the success of dystopian sci-fi shows such as The Last Of Us, The Walking Dead and Chernobyl, it's no surprise that Apple wants to enter this field. These series also emulate the wide scope and political sub plots of Game of Thrones, whose incredible popularity continues to shape the TV landscape.
The most popular series of this kind among the Apple TV+ catalogue is See, with 26.9 times the average demand for a series worldwide. See fits the aforementioned attributes of an Apple TV+ series: firstly, it stars a well-established actor from a similar genre, that being Jason Momoa of Game of Thrones fame. Secondly, it features a high-concept premise, being set in a post-apocalyptic world wherein almost all inhabitants are blind and sight is considered a myth. Perhaps due to casting Jason Momoa, this is one of the rare Apple TV+ shows with a slightly younger main audience of 36.2% Zennials.
Other popular sci-fi series on Apple TV+ follow a similar formula. Silo features Rebecca Ferguson (Mission Impossible) and Tim Robbins (Shawshank Redemption) in a dystopian sci-fi thriller in which the remnants of humanity live in a silo hundreds of stories underground. This claustrophobic space creates a pressure cooker for paranoia and conspiracy, tipping the series into the thriller territory of Severance and Servant. Silo also breaks from traditional marketing philosophy by pulling in a majority male audience (70.9%) despite having a female lead.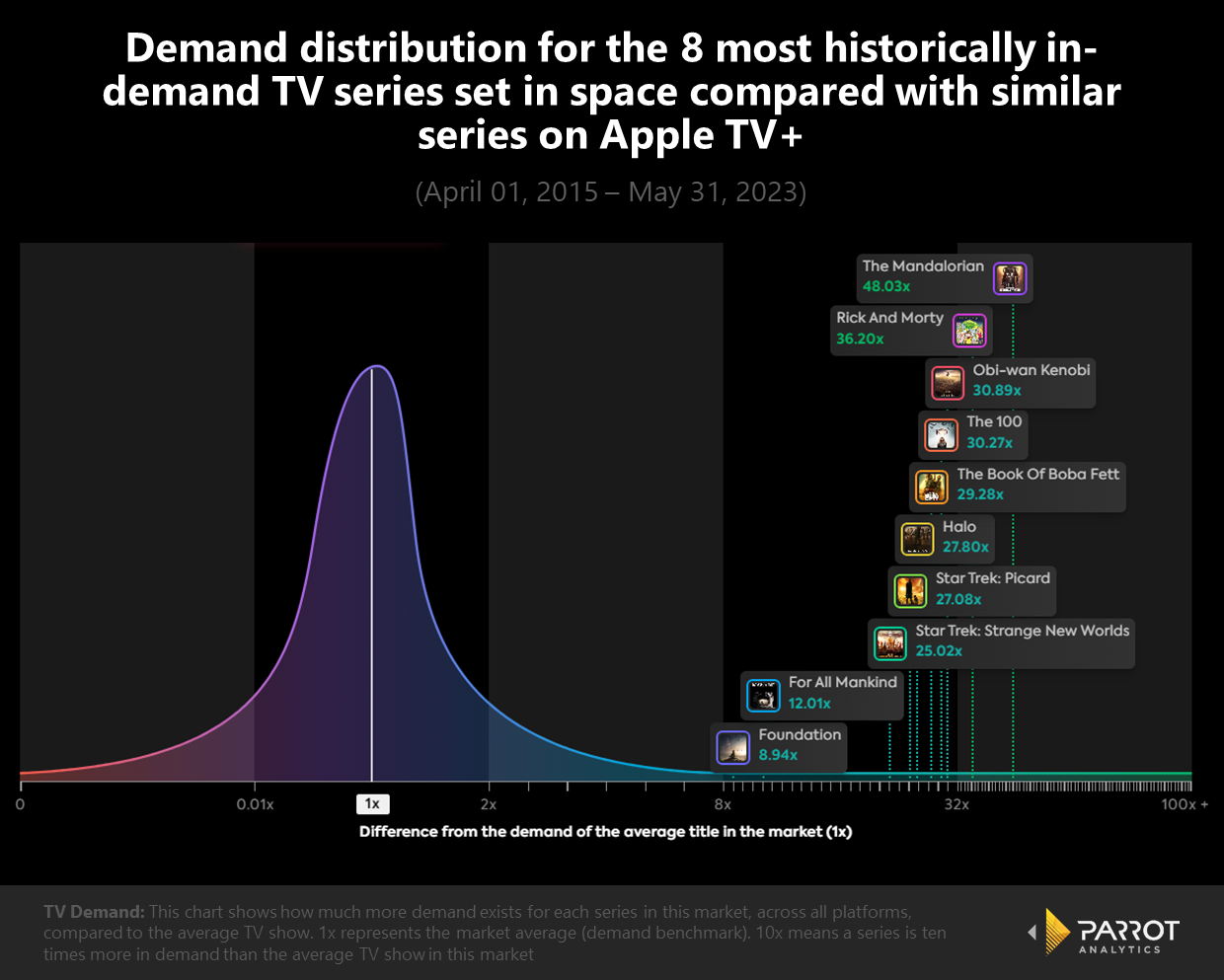 Two other Apple TV+ series revolve around the more classic sci-fi genre setting: space. For All Mankind presents an alternate history in which the Soviet Union wins The Space Race. In one of the more culturally relevant departures from reality, women astronauts and astronauts of color are accepted soon after the Soviet victory. This revision permits for casting diversity, but it also raises doubt around the true value of an American victory in The Space Race. This blend of fiction and non-fiction has lead For All Mankind to 24.2 times the average demand for a series worldwide.
 Foundation takes the complete opposite tact, setting itself in a purely fantastical world based on the book series of the same name by Isaac Asimov. Again, Apple leans on big names to guarantee quality: Isaac Asimov as a literary sci-fi great (I, Robot), writer David S. Goyer (The Dark Knight Trilogy) and a cast of proven TV talent such as Jared Harris (Chernobyl). Given the connections to Isaac Asimov and Chernobyl, it's no surprise that Foundation has performed incredibly well in Russia, seeing 81% of the demand in the Russian market compared to the American market.
High-budget documentaries create another world for viewers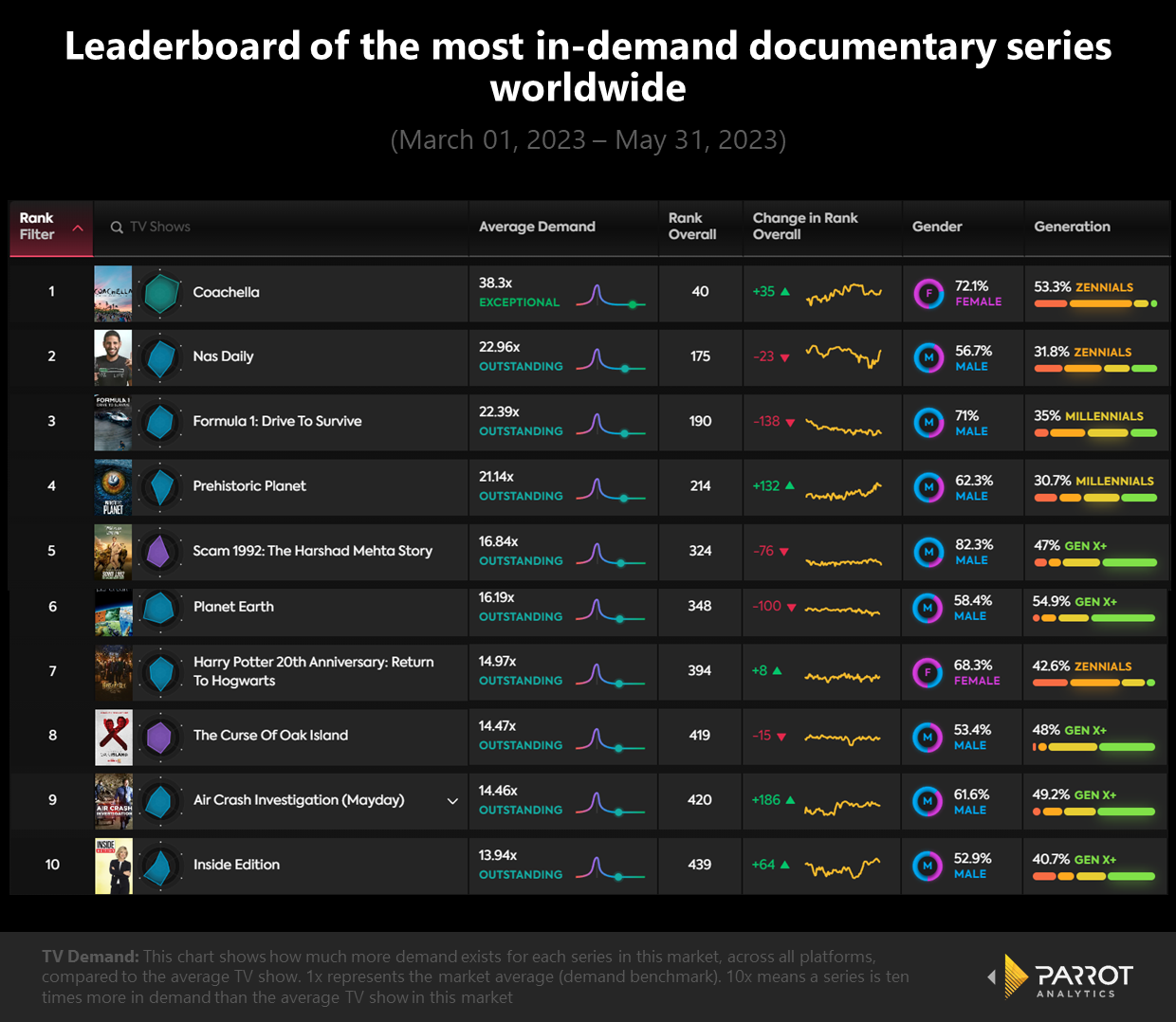 The oddball in the mix of Apple TV+'s 10 most in-demand series is Prehistoric Planet, a nature documentary from the team behind Blue Planet. While this may seem like a radical departure from the rest of Apple's catalogue, there are many similarities. Prehistoric Planet relies on state-of-the-art animation to create a never-seen before world similar to the sci-fi worlds of Foundation and Silo. Undoubtedly the veracity of the show's information has also been a major draw card, using "the most up-to-date research available about all the dinosaurs before us". Additionally, though there are no "actors", Sir David Attenborough's narration is of such high renown and authority as to attract viewers. These elements pushed Prehistoric Planet to the #4 most in-demand documentary, with 21.2 times the average demand for a series worldwide.
Glancing across Apple TV+'s most popular series reveals high-concept premises, alternate worlds, big name stars and older protagonists. Naturally, these feats are possible thanks to incredibly high budgets funded by Apple's other pursuits. Apple's capability with tech also enables sci-fi series to better emulate futuristic worlds. Still, it is possible to learn from Apple's strategy to attract older audiences. Casting older actors and featuring more mature protagonists unsurprisingly increases series' relatability to older demographics. Additionally, Apple's commitment to high-budget, high-quality programming attracts elite consumers with disposable incomes, and consumers with disposable incomes tend to skew older. Given that Gen X and Millennials grew up with TV as the dominant form of media, it is also essential to capture their attention to establish oneself as a quality TV producer.
---