Writers are often the forebears of popular trends in digital media, given that the literary medium allows for more creative freedom through trial-and-error. Many of the most popular films and TV series of all time have their roots in literature, finding their footing in print form before being adapted for mass appeal.
To that end, this article explores the most in-demand writers of the past year. Writers that have previously had their books adapted are examined to find popular themes amongst their work. Writers that haven't as yet been adapted are also looked at however, as they may provide fertile new ground for popular films/TV series. Reaching out to new authors can result in a positive, innovative relationship that gives audiences something new to watch.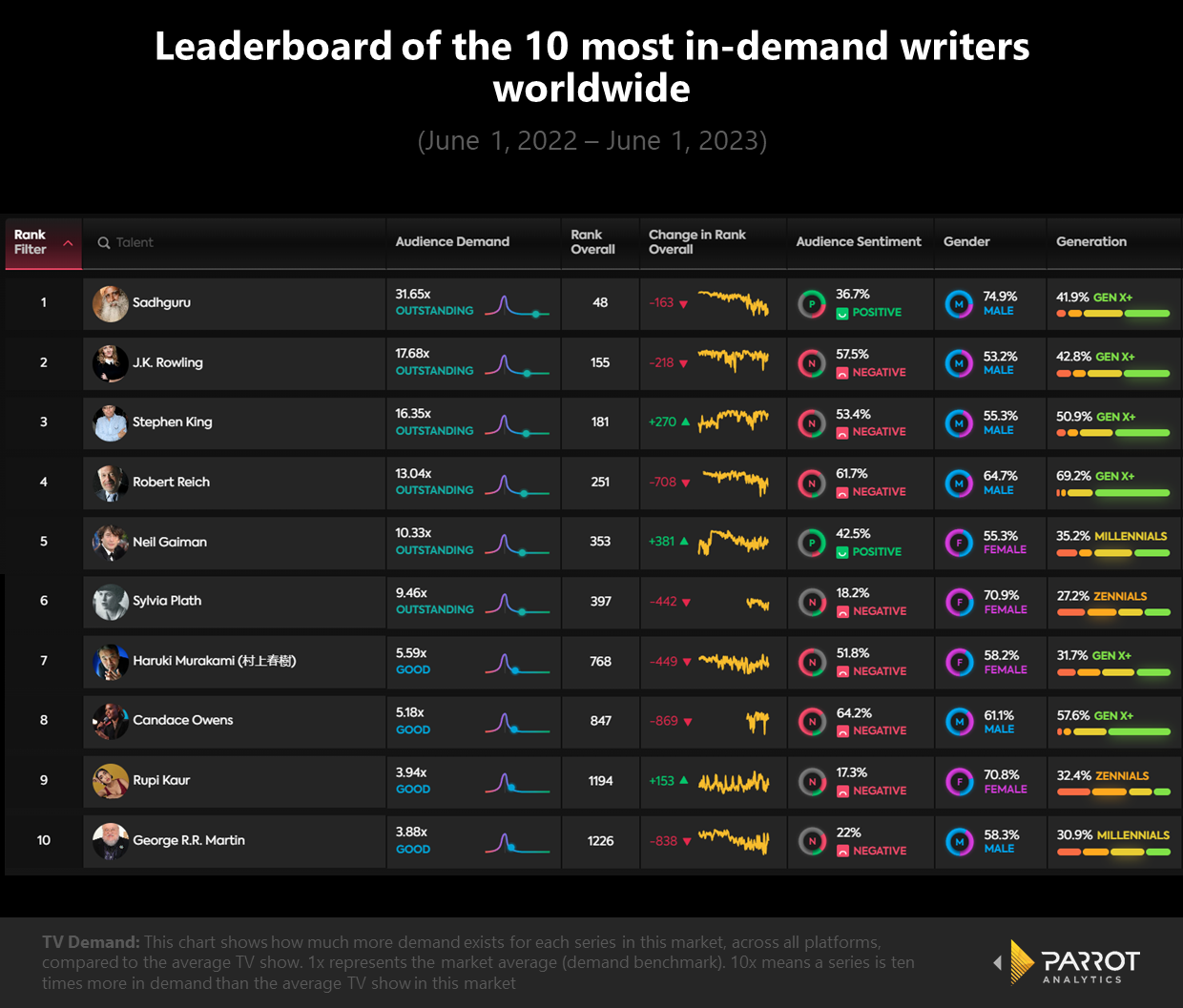 Established fantasy authors build off of their legacy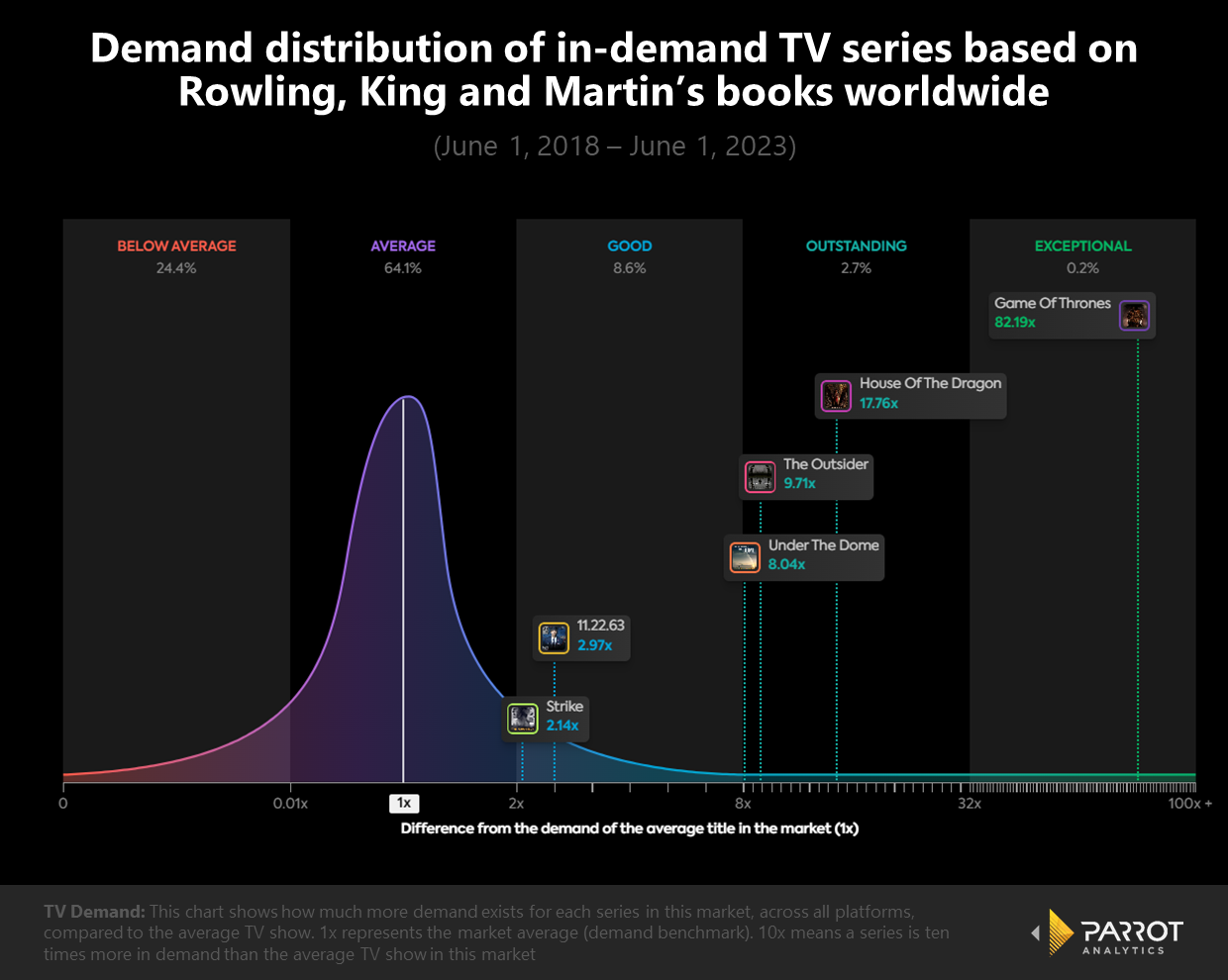 Many of the most popular franchises derive from eminent fantasy authors. The Wizarding World franchise has permanently cemented J.K. Rowling as a household name, garnering 17.7 times the average demand for talent worldwide. The franchise is going strong with The Cursed Child heading into its 7th year at The Palace Theater and a new Harry Potter TV series being cast for release in 2025/26. Crucially, however, much of the internet chatter Rowling revolves around her views on feminism and trans rights.
Stephen King similarly stirs up discourse on Twitter, though skewing more liberal as he lampooned Trump during his presidential campaign. This interest in King's opinions is justly earned: his novels inspired many famous media of the 2010's including It and Under the Dome. His new dark fantasy book Fairy Tale features a 17 year-old protagonist, tapping into a newly-acquired younger fanbase. Still, the overwhelming majority of King's fans grew up with his work in the 80's and 90's, with 50.9% being Gen X.
The final big-name fantasy author is George R.R. Martin, with 3.9 times the average demand for talent worldwide. Despite his last full-length novel being 2011's A Dance With Dragons, Martin remains popular due to the overwhelming success of the currently-airing House of the Dragon prequel series. Where Rowling crafts relatable younger characters and King spins twisted tales with disturbing imagery, Martin's strength lies in his intricately detailed worldbuilding couched within historical fact. This trifecta of fantasy authors represents the current model for fantasy worlds, spanning sorcery, scares and subterfuge respectively.
New wave fantasy and magical realism attracts more positive sentiment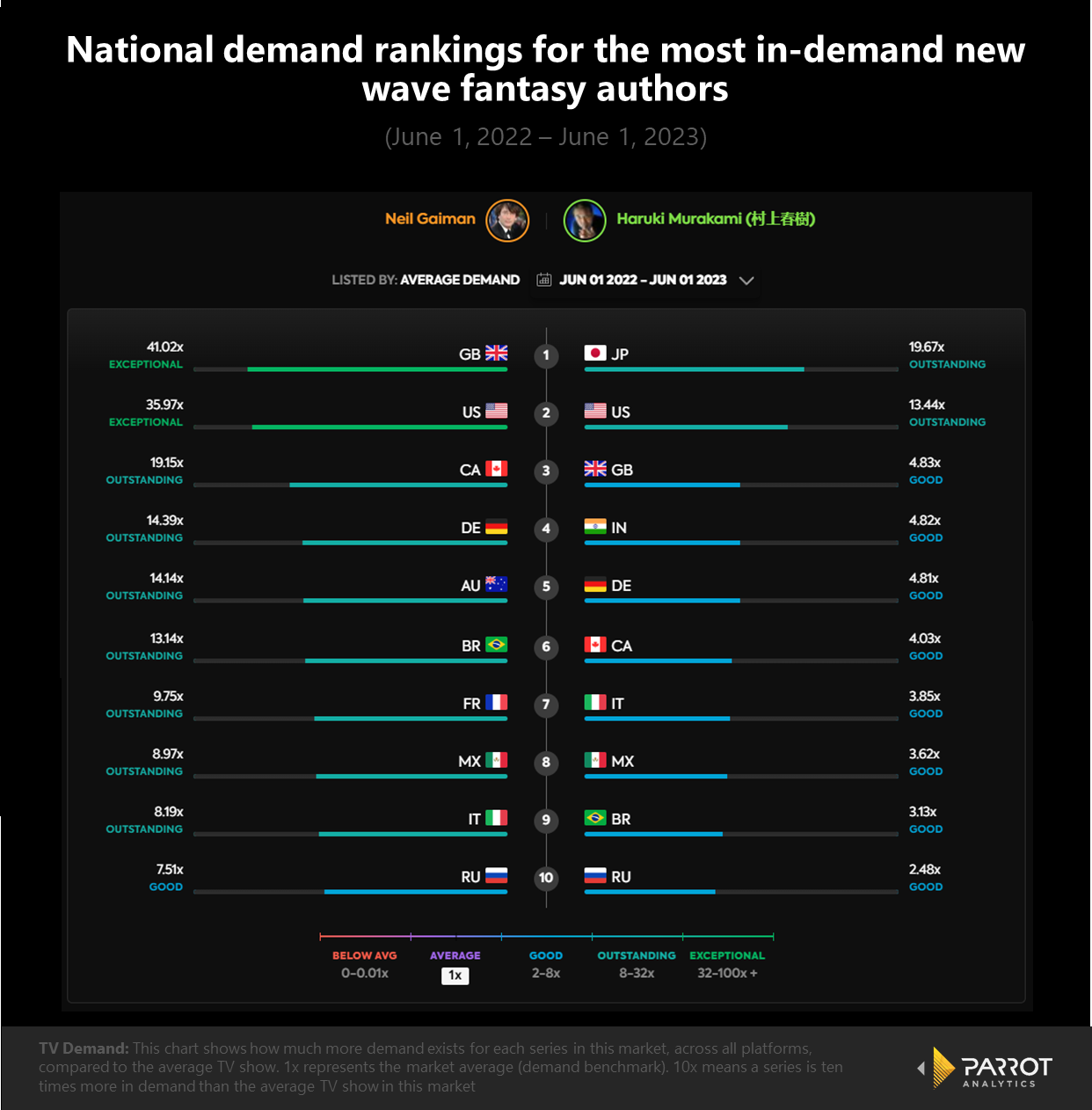 A number of diverse mediums and international creators have created new avenues for fantasy. Neil Gaiman, for example, rose to prominence through comics and graphic novels such as The Sandman. A Netflix series based on The Sandman began last year, bringing attention back to Gaiman's roots. Unlike most authors discussed here, Gaiman maintains a positive sentiment online (37.4%) possibly due to his strong backing of the recent WGA strike.
An alternate take on fantasy comes from Haruki Murakami, a specialist in the magical realism subgenre which presents fantastical elements as everyday occurrences. Murakami typically tells stories of loneliness, self-discovery and depression, best exemplified in his mind-bending classic Kafka On The Shore. These themes are increasingly relevant among the internet generation, where technology has isolated young adults. Murakami's fanbase remains diverse as a result, targeting a roughly equal proportion of Millennials and Gen X (29.8% vs. 31.7%) and males and females (41.8% vs. 58.2%).
Political authors stir up controversy as mouthpieces for differing views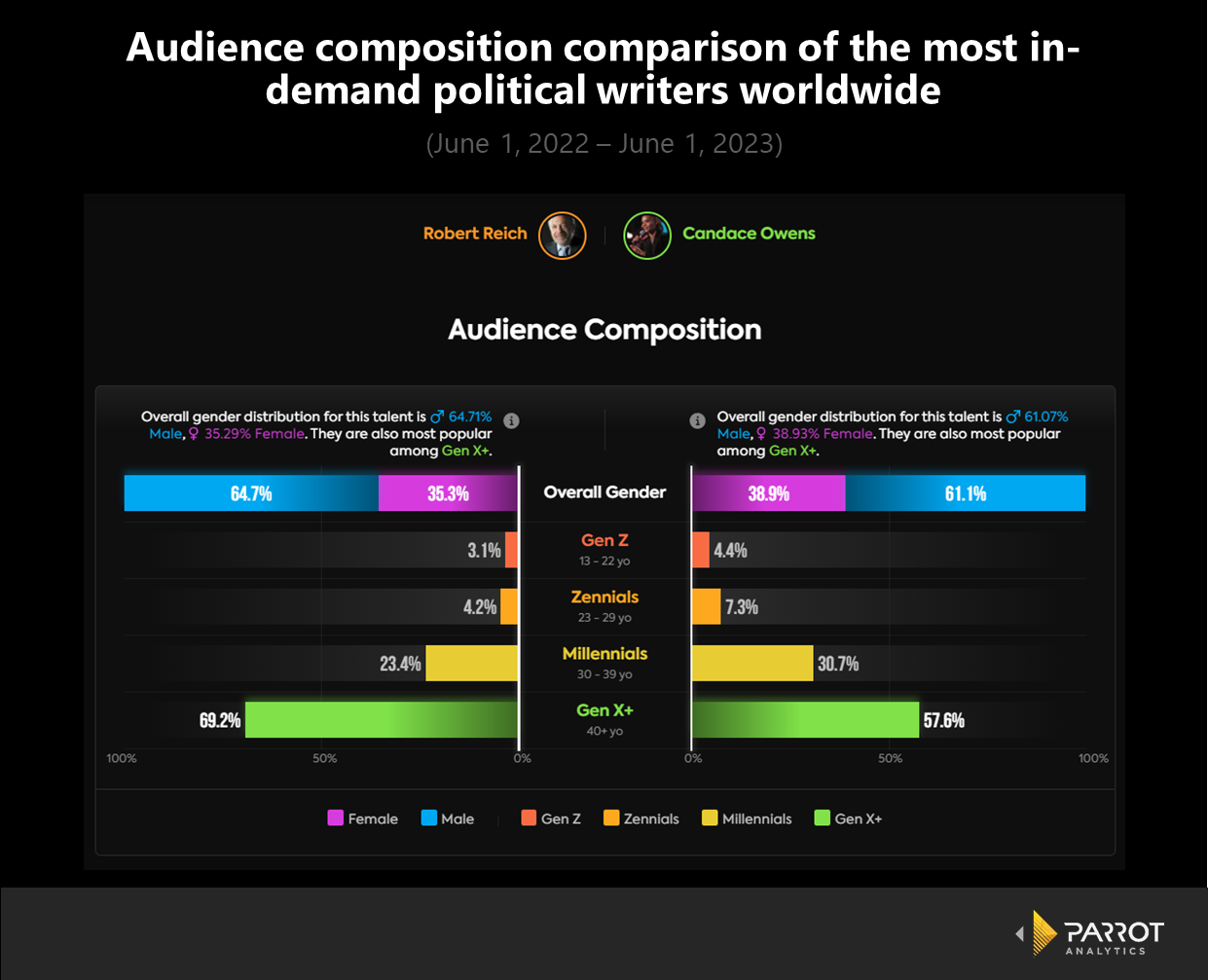 Politically heated discourses are a natural drawcard for readers across the political spectrum. Two of the most in-demand writers each represent one side of the debates being waged in the U.S.. The first is Robert Reich, a political lawyer with liberal leanings whose views stem from constitutional law. Recently, Reich has pushed for Trump's indictment for his role in the January 6th Capitol Attack. Unsurprisingly for a political writer and commentator, Reich's sentiment is largely negative (62.0%) and skews older towards Gen X (69.2%).
The same is true of his opponent across the aisle, Candace Owens, with 64.4% negative sentiment and a 57.6% Gen X audience. Owens is a presenter and commentator with right-leaning views, making her an unusual presence among the conservative party as a female person-of-color. Although she was radically left-leaning throughout the mid 2010's, Owens stirred controversy when she flipped sides to the conservatives in 2017. Owens has now crafted an "ultra conservative" brand with support from right-wing personalities like Donald Trump and Kanye West.
Poets engage a majority female audience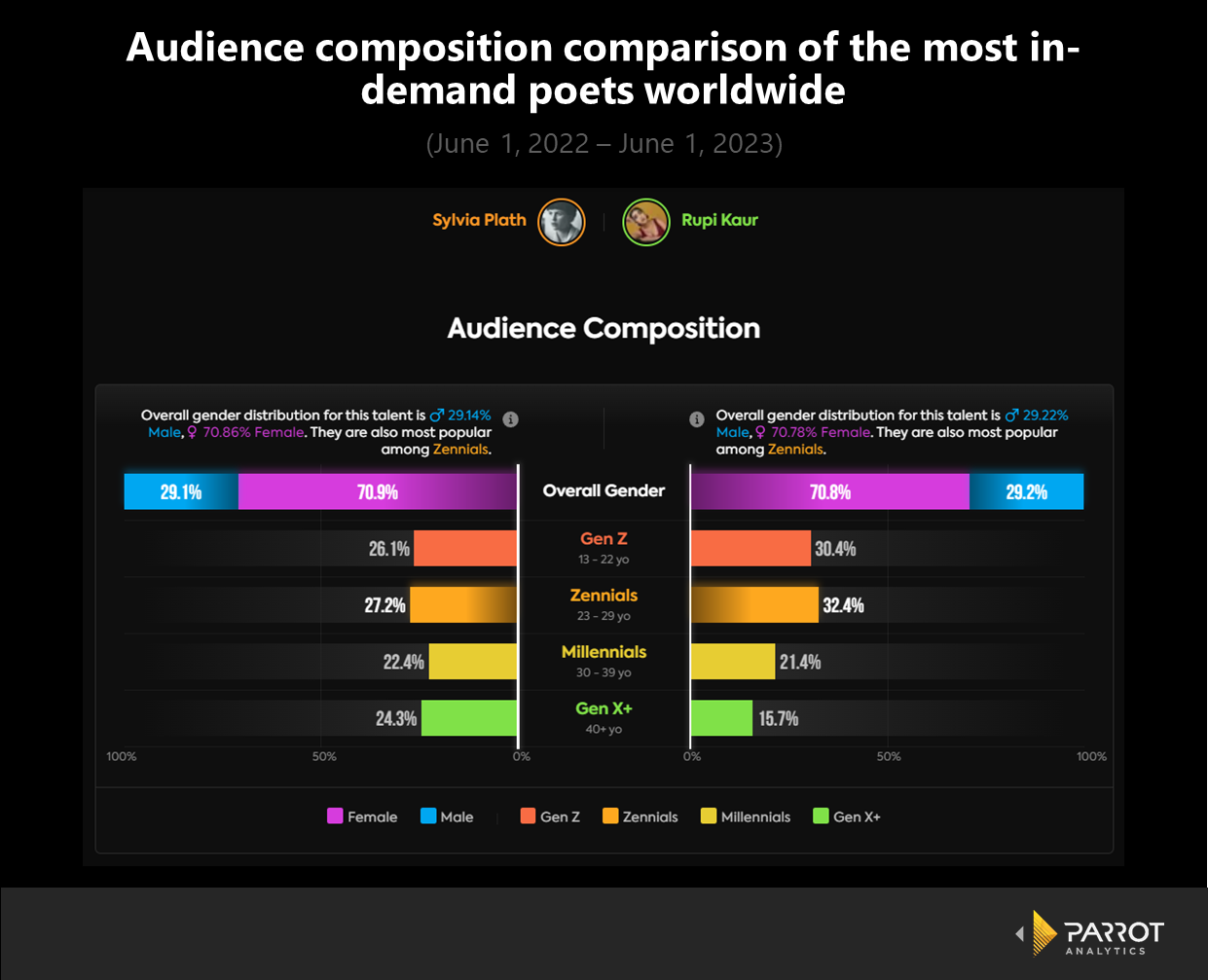 In a media landscape dominated by short-form content (e.g. Reels, TikToks), it's no surprise that shorter written content enjoys similar popularity. Poetry is an accessible literary form for younger readers, easily shareable via Instagram or Tumblr. Rupi Kaur is an eminent forerunner in this "Insta-poet" space, with 3.9 times the average demand for talent worldwide. Her simplistic style and quaint sketches in collections such as Milk and Honey make her work easily identifiable and empathisable, while her predominantly feminist messages draws in a 70.8% female audience.
Another feminist poet outstrips Kaur in terms of demand however, garnering 9.5 times the average demand for talent worldwide. Sylvia Plath created the seminal feminist novel The Bell Jar in the early 1960's before committing suicide shortly thereafter. Plath posthumously earned great acclaim for her furious and vivid poetry which explores women's roles in society, inspiring recent depictions of teenage women in media such as 10 Things I Hate About You and Gilmore Girls. Her recent surge in popularity may be related to discussions of mental illness and her own psychological issues.
The most in-demand writer combines spiritual advice with influencer culture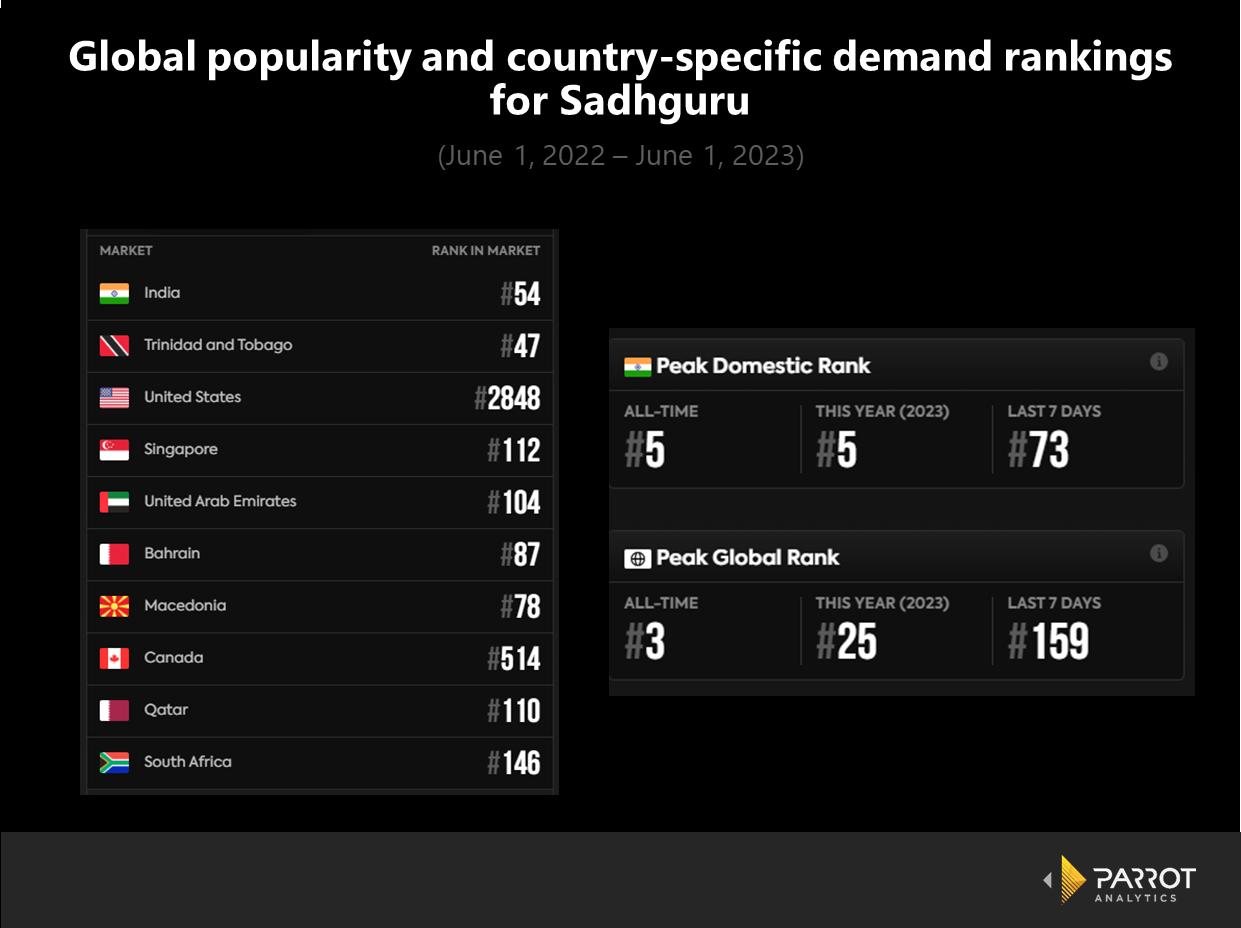 Sadhguru is the most popular writer with 31.7 times the average demand for talent worldwide. Jagadish "Jaggi" Vasudev, AKA Sadhguru, is a spiritual teacher with a secular bend, not believing in gods and lacking "proper" religious training. He first amassed popularity in India, developing the not-for-profit Isha Foundation and penning a guide to long-lasting "ecstasy" titled Inner Engineering. His teachings revolve around his own past trauma, loss of loved ones, and insistence that reality outside the self is immaterial and unknowable.
Sadhguru gained popularity in the West when he began spreading his teachings to popular influencers such as Logan Paul. As a post-modern answer to the stereotypical guru, Sadhguru adorns himself with expensive watches and enjoys leisurely yacht trips. Due to this spiritually-progressive image and his open-hearted lessons, Sadhguru draws a positive online sentiment (38.2%) and majority male audience (74.9%).
Among the authors discussed, there is a push towards embracing socially-progressive writing. Authors with conservative mindsets such as J.K. Rowling and Candace Owens are currently inviting high negative sentiment, while pro-feminist and pro-diversity authors such as Rupi Kaur and Neil Gaiman suffer less from this backlash. In either case, authors with a religious background are no longer popular, with "godless" fantasies dominating the shelves.
The only unifying principle among these authors is a love for drama, with not a single non-fiction authors breaking into the most in-demand writers. As always, people look to writing for bold viewpoints that can't be expressed in more tightly regulated media - it might behoove studios with a wider slate of shows to take a chance on more niche content that drives online word-of-mouth.
---