Popular thriller films of the 90's and 00's were mid-budget productions with mystery plots such as Mulholland Drive, Se7en or The Usual Suspects. While these stories typically find more success in TV nowadays, the thriller genre lives on in film thanks to action thrillers. The spectacle of action thriller films draws audiences to the cinema, with weapons, cars and explosions delivering high-octane action that appeals to a predominantly male audience. This article explores recurring trends across the eight most in-demand thriller films of the past year, and briefly examines the gap between demand for thriller content in film and on TV.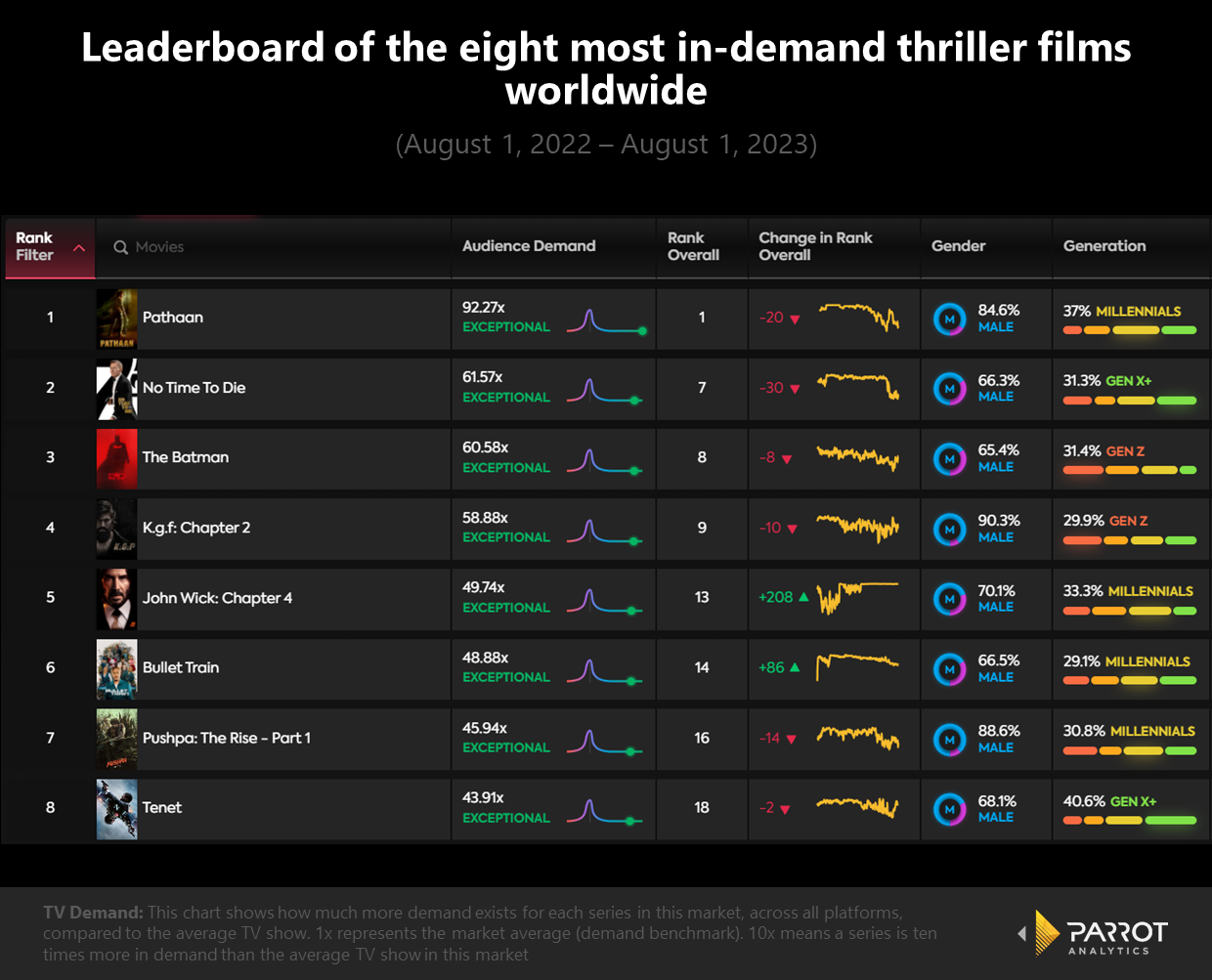 Bollywood's over-the-top presentation captures massive audiences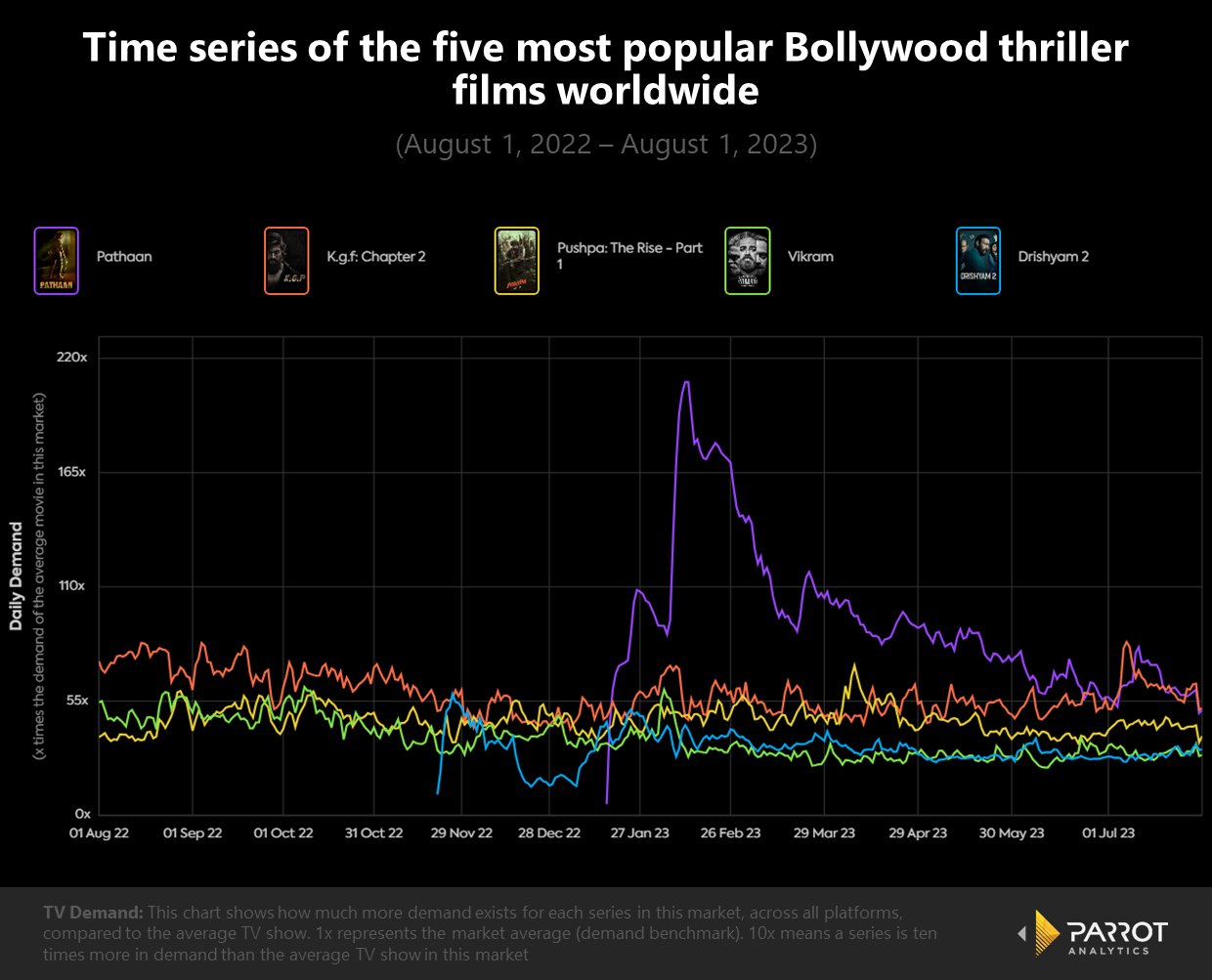 Continuing on from the international success of RRR in 2022, Bollywood continues to produce action films with absurd, melodramatic flair. Pathaan is the most successful example of this strategy, being the most in-demand film of the past year with 92.3 times the average demand worldwide. Pathaan's success lies in its blisteringly fast-moving plot, wherein the first minute sees Pakistan and India at war due to a Pakistani general's cancer diagnosis. Notably, Pathaan also exists within a newly-formed cinematic universe called the YRF Spy Universe, bringing back characters from other spy action thrillers such as Ek Tha Tiger and War.
The other Bollywood action thrillers in the top 10 follow a similar format, those being K.G.F. Chapter 2 and Pushpa - The Rise. All three films feature Gun Fu action sequences with stylized elements to increase the "epic" nature of the fights. These include slow motion, wind machines, low-angle shots and reality-breaking action, such as when Pathaan throws a pipe into a knife which then impales his opponent. Perhaps due to this indulgent glorification of action, all three films bring in a greater than 85% male audience.
The star system still very much exists in Bollywood, with all three aforementioned films starring trendy actors in the lead roles - Shah Rukh Khan for Pathaan, "Rocking Star" Yash for K.G.F. and Allu Arjun for Pushpa. Each of these actors is praised for their on-screen presence, dancing ability and suitability as the male romantic lead in dramas. Given that all three films center on rags-to-riches stories, it's possible that viewers idolize these actors as role models for escaping their caste and moving up the social hierarchy (68% of Indians identify themselves as members of lower castes).
Highly choreographed action thrillers tour the world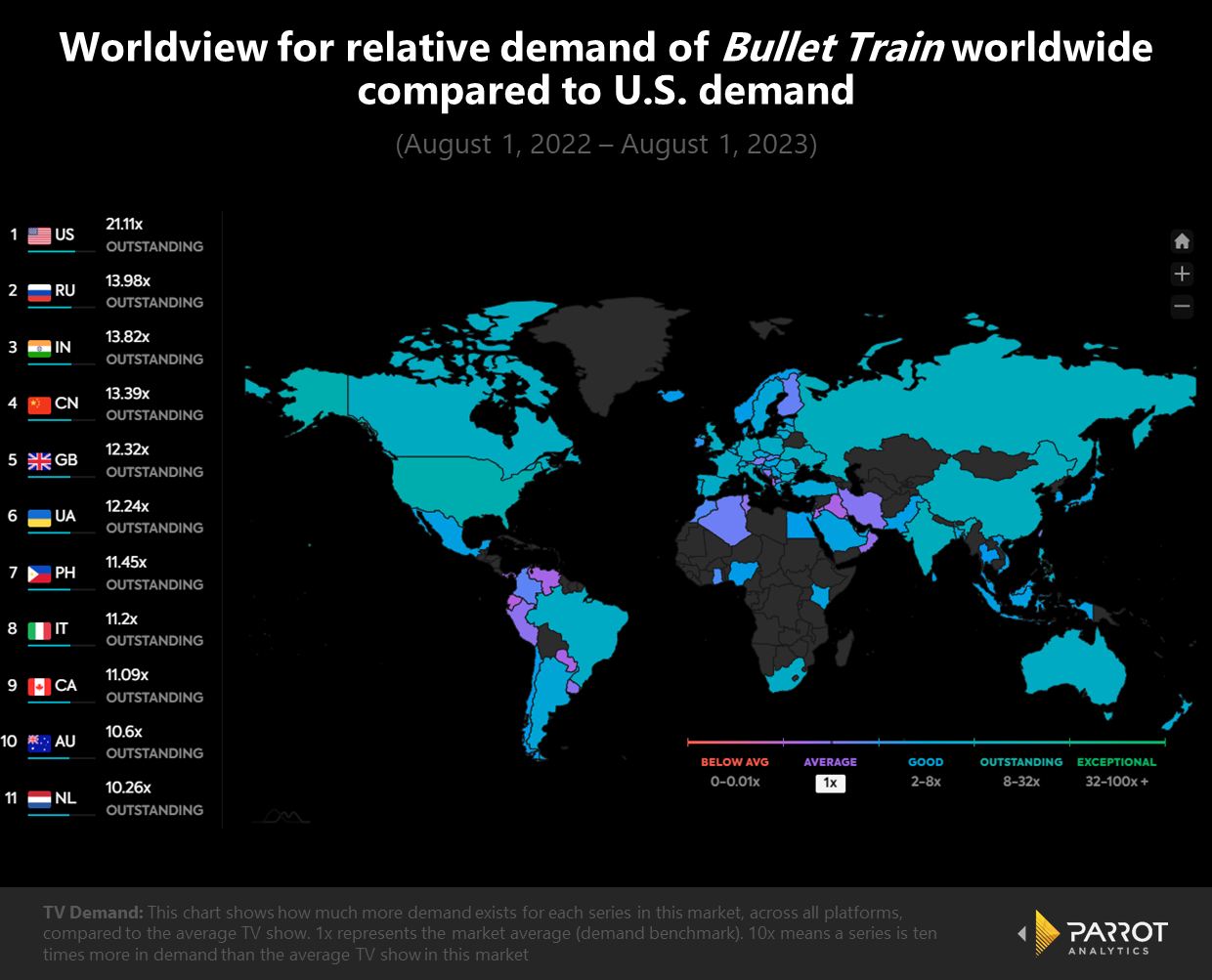 Thanks to the popularity of these Bollywood films, many Western films have begun borrowing certain tropes. The best example is John Wick Chapter 4, a decadent thrill ride through neo-euro spaces with pulsing neon lights and satisfying rhythmic fight choreography. Under the fantastic presentation however, the fights are just as ridiculous as any Bollywood action film - perhaps the reason India was the third most popular market for John Wick Chapter 4. The blend of lone Western hero and exotic locales from Tokyo to Paris was a recipe for box office success, with a peak of 269.9 times the average demand for a film worldwide a few days after the 24 March release date.
Bullet Train takes a similar approach, using a pan-Asian aesthetic to appeal to growing US interest in Asian cinema. The film is set in Tokyo, features fight choreography from Hong Kong cinema and uses stylized elements of Bollywood films such as title cards for character introductions. Bullet Train deftly weaves these aesthetic elements with the humor and tight plotting of a Western film to draw in global audiences with a travelability of roughly 65% to countries such as Russia, China and India over the past 90 days. Even without a franchise association, the film has nearly the same average demand for a film worldwide as John Wick (48.9 times vs. 49.7 times respectively). 
Franchise-associated action thrillers are reliable entertainment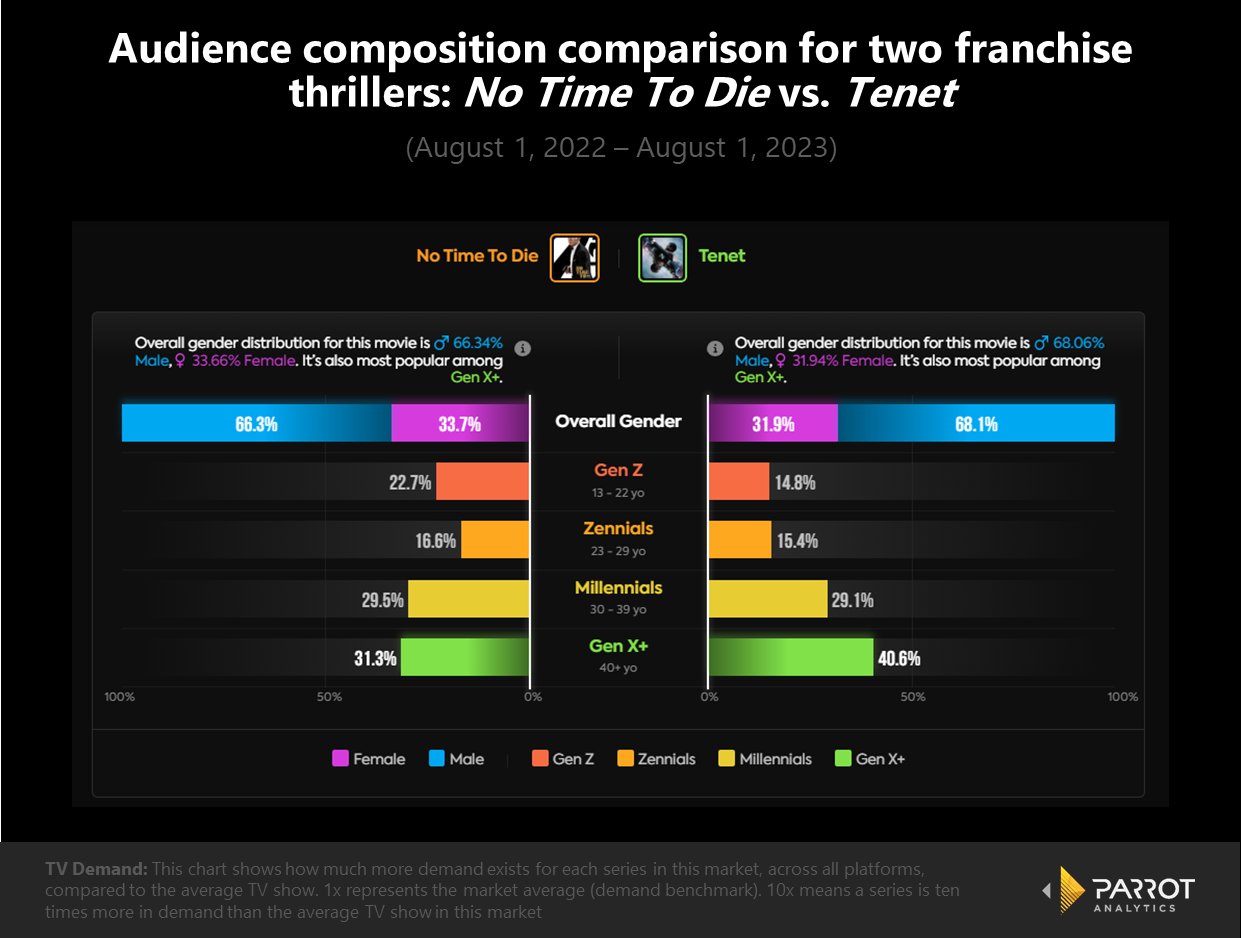 Still, action thrillers within big-name franchises remain a safe bet for moviegoers. The Bond franchise capped off the Daniel Craig era of films with No Time To Die, drawing audiences seeking resolution. The usual mix of gadgetry, international politics and world-class set pieces pulled in 61.6 times the average demand for a film worldwide. However, the franchise faces a crossroads: Bond is a politically anachronistic character, and keeping his identity alive while adapting to modern sensibilities is proving difficult. Even the audience for No Time To Die skewed older, with 29.5% Millennials and 31.3% Gen X viewers.
The Batman tackled this issue of updating an oft-depicted character with a new persona by exploring Batman's early years as a vigilante. Director Matt Reeves' dark take stirred up positive hype prior to the film's release and, along with all-star casting, propelled the film to the third most in-demand thriller film of the year. Notably, The Batman veers away from action into mystery thriller territory as Batman investigates the Riddler's puzzles and tracks him throughout Gotham's seedy underbelly. This new Batman timeline is set to develop into its own cinematic universe, with spin-off series The Penguin being greenlit off the back of Colin Farrell's performance as the titular villain.
 Robert Pattinson also stars in the eighth most in-demand thriller film of the past year, Tenet. Although Tenet doesn't officially belong to a franchise, it does represent the next high-concept, plot-heavy action thriller film from Christopher Nolan in the likes of Memento, Inception and The Prestige. Perhaps due to this odd lineage, the film mostly appealed to an older Gen X audience (40.6%).
Thriller films remain popular in the age of streaming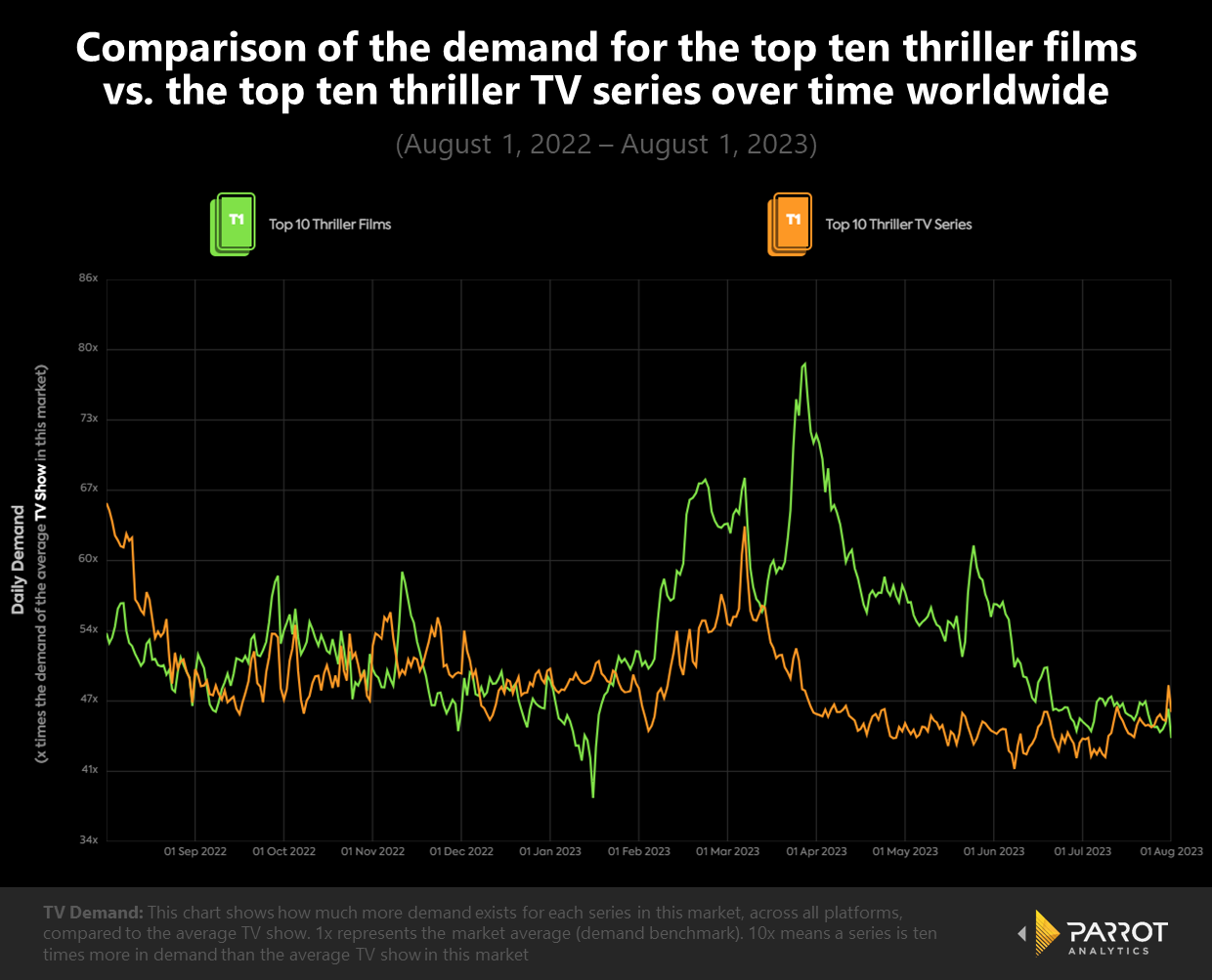 Despite the rise of streaming, thrillers still belong on the big screen. Over the past year, the top 10 thriller films have equalled or outperformed the top 10 thriller TV series in terms of average demand worldwide. Two films in particular have carried the bulk of this demand: Pathaan and John Wick, with respective peaks of 208.6 and 269.9 times the average demand for a film worldwide in early 2023. Together, they pulled the demand for thriller films worldwide to a peak of 78.2 times the average demand in late March. Thriller TV series, on the other hand, only managed to peak at 63.2 times the average demand in early March thanks to the overwhelming success of The Last Of Us.
While deeper analysis needs to be conducted, thrills appear to work better on a big screen. One explanation for this trend could be the nature of thrillers themselves: they require constantly escalating tension, and sustaining this tension over an entire series can feel overwhelming or untenable for viewers. A film's protracted length may be better suited for this one-burst thrill ride mentality. Action thrillers in particular rely on big budgets to pull off daring set pieces, budgets that in TV are typically reserved for sprawling fantasy epics. Although the range of thriller subgenres in film may now be less diverse, they remain a massive drawcard for moviegoers.
---