The month of February saw massive demand for the dystopian and fantasy genres, with animation rivaling live-action for spots in the top 10 most in-demand TV series in Australia. These shows dethroned January's slate of strong series from 2022, like House of the Dragon, Rick and Morty and Stranger Things. Many viewers were most likely catching up on these series during their holidays.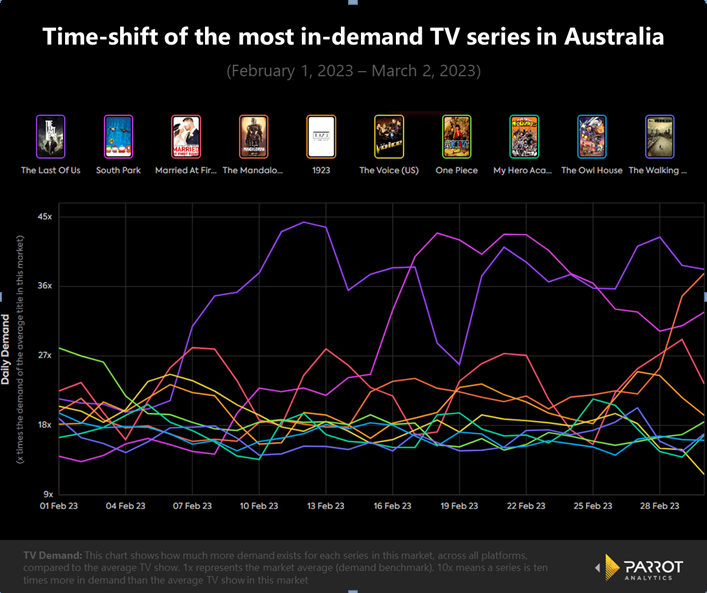 Live-action dystopian and fantasy TV series are most popular in Australia
The Last Of Us ranked first for demand across all platforms in Australia, with a peak of 44.3 times the average demand. This peak correlates with the release of the series' fifth episode, "Endure and Survive". It's possible that the dark, tense climax of this episode, which featured two new types of infected monsters, boosted online discussion for the series and spread to new viewers by word-of-mouth. The Last of Us has been performing consistently well overall likely due to impressive writing by Craig Mazin (Chernobyl, Mythic Quest), an in-built fan base from the original video game series and the popularity of its star, Pedro Pascal.
Pedro Pascal also stars in the fourth most in-demand series in Australia this month: The Mandalorian. The Star Wars spin-off has held 21.3 times the average demand for a series in Australia, most likely due to its franchise origins and the meme success of Grogu (Baby Yoda). Interestingly, both The Mandalorian and The Last Of Us center on lone father-figures (Joel Miller and The Mandalorian) protecting relatively innocent characters (Ellie Williams and Grogu).
The Walking Dead dropped down to 16.2 times the average demand for a TV series in Australia - that's a drop from fourth to tenth most demand in a month. The Walking Dead most likely suffered from diverted audience attention as fans of darker storytelling switched their viewing to The Last Of Us. In contrast, 1923 improved from 16.4 to 20.2 times the average demand in Australia over the past month. So far, 1923 remains a bastion of out-and-out drama storytelling in live action TV in Australia compared to the aforementioned fantasy/horror titles. The recent surge in popularity may be caused by the series returning from hiatus on February 05.
Animation is rivaling live-action TV series in Australia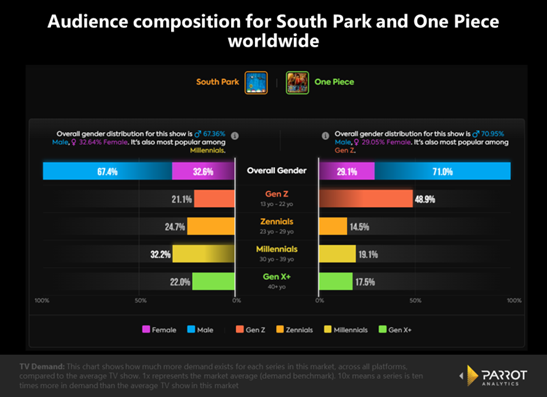 Four of the top ten most popular TV series in Australia for February were animations, with South Park peaking at the second most in-demand with 43.0 times the average demand for a TV series in Australia. This peak coincided with the debut of Season 26 for the long-running animated satire. Although South Park's appeal is quite broad, it is still most popular among the age group that grew up with it, with millennials making up 32.2% of the audience.
Two anime series take up the seventh and eighth most in-demand TV series in Australia: One Piece and My Hero Academia respectively. Anime continues to prove its high travelability, appealing to markets as diverse as France, Brazil and, as seen here, Australia. Primarily, these series are appealing to a younger audience, with Gen Z making up 63.6% of the audience for My Hero Academia and 48.9% for One Piece - perhaps slightly lower due to One Piece's age. These two anime series will most likely be overtaken when the final episodes of the globally-popular Attack on Titan air this month.
Deeper in the realm of kid's TV, Disney's The Owl House ranked as the ninth most in-demand series with 16.6 times the average demand for a series in Australia. With an overwhelming 76.6% of its audience made up of Gen Z viewers, it's probable that viewers under the age of 13 are also tuning in. The Owl House's unique appeal most likely derives from mixing the currently popular horror genre with children's television. Across all of the most popular animated series in Australia, each show is primarily watched by a male audience. This either suggests female audiences aren't watching animation, or there is a female-focused niche yet to be filled.
Reality TV series appeal to female audiences in Australia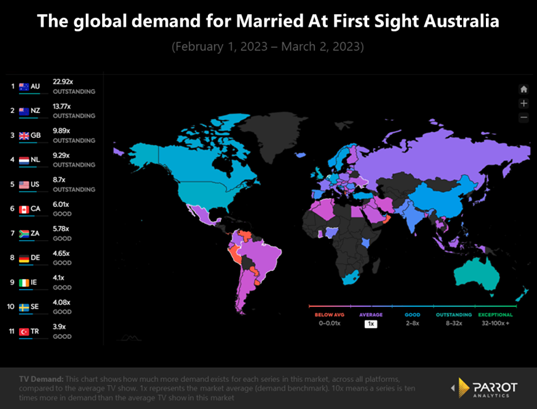 The only shows that are appealing mainly to female audiences in Australia are reality TV series. This gives them an edge, making Married At First Sight Australia the third most in-demand series with 22.8 times the average demand of a TV series in Australia. Although Married at First Sight has domestic versions in different markets, the Australian version of the show has travelled well into other English-speaking, Western markets such as England and the United States. This could be due to the consistency and longevity of the series, with Married at First Sight Australia having released a new season every year for ten years.
The Voice US ranks a bit lower at sixth, with 18.2 times the average demand for a TV series in Australia. This effort is nothing to scoff at, with The Voice US having overtaken popular animations like One Piece and Rick and Morty by appealing to a diverse age range. As mentioned earlier, both Married at First Sight Australia and The Voice US target female viewers, with a female-majority audience of 75.5% and 68.3% respectively. The next closest reality show is Taskmaster with 14.6 times the average demand for a TV series in Australia - and that's the UK version, not the newly premiered Australian adaptation.
The popular TV series in Australia for February have exposed a key blind spot in the Australian market. Fictional TV series for female-audiences are sorely lacking, inviting shows with stronger romance plots and female-led casts to fill this gap. If demand continues along the current trend, Australian audiences will be looking for more fantasy adventure shows with darker aesthetic and thematic elements in the vein of The Last Of Us and The Mandalorian to keep them entertained. Combining this genre with an animated format could be a winning combination.
---