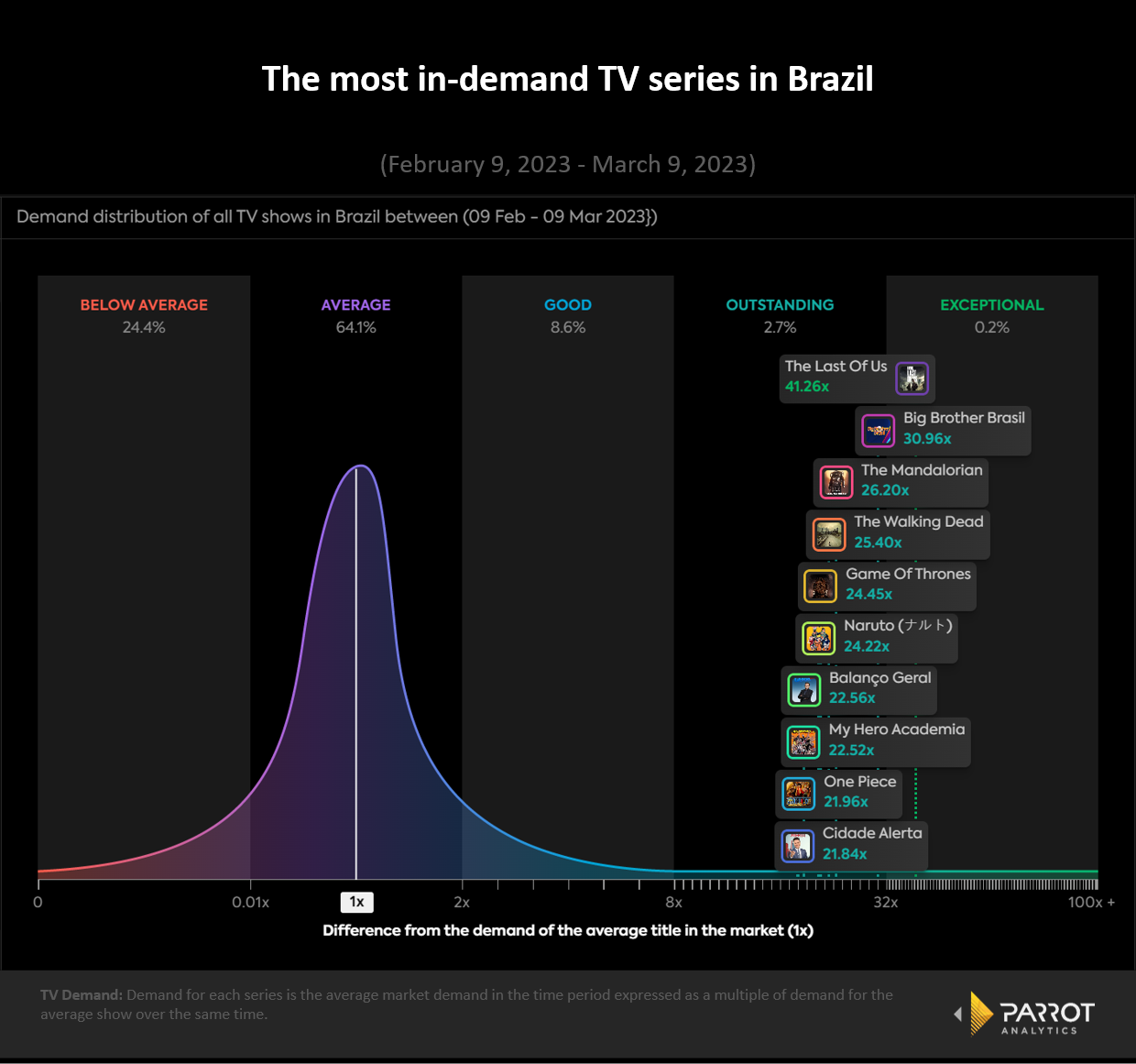 For the timeframe of 9 February to 9 March, in first and third place we have The Last of Us and The Mandalorian. The Last of Us skyrocketed in demand, going from 29th place in January with 17.5x the average demand after three episodes to 41.3x just before the season finale. The Mandalorian also jumped up the rankings, going from 19th with 19.1x the average demand to 26.2x after the release of its first two episodes of season three.
Both The Last of Us and The Mandalorian are helmed by star Pedro Pascal. Pascal currently has 91.4x the demand of the average talent in Brazil. Demand for each series will be something to monitor as The Last of Us concludes its first season and The Mandalorian continues its third season run and first season since a slew of Star Wars series released on Disney+.
Rounding out the Top 3 is Big Brother Brasil, coming in at #2, up one spot from January. The Brazil version of the franchise reality series has been running for 21 years now. The average demand for the series remains high at 31x and increased slightly from 28.7x since the end of January. Potentially aiding the show's demand is its availability, airing on the free-to-air television network TV Globo. The lack of a paywall may make it easier and more accessible for viewers to stay tuned.
Next, we have flagship franchise series The Walking Dead and Game of Thrones. While The Walking Dead finished airing back in November, it was added to Netflix on 6 January. This may have allowed viewers a chance to finish the series. While there has been some decay since the series concluded, having been at 34x the average demand on 30 November 2022, demand remains strong at 25.4x. The Walking Dead also has high travelability, coming in at 49% of its country of origin, the United States. Despite having concluded years ago, demand for Game of Thrones remains high at 24.5x. This could be due to the popularity of spin-off series House of the Dragon, which aired its first season in the middle of the past year, as well as the announcement of a new series centered on the character of Jon Snow. While both series were in the top two in January, they both retain outstanding demand and remain in the top five.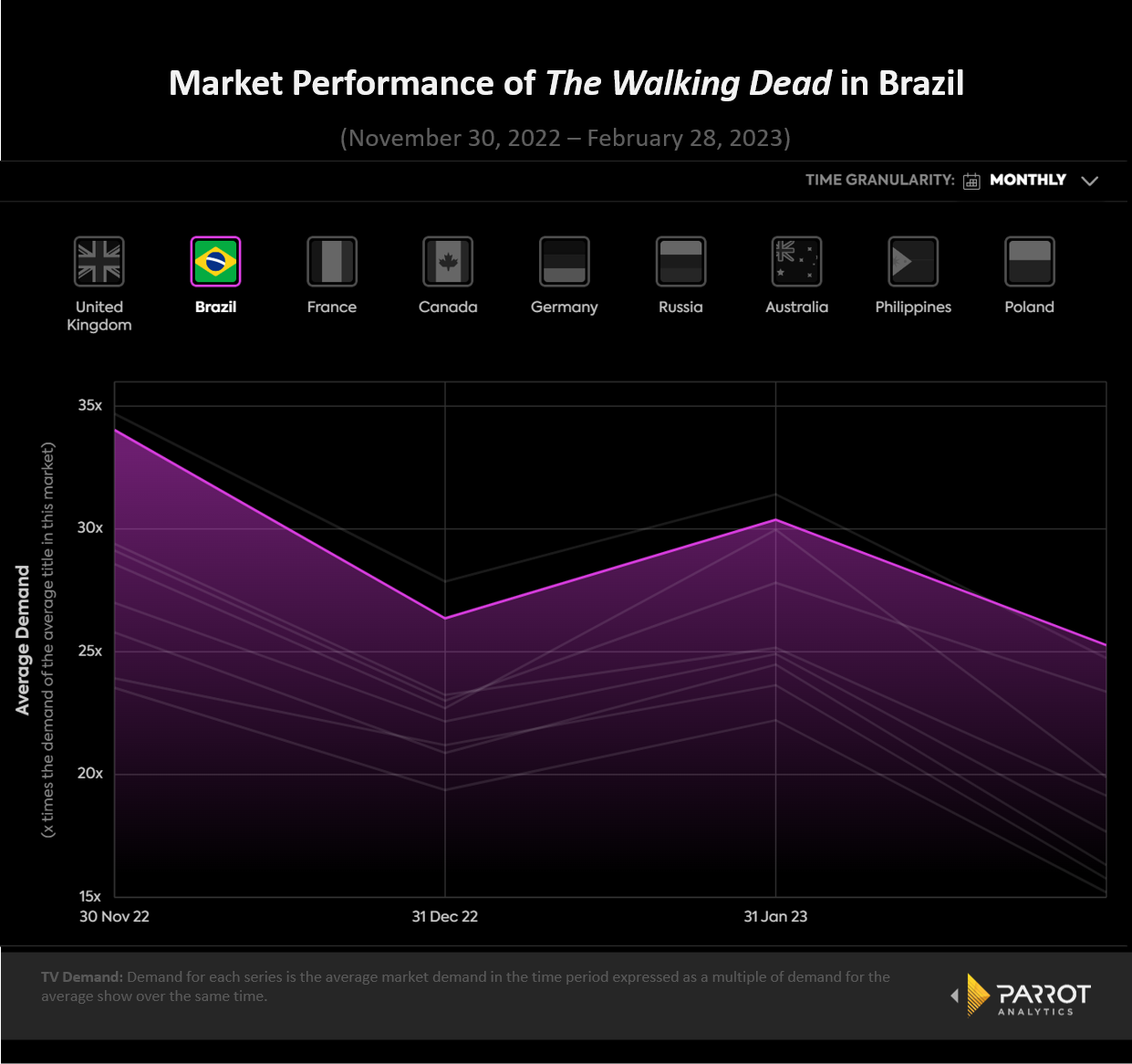 Anime makes an impact on the next part of these rankings. Naruto, My Hero Academia, and One Piece rank #6, #8, and #9 respectively over this time period. Naruto and My Hero Academia each moved up four spots, while One Piece moved up twelve spots. Demographically, they are each seeing strong demand in young viewers, with over 48% of each show's demand coming from Gen Z. The drive for demand for anime in general may be driving this as Naruto and One Piece were first established over twenty years ago, however demand for these shows still remains strong.
Lastly, we have local series Balanço Geral and Cidade Alerta coming in at #7 and #10. Both had modest increases in demand since the end of January. Balanço Geral jumped from 17th with 19.7x the average demand to 22.6x. Cidade Alerta moved up one spot, going from 21.4x to 21.8x the average demand. Similar to Big Brother Brasil, both air on a free-to-air television network, suggesting that easy access may be aiding their demand. Both series have been long running, which could indicate the faithful fanbases they've developed are keeping demand high, and why they are faring better than new original programming produced locally.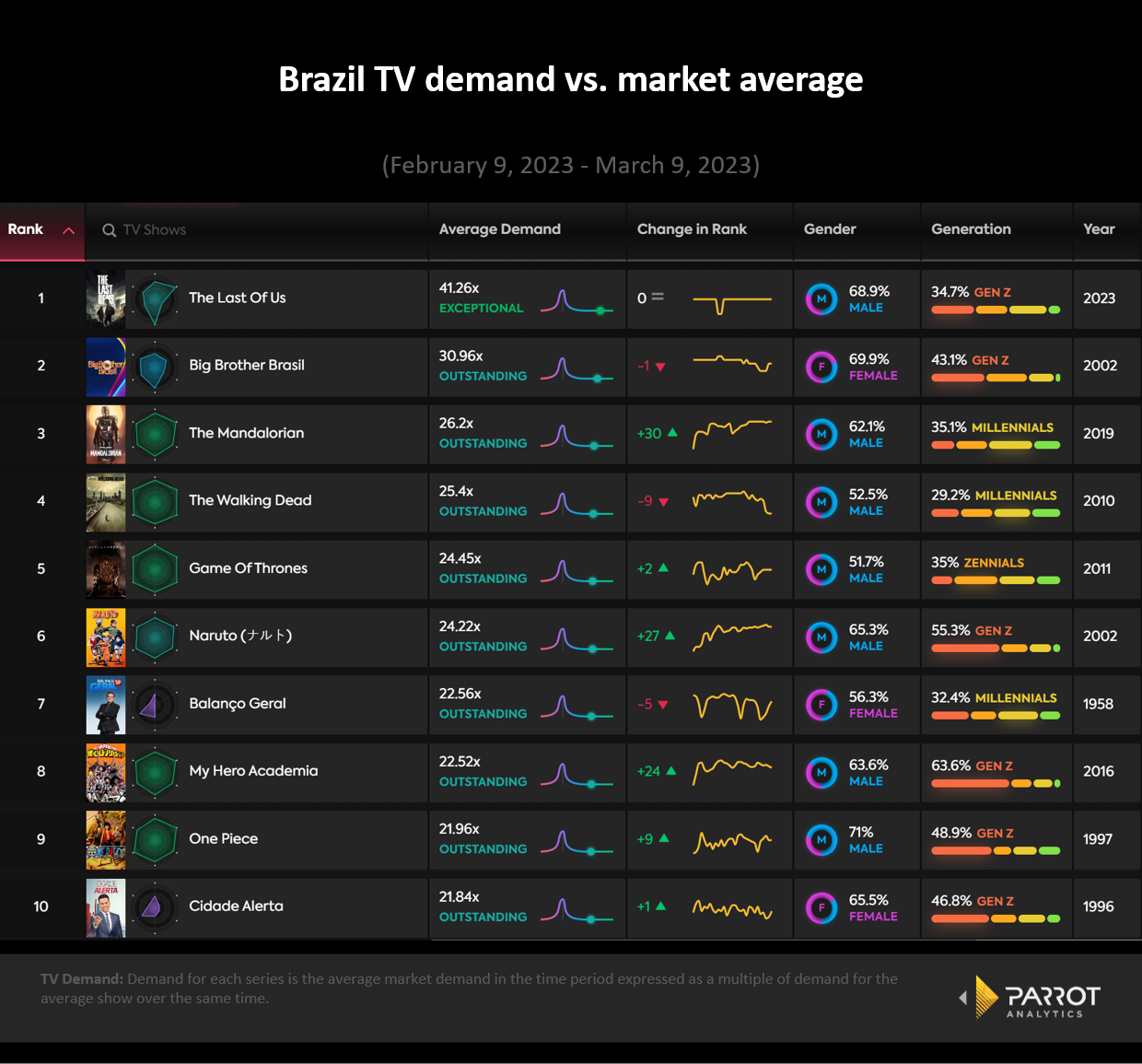 ---