Netflix and Amazon Prime Video have largely adopted the one-stop-shop streaming content approach as they aim to provide programming for every conceivable audience demographic. Kids and family oriented programming dominated by Cocomelon-sized hits; prestige dramas with mature content that'll break your heart and make you question humanity (hello, Ozark); laugh out loud comedies that subsequently restore your faith in humanity (people are inherently good in The Marvelous Mrs. Maisel universe!). The biggest and broadest global SVODs are selling you on the fact that there's something for everyone. 
Similarly, even the major streamers with a defined brand such as Disney+ (family friendly franchises) are focused on building up their subscriber bases and keeping them engaged in their walled gardens for as long as possible in order to fully monetize content and user base.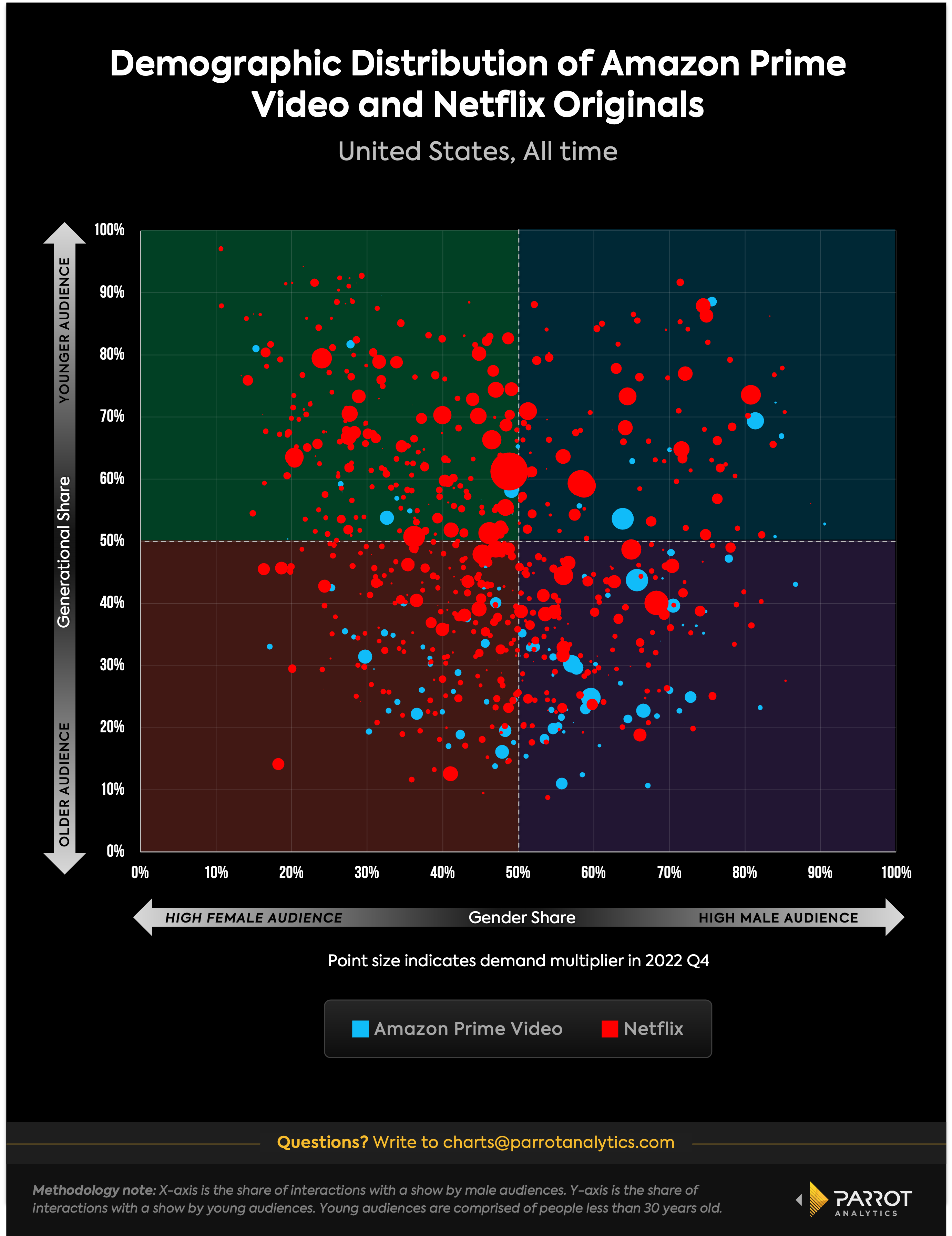 But in order to do that most effectively and efficiently, the industry needs to continue evolving the metrics it uses to evaluate content performance. Number of minutes and/or hours viewed domestically and globally began as the standard benchmark of performance in streaming. Savvy observers then used those numbers to estimate completion rates, which even Netflix has begun to include in its weekly ratings announcements. One issue is that varying episode counts and lengths, not to mention number of subscribers, make apples-to-apples comparisons difficult. On top of that, there is no uniform system for defining success and failure across the industry as those minutes are not equally valued by the respective platforms. 
As subscriber growth has slowed with an influx of competition in recent years, companies should now continue hyper-focusing on key criteria:
Which titles are most effective at attracting new subscribers and retaining existing subscribers
Which titles are eliciting engagement from subscribers who are at high and low risk of churning out
Which titles these users are engaging with outside of the initial platform
Such data enables streamers to chart causality and flywheel effects, or how "generous" a title is in sharing its success with related titles on the platform. This gives streaming executives a stronger idea of which titles work best with one another to extend a user's stay and appeal to different types of users. Given the wealth of competition, developing a programming slate that can do all of that is akin to playing 3D chess while blindfolded on a roller coaster. 
In physics, there is a phenomenon known as constructive interference, which is the combination of two wavelengths producing one higher amplitude wave. That's what Hollywood's C-Suite is aiming for as everyone attempts to turn a profit from streaming. Attracting a broad array of subscribers, engaging them with varied titles, keeping them on the hook for longer all while impressing advertisers. In other words, the right combination of tentpoles and library titles can form a symbiotic relationship that produces the biggest engagement wavelength. 
Acquisition & Retention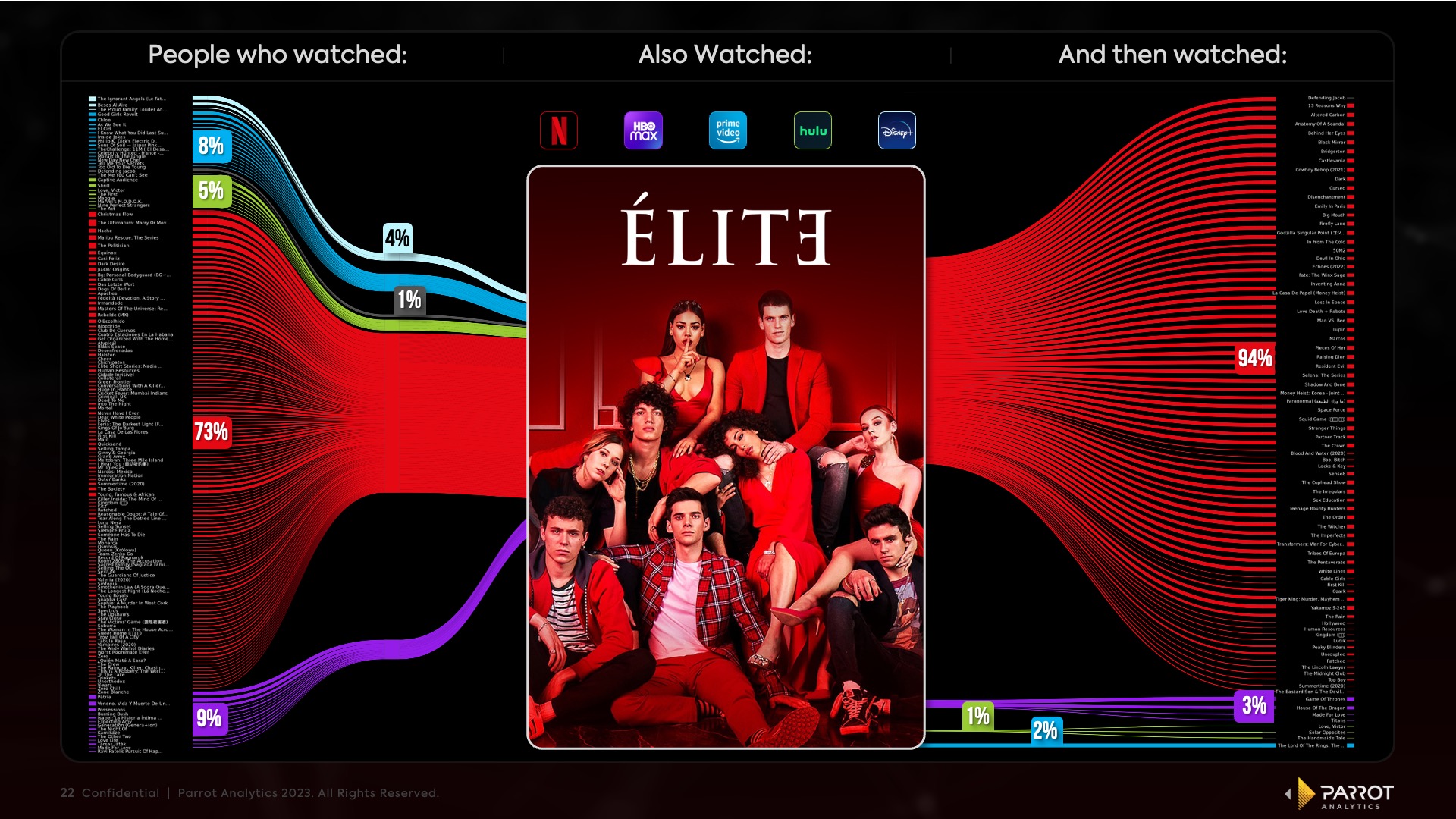 Netflix's Elite is a great microcosm for what we're talking about. 
According to Parrot Analytics affinity data, 73% of viewers who watched Elite in Q4 2022 were already watching Netflix content while 94% of viewers who watched Elite went on to watch another Netflix title. This cements the six-season Spanish drama as an excellent retention title for the streamer. Why? Because it extends a user's stay within the Netflix ecosystem by funneling them to additional on-platform entertainment. In the last week alone, those who watched Elite also viewed The Walking Dead, Shadow & Bone, Emily in Paris, Inventing Anna, Bridgerton, The Crown, Lupin and Firefly Lane, all of which are available on Netflix. This is particularly valuable now that the market-leading streamer has entered the ad-supported fray where retention is sought after by advertisers and hyper-targeting by demographic is a valuable tool. 
On the opposite end of this equation is a learning opportunity for services such as HBO Max, which saw 9% of users flee from its service to watch Netflix's Elite. More than likely, these viewers remained on Netflix as just 3% of audiences then returned to HBO Max. 
HBO Max can develop a content slate that further feeds the sequential tastes of its audiences so that they have less reason to ever leave by studying which Max titles leaked audiences into Netflix. From there, the company can look at the Netflix titles these viewers watched after Elite (which includes an array of teen dramas, YA genre series, crime thrillers and more) and which HBO Max titles they returned to (which is largely populated by branded franchise series). Such a push could decrease churn by offering a more carefully curated content library. 
The division between high risk and low risk subscribers isn't always solely about how much time is spent on platform, but a function of whether or not the roster of content continues to pull viewers deeper into the platform or reroute them externally. 
Streaming companies want to keep customers within its walled gardens, but the perspectives behind slate construction must expand beyond the borders of one's own service. Even if a title is engaging low risk subscribers who already watch a significant amount of on-platform content, there are still lessons to be learned when accounting for their off-platform viewership.
If you're only looking at internal metrics, you run the risk of missing why your audience is migrating to other platforms and what it is that's attracting them. In a world where every entertainment company must be more mindful of the crowded competition, following the entire journey of the customer both internally and externally can provide much-needed vision into previous blindspots. That leads to opportunity. 
Elite's ability to retain existing subs is reinforced by the show's global revenue contribution during its offseasons, which only dips slightly as compared to more significant drop-offs for most binge release shows. This implies ongoing engagement even when new episodes have not been released in months.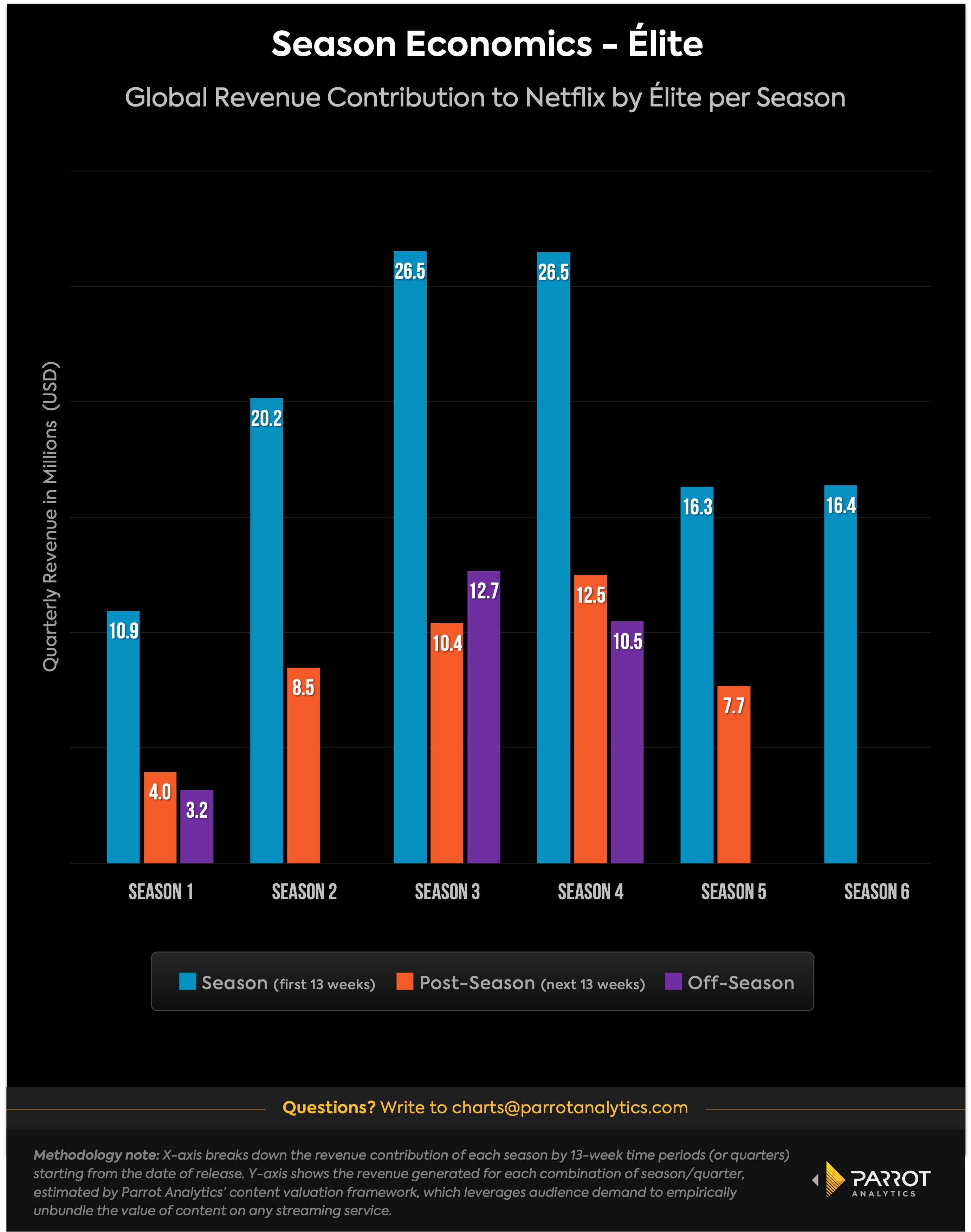 As of Q4 2022, Elite has contributed more than $200 million of revenue to Netflix while resonating most significantly in the competitive EMEA and LATAM markets. 
Since Elite's sixth season premiered on Nov. 18, 2022, it is 13.12x more in-demand than the average TV series worldwide, putting it among the top 2.7% of all TV series in that time (as of March 3, 2023). And because Elite is drawing 73% of customers from Netflix, that suggests the overall profile of its audience is low risk subs who are already engaging within the Netflix ecosystem. The show is generating more viewership hours with high usage Netflix subs as an important midway point in the life cycle of a dedicated customer. (Though it may not necessarily help with high risk customers who are not already consuming a significant amount of Netflix content). Stickiness is very valuable in the battle for attention spans, particularly as streamers develop complementary programming that does target high risk, low usage subs.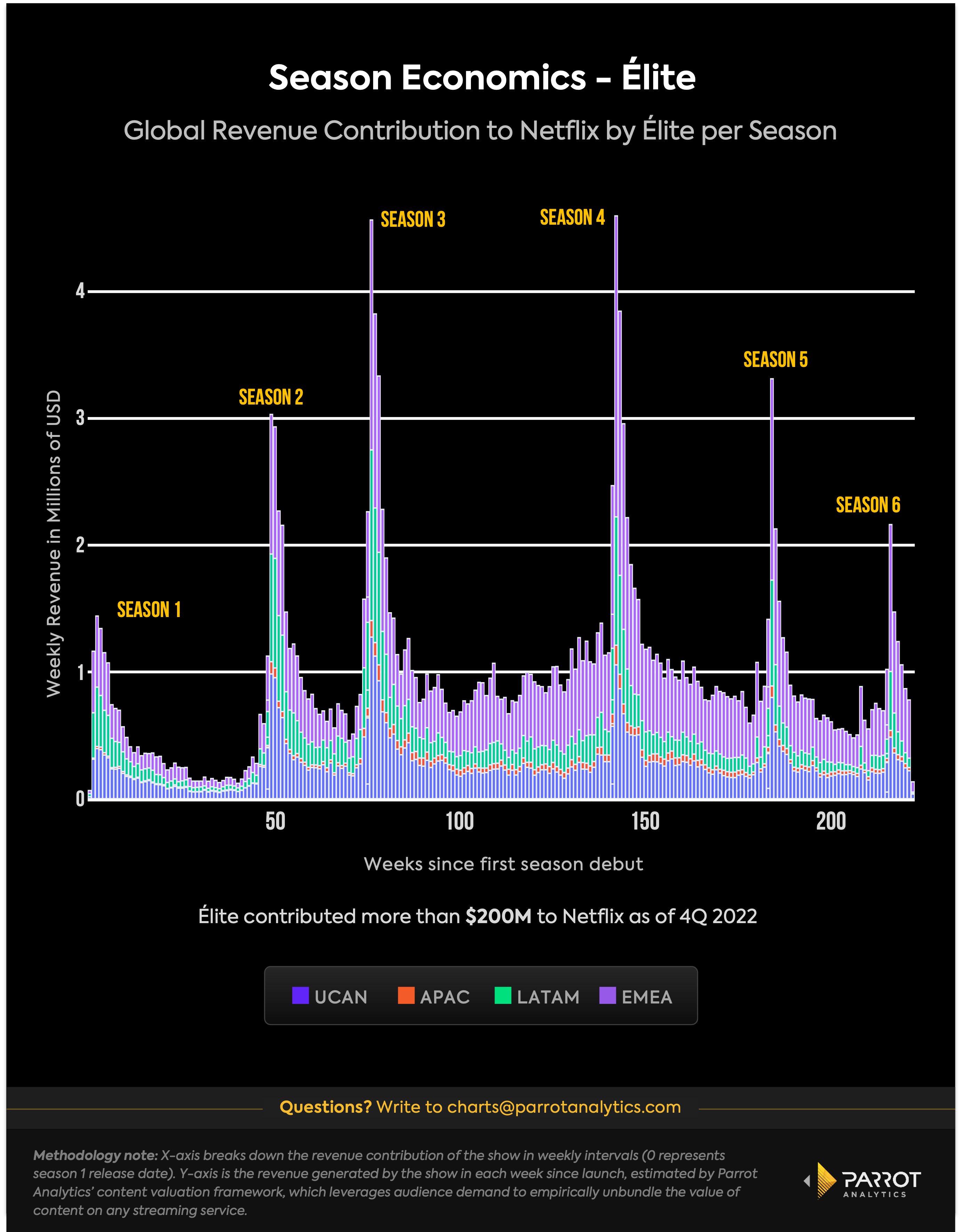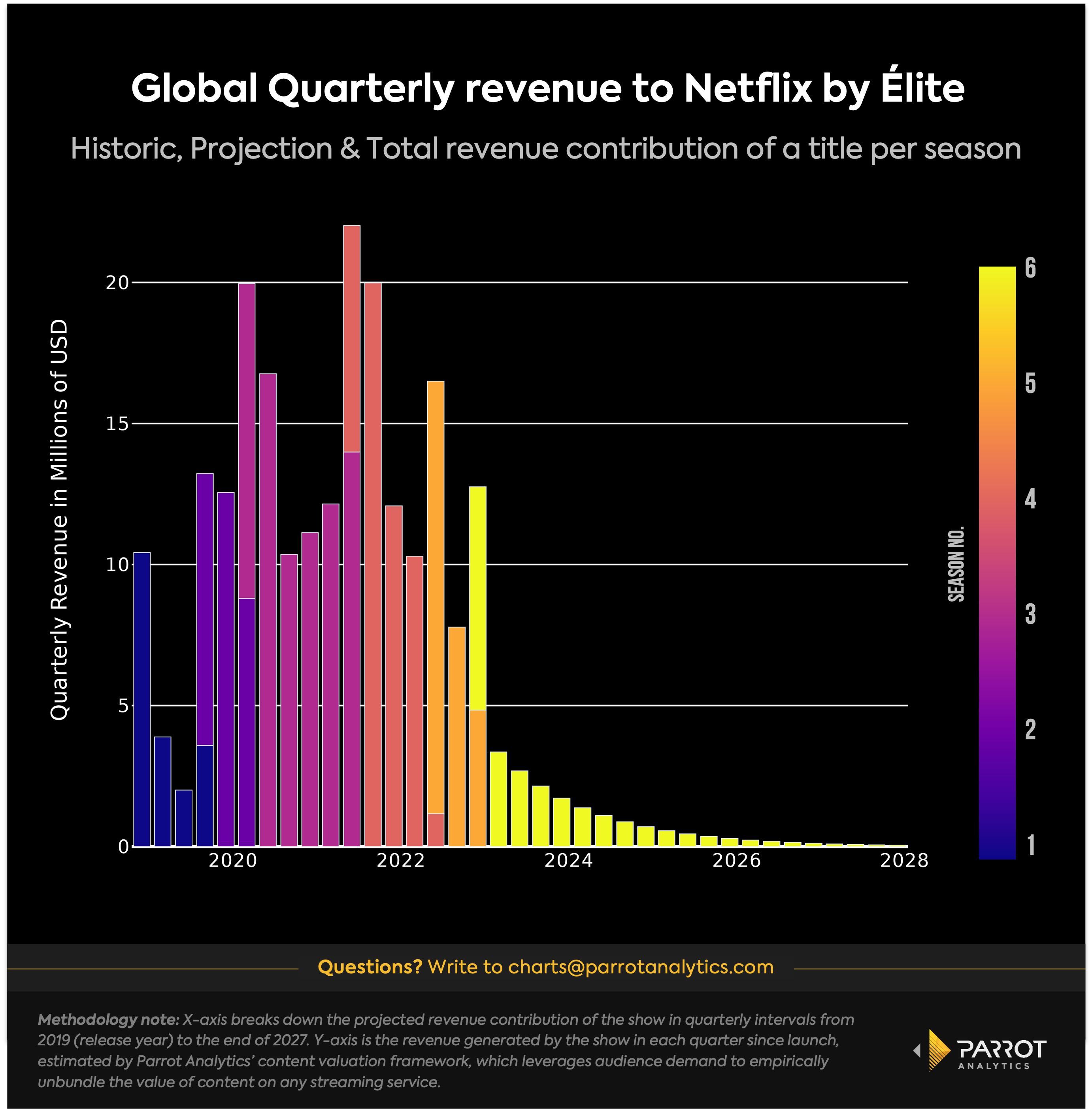 Overall, Elite is projected to account for more than $230 million of total revenue contribution, or $4.8M per episode over 48 episodes, by 2027. Clearly, Netflix values the title as evidenced by the streamer's Indian adaptation of Elite titled Class, which premiered February 3 and is among the top 8.6% of in-demand TV series worldwide over the last 30 days. Given the title's unique ability to retain customers — while posting outstanding demand levels in Momentum and Travelability — these multi-market franchising efforts should not come as a major surprise.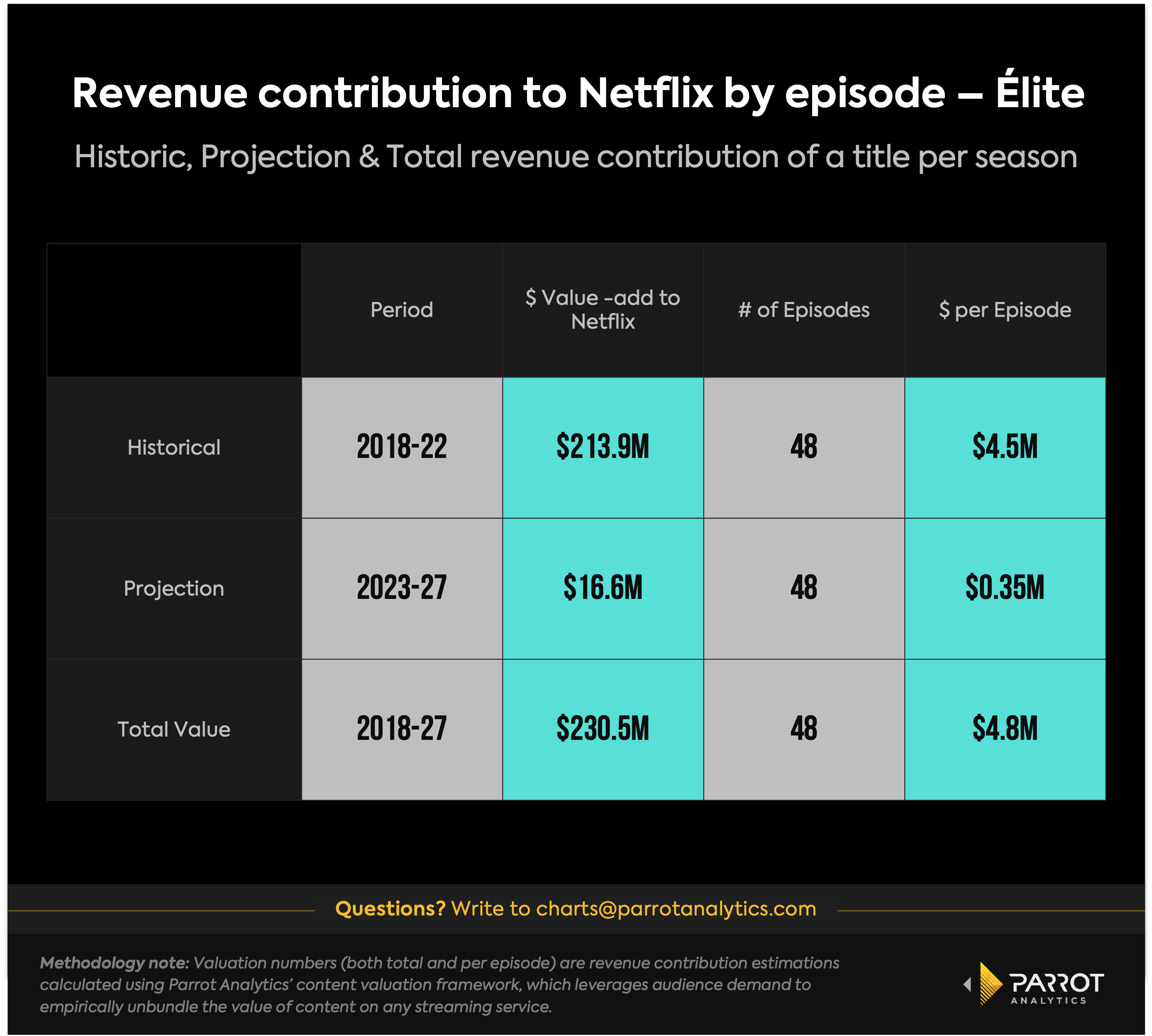 Complementary Titles
Another international Netflix title, Korean dramedy Extraordinary Attorney Woo, has proven to be an effective content tool in a different way. Parrot's valuation model puts the series within the top 26% of the streamer's full catalog in its ability to acquire new subscribers. 
According to Netflix, it is the streamer's sixth most-watched non-English TV series ever in global hours viewed in its first 28 days (402.4 million). Since premiering on June 29, 2022, the series counts South Korea, the Philippines and India among its top 10 markets. At the same time, the Asia Pacific (APAC) region has been Netflix's most consistent growth area over the last several quarters. (China is also a key market for Extraordinary Attorney Woo, though Netflix is not available in the country). It's a significant regional hit that has also scored among the top 8.6% of all TV shows in US audience demand levels since debuting. 
Elite appeals to a more evenly-gendered audience (52% female, 48% male) and thrives as a retention tool that resonates most with European audiences (while still crossing over into the UCAN market). Extraordinary Attorney Woo works better as an attraction tool that over-indexes with women (67.5% female) and travels well across Asia (while also still crossing over with UCAN). Different shows with different commercial attributes. 
Every service is attempting to create that perfect balance. This includes HBO Max, which is building a library of powerful acquisition and retention drivers. For example, off-season decay — or the decline in viewership during periods without new episodes — is actually decreasing for Succession. Even as a top tier acquisition title for the service, this effect represents helpful overflow value as audiences continue to engage with the series year round. This is particularly noteworthy as the show heads into its fourth and final season, yet still generates strong affinity for other on-platform titles.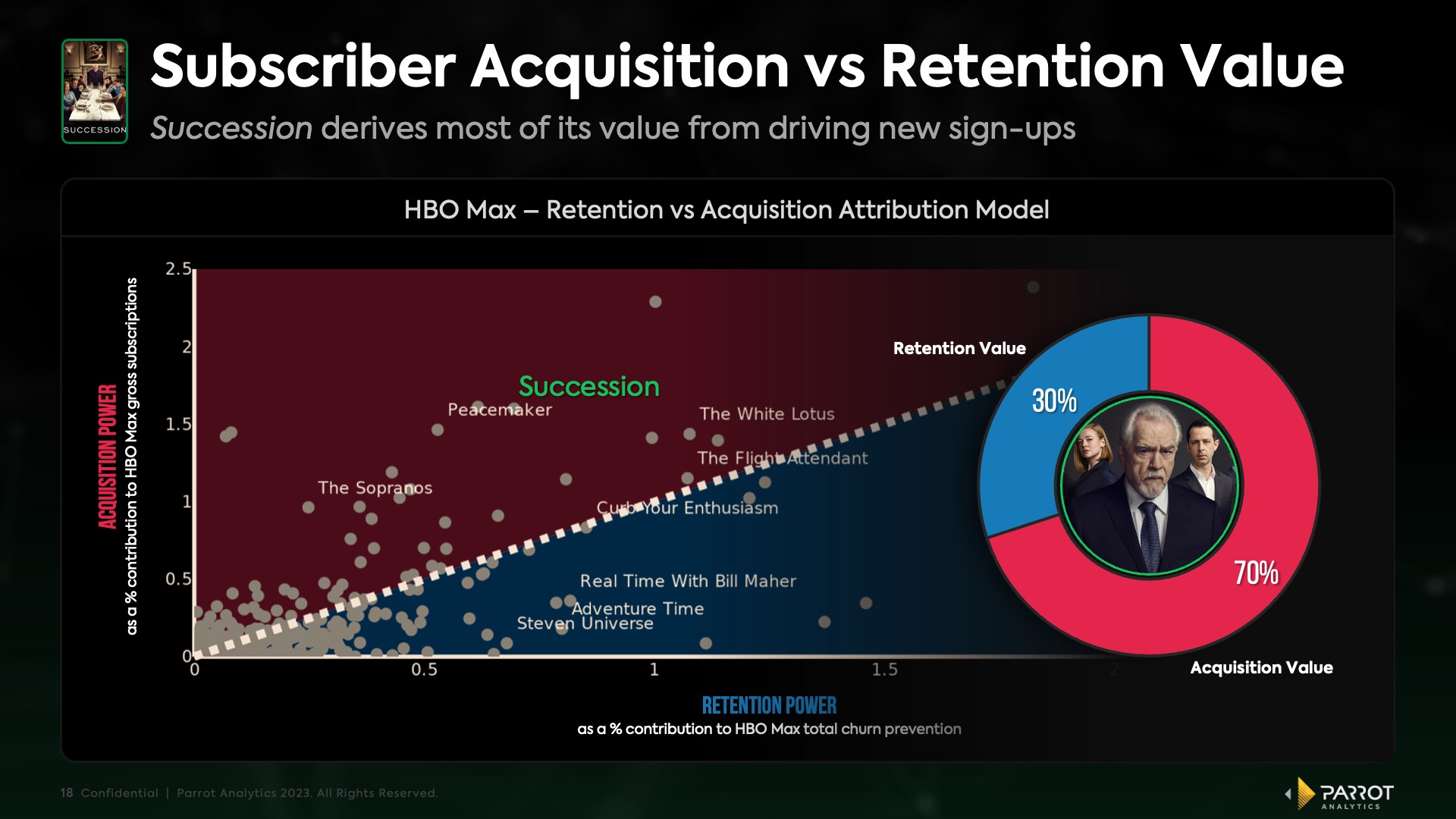 Properly scheduling the rollout of new episodes for active series in these two lanes is key to maximizing their effectiveness. It's how a streaming service builds a financially viable content slate rather than just aimlessly deliver a tidal wave of entertainment. 
On the opposite end of the spectrum as an Elite are titles that leak viewership to other platforms. AMC's Better Call Saul, which is housed on Netflix, actually has higher platform affinity with the Hulu and HBO Max catalogs. That title actually would have contributed more baseline revenue to Starz than to Netflix if it was available on that platform in the UCAN market in Q4 '22, according to Parrot's Content Valuation data. Similarly, NBC's The Blacklist, which is also streaming on Netflix, boasts more platform affinity with Hulu and HBO Max. 
CBS' NCIS, which Paramount Global often licenses on a non-exclusive basis, has higher affinity with the Hulu and Paramount+ catalogs than it does with Netflix's. 
Because these titles aren't increasing Netflix's retention ability, they aren't necessarily always as high value (though it's often a case-by-case basis). In similar instances, Netflix (or any other platform) can recognize that a title may be more relevant and valuable to an external service. When that occurs, the company can either license a title that is owned in-house externally to generate revenue or better allocate its licensing budget if it's an external title. 
Engagement and Genre Affinity
Shows such as Elite or Succession are serialized dramas, but that isn't the only programming lane that contributes to acquisition and retention. The increased engagement procedurals and sitcoms generate is increasingly important to AVOD/FAST tiers, where time spent on platform is crucial.
Genre affinity for sitcoms and procedurals, in which viewers who watched a show in these genres would then watch other programming within the genre, ranked among the three highest for in the US in Q4 2022.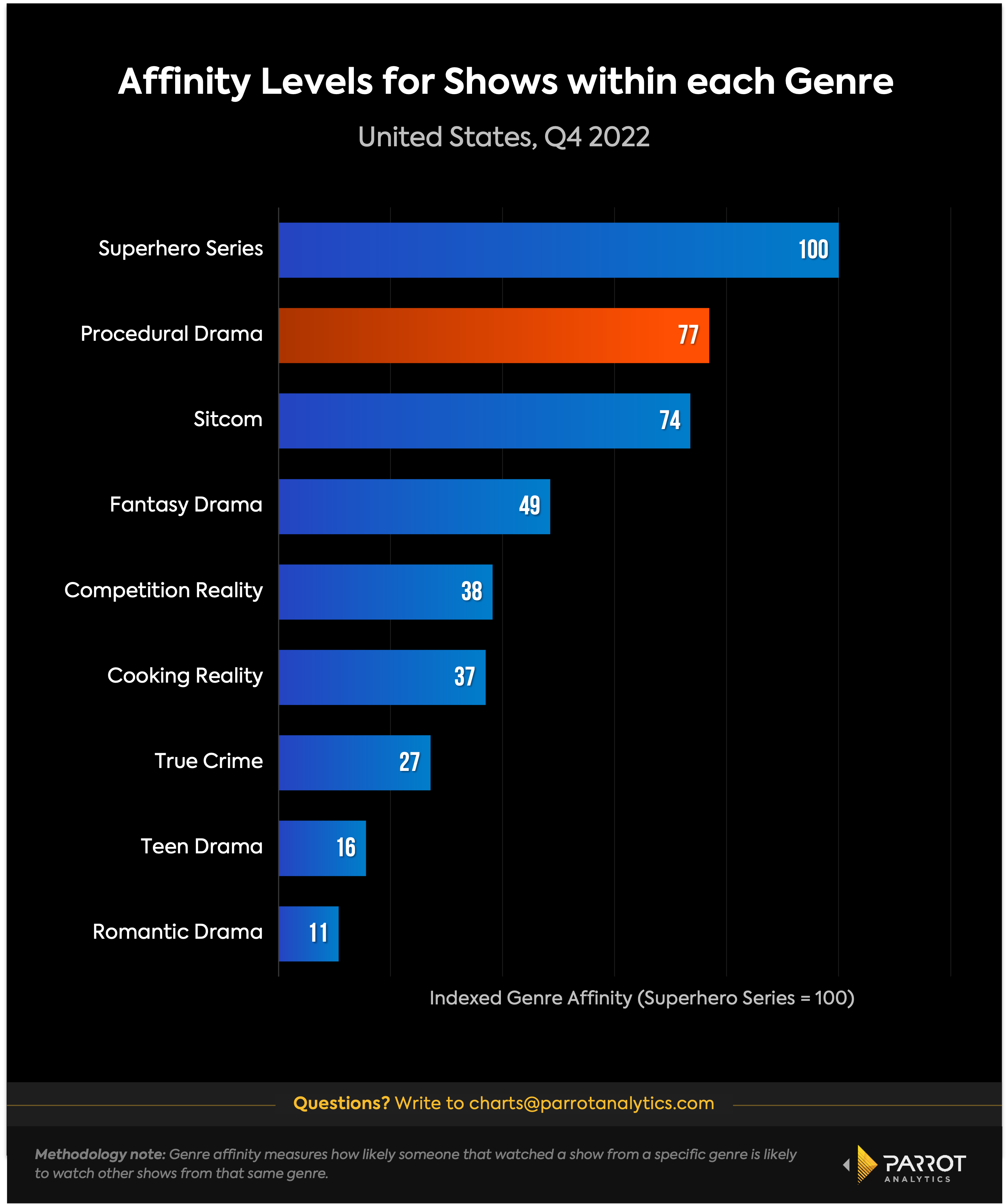 We can see this borne out in Seinfeld, which is currently housed on Netflix. A solid amount of viewership is coming into Seinfeld — which is a surprisingly solid acquisition title for Netflix — from other sitcoms while the series then also funnels viewers to other in-genre titles afterward. Similarly, those that watch Criminal Minds are far more likely to then watch other procedurals.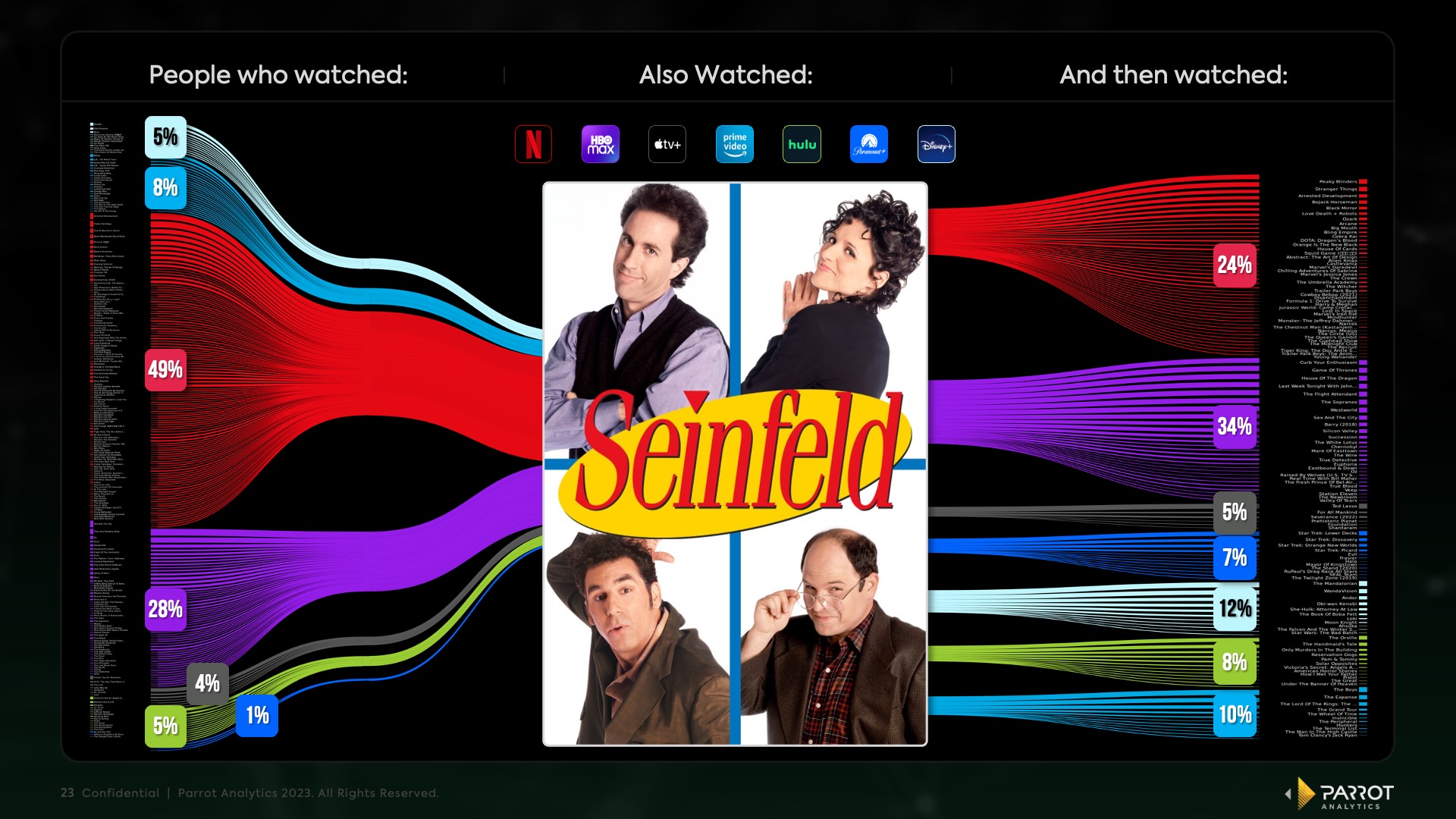 Taken from the Netflix point of view, you have a tentpole such as Wednesday bringing in hordes of attention while Seinfeld and Criminal Minds can satiate higher risk subscribers. Higher risk comes from analyzing the audience that engages with a title and looking at the breakdown of shows they interact with, instead of the more traditional way for streamers which is looking at the amount of time spent before they start a show. 
Again, think about the life cycle of a viewer. Wednesday is a massive, all-encompassing hit, but seven out of the 10 shows viewers sampled after Wednesday this past week were not Netflix originals. Shows can be a huge successes, but their impact is somewhat dulled if they A) aren't engaging high risk subs and B) are leaking viewership to other platforms. Meanwhile, 28% of Seinfeld viewership came from HBO Max while 34% went to HBO Max after watching Seinfeld. This suggests that Seinfeld could pair well with the Max library in the future, particularly with Curb Your Enthusiasm, as a title that operates both as a gateway hub and a retention builder (as it is for Netflix currently). 
In this way, Netflix and others are solving for the difference between wider attraction but less consumption and vice versa. They are creating those complementary wavelengths. 
Within the sitcom genre, Ted Lasso serves as both an attraction entry point and effective viewer funnel. The first two seasons of this beloved sitcom are projected to have contributed more than $300 million in revenue to Apple TV+, per Parrot Analytics content valuation data. Season 3 alone is expected to top $175 million. Even if Ted Lasso did not air any new episodes in the next five years (which isn't the case, thankfully), we estimate the series will drive more than $100 million in revenue to the streamer. 
However, we also estimate that Ted Lasso, which hails from Warner Bros. TV, would actually be more valuable to a platform such as HBO Max because it has a stronger content affinity with other titles on the platform and engages an audience that is more likely to churn than hyper engaged subscribers. Perhaps not coincidentally, those that watched Ted Lasso in the last week also watched Rick & Morty and South Park, both of which are available on Max.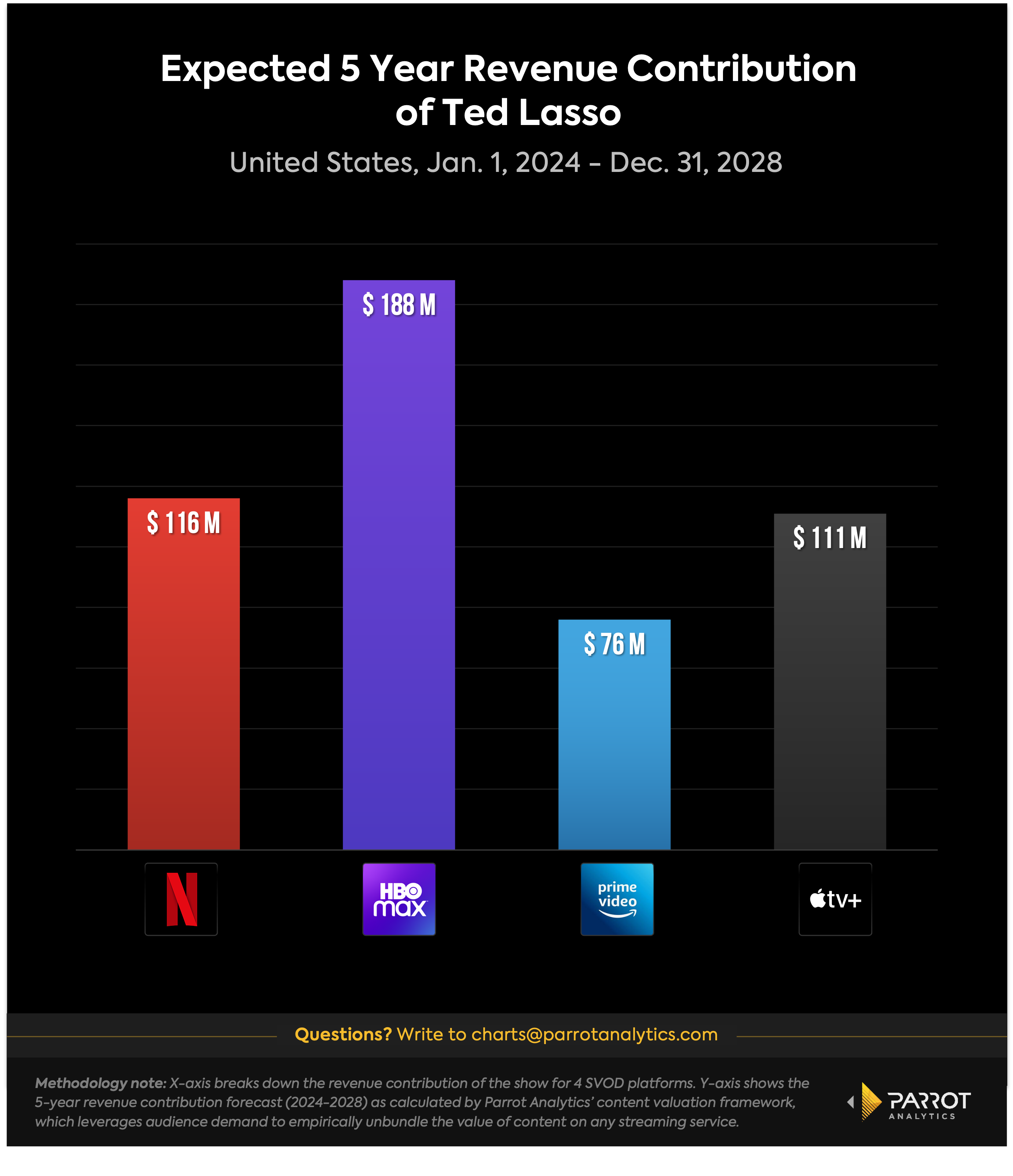 Further underlining the value attraction and retention bring under the umbrella of genre affinity are the aggressive efforts many major streamers have and continue to make in the superhero genre. The Boys has emerged as one of Amazon Prime Video's flagship originals, with multiple spinoffs and more seasons on the way. (We've found that LATAM customers that display high demand for the show are also watching sci-fi series The Expanse). Flanking The Boys within the superhero genre is animated superhero series Invincible, plans for Prime Video to serve as the home as Sony's fledgling Marvel TV verse, and a deal with WBD for DC Animation. Netflix houses key Arrowverse series from The CW such as The Flash. 
Superhero shows, procedurals and sitcoms can all generate impressive shared on-platform success while appealing to specific taste clusters. The key is finding an effective gateway title and building up a world of related content around it, much like Amazon's ongoing superhero and serialized procedural efforts and HBO Max's growing corner of DC originals. 
Conclusion
It all comes back to the life cycle of a viewer and being able to look beyond the tops of your walled gardens to take into account what's happening with your neighbors. Streamers need to strategically plot out when is the right time for aggressive original investments such as Amazon Prime Video's $1 billion The Lord of the Rings: The Rings of Power, which may prove to be enticing attraction titles, and how best to pair them with legacy entertainment aimed at extended engagement and broad appeal across high and low risk subscribers, such as HBO Max and Peacock exclusively reclaiming Friends and The Office, respectively. 
As a pure play streamer, Netflix attempts to do both by rolling out original hits such as Stranger Things and Wednesday while also paying for the right to house highly rewatchable series such as Cocomelon and shows with massive libraries such as Grey's Anatomy and Supernatural. 
This represents an evolution of the straight forward consumption metric that has dominated streaming ratings thus far. As the industry matures, so too does our ability to measure it. With that maturation comes the ability to better optimize a content slate of new originals and library titles. 
The streaming industry has grown from embryonic innovator to dominant incumbent over the last decade and particularly in the last four years. Now that we've moved beyond raw library size and flat viewership, it's well past time to hyper focus on how each company can build the most efficient collection of titles to serve an array of user demographics and preferences. To do so, every company will need to broaden its horizons in order to answer the ever elusive question of what's next after users are done devouring the latest sensation. 
---