To paraphrase a famous quote: the death of broadcast television in the U.S. has been grossly exaggerated.
It's true that the average viewership garnered by the four major broadcast networks in primetime has plummeted since 2015. It's also true that the highly-coveted advertiser-friendly 18-49 demographic has shrunk even faster than broadcast's overall primetime fall. Median viewer age continues to creep upward for CBS (63.2), ABC (58.5), NBC (59.2) and Fox (52.4). That's a suboptimal trend for both networks and advertisers that speaks to linear TV's overall decline in the face of the direct-to-consumer revolution. 
Yet broadcast's supposed demise remains more of a splashy narrative than concrete law. Fifteen of the 100 most in-demand TV series across all platforms year-to-date worldwide originated on broadcast networks. That number rises to 23 if we look at just the U.S., a signifier of how significant the cultural footprint of these shows can truly be, particularly in the highly competitive domestic market. This creates a unique opportunity for streaming. 
Broadcast Helps Drive Demand and Retention for Streaming
Hulu was initially created as a joint venture that included Fox, NBCUniversal (NBC) and Disney (ABC) so that legacy media could begin establishing a foothold in the digital streaming space for its linear content. In that time, the streamer has benefitted immensely from its next-day air capability from broadcast networks for years.
Since 2016, linear series such as The Simpsons (Fox), Grey's Anatomy (ABC), American Horror Story (FX), Criminal Minds (CBS) and It's Always Sunny in Philadelphia (FX) have all ranked among the Top 10 most in-demand shows on Hulu in the U.S. largely thanks next-day air. In that stretch, Hulu has grown from less than 15 million subscribers to 46.2 million, more than Disney+'s UCAN base (44.5 million) and half of Netflix's UCAN total (73.4 million). As of Q3, a whopping 33.8% of its U.S. audience demand is attributed to broadcast network series. 
The streamer's easy OTT access to new recent installments of mainstream network programming is a major selling point, providing consumers with a convenient on demand option and providing networks with extended exposure. One week after Abbott Elementary's Season 2 premiere on ABC, its ad-friendly key demo audience had grown by 318% thanks to Hulu and DVR while the show reached a U.S. peak demand of 26.84x in that seven day stretch, putting it in the top 2.7% of all shows. 
In January, Hulu head Craig Erwich described a "very complementary relationship" between the streamer and ABC, pointing out how well Dancing With the Stars performs digitally. That proved prophetic as Disney later this year rerouted the long-running competition series from ABC to Disney+ exclusively, an example of how legacy media can repurpose valuable linear content for direct-to-consumer business. NBCU has done the same, moving long-running soap Days of Our Lives from NBC to Peacock and landing the long-awaited Community movie after five seasons on NBC. 
Hulu is hardly the only streamer to benefit from its linear counterparts; NBCU was eager to claw back NBC next-day air capability from the platform in September. CBS is responsible for 17 of the top 30 titles on Paramount+ — according to CBS itself, of course. This is partly reflected by the 30.1% of its catalog demand comprised by broadcast series in Q3. Rather than jump on the Hulu bandwagon, the company opted to keep its linear lineup in-house for SVOD service CBS All Access, which became the launching pad for Paramount+.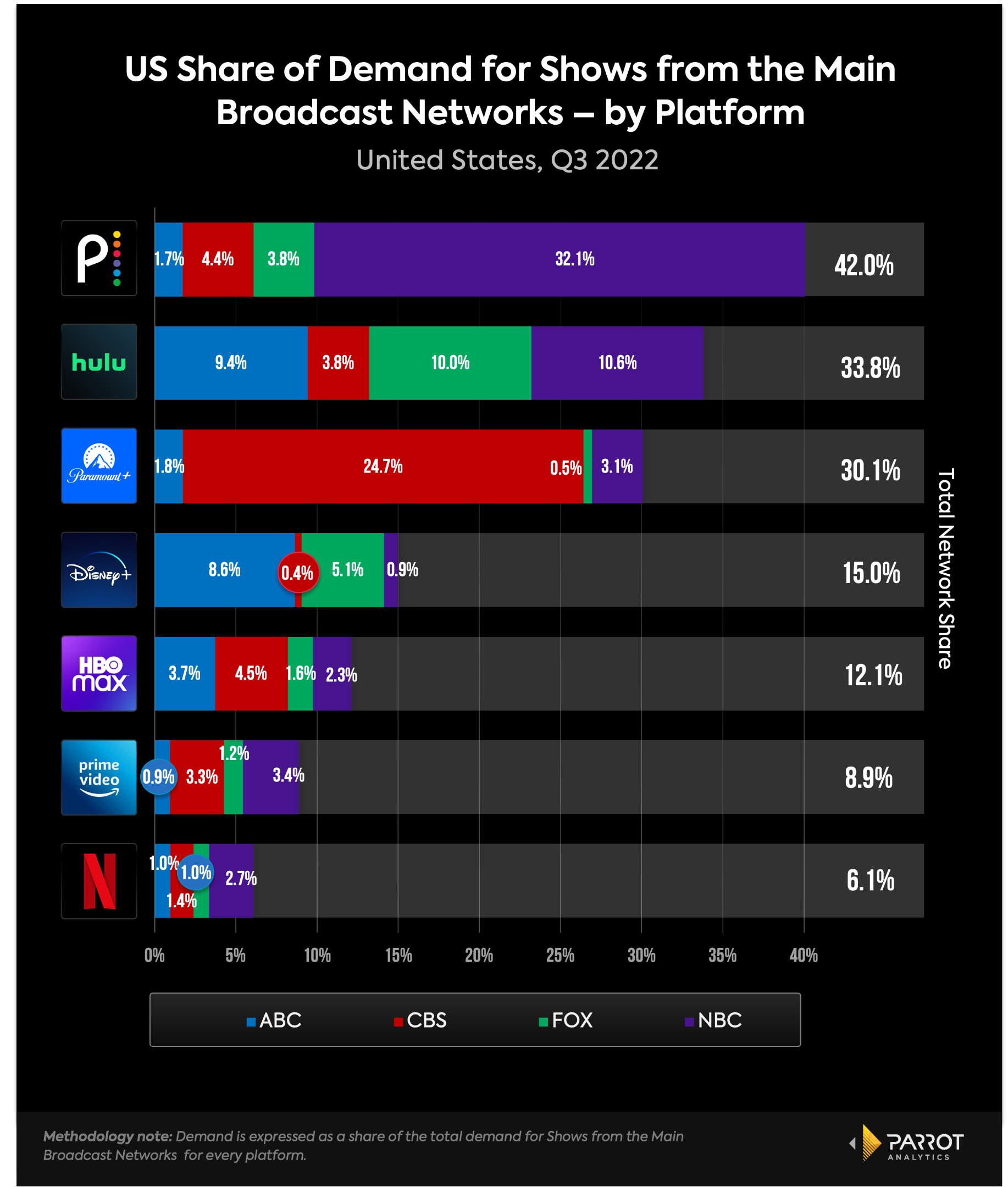 CBS remains a massive draw as a broadcast network it doubled down on procedurals and sitcoms rather than chasing the pricy dramas and limited series of streaming. And this has created a running funnel of engagement for its properties; the Season 2 premiere of CBS' Ghosts saw a 50% increase in viewership after seven days of multiplatform availability, reaching a peak U.S. demand of 16.67x in that span. The show, nestled comfortably in the digital shelves of Paramount+, can now help serve multiple purposes for the company as a linear hit and streaming attraction all for the convenient price of one show. 
"A lot of pure-play streamers have to spend billions of dollars a year renting library content," Paramount chief financial officer Naveen Chopra said in May. "We have that in-house. Library content is responsible for a large share of viewing on streaming services and it's critical to subscriber retention."
In fact, broadcast titles make up a significant percentage of catalog demand for major streamers such as Peacock Premium (42%), Hulu (33.8%) and Paramount+ (30.1%). The decay in linear viewership is partially ameliorated as these viewers migrate to broadcast network's streaming siblings. Other major SVODs such as Disney+ (15%), HBO Max (12.1%), Amazon Prime Video (8.8%) and Netflix (6.1%) don't rely quite as much on linear titles (while still benefitting from them), though that's largely due to not having a steady supply from an in-house corporate broadcast partner in the case of the latter three services. (In August, Netflix's U.S. library surpassed 50% original content for the first time in the streamer's history).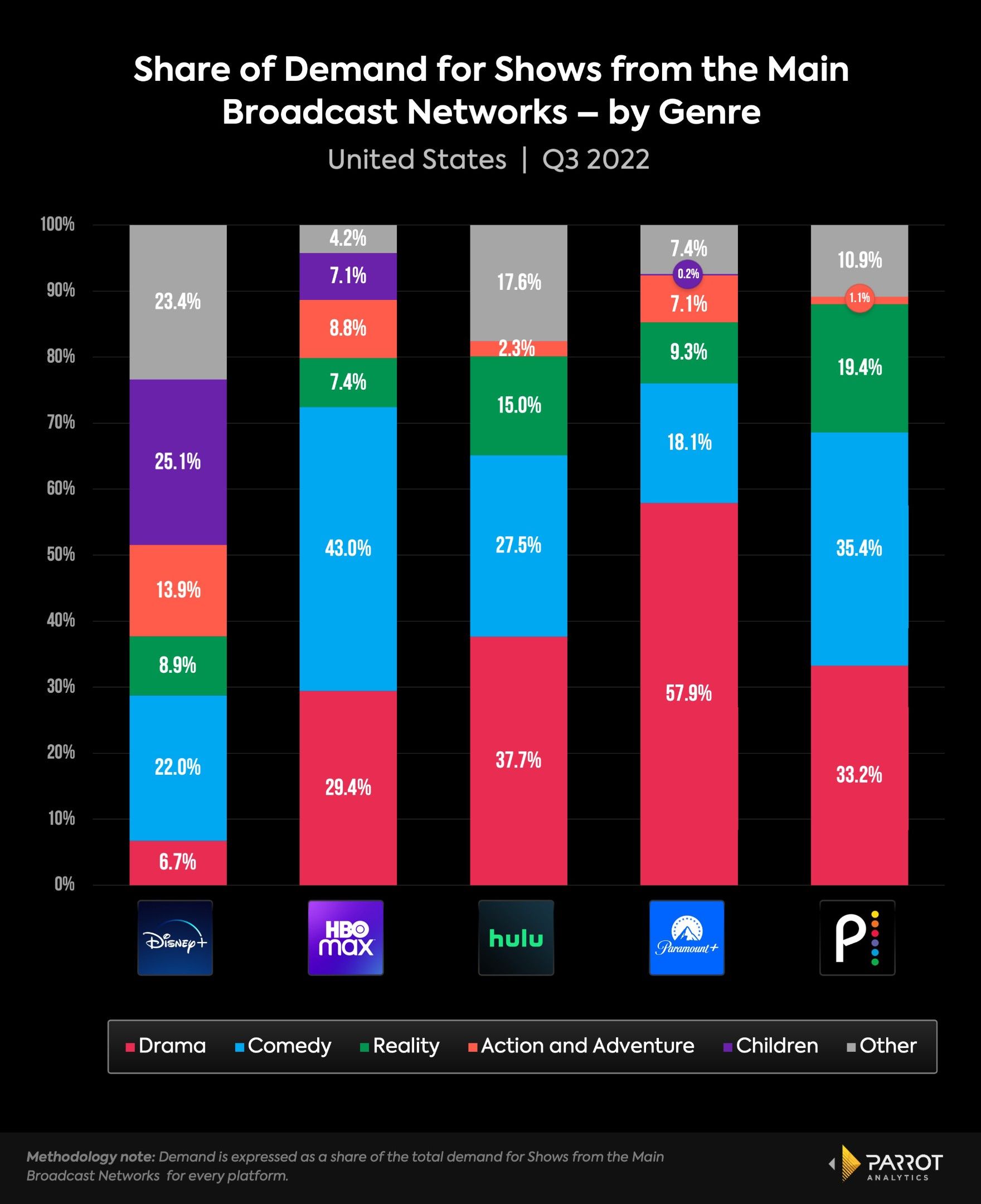 Netflix users have still feasted on Grey's Anatomy (ABC), How to Get Away With Murder (ABC), NCIS (CBS), and more in recent years to say nothing of the outsized impact Friends (NBC) and The Office (NBC) had on the service's early success prior to being reclaimed for HBO Max and Peacock, respectively. Speaking of, HBO Max houses both CBS originals The Big Bang Theory (which reached a peak U.S. demand of 67.26x over the last five years) and Young Sheldon (28.76x), two of the most popular sitcoms in recent memory.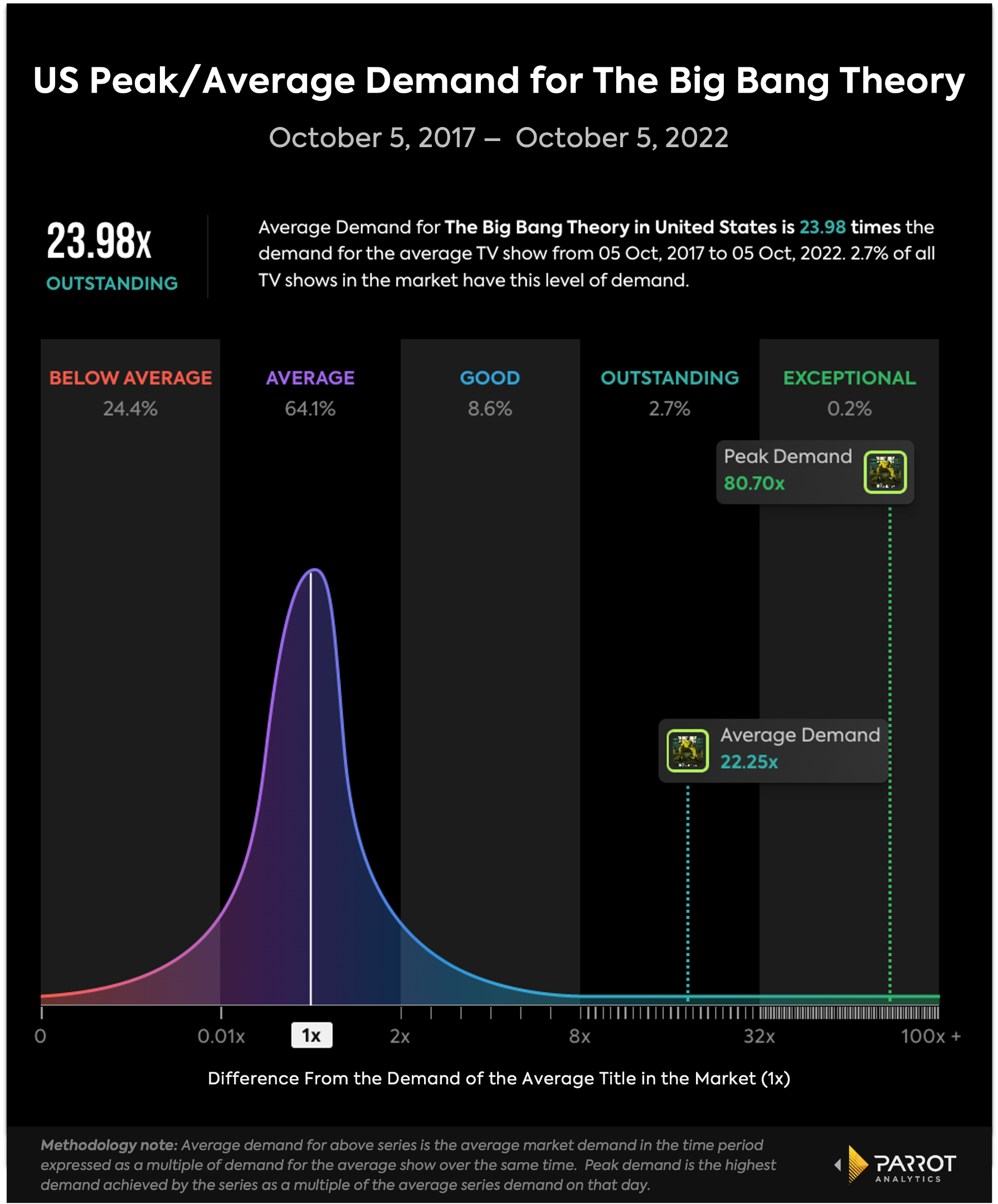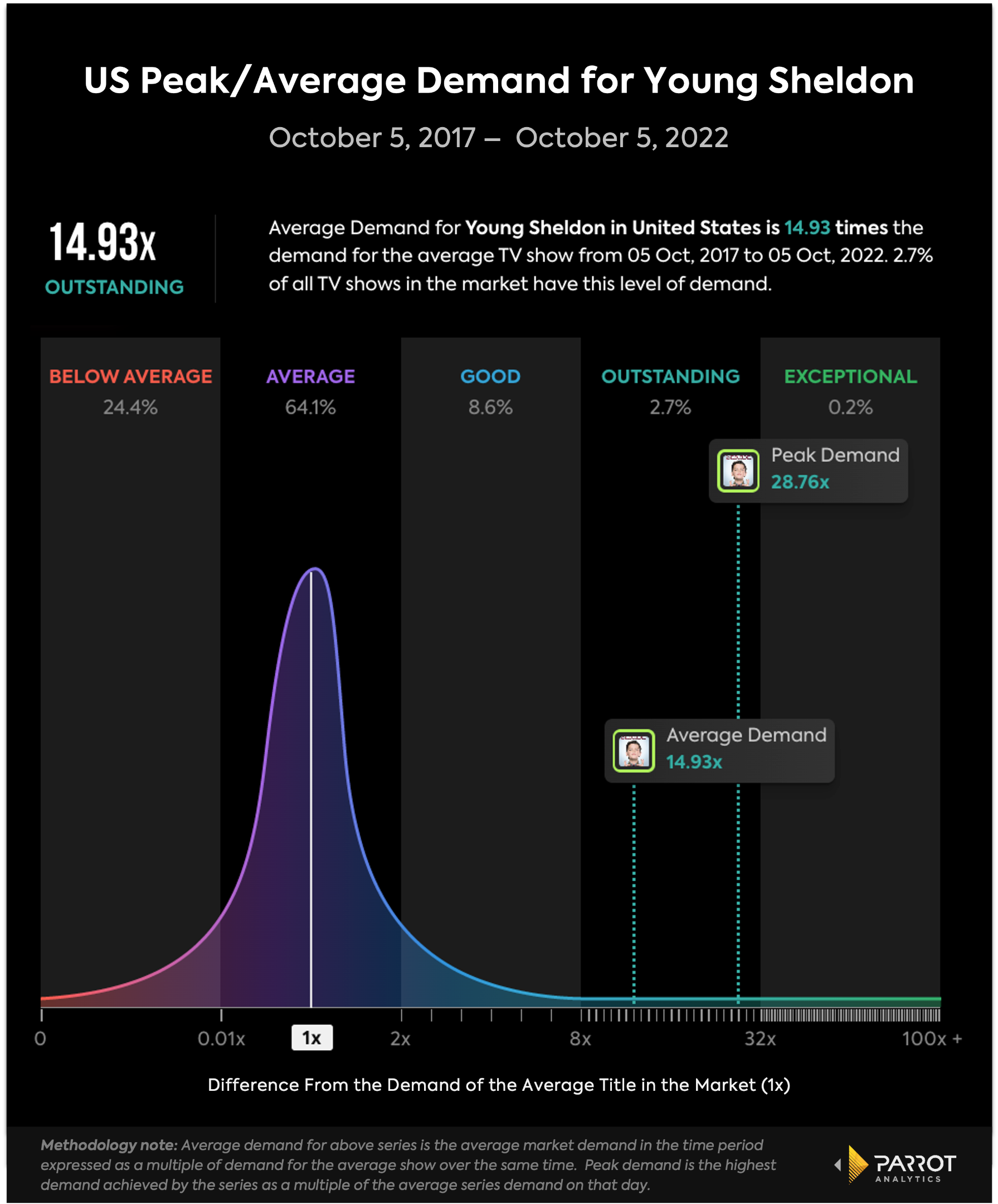 In many of these instances (and the nine-figure bidding wars that erupt around them), these easily digestible titles serve as both passive and active viewership offerings with a hefty back catalog of episodes to keep users engaged frequently and long-term. (Most of these shows have exceeded triple digit episode counts). 
As such, they are excellent retention contributors and churn reducers for their respective streaming homes. A hit multi-season sitcom often provides a long-tail of sustained usage and rewatchability. It's why The Office ($500 million), Seinfeld ($500 million), and Friends ($425 million) fetched such big dollar totals on the open market and why streamers have invested in new-look sitcoms such as Ted Lasso and One Day at a Time. These series are particularly useful as most major streaming services adopt ad-supported tiers that resemble broadcast formatting in an attempt to increase their total addressable markets. 
Come for the blockbuster originals that you watch with bated breath, stay for the familiar sitcoms and procedurals that air in the background as you fold your laundry. 
Platform Promotion and Demographic Expansion
Broadcast titles aren't just added value to a streaming service's library like when you order extra guac and fries for the table. The networks themselves, and their significant domestic reach, can help expand a streamer's audience demographic while raising additional awareness.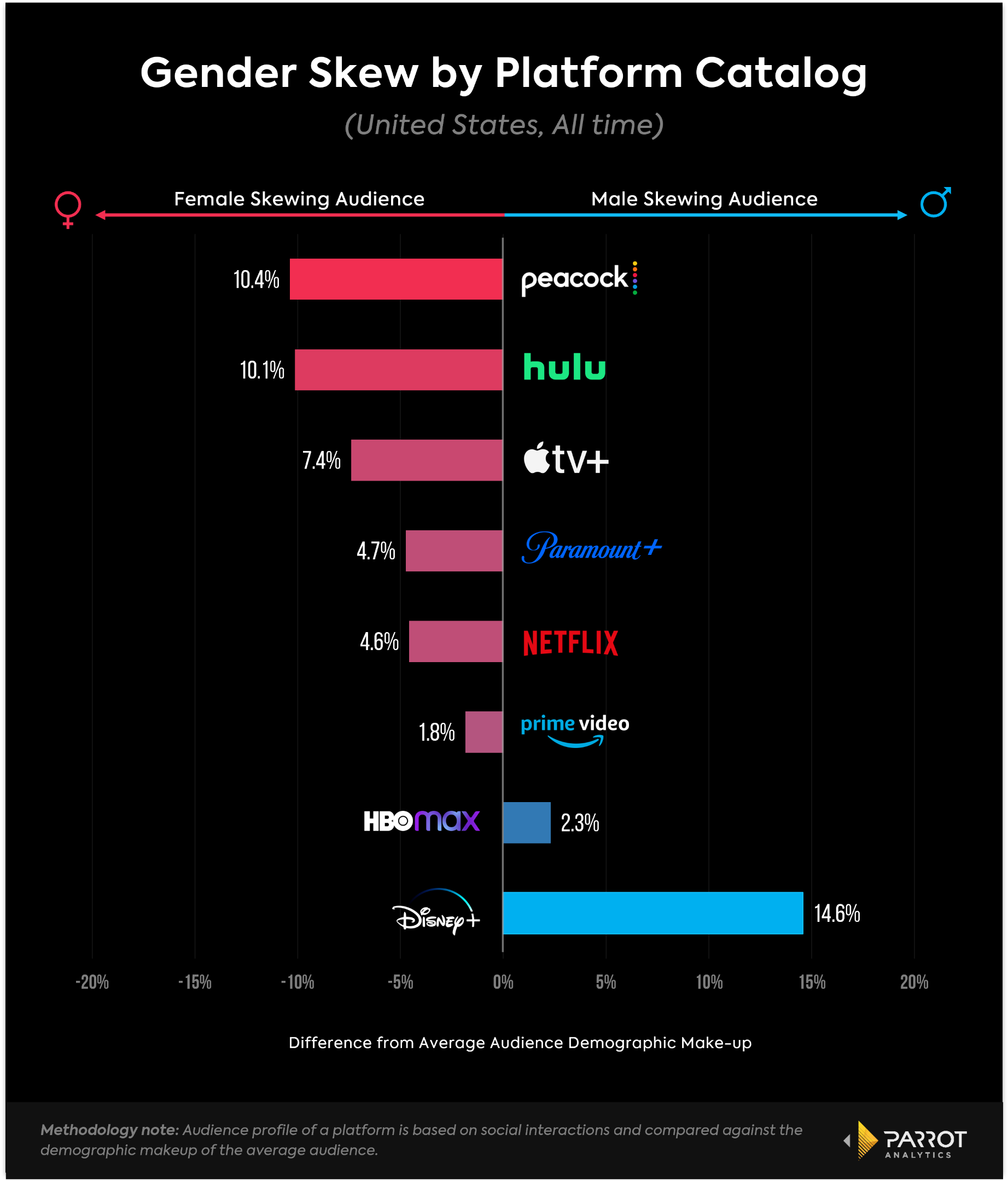 Some of Netflix's most successful originals such as Stranger Things, Cobra Kai, The Witcher and Lucifer (which originally debuted on Fox) over index most with Gen Z (1997-2012) audiences. But many of the streamer's most successful licensed titles that hail from broadcast networks, such as Grey's Anatomy and NCIS, resonate with slightly older audiences with strong demand from those born between 1992 and 1998 and Gen X+ (1965-1980). Manifest, which originally debuted on NBC before becoming a Netflix original, also puffs up Netflix's appeal in these older demos. 
Other popular Netflix originals, such as You (Lifetime) and Emily in Paris (Paramount Network) either debuted on linear or were originally developed for linear, help attract more female viewers. In this way, Netflix and other streamers can construct complementary content offerings that attract a wider range of viewers, using broadcast and linear to fill the void with both older and regional-specific audiences.
Netflix's former vice president of original content Cindy Holland even said that Lucifer is "a fantastic show that has really resonated with audiences in parts of the world where we licensed it so we felt it was important to help that show continue for those fans" after the company rescued it from cancellation in 2018. Other than the U.S., Lucifer's top markets in the last four years include populous countries such as France, Russia, India, Brazil and, believe it or not, Bulgaria. 
Once users are exploring broadcast titles within a digital ecosystem, they tend to stay there. Linear network shows provide a strong affinity halo effect that keeps audiences on track for related consumption. Those who watched The Big Bang Theory on HBO Max this year were most likely to then watch Young Sheldon, Westworld and Game of Thrones (all also on HBO Max). Seven of the 10 series audiences watch after Grey's Anatomy are broadcast series. There's a consistent through line of audience appeal and engagement, which is one reason why legacy media companies aim to keep content in house these days.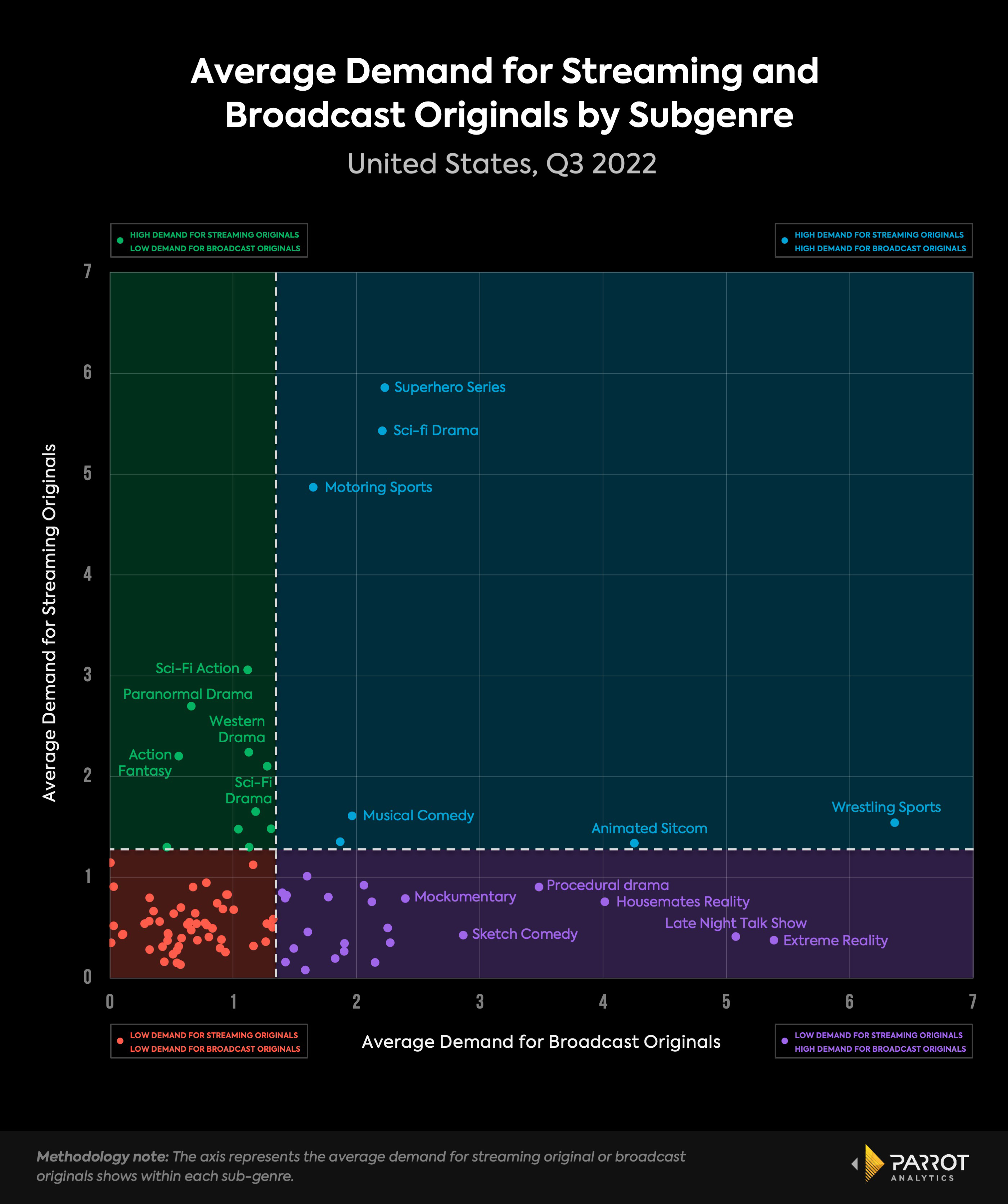 As content distribution evolves in the digital age, entertainment companies have used the varying avenues at their disposal to raise awareness and funnel more viewers to a given new title. 
CBS aired the first season of CBS All Access/Paramount+ exclusive The Good Fight, as well as the pilot and eventually the entire first season of Star Trek: Discovery, to drive attention to the streaming exclusive series. It also moved linear series such as Evil and SEAL Team to streaming exclusively. Yellowstone spinoff 1883 then aired its premiere on the Paramount Network (drawing 4.9 million total live+same day viewers) ahead of its streaming debut. 
"The results of 1883's debut are truly phenomenal," Tanya Giles, then ViacomCBS' Chief Streaming Programming Officer, said last December. "The day 1 streaming numbers coupled with the results of the linear sampling effort, and social response from our audience show the tremendous promise for this series."
NBCU, Disney and Warner Bros. Discovery have similarly used their linear channels to prop up streaming exclusives. Broadcast and linear networks are still the easiest way to reach large swaths of American audiences at a given time. They're necessary platforms to help cut through the noisy clutter of an entertainment industry that is on pace to air more than 600 scripted series in 2022. Why not use every tool in the arsenal in such a competitive market? 
Studios should continue exploring multiplatform distribution flexibility as hybrid releases and simulcasting work to grow a title's reach and footprint. Much like how streamers use broadcast to showcase their originals, streamers can also allow users to sample select originals via FASTs. Every new Peacock Premium original should make its pilot available to view on the service's free ad-supported tier. Once a Prime Video series reaches three seasons, the first season should be made available on Freevee (which already licenses dozens of linear series). When a new South Park Paramount+ movie arrives, the preceding original film should become available on Pluto TV for a month (Showtime recently launched a channel on the FAST platform to expand its reach). These flywheel efforts will serve as a growing discovery gateway for viewers. 
Comparable Demand
When comparing the most in-demand scripted streaming exclusive series in the U.S. from each premium platform year-to-date (Oct. 5) to the most in-demand broadcast series, you'll notice the gap in audience interest isn't quite as significant as one might assume. 
Netflix: Stranger Things (93.90x)
Disney+: The Mandalorian (37.36x)
HBO Max: Our Flag Means Death (30.18x)
Amazon Prime Video: The Boys (29.43x)
Apple TV+: Ted Lasso (26.46x)
Hulu: The Handmaid's Tale (22.80x)
Paramount+: Star Trek Picard (18.73x)
Peacock: Bel-Air (8.38x)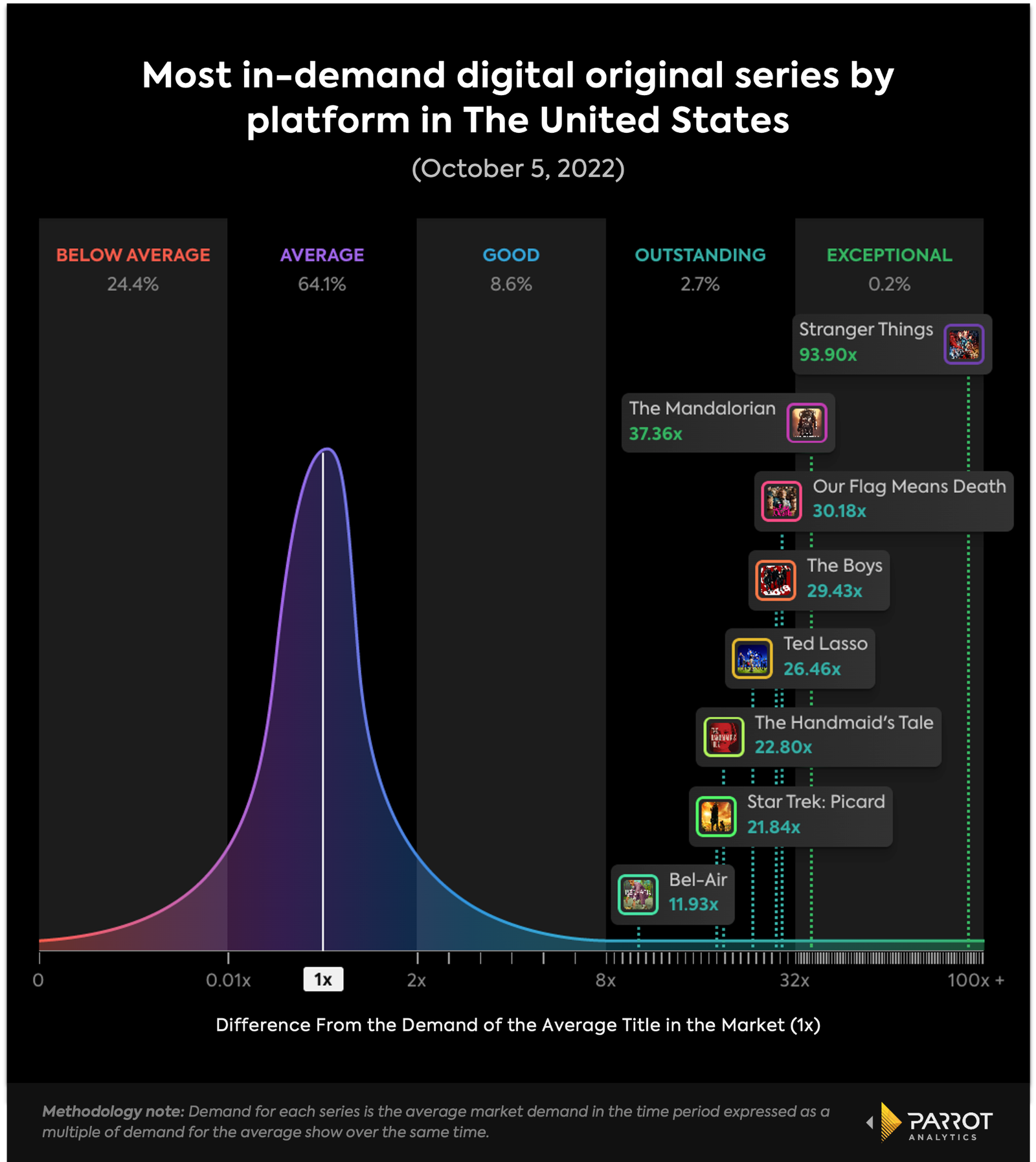 NBC: Saturday Night Live (50.97x)
Fox: The Simpsons (39.85x)
CBS: The Big Bang Theory (29.41x)
ABC: Grey's Anatomy (25.65x)
SNL costs around $3 million-$4 million per episode to produce, while the average hour-long broadcast drama costs between $3 million-$6 million per episode. The Big Bang Theory's final season cost $10 million per episode as the most popular sitcom on all of TV, yet the average half hour sitcom costs significantly less. 
This stands in contrast to the mammoth budgets streamers dole out for blockbuster series such as Stranger Things ($30 million per episode for Season 4) and The Mandalorian ($12.5 million per episode for Season 1). (Disney+ Marvel series carry budgets ranging up to $25 million per episode). Pound-for-pound, the biggest broadcast series are still eliciting similar enough audience demand as the top SVOD series for significantly less cost. 
"If I'm being candid, I'm not looking to find a $20 million-an-episode premium drama," CBS Chief Executive George Cheeks said in September. 
That's not to say that less expensive broadcast series are inherently more valuable than their more expensive streaming original counterparts. Flagship SVOD exclusive shows drive subscription growth by attracting new subscribers (Disney+ surpassed 10 million subscribers in its first 24 hours with The Mandalorian as its only notable original). But it is often the broad reach of library network content with high demand that retains these customers and ultimately reduces churn. The two tiers of content work in tandem to create tailored value for a service. 
Learning From Each Other
As the streaming industry has matured and as the Big Four network's relevance has waned, there are strategies both mediums can borrow from one another. 
Amazon Prime Video has largely moved away from the expensive period dramas and niche Emmys fare that has come to define streaming content. Instead, it has moved to establish a foundation of well-performing serialized procedurals that are molded in structure and focus on familiar network setups. (The same might be applicable to Netflix as creator Kenya Barris said the last year that the streamer "became CBS.") Much like broadcast, these shows often build mysteries and drama around specific professions that dominate linear procedurals (armed forces, medical, legal, cop, etc). These series have been successful enough to last multiple seasons, accrue impressive demand, and inspire spinoffs. 
Since its debut Oct. 16, 2016, Goliath, which revolves around Billy Bob Thornton's down-and-out lawyer, reached a peak demand of 17.28x the average series in the U.S. The show ran for four seasons.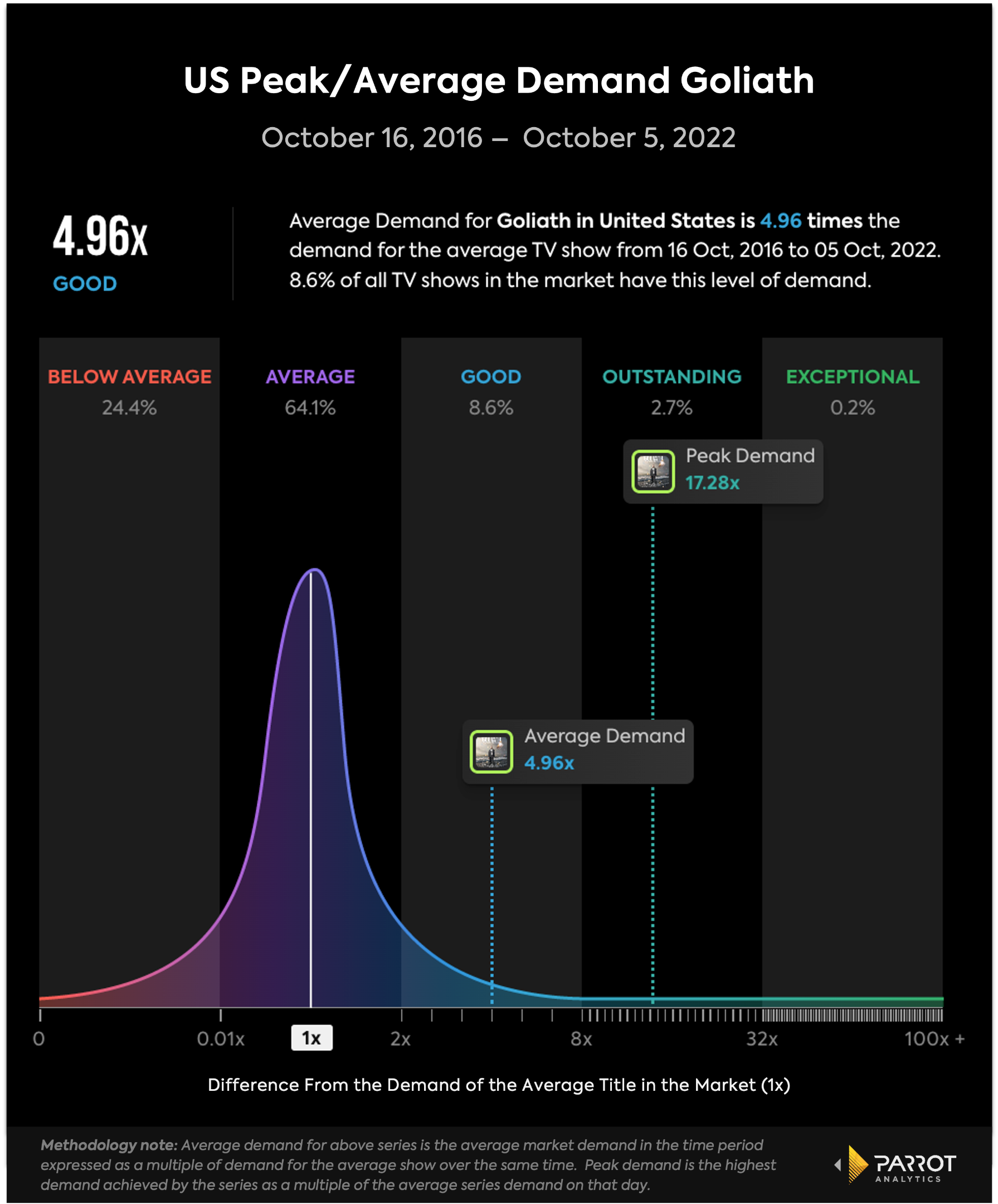 Bosch, a police procedural, became Prime Video's longest-running original at seven seasons after debuting in 2014. It's spawned the spinoff, Bosch: Legacy (demand seen below), which is currently anchoring Amazon's FAST service Freevee after debuting earlier this year.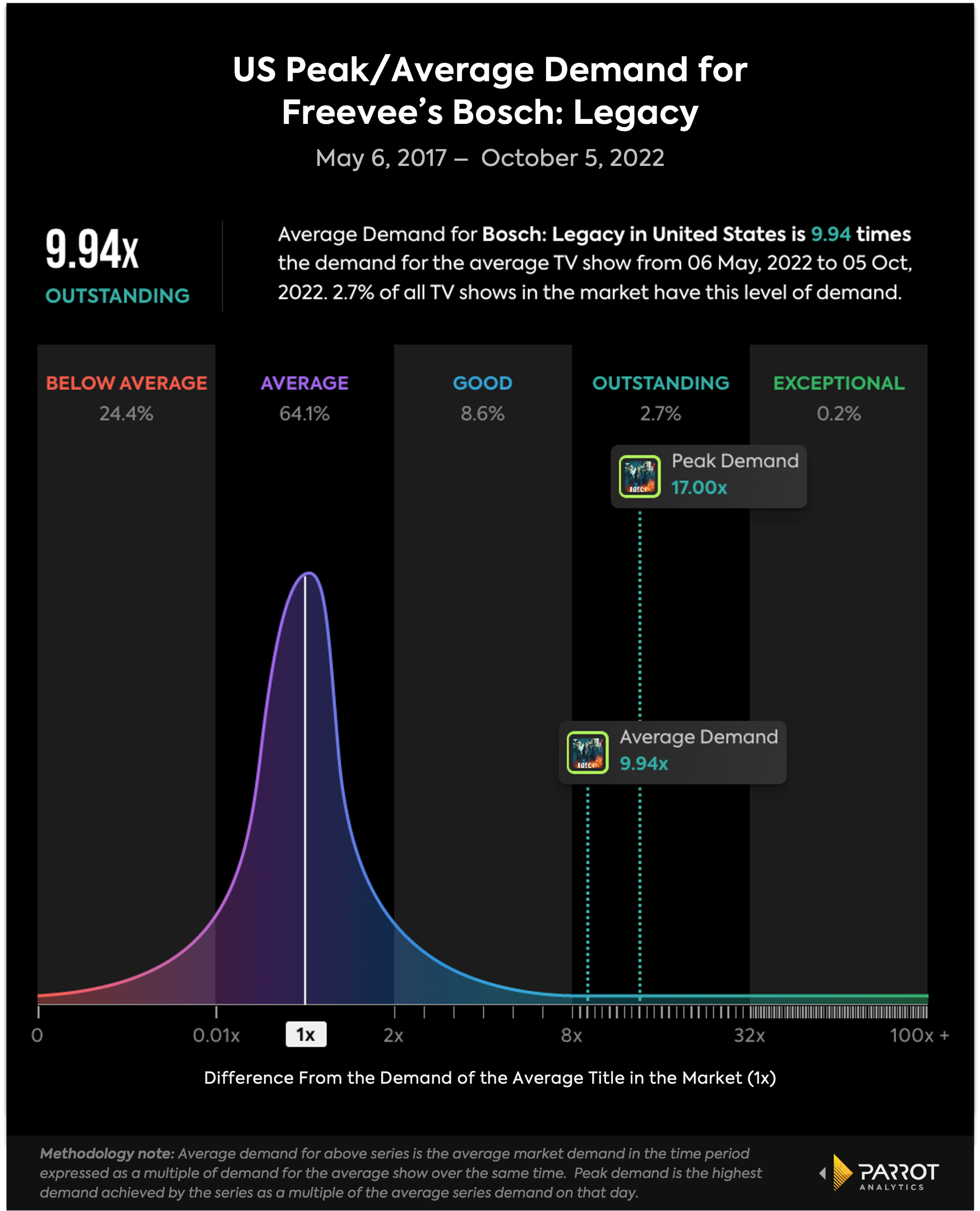 John Krasinski's Jack Ryan, based on Tom Clancy's action-packed CIA novel series, is arguably the most successful adaptation of the IP since 1990's The Hunt For Red October. Since debuting in Aug. 2018, it has hit a peak demand of 23.15x in the U.S. Its third and final season will debut later this year.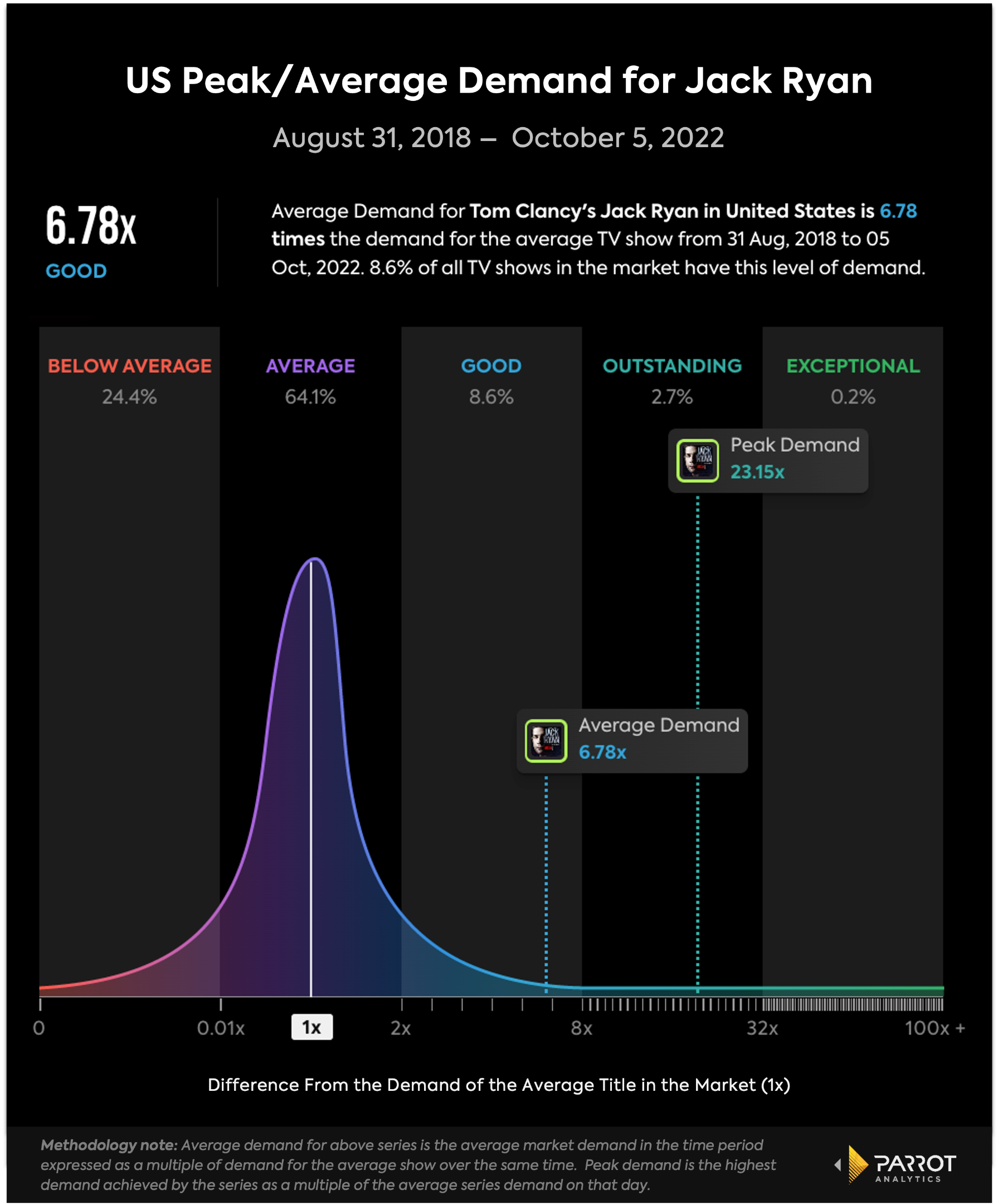 Chris Pratt's The Terminal List, which follows a returning soldier attempting to unravel a conspiracy, was a popular binge release this summer that has drawn outstanding demand since it debuted July 1st.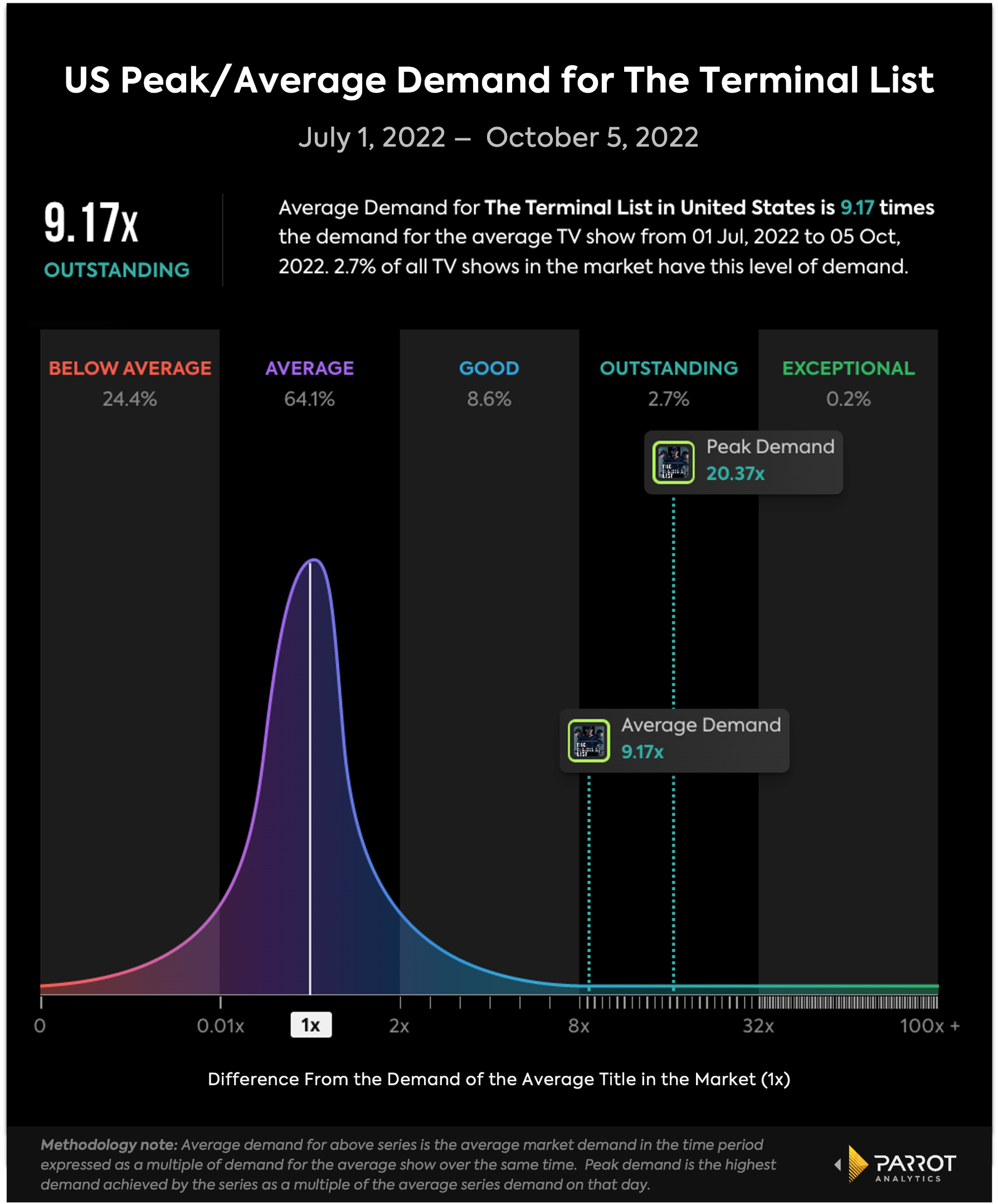 Reacher, which follows a former major in the United States Army Military Police Corps as he roams the country and investigates dangerous situations, is another popular action drama binge from Amazon that garnered significant demand. Production on Season 2 recently started.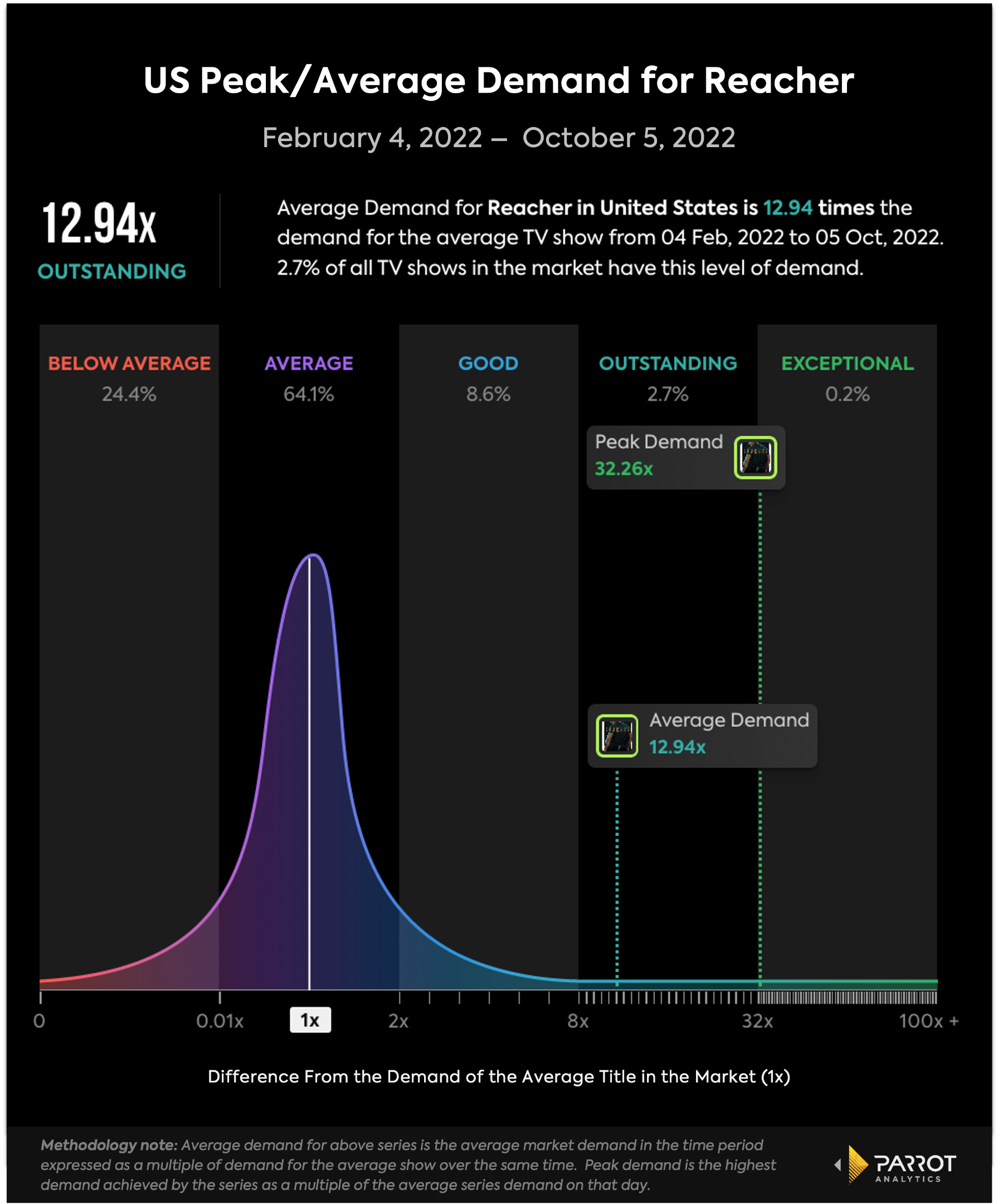 As recently as 10 years ago, these are the types of shows you might see originate on broadcast television. There's no reason why streamers shouldn't create their own version of the cross-pollinating Chicago, FBI and Law & Order franchises with a new installment debuting every quarter. 
Beyond this, there remains open opportunity in terms of content supply vs. demand. The dystopian genre garners high demand but there's a low supply of content that meets this criteria in the marketplace, yet HBO's adaptation of acclaimed video game The Last of Us and Netflix's Korean drama Goodbye Earth will help fill this void in 2023. Similarly, the neo-noir, western, procedural and satire genres also draw significant demand while facing considerably less competition than traditional dramas and comedies. Content providers can build around these concepts to help address underserved markets. 
Conversely, streaming has provided a blueprint for broadcast in many ways. Specifically, Netflix's French drama Lupin — which reached a peak U.S. demand of 14.22x in 2021 — offers a formula the Big Four can follow. 
The thriller is a retelling of the classic French story about Arsène Lupin, the world-famous gentleman thief and master of disguise. It's a clever way of adapting familiar IP and concepts by modernizing it for contemporary audiences. By doing so, this also expands the potential reach of the IP (overall gender distribution for Lupin was 55.1% male, 44.9% female and was most popular among viewers born between 1992-1998). Rather than relying on the existing audience demographic, which broadcast has done without much change as it continues to tailor content to the same viewers, shows like Lupin can target new fans. 
Creators George Kay and Francois Uzan built the show around a likable protagonist and charismatic lead in Omar Sy, giving it an enticing star-driven appeal. This is a breath of fresh air at a time in which broadcast has chased the highs of LOST by investing in ensemble dramas with multiple main characters for years while cable birthed the age of the unlikable protagonist over the last two decades (no one really wants to grab a beer with Tony Soprano or Walter White). Lupin is also a globetrotting four-quadrant fun that allows the series to travel well across overseas markets (a lively soundtrack helps), which can be key to a show's overall financial performance.
Conclusion
Sitcoms and procedurals may not always elicit millions of hashtags from Film Twitter or dominate the Emmys discourse between critics. Law & Order and NCIS aren't sexy in an era of blockbuster franchise IP featuring superheroes and Jedi. But broadcast content consistently appeals to broad audiences — at a fraction of the cost -- at a time when streamers are battling for every last subscriber in a hyper competitive market. Network titles are proven to fit well within the ad-supported format that is rapidly overtaking the OTT market. 
The ease of access these platforms provide are much-needed stepping stones for streaming exclusives hoping to be noticed as viewers are bombarded with more options than ever. And the strategic flexibility the proliferation of viewing platforms provides can be leveraged to maximize awareness and audience demand with a multi-pronged distribution effort. 
Broadcast TV may no longer be the dominant entertainment option, but the lessons the entire TV industry can learn from the medium remain valuable. 
---