What is old is new again, history repeats itself, time is a flat circle — choose whichever idiom you prefer and it'll likely fit the cyclical nature of television. 
After nearly a decade of commercial free disruption and innovation, advertising has finally come for Netflix. The company, which took a zealous anti-ads stance for years, pulled a dramatic 180 in April and set up its recently launched ad-supported tier in just six months. Yet in the US, 326 titles* (or roughly 5% of Netflix's library) are not available on the ad-supported tier (which went live on November 3rd at a monthly cost of $6.99) at launch. Why? Because the streamer must renegotiate all of its licensing agreements with content owners since there are separate contracts for streaming video on demand (SVOD) vs. advertising-based video on demand (AVOD). 
*This reflects Netflix's ad-supported tier at launch as of the first week of November. Licensing and distribution agreements will likely change in the near future, which will alter the available library on the service. 
The market-leading streamer, once considered an interloper into the entertainment industry, has become an established power that is now deploying the small screen medium's most familiar and long-running strategy. The irony isn't lost on company leadership. 
"Those who have followed Netflix know that I have been against the complexity of advertising, and a big fan of the simplicity of subscription," Netflix co-CEO Reed Hastings said in April. "But as much as I am a fan of that, I am a bigger fan of consumer choice. And allowing consumers who would like to have a lower price, and are advertising-tolerant, get what they want, makes a lot of sense."
This about-face is designed to reignite Netflix's subscriber growth after customer losses in Q1 and Q2 this year and introduce an entirely new source of revenue generation (estimates peg annual levels at up to $2.5 billion). But it does not come without complication. 
The move raises a series of important questions that hold the potential to reverberate throughout the foundation of this new initiative: how significantly do the missing titles impact the overall value perception of consumers, which we can determine by looking at overall on-platform catalog demand? How is this void dispersed across movies and TV series and will it impact the company's perceived value in the eyes of consumers ? And what does this say about Netflix's ad-supported strategy versus the competition? 
Netflix's Ad-Supported Platform Demand 
Netflix COO Greg Peters warned in October that a "limited number of movies and TV shows won't be available due to licensing restrictions, and we're going to be working on reducing that over time." 
Netflix's total US library stands at around 6,000 titles (down from around 11,000 in 2015) and its library of originals consists of around 3,300 titles as of Nov.  8, 2022. (These change slightly week-to-week due to constantly shifting content agreements). According to What's on Netflix, of the 326 TV series and movies missing from the ad tier at launch, around 60 are branded as Netflix Originals (though Netflix does not own the full rights to these series in-house). This accounts for nearly 2.0% of the streamer's original library, which surpassed its licensed library in volume for the first time back in August. The other 266 titles missing from the ad tier are licensed movies and series from other companies and represent almost 9% of Netflix's non-original library. 
For Netflix's ad-tier, the missing titles account for 10.6% of the total US demand for the streamer's catalog across TV series and films. For comparison, earlier this year HBO Max removed more than 60 titles from its library. The result was a 3% drop in total US catalog demand share in Q3 despite the arrival of House of the Dragon. 
Titles that are available on the ads plan represent on average around 85% to 95% of viewing depending on the country, according to Netflix. Notable titles missing from Netflix's US ad tier at its launch run the gamut of high-profile originals and popular licensed titles. 
Originals:
House of Cards 

Peaky Blinders

The Last Kingdom

Arrested Development

⁠Uncoupled
Licensed:
The Walking Dead

The Sinner

The Good Place

Good Girls

New Girl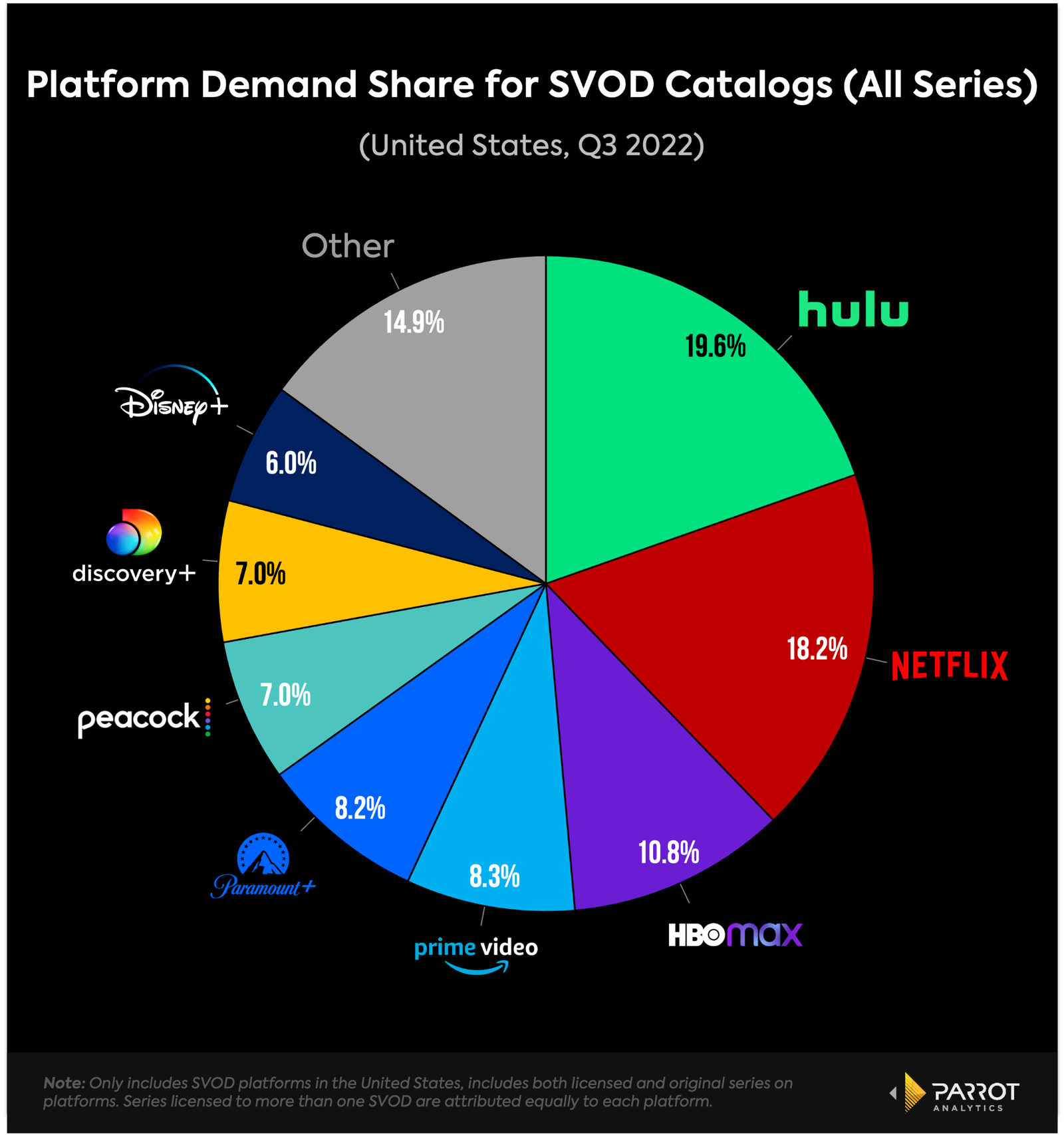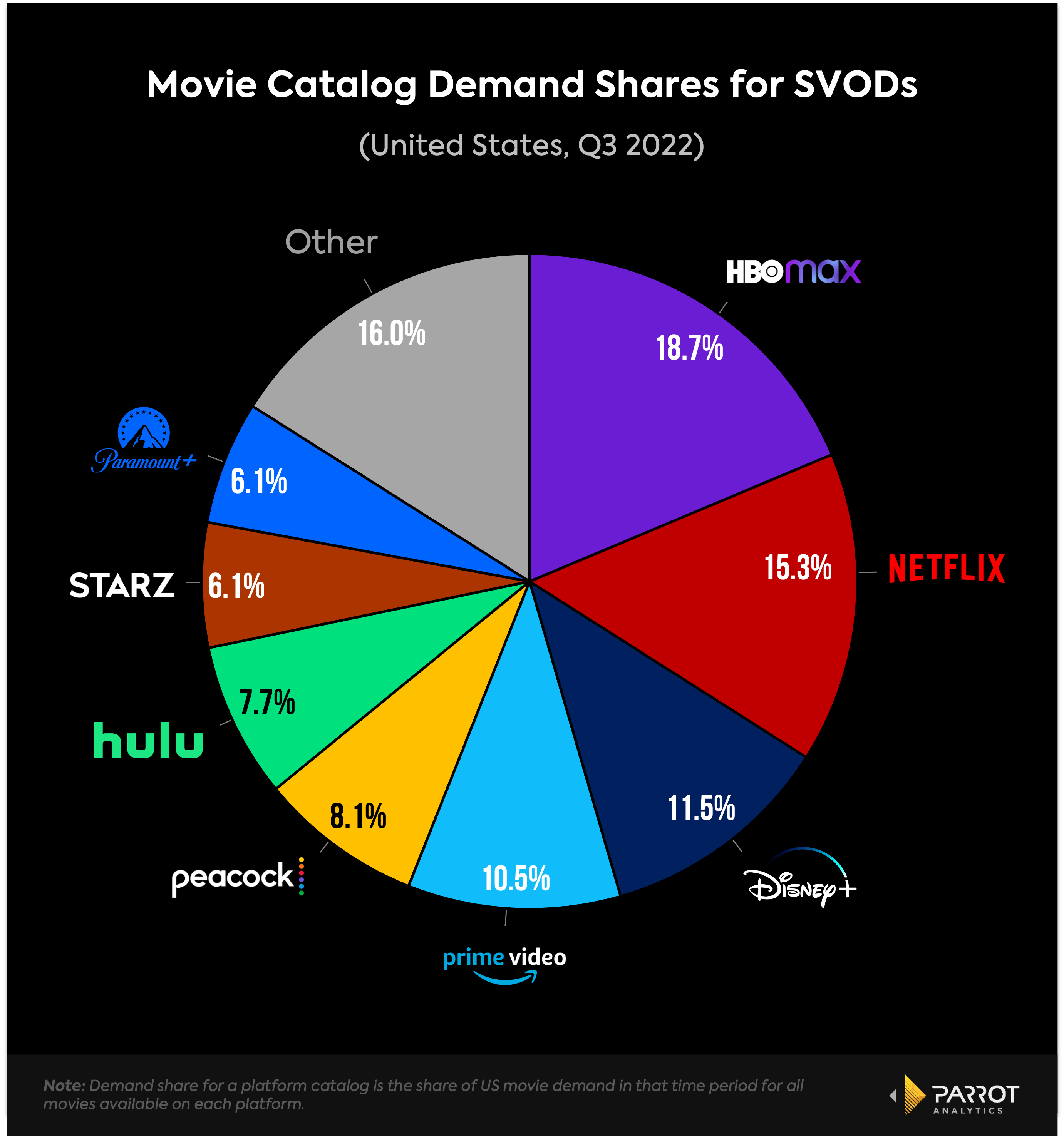 The lost demand on the ad-tier does pose the potential threat of diminishing the service's perceived value in the eyes of consumers in very specific ways. 
And while missing content is the consumer-facing element of this issue, it's also only half the battle. The other side is Netflix's ongoing relationships with content producers and distributors that are being put to the test as new AVOD deals are sorted out. Major distributors currently withholding titles from Netflix's ad-tier at launch include NBCUniversal, Sony Pictures, Lionsgate, MGM, 20th Century Studios and others.
This is important as Netflix has an expensive existing Pay 1 film licensing deal with Sony Pictures (as well as frequent collaborations on animated originals), an animated film licensing deal with Universal and ample smaller output deals across film and television with a number of these companies and beyond. Existing negotiations on ad-tier licensing may echo throughout future aspects of these business relationships. 
Distribution Between Movies and TV
At launch, around 20% of the missing titles are TV series, representing a demand share of 8.0%, while roughly 80% are movies, representing a demand share of 14.2%.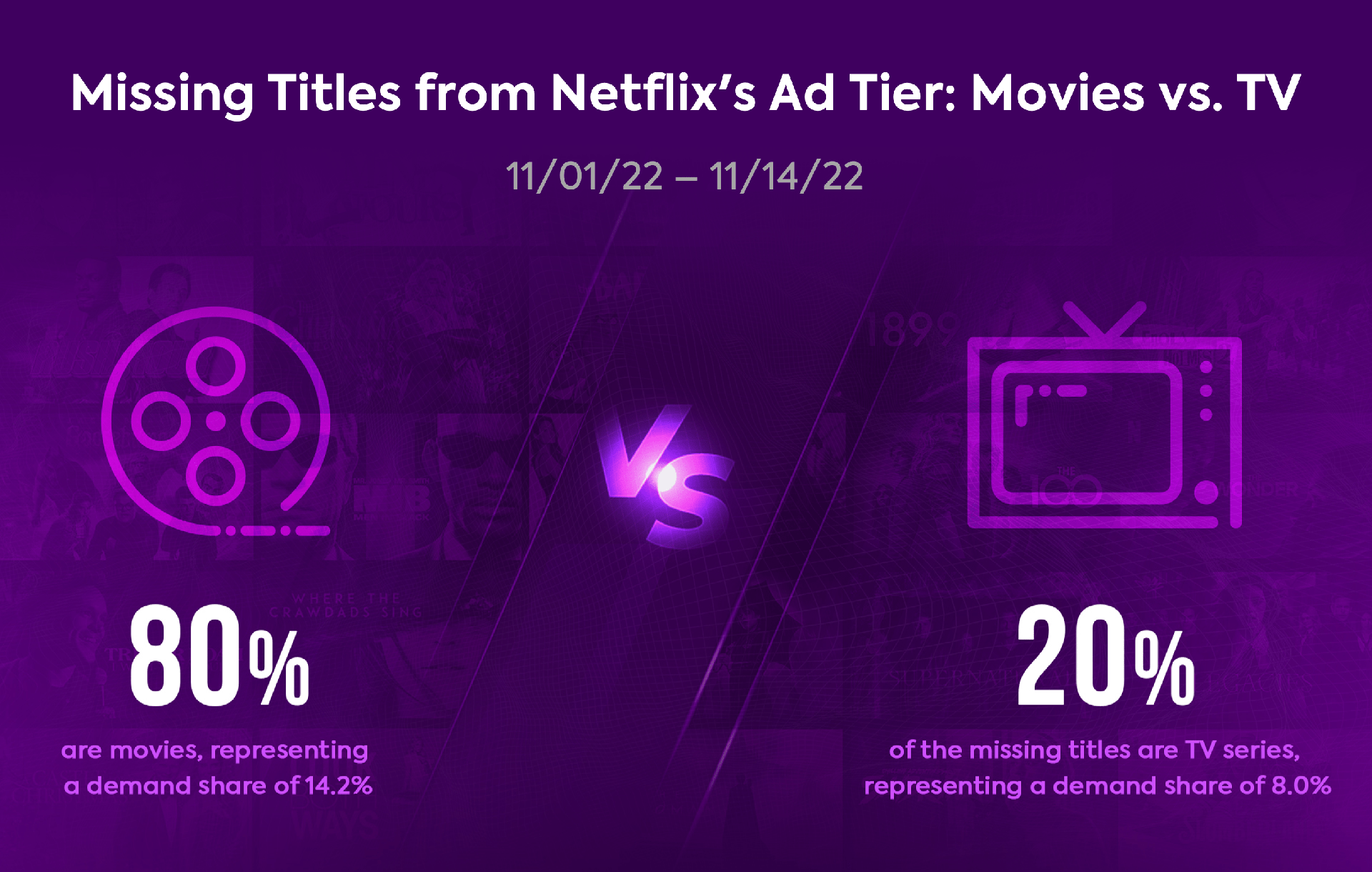 This is particularly relevant as Netflix has invested a massive amount of resources into both original and licensed films, leading the domestic industry in SVOD movie supply in Q3 but ranking second in US movie demand behind HBO Max. As the company's balance sheet has come under increased scrutiny, return-on-investment has taken on new importance. (Netflix co-CEO Ted Sarandos said in July that the company's annual content budget of around $17 billion will stay in the same "ZIP code" for the next few years).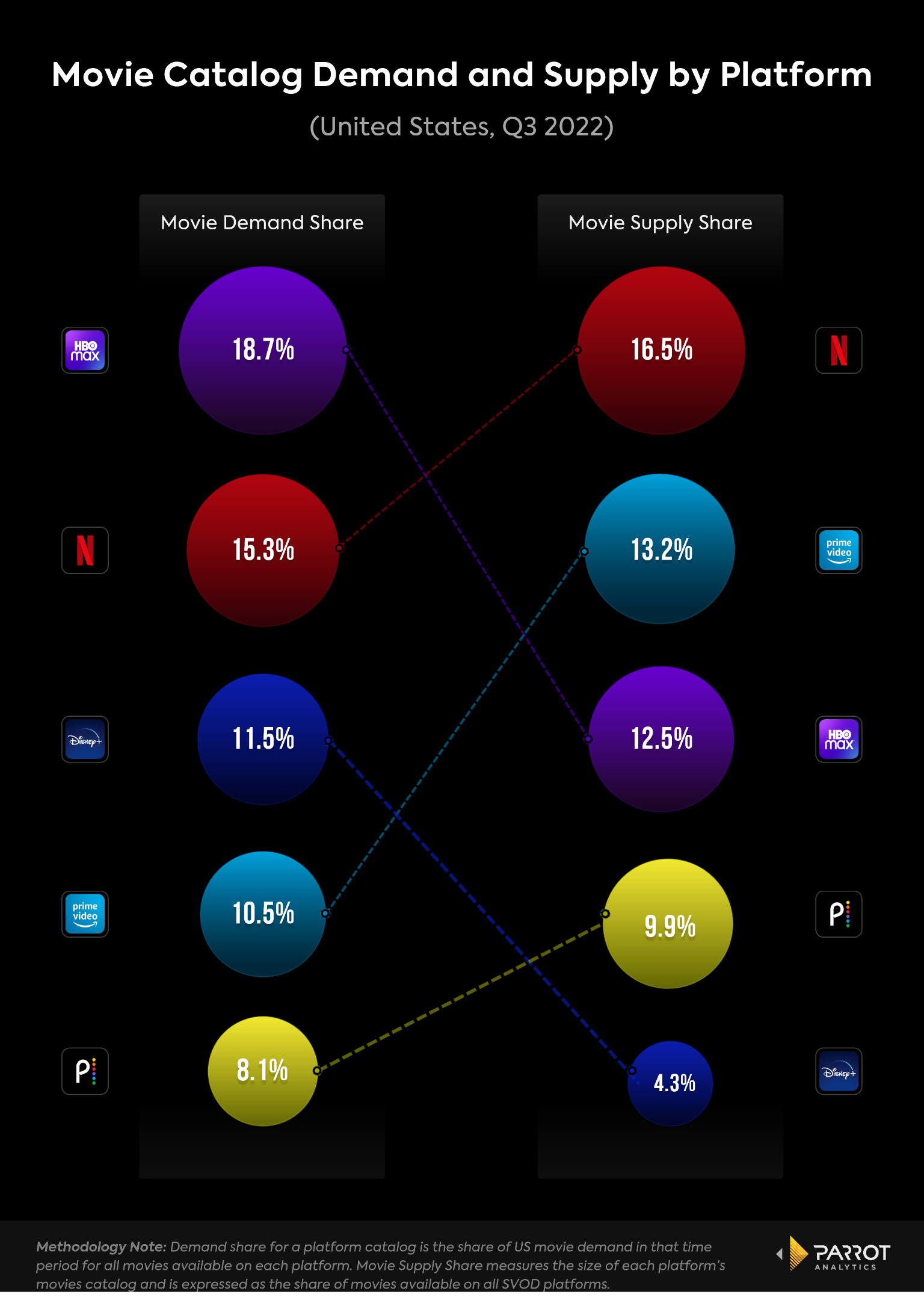 While far from a fatal blow, the lack of availability of some of these key titles represents a not insignificant level of popular viewing options. Here are the average audience demand levels for the top 10 missing movies and TV series (at launch) from Nov. 1, '22-Nov. 14, '22: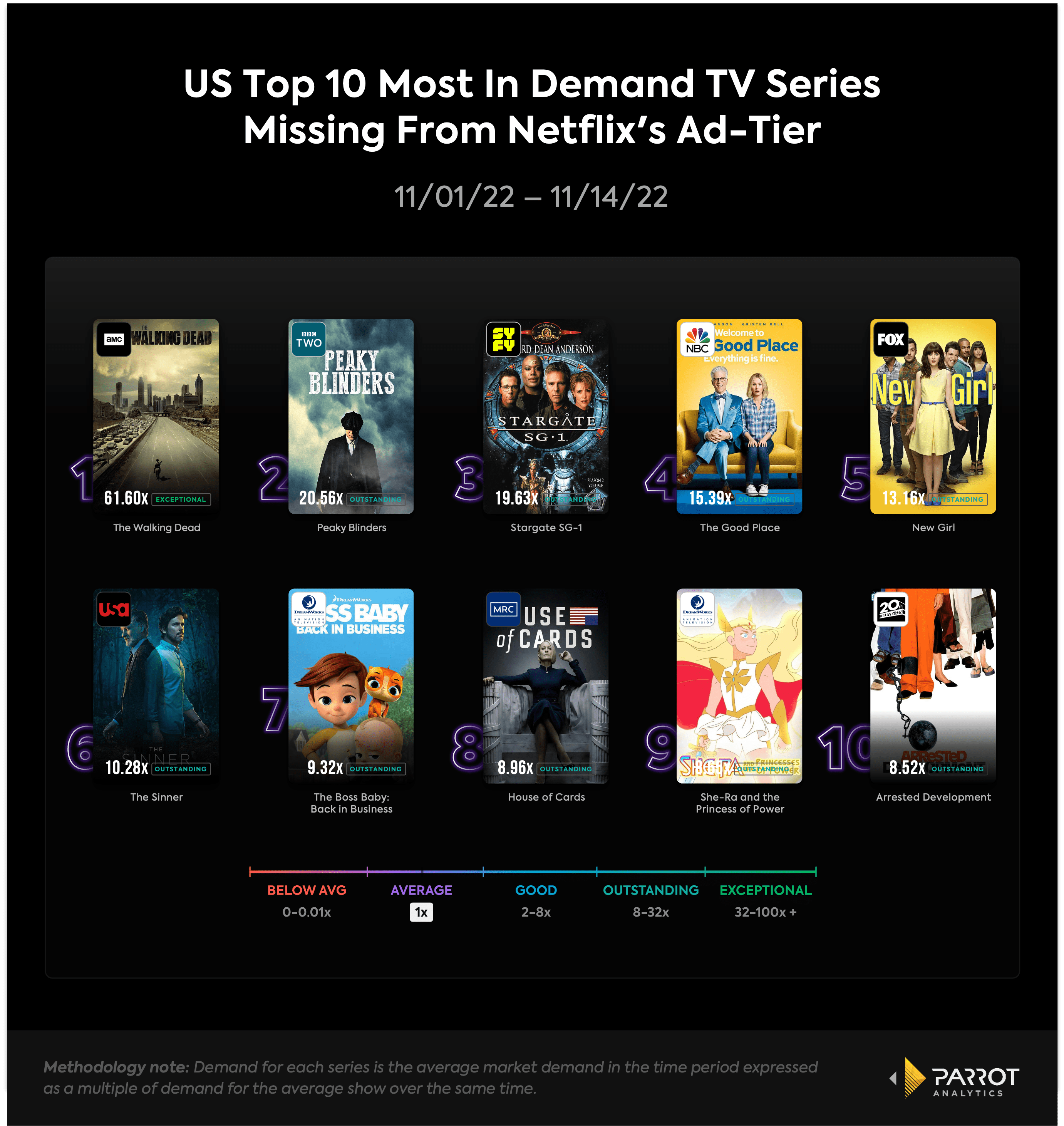 TV
The Walking Dead (61.60x)

Peaky Blinders (20.56x)

Stargate SG-1 (19.63x)

The Good Place (15.39x)

New Girl (13.16x)

The Sinner (10.28x)

The Boss Baby: Back in Business (9.32x)

House of Cards (8.96x)

She-Ra and the Princess of Power (8.65x)

Arrested Development (8.52x)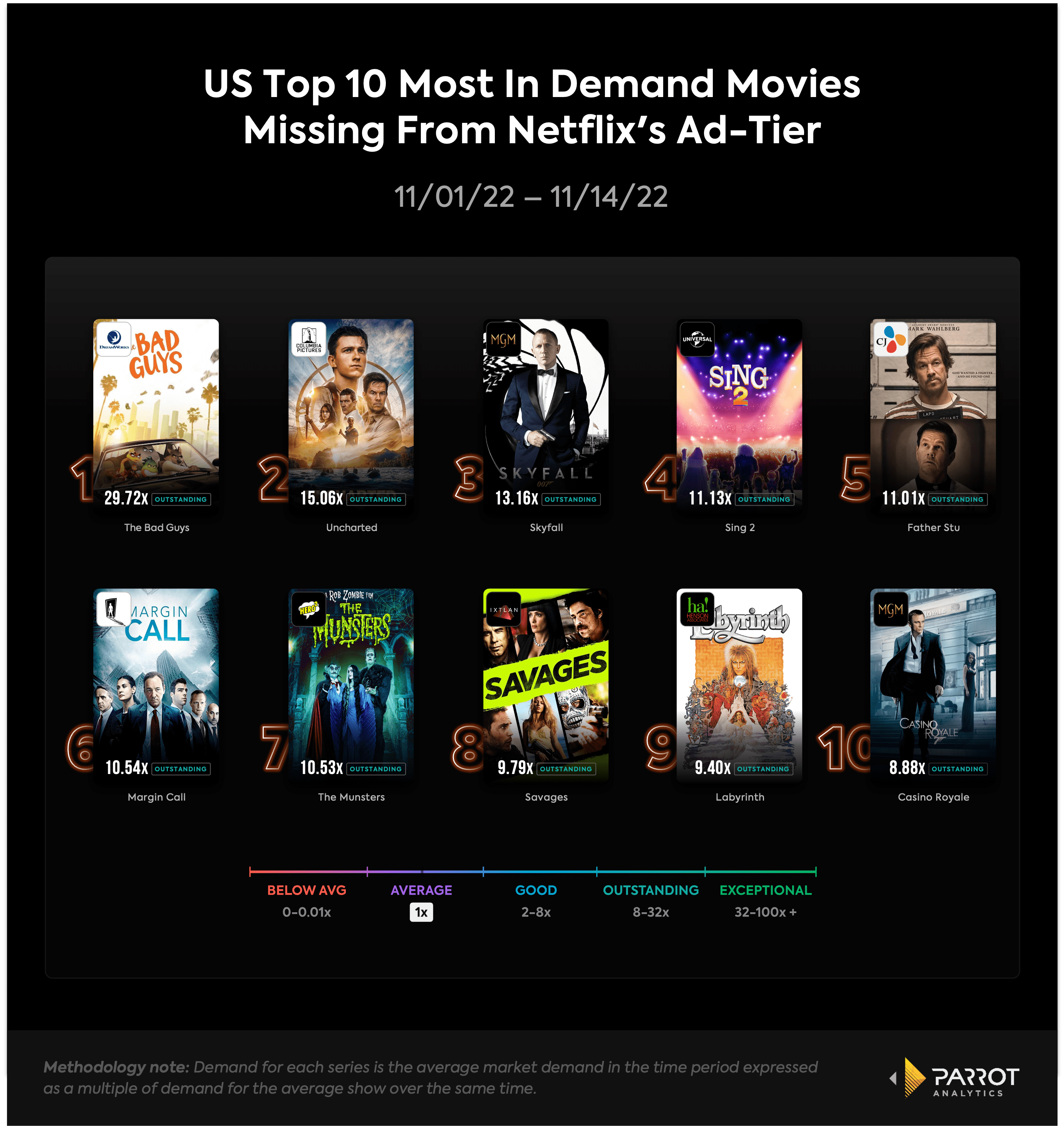 Movies
The Bad Guys (29.72x)

Uncharted (15.06x)

Skyfall (13.16x)

Sing 2 (11.13x)

Father Stu (11.01x)

Margin Call (10.54x)

The Munsters (10.53x)

Savages (9.79x)

Labyrinth (9.40x)

Casino Royale (8.88x) 
The absence of these titles are not comparable to Netflix suddenly losing Stranger Things, Squid Game and Red Notice in one fell swoop. But all streamers are constantly fighting a battle to prove their worth to consumers, and Netflix has intentionally branded itself as a one-stop-shop destination for all manner of entertainment. Its main selling point is having something for everyone. The company particularly loves its taste communities which often rely on strong connective viewing affinity between titles, making it all the more noticeable when Daniel Craig's James Bond films or multiple sitcoms go missing. Timeliness is also a factor as fans of The Walking Dead surely aren't thrilled to find the show's long library missing from the ad-tier at launch ahead of the series finale that aired Nov. 20. 
Beyond that, Netflix's ad-tier is missing more than a dozen titles aimed at younger viewers, a key demo for many streamers. Kids content represents value for families with young children and the titles themselves often yield consistent engagement thanks to repeat viewings. Netflix's licensing output and partnership deals with Universal and Sony for animated features has produced successful originals (The Mitchells vs. the Machines, Vivo) and highly-watched Pay 1 window films (Sing 2, Despicable Me 2). Kids can watch animated theatrical hits such as Minions: Rise of Gru and The Bad Guys on an endless loop throughout the day while parents binge Ozark and Mindhunter at night. 
Losing animated installments in the Jurassic World (7.59x in the first two weeks of November), Croods (1.47x), Trollhunters (3.26x), Puss in Boots (1.36x), Voltron (8.26x), Kung Fu Panda (1.76x), She-Ra (8.65x), Boss Baby (9.32x) and Captain Underpants (2.42x) franchises may diminish the perceived value of the service in the eyes of paying parents, particularly when there's attractive alternatives in Disney+ and Paramount+. 
AVOD Comparisons to Competition 
This discussion allows us to zoom out and compare AVOD approaches between competitors. 
Netflix is attempting to provide consumers with complete access to its full library on its $6.99 per month ad-supported tier. As of Q3, Netflix's most popular package costs $15.49 per month. But growth has slowed as the service hits a ceiling in the United States and Canada markets (UCAN). Since Q2 2020, Netflix has added a total of just 490,000 subscribers in the region. No Willy Wonka elevator to break through the roof (yet).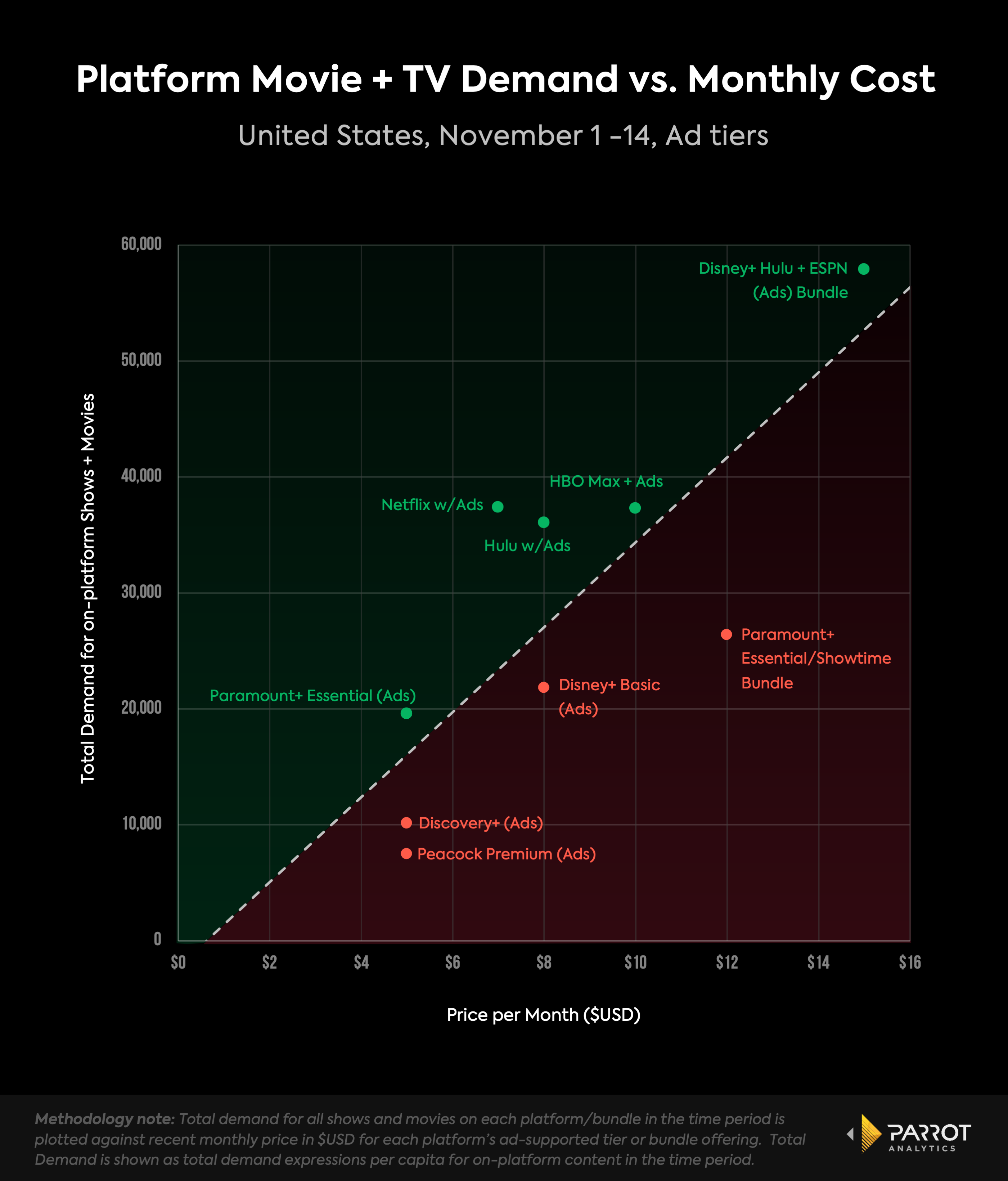 The advertising tier, which is among the best bang for your buck options when comparing platform demand vs monthly cost among the major AVOD services, is designed to increase Netflix's total addressable market and reignite growth while also offering consumers a less expensive alternative ahead of a looming recession. It's a top down adjustment where the company is adding advertising revenue — which is needed to support customer acquisition costs, churn and content investment — to its existing subscription revenue model. But rolling this out after nearly a decade of ad-free access forces Netflix to contend with user expectations. 
"We're not trying to steer our members to one plan or another," Peters said in October. "We're trying to take a pro-consumer approach and let them find and land with the plan that's right for them."
Now let's look at Peacock, which has more than 3,500 titles on its premium ad-free tier ($9.99 per month) and "just" 2,890 titles on its ad-supported tier, a roughly 20% smaller library, per What's on Netflix's Kasey Moore. Peacock has designed its streamer this way in order to rely mostly on ad revenue while also trying to up-sell consumers on its more expensive ad-free tiers. If you want access to the complete library of The Office, Universal's new films and a roster of pro sports (which are major subscription drivers) then you need to upgrade plans and pay more. This isn't the only example either.
Throughout 2021, day-and-date theatrical titles made available on HBO Max were not accessible for customers on the ad-supported tier ($9.99 per month). Again, this was an attempt to create both tangible and perceived value for the more expensive ad-free tiers. Paramount+'s ad-supported plan, which costs $4.99 per month, does not include local live CBS stations while its ad-free plan, which costs $9.99 per month, does. 
By aiming to include nearly its entire library in the ad tier — a strategy also employed by Hulu — Netflix is implying that its more concerned with generating raw revenue and eliciting renewed subscriber growth than it is in creating clearly defined value tiers among its new packages to up-sell consumers. (Disney is expected to announce its content strategy for Disney+'s ad-supported tier when it launches in December).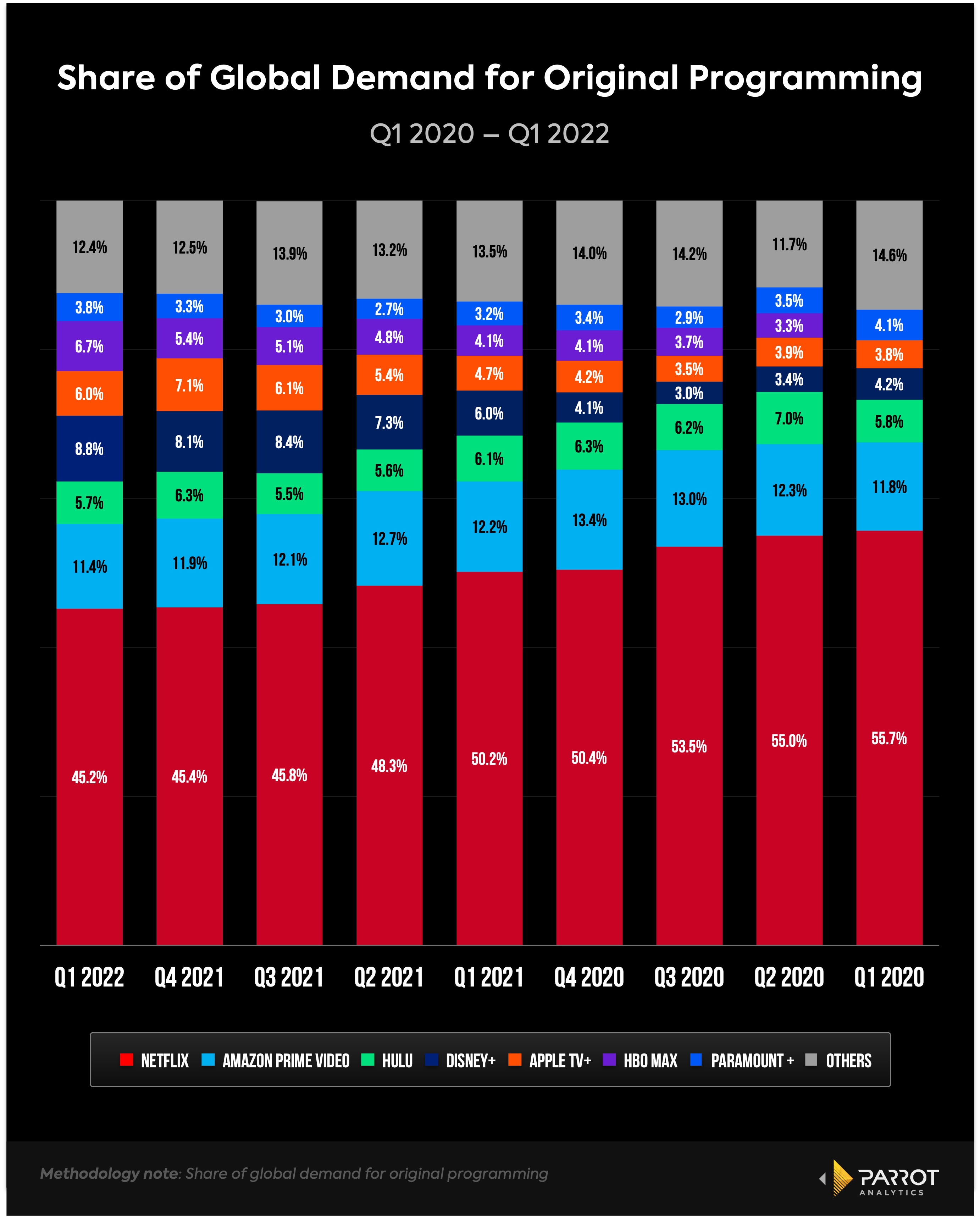 Related to this effort, rolling out annual discount deals for various tiers would be an effective way to attract new cost-conscious subscribers and reduce churn among existing subs. Specifically, Netflix's premium tier, which costs $19.99 per month, would be a strong starting point since the company isn't pushing consumers to upgrade from less expensive plans to more expensive. Netflix has even tested such an approach in India with users offered a 50% discount for a full year and a 30% discount for a six-month plan. Such an offer would decrease churn rates and pair nicely with the new ad-tier to increase consumer flexibility and choice, particularly during a potential turbulent economic time. There's a reason why McDonald's Dollar Menu is so popular.
The downside is that annual discounts do decrease average revenue per user (ARPU). But they also incentivize new consumers to sign up while providing the streamer with a long runway to learn about their viewing habits. The goal is then to foster regular usage, which convinces these consumers of the streamer's value so that they remain subscribed after the discount expires. It's a trade off Netflix is more suited to make than most of its rivals thanks to its sizable four-quadrant library. 
Use Sports to Attract Ad Dollars
Elsewhere, Netflix's early focus is to convince linear TV advertisers to reroute promotional spends to their service as opposed to competing with Google or Meta for the primary digital dollars. "A lot of what makes digital attractive will be added over time," Peters said of the initial priorities. 
The best way to secure money normally earmarked for linear TV is to go after linear TV's biggest draw: live sports. It's a lane that Disney, Amazon, Apple, HBO Max, Paramount+ and Peacock are already operating in and one that Netflix seems poised to finally enter. 
Netflix will livestream a new stand up special from Chris Rock in early 2023 in what many consider to be a stepping stone for the company to enter the live sports arena. Netflix reportedly bid on the streaming rights for the ATP tennis tour for some European countries and is considering a bid for the U.K. rights to the Women's Tennis Association and cycling competitions. 
Though sky high asking prices may prevent interest, there are a number of enticing options hitting the open market in the near future. DirecTV's NFL Sunday Ticket is up for grabs this offseason, the NBA's broadcast deals expire after the 2024-2025 season, NASCAR's agreements with Fox and NBC only run through 2024, the UFC's pact with ESPN+ expires in 2025 and the College Football Playoffs are looking to expand to 12 teams in 2026 when media rights will again be available. 
Either way, live sports are the logical next step now that Netflix's ad-supported infrastructure is up-and-running. Azure, the cloud computing platform operated by Netflix's ad partner Microsoft, has experience with sports advertising through its previous partnerships with NBC Sports and Next Generation Sports Network. Such an addition could super charge Netflix and its ad-tier. 
Conclusion
Netflix may have only reversed course on advertising after an epic stock tumble this year underscored the need to grow beyond just subscription revenue and growth narratives. This pivot is now an effort to better monetize both its prodigious content library and solidify its distribution network. Yet it remains to be seen if the ad-service will accomplish these goals, how it will impact Netflix's partnerships and if new users will be turned off by the slightly smaller catalog of content. 
What we do know, though, is that for years, Netflix has thrived operating under the guiding principle of moving fast and breaking things. But introducing an ad-supported tier is the company's biggest step in its sometimes awkward transition into adulthood. It's the first of what could be many new efforts as Netflix matures from noisy disruptor to seasoned incumbent.
---