Hello, world. Welcome to Parrot Perspective, a new data and strategy newsletter dedicated to the entertainment and media industry going through a period of radical change. 
I'm Julia Alexander, a senior strategy analyst at Parrot Analytics. I was a journalist for close to a decade before that at publications like Polygon and The Verge, focusing on two primary areas: the media and tech's shift to direct-to-consumer business models and the creator economy/platform economics of user generated content sites like YouTube, Twitch, and TikTok. I've spent most of my life obsessing over and writing about the media and tech industries and, in my time as a strategy analyst, have delved even deeper into how and why we consume content — and how that will change with new technologies creating new standard consumer behaviors. 
So, here's the quick Parrot Perspective pitch: strategic insight and data tackling the industry's biggest pains. Retention concerns, pricing strategies, aggregator platform politics, theatricality vs day-and-date vs streaming, password sharing as a core behavior and, as you'll see in today's inaugural issue, audience demographics for underinvested genres and subgenres. 
The newsletter is free. It will appear in your inbox roughly every three weeks. The point is to try and figure out this revolutionary moment in our industry together. No one knows what will happen next; but the more information shared, the more likely we can piece together what the future looks like.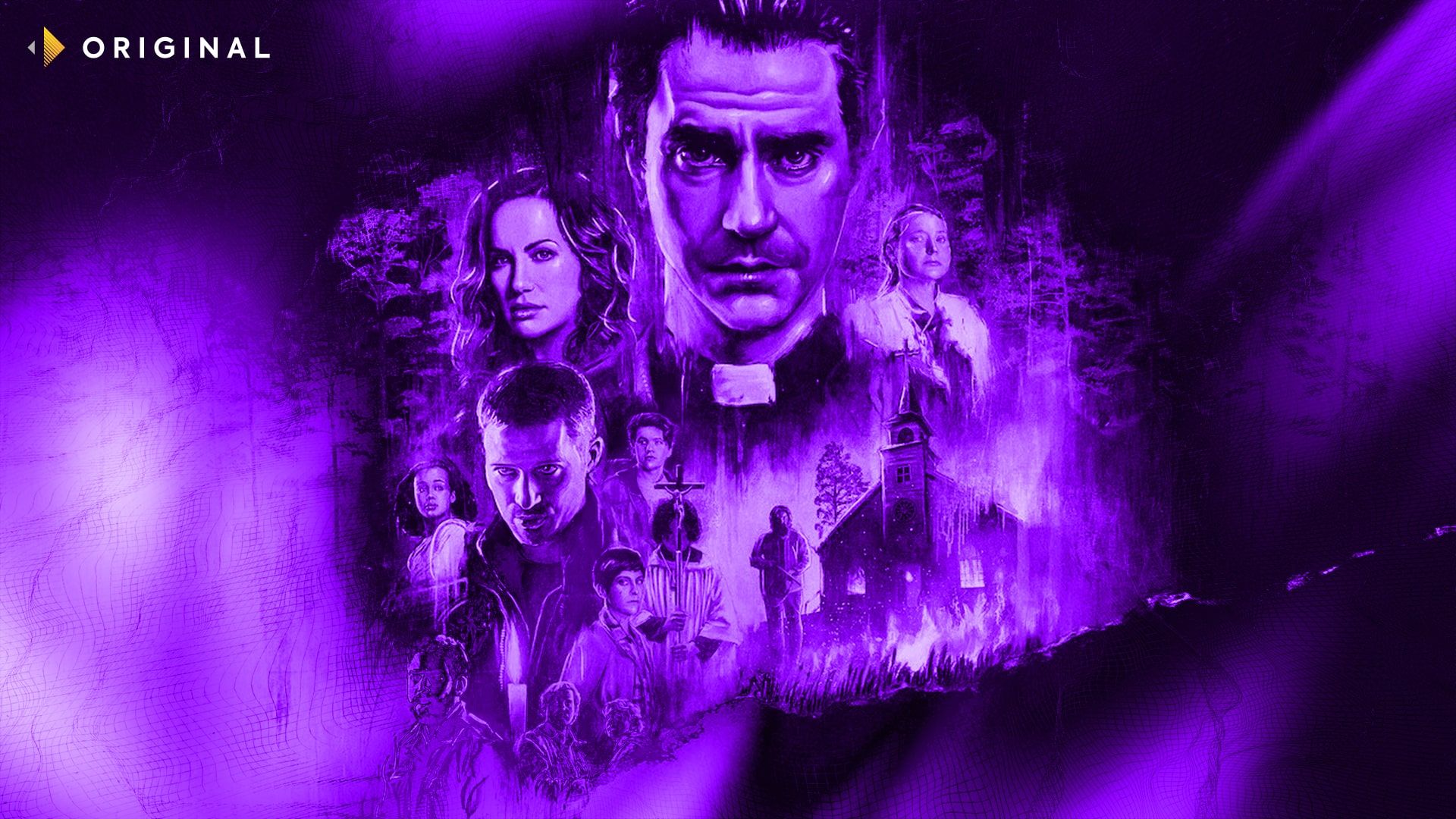 Spend Specifically, Not Aimlessly
We're in a period of heavy consolidation. Conglomerates are merging with conglomerates, studios are becoming integral arms in massive technology firms and, perhaps most relevant to people reading this, independent production companies are becoming the crown jewel for traditional entertainment companies, tech players entering the market, and VC-backed firms. 
It's a prime time for both sellers and buyers. Content producers are creating entertainment at a time when buyers are looking to provide their subscribers or audiences the most in-demand series and films. Spending on content just to own content, however, isn't planning for success. Some genres are more in-demand than others, and some types of entertainment perform drastically better for young woman or older men than other genres. 
There is so much content readily available to purchase, the difficult part is ascertaining the diamond in the rough. It's relatively easy to make a lot of television as the "spending wars" heat up; it's infinitely more difficult to make good television, and to find the best source material to adapt from or the right companies with an eye for excellent entertainment. 
Whether you're a producer, writer or showrunner trying to figure out the best place to pitch a project and negotiate the best deal or buying series, films, and even whole production outfits that can deliver on what your company is missing, both require understanding audience and specific audience demand. Insert Homer Simpson's "D'uh" here. Audience demographics are a crucial part of the equation, but paired with understanding how they're embracing or turning away from specific subgenres is just as important to figuring out what to do next. 
A breakdown of gender and generation demographics across the most popular genres of entertainment demonstrates that certain genres, like comedies tend to over index with women and with audiences over 40.  The same goes for dramas. Recognizing and partnering with independent production companies that curate content for certain audiences aids in devising strategies around why a certain title makes sense to take on, and what platform or distribution avenue would best benefit from that project.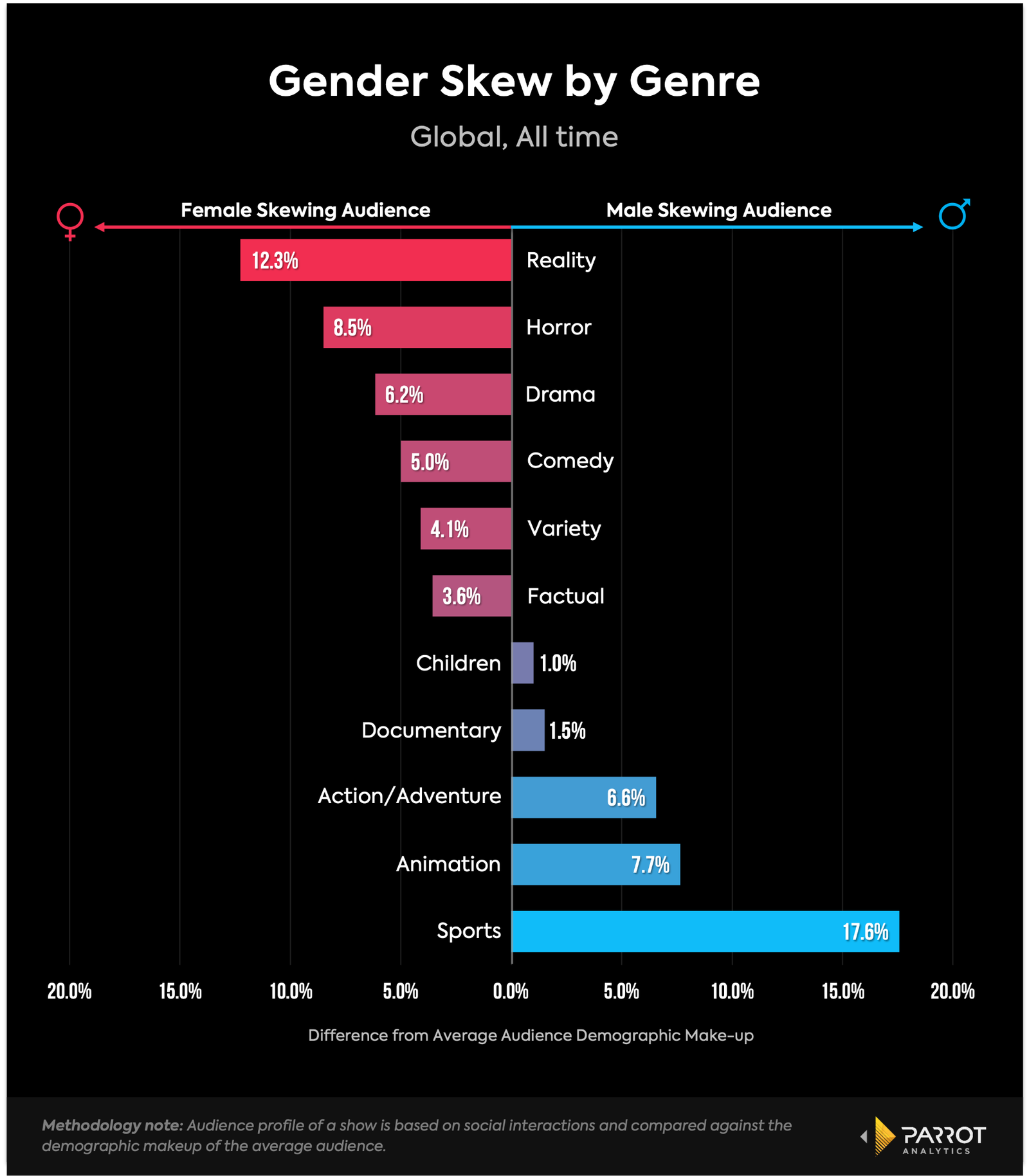 For example, series like The Sex Lives of College Girls, which ran on HBO Max exclusively and hailed from Kaling Productions, was the sixth most in-demand active show on HBO Max, including HBO originals. The value the series added to the platform that needed a younger, female audience outside of HBO's more male oriented demographic is immense, and strengthens the show's position in renewal negotiations.
Kaling International, a production company run by actress Mindy Kaling, is best known for young comedies targeting women. The series her team produces therefore will strongly appeal to platforms trying to grow its young female subscriber base or already hyper specializes in this content. In 2021, Never Have I Ever on Netflix and The Sex Lives of College Girls on HBO Max boasted 16x and 27x the average demand of all other shows globally, putting them in the outstanding category — a figure only 2.7% of shows reach.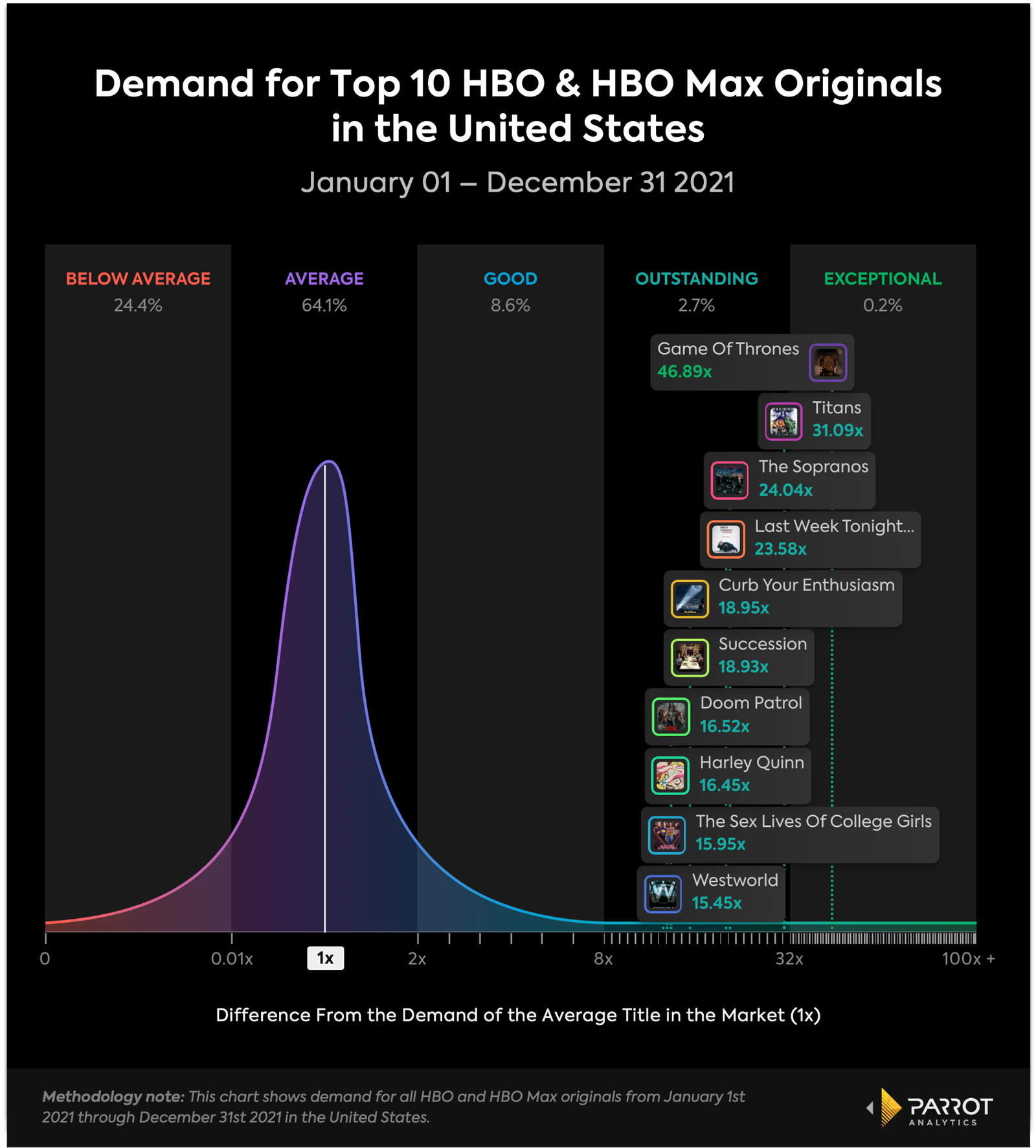 Finding a winning project stems from knowing what audience you want to try and address. What audience is being underserved? What genre has potential but lacks smart investment? With the majority of films in theaters targeted at young men (18-30), and big franchise shows on streaming services like Netflix and Disney+ also skewing male, there's a large underserved audience: young women. Kaling International has become a content powerhouse for every major streamer and broadcaster through a curated, original, young focused-lens that tells stories for audiences looking for more than big, splashy, action. 
A big issue that buyers can run into is assuming that the status quo from a few years ago is still the status quo today. Audience demographics shift all the time as new voices, subgenres, and franchises produce new waves of demand from different groups. 
For example, while horror used to skew toward men, recent analysis from Parrot Analytics discovered that horror now skews toward millennial women. Shifts in the types of films produced, including films like Midsommar, Hereditary, The VVitch, and It Follows helped shift some of the core audience. So did high quality, prestigious television series available on big entertainment platforms like Netflix. 
Mike Flanagan and his Intrepid Pictures production company have narrowed in on a core audience that is hyper engaged with horror/thriller content, and where there is an increased demand for said content. Series like The Haunting of Bly Manor, The Haunting of Hill House, and Midnight Mass provide a type of horror content that wasn't readily available on television before.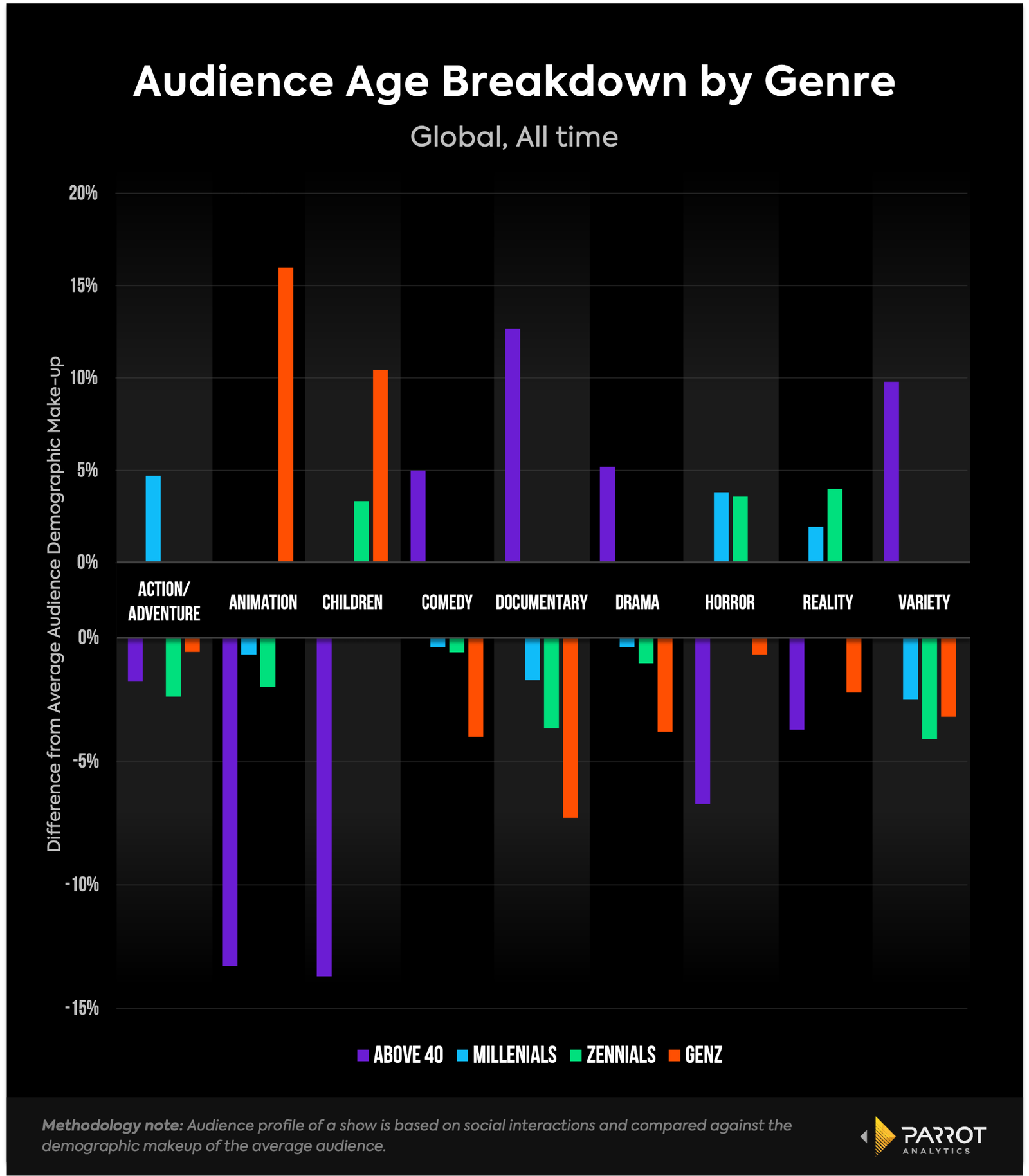 The suite of series that Flanagan produced for Netflix has become a mini-franchise in its own right. Midnight Mass in particular has exceptional longevity, meaning that audiences will return to the series — and likely other Intrepid Pictures titles — again and again. Midnight Mass reaches a level of longevity that only 0.2% of shows globally ever reach. 
International production companies like Siren Pictures, which produced Squid Game in association with Netflix, are also categorized under the same data points since the analysis looks at global gender and generation groupings. Squid Game and Beautiful Vampire (a 2018 horror fantasy movie about a 500-year old vampire who develops a relationship with a young man) both appeal to young, slightly more female demographics, although there's certainly inherent interest from men as well. 
As South Korean content, especially TV series, sees total average demand increase, the value of studios like Siren Pictures that can create content people are seeking out will also rise.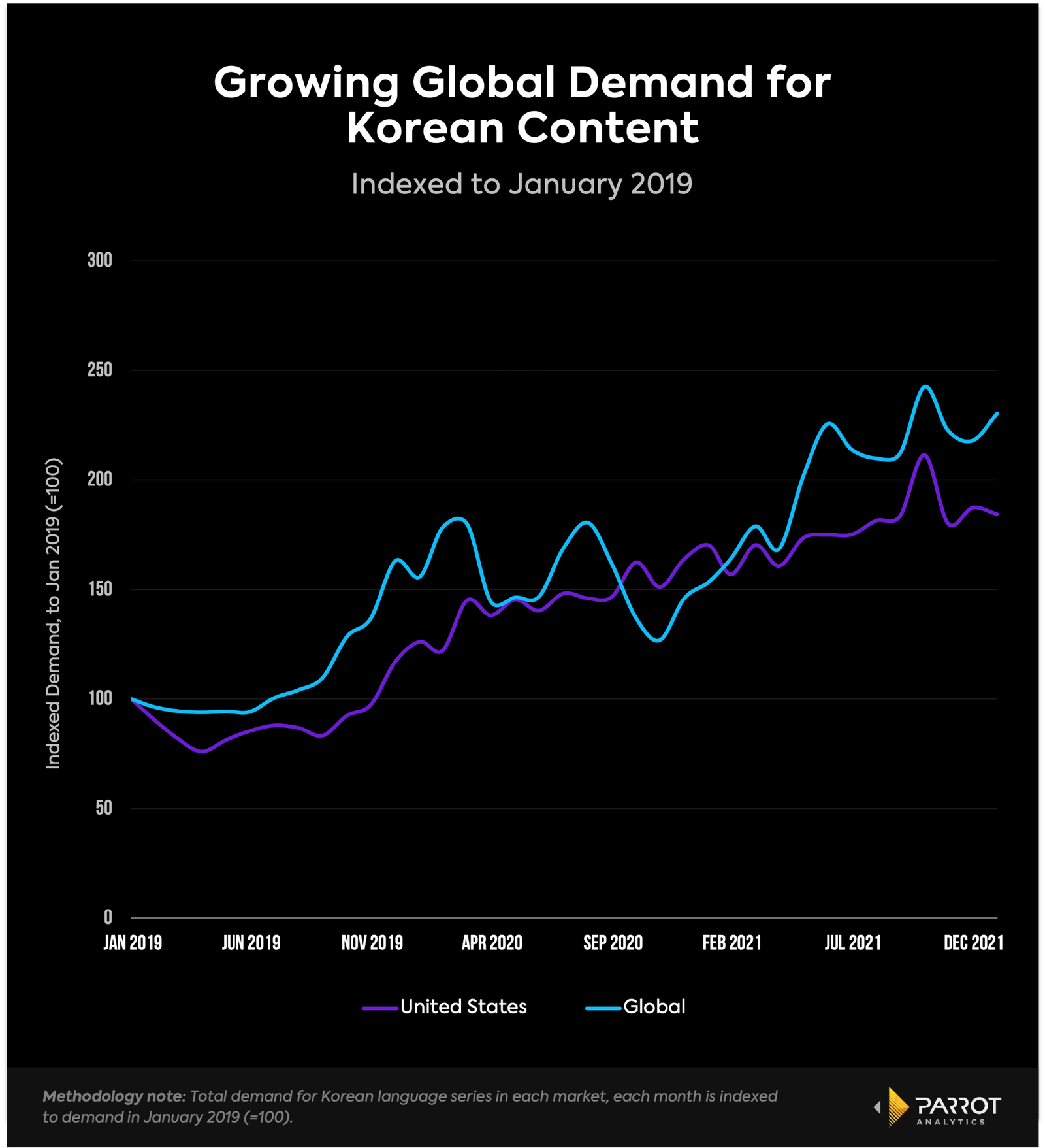 A big part of the unanswered equation is young men. What skews the most heavily toward that audience? Genres like action adventure and animation skew the most heavily Gen Z and male, over indexing other generations by 6x and 8x the baseline respectively. 
Companies like Pierrot, and its subsidy Studio Signpost, are a couple of the most celebrated anime studios in Japan. Anime has seen a substantial growth in the global market over the last decade, especially over the last five years, globally. There's a concentrated increase in demand in the US market, specifically. Companies like Sony are trying to dominate that increased demand, bringing together Funimation (a top tier anime studio and distributor) with Crunchyroll (a niche SVOD product) to give a growing base of subscribers the best anime possible. 
A specific type of anime that has become increasingly popular stateside is Shonen, which often targets young teen boys. In the same vein as the Marvel Cinematic Universe, the grand, adventurous tales star young men in heroic roles taking on dangerous enemies and mythical beasts. In 2021, two series — Attack on Titan and My Hero Academia — appeared in the Top 10 global TV list, with Attack on Titan being crowned the most in-demand series of the year. 
Anime skews heavily more male, as do the more popular series. This affects what type of merchandise and apparel is more likely to sell on digital retailers and in shops like Walmart or Hot Topic. It affects spinoffs that fans are more likely to tune into, or what type of theatrical release people will head out to see. Demon Slayer was the 13th most in-demand series globally in 2021. It also reached $428 million at the box office in May 2021, making it the highest grossing anime film ever. Audiences heading to theaters in 2021 were majority male, in-between the ages of 18 and 34 – the same group as anime fans.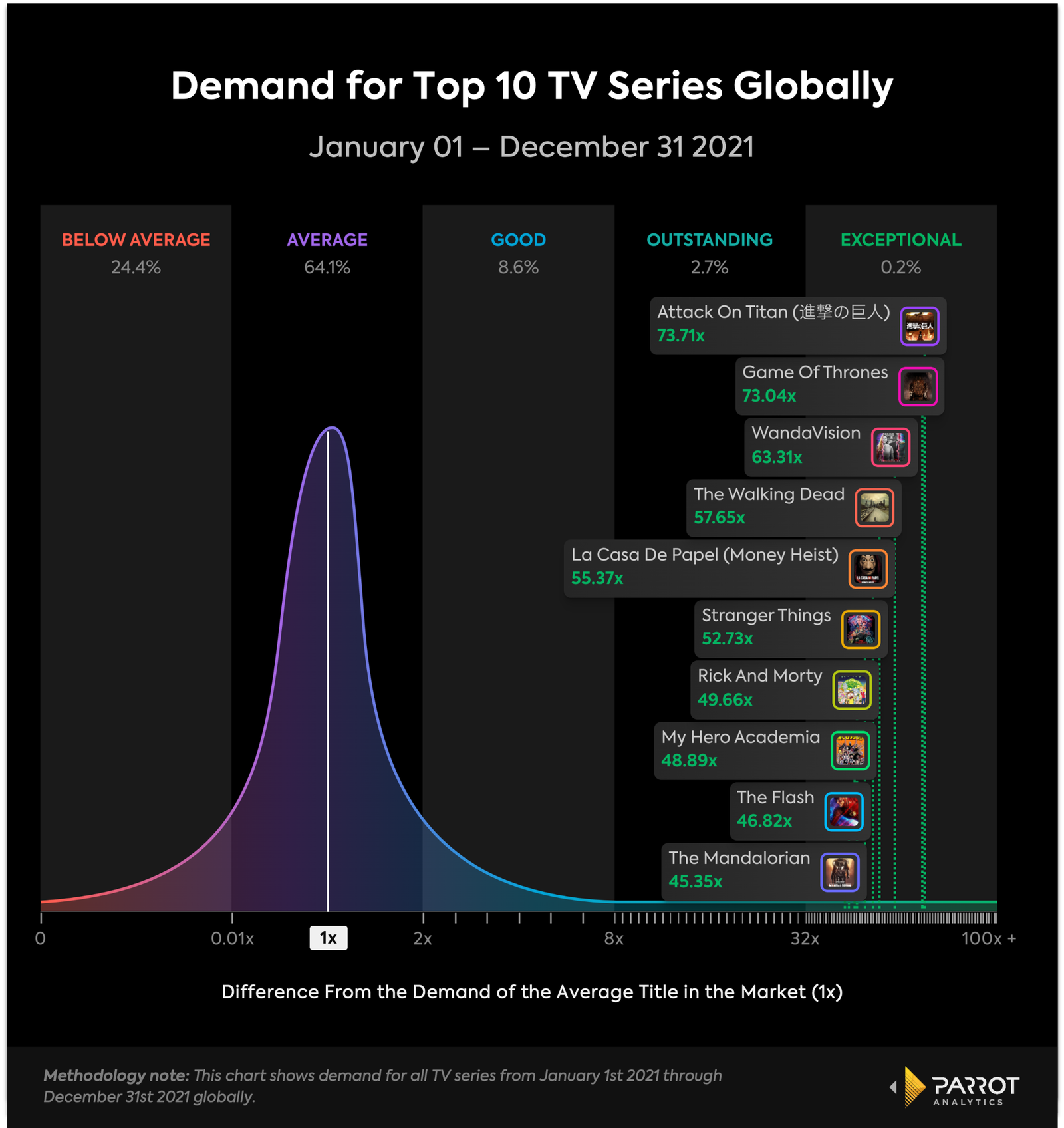 Once buyers have a thorough understanding of what type of content they need, either to sell to another party or for their own OTT platform, audience demographics aid in deciding what to purchase. An expression I like to use is, "There's no point in buying 10 Star Wars-like shows when audiences are being fed enough actual Star Wars series." Content spend isn't just throwing billions at various projects that might appeal to an audience. It's determining what audience you want to serve and using data to help make million dollar decisions. 
Data is just one part of the puzzle. Bets are still placed; Squid Game was a bet. As was Haunting of Bly Manor and Never Have I Ever. There is empirical data, however, that supports there is inherent demand for these types of series and homes that are better suited for one series over another. Netflix has plenty of teen romcoms that satisfy its audience looking for that type of content; but HBO Max had very little. For a producer like Mindy Kaling, there's ample opportunity to bring a similar project to Never Have I Ever — like Sex Lives of College Girls — to HBO Max and see the success of being one of the few teen girl oriented series on the platform.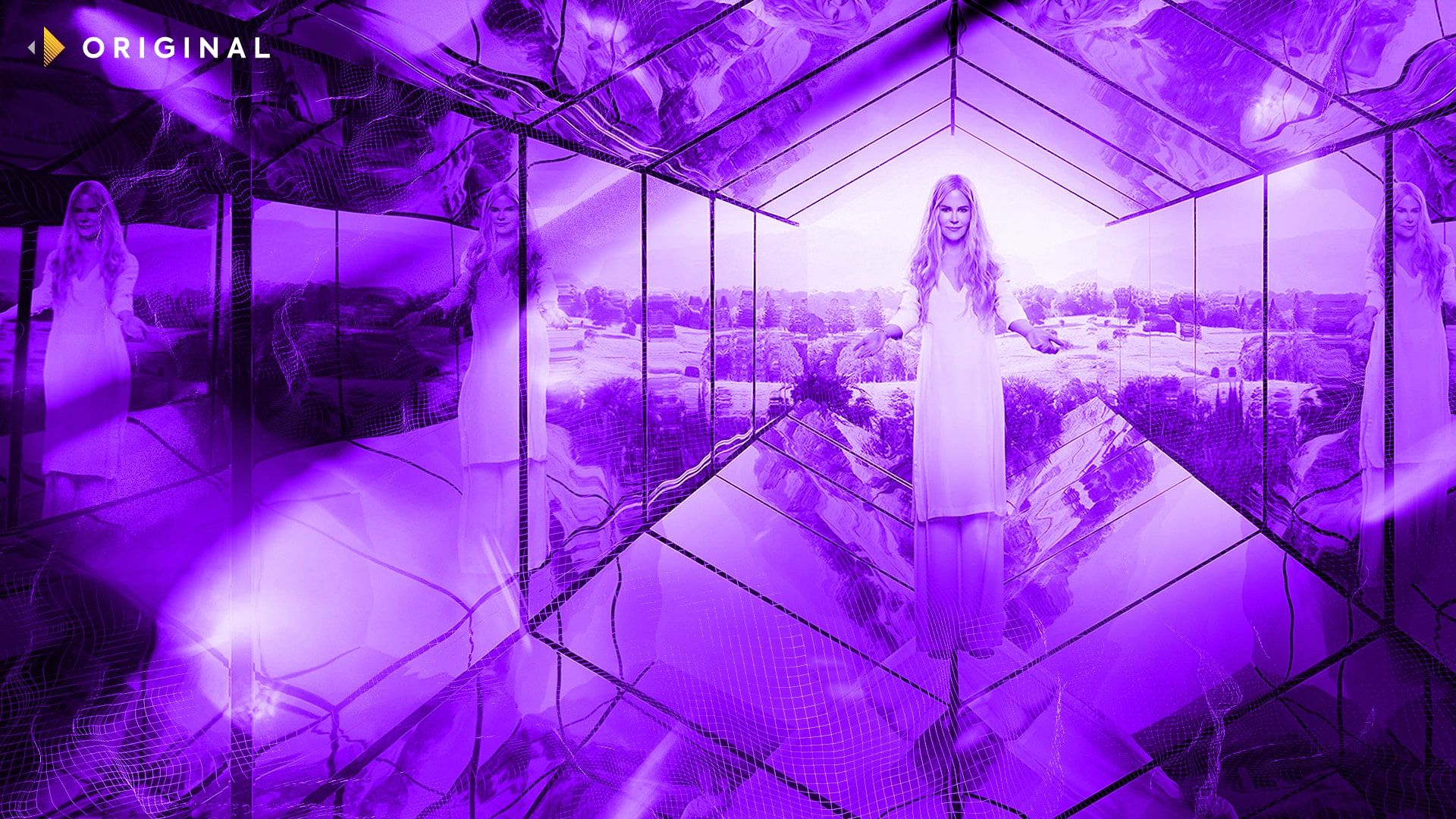 Knowing When and What To Adapt
Another necessary part of the buying equation comes in the form of sifting through a never ending sea of potential adaptations that come in. Whether it's the latest novel from the next potential high profile author, an independent comic book published by a celebrated company, or a web comic that has captured the attention of millions online, there's always something that could be the next big hit. 
There's also just as strong a possibility that nothing will come of it. Another series destined to run for a season or two (possibly even just for a few episodes during pilot season) before being lost to the abyss. Three immediate points jump out from the chart below, which looks at the share of demand for genres and subsequent subgenres against the share of supply for those series. 
Adaptations based on superhero comics have the highest share of demand, and the highest share of supply. 

Dramas based on comic books that don't fall into the action and adventure category have a higher demand share than the current supply share. 

Animated series based on comic books have a higher supply share than demand share. 

Finally, horror and comedy adaptations based on comic books are about equal when it comes to demand share and supply share, with slightly more room for horror to grow.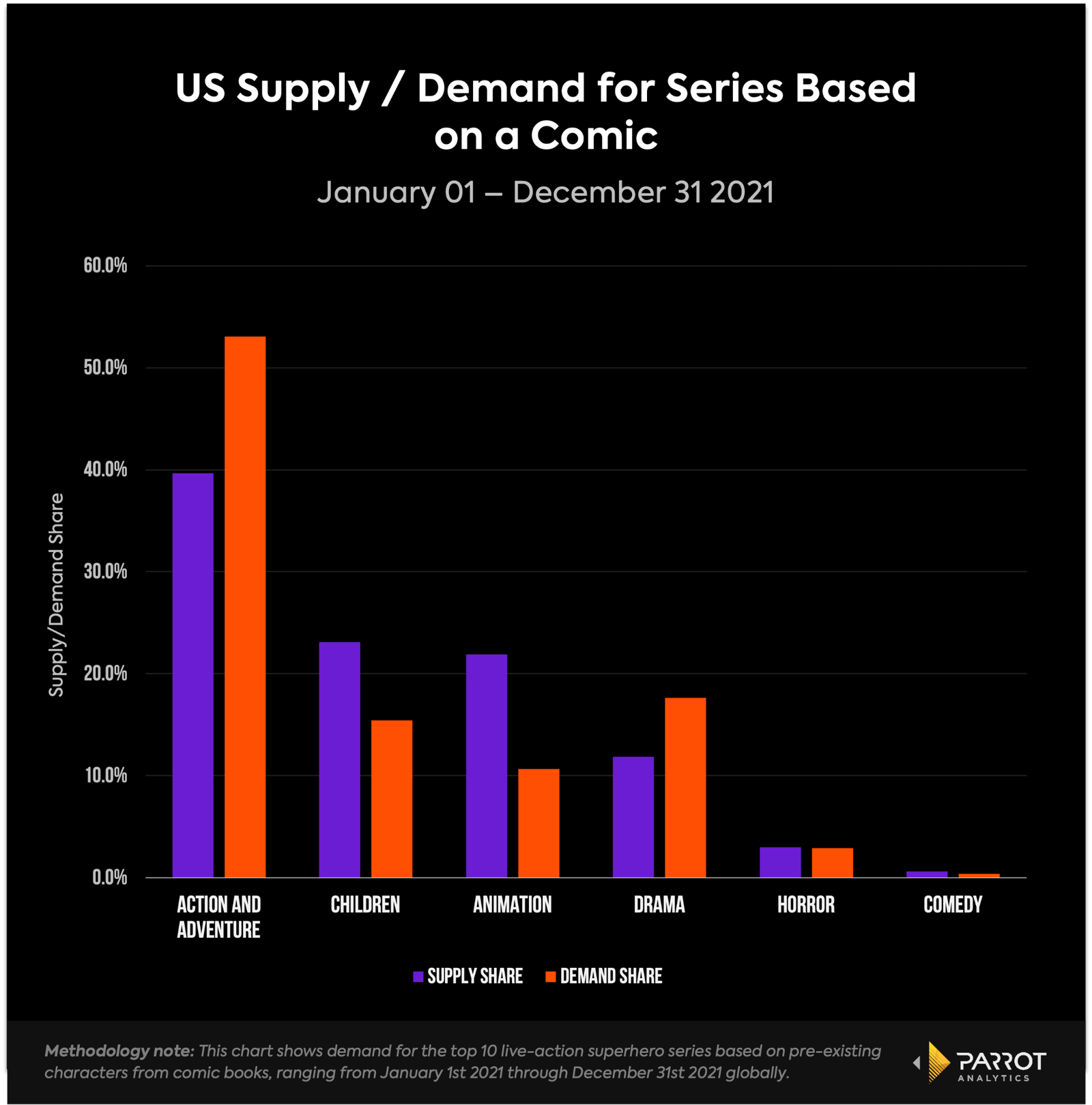 This doesn't exactly translate to, "Make less cartoons and more action series based on comic books." There are asterisks. Cartoons like Teen Titans GO!, Young Justice, and DuckTales boast outstanding demand in the United States when compared to all other TV shows. Since these are ongoing series with an active audience and new content to consume, this makes sense. Series like X-Men: The Animated Series have less demand, but it's still good. And Disney is hoping to revitalize the fanbase (including new fans) with a fresh series.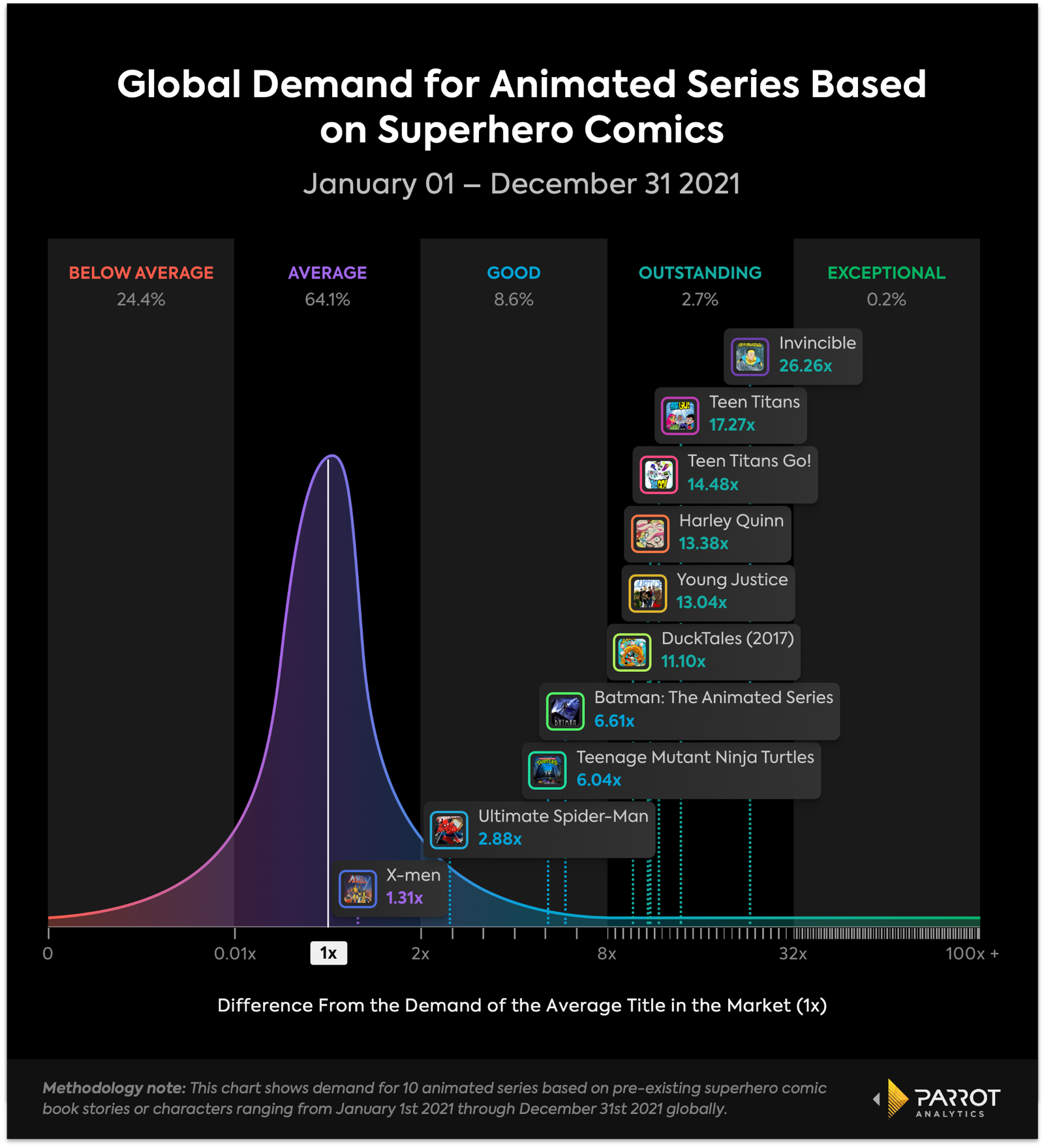 However, if there's strong demand for apocalyptic dramas based on comics books, as seen in our findings, but not enough supply to satiate the demand, that's simple economics. Apocalyptic dramas based on comic books is an area that could yield higher investment and have room to grow into the audience demand. 
If superheroes are the norm and, therefore, where so much of the investment is going, where is there room to branch out and try to dominate a growing but under supported subgenre? Based on our findings, which we'll get into below, there is inherent demand for stories set within worlds of:
Dramas, including specific subsets like apocalyptic and mystery dramas 

Comedies, including adult, horror, and animated comedies

Horror, including series that subvert the genre and open it up to a wider audience
Before going forward, we have to redefine what a superhero series is. The Flash and The Boys are both superhero series, but they're vastly different. That's the point. The Boys is a violent, adult satire about superheroes that could easily slide into horror comedy. Its ability to subvert the genre while creating something completely different than what audiences have expected out of a superhero show, creates a new demand for a specific type of content. HBO Max's Peacemaker is another example.
Both Peacemaker and The Boys were in the Top 10 superhero shows globally over the last 90 days — an impressive feat considering The Boys hasn't released any new episodes from the main series in a year, but produced an animated comedy off-shoot that has helped drive recent demand and keep the franchise active.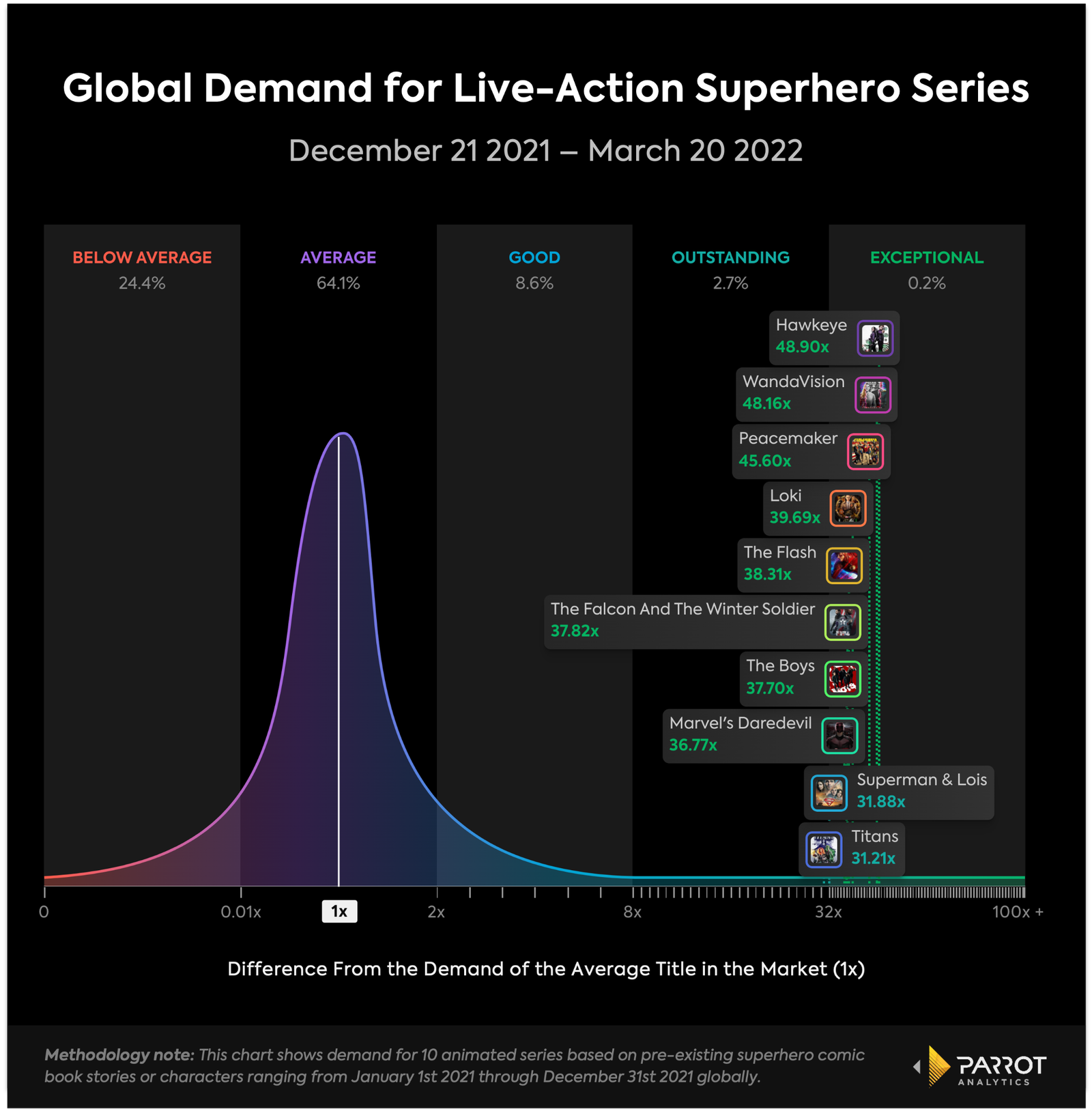 A few of the other shows on here also aren't traditional superhero series. WandaVision is a dark comedy, and Loki is effectively a classic time heist. They star some of Marvel's most popular superheroes, but they've moved away from the more formulaic format. It's a big reason why those shows succeed on their own merit compared to Jupiter Ascending, which tried to be a traditional superhero show and flailed upon release. 
Similarly, there is increased demand but not enough supply for high teen series based on comic books. Shows like Umbrella Academy and I Am Not Okay With This are some examples of Netflix finding success and continued experimentation within the genre. We know that drama skews female, and teen series especially skew young female. But sci-fi and action bring in a male crowd. A series like Umbrella Academy serves multiple audiences, increasing the likelihood of generating a bigger viewership. 
We can apply the same formula by looking at novels. There are plenty of novels to choose to adapt, and studios have in-house teams dedicated to sifting through lists of novels that have rights up for optioning — but not every story format is going to work for specific audiences. Creating just for the sake of creating, or scaling content just for the sake of scaling content, doesn't solve a problem. It only creates new ones. 
Unsurprisingly, the highest demand for series based on a novel are grouped under drama. But within that very, very large grouping, there are some key takeaways. The supply share for historical, period, and romantic drama outpaces the demand share for each category. This means there's limited room for growth in these specific adaptation areas. There's already a number of series competing for diminished attention, and period or historical dramas can become costly — quick. 
Similarly, it's unsurprising that sci-fi and action/fantasy have higher demand share than supply share. Sci-fi and fantasy series routinely top the average demand rankings. The issue is the cost of those series. Sci-fi and fantasy action can cost north of $100 million to produce depending on the company, franchise, and importance. It's not feasible for many production companies to focus on expensive action/fantasy or sci-fi series, and bigger companies that buy and produce series need a wide array of content to appeal to the widest possible customer base — meaning there's still limited budget for expensive sci-fi or action/fantasy series.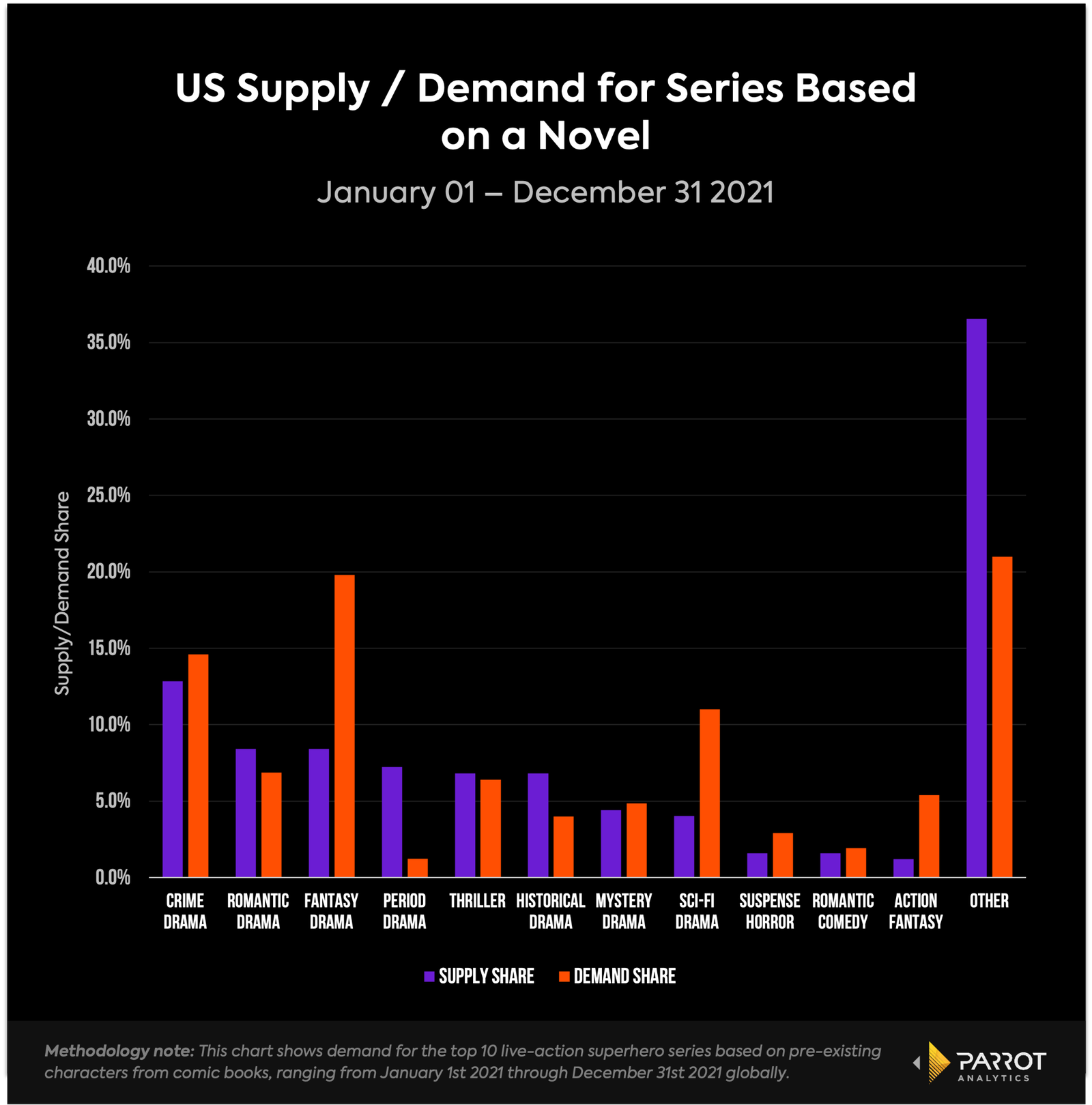 By the end of 2021, action and fantasy made up a combined 19.5% of the total demand market share for specific genres, as seen below. This is ahead of comedy and just under drama. But action fantasy stories aren't as widely supplied as dramas and comedies. One obvious reason is cost. The production cost of making a show like Game of Thrones or See is much higher than the cost of making Ted Lasso or Law and Order. 
Plus, as everyone tries to find the next big hit — Amazon is producing a $500M Lord of the Rings series, HBO is spending tens of millions on House of the Dragon, and Disney is spending hundreds of millions on its Marvel Studios television universe — the market feels tough to compete in, especially when sinking an exuberant amount of cash.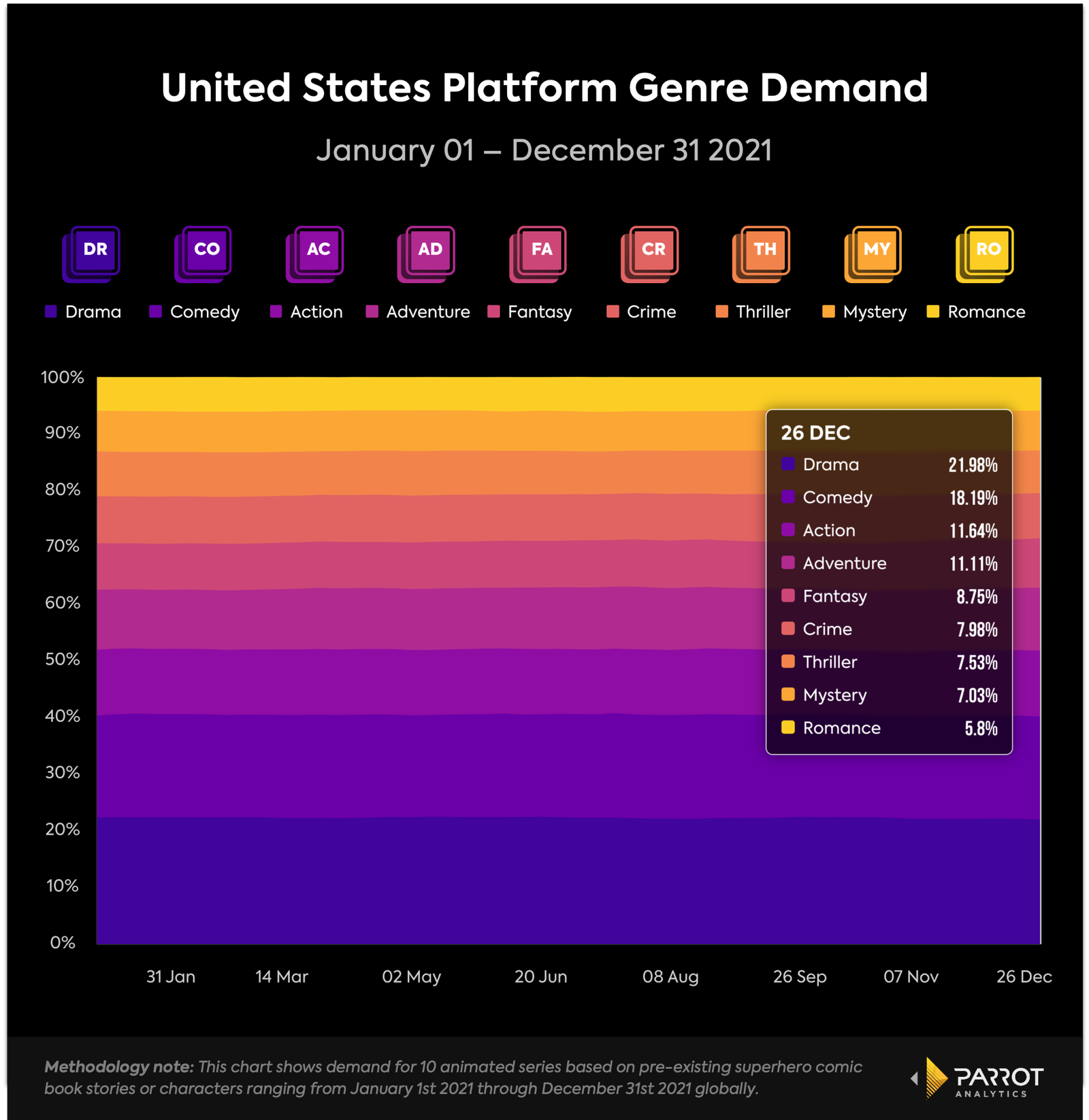 Finding ways to bridge the gap between action/fantasy and sci-fi with areas that have less costs and have room to grow. The question we're left with is where there's room for solid investment with safer assurance of return that doesn't come with consistently breaking the bank. With the above data, and similar to the comic book adaptation chart, we can pick out some areas where there is room for strong investment. 
Teen Drama

Romantic comedy

Suspense horror
Thinking about bridging the gap and finding room to invest, something like a teen-oriented drama that has genre undertones — popular within the young adult fiction world, popular on TikTok, and popular on platforms like Wattpad that has seen successful adaptations come from original works — leads us to shows like The Vampire Diaries.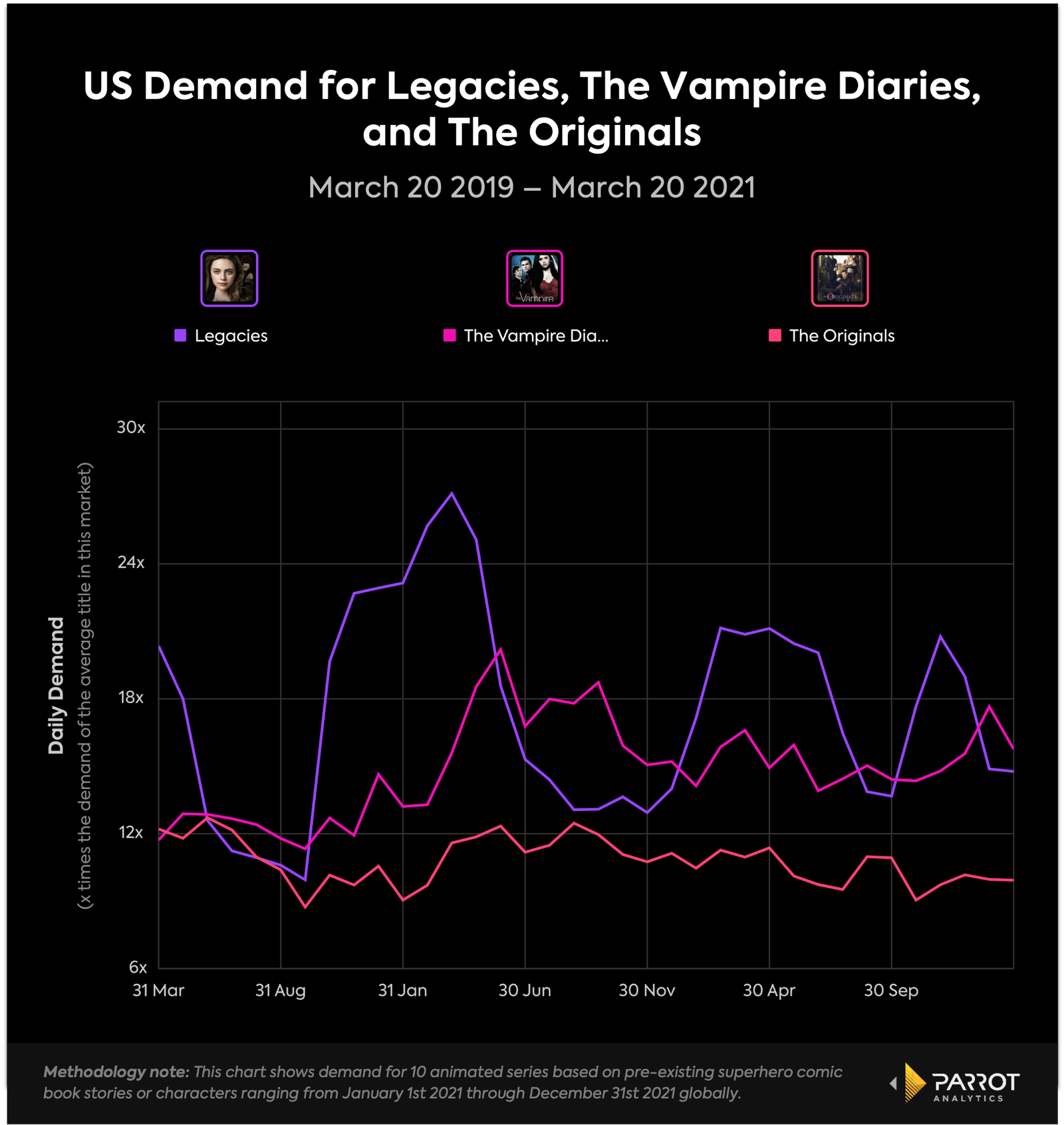 The CW's Vampire Diaries universe is one of the most in-demand action fantasy teen shows. With a popular spinoff and high demand rankings (The Vampire Diaries was the 140th most in-demand series globally over the last three years despite ending in 2017, and Legacies was the 95th most in-demand series), The Vampire Diaries has become an example in what a limited budget but right source material and audience awareness can accomplish. 
Now, for every Vampire Diaries there are a number of vampire stories that didn't work. There's never a guarantee. Being able to detect a good show from a bad one comes from a gut read over the script, the cast, and the direction. Hollywood is still a creative-first industry. The data presented above simply points to areas where there is more likely to be long interest runways for years to come, so that demand doesn't falter as supply increases. 
And, again, this doesn't mean that mystery, crime, and drama adaptations aren't going to stop. There's still so much demand for those types of series, and they work. The question is where there's an underserved audience that could benefit from stronger investment, and where the longevity play has room to grow. Niche networks like Shudder are growing, as well as demand for horror in general. Those main audiences are underserved by a market that doesn't produce consistently on the horror series side, and only sporadically releases a handful of horror movies a year theatrically. Streaming has led to a small influx in horror/suspense TV and films, but there's still room for growth — especially in the adaptation space. 
Euphoria was an out of the box decision for HBO, a network whose audience is predominantly male and older. It was because of that reason, however, that content chief Casey Bloys decided to invest in HBO's first true teen series. Starring Zendaya (one of the most in-demand talents in the world), the series has become HBO's most in-demand series over the last 30 days, topping series like Game of Thrones, Last Week with John Oliver, and Succession. Since there's room to grow in teen dramas, and with the backing of HBO and smart casting, Euphoria has become one of television's biggest hits. 
Teens, in general, are some of the hungriest content consumers, engaging with content and the most likely to participate in flywheel strategic efforts (like merchandising and  live experiences). Those over the age of 40 (and especially post-50) are more likely to unsubscribe from a streaming platform, putting them in a high risk category and a crucial group to program around. This requires different types of investments, but the four aforementioned underinvested areas where there's room to grow — suspense/horror, action/fantasy, and teen drama — can help fill in the gaps alongside continued investment in broader dramas and comedies.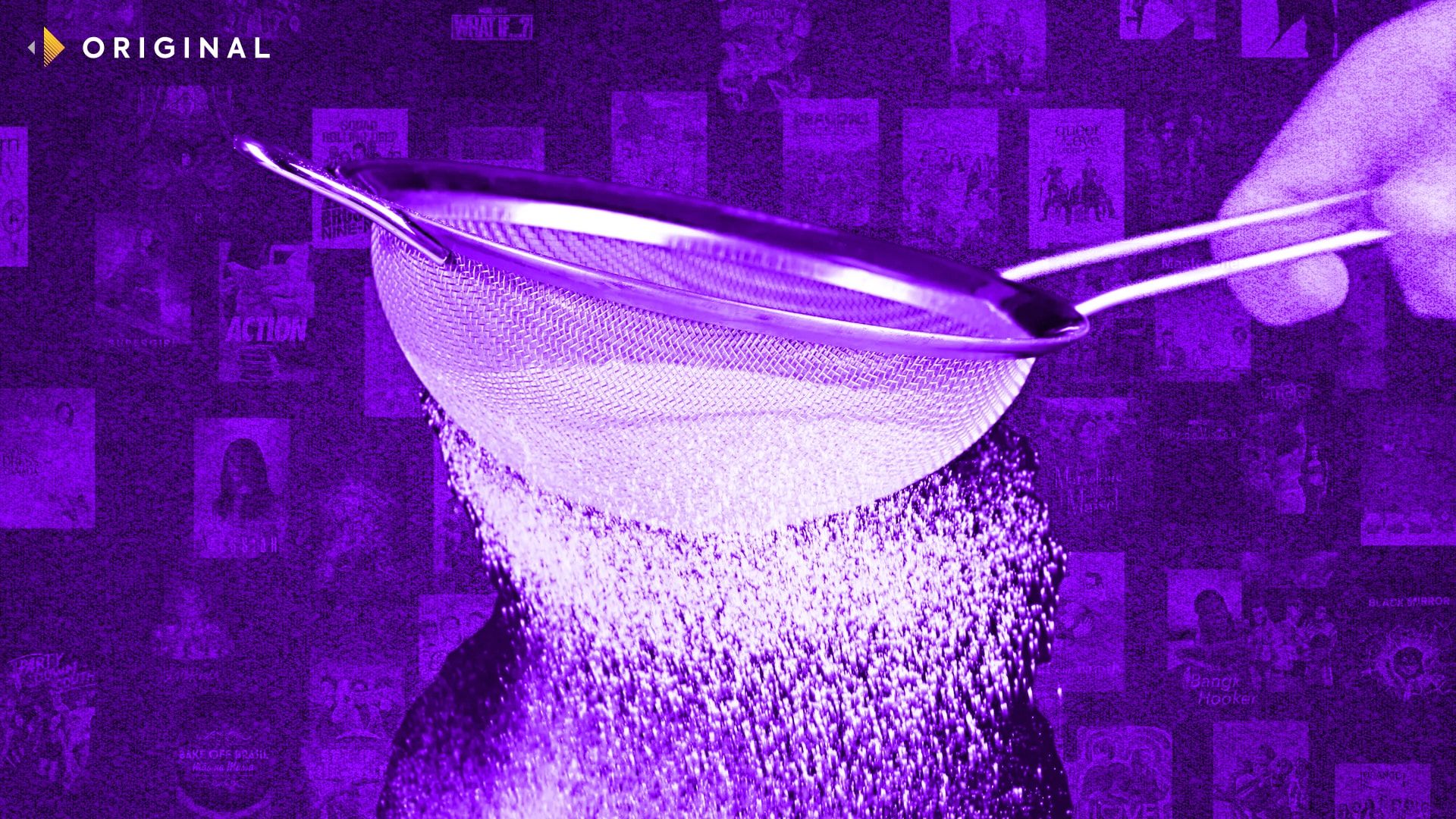 To Remember…
It's not worth trying to make a Star Wars like-show when Star Wars exists. 
It's a philosophy that I keep in mind when thinking about where to allocate budget. Since this did well, there's pressure to do something just like it and try to find the same audience. That's a surefire way to make mostly average, forgettable television or films the majority of the time. There are 10 Hunger Games or Twilight type titles that audiences are less likely to seek out or obsess over as much because that need is met. 
Not everything is predicted by data. Not everything is explained by data. Instead, data is the best tool to help guide. It's what helps illuminate what audiences aren't asking for, but are absolutely looking for when they pick out a new show to watch or platform to subscribe to. 
Anyway, this isn't a sales pitch. I'm not trying to sell people reading this, who spend their days looking at data, that data is important. My goal with this newsletter is to help illustrate questions that we may not even know to ask yet, and strategic efforts teams can take to answer those questions and figure out the next step. That's it. 
Look, we're all trying to figure this out. None of us have all of the answers. And anyone who says they do is lying. But there are some questions that need answering, and some insights that can illuminate this Wild West we're trying to make sense of. That's what the newsletter is. I look forward to us all figuring it out, together, in the months and years to come. 
---