When the streaming revolution began, so did unbundling. Cable bundles were bloated. Customers in the United States were spending an exuberant amount of money for hundreds of channels that they didn't want. 
Streaming meant change. Netflix bundled different movies and TV shows, and for $10 a month, subscribers got access to a plethora of content and didn't have to deal with pesky ads. This was a great option while Netflix was the only major player. Major studios and networks licensed their programming to Netflix because they could command high licensing fees, and the streamer grew in the process. 
With rapid consolidation in the space and efforts to create critical mass to convert potential customers or trial subscribers into ongoing paying members, the bundling has returned — but the role of each individual component to a bundle has changed. Bloating an offering like cable packages became infamous for won't work in the DTC space where subscription decisions aren't just based on the quantity of options but consistent access to a selection of favorite shows and franchises. 
Take the Disney+ bundle. Disney+ caters to families and the biggest fans of core franchises like Star Wars and Marvel; ESPN+ appeals to niche sports super fans. It's currently additive to the main cable channel, designed to offer a subsection of consumers who want to watch a wider variety of sports (UFC, various soccer leagues, rugby) on top of their main ESPN package. Hulu is the general entertainment platform that is increasingly becoming a premium entertainment cornerstone through FX and Hulu original programming — but through smart exclusive and non-exclusive licensing, its also home to someone's favorite show that keeps them subscribed. Essayist and strategist Ben Thompson once referred to this as different parts performing different jobs. 
Affinity for a title — and affinity for a series of titles across a couple of different streaming options — can give companies the ability to create bundle packages that take on different roles and achieve different goals for large swaths of subscribers while ensuring it feels like a curated experience instead of feeling bloated. 
There are three different type of bundles that exist today outside of traditional cable packages:
Scale Play 

Ecosystem Driver 

Cross-pollinate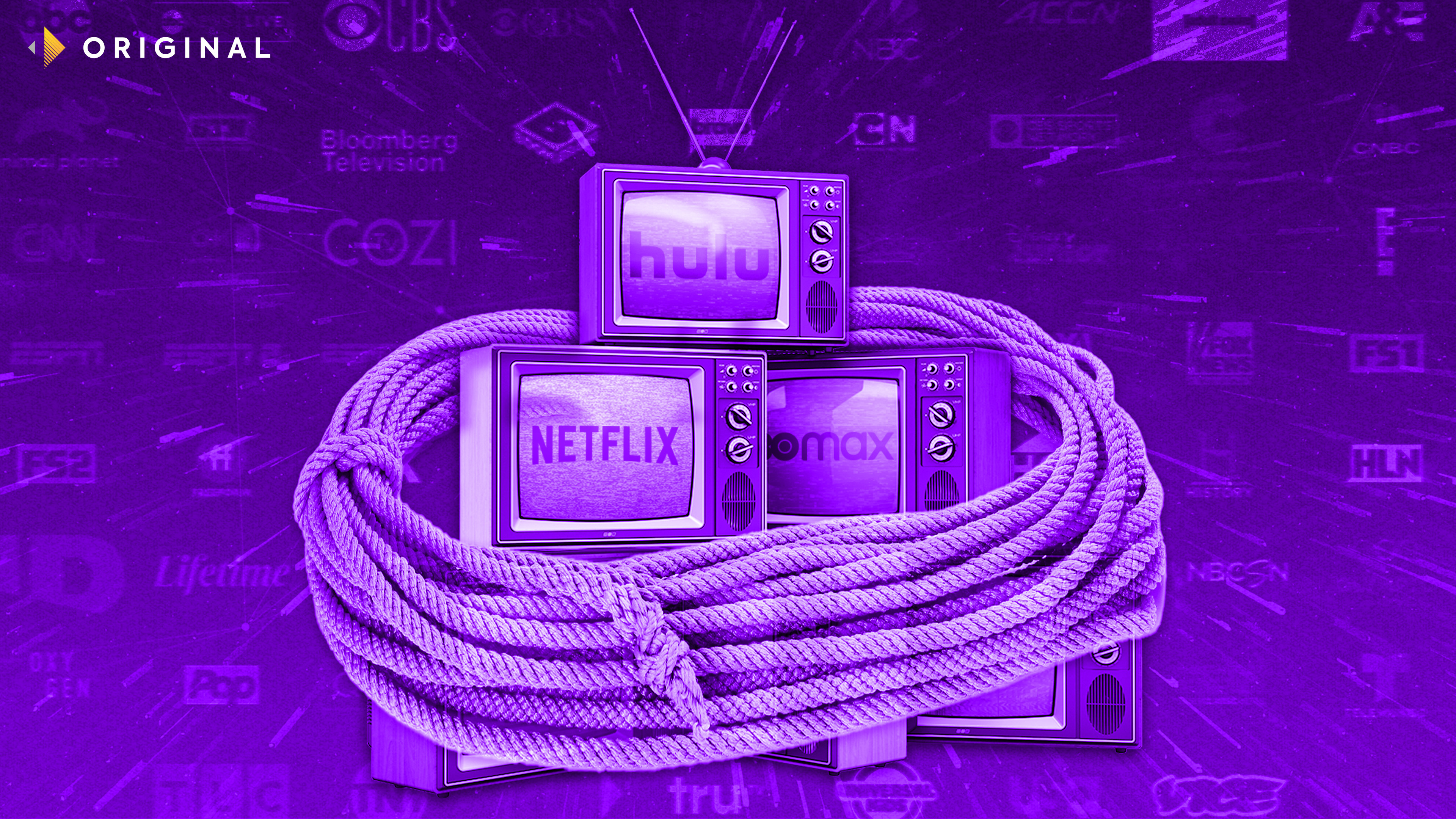 Scale Play
Bundling is a game of complementary. What's something that can bring additional value to a core proposition, therefore creating a new proposition, but doesn't devalue the original product? What provides total complementary value for a wider group of consumers and creates an even more undeniable product? 
In a scale play, complementary moves come from identifying weaknesses and building around those weaknesses to ensure each arm is doing its job. It's a way to make the perceived value of a product suite better than the perceived value of only having one or the other; for just a few dollars more, you're actually saving. It's not true, but if customers are already going to buy into two of three services, it's a way to reduce churn across the board. Churn rates are also helped by bundling, according to Disney CEO Bob Chapek.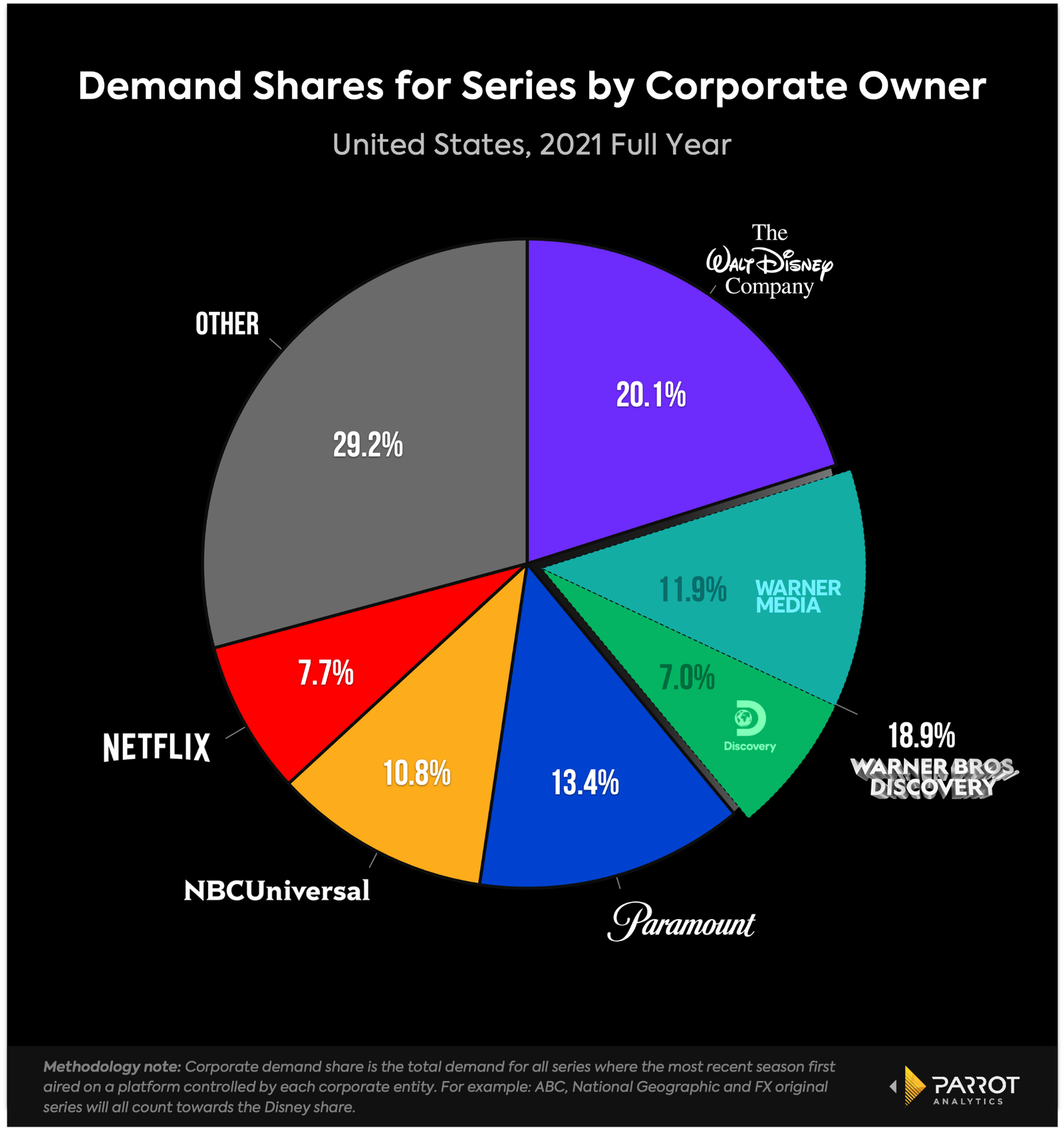 For WarnerMedia and Discovery, the initial bundle is a stepping stone. It's a path to better understand customer demand across the company's entire suite, analyze the right price point for a unified product, build the right tech platform, and determine how to best use the exponential influx in content that's suddenly available without making everything feel bloated. Using Warner Bros. Discovery and its initial bundle — recognizing that the end goal is to have a unified platform (more on that in a bit) — what lessons can others looking to find strategic partners find to help create scalable bundles for their own offerings? 
Everything starts with audience. About 70% of the demand for Discovery+'s programming is reality, with another 24% of its content demand falling under documentary. The same types of content only account for a combined 9.3% of the demand for HBO Max's entire platform share by genre. Conversely, HBO Max's collection of dramas, comedies, animation, action/adventure, and children's series makes up nearly 90% of the audience demand for its entire catalog — and represents genres that are effectively non-existent on Discovery+.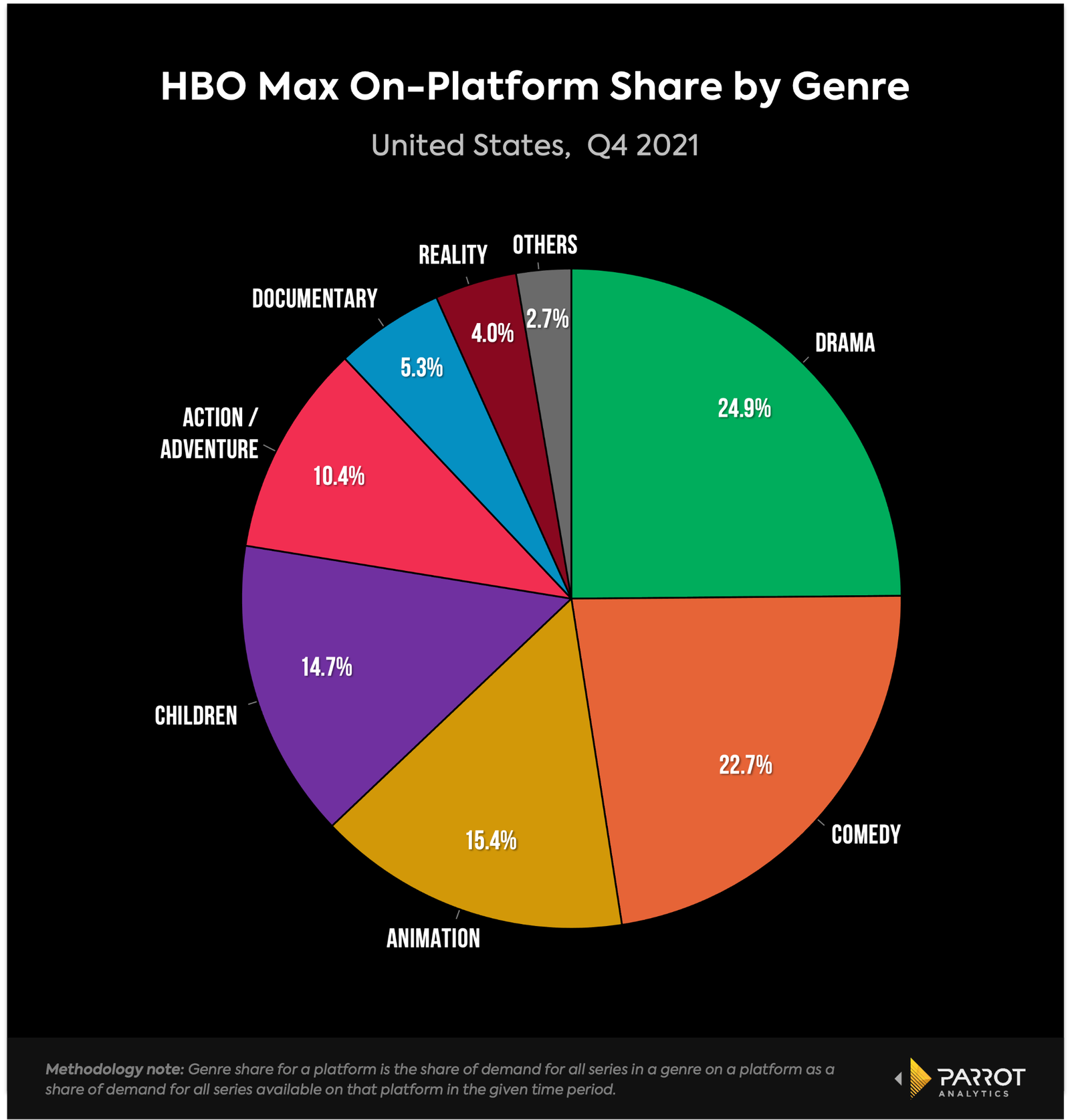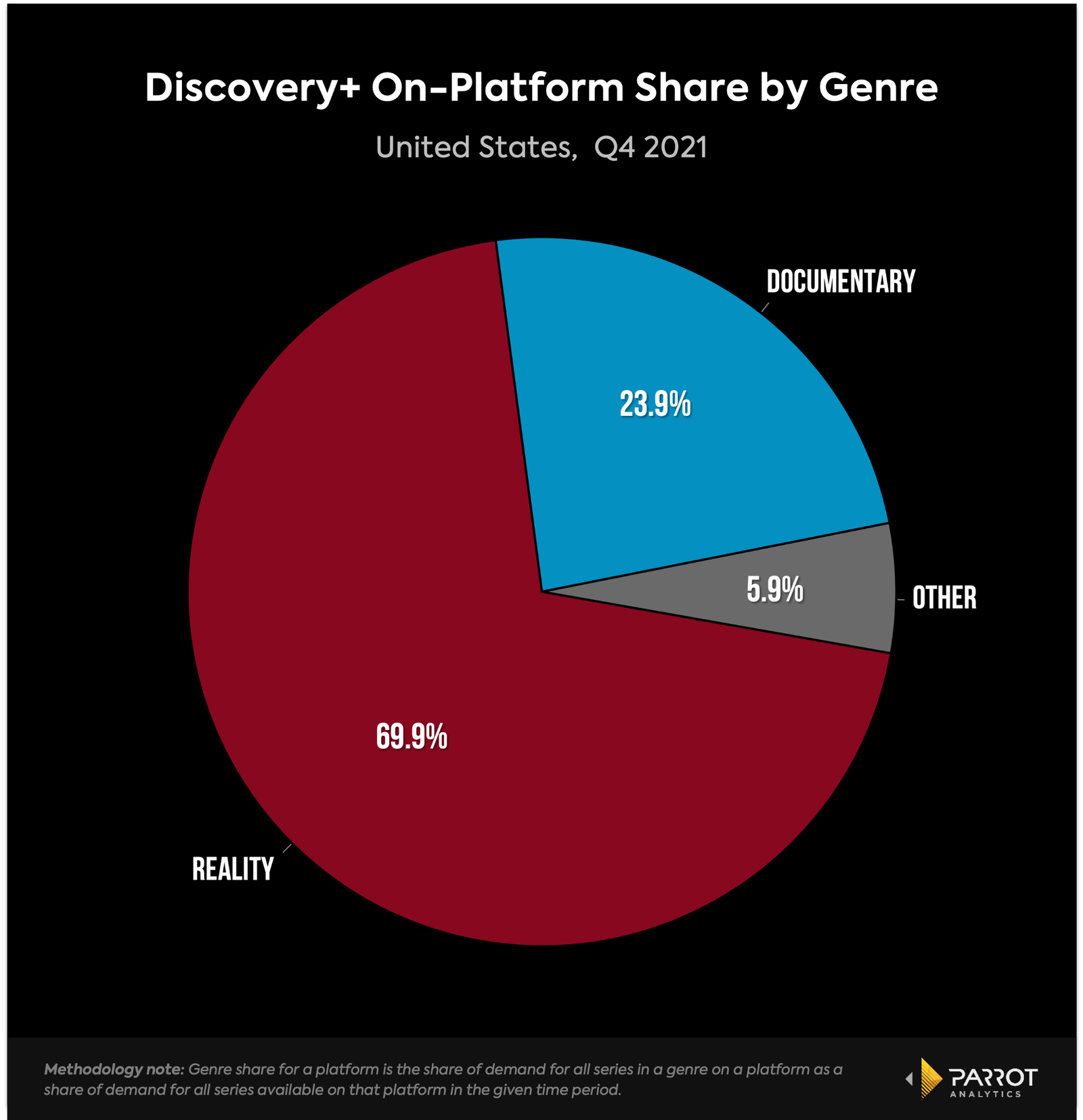 Further analysis of HBO Max and Discovery+'s audiences also show that despite both having documentary and reality programming, the audiences actually skew differently. On HBO Max, documentary programming skews much more female compared to Discovery+ where the breakdown in documentary programming is much more equal between men and women. Similarly, where drama on Discovery+ skews much more female, it's a much narrower gap on HBO Max where there's more variety.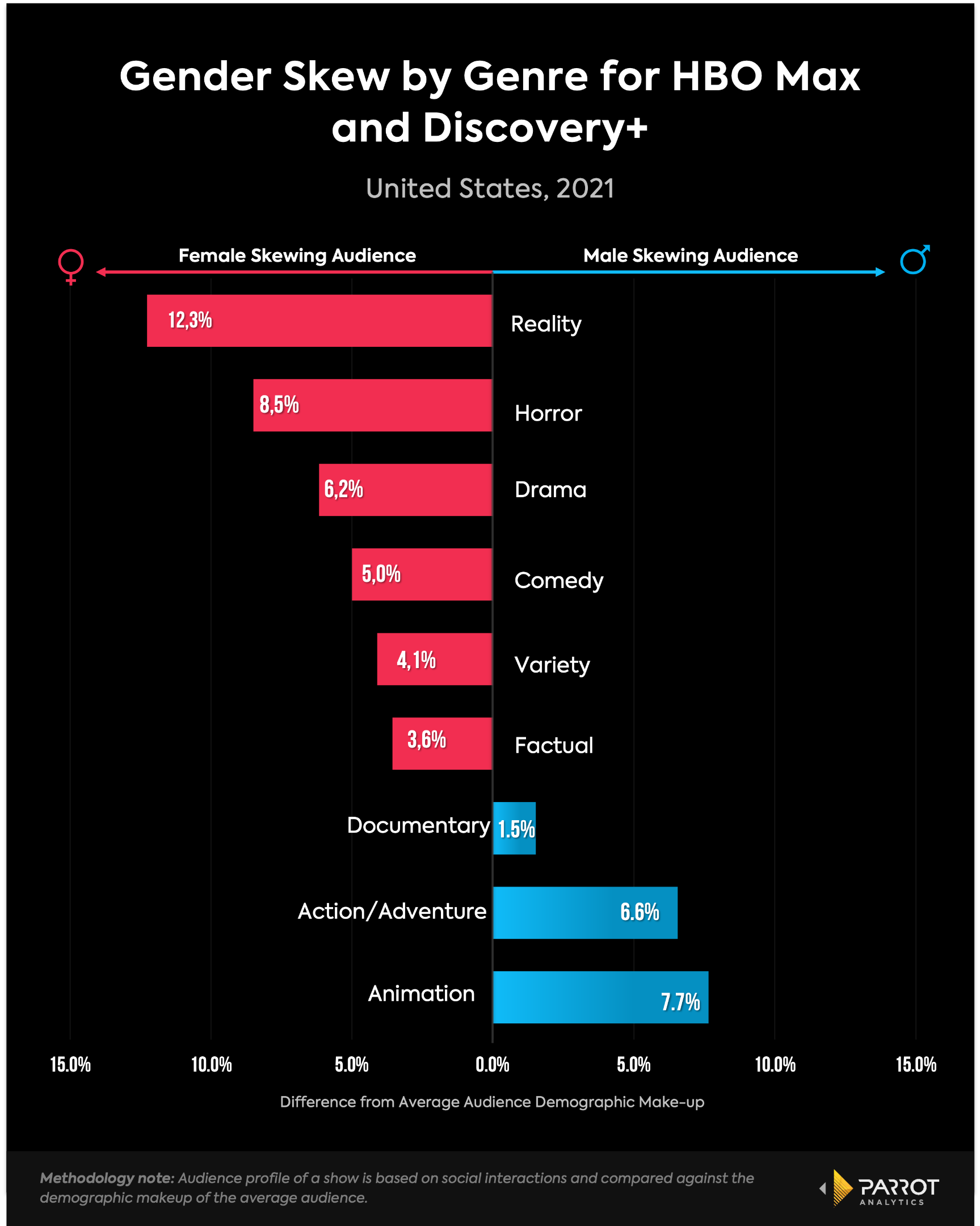 Bundling often helps create a proper four quadrant service package through complementary programming faster than trying to build it out on one singular platform. The vast majority of viewers tuning into documentary and reality programming on Discovery+, the two genres that make up close to 95% of its entire on-platform demand share, are within the Above 40 and Millennial age groups. Dramas and Comedies, which make up close to 50% of HBO Max's on-platform demand share, are made up of "Zenials," or the age group between 22 and 28. Reality programming on HBO Max also skews younger than Discovery+.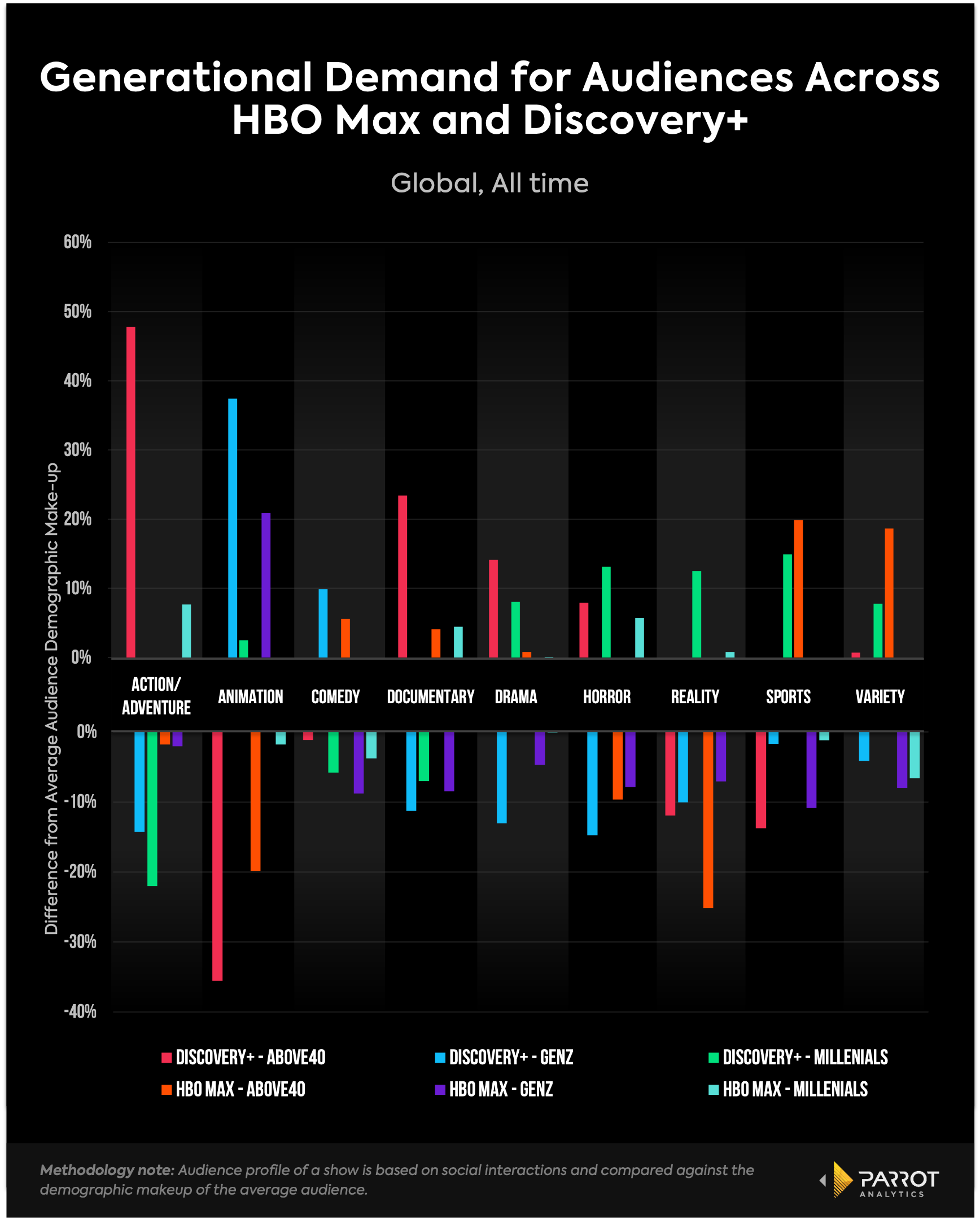 Using the overarching idea of assigning different roles to each part of a bundle, tasked with achieving different goals for various customer bases, where else could the same strategy work? Looking outside of same-owned companies, strategic third party bundle options to create a scale play can help create the critical demand mass needed to convert potential customers and trial subscribers. For example, Apple TV+ and a general entertainment service like Peacock. 
Whereas Peacock has a strong catalog demand, currently playing the role of host to some subscribers' favorite shows and franchises (like The Office or The Real Housewives), it's missing strength in the originals department. Apple TV+ doesn't have a catalog, but is showing increased strength each quarter with its originals, including Ted Lasso, Severance, The Morning Show, and more. The role of a catalog is to keep subscribers happy, engaged, and paying, but the role of high power originals is to acquire new customers (on top of serving those already on the platform). This is especially true during an early growth stage. 
If there's a player in the space who's consistently good at one aspect (creating consistent in-demand originals) but not the other (a lack of catalog results in industry high churn rates of about 15% for Apple TV+), finding a partner that can help solve those pains without being super competitive is key. Apple TV+ and Peacock are complementary services to one another, and offering customers access to in-demand originals and an in-demand catalog content for a slightly increased price that's on par with the rest of the industry at around $15 for an average subscription. 
By leveraging different types of demand across different consumer groups, and offering slightly discounted pricing across multiple services, the scale play can create additional value for every product by introducing customers to services they may not have signed up for otherwise. 
Here's the but…
Earlier I mentioned this is a stepping stone for Discovery, whose chief financial officer has already stated the goal is to fold everything into one platform. This makes sense when considering the role each individual arm is trying to accomplish, and examining WarnerMedia and Discovery's core attributes. 
Discovery and HBO Max have different audiences, even if some of the programming genres overlap. The Top 10 series from both services have no overlap. And there's also no indication from the data that introducing new programming belonging to different genre verticals than what's already offered would push someone away. 
The job of Discovery+ is to be a retention driver. Discovery+ has super fans who migrate to the platform to watch their favorite reality series, but it doesn't have the powerhouse IP or cultural sway that can help take it from a 22 million subscriber platform to 50 or 75 million. HBO Max's job is to acquire. It's in more direct competition with Netflix and Hulu, but with the added prestige of HBO originals. It's the cultural force with series designed to get people talking, and get them subscribing.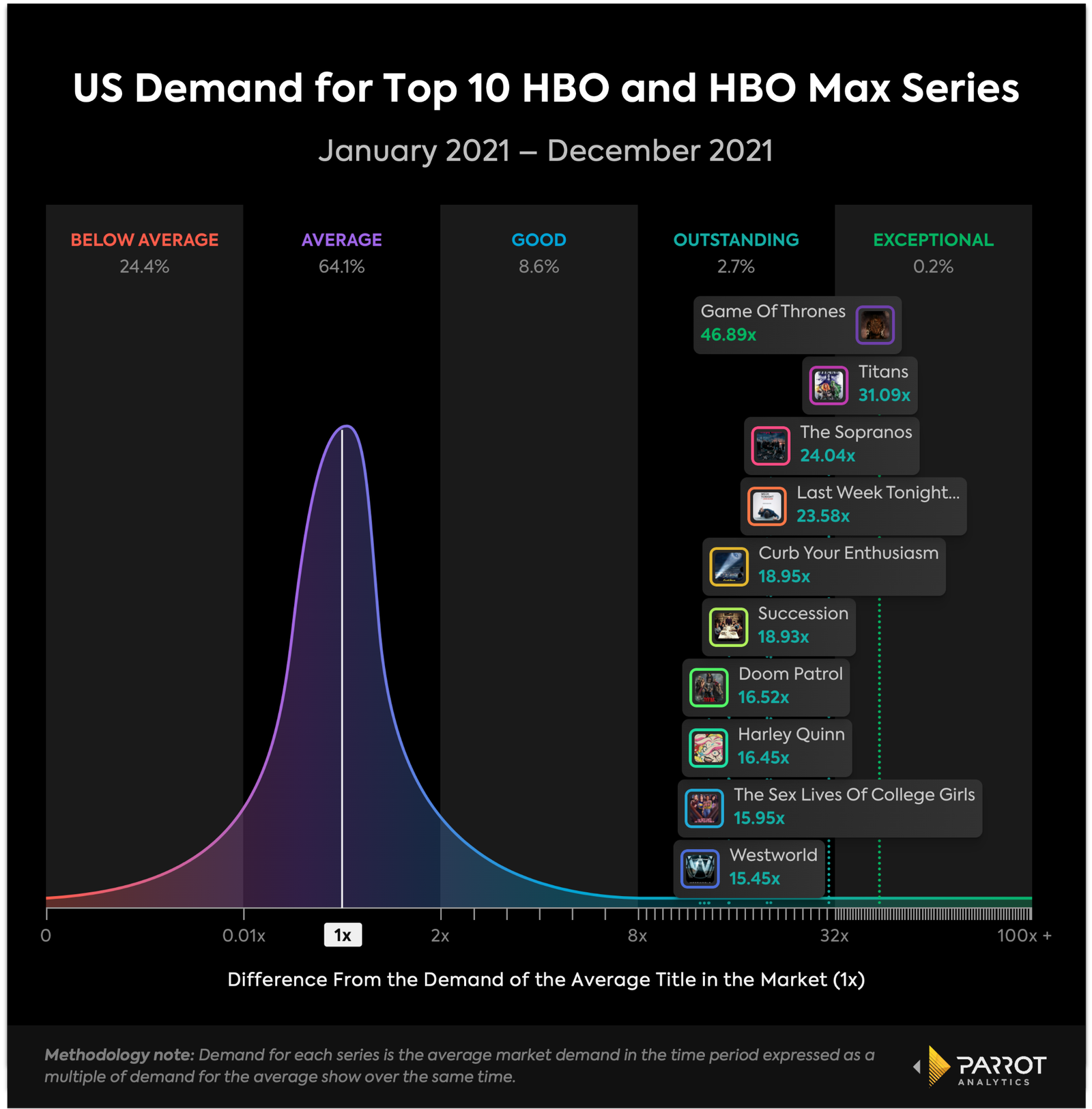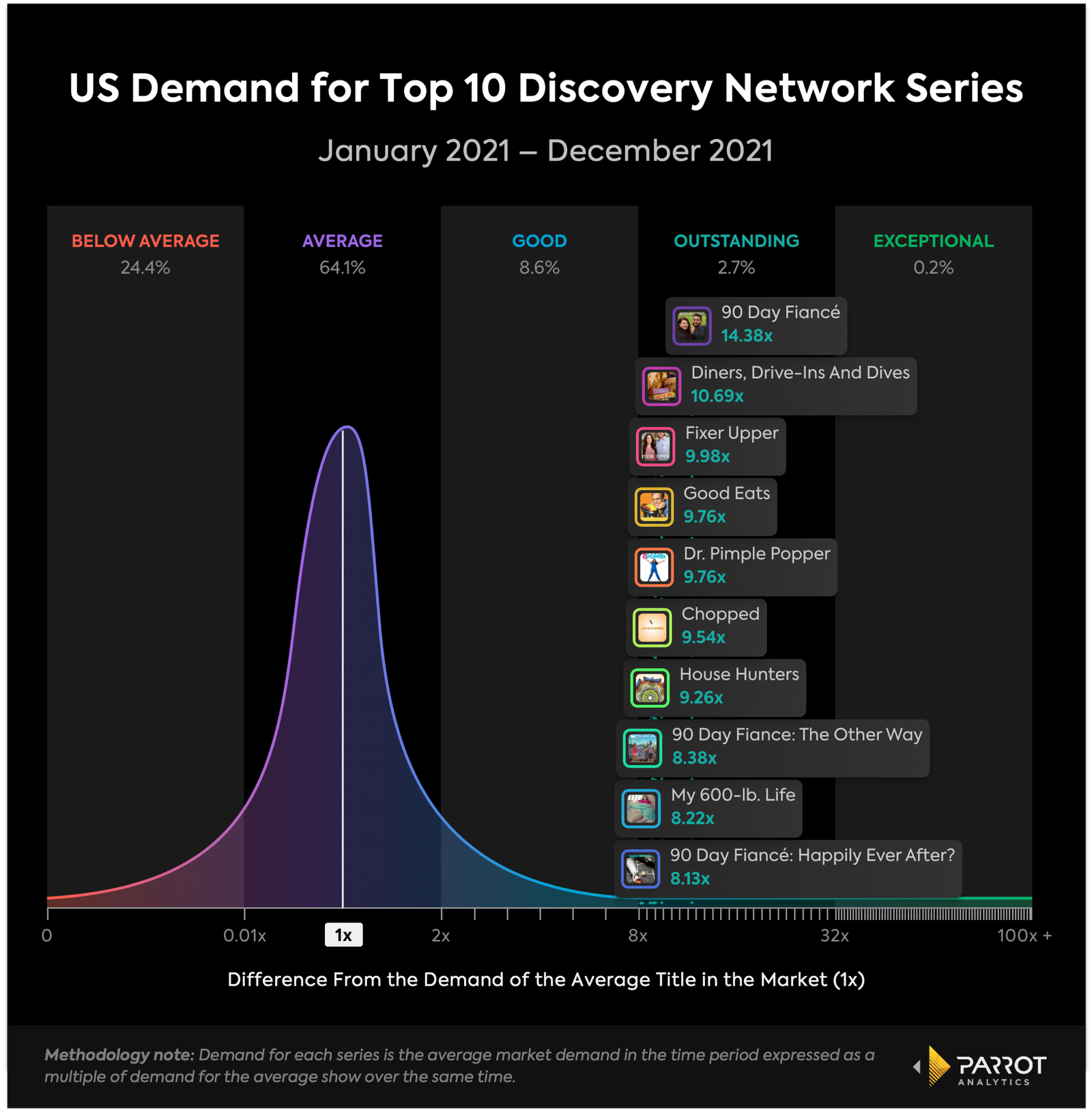 Both of these jobs, however, are effectively trying to achieve the same goal. One isn't a family oriented service trying to broaden affinity and admiration for the larger brand (Disney+). One isn't a platform to offer more specialized package of exclusive, niche programming to viewership bases that will pay for access to just one or two sports (ESPN+). Together, however, they can both become an actual, scalable player at a time when Netflix still dominates. Moving everything onto one platform cuts the distribution costs down (running three platforms to one), which can help with additional content spend, nothing's guaranteed. 
In the meantime, WarnerMedia can use a Disney strategy to scale, fast. Disney is still pushing the bundle in part because the company noticed a reduction in churn amongst customers with bundle subscriptions. Plus, the stronger general services (Hulu) can help scale smaller more niche platforms (ESPN+). It also helps that the bundle creates a picture of continued growth across all three platforms even if actual engagement may not be as equal. Though consumption may not increase immediately, having access does encourage a curious customer to check out a title they may not have otherwise, helping to boost consumption in the long run and increase ad revenue. 
This may not be Disney's strategy forever. The same goes for WarnerMedia and Discovery. The "what if" scenario with WarnerMedia and Discovery, and using precedents like Disney, is an example of how a scale play bundle could help the largest conglomerates with multiple offerings. 
But what about other bundling plays?
Ecosystem Driver 
The best examples of ecosystem driver bundles in the SVOD space are Apple and Amazon. Stepping into entertainment has a totally different value offering from what Apple and Amazon's core product is and becomes a way to strengthen the core by contributing to the overarching ecosystem. 
Both, however, are designed to support and build upon one core product. For Amazon, that's the Prime subscription package, with emphasis on the retail side. Amazon would like you to spend some time shopping for household items or a new laptop while watching The Boys. For Apple, it's a combination of getting customers to use more Apple services products (Apple Music, Apple Fitness+, Apple Arcade) and keeping them using Apple hardware. If Apple can convince a customers to spend $15 a month on services (recurring revenue) while also keeping them locked into hardware upgrades (core business), then Apple keeps them in the ecosystem.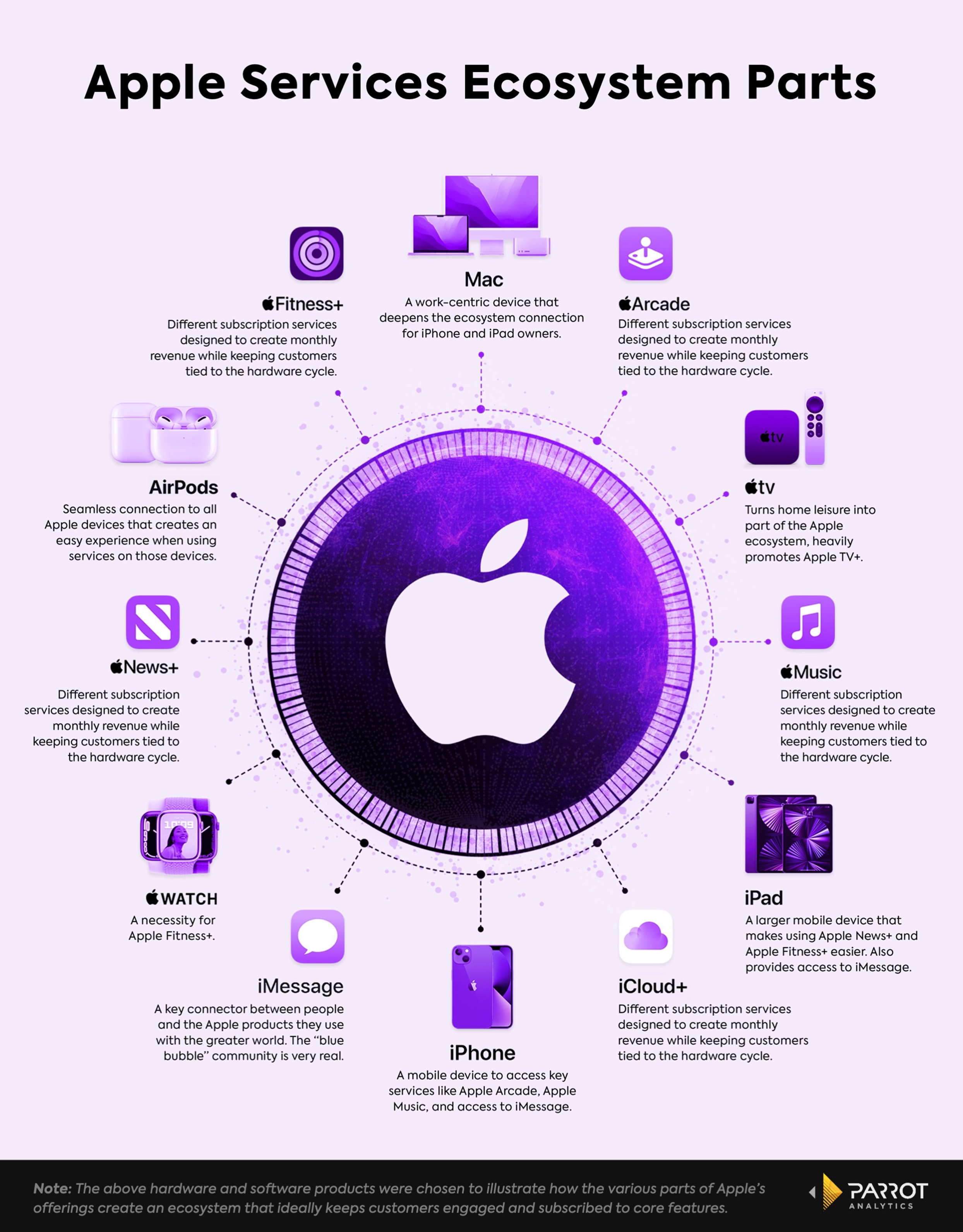 Theoretically, the SVOD services bring in customers who haven't bought into the main product. Apple and Amazon need to create new entry points to continue growing and, in Apple's case, create new monthly recurring revenue cycles when iPhone sales aren't growing at the same rate they used to. 
The question with this type of play is how much of an impact Prime Video or Apple TV+ have on the actual larger revenue. Of the more than 250 million global Amazon Prime customers, how many are actually signing up because of, staying signed up because of, or engaging with Prime Video on a regular basis? 
Without any public information from the companies, it's difficult to ascertain for certain. Using demand metrics over the last few years, however, we can see how an increase in demand for originals and library catalog can help each service become a driving factor for increased business. 
Take for example Amazon Prime Video. Demand for originals has increased over the last five years, with stronger growth for the Top 10 series appearing in the last two years. As Prime Video's offering has broadened (more Indian originals like Mirzapur, and animated fare like Invincible) demand has increased. In 2021, more than 175 million Prime customers watched at least one title on Prime Video, according to Amazon.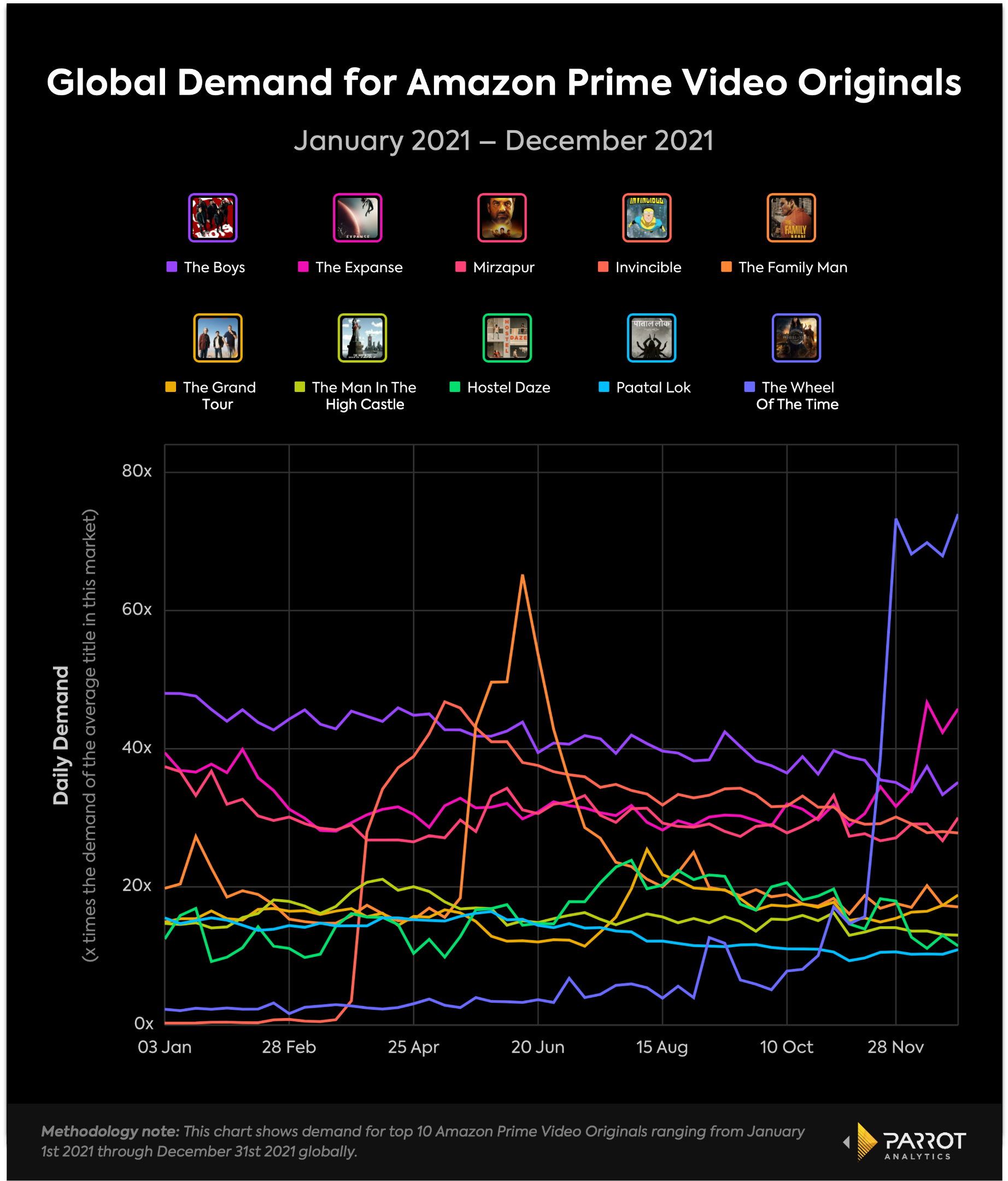 This still doesn't inform what percentage of Amazon Prime customers are specifically seeking our Prime Video content, thereby carving out the specific value Prime Video brings to the overarching ecosystem. It does present data evidence that as demand for originals continues to grow, so does the value of Prime Video to the Prime account holder and potential customers.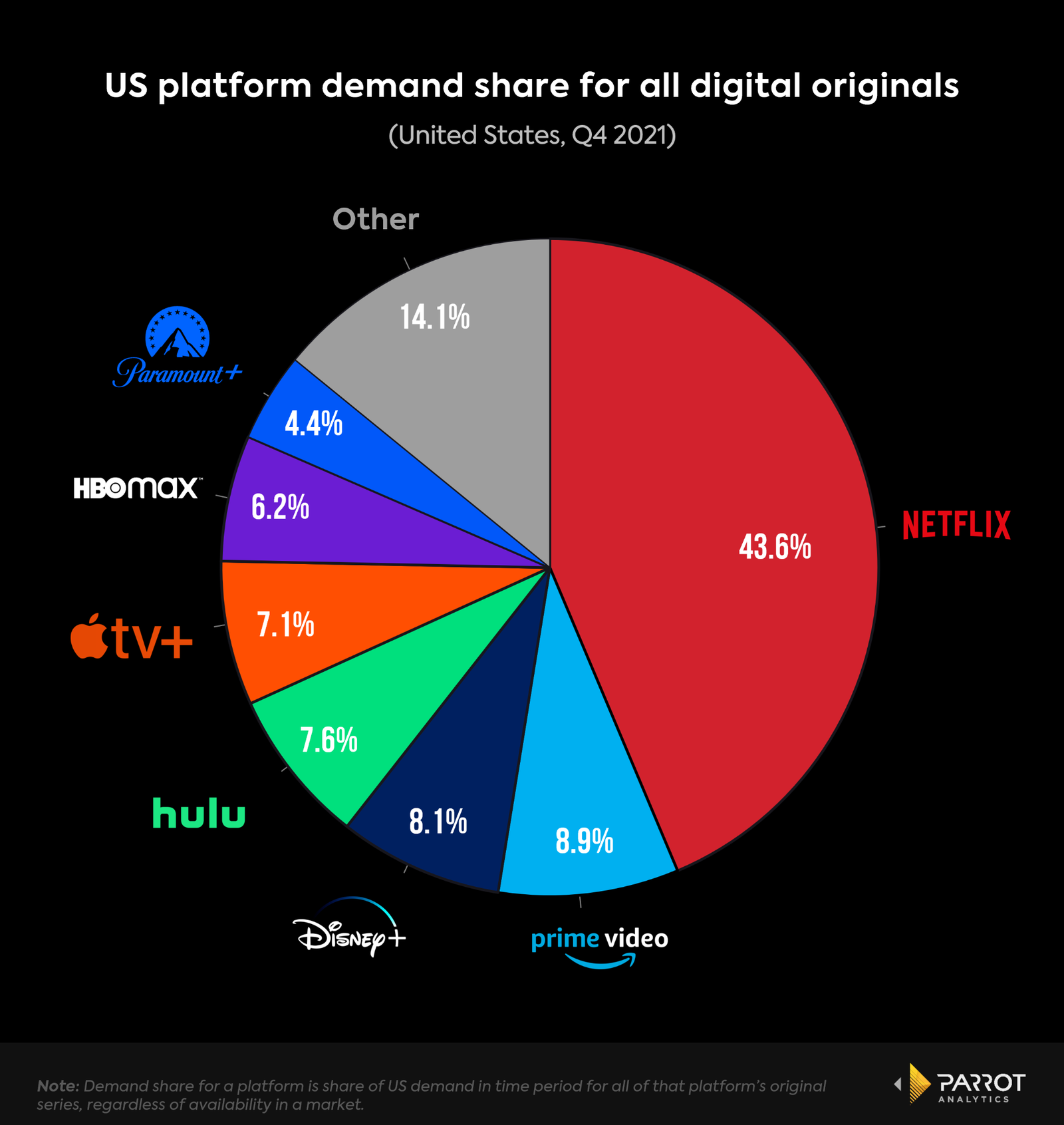 A big part of Prime Video's offering isn't originals — it's the entire catalog. Amazon boasts the fourth biggest platform demand share across all SVOD catalogues at 9%. This is much smaller than Hulu and Netflix (20% and 19.4% respectively), but larger than some other key competitors including Disney+ (5.1%) and Peacock (7.1%).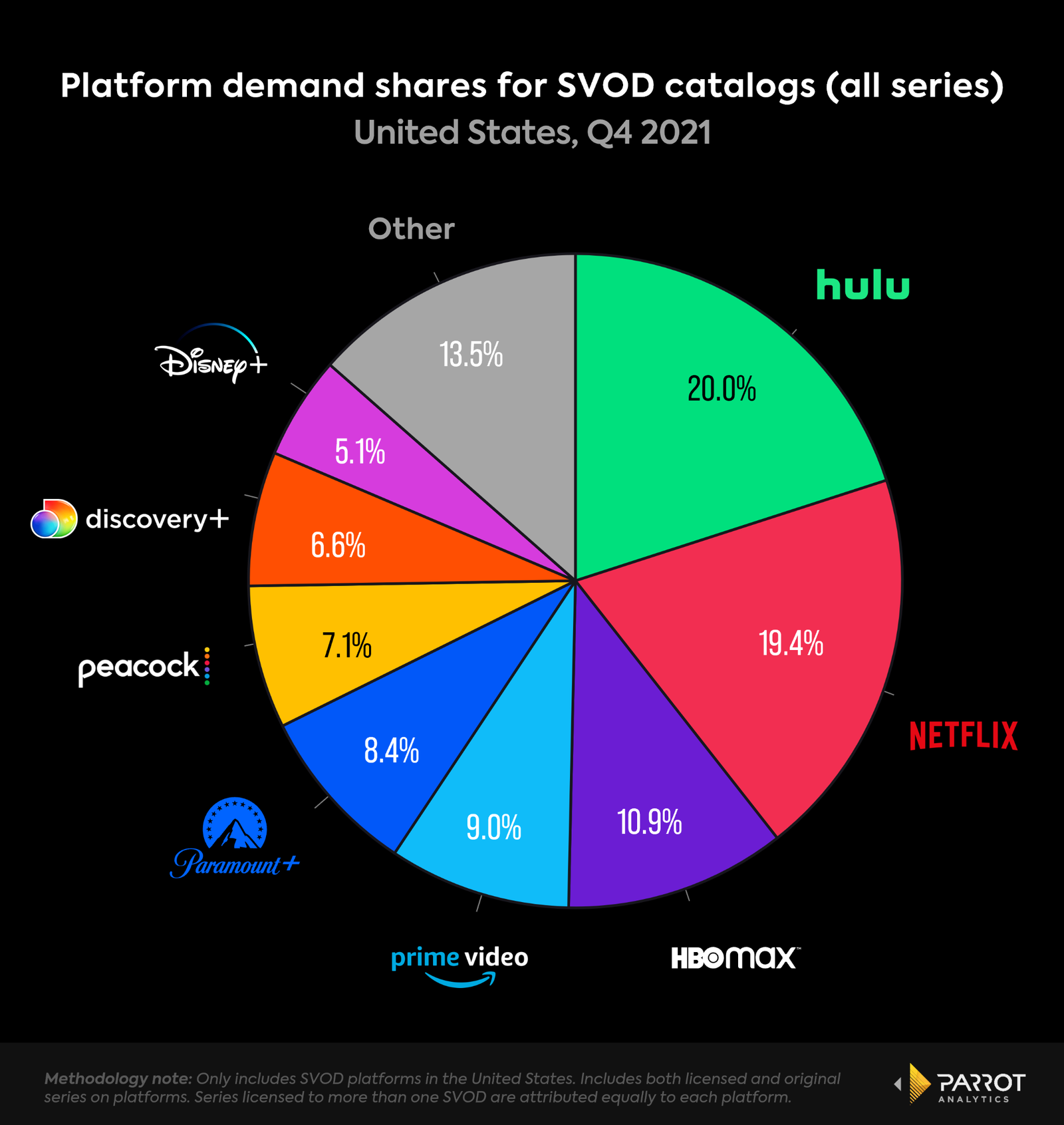 Prime Video's goal is to drive more retail purchasing on the Prime side, and to convert trial users into full-time paying members. As Jeff Wilke, former Worldwide Consumer CEO at Amazon said in 2019, Prime Video customers "shop more, they're more likely to renew their Prime subscription, they're more likely to convert a free trial into a monthly or annual Prime subscription." The inherent value in Prime Video's offering has a direct relationship to demand for titles available. 
As far as ecosystem plays go, Amazon Prime Video makes the most sense. Amazon proper, at its core, is a services business. Its biggest revenue line comes from the retail side (through a combination of advertising and subscriptions). Everything is designed to feed that machine. Music, gaming, TV and film all help to keep customers engaged within the main ecosystem and feed the main machine. (Notably, I am not including Amazon Web Services in this equation.) 
If Prime Video does help to reduce churn in Prime subscriptions and onboard more trial users, then the ecosystem play works. Prime Video, and additional channel offerings through Prime, increases engagement, which increases retail spending, which drives further usage of Amazon and increased profit for the company. 
Apple operates two core businesses at this point: a hardware business, and a software business. The software business is designed to accentuate the hardware. Listening to Apple Music? Do it on your iPhone. Playing Apple Arcade? Do it on your iPhone. Reading through the latest Apple News+ headlines? There's an iPad for that. Want to run some Apple Fitness+ classes? Prop your MacBook open or use your Apple TV to do so right from your living room. 
Theoretically, if you're using your Apple devices every single day because of the software tied to the phone, tablet, computer, and watch, those items become necessities. Customers are more likely to upgrade their products to new Apple devices when needed. This is the same theory behind iMessage being a core feature of Apple's business. Customers will pay for those blue bubbles.
Apple TV+ is available on any device. It can be watched on non-Apple TV boxes. In fact, Apple made it pretty clear that upselling hardware isn't a strategic part of the company's business when it struck a deal earlier this year to make Apple TV+ available on Comcast boxes. Much like Apple Music, which is available for Android users, this makes sense. 
Apple TV+ is part of the ecosystem, but it isn't tied into the same one-to-one relationship Apple's other services encourage. How, then, does Apple TV+ help with the bundle?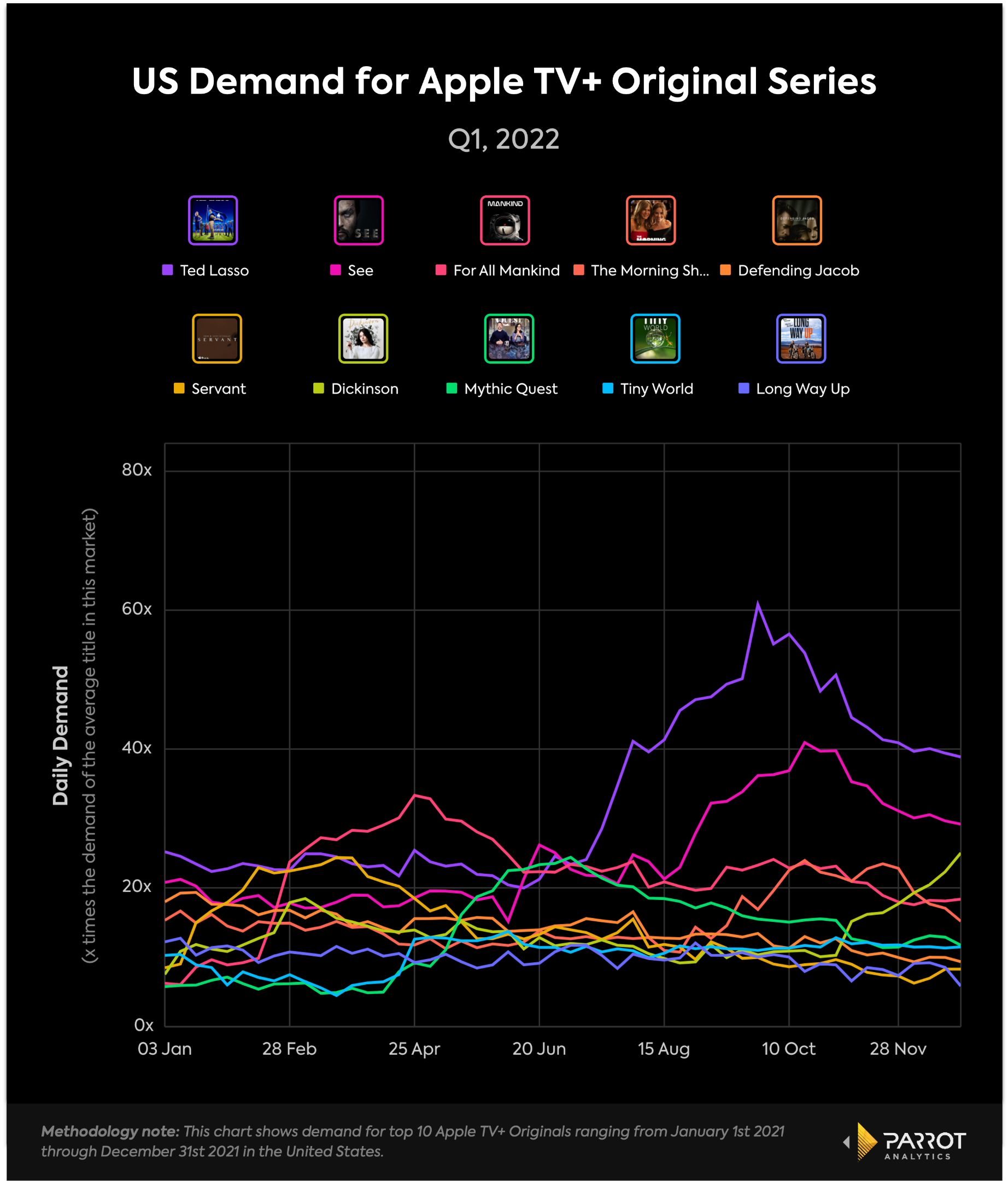 The answer is, hypothetically, in its slate of original series and films, as well as the Apple One product. There are two truths we know thanks to the data:
original series and films drives new customers to new platforms and
churn is reduced when customers are part of a bundled system 
For Apple, having Apple TV+ as a go-to destination for new content and being part of a bundle that pairs with other, non-video entertainment subscription platforms can bring more customers into the Apple fold. For someone looking to use Apple TV+ and Apple Music, it's cheaper to go the Apple One route, which also produces other benefits like more iCloud storage, than it is to subscribe to both. Once customers are in the bundle, it's much harder to leave. 
Ecosystem bundles identify arms that can leverage one another to keep customers attention and dollars within a company. Sony is an example where an ecosystem model can be applied. Sony sells many, many different products but when it comes to living room entertainment, there's television sets, sound bars, and its PlayStation gaming console. Sony also owns the largest anime streaming service in the world, Crunchyroll, which now includes anime from the Sony-owned Funimation. 
The crossover between audiences who own a PlayStation and watch anime is notable. As Sony starts to invest more into anime (including possible adaptations of its video game franchises into anime series, similar to what Riot Games did with Arcane on Netflix), bringing Crunchyroll subscriptions into a bundle with PlayStation Plus, the gaming system's monthly subscription service that gives players access to different games, can help boost profitability on both sides. Anime fans may start playing games on PlayStation they wouldn't have played otherwise, and PlayStation fans interested in anime may pick up a membership at a discounted rate.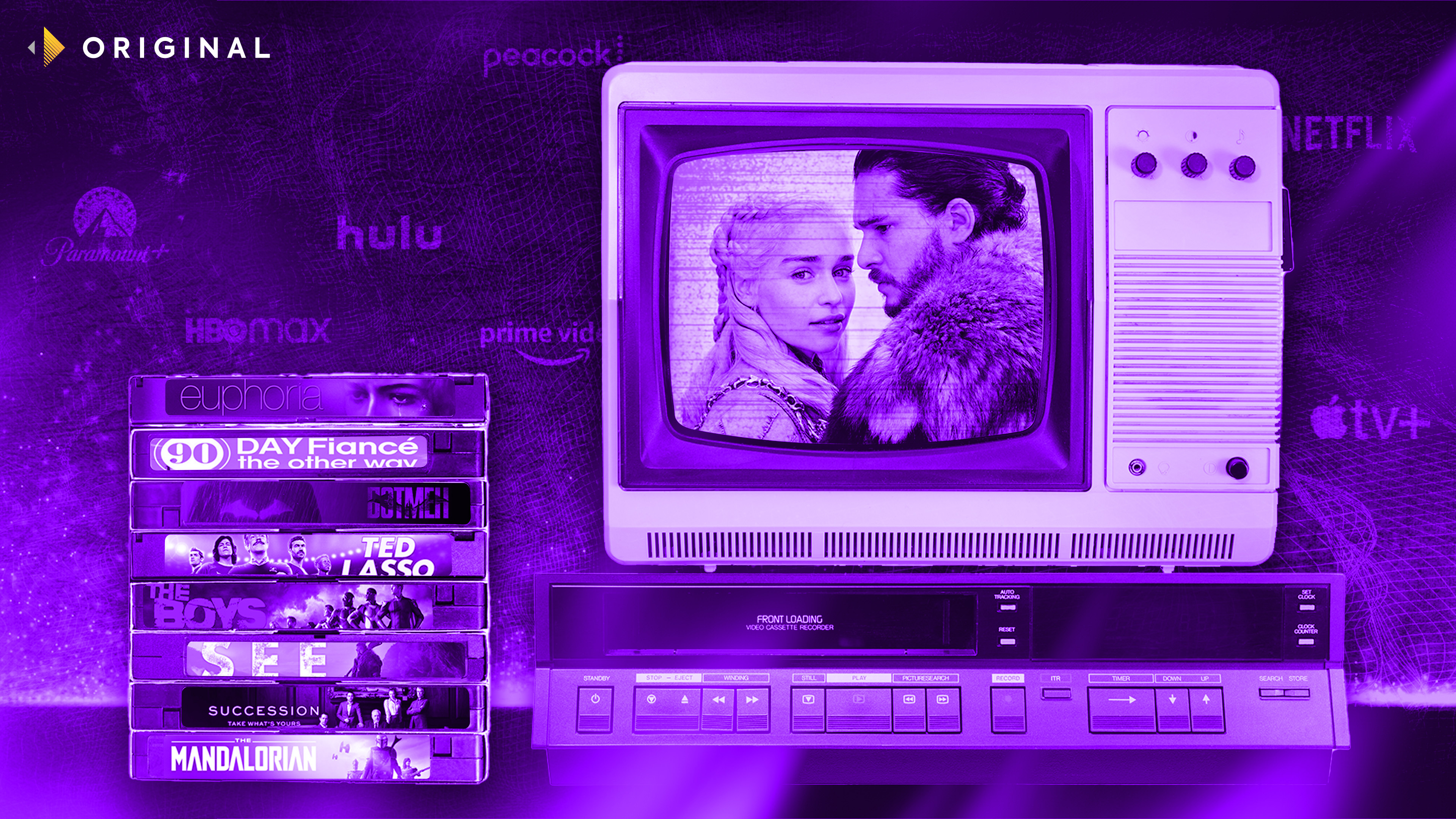 Cross-pollinate 
Video entertainment subscription services are consolidating — fast — and narrowing options for audiences in key markets like the United States and Canada. At the same time, however, entrants are trying to find a way to carve out their own success path, looking to maximize opportunity and bring more subscribers into the fold. That includes partnering with non-visual entertainment streaming platforms like music services (Spotify, Tidal), carriers (T-Mobile, Verizon), and gaming services (PlayStation, Xbox). 
Similar to a scale play, cross-pollinating allows streaming subscribers to grow, fast, but it's not done all in-house. Disney, Netflix, HBO Max, and others rely on a larger customer base that carriers have or consumer bases that have different interests from their core offering to try and reel them in via a bundle service. The result is still increased revenue, even if short term. Most importantly, however, is the ability to try and sell a larger potential subscriber base on a service that can then become a necessity, and turn that potential customer into a reliable piece of the recurring revenue puzzle. 
Cross-pollinating is both a scale play and an ecosystem play, but it demonstrates a key position in an increasingly fragmented market where it suddenly feels like everyone is paying for more individual services on top of everything else they're paying for. 
If fragmentation makes signing up for yet another service more difficult or costly, then determining where that overlap exists with other products in different industries and creating a bundle can work. This isn't a new tactic. Carriers like Verizon and T-Mobile have offered services to potential and current customers as extra incentive. Airlines and credit card companies offer bundles for customers. Cross-industry bundling is not uncommon, and it's not uncommon because it works.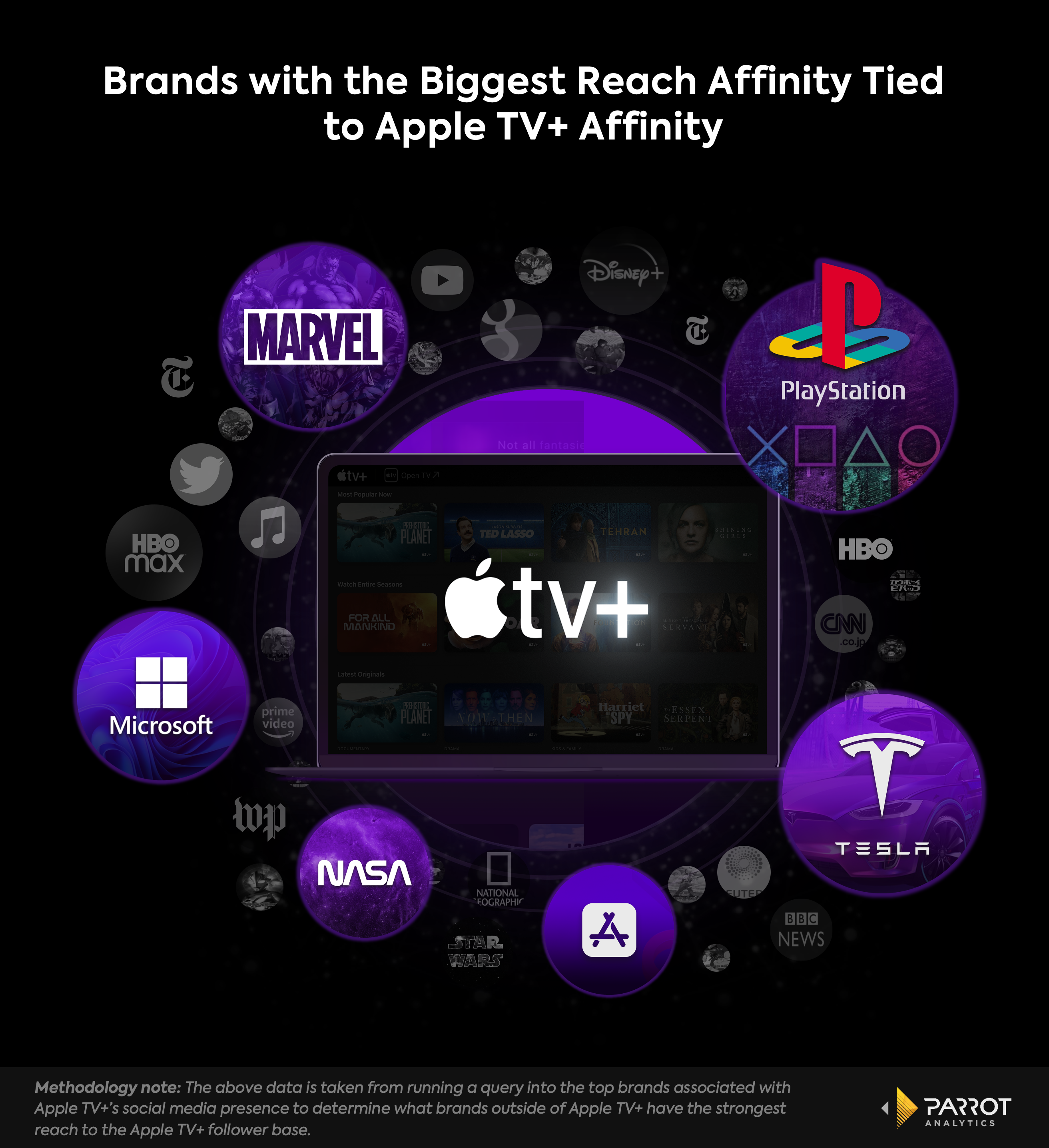 Streaming is no different. If credit cards and plane tickets work because one is used to buy the other and airlines rely on people using their cards to continue traveling, then looking at overlapping interests in the entertainment space requires similar thinking. Someone who's an avid gamer on PlayStation and Xbox consoles is more likely to have an interest in Apple products and drama series, as seen in the above chart. When Apple offered three months of Apple TV+ to PlayStation and Xbox customers, it represented a way to bring on a new subscribers who may have a passing interest in Apple TV+ content but not enough to seek it out as an additional subscription fee. 
More importantly, cross pollinating plays take advantage of new platform delivery. The most difficult part of streaming is getting a customer to sign up; the second most difficult is getting the customer to actually open the app. If the cost of a streaming service is cut, the content is appealing, and it's directly within eyesight by being included in the main lineup on a gaming console where audiences are spending the majority of their time, it helps with app open rates. All of which help increase engagement from customers, which can help with generating actual affinity for the streaming platform and lead to longer term revenue. 
Cross-pollinating bundling in the streaming services space is determining what job one app does particularly well and partnering it with another app that does another, completely separate valuable job. The goal is to increase attention, awareness, and consumption for both services. Hulu partnered with Spotify for similar reasons. Going back to credit cards and airplane tickets, the bundle worked because people were going to buy plane tickets, and those are expensive, so they're more likely to use credit cards. Sweeten the deal, and it encourages people to travel more. With services, different applications have different jobs — if a bundle can help achieve more goals for customers at a discounted rate, it's got more potential to succeed. 
I'm just saying, if I'm subscribing to the New York Times', I know the company has an ongoing documentary series with FX and Hulu that I love watching, and there was an option to bundle it with Hulu for a combined price that knocks a dollar or two off each, I'd be more inclined to pay for Hulu — or the Disney bundle — in an overtly competitive space, read the New York Times, and engage with both more. 
To Remember…
Streaming kicked off the great unbundling. With more consolidation amongst and under the biggest conglomerates, and more services coming under a mere handful of companies who want to vie for as many eyeballs as possible, we're entering a period of re-bundling. Not every bundle will look the same, but each bundle will work to try and quicken the road to profit for a new key business direction. 
---