As the NBA-loving world enjoys the scintillating post-season, it's interesting to note the similarities between evolving strategies on the court and the goal of streaming services.
Offensive basketball has exploded over the last 20 years with a team's average points per game rising 23%. But what's most interesting is that while every team shares the same goal, the actual strategy of how to score has changed. Many teams have moved on from the interior offense built around big men like Shaquille O'Neal to systems that revolve around spacing, movement and long-range shooting. Other teams that may be top heavy with one star flanked by role players run isolation-based systems around singular talents. Every team attacks the basket in ways tailored to their specific strengths, though the overall goal remains the same: score more points than the other team.
Similarly, in the streaming industry, the ultimate objective the same: keep subscribers within a given digital ecosystem for as long as possible. Yet every streaming service may approach its title discoverability and recommendation goals to users in a slightly different manner. Ultimately, sustained demand should equal dollars, but the strategy behind these approaches can vary platform to platform. 
Recommendation systems can sometimes be trapped by their own rigidity and fail to open up new worlds of content for users. Generally speaking, these algorithms can operate with the specific intent of reinforcing what people are already watching by feeding them similar titles over and over. But this might not always hit the right balance between hyper-serving and exploring. In the short run, that may keep a user on-platform for longer — jumping from Breaking Bad to Ozark makes a certain amount of sense — but there may not be enough long-term payoff when that subscriber grows weary of that specific genre. More importantly, as the streaming industry consolidates programming (Paramount+ absorbing Showtime, Max integrating the majority of Discovery+ content and Disney+ folding in Hulu by the end of the year), it is more essential than ever to properly guide the lifetime journey of a viewer in order to maximize a library. 
Affinity, or the shared audience between titles and catalogs across multiple platforms and/or libraries, allows us to create a fresh take of recommendations and discoverability options to any customer. With our map, we can identify and unlock gateway titles that opens up audiences to new content and, potentially, secures new subscribers. 
So how, exactly, do you get fans of seemingly disparate titles and genres to begin mixing and matching beyond their first viewing impulse? Here, we'll explore how these parent companies can bridge the gap between complementary, but not necessarily overlapping, audiences for content across Discovery+ and Max and Disney+ and Hulu.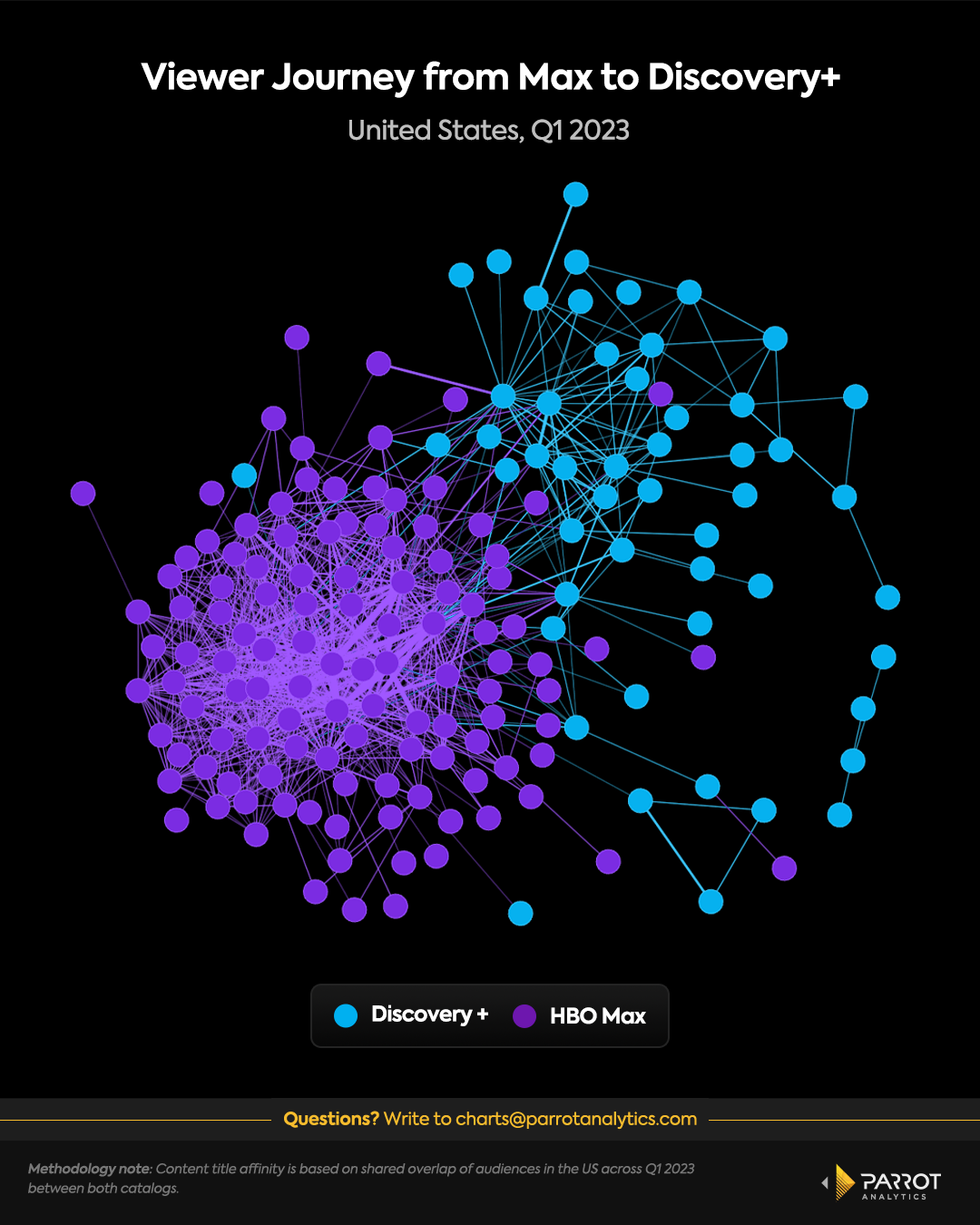 Max and Discovery+
Warner Bros. Discovery launched Max, which integrates the majority of Discovery+ content into the pre-existing HBO Max library, on May 23rd with tiered pricing offers of $9.99 per month, $15.99 and $19.99. In the eyes of CEO David Zaslav, this super service provides a diverse and broadly appealing array of options for viewers. 
"Max is the one to watch," Zaslav said at the April announcement. "It's the one to watch because it's the place every member of the household can go to see exactly what they want at any given time." But the goal isn't just to offer something for every member of the household, it's also to merge and expand each household member's viewing interests.
WBD's new combined super service will benefit from a concentrated effort to build bridges between the two catalogs. Let's start with the Roy family as Succession's final season enjoyed stronger average audience demand (49.46x) in the US than all three prior seasons (as of May 28).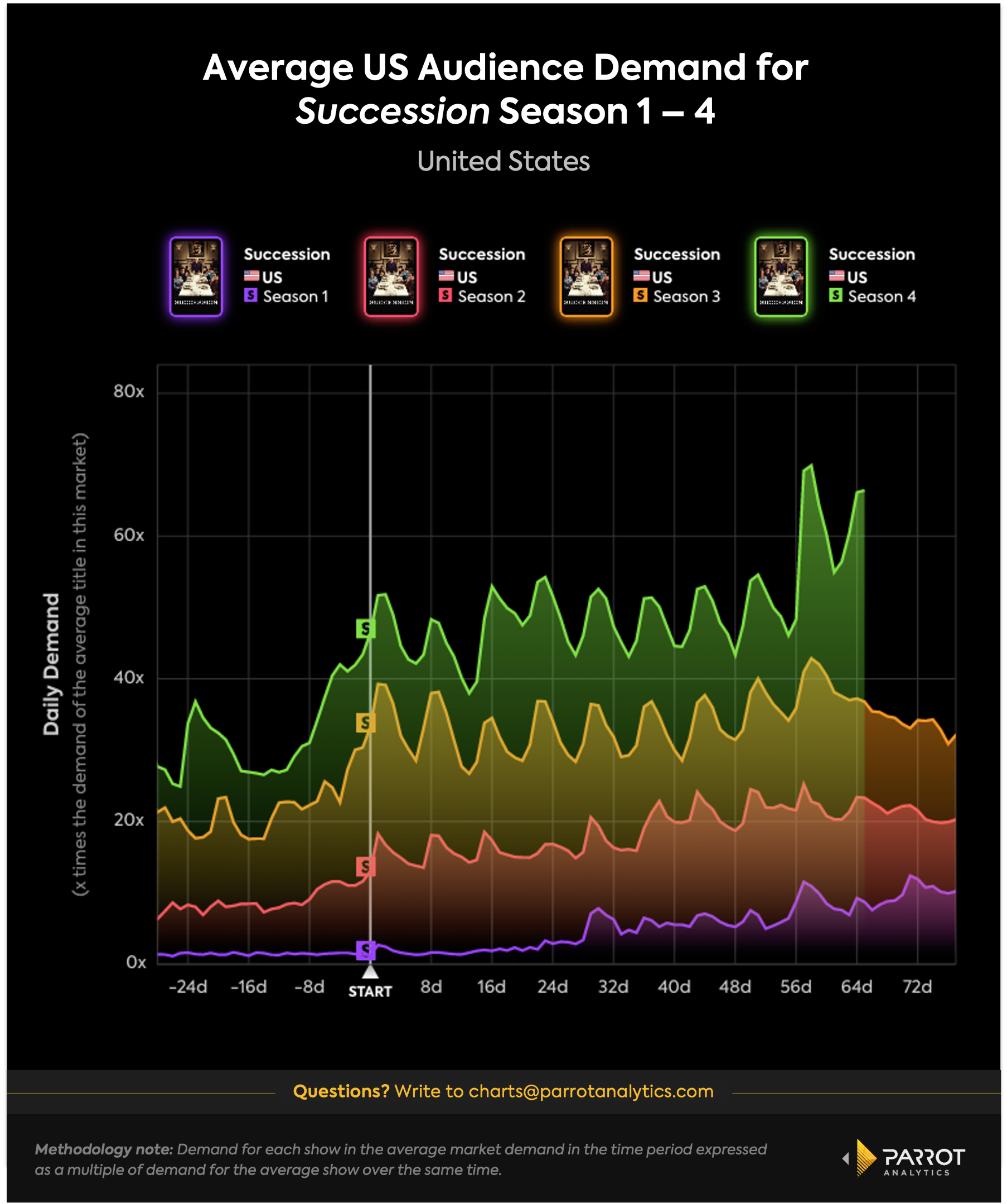 Yet Succession doesn't share any affinity with the Discovery+ library, meaning audiences who watch the HBO drama aren't necessarily also watching the war chest of unscripted reality series that define Discovery. Succession's audience is 50.1% male and 49.9% female with the majority aged 13-39. Discovery+ generally over-indexes with older viewers and it skews far more female. There's simply not always a ton of overlap.
Despite the valley of interest between the two, it would be helpful from an efficiency standpoint if Max could use Succession, which derives most of its value from driving new sign-ups and boasting elite offseason decay rates (in which viewership doesn't taper off as significantly compared to other series when new episodes are no longer airing), to introduce HBO fans to Discovery content.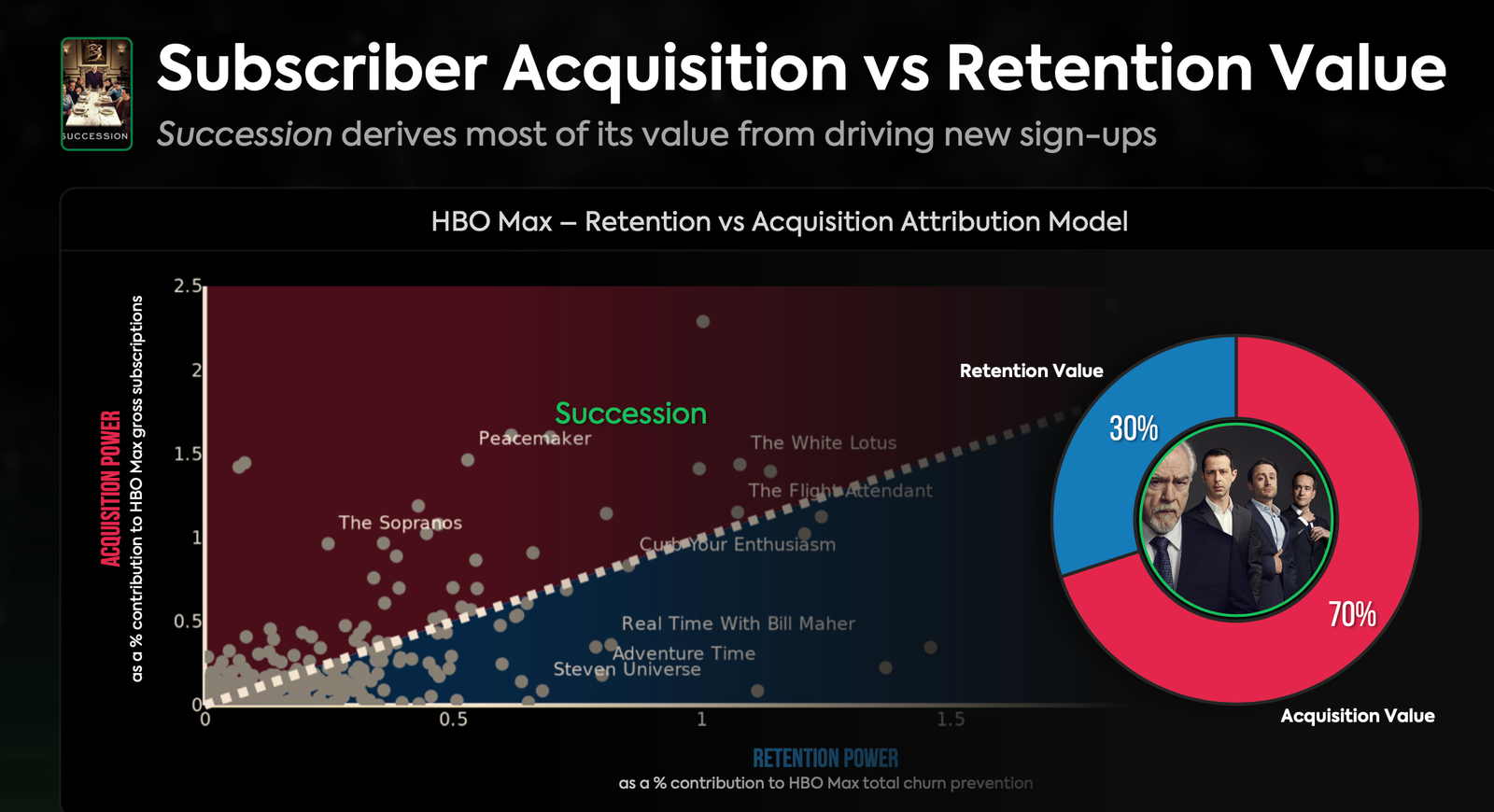 So how can the company accomplish this? By identifying gateway titles that open up a path to Discovery's library.
For example, once viewers are done with Succession, Max can recommend Game of Thrones, which is a natural progression through the HBO library (in 2023, GoT ranks ninth in affinity to Succession among HBO shows). But importantly, Game of Thrones — which is still the second most in-demand show on Max in 2023 both worldwide and in the US — opens up avenues to programming beyond HBO and Max's roster. Specifically, Game of Thrones shares affinity with Discovery titles such as Mythbusters, Deadliest Catch, Dirty Jobs and more.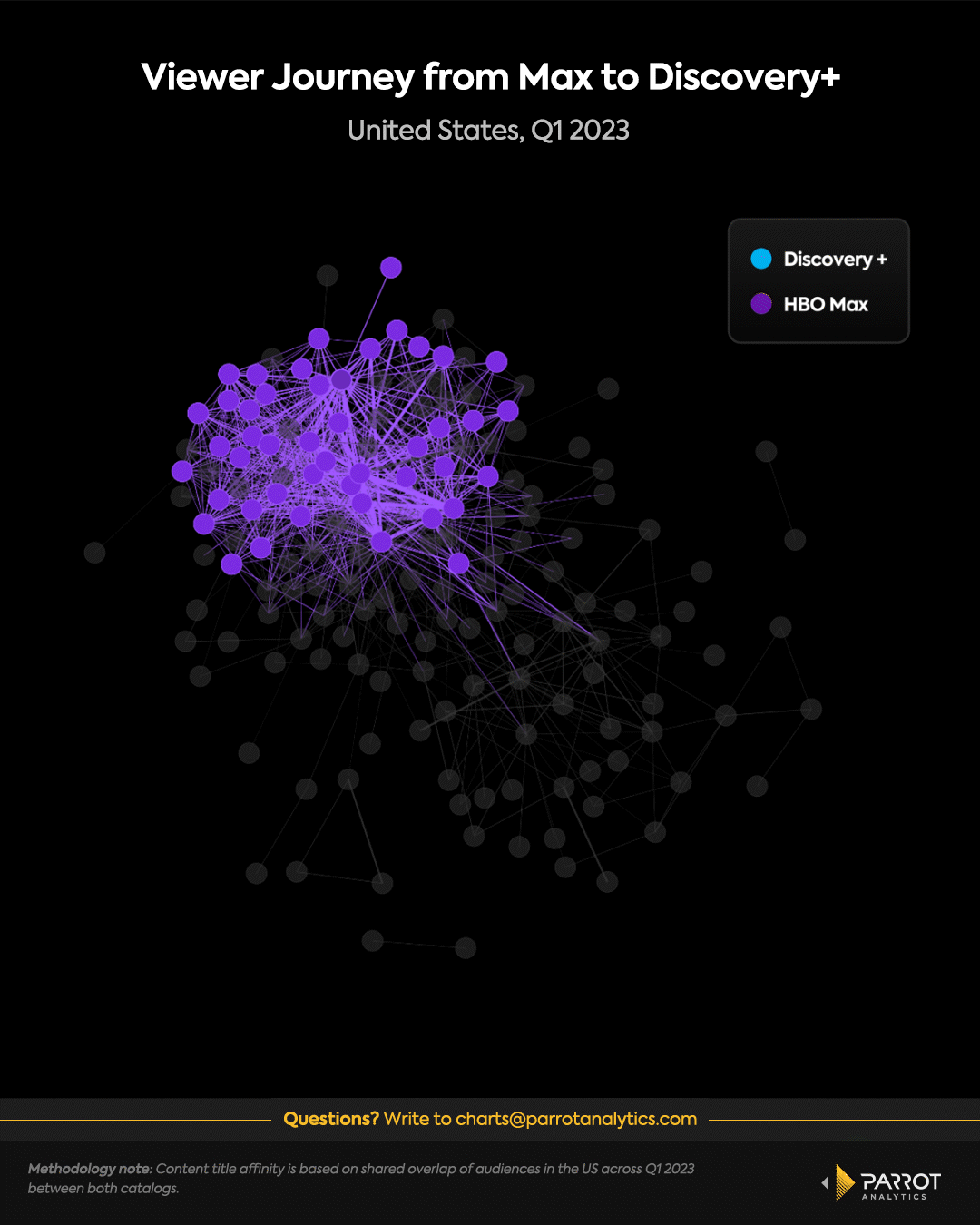 Essentially, there's more shared audience overlap in terms of viewing between HBO's flagship series and Discovery's addictive laundry folding shows that help drive retention and engage more low-risk subscribers. This is thanks in part to its immense reach and its evenly distributed audience, which is 50.4% male, 49.6% female largely in the 23-29 age rage. Zaslav and Co. can use the immense interest in marquee titles on Max as a funnel to grow awareness of Discovery+ content. 
If users hopped from Game of Thrones to, say, Deadliest Catch, they will be much more likely to sample additional Discovery programming based on affinity. Why? Because Deadliest Catch is a launching pad for a number of Discovery+ titles. GoT notably doesn't resonate as well with Gen Z (15.4%) or Gen X+ (17.4%) while Deadliest Catch is also fairly evenly gendered (55.6% male, 44.4% female), allowing for some overlap, but importantly over-indexes with Gen X+ (45.3%). There's obvious land and expand opportunity here. 
The goal is to guide subscribers along this path with greater discoverability for titles that may not, at first glance, be the most obvious sequential choices. This can open up new programming options for audiences over the long term and maximize the value of a combined library. Surfacing titles that fall outside of a viewer's most passionate taste cluster may not always directly lead to extended viewership but can potentially help to train users to explore beyond their comfort zone over time.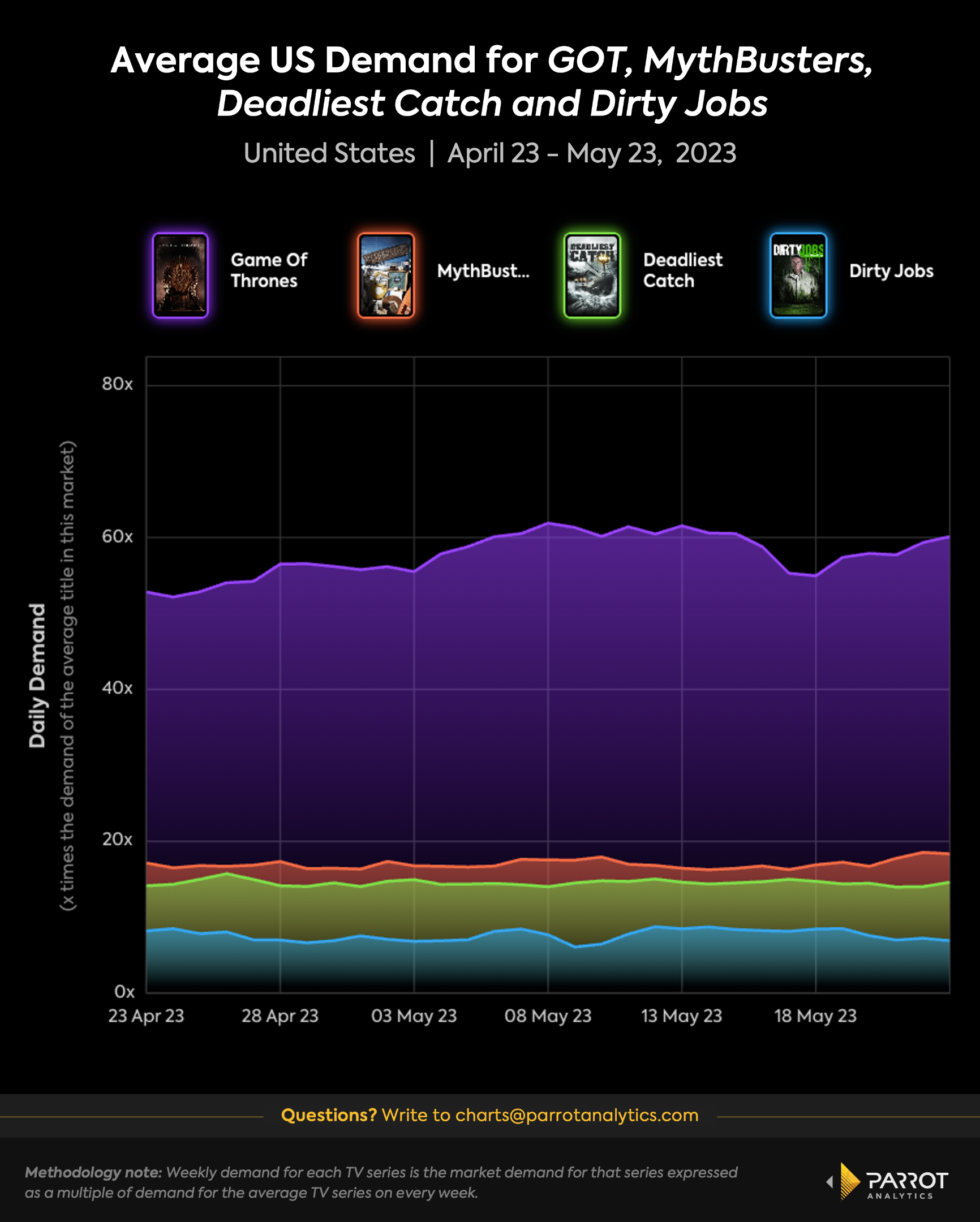 However, it's easy to use Game of Thrones, one of the most popular TV series of all time, as part of this example. What about getting a Discovery fan to sample Max programming without using the reach and power of the Iron Throne? 
Moonshiners: Master Distillers, which resonates most with Gen X+ and male viewers, doesn't share any affinity with the Max catalog and isn't necessarily a standout from the Discovery library. Over the last three years, the show is averaging 2.75x more demand than the average series in the US and 1.35x worldwide. 
But by recommending original brand launcher Moonshiners next, Max can begin to steer that Discovery fan towards HBO programming. Specifically, those that watched Moonshiners also tended to watch DC's Titans, which over-indexes with men (67.3%) and Gen Z (27.1%). This is another example of using some circuitous overlap and building out a more complete audience profile for a single service. 
Titans acts as something of a foundational Max original as it ranks among the service's top 10 most in-demand on-platform series (library and originals) in the US over the last 12 months and top 20 worldwide. In the last week, just one of the ten shows with the greatest affinity to Titans was housed on Max, suggesting the series can be effective in pulling viewers from other platforms. This implies an ability to engage higher risk subscribers who may not always be spending a ton of time on Max.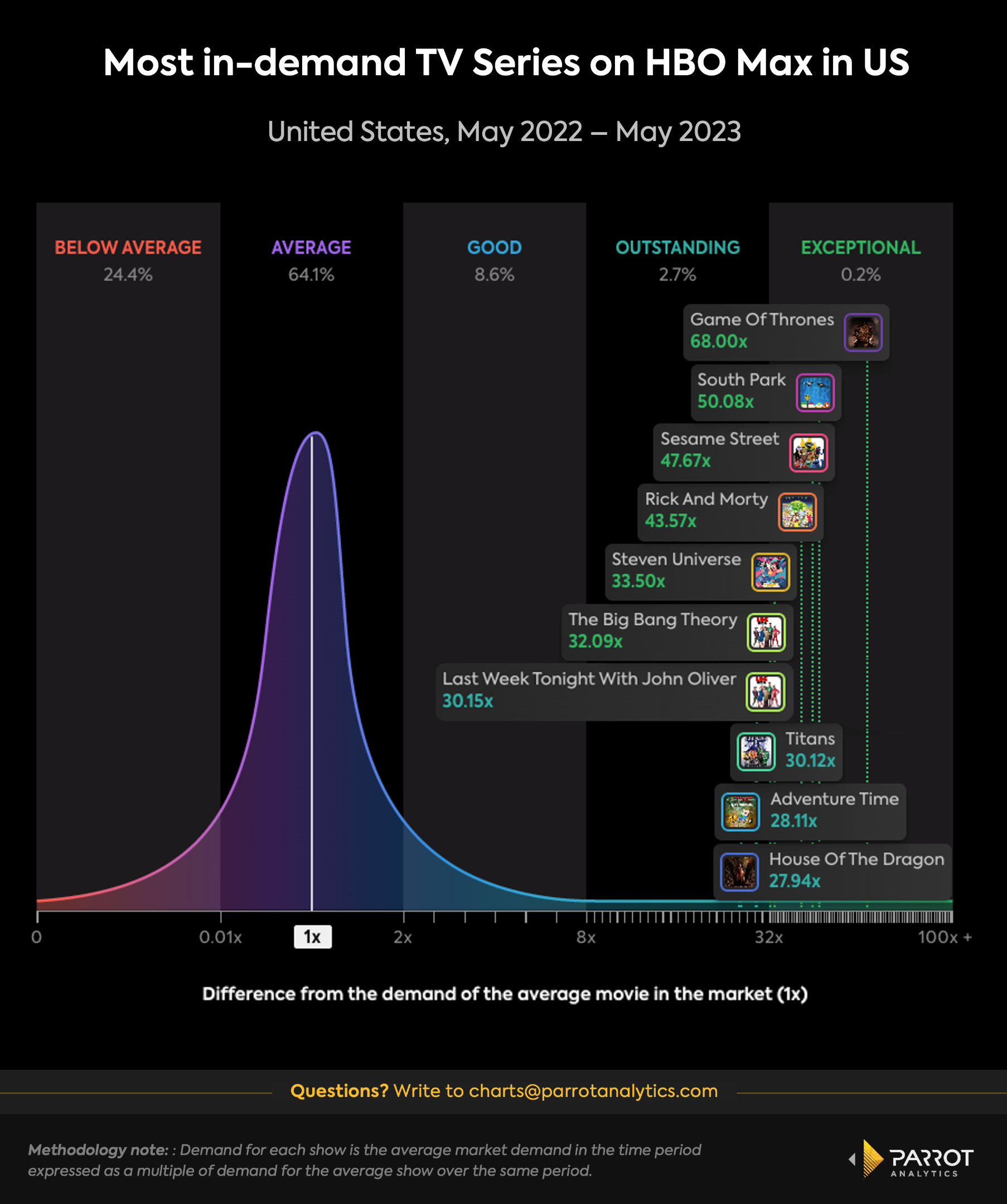 From here, Titans opens up a wide variety of the HBO Max library such as The Last of Us, Peacemaker, House of the Dragon and more based on total Q1 '23 affinity. HOTD boasts one of the most significant levels of affinity with the Max library and can serve as a strong retention driver with both high and low risk subscribers. 
Voila, you've completed the first step in hopefully turning a Discovery fan into an HBO devotee and vice versa. In a vacuum, these titles may never have been recommended based on past consumption history. But by zooming out, companies can nudge viewers to sample new titles. Contextual recommendations with a longer-term goal are now crucial amid plateauing and/or hard-to-come-by D2C growth. This will be particularly important as streaming's long-overdue embrace of ad-supported becomes more and more prevalent in the coming years. 
Developing the types of genres audiences enjoy and want to seek out will keep them within the app for longer, expand the service's audience demographic and reduce churn overall. It will help build better programming decisions that then become more effective on-app carousel discovery. Tracking consumer choice naturally provides streaming owners with a better understanding of supply and demand. Companies such as WBD can better learn which genres and subgenres are ripe for further investment and where spending can potentially be reduced. 
This will improve the perceived value of the service in the minds of consumers at a time when price increases are inevitable. (All of this single-service consolidation will lead to price hikes, which will also make the less expensive tiers more valuable to cost-conscious consumers). Ideally, this more focused integration will help Max reach Zaslav's lofty goal of "400 million homes."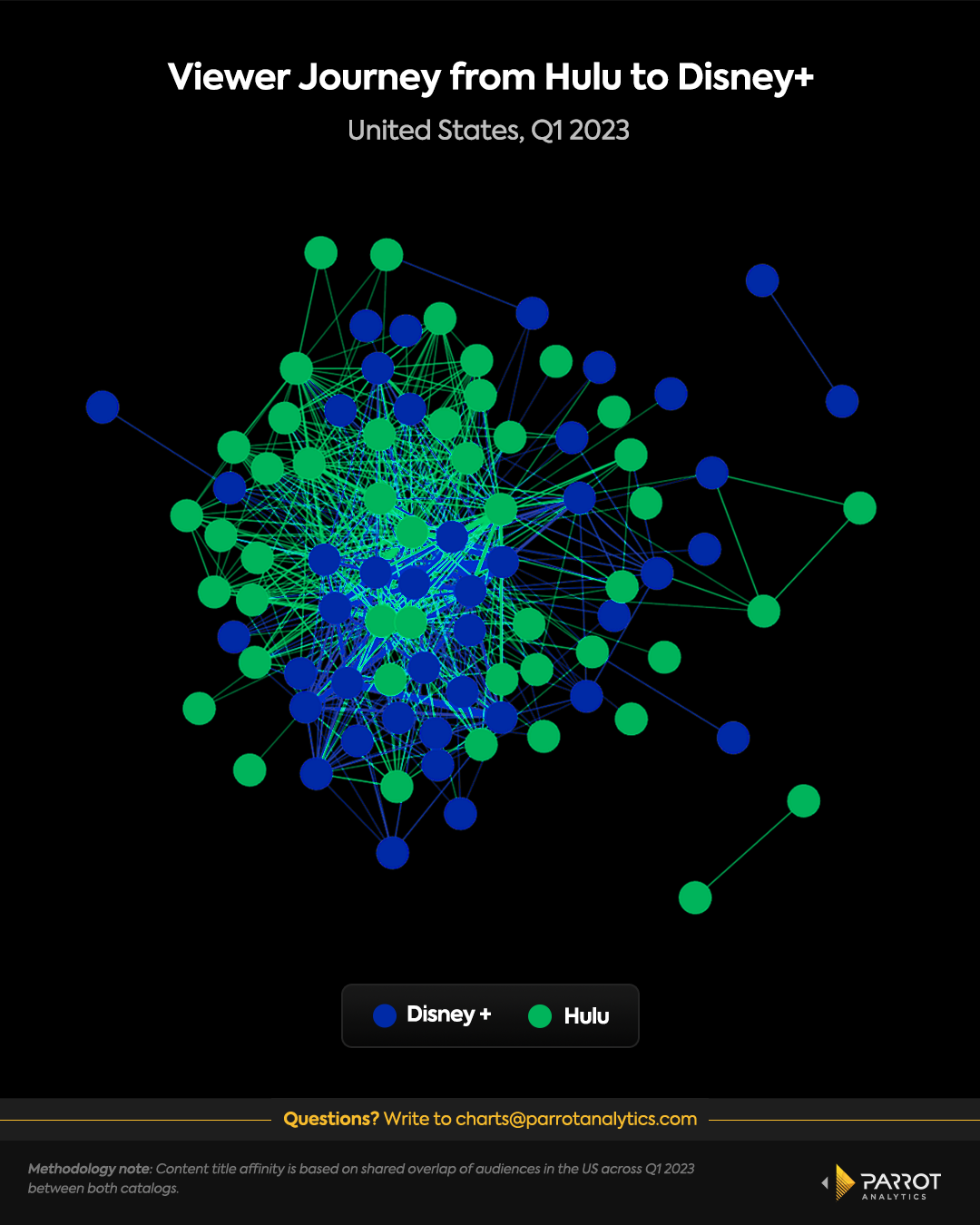 Disney+ and Hulu
Disney recently announced that it will combine Disney+ and Hulu content into a single app by year's end, while still providing Hulu as a standalone service. CEO Bob Iger said the company is "very bullish" about the combo. 
"I have now had another three months to really study this carefully and figure out what is the best path for us to grow this business and it is clear that a combination of the content that is on Disney+ with general entertainment is a very positive, is a very strong combination from a subscriber perspective, from a subscriber acquisition subscriber retention perspective and also from an advertiser's perspective," Iger said earlier this year.
Okay, great—Disney is expecting stronger customer and advertiser interest as well as lower churn from its upcoming unified service. But it will be difficult to unlock the full value of the product if subscribers remain in their siloed preferences. Fortunately, there already exists solid affinity levels between the two catalogs, so incorporating Hulu titles within Disney+ will feel more natural and lead to more organic discovery than the Max and Discovery+ combo, which may require more prodding from the algorithm.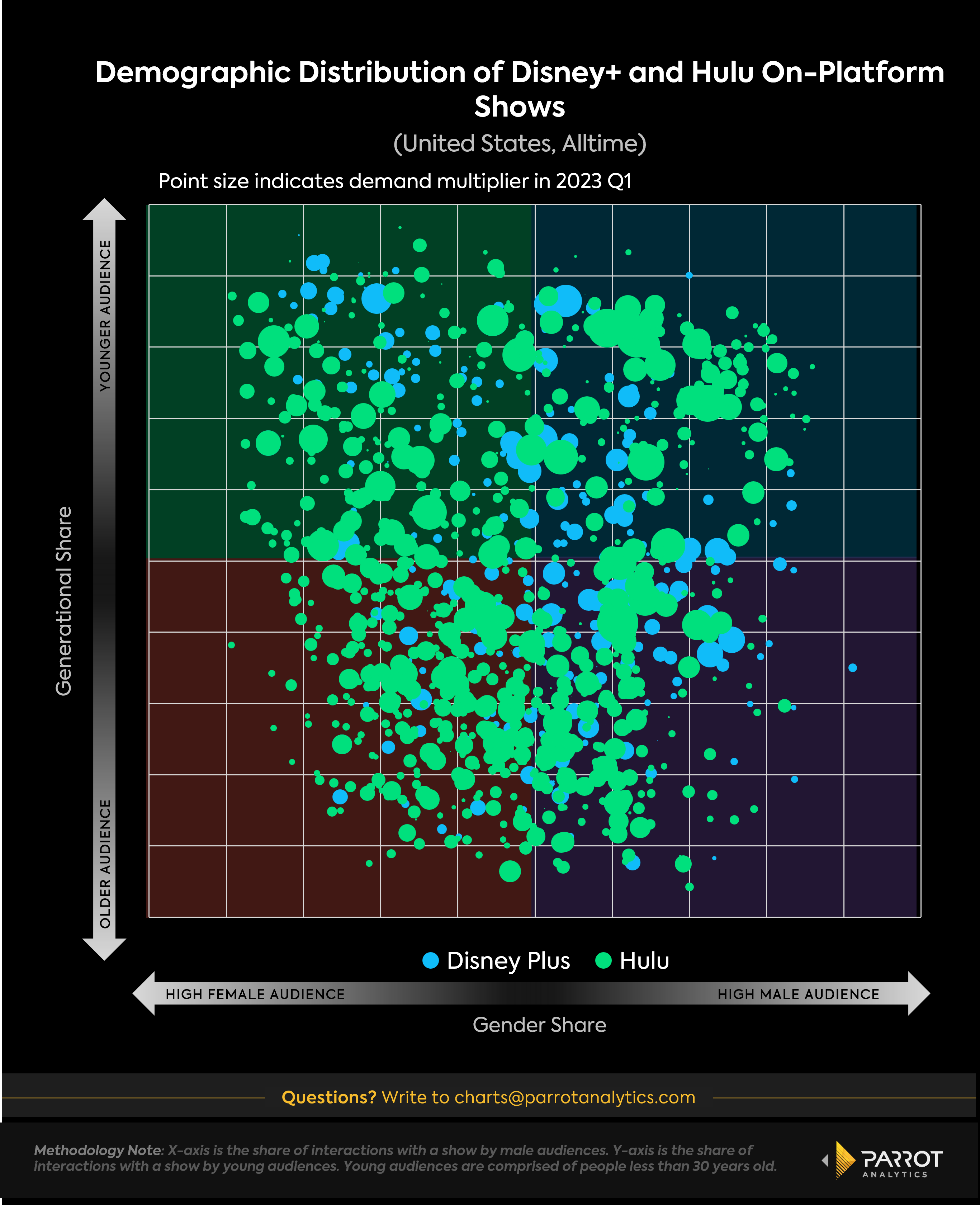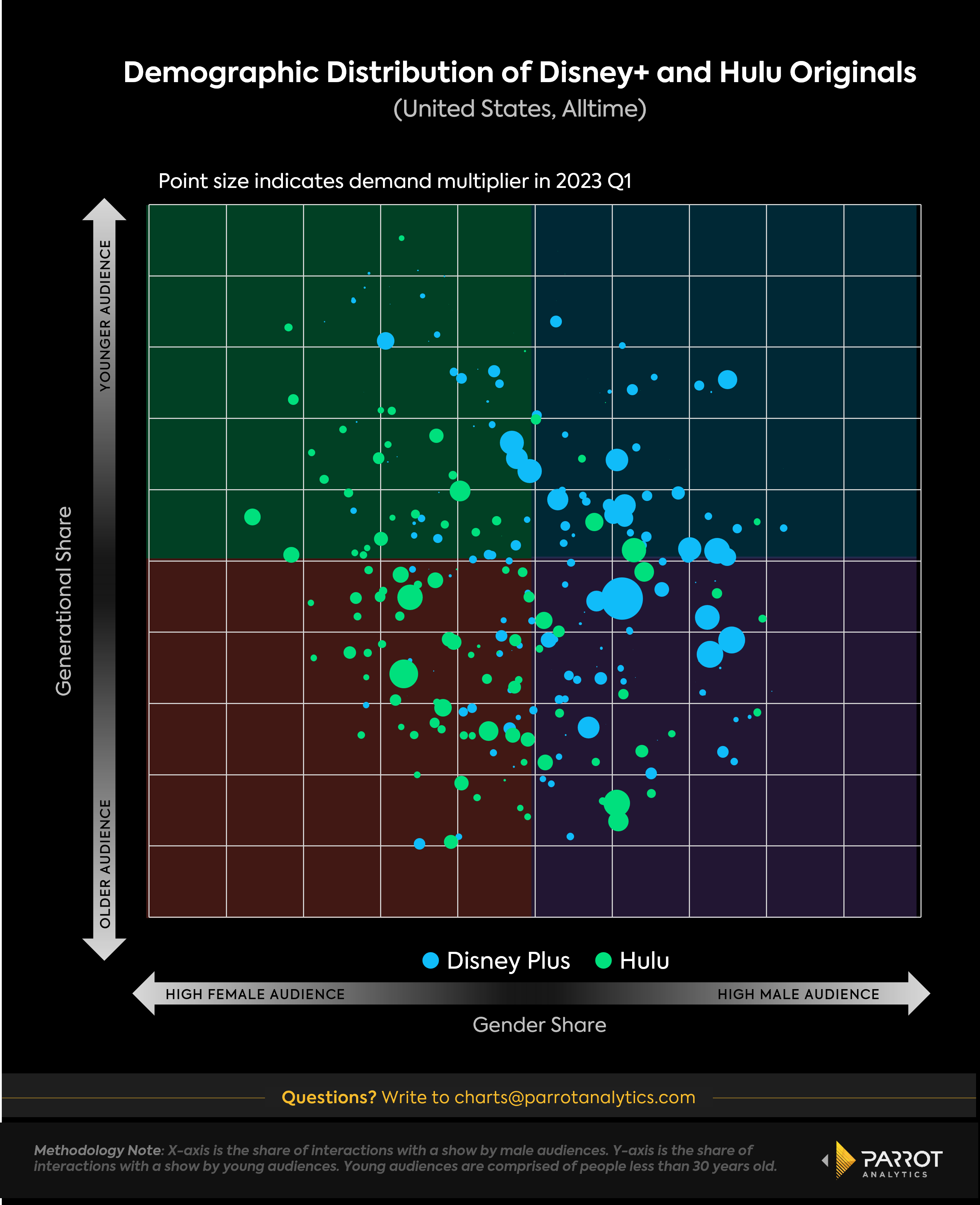 When looking at the 25 most in-demand on-platform series on Hulu in Q1 2023, not a single original made the list. Yes, the service boasts some breakout originals such as The Handmaid's Tale and Only Murders in the Building, but consumers still largely rely on it to catch up on ABC and Fox series. (The 10 most in-demand series on Hulu over the last 30 days are all shows that originated on linear).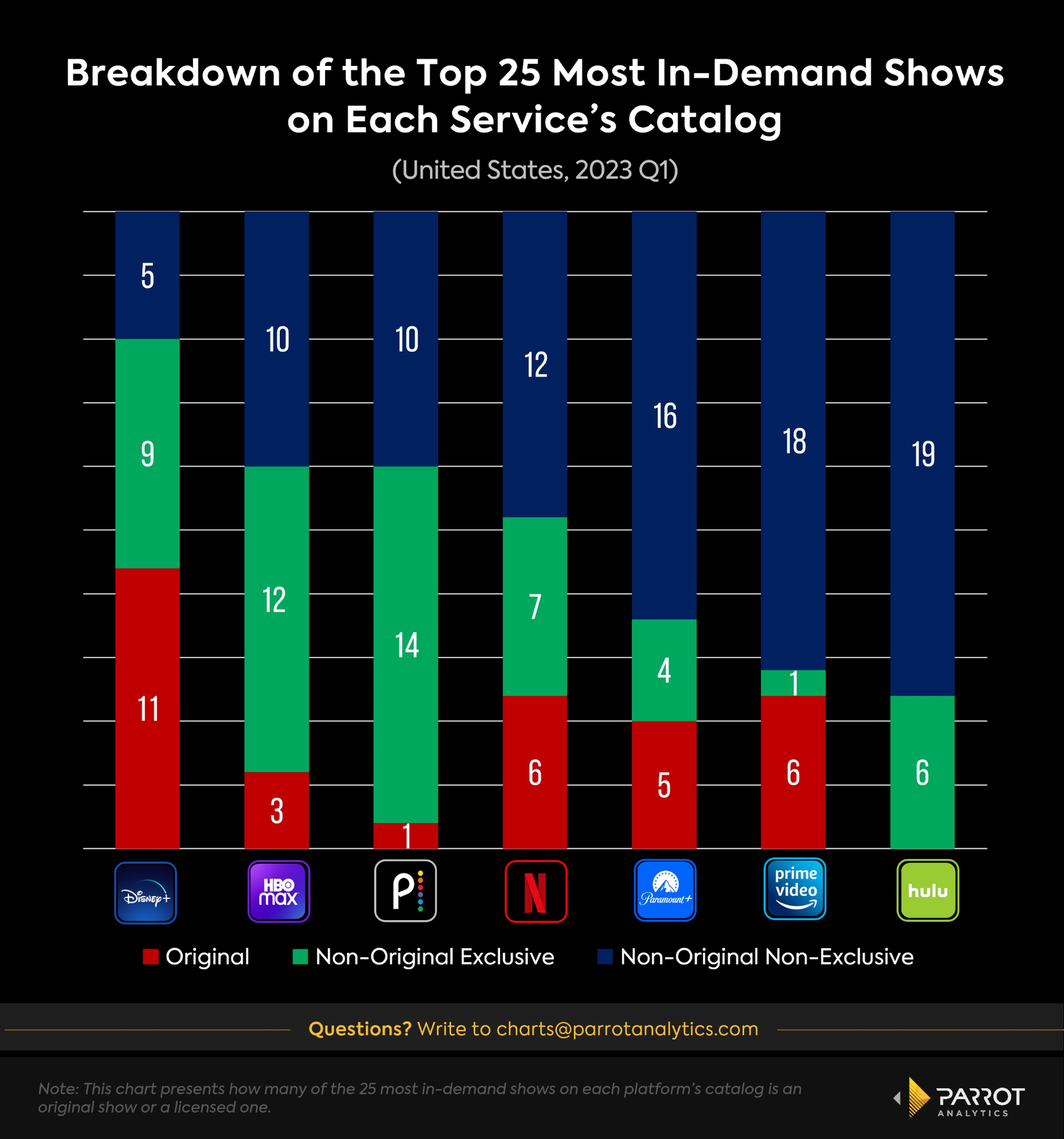 So the trick is to drive viewers from the general entertainment that helps to define Hulu to the branded franchise focus of Disney+, two taste clusters that don't necessarily always neatly overlap. 
It helps that new episodes of The Simpsons (52.70x globally the last 30 days) become available on Hulu after they debut on Fox, while the show's decades-spanning library rests comfortably on Disney+. This is an organic bridge between the two on-platform catalogs and non-exclusivity can be strategically deployed to ping pong users back and forth. 
The ten shows with the highest affinity to The Simpsons in the last week include Family Guy (Hulu), American Dad (Hulu), Bob's Burgers (Hulu), The Good Doctor (Hulu) and The Mandalorian (Disney+). Aside from Bob's Burgers and The Good Doctor, which skew more female, all of these shows over-index with male viewers as well as millennials and Gen X+. Hulu is well covered by The Simpsons in terms of affinity with natural extension titles. Those that watch The Mandalorian are naturally progressing to Andor, Star Wars: The Bad Batch, The Book of Boba Fest and Obi-Wan Kenobi. The Simpsons is an easy two-way funnel for the combination. 
But what about library titles without the cultural footprint of the longest-running scripted series in history?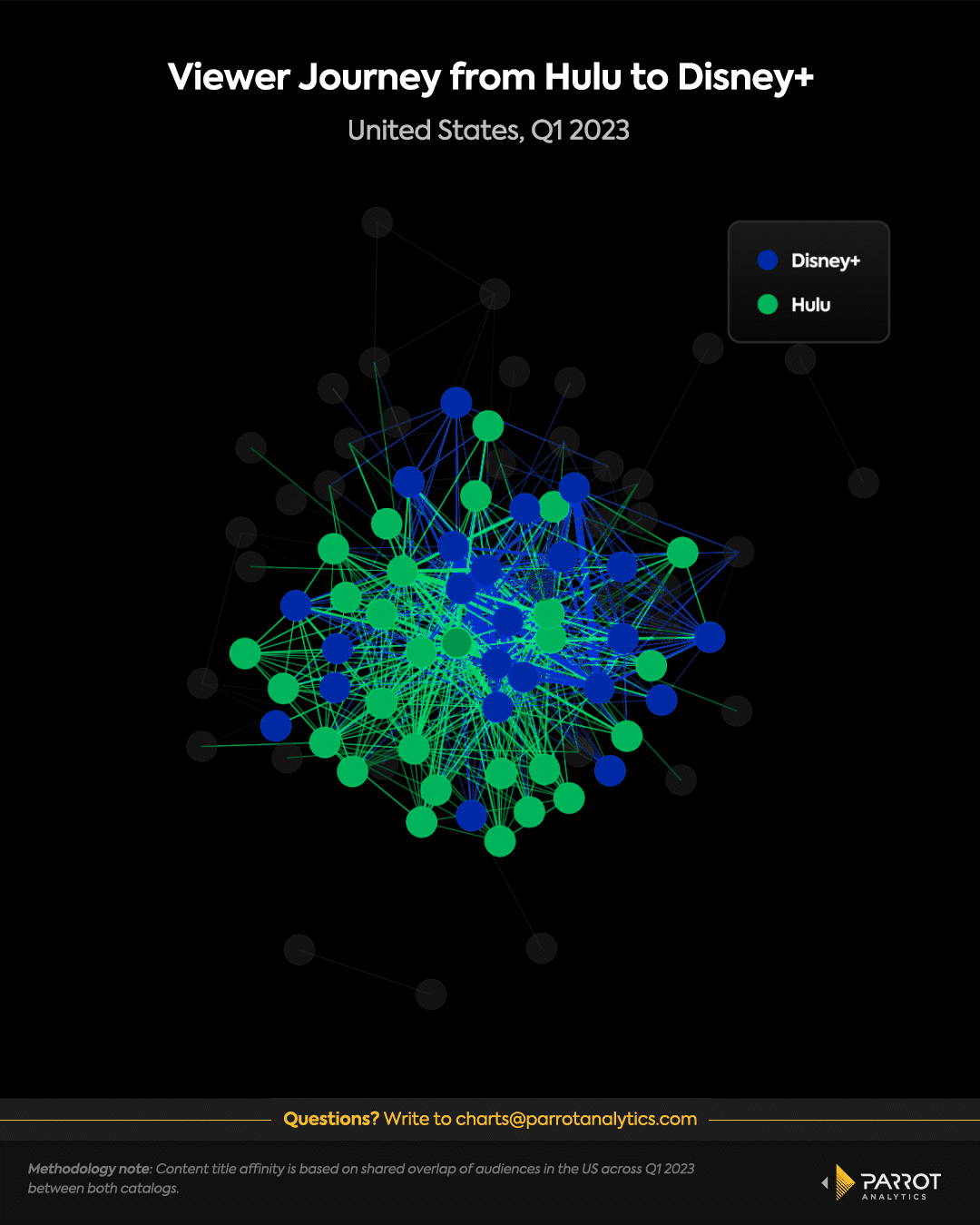 Devs, Alex Garland's cerebral and esoteric 2020 sci-fi miniseries that violently explores weighty destiny-defining concepts such as determinism and free will, is exactly the type of adult-skewing show that would never be on the family friendly Disney+ roster. And yet, its ability to creatively question the nature of reality leads to affinity with WandaVision (Disney+) and Moon Knight (Disney+), its intense focus on character relationships links it to Fleishman Is In Trouble (Hulu) and Reservation Dogs (Hulu), and its sci-fi foundation is a natural bridge to The Mandalorian (Disney+), Obi-Wan Kenobi (Disney+) and The Orville (Hulu). 
It's an example of how even an unlikely and relatively unheralded title — Devs reached a peak US demand rank of just 51st — can serve was an effective gateway to expanded programming preferences. The Orville opens up the Hulu library to a greater degree while Disney+'s Star Wars and Marvel series act as cross-pollinating trees of interest within the library forest.
By emphasizing discoverability and a more holistic set of expanded and targeted recommendations, streaming services can learn more about viewer preference and what sequential levers to pull from a programming and scheduling standpoint to maximize engagement. Getting viewers interested in a wider array of programming can also lead to reduced churn, which can then help to reduce the cost of customer acquisition long-term. So while the ultimate objective to keep subscribers within a given digital ecosystem for as long as possible remains, the trickle down effect can yield positive results from a top to bottom capital efficiency standpoint. 
To bring it back to the basketball analogy, building out this more strategic recommendation framework is another way to try and score more points than the other team. 
---