The entertainment industry exists in a state of perpetual catch-up in which one breakout success or beneficial innovation inspires a legion of imitators and attempts to reverse engineer. This propensity to chase a wave sees trillion dollar companies aiming to replicate the strategy of billion dollar companies as Hollywood increasingly takes on the appearance of a copy cat business. Arguably nowhere is this more prevalent in recent years than in the success of Netflix's South Korean thriller Squid Game.
The market-leading streamer spent a reported $500 million on total Korean production in 2021 as Squid Game, which reportedly cost less than $22 million to produce, went on to become one of its most popular originals ever over the year's final quarter. Netflix has since expanded its content commitments in Korea to $2.5 billion amid a growing general emphasis on international production. Even as programming budgets begin to stabilize industry-wide following Wall Street's 180 degree pivot on the streaming business model, international production remains a key pillar for many of the major players — especially during the ongoing Hollywood strikes. Overall, global demand for non-English content has increased by more than 16% since 2018 through the first half of 2023.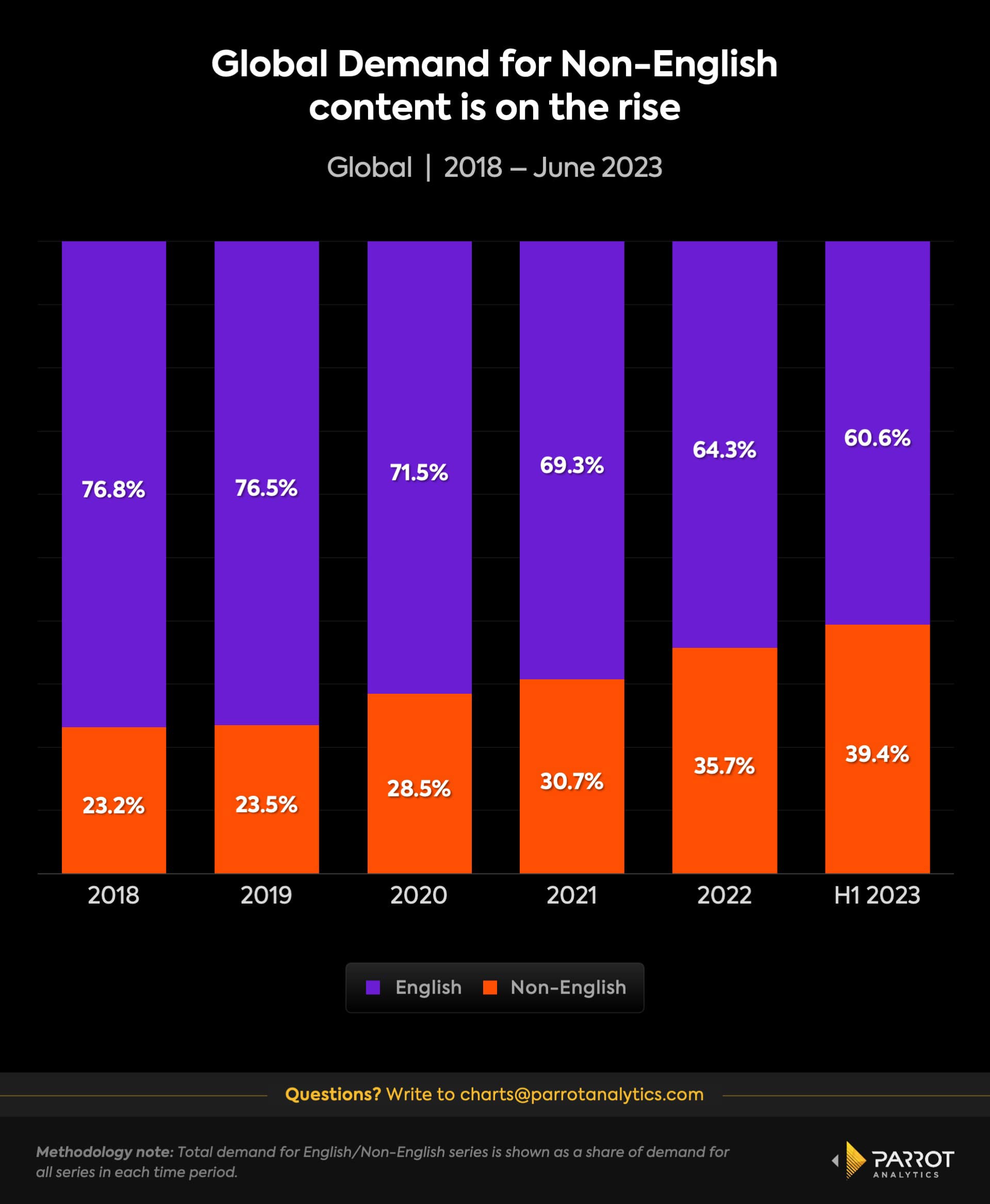 But it's fair to wonder why this overseas focus has rapidly become a driving force specifically in Hollywood. Yes, demand for non-English content is indeed increasing in the US. But we still haven't seen consistent Squid Game sized hits outside of more niche programming like anime. While the floor may be rising, rarely have any international series since matched Squid Game's ceiling in the US.
Still, there are strategic advantages to cultivating more global tastes, particularly as growth plateaus in the saturated US market. Broad appeal programming such as Game of Thrones, Stranger Things and The Mandalorian travel globally but are often expensive to produce. Star-studded American remakes of popular non-English titles — such as Homeland and House of Cards — also tend to cost a pretty penny. But media companies can and do save big on costs through non-US production, which is typically less expensive thanks to a variety of tax rebates and other enticing offers to coax Hollywood far beyond its borders. 
"Different countries have different incentive packages," Ajay Mago, a corporate and technology lawyer and managing partner for EM3, said of the growing push for non-US production in 2021. "Some countries will give you free marketing through government channels or support at festivals. They may even give you free local co-producers."
Studios and production companies — which are often required by law to develop local language programming in order to create production hubs in other countries — then get more bang for their buck should those shows resonate beyond their original regional markets and in high average revenue per user (ARPU) regions such as the US. (Streaming prices have increased by nearly 25% over the last 12 months as companies chisel their way toward profitability like Andy Dufresne). In other words, the money spent on international productions can theoretically go longer, and create an even better return if everything breaks right. 
So today, it's not enough to merely meet the local language production requirements. In order to fully leverage this newfound opportunity and increasing demand, Hollywood needs to better understand what populations are expressing the most significant demand for streaming originals, what non-English languages have become the most prominent audience choices domestically, what genres are traveling the most effectively back to the US, and where the whitespace opportunity lies. 
Why Go Global
As the streaming industry hopes to reignite overall growth and squeeze more value out of existing customers, non-English titles can ideally help accomplish two goals:
Build market share in emerging regions to increase overall subscribers and provide more long-term pricing power as UCAN growth stalls

Lessen the need for more costly domestic production by generating similar levels of domestic audience demand 
The latter objective remains difficult. Despite the outsized success of Squid Game, which became the most in-demand TV title worldwide just nine days after premiere, just two non US/Canada productions (U.K's Doctor Who and France's Miraculous: Tales of Ladybug and Cat Noir) ranked among the 100 most in-demand TV series in the US from January 1, 2020-August 10, 2023, if we exclude Japanese animation. (Japanese animation routinely ranks as the most in-demand subgenre globally and is not easily replicated by outside production companies).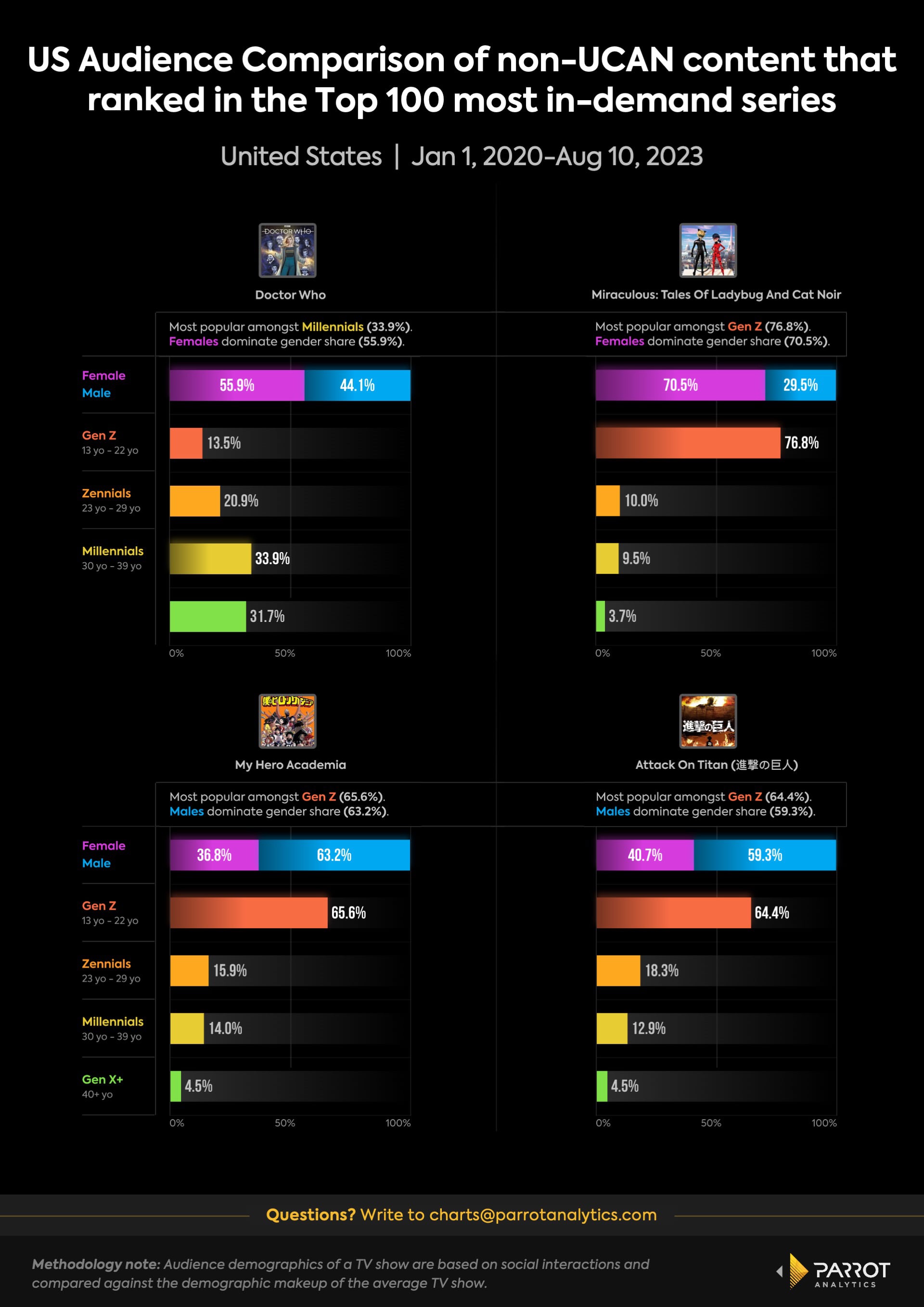 Netflix and Amazon have intentionally developed global libraries over the years to position themselves as one-stop-shop suppliers for all audiences. While the share of non-US series supply still outstrips the share of demand for such content in the US across the major streamers as of June — underscoring American audiences' reluctance to fully dive into non-English content just yet — such a stockpile could become extremely valuable as the ongoing Hollywood strikes threaten to delay the delivery of fresh scripted American series this fall.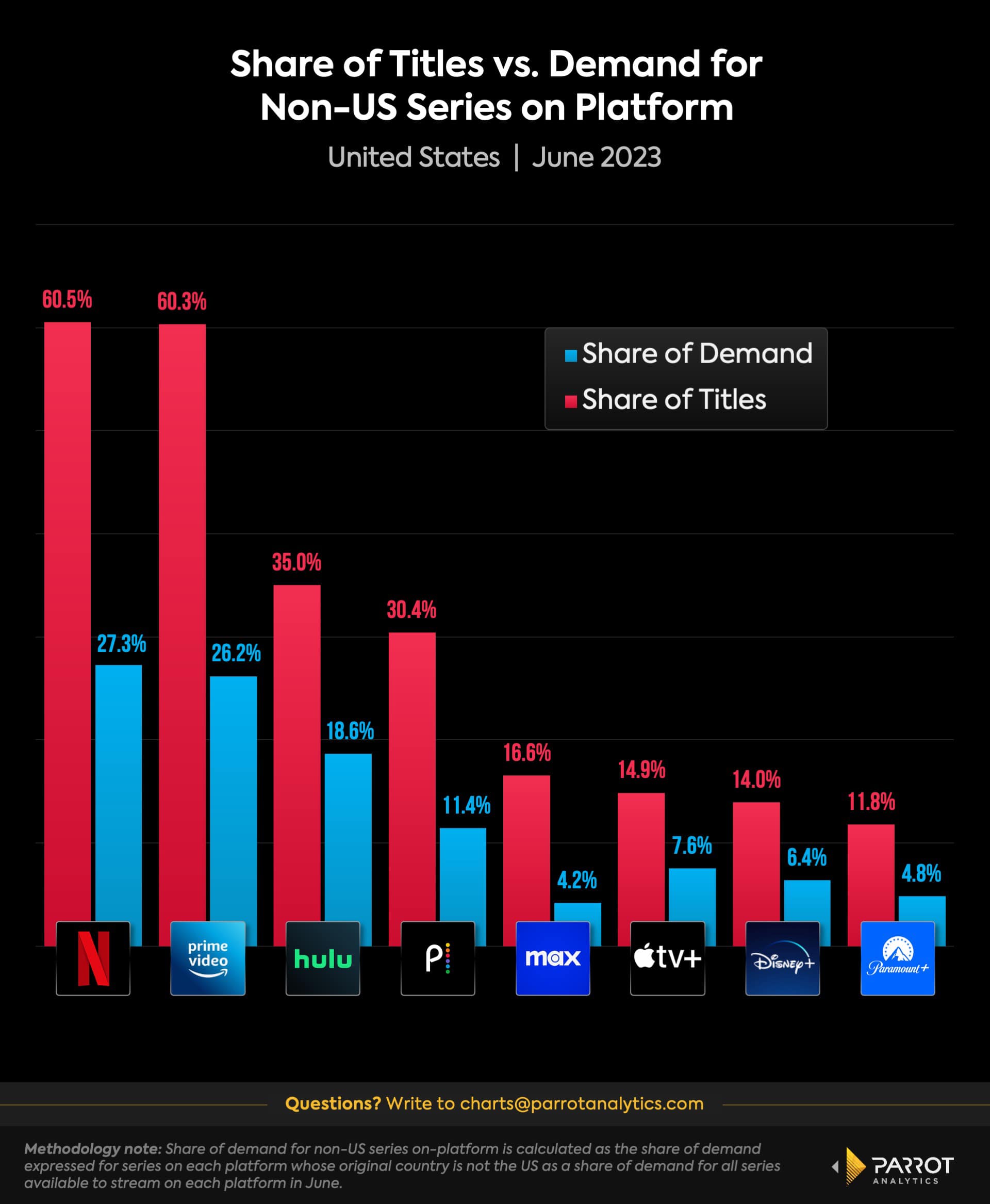 Yet demand for non-English content in the US is still growing just as the overall demand for streaming content globally continues to expand as well. 
Rising Overseas Demand for Streaming Originals
As ambitious streamers are faced with more local content mandates, it's helpful to know which regions are best positioned for further content investments. Spending tens of millions of dollars (if not more) on programming in a country that doesn't boast much of an appetite for it will only result in sunken costs. At a time when every line item on a budget is being scrutinized, understanding market opportunities such as this are more important than ever.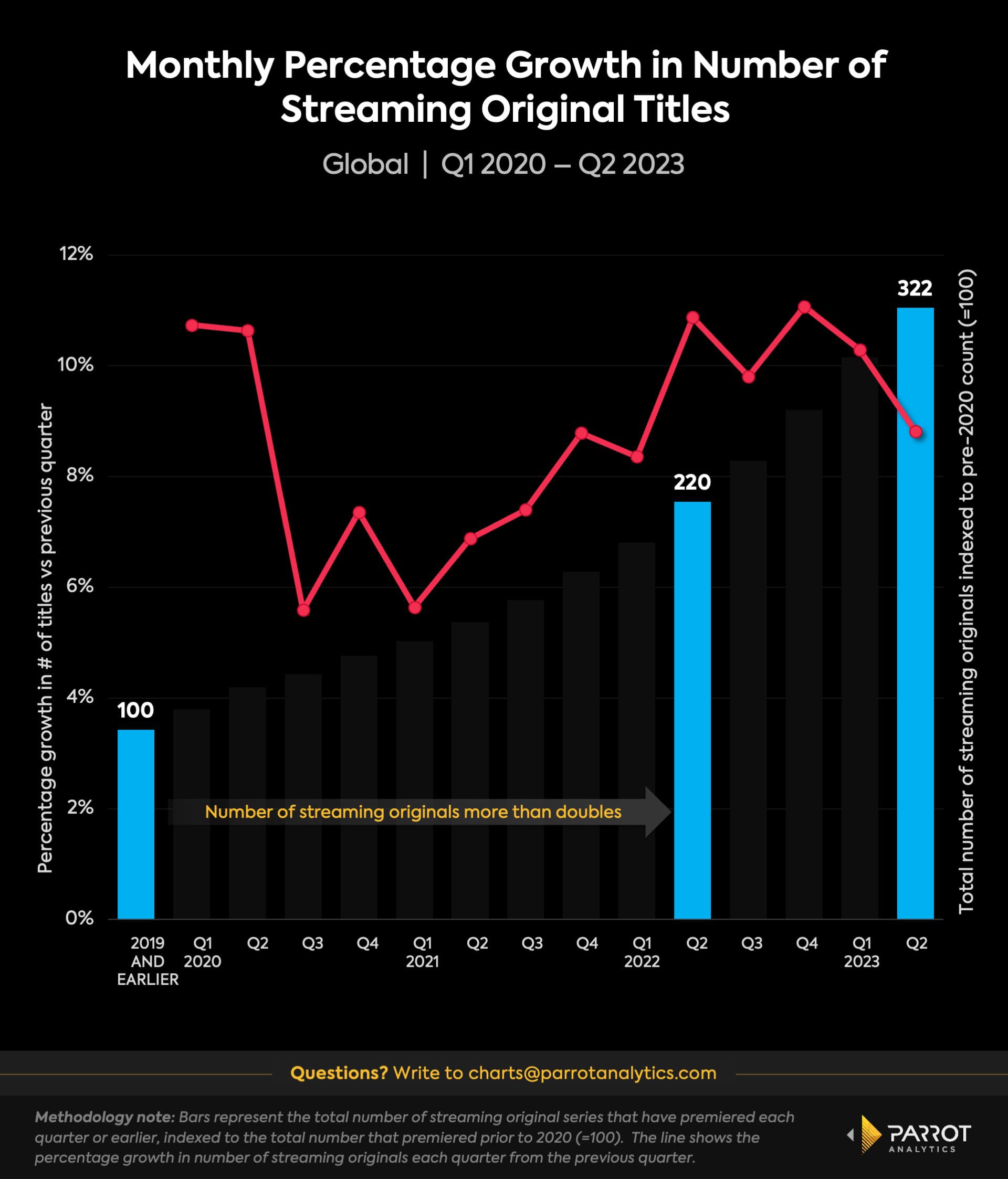 The global demand for streaming original content rose by 21.6% in the first half of 2023, following a brief dip in Q4 2022. Even with slight occasional declines across the last two and a half years, global demand for digital exclusives is on a steady upward trajectory over the last 3.5 years. However, the rate of growth has slowed over the last year as there has been a pull back on overall production. With less volume, hit rates become even more integral to a successful platform.
Within that overall increase, and excluding the US, we can identify the 15 countries that have experienced the greatest demand growth for streaming originals from January 2020 to June 2023. These represent markets that might be worth investing in and/or content hubs ripe for additional licensing and development, depending on population, local economic factors and overall demand. 
Germany (181.5%)

Bulgaria (138.2%)

Japan (136.4%)

Thailand (118.4%)

Netherlands (115.6%)

Slovenia (113.7%)

South Korea (111.4%)

Russia (106.8%)

Canada (100.6%)

India (96.6%)

Australia (95.8%)

Denmark (94%)

France (93%)

United Kingdom (93%)

Sri Lanka (88.8%)
Not every market offers the same upside, of course, despite the significant streaming original gains these markets have experienced. Sri Lanka is not necessarily the next epicenter of international entertainment, for example. But overall, there's a reason why Amazon Prime Video is pushing forward with Italian and Indian spinoffs of globe-trotting spy series Citadel and investing in Australian originals, why Netflix is retrofitting Money Heist for South Korea and Germany, and why Paramount+ created a four-region version of reality series The Challenge across the US, Australia, UK and Argentina. 
Conversely, thanks to cost-cutting measures and ARPU concerns, there's also a reason why Warner Bros. Discovery shut down original production in several European regions and why Disney opted not to shell out big bucks for digital cricket rights and HBO distribution across Disney+ Hotstar. Disney CEO Bob Iger has even conceded that "not all markets are created equally." Different companies have different goals as well as financial situations, but efficient spending is more or less a unifying aspiration. 
US Demand for International Programming
Understanding where the rising demand for non-English programming is coming from and what form it's taking enables smarter decision making when it comes to resource allocation and audience targeting. The goal isn't just to create good TV series for local markets, but series that actually stand a chance of penetrating the zeitgeist in the US and driving acquisition, retention and engagement among high ARPU subscribers. 
Demand for non-English content in the US has leapt more than 50% over the past three years, catapulting from an 8.1% audience share in March 2019 to 12.7% as of April. 
When looking at the top 10 most in-demand international series by platform in 2023 across Apple TV+, Disney+, Hulu, Max, Netflix, Paramount+, Peacock and Amazon Prime Video, the most commonly represented countries are the UK (28), Japan (23), Canada (16), France (5), Argentina (3), Italy (1), Australia (1)m New Zealand (1), Turkey (1), Israel (1). The UK and Canada are predominantly English-speaking nations, which skews content preferences toward English-language originals. These are also largely more mature entertainment markets with longer track records in original production(many of the top 10 shows across these platforms also originated on linear TV first).
As mentioned above, there are many still developing markets that are seeing significant growth in audience demand for digital originals. Coupled with these established entertainment-producing countries, companies can formulate a balance between investing in regions proven to export programming well and investing in emerging markets that will help fortify positions for the future. When measuring the top 100 series in travelability (which indicates the popularity of a show outside of its home market) over the last 12 months while excluding English and Japanese language content, we found that Turkish, Korean and Spanish language series accounted for the three highest shares. This tends to mesh with which the popularity of non-US shows in the US by platform.
As of July, Max's international library relies largely (78.6%) on other English-speaking countries, which tracks with the origin of the top 10 non-US series from each platform. This could enable a less disruptive transition to non-US programming for viewers apprehensive about subtitles should American productions remain halted. Peacock (UK,Australia, New Zealand) is similarly English-driven at 60.7%, though it also relies on growing Asian (31.6%) and Latin American (4.4%) content as well. Amazon also develops international programming largely from other Anglophone countries (59.2%), though is also considered a market leader in India. Netflix and Hulu, both of which house numerous anime series, count Asian content (43% for Netflix; 75% for Hulu) as significant non-US drivers. For Netflix, European (19.7%) and Latin American programming (2.2%) make an impact as well.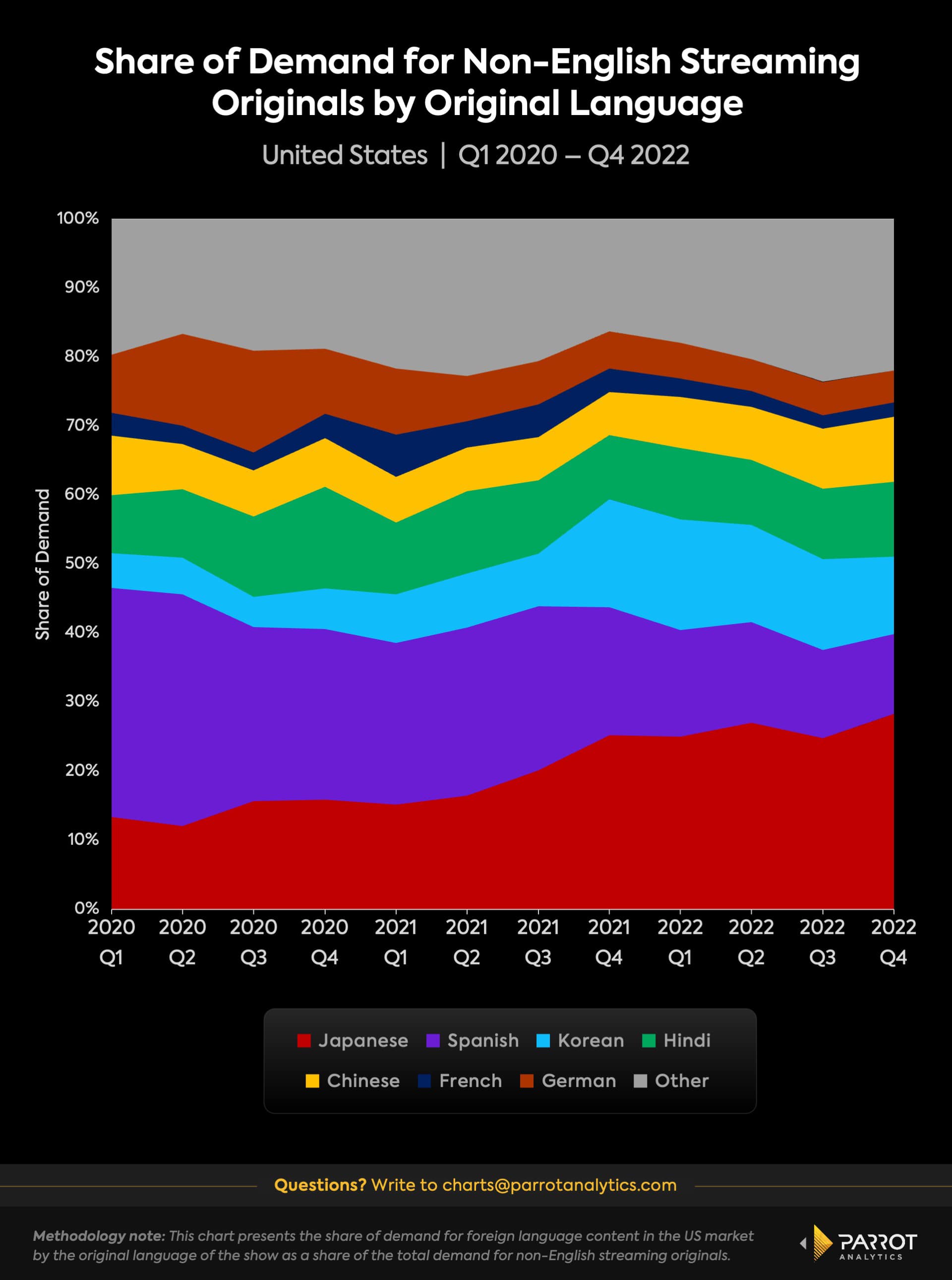 Much of this tends to line up with which non-English languages have grown more popular with US audiences. From Q1 2020-Q4 2022, Japanese, Spanish and Korean accounted for the three largest audience demand shares among streaming original non-English programming in the US. (If we exclude Japanese, Hindi would enter the Top 3. India boasts three series among the top 100 most travelable over the last 12 months when excluding Japan and US). Where as many of the top 10 international shows by platform mentioned earlier were not originally digital exclusives, this provides a snapshot into which regions SVOD platforms are most interested in. It also mostly aligns with which non-English language series boast the best worldwide travelability over the last year. 
Still, we must remember that it is very hard for non-English content to break through with American audiences to the degree that Squid Game did. In its first month of release, it was 34.08x more in-demand than the average series in the US, putting it among the top 0.2% of all TV shows in that span. This was ahead of other series currently ranked among Netflix's self-reported top 10 most-viewed non-English shows, in terms of US audience demand in their first month, such as France's Lupin Season 1 (9.08x), Spain's Money Heist Part 3 (21.54x) and South Korea's All Of Us Are Dead (20.20x).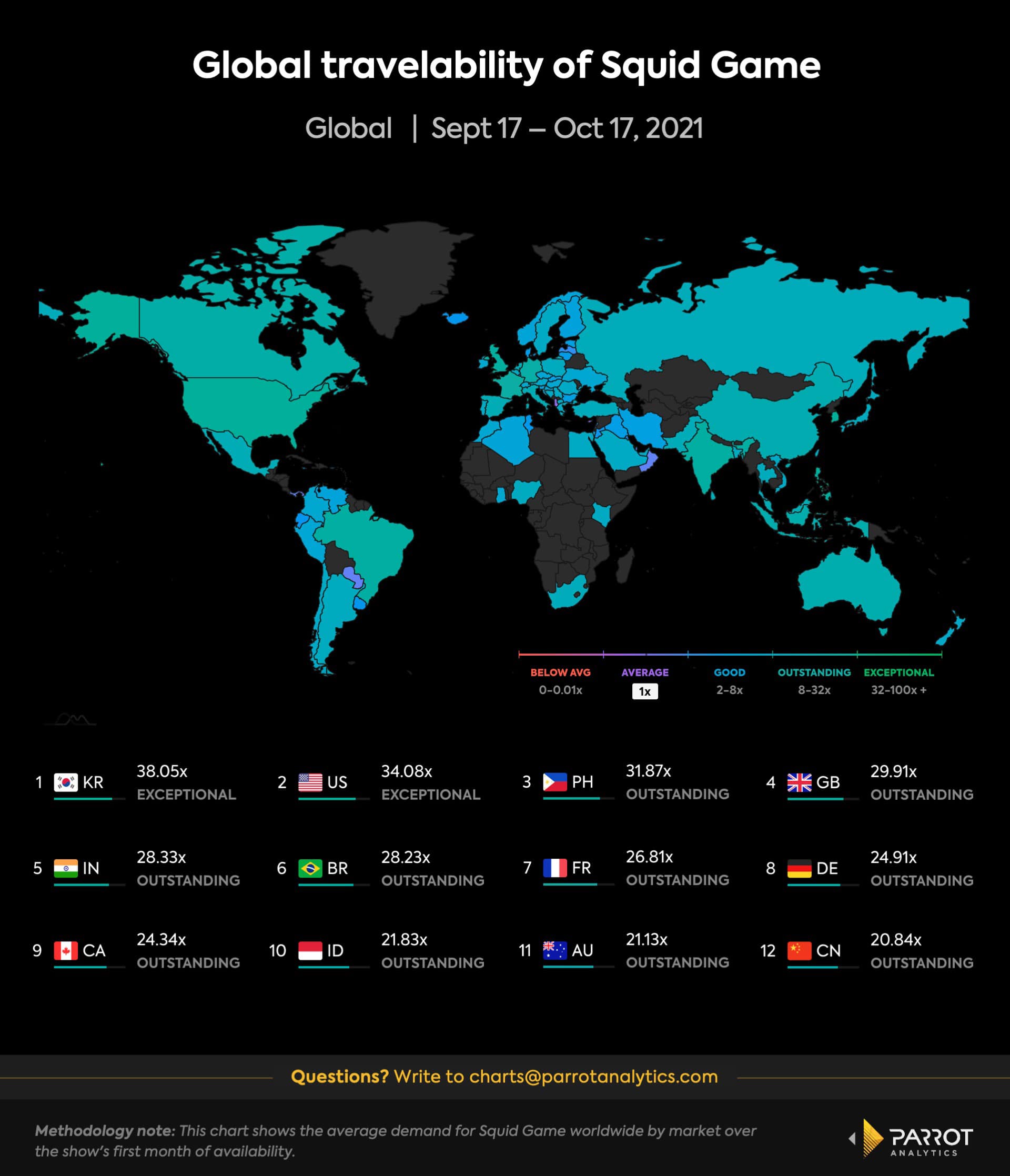 That doesn't mean these shows weren't successful—they were. Money Heist Season 4-5 even hit higher demand peaks in the US than Squid Game; many of Netflix's top 10 non-English shows were big regional hits. But Squid Game enjoyed elite longevity and consistency domestically while other top 10 non-English Netflix series fell off far more rapidly and/or never matched the same highs.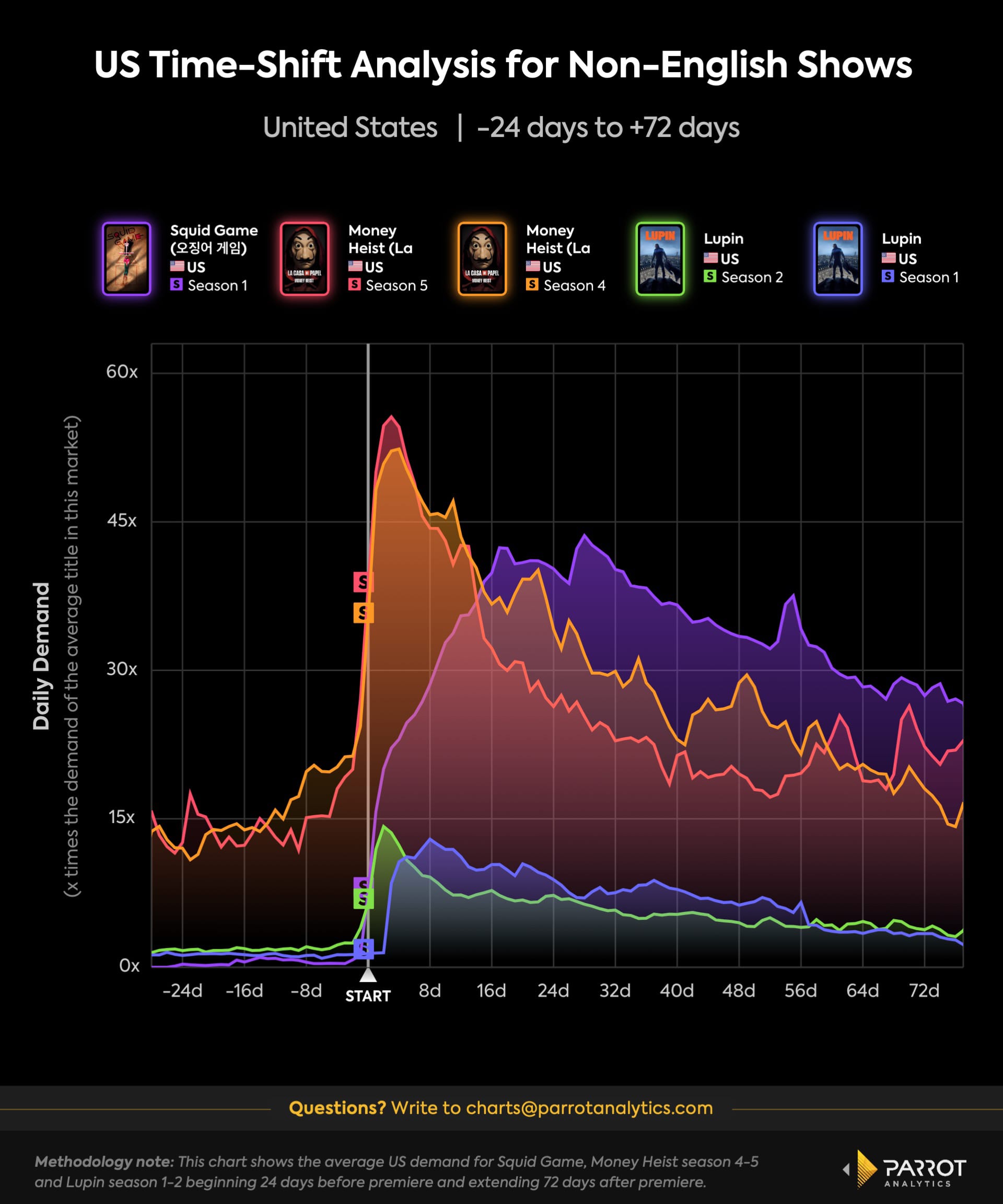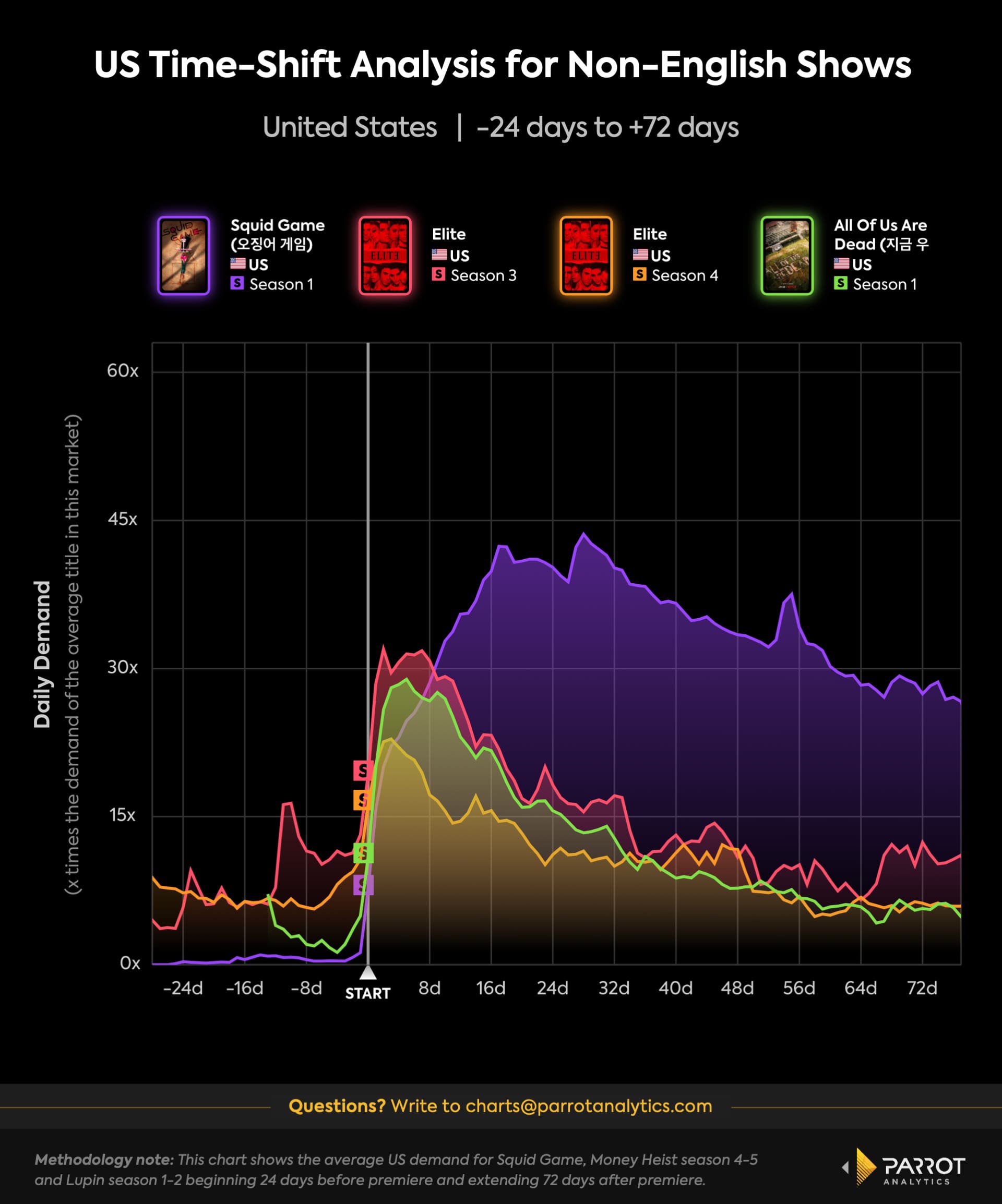 Theoretically, the more US audiences — which represent ARPU highs for major services such as Netflix ($16.00) and Disney+ ($7.31) — consume non-US titles, the more efficiently production budgets become. This isn't always the case as select international productions such as Apple TV+'s Pachinko reportedly carried a budget in the vicinity of The Crown. But generally speaking, the industry objective is to increase demand for non-English titles in order to lessen the reliance on costly domestic talent and production. 
Popular Genres of International Content
Now let's try to learn what type of international content tends to resonate on the home front. Here is the genre breakdown for the top 100 most in-demand non-English series in the US from Jan. 1, 2020-Aug. 6, 2023: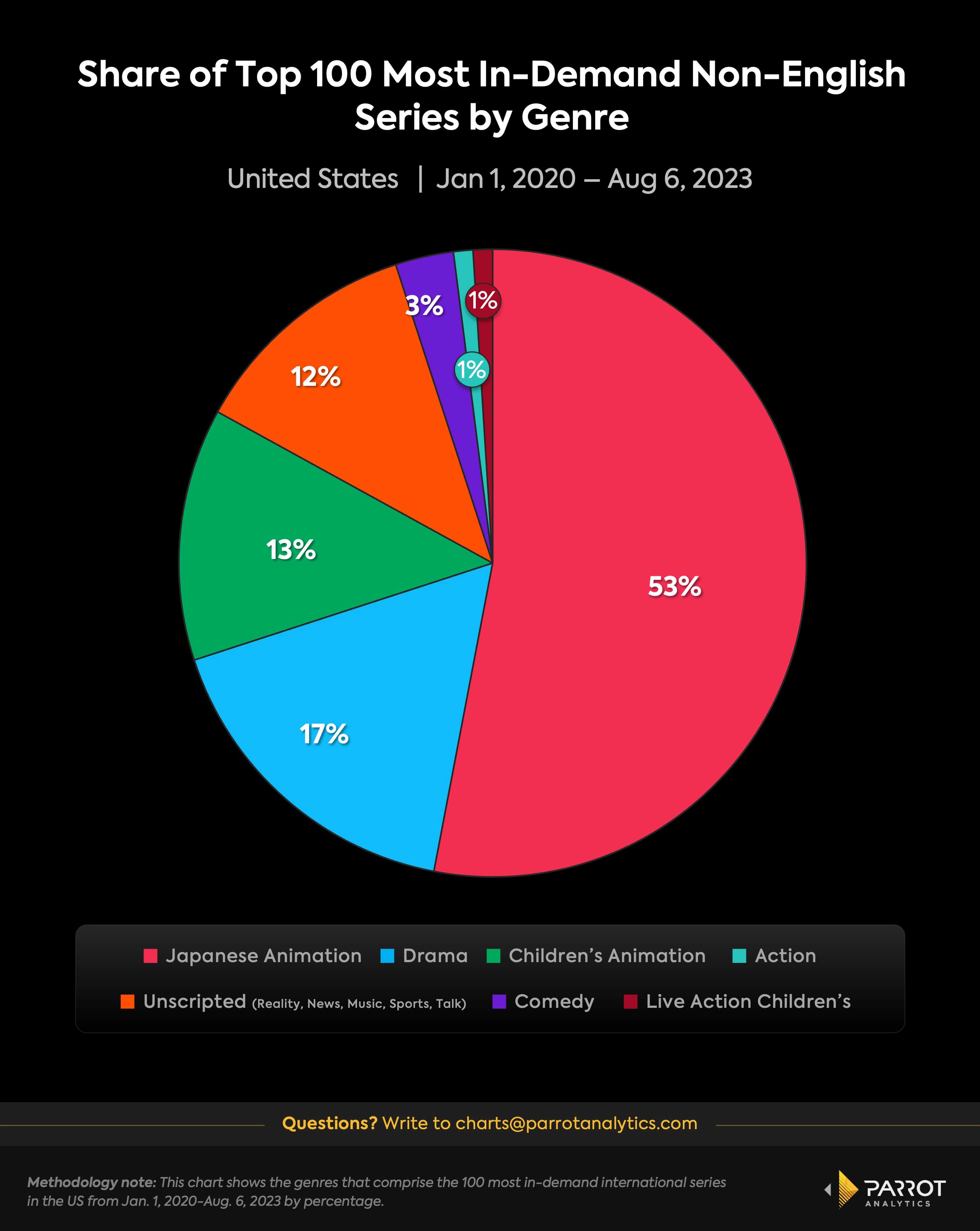 When excluding Japanese animation in the same timeframe, drama and unscripted remain leading contenders in terms of top 100 non-English series: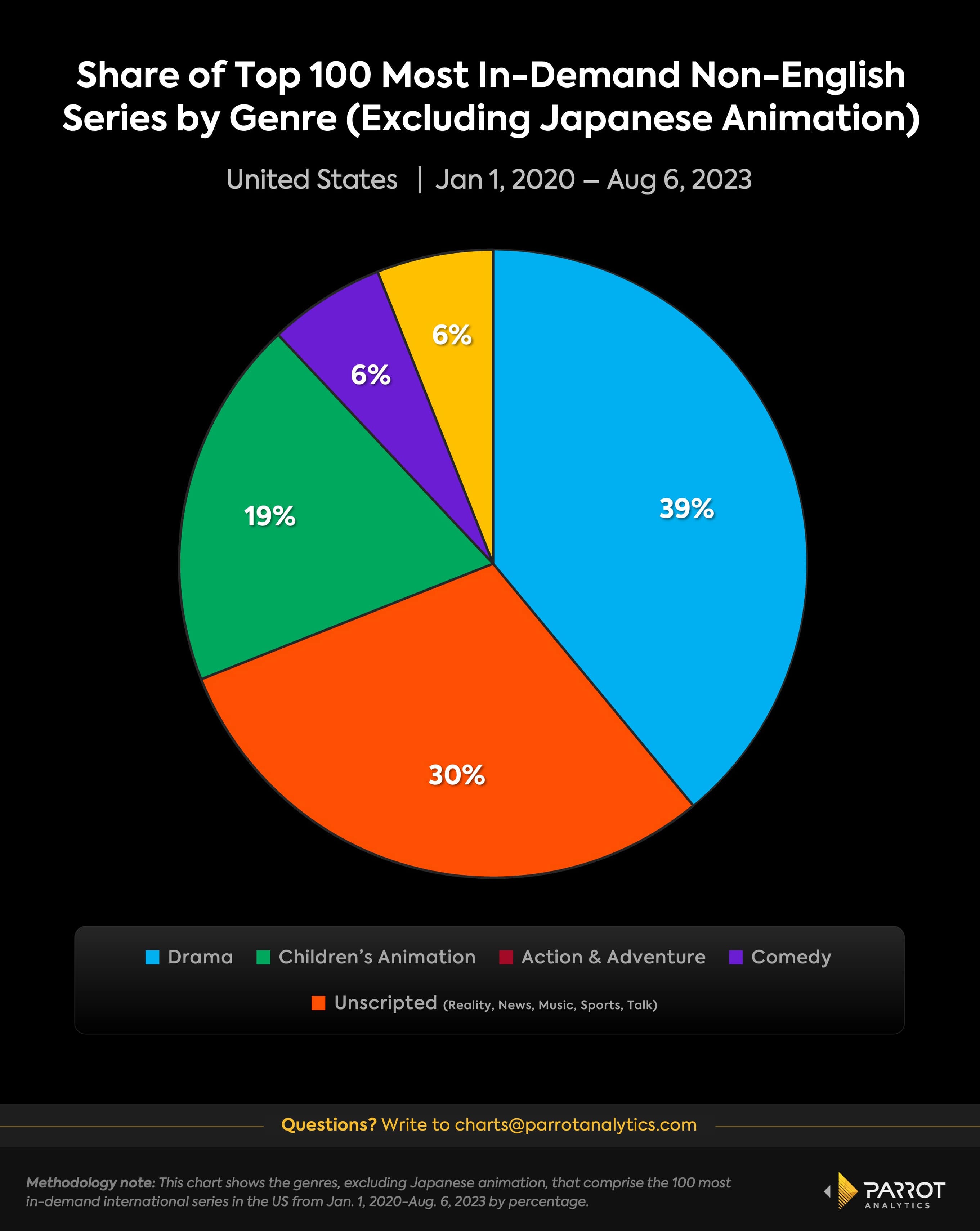 Hulu recently recognized Japanese animation as a core demand driver when it launched Animayhem, a hub dedicated exclusively to the subgenre. 
Animation in general, and not just restricted to Japanese anime, is often closely associated with strong retention ability(such as South Park), as is lean-back unscripted fare. Procedurals (such as Suits, which is currently thriving on Netflix) tend to elicit impressive engagement. Finding the right balance between acquisition, retention and engagement is key to optimizing content libraries. (Retention refers to the ability to prevent subscribers from leaving a streaming service to another platform and engagement is the ability from one show to lead to another show being viewed within the same platform).
Digging even deeper, we can look at Demand vs. Supply from Q2 2023 to see where further whitespace opportunity lies. Specifically, looking at subgernes that are in high demand/high supply and high demand/low supply in the US, LATAM, Asia and EMEA regions reveals key overlap and undersaturated areas. 
US Demand vs Supply - Q2 2023
High Demand/High Supply: Sci-Fi, Sitcom, Fantasy, Adventure, Action, Animation

High Demand/Low Supply: Dystopian, Superhero, Apocalyptic, Neo Noir, Western, Late Night Talk Shows, Procedural, Legal, Paranormal, Horror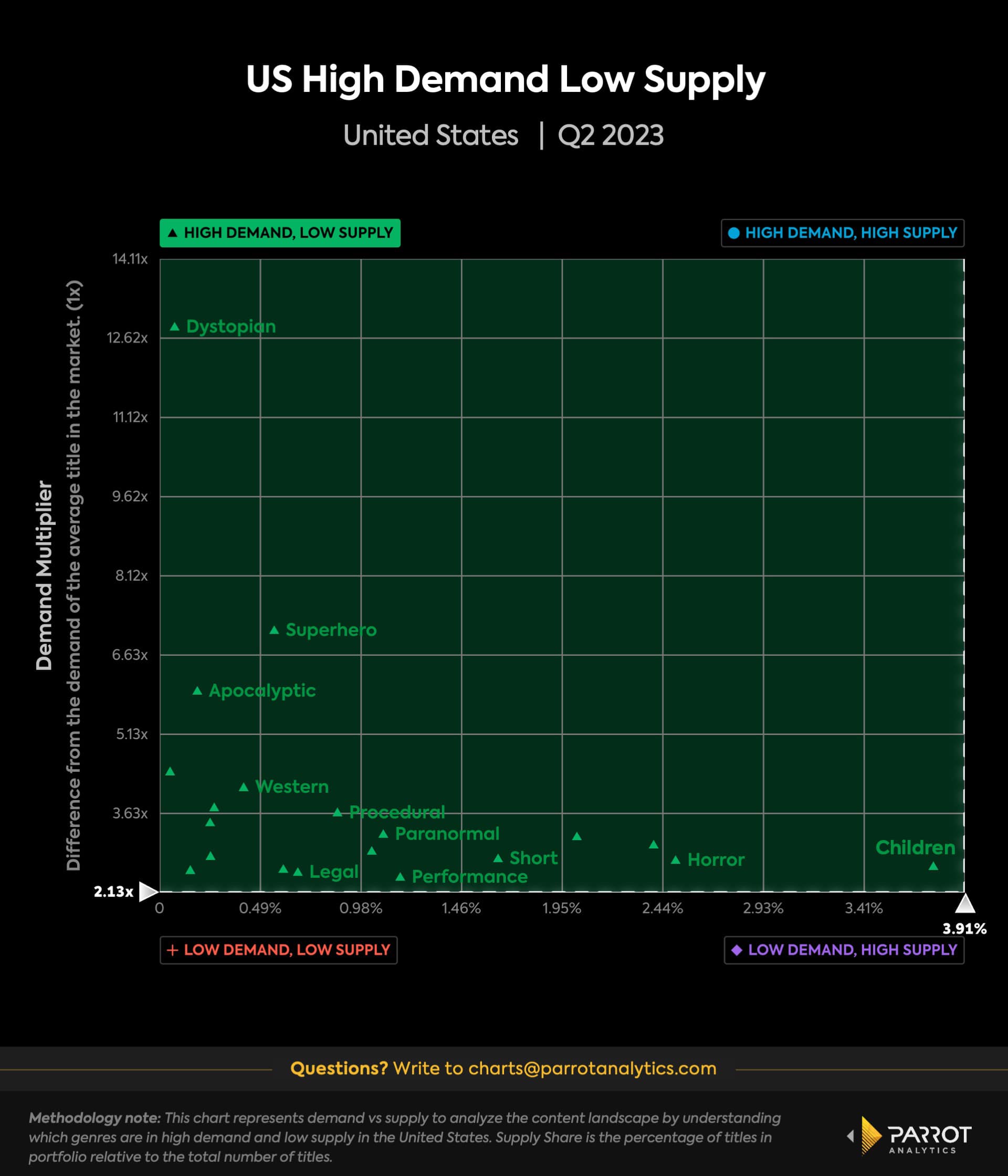 LATAM Demand vs Supply - Q2 2023
High Demand/High Supply: Sci-Fi, Music, Fantasy, Adventure, Animation, Action

High Demand/Low Supply: Dystopian, Superhero, Anthology, Apocalyptic, Pre-School, Satire, Telenova, LGBTQ+, Horror, Anime, Soap Opera, Neo-Noir, Western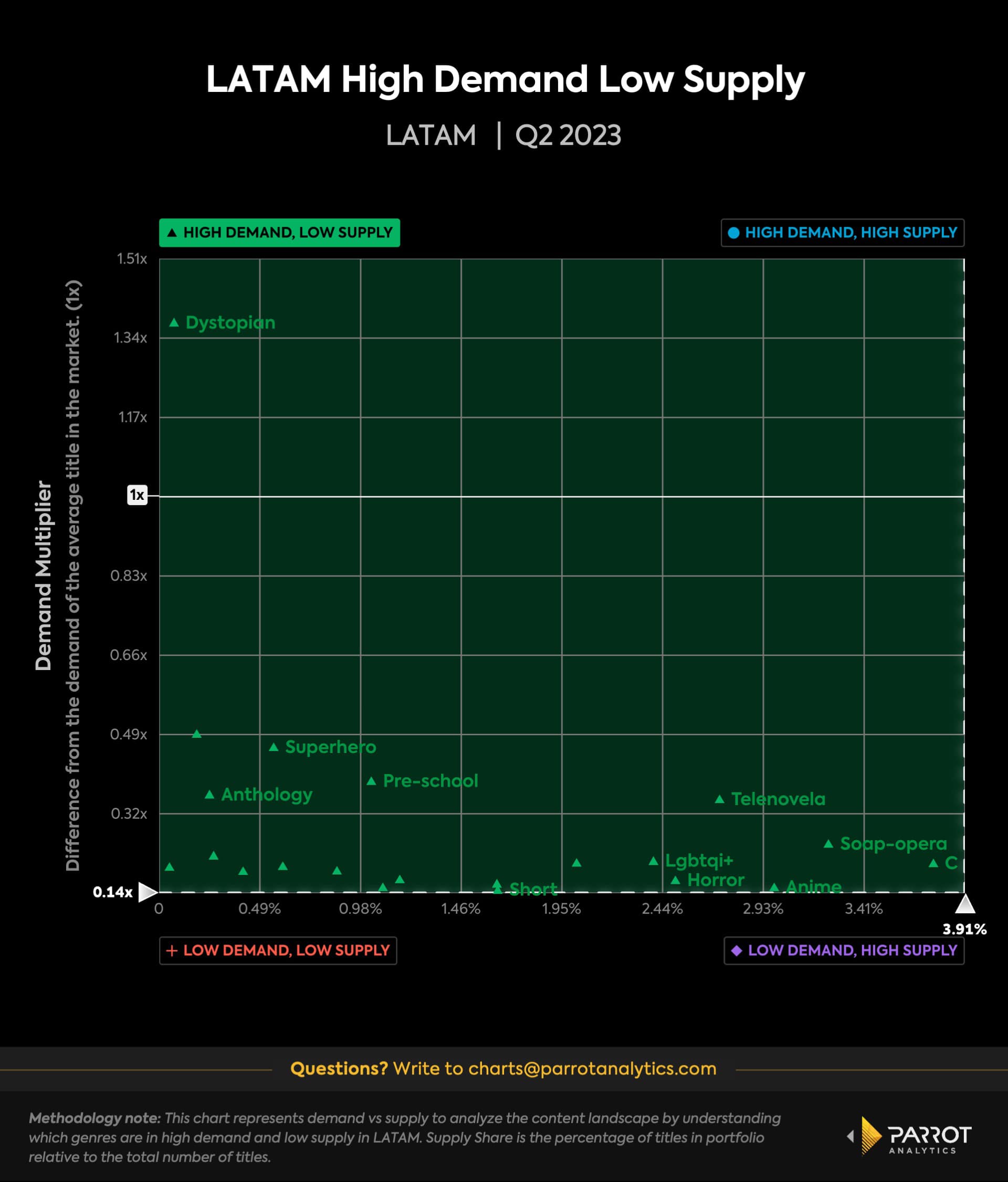 Asia Demand vs Supply - Q2 2023
High Demand/High Supply: Sci-Fi, Music, Fantasy, Mystery, Thriller, Adventure, Action, Animation

High Demand/Low Supply: Dystopian, Apocalyptic, Superhero, Neo-Noir, Western, Anthology, Legal, Procedural, Horror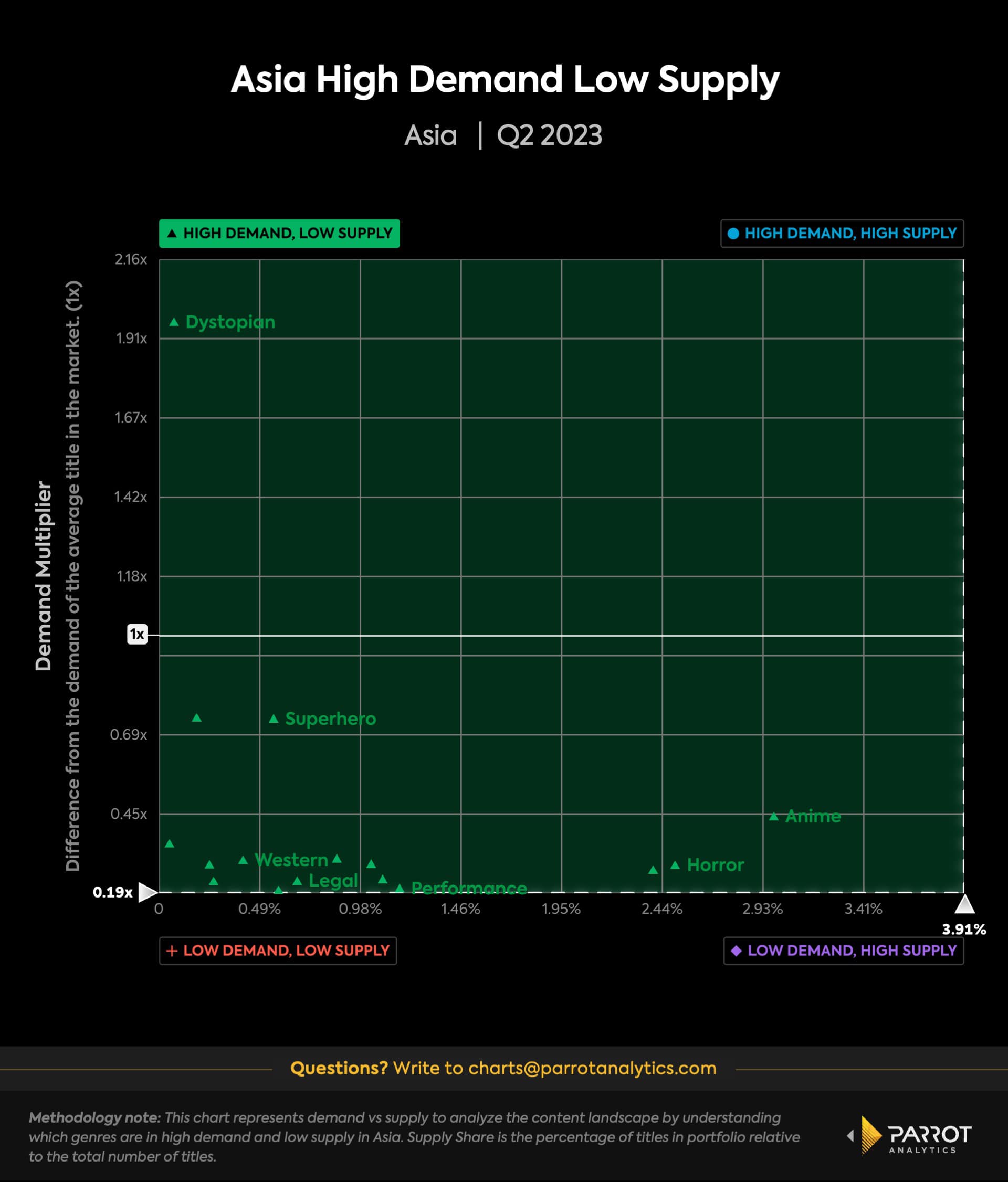 EMEA Demand vs Supply - Q2 2023
High Demand/High Supply: Sci-Fi, Fantasy, Mystery, Thriller, Adventure, Animation, Action

High Demand/Low Supply: Dystopian, Apocalyptic, Superhero, Western, Neo-Noir, Anthology, Procedural, Legal, Satire, Spy, Paranormal, Pre-School, Horror, LGBTQ+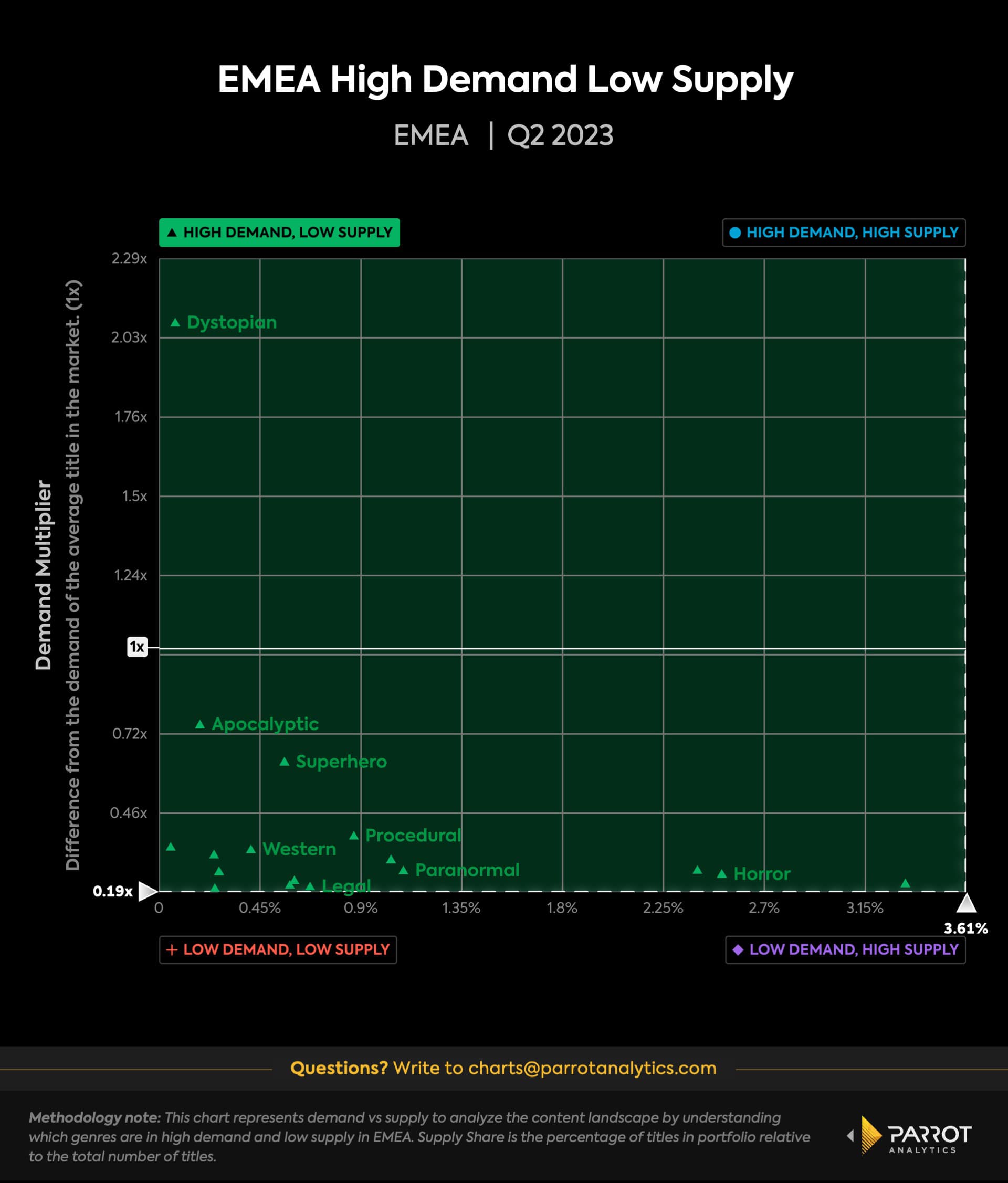 In terms of genre and based on demand vs. supply, one of the best chances a non-English series may have of resonating with American audiences tends to be: genre series (sci-fi, fantasy, horror, Western), thrillers/mysteries and broadcast-style genres (legal, procedural). All of these subgenres can conceivably fall under the drama umbrella category, which accounted for significant shares among the top 100 most in-demand non-English series in the US since the start of 2020. They also align with Netflix's Top 10 most-viewed non-English series globally, which are a mix of various drama subgenres. 
Conclusion
If Hollywood is absolutely determined to chase after Squid Game and try to unearth the next international phenomenon, it can do so by focusing its investment lens onto specific regions and genres. 
Germany, Netherlands, India, Canada, Thailand, South Korea and France are among countries that have seen audience demand for streaming originals grow at a top 15 rate since 2020. Yes, these countries offer potential subscriber growth engines for companies looking to increase market share. But more importantly, these are also among the countries driving the increase in US audience demand for non-English content as Japanese, Korean, Spanish, Hindi, French and German language digital exclusives are resonating more and more with American viewers in the last few years. 
Dramas, unscripted fare, and animation of all sorts tend to travel well globally and particularly back to the US. While each streamer may have its own set of specific goals, creating a combination of acquisition, retention and engagement titles out of these genres — with strategically varied release strategies for each — provides the best chance at maximizing return. 
---