The Parrot Analytics Movie Demand White paper contains in-depth analyses to reveal how movie demand data results in better strategic decision making. To best understand how Movie Demand can help studio, OTT, and production company teams better understand the market for each title, the Movie Demand white paper examined:
Sequels, superheroes, and scaries: A key component of the theatrical equation is whether a film feels like it needs to be seen with other people, whether it needs to be seen the second it's released, and whether it requires technology still not available at home for the best experience.

Event-style musicals: Musicals or event-style music-focused productions are still prominent, but even with directors like Steven Spielberg behind the camera and multiple Oscar nominations, the market is still finicky to navigate. What does demand for musical productions on different platforms tell us about their future?

Comedies: Comedies are increasingly becoming rarer at the theater as the industry pivots comedies to streaming originals. Is there still an audience for comedies in the theatrical space? How does talent demand determine what films have a better shot of playing in theaters than others?

Dramas: It's no surprise that the number of dramas released in theaters per year has diminished over the last two decades. The revenue those dramas do bring in is down more than 40% compared to the early '00s. What's going on in the drama space?

Day-and-date releases: Day-and-date releases were all the rage during the pandemic, but the cannibalization factor does play a significant role in determining what films are better served by a 45-day-window vs those films that are best served as a streaming original.

The benefit of direct-to-consumer: Streaming exclusives are the large elephant in the room. Although the film industry is still reliant on theatrical releases globally, streaming-first distribution strategies can help both those in the OTT space and those with traditional theatrical businesses. What type of movies make the most sense to become streaming exclusives and which ones can still benefit from a theatrical release? 
In order to answer these questions, this whitepaper covers:
A Brief History to Help Predict the Future — and Where We Are Now
Here we look at the biggest takeaways from two of the most transformative decades in cinema that reverberated into our modern day dilemma. A few important data points emerged over those years, painting a picture of where the theatrical industry was headed when it came to feature film releases.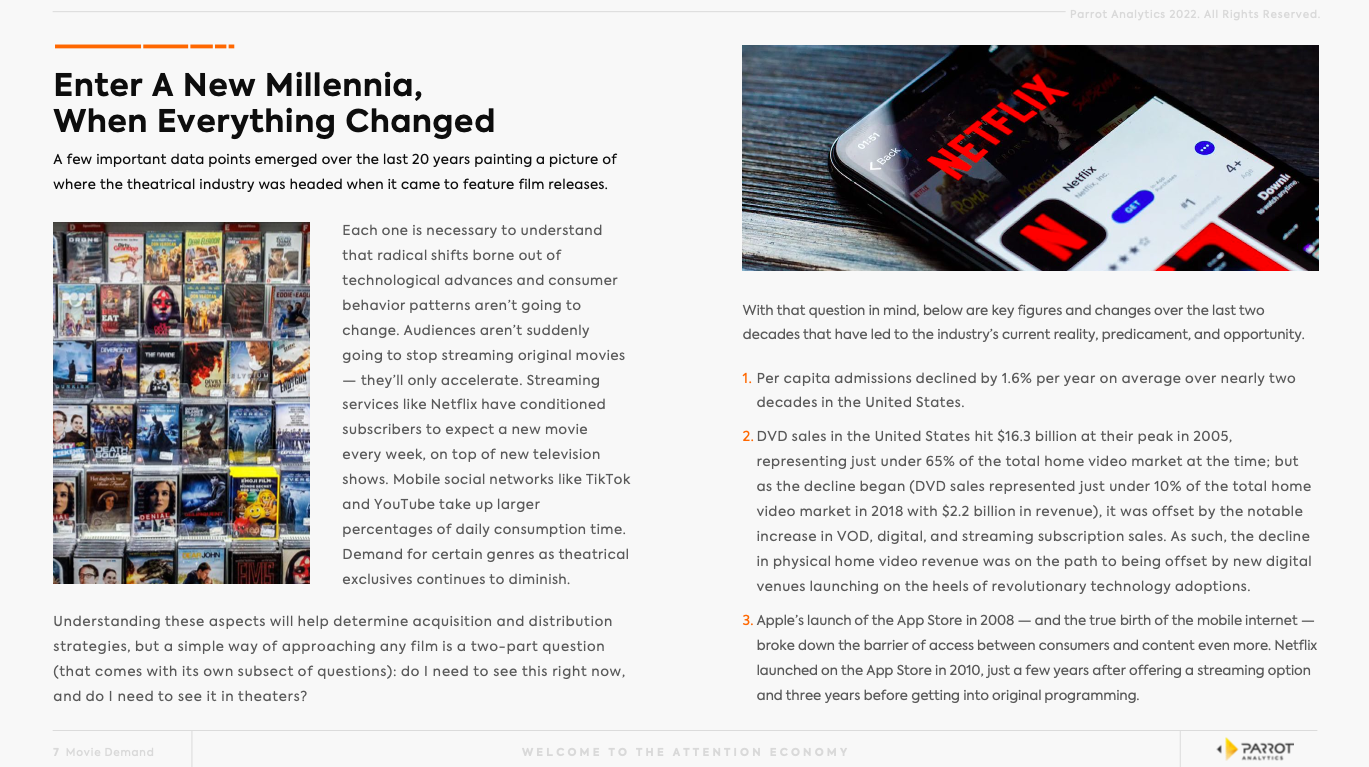 Case #1 - Sony Pictures: A Lesson in When To Go Theatrical, and When To Sell
In this case study, we analyze the factors that come into play regarding theatrical releases, and also answer some core questions such as: How major a role does Talent play in getting people to theaters? When to go theatrical, PVOD or streaming?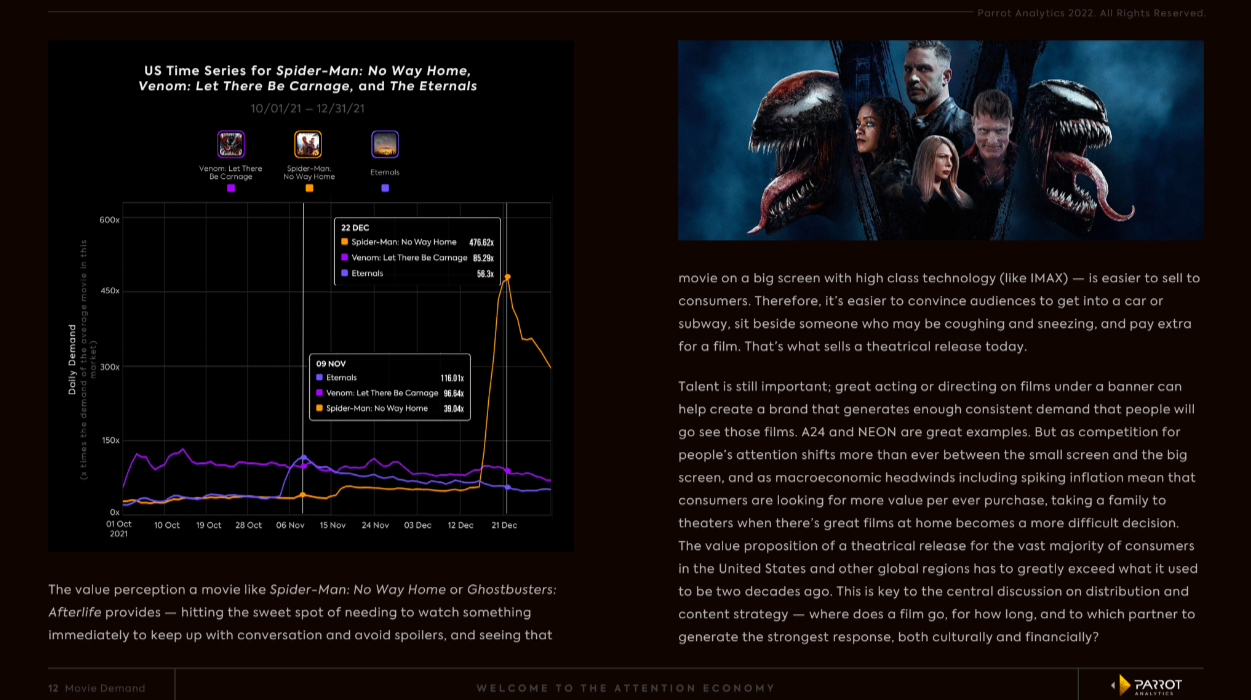 Case #2 - Encanto Reiterates Theatricality Works with Streaming, and West Side Story Lessons
In this case study, we conduct an analysis to understand the pros and cons of the following strategies:
Shorter theatrical run in partnership with streaming

Windowing

Straight to streaming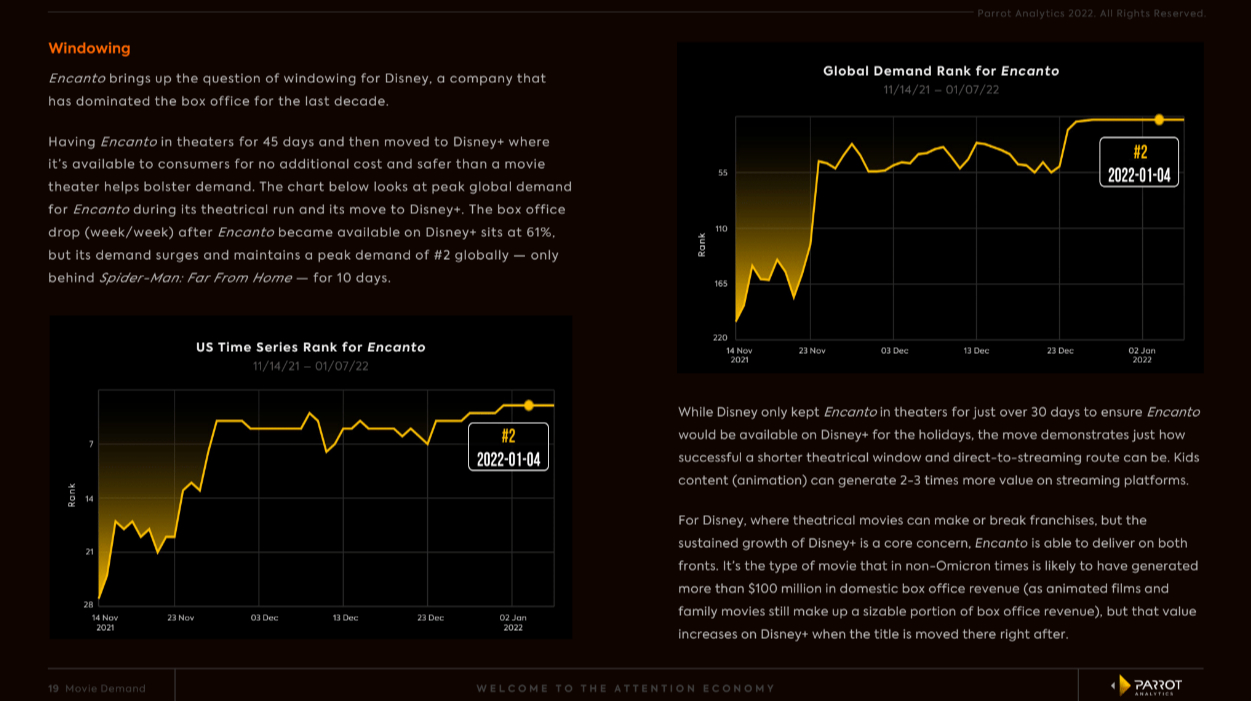 Case #3 - Cannibalization and The Matrix Resurrections
Using the case of The Matrix Resurrections, here we conduct an analysis to understand what really went wrong that one of the most beloved film IPs (the original Matrix films have grossed more than $1.5 billion at the box office) can barely crack $150M in box office revenue — unable to even recoup production budget costs? Most crucially, could it have been predicted? Lastly, knowing what we know in regards to box office trends, demand data points, and viewer consumption habits, was a theatrical release necessary?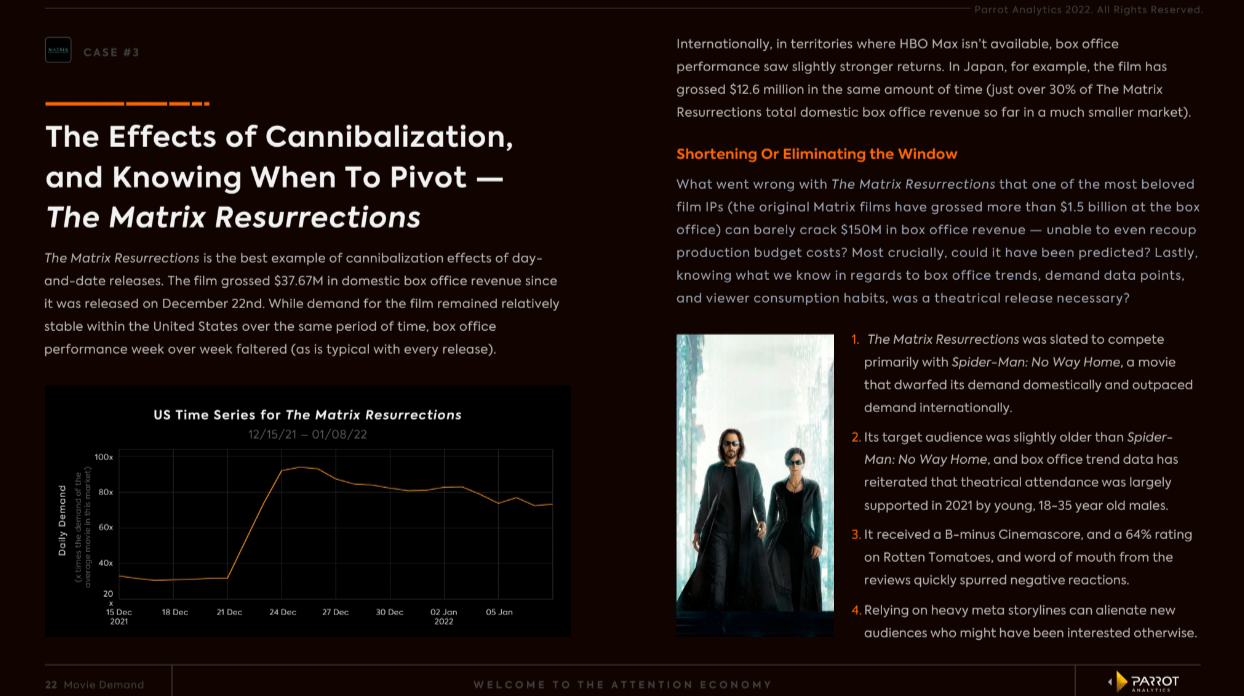 Case #4 - The Power of Horror — Low Cost, High Reward
As a genre, along with low production costs, horror has proven to work well in both mediums, theatrical and streaming. However it could be limited by the overall size of the genre. Here we look the performance of this genre with analyses and case studies to help executives have a better understanding of how and where to release a movie, maximizing every dollar of investment.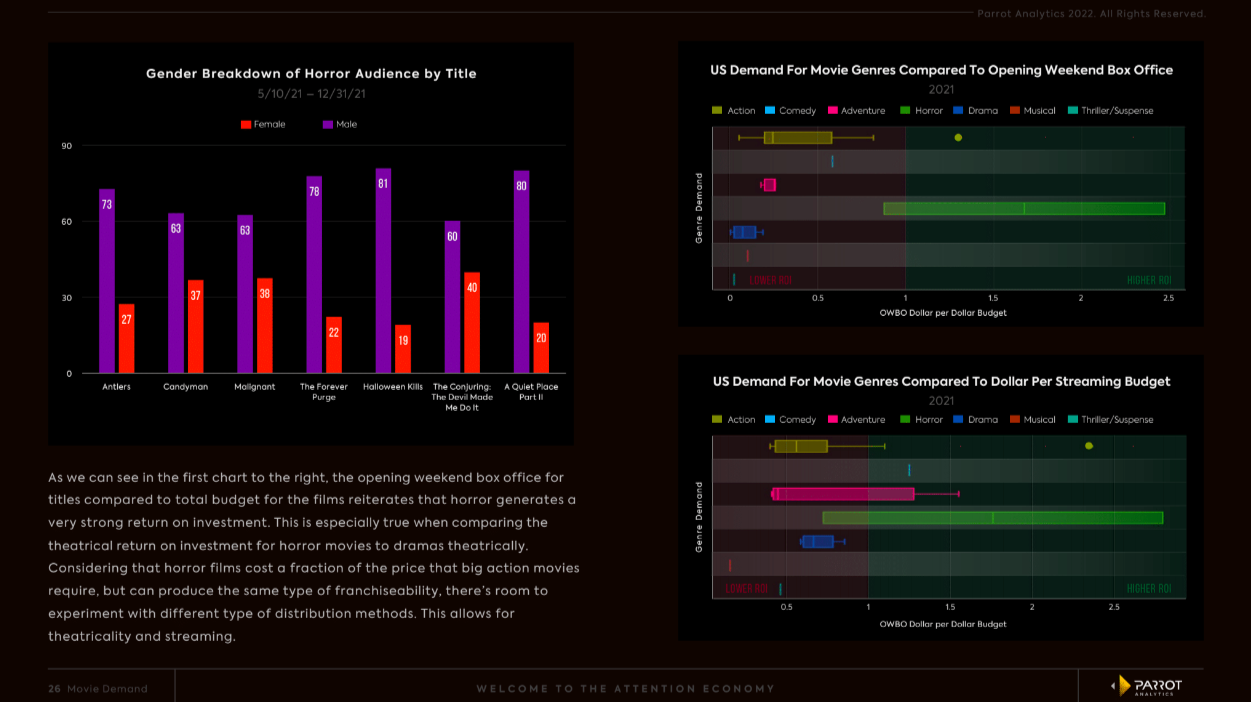 Case #5 - Netflix Ushers in a New Era for Films
In this analysis we take a look at global and U.S. audience demand for Netflix movies such as Don't Look Up to understand which release would be the most appropriate for certain movies. We also take a look at global demand for all films on Netflix to understand which titles would benefit more from a theatrical release as opposed to a streaming release. 2 key takeaways here are:
What works for streaming, doesn't mean it works theatrically

SVOD platforms still need established theatrical franchises and hits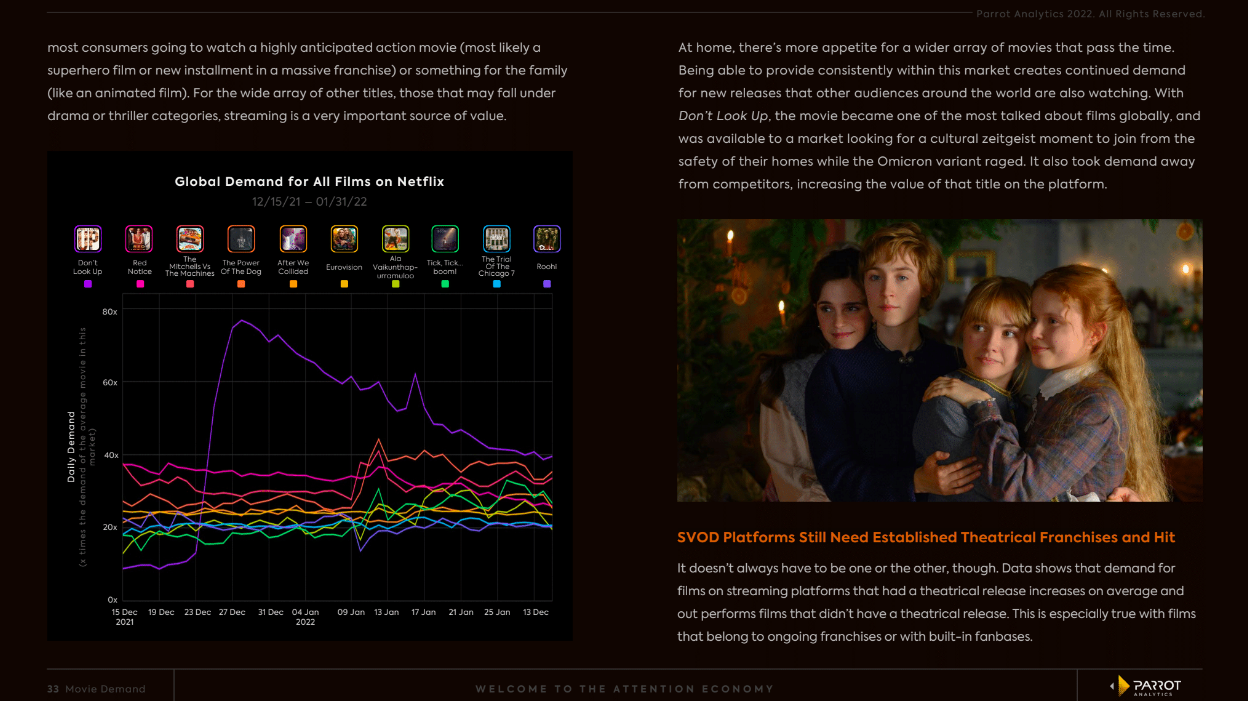 Download the report
Movie Demand, now available in DEMAND360, empowers distributors to understand when the optimal time is to release a movie, what the revenue longevity of a title in each window is and how likely a movie is going to influence audiences to watch it in theaters. For marketers, Movie Demand, paired with Audience Insights, reveals the gender skew of a movie's audience, how a movie is tracking before it is released relative to competitive titles, as well as understanding the ROI of media spend along with optimal channel allocation.
You can download the Movie Demand white paper today for free at the following location: https://insights.parrotanalytics.com/the-future-of-theatricality-how-movie-demand-can-make-better-strategic-decisions
To know more about DEMAND360 and Movie Demand, click through here: https://www.parrotanalytics.com/products/movie-demand
---