By reading this article you will learn:
How creators, writers and producer can best unearth the value of their content.

Why these metrics are needed to maximize earning potential on the open market.

How Hollywood can navigate third-party licensing after years of in-house consolidation.
---
Legal dramas remain an enduring genre in the world of entertainment partially because audiences love to see the progression of a compelling case being built (and a dramatic last-minute witness stand confession never hurts). In the real world of entertainment, developing an argument based on facts and data can be a bit trickier when it comes to the nebulous realm of streaming success. 
At a time when companies are re-opening their libraries for licensing on the open market while a potential writers strike threatens the entire industry, creators and producers need to know the value of their work. More specifically, they need to know how effective their work is in engaging audiences year-over-year, contributing revenue to the various platforms they reside on, and which platform they are actually best suited to live on to maximize content affinity and subscriber acquisition/retention. This is made all the more crucial as content spends flatten or decrease industry-wide amid uncertain economic times. 
If real world Hollywood was a David E. Kelly-style legal drama, it would be impossible for talent to be their own best advocate when trying to build a case without this central evidence. 
"It's the curtain," Big Bang Theory star Simon Helberg told THR in 2021 when discussing the lack of streaming performance transparency. "They keep all those numbers and all that data behind it."
So as the industry delves deeper into a time of uncertain transition, let's examine how a production company such as Blumhouse, which is currently under a first-look deal with Universal that runs through 2024, and an animation studio such as Titmouse, which is currently on a multi-year overall deal with Netflix, would hypothetically navigate the open market.
Seasonal Demand and Audience Demographics
We're going to focus on four titles the rest of the way: Blumhouse's The Purge TV series and its 2019 horror thriller Us from Jordan Peele; Titmouse's animated series Big Mouth and its spinoff Human Resources for Netflix. 
The Purge ran for two seasons on USA Network and saw its average demand in the US increase nearly 19% from its first season to its second. This stands in stark contrast to the average Season 1 to Season 2 audience demand movement for the Top 30 most in-demand horror genre series from 2020-2022, which typically fall 19% in their sophomore runs. The Purge is bucking the trend. Over the courses of its run, the show ranked in the 95th percentile of the thriller genre and the 93rd percentile for horror in audience demand in the US. 
The series, a spinoff the Blumhouse's successful movie franchise, resonates more with male (53.4%) viewers vs. female (46.6%) while over-indexing with audiences aged 23-39. It's currently available to stream on Hulu and Peacock in the US, both of which skew more female, making The Purge a valuable demographic expander.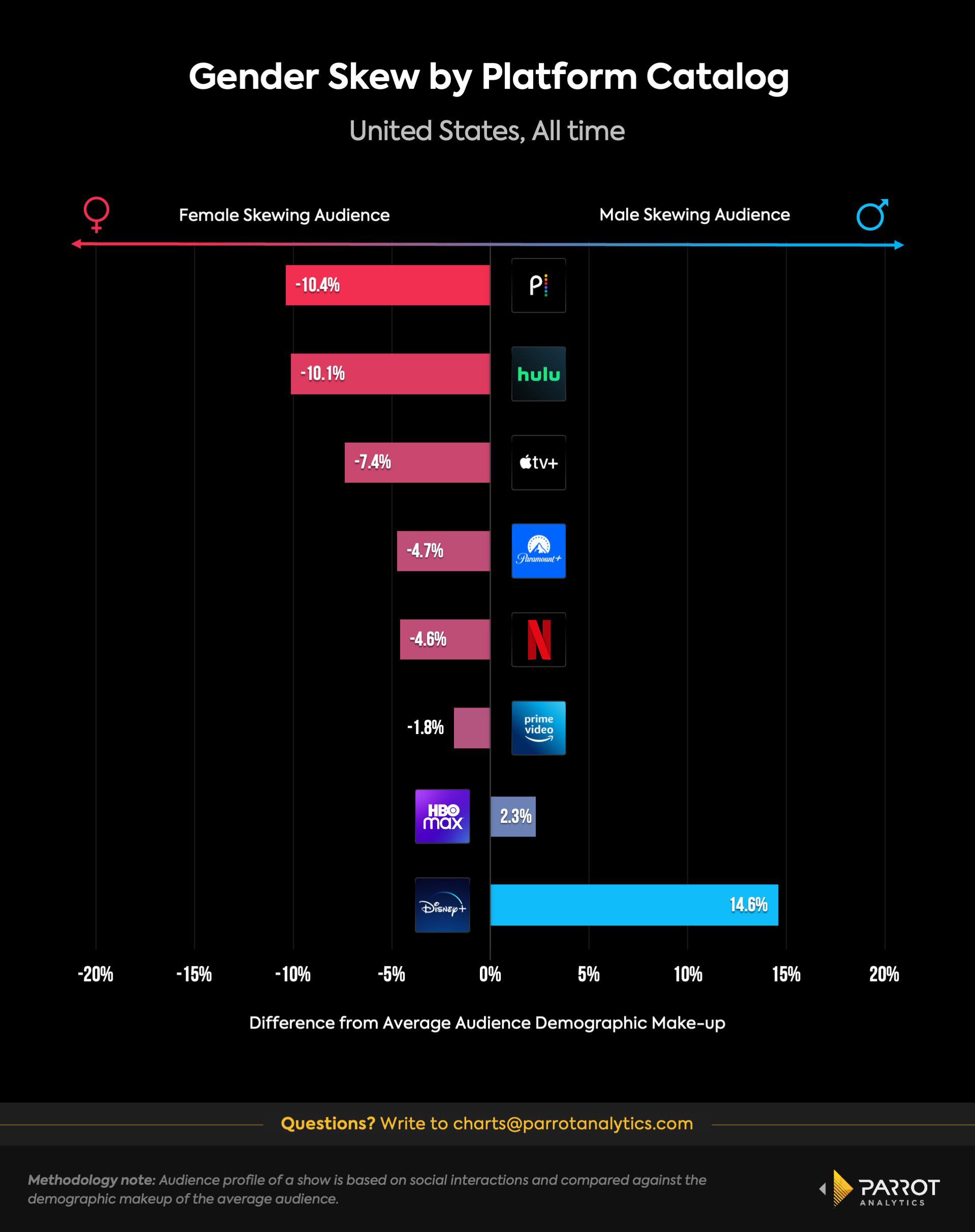 Across Big Mouth's first six seasons (which we measure as the first 90 days of availability), it has averaged 7% growth in US audience demand season over season. In fact, Big Mouth manages to best the average seasonal increases and decreases of year-over-year demand vs. the top 30 most in-demand animated series in the US from 2020-2022 at nearly every turn.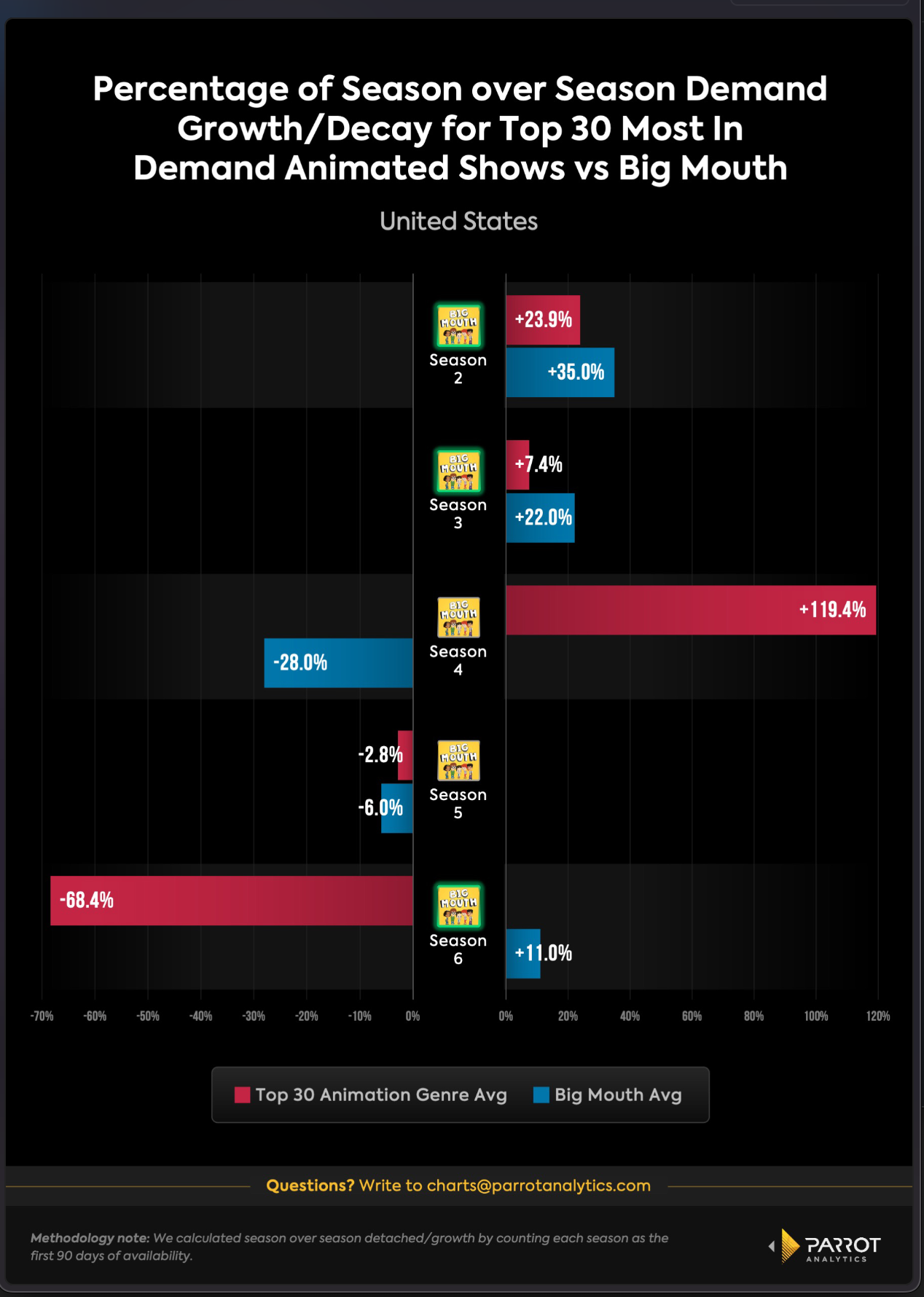 Even after suffering dips from Seasons 3-5 after significant leaps in its early seasons, the most recent installment of Big Mouth managed to reignite growth, likely aided by its spinoff Human Resources debuting earlier in the year. The halo effect provided by related titles can help drive demand via cross pollinating funnels of viewer interest even in offseasons.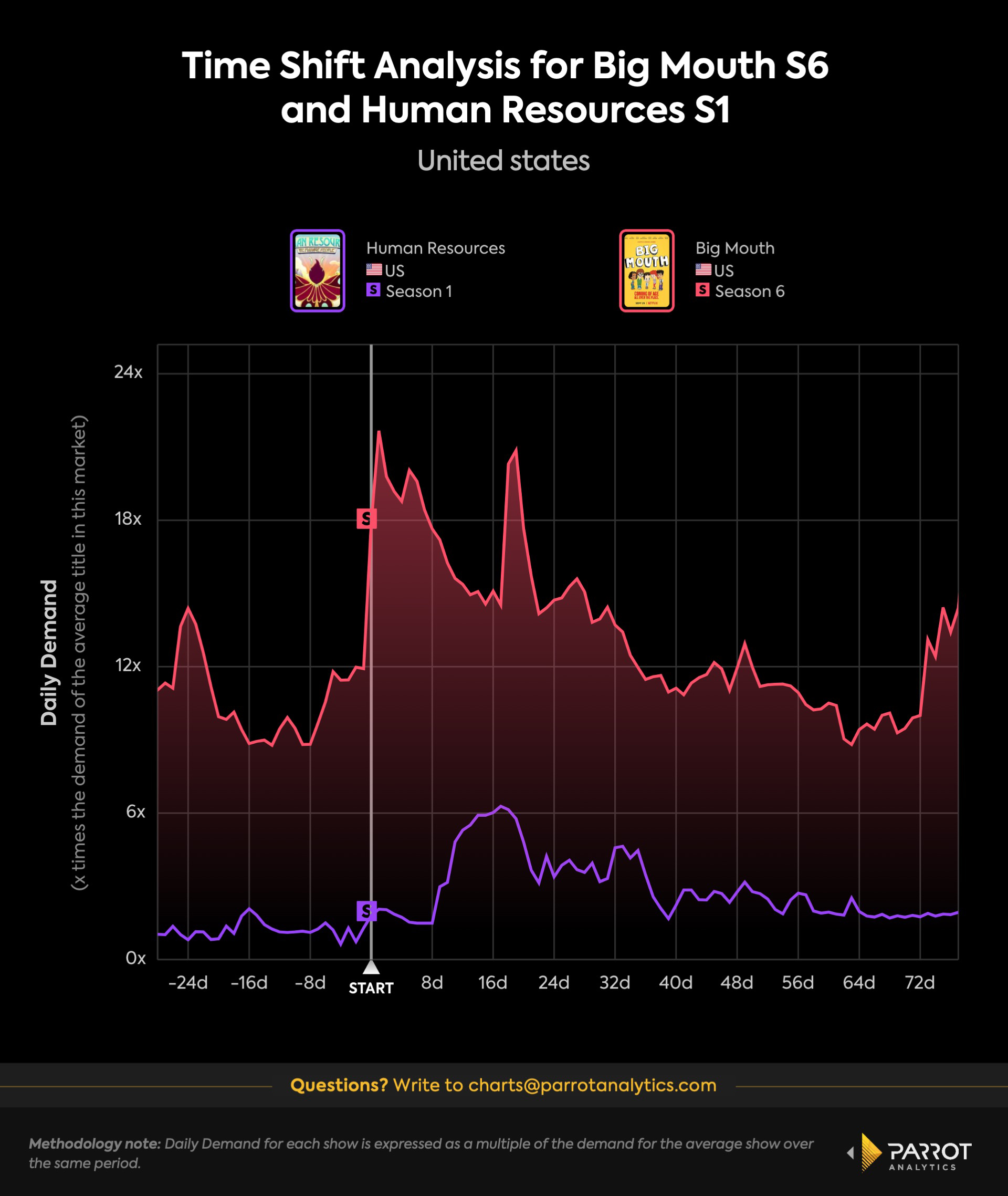 Nearly 72% of Big Mouth's audience is between 13-29, providing Netflix with a steady influx of younger viewers. This is particularly valuable as the streaming service attempts to convert the next generation entering the work force and generating disposable income into long-term paying customers. According to a 2021 Deloitte survey, watching TV shows and movies is the fifth-ranked entertainment activity for Gen Z kids in the US (behind video games, music, internet browsing and social media, making Big Mouth's younger-skewing audience stand out even more. Such an effort is even more relevant to big picture success now as Netflix cracks down on password sharing. The streamer is producing content for the here and now, but with an eye towards building for the future. All of this comes at a time when the share of US audience demand for the animation genre has ballooned from 6.7% in January 2020 to 10.3% as of March 2023. 
As a movie, Us is on a different playing field as these TV series. It is the 62nd most in-demand horror movie released since 2019 in the US and has peaked as the 12th most in-demand movie domestically and the 14th most in-demand movie globally regardless of genre overall. In the four years since its release, it has never fallen below the top 8.6% most in-demand movies in the US, reflecting strong staying power for a genre typically known for being front-loaded.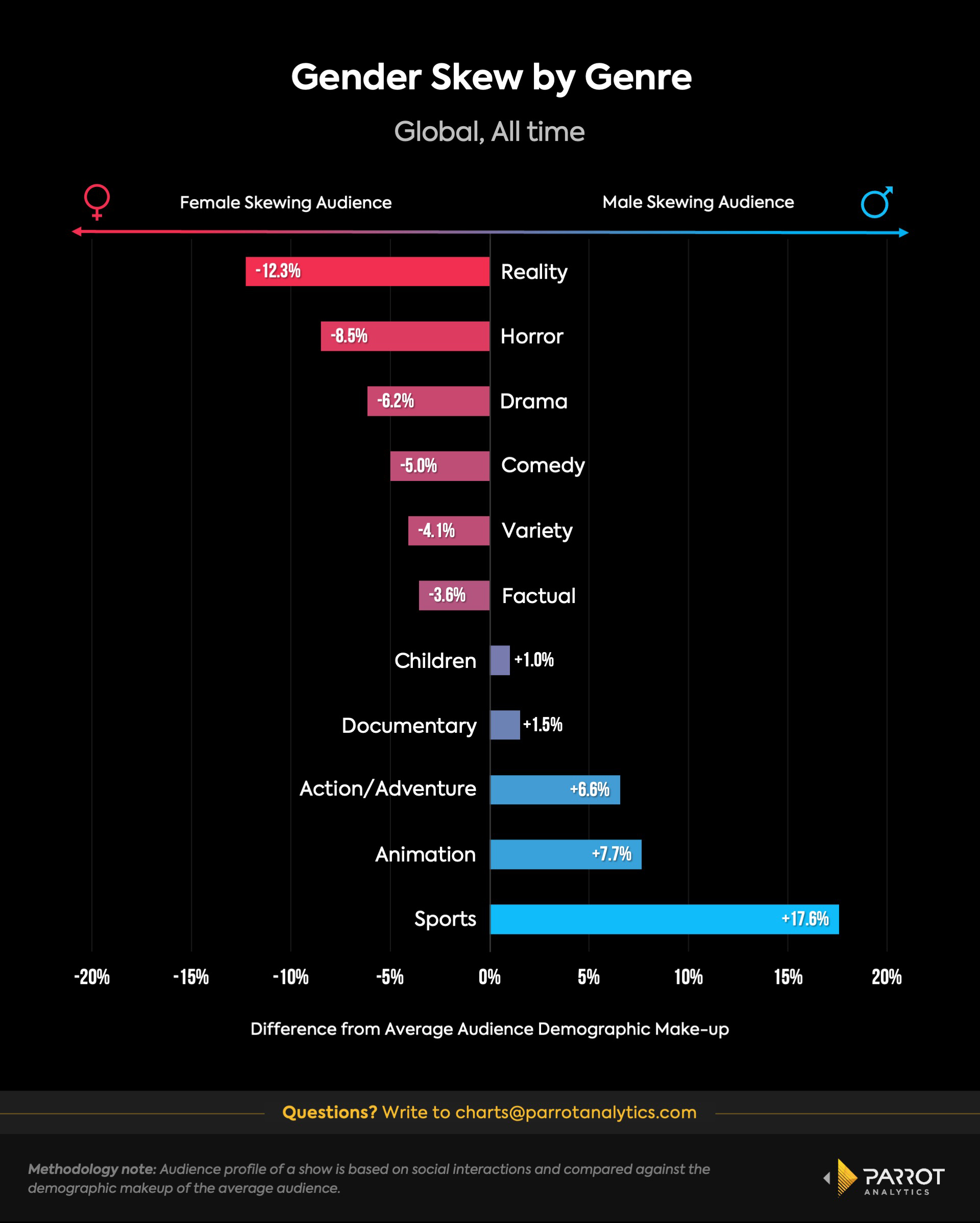 Speaking of genre, horror tends to skew female overall, and Us' audience demographic breakdown super serves that audience with a 58% female audience (Oscar winner Lupita Nyong'o leads the cast). Diversity is seen as good business at Blumhouse.
"I think just making sure we're hearing stories from all different people. Races, colors, however they identify sexually," founder and CEO Jason Blum told Observer in 2020. "I think that that represents the audience and the audience wants stories about themselves. I think it's important that the filmmakers and the creators of shows that we work with represent the audience we're trying to serve."
All of the above would boost its appeal in subsequent windows that follow a traditional theatrical release such as electronic sell-through (EST), DVD/VOD rental, Pay One, Network, Pay Two. A decade ago, before the mainstream streaming revolution, these segments accounted for a significant percentage of movie revenue: theatrical rentals (27.5%), home entertainment (30.4%), PPV/other (4.3%), Free/Cable/Syndicated TV (15%), Pay TV (11.3%), Digital (4.8%), Licensing/Merchandise (6.6%). 
These days, these monetization windows can still provide significant upside on both a micro level, such as Spider-Man: No Way Home generating an industry-leading $43.7 million (if you can call that micro) in domestic physical media revenue in 2022, and on a macro level, such as Netflix paying Sony a total of $1 billion over four years in its Pay One deal. The film's initial box office success and high subsequent demand represents a long tail of monetization contribution. 
If Blumhouse and Titmouse were free agents, both companies could point to above-average performers that build demand over time, a rare feat in today's more fragmented entertainment ecosystem. Not only do these shows and movies rank among the leaders in their respective genres, they also attract valuable audiences that can help increase a streamer's total addressable market. Individually, these are integral selling points for a title-by-title licensing approach. Collectively, they arm creators with the necessary ammunition to extract true value on larger deals. Consider it strong opening arguments as they attempt to build their cases in free agency. 
Subscriber Acquisition and Retention
As noted in a previous Parrot Perspective, in this hyper-competitive market streaming services must be more aware of how well their content contributes to acquiring new subscribers and retaining existing customers, lest its library leak viewership to its rival platforms. Optimizing content libraries in this way is one way to ensure the most efficient use of one's content budget when developing an entertainment slate, an important subplot as many major streamers are projected to hit peak losses in 2023. That puts production houses such as Blumhouse and Titmouse in an advantageous position to show off the helpful attributes of its content. 
Among the top 10 titles that Big Mouth shares the most affinity with in Q1 2023 — or shows that viewers most watched alongside Big Mouth — seven are streaming on Netflix either exclusively (five series) or non-exclusively (two series). For Human Resources, that number rises to eight. This implies that both shows are solid retention drivers for Netflix, funneling viewers to other on-platform content and/or arriving from fellow Netflix titles to keep them engaged in the company's ecosystem for longer. 
It also suggests that these titles are resonating with subscribers at low risk of churning out as they are already engaging mostly with Netflix titles. At the same time, these titles are feeding a very important programming niche for Netflix as sitcoms were third most in-demand TV subgenre globally in 2022 and Q4 '22 (raunchy as they may be, Big Mouth and Human Resources still fall under this category).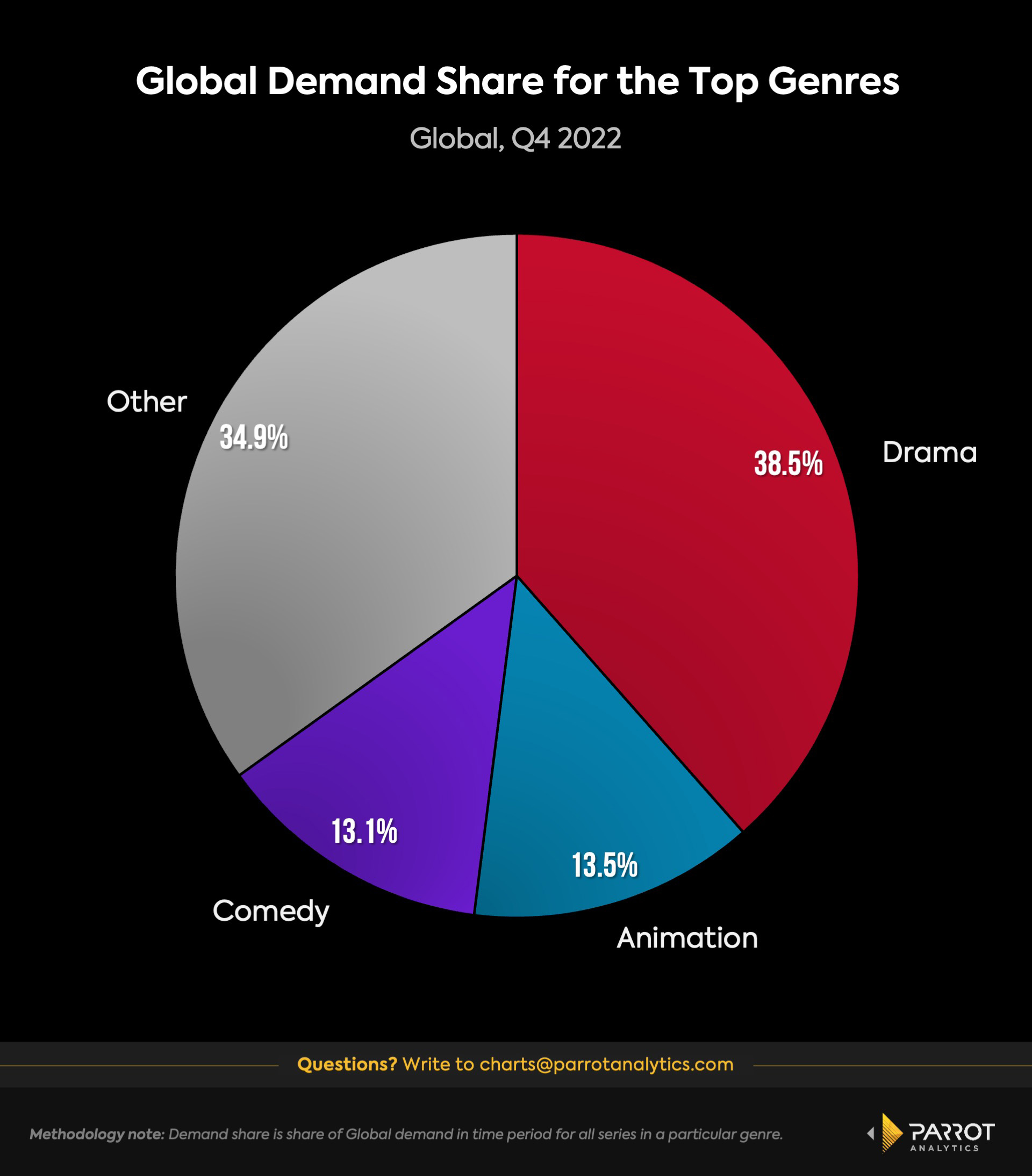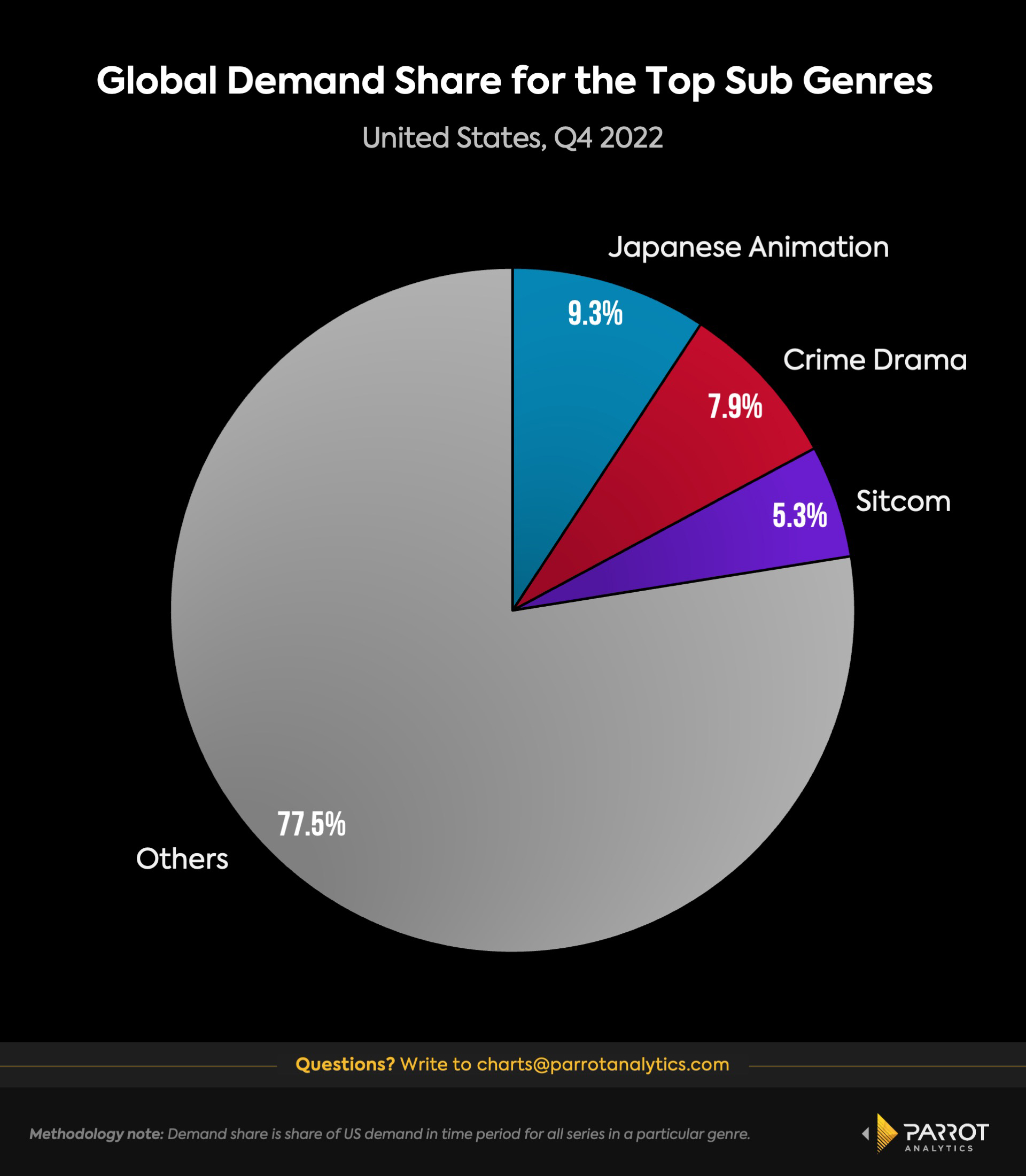 Quality retention reduces churn, which is the Achilles heel of all major SVODs. Netflix likely already understands this which is why it struck an overall deal with Titmouse to keep the animation outfit in-house. (And why Netflix's monthly churn rate is among the industry leaders). 
Of the 10 titles with the most affinity with The Purge, which is currently available to stream on Peacock and Hulu (as of Q1 2023 in the US), six are also streaming on Hulu either exclusively (three) or non-exclusively (three). Again, this suggests a solid level of retention value, particularly among lower risk subscribers. Importantly, none of the top 10 series in affinity are currently available on Peacock, implying that The Purge can attract new subscribers to the service while engaging existing subs at a higher risk of churning out. That's particularly valuable for a growing streaming service still looking to grow its marketshare. Streaming companies often consider titles that convince viewers to subscribe or re-subscribe as greater contributors than titles that elicit usage from loyal long-time users.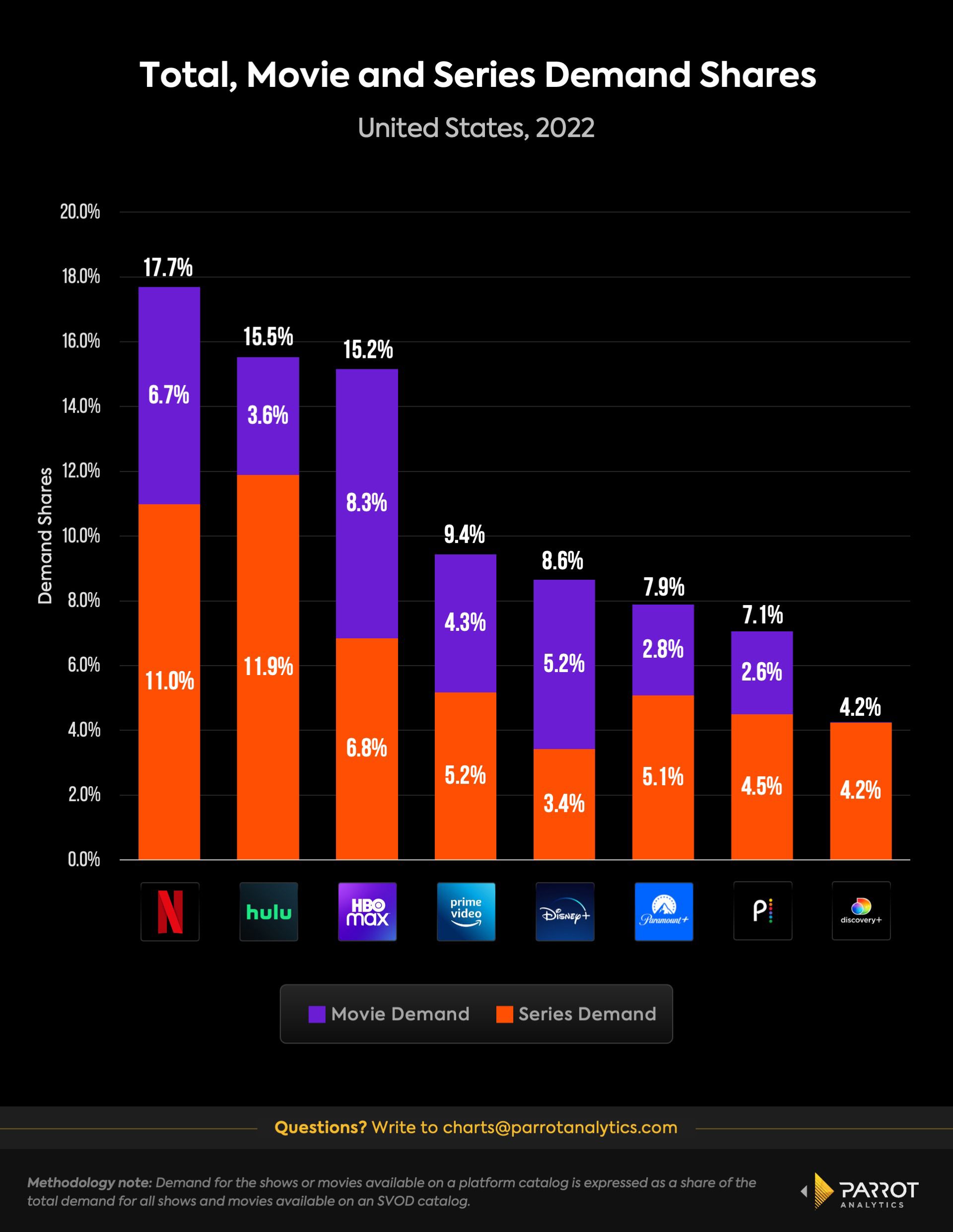 Affinity for Us, which is currently streaming on fuboTV in the US, was all over the map last quarter. At least one title currently streaming exclusively or non-exclusively on HBO Max, Amazon Prime Video, Disney+ and Paramount+ ranked among the Top 10. In Us, Blumhouse has a film that seemingly slots into countless major SVOD libraries seamlessly from an affinity standpoint.
Interestingly, three titles currently available on FAST platforms either exclusively or non-exclusively also ranked in the Top 10. Blumhouse is responsible for some of the most in-demand titles in the genre over the last decade while horror is a foundational content building block for many FAST services.
"The acquisitions of SCREAMBOX and Bloody Disgusting over the past two years have solidified our position as a leading industry force in horror," said Chris McGurk, Chairman & CEO of Cinedigm, which owns the FAST platform Cineverse. "We look to build on this success and super-serve the huge horror enthusiast base with more key titles and podcasts."
Horror films account for four of the eight most in-demand movies in the US from Jan. 1, 2023-March 31, 2023 (Me3gan, Cocaine Bear, Knock at the Cabin, Scream VI).
Both Blumhouse and Titmouse can boast that its content helps to acquire and retain subscribers in different ways. Big Mouth and Human Resources helps to serve Netflix devotees already consuming an impressive amount of content on the platform by extending their time in-app and filling an in-demand programming void. The Purge accomplishes both as a non-exclusive streaming library title while potentially boosting appeal among higher risk subs on Peacock. Plus, flexibility is once again being prioritized over exclusivity, providing multiple windows to monetize a given title such as The Purge at the same time. Us provides a unique opportunity to better leverage the growing FAST market thanks to its content affinity. 
Understanding this helps studios more efficiently allocate its resources when constructing a portfolio of titles that balance growth engines and engagement extensions. In turn, this provides content providers such as Blumhouse and Titmouse with leverage if/when they wanted to sell or license content on the open market. Given the uncertainty of the industry at the moment, insightful clarity needs to be at the ready for when unpredictable opportunity arises. 
It's no different than being prepared for a heated courtroom cross-examination with the goal of further proving your point through specific testimony (cue: "You can't handle the truth!"). 
Revenue Contribution and Optimal Monetization
Now that we have a grasp of the demand levels, demographics and affinity of these titles, we can look at revenue contribution to help determine the best hypothetical home for each. 
Thanks to the high affinity with Netflix's catalog, Big Mouth and Human Resources are naturally better fits with the market-leading streamer where they can maximize earning potential. This is reflected in the historical revenue contribution for both. 
According to Parrot Analytics content valuation data, Big Mouth has generated an estimated $153.7 million globally for the platform since debuting in 2018 while Human Resources has generated $6.1 million since premiering in March of 2022. Generally speaking, animation is less expensive to produce than live-action and can provide strong returns on investment. Human Resources has already been renewed for a second season while a seventh season of Big Mouth has also been ordered.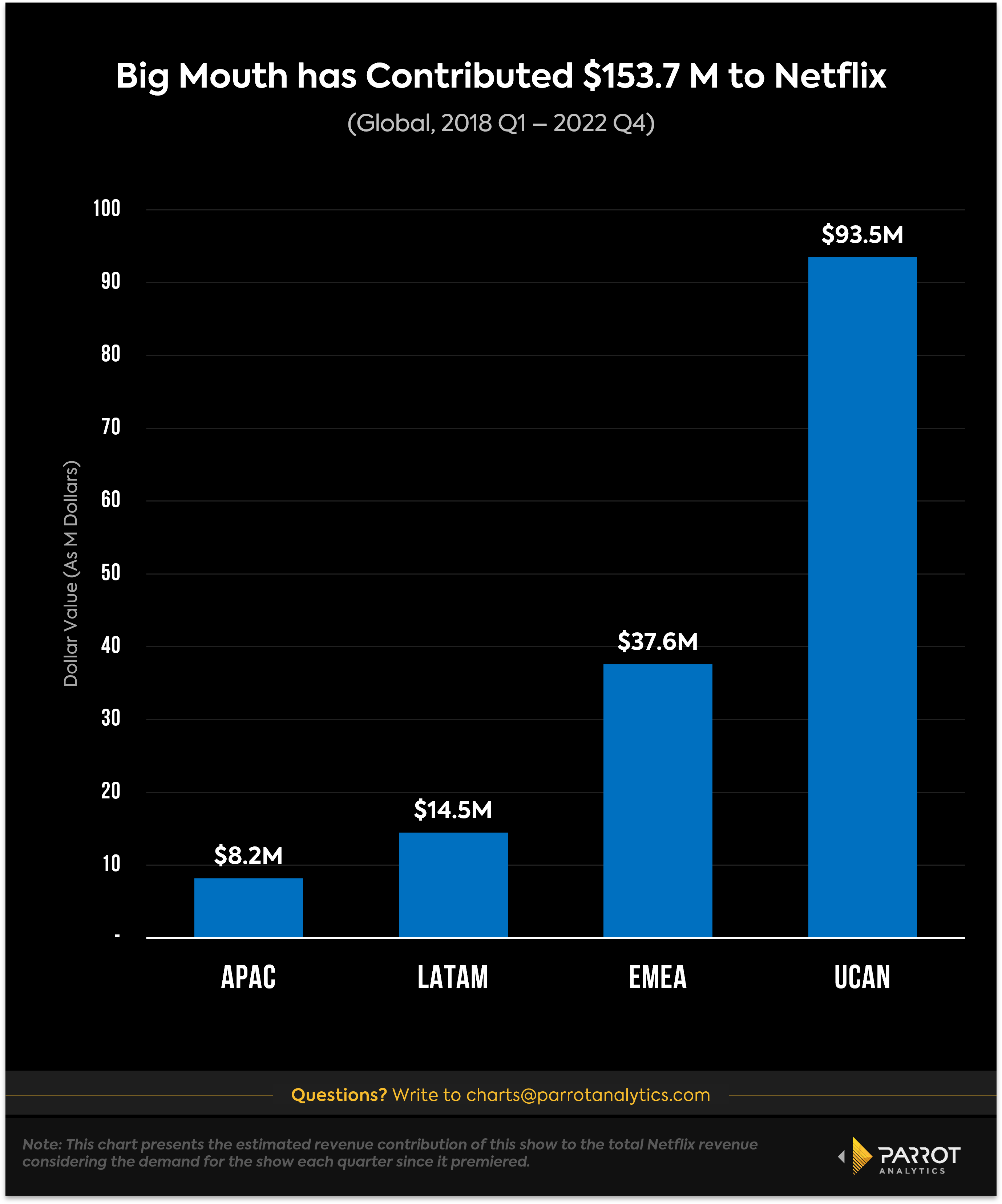 Across four quarters of availability on Peacock, The Purge contributed north of $1 million worth of revenue (just two of the 10 highest affinity titles with The Purge in the last week also air on Peacock). In the same time frame, the horror series accounted for around $3.1 million in revenue for Hulu. Overall, The Purge contributed nearly $12 million in revenue to Hulu over 14 quarters of availability. Blumhouse could hypothetically leverage the title's strong catalog affinity and revenue contribution with the latter into a lucrative exclusive licensing pact. But again, flexibility and non-exclusivity can be valuable in today's market, particularly as a title can bring different types of value to different platforms.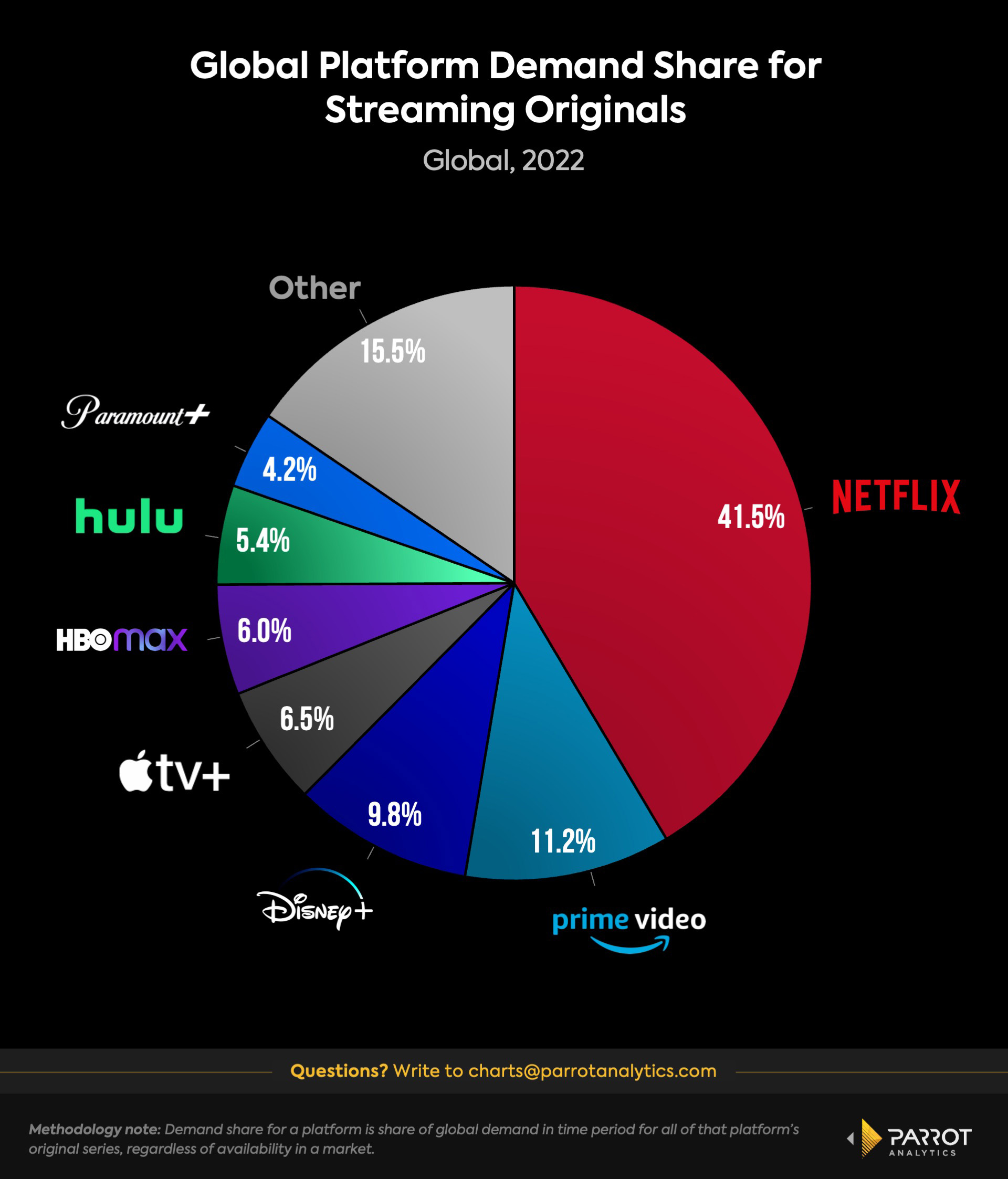 For example, The Purge has contributed at least $33.6 million in estimated international revenue to Amazon Prime Video since being made available. This creates the opportunity for multiple region-specific deals to maximize monetization (and, for what it's worth, the show counts Spain, the Netherlands, China, Brazil and Italy among its Top 5 markets outside of the US since Jan. 1, 2022). 
Though Us isn't available on Netflix domestically, it has been housed on the platform in many other countries. Internationally, the title has contributed an estimated $2 million to the streamer in its lifetime of availability. But the title doesn't hold a ton of affinity with the company's library (none of the titles viewers most watched alongside Us in the last week are on Netflix). While Us can serve as a potential acquisition tool for Netflix in overseas regions, the title's current placement on fuboTV domestically indicates a bifurcated strategy aimed at taking advantage of new windows and mediums. 
Revenue contribution helps to translate an element of value into the universal Hollywood language: dollars. Understanding where, how and how much a given title is contributing revenue enables a production outfit to make more informed decisions about where to sell and how valuable their IP may be to a company. (Example: Starz CEO Jeff Hirsch said that moving the John Wick spinoff TV series from the premium cable network to Peacock domestically and Amazon internationally would be worth 7x-8x more for Lionsgate shareholders). Think of it as conclusive evidence in that legal drama metaphor that cements the exclamation point at the end of a rousing closing argument. 
Conclusion
The entertainment industry is simultaneously producing more content than ever before while also penny pinching amid recession fears. It is no longer enough for those that are selling content into the open market to simply point to just one metric as an example of that content's value. Instead, creators and producers can take a multi-tiered approach to proving beyond any reasonable doubt that their shows and movies are a worthy investment. Pointing to seasonal demand growth, audience demographics, subscriber acquisition and retention alongside high and low risk subscriber engagement, and the all-important revenue contribution will lay out an irrefutable argument as to how and why a show or movie needs to be prioritized.