Image: Justified: City Primeval, FX
In this article we look at the top breakout shows of the past week. Breakout shows are the most in-demand series that have premiered in the past 90 days.
Almost all shows in the breakout series ranking saw a drop in demand this week barring two shows. Of the two, FX's Justified: City Primeval had the most noticeable increase in demand, an uptick of 10%. The spike in demand for the show came after its fifth episode aired on August 08, signalling increased audience attention for the series as it crossed the halfway point in its release schedule. The show is set to air its finale at the end of the month on August 29 and it will be interesting to see how much higher it climbs up the ranking as head closer to the date. As of this week, it had 26.4 times the average series demand in the U.S.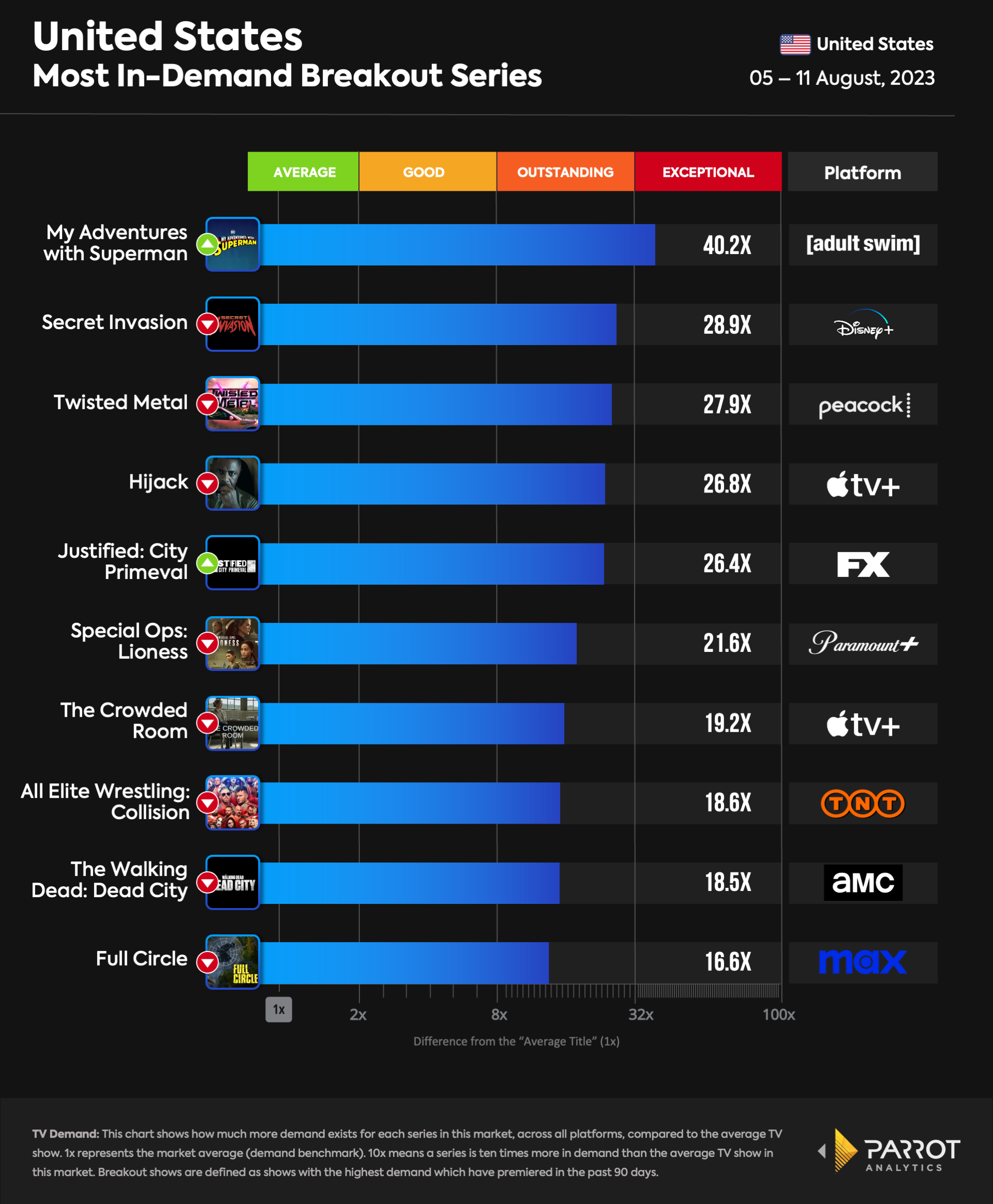 Adult Swim's My Adventures with Superman was the only other show this week which did not have a decline in demand. However, it didn't have much of an increase either - just a minute 0.3% uptick which saw it have 40.2 times the average series demand. The show is still miles ahead of the competition though, compared to Secret Invasion in second place which had 28.9 times the average series demand. The Disney+ show had actually been quite close to catching up with the anime superhero show, but a 22% decline in demand saw it fall rather rapidly this week. 
Meanwhile, Twisted Metal also had a 5% decline which saw it have 27.9 times the average series demand. It looks as though last week's level is the highest average demand we can expect to see for the show's first season. After a successful post-finale run last week, Apple TV+'s Hijack also saw its demand fall by 4%, bringing its demand down to 26.8 times the average this week. 
Paramount+'s Special Ops: Lioness had only a 1% decline in demand, holding strong for another week. The series has been doing quite well since it launched, and this week was no exception seeing as it had 21.6 times the average series demand in the U.S. for the week. Finally, we see AMC's The Walking Dead: Dead City and Max's Full Circle in ninth and tenth place, with 18.5x and 16.6x the demand average respectively. Both shows had a double digit 11% and 13% decline in demand this week, making it likely that next week we might just see one of the shows slide off the ranking. 
---