Parrot Analytics would like to share with you our latest TV demand insights concerning Disney+.
Whilst the company has beaten fiscal Q4 forecasts, here is what our data shows in terms of audience demand for Disney+'s original content, compared to other platform's originals.
Audience demand for original content on US platforms
Disney+'s US share of demand for digital original series peaked in December 2019 when The Mandalorian aired its season one finale. It had 7.6% demand share for digital originals then and hasn't gotten back to that level since. New originals like WandaVision will be important to maintain and grow its share of demand.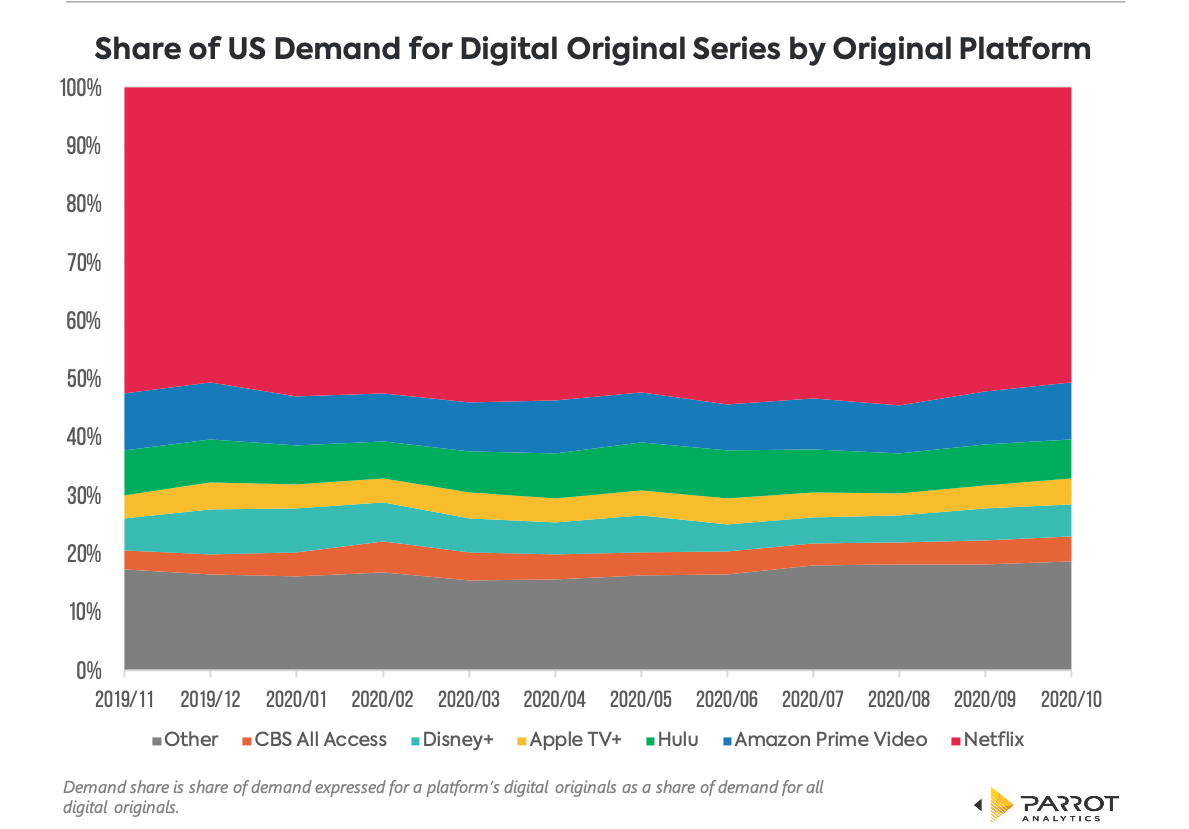 2019 vs 2020 - Which Disney+ originals are most in-demand in the US?
The Mandalorian is still Disney+'s major original series debut. The next best release is High School Musical at 19x the popularity of the average TV show in the US, for the 60 days post-premiere.
However, none of its 2020 releases are a match for The Mandalorian. In 2020, the most successful Disney+ original has been The Right Stuff with 8 times the demand of the average TV show in the US.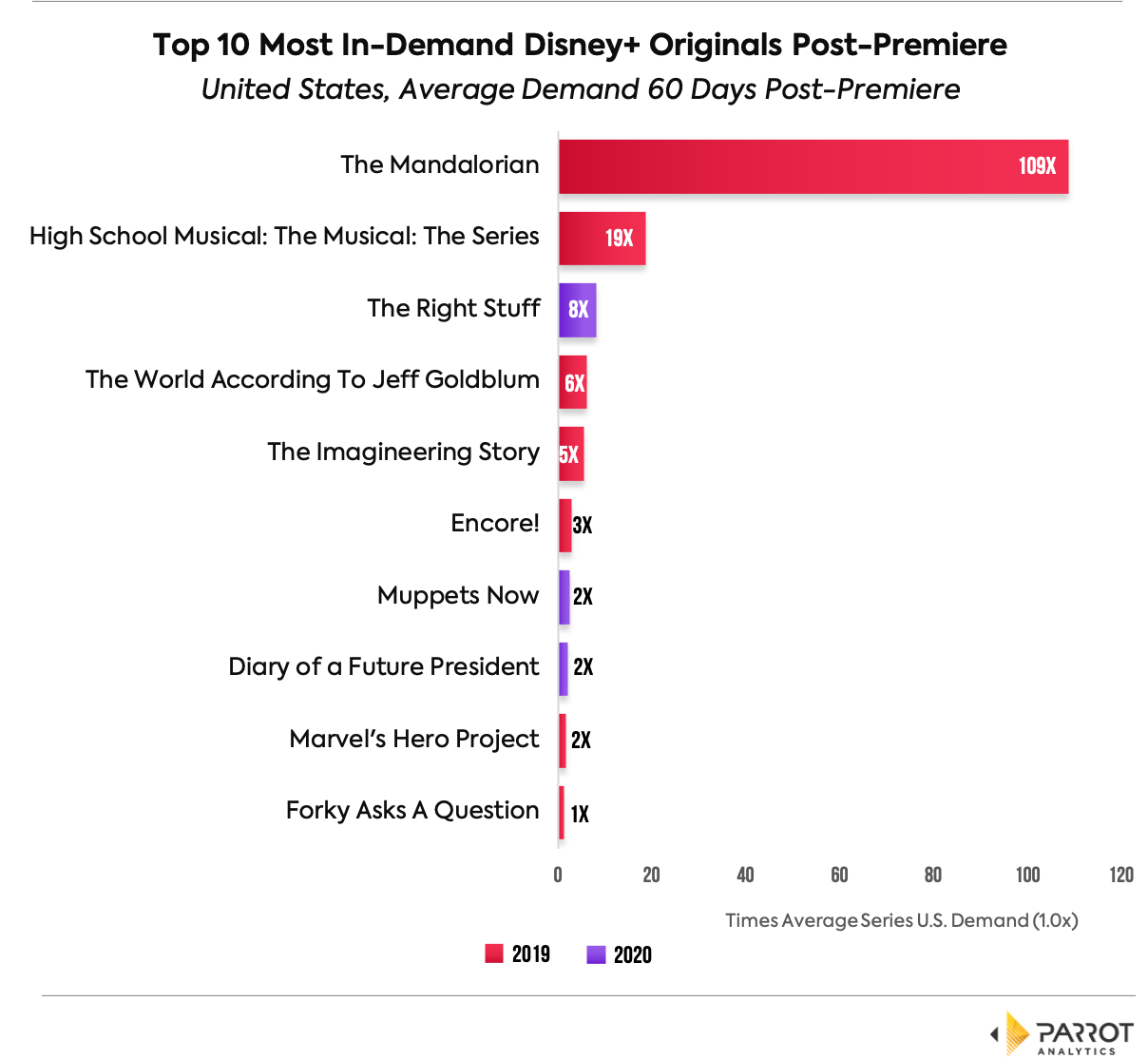 WandaVision - Disney+'s next big hit?
Parrot Analytics has been tracking US pre-release demand for WandaVision and has found that the show thus far has managed to attract the equivalent of 64% of the pre-release demand of The Mandalorian.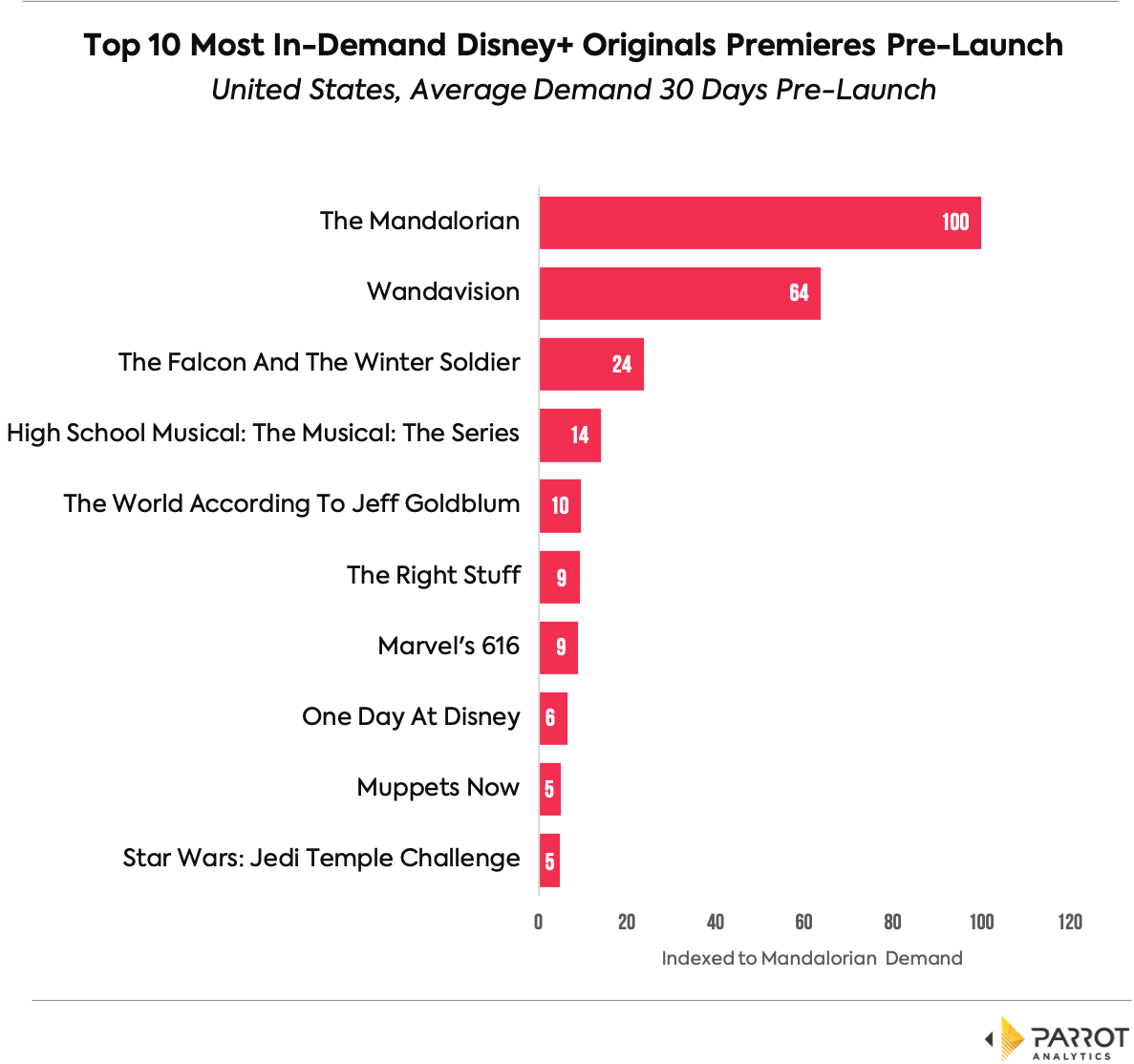 Latin American launch: Disney+' WandaVision is on track in Brazil
With Disney+ set for launch November 17, Parrot Analytics finds that pre-release demand for WandaVision in Brazil has so far eclipsed that of The Boys (S2) and The Umbrella Academy (S2).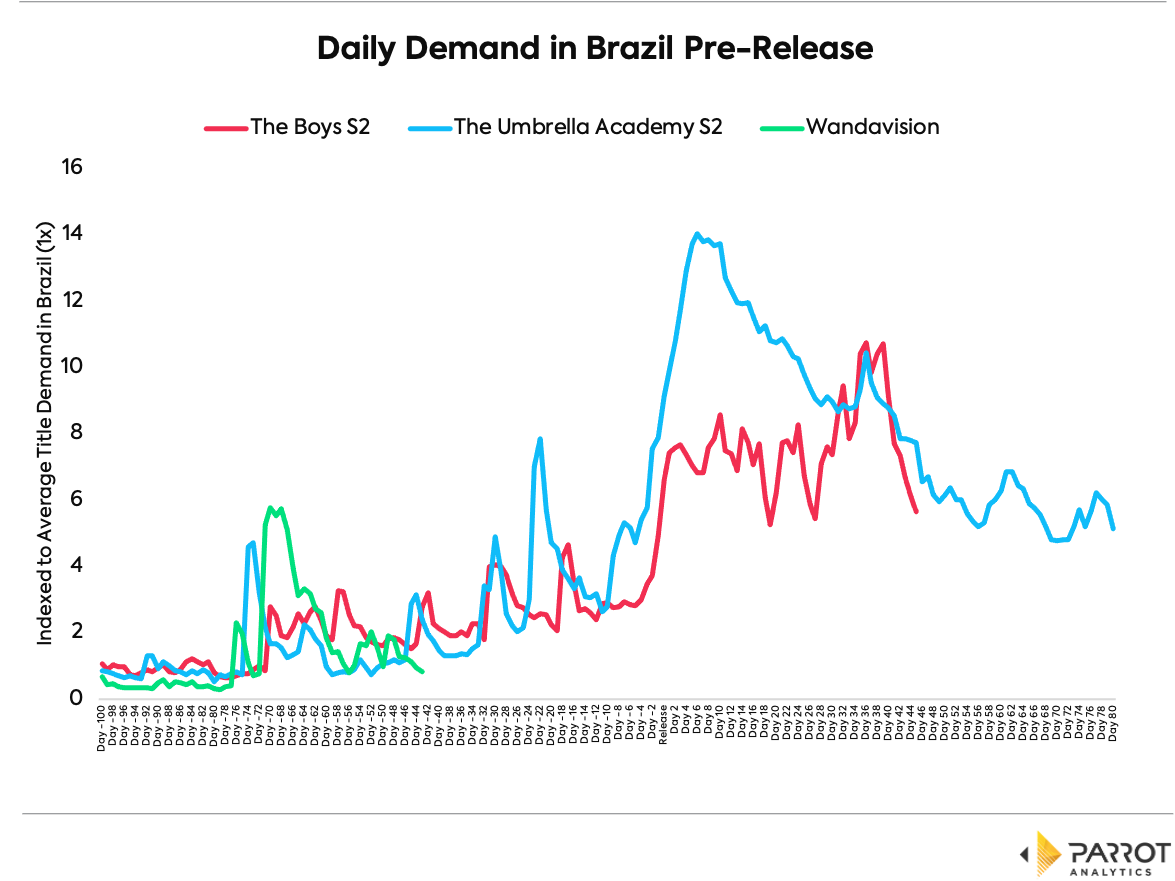 We have included below some additional resources that may be of interest.

Daily updated TV demand insights for 24 markets around the world:
Daily updated global TV demand statistics are available here 24/7:
http://tv.parrotanalytics.com/
Additional insights for the TV series mentioned in this press is available, updated daily, at the following locations:
"The Mandalorian" (Disney+)
https://tv.parrotanalytics.com/US/the-mandalorian-disney-plus
High School Musical (Disney+)
https://tv.parrotanalytics.com/US/high-school-musical-the-musical-the-series-disney-plus
"The Right Stuff" (Disney+)
https://tv.parrotanalytics.com/US/the-right-stuff-disney-plus
"The Boys" (Prime Video)
https://tv.parrotanalytics.com/BR/the-boys-amazon-prime-video
The Umbrella Academy (Netflix)
https://tv.parrotanalytics.com/BR/the-umbrella-academy-netflix
Our methodology:
Here is an overview of our methodology:
https://www.parrotanalytics.com/measurement/ 
We capture over 1 Billion new data points each day across the entire consumer activity spectrum, including video consumption (streaming and downloads), social media engagement (hashtags, liking, sharing) and research actions (reading about shows, writing about shows, etc.). In terms of downloading, just one of our many data sources, we hold the patent for deriving media usage according to consumer global peer-to-peer (P2P) activity:
https://patents.google.com/patent/US20150294331
Our Demand Rank system ensures that the important demand signals are weighted more heavily than others (e.g. watching or downloading a series). We use factors such as time as a key arbitrator, enabling us to filter out the "noise", which results in a demand metric that is more than a measure of "buzz" (which the industry, as you know, has had access to via traditional social listening tools for many years now).
 
The more consumer effort required, the more importance is attached to each signal. Once all the signals are weighted and combined, the audience demand for each show almost anywhere in the world can be compared with that of any other show using our globally standardized metric.

How Parrot Analytics defines a digital original series:
https://helpcenter.parrotanalytics.com/en/articles/3787194-how-parrot-analytics-defines-a-digital-original-svod-original-streaming-original-series
---