Please subscribe to DEMAND360LITE to access the latest version of The Global Television Demand Report and to discover the latest content analytics and trends for TV series on cable, broadcast, OTT and SVOD streaming platforms around the world.
Presented below is the section for Spain from The Global Television Demand Report. Enjoy!
Spain digital original genre and subgenre preferences
Spanish audiences gave the greatest share of their attention to drama series in 2022. 45.6% of demand forall series was for a drama–the largest share in this report.

Spain also had the joint highest share of demand for the horror genre (1.5%) with Brazil.

With Spanish audiences more preoccupied with the more adult drama and horror genres, the children'sgenre had the second lowest share of demand in this report (6.2%).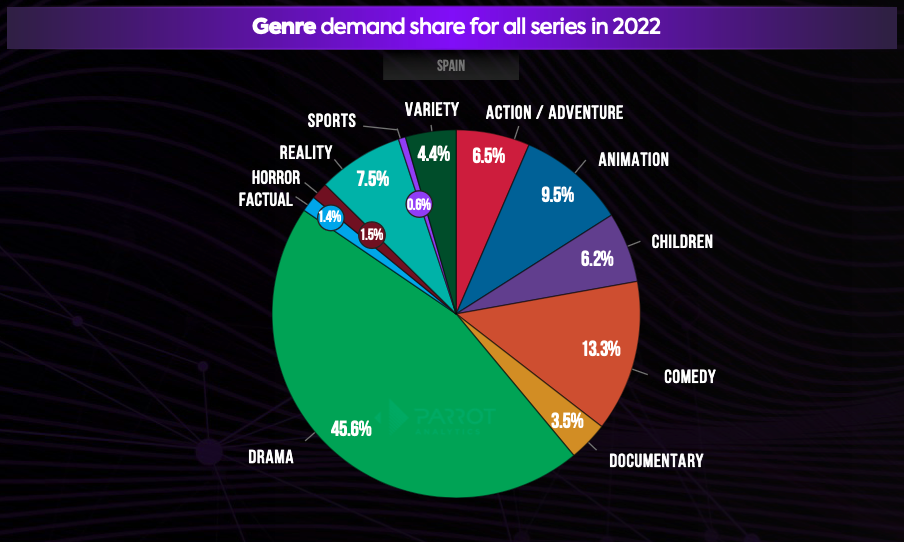 Spain was one of five markets in this report where crime drama was the most in-demand subgenre of 2022. The others were Australia, the UK, Canada, and Italy.

Spain was the only market in this report where superhero series did not rank among the ten most in-demand subgenres.

The thriller and historical drama subgenres ranked higher in Spain than in any other market in this report–sixth and eighth respectively. This underscores the popularity of dramas in general with Spanish audiences.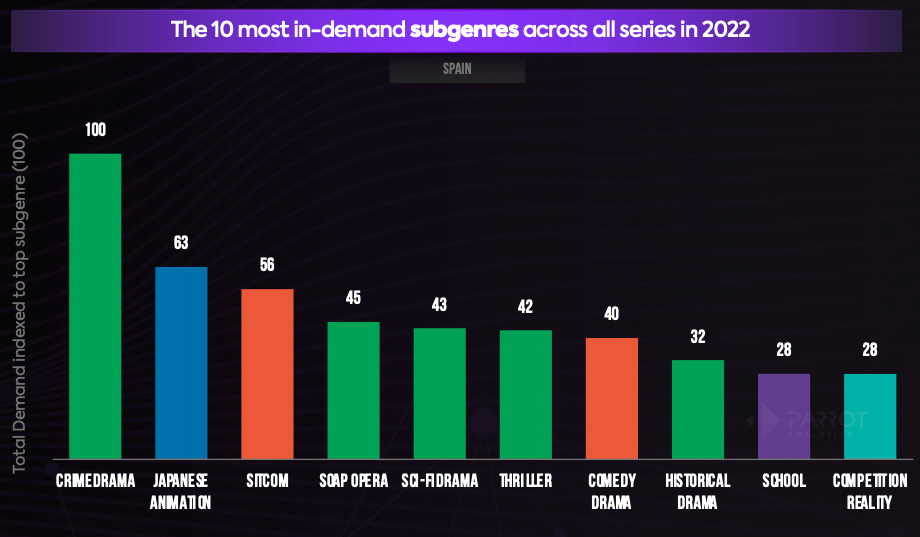 Spain platform demand share and digital originals demand distribution
In this report, Spain had the largest share of demand for HBO series in 2022–6.5%. A brand known for its premium dramas has found success in one of the most drama-loving markets.

Content from Antena3 made up the third largest share if demand in its home market, Spain, in 2022. The 5.1% of demand for its series was larger than the demand for shows from any major American broadcast network.

Two other Spanish channels ranked in the top ten by share of demand. Telecinco and La 1 had a 3.4% and 2.7% share of demand respectively in Spain.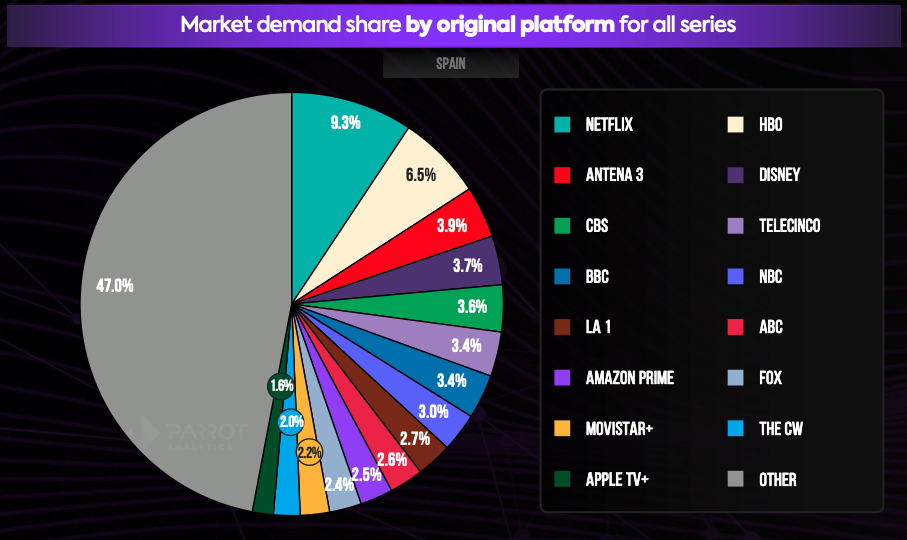 Although it concluded in 2021, La Casa de Papel, continued to captivate audiences in its home market. With 16.36 time the average series demand in 2022 it was the most in-demand Spanish series in its home market.

In-demand local series like 30 Monedas (14.97x) and Pátria (14.12x) helped HBO to achieve its largest demand share in Spain of markets covered in this report.

Tuzak, a Turkish drama, found success in Spain this year where it had 7.18 times the demand of the average series. This is just one of a wave of Turkish series that have been winning audiences over in Spanish speaking markets in recent years.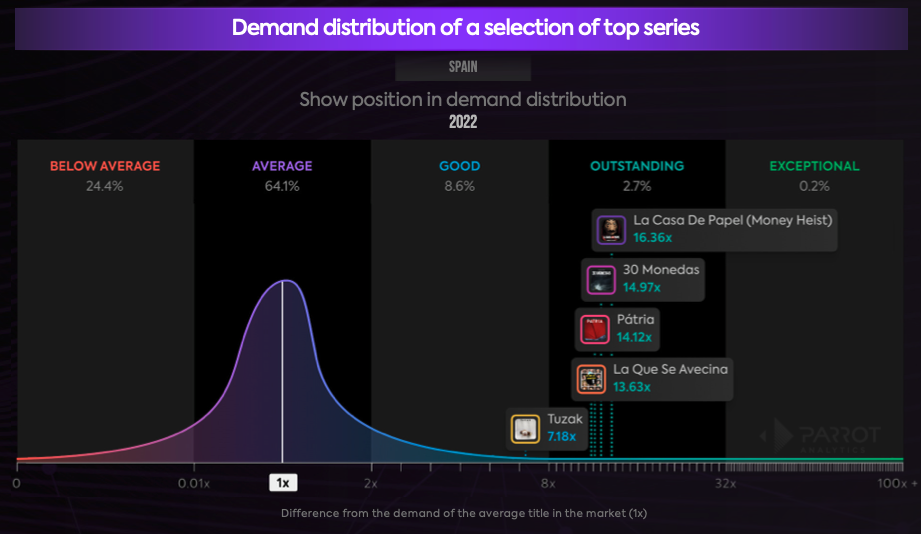 Top digital original series in Spain
Here are the top 20 most in-demand streaming original series in 2022 in Spain across all platforms: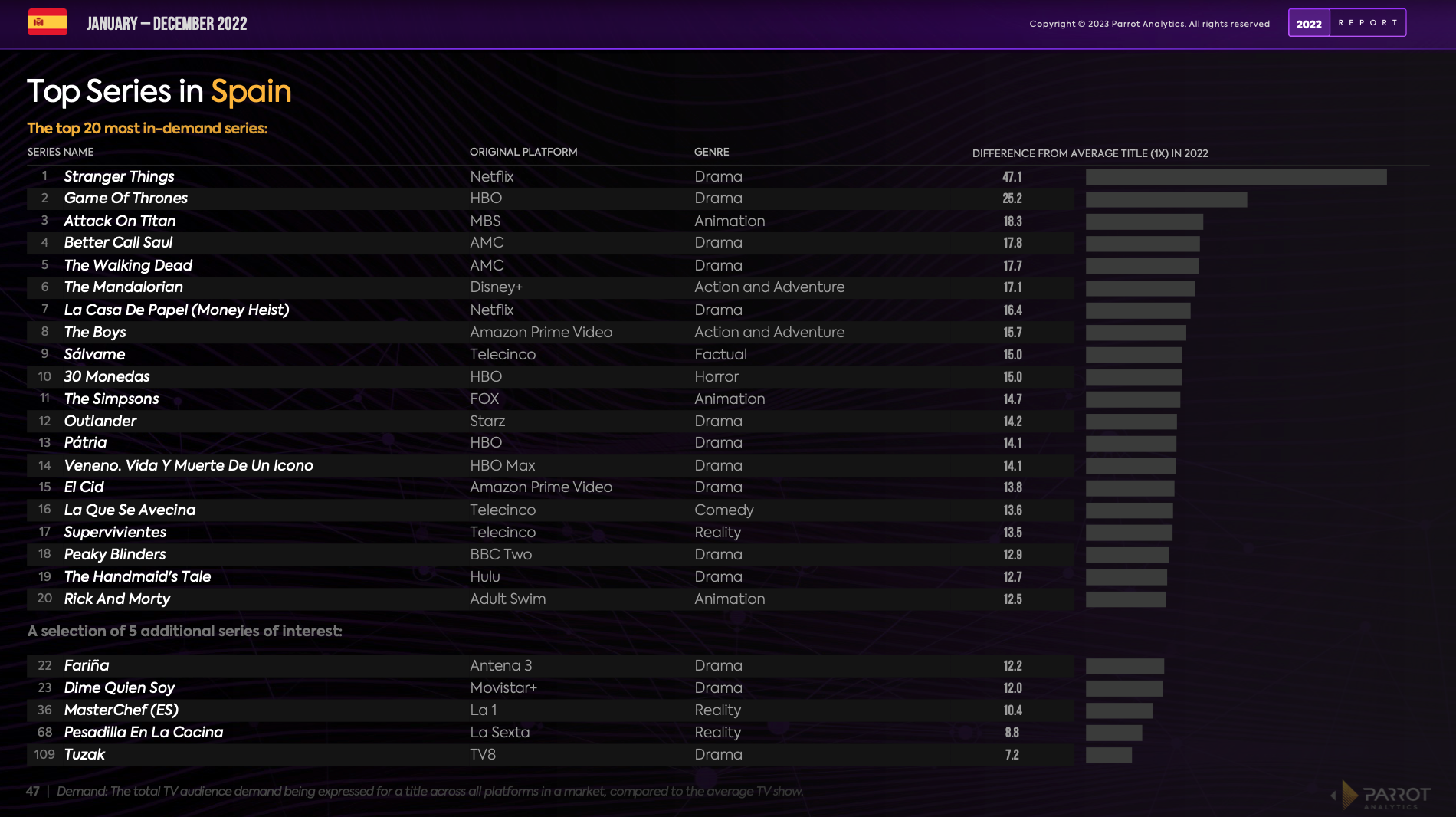 Please subscribe to DEMAND360LITE to access the latest version of The Global Television Demand Report.
---