Ever since its launch in 2019, it has been clear the Apple TV+ streaming service has some standout differences to its competitors. While most streaming services have a seemingly endless release schedule when it comes to new content, Apple TV+ has taken a different approach - which appears to be working for them when it comes to the success of individual shows. Black Bird, for instance, is a recent example of the streaming service's strive for quality as opposed to quantity. Released in July of this year, the psychological thriller only has six episodes and it is suspected that this will be its only season. However, the success of this series in terms of demand after its release date is interesting to consider and may point toward how well the streaming service will do in the future if it continues to go by this model.
Worldwide Demand on Release
The chart below shows the global demand for Black Bird over July this year. In the month after its release on July 7, Black Bird reached an outstanding level of global demand, with 18.7 times more demand than the average show worldwide. Its global peak level of demand for the month was 28.8 times more than that of the average show.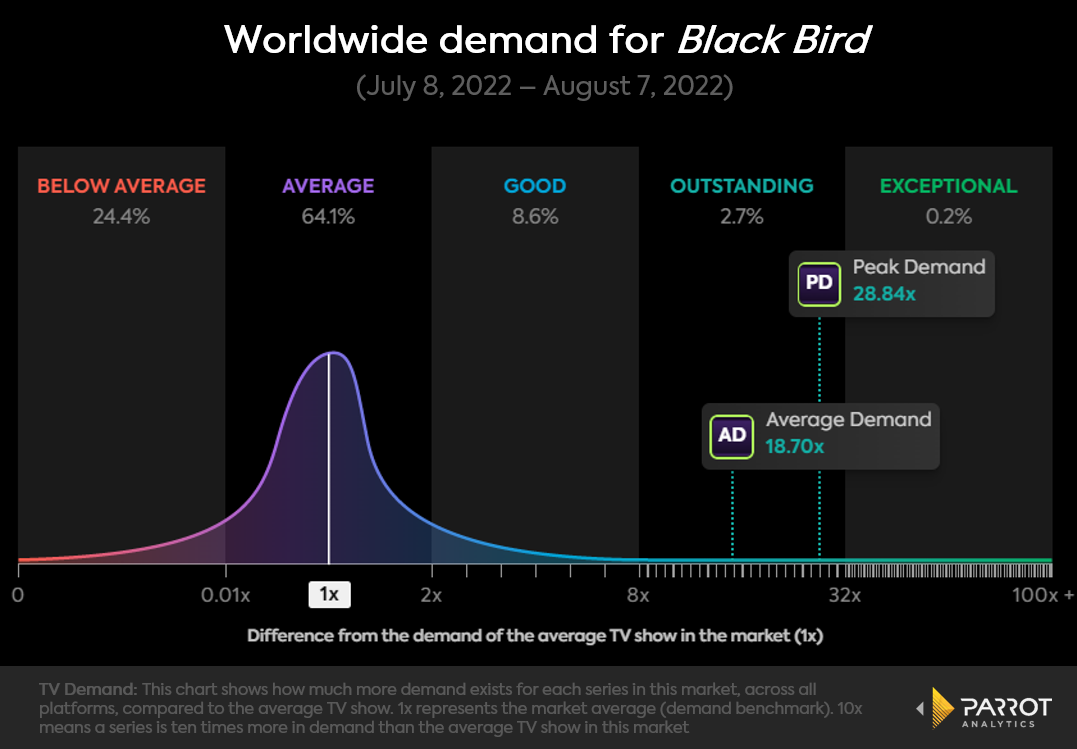 More recently, over the month of August, it appears the global demand for the original miniseries has remained consistent, if not growing slightly. The chart below shows that the average level of demand for Black Bird even grew slightly to 24.4 times more global demand than the average series. This level of demand for the crime drama, as well as the level of demand in the month directly after its release, makes for an interesting observation about what some viewers may currently be wanting in terms of television series - and how Apple TV+ may successfully be providing this.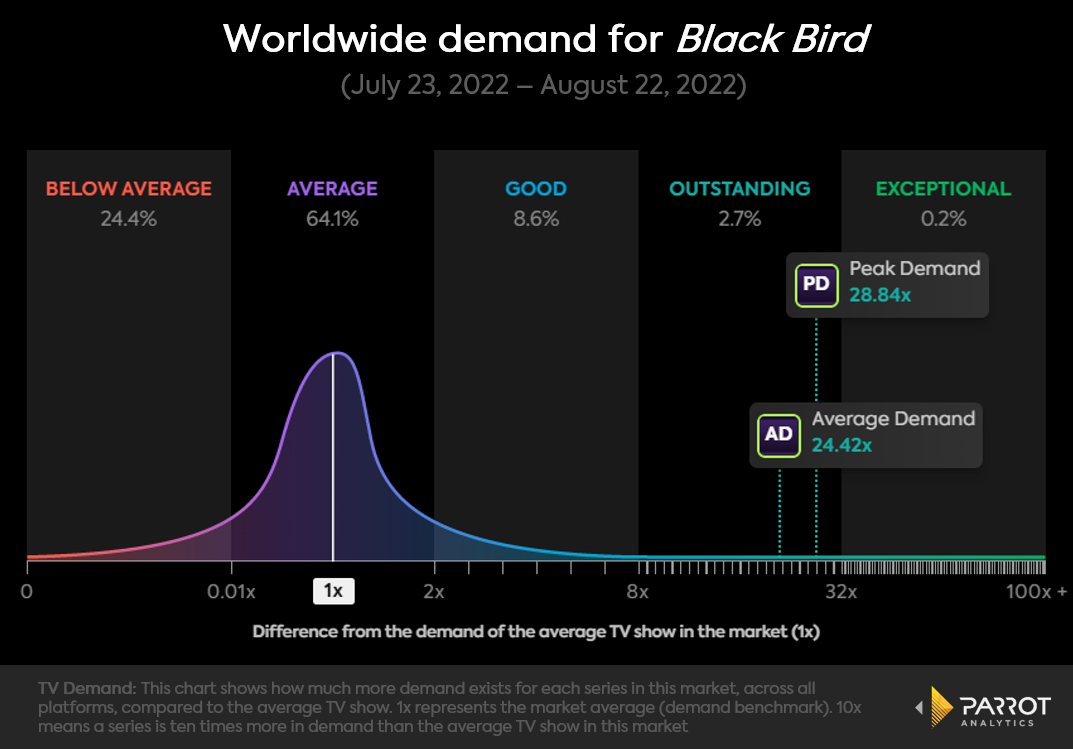 Demand patterns for limited series
The current climate of sequels, continuations, spin-offs and remakes has been going on for a relatively long time, particularly in the area of superheroes. While long-standing series on and outside of the Apple TV+ streaming service have achieved success in their own right, such as the hugely popular Ted Lasso, it is interesting to consider the level of success in terms of global and inner-market demand for miniseries that have a definite end. One thing is for sure, however - these types of series might need to have a heavier reliance on quality over quantity.
The Disney+ streaming service has released a number of successful miniseries earlier this year. Like Black Bird, they are based on true events, with crime or thriller themes. The chart below shows how the demand for a number of recently released miniseries shifted in the month after their release, while also noting how the series' demand may change as time goes on. At a glance, it can be said that miniseries of this nature can hold a relatively consistent level of demand over their first month - though this is not always the case as can be seen with Candy, which dropped in global demand shortly after its release. However, what can also be seen is the potential for great levels of demand, as is clear in looking at Pam and Tommy, which reached the exceptional level - 35.6 times more demand than the average series worldwide. The Disney+ Original, which followed the relationship of Pamela Anderson and Tommy Lee, even managed to reach 36.4 times more demand just over a month after its release.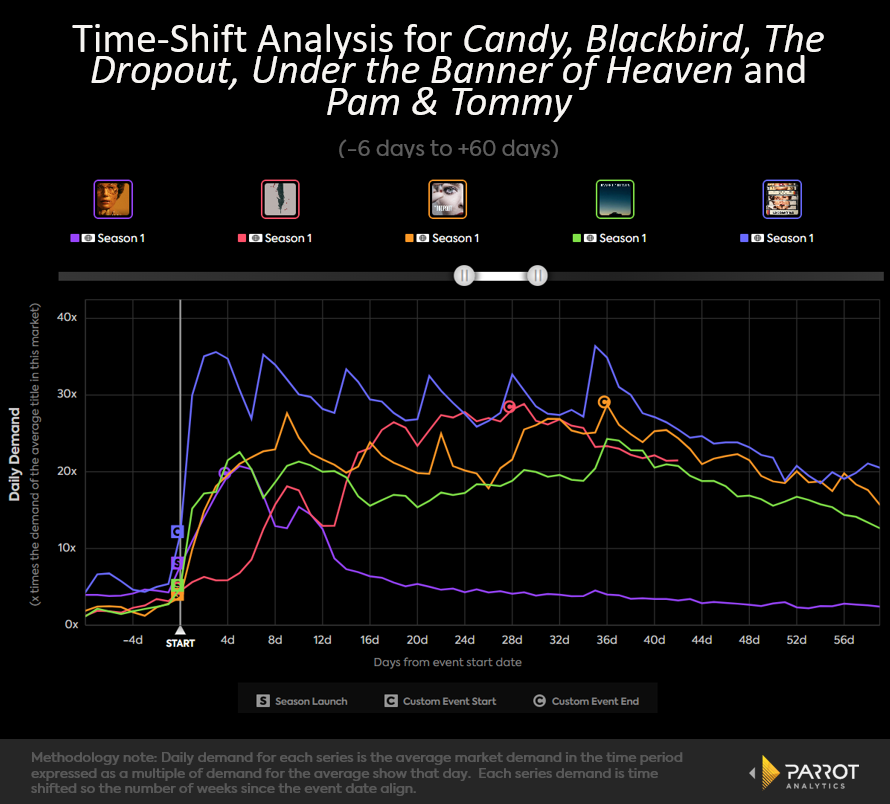 This exceptional level of demand for Pam and Tommy could be suggesting - especially when considering the spike in demand after its release to the streaming service, as well as the huge amounts of social media engagement - that word of mouth between viewers could have played a significant part in the show's many spikes in demand in the month after it aired. This in turn could even be an indication of viewers not minding that the eight episode series has been strictly defined as limited and will not be returning for a second season.
Furthermore, while it may have had a slow climb in terms of global demand after its release, Black Bird has seen a high level of demand as well. On its 29th day, the series peaked at 29.8 times more demand than the average series worldwide. While it can be seen that the demand for the series has been in a decline of sorts, much like the other series on the chart at this stage, it will be interesting to see how long it remains at this outstanding level of global demand. It could be said, especially in regard to the levels of demand for Pam and Tommy after its release, that there is a good amount of demand for these short, quality over quantity series.
A long-term future trend or a short-lived phase?
With their bite-sized time frames and often movie-like quality, it is understandable why recent miniseries have been doing relatively well in terms of demand and viewer engagement. Apple TV+'s Black Bird has been a good example of this, while also giving an indication as to where the streaming service is seeking out success. A smaller episode count does allow for bigger budgets on each installment, less recycled storylines, and less commitment needed from the audience - factors viewers seem to appreciate. With this being said, amplified focus on this type of content could indeed be a recipe for success in terms of demand for series on Apple TV+ - which released another miniseries, Five Days at Memorial, earlier this month. As the streaming wars continue, with interesting deals and incentives being made left and right, giving viewers a plethora of options to choose from, it will be interesting to see how this apparent quality-over-quantity approach stands the test of time for Apple TV+.
---