Audiences have been gleefully living through the Era of Surplus with a greater volume of high-quality viewing options than ever before. But the tidal wave of titles at our disposal does not come cheaply. Major Hollywood and Silicon Valley media players Disney, Netflix, Comcast, Warner Bros. Discovery, Paramount Global, Amazon, Apple, Lionsgate, Fox and AMC Networks are projected to have spent more than $140 billion on entertainment and sports content in 2022. That's roughly on par with the annual GDP of Kansas. But with Wall Street's dramatic turnaround on the streaming model last year, the good times as we've come to know them over the last few years may very well be over, requiring new moneymaking strategies for 2023 and beyond.

Streaming is an inherently costly endeavor that doesn't yet boast nearly the same upside as the still lucrative yet decaying cable model. The prodigious investments it requires is dragging down parent company share price left and right over the last 12 months (as of January 9, 2023):
Lionsgate (-61%)

AMC Networks (-58%)

Warner Bros. Discovery (-55%)*

Amazon (-45%)

Paramount Global (-45%)

Netflix (-41%)

Disney (-40%)

Comcast (-25%)

Apple (-23%)

Fox (-17%)
*Beginning April 4, 2022
It wasn't long ago when streaming was still widely seen as the industry's splashy and limitless future. But fortunes change quickly in this game, requiring fluid strategies to stay afloat. Given the investor revolt against SVOD in 2022 and looming recession concerns, it's time for streaming services to consider licensing out original content to ease the pressures bearing down on their bottom lines. In this Parrot Perspective, we'll explore the strategy Netflix, HBO Max and other major players could deploy in selective licensing, the monetary opportunity it provides and other use cases for this potential industry pivot. 
Netflix
Strategy
Netflix is no stranger to the licensing game, albeit from the buying side. The market-leading streamer's total US library has shrunk from around 11,000 titles in 2015, when it was the primary acquirer in Hollywood, to around around 6,000 titles now as most major media rivals hoard their libraries for their own in-house streamers. Now, as Netflix looks to build upon its projected $3 billion in free cash flow for 2023 in the years ahead, it's time for the company to carve out new revenue-generating strategies. 
A few caveats: Netflix largely considers itself an all exclusive platform, which may understandably lead to some internal philosophical opposition to licensing content externally. It's fair to raise the question of whether or not moving a Netflix original to a new platform devalues the content and brand and, if so, by how much? Consumer value perception is a crucial factor to weigh in such an equation. From a financial perspective, there's also the hi-wire act of navigating content amortization, a necessary prerequisite for licensing eligibility. Not every single fully owned Netflix original may be able to be monetized in a new window (to say nothing of the popular Netflix originals the company doesn't outright own and therefore can't license). Finally co-CEO Ted Sarandos even noted in the company's most recent earnings call that licensing is not a current strategy consideration (though we all know how that turned out for advertising).  
There are a few strategic ways to go about this to optimize earnings and impact should Netflix ever change its tune. On a macro level, the top three genres in terms of audience demand share globally in Q4 2022 were drama (38.5%), animation (13.5%) and comedy (13.1%). The top three subgenres in audience demand share globally in the same span were Japanese animation (9.3%), crime dramas (7.9%) and sitcoms (5.3%). Focusing on these taste clusters will help maximize the company's licensing opportunity.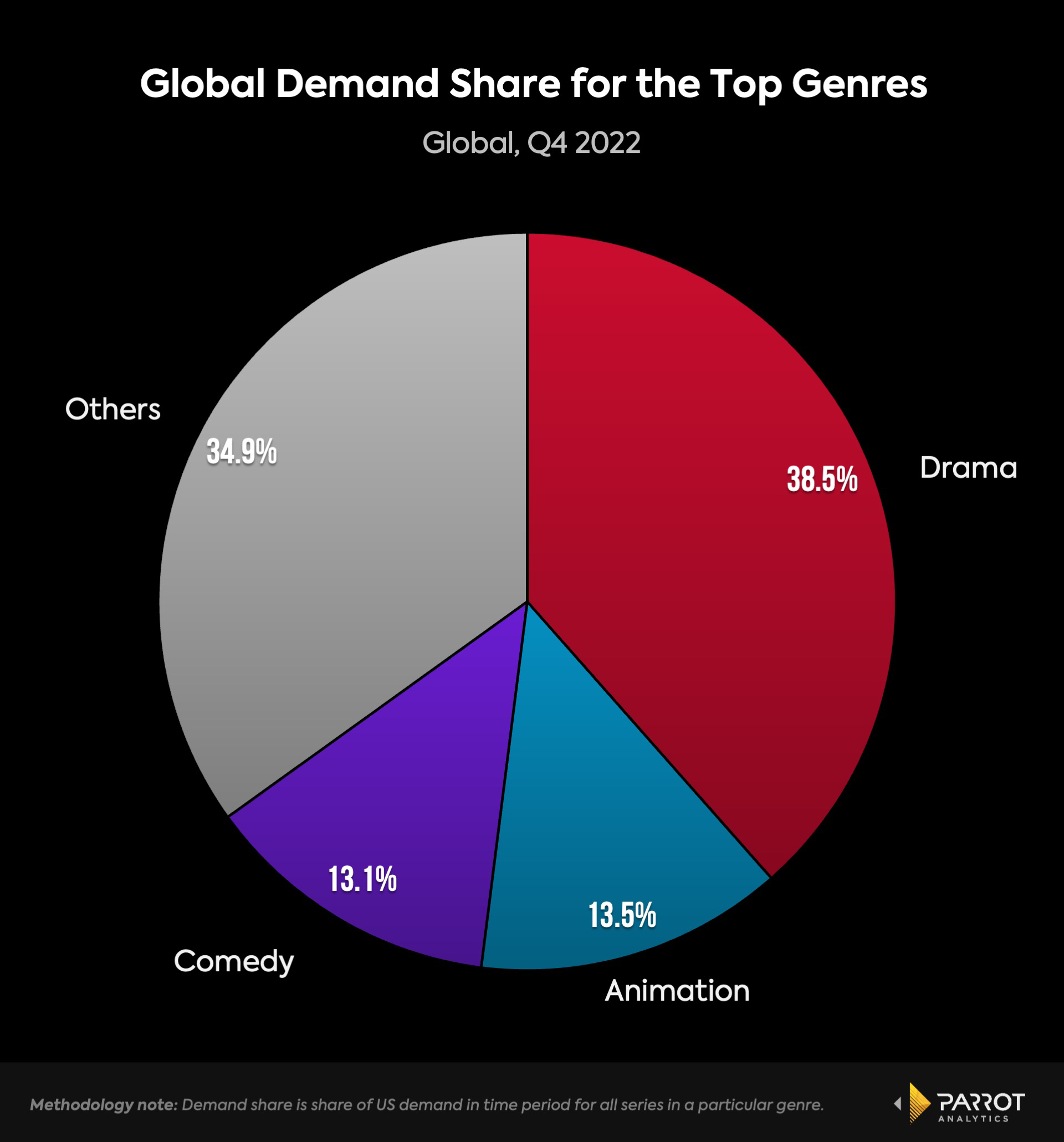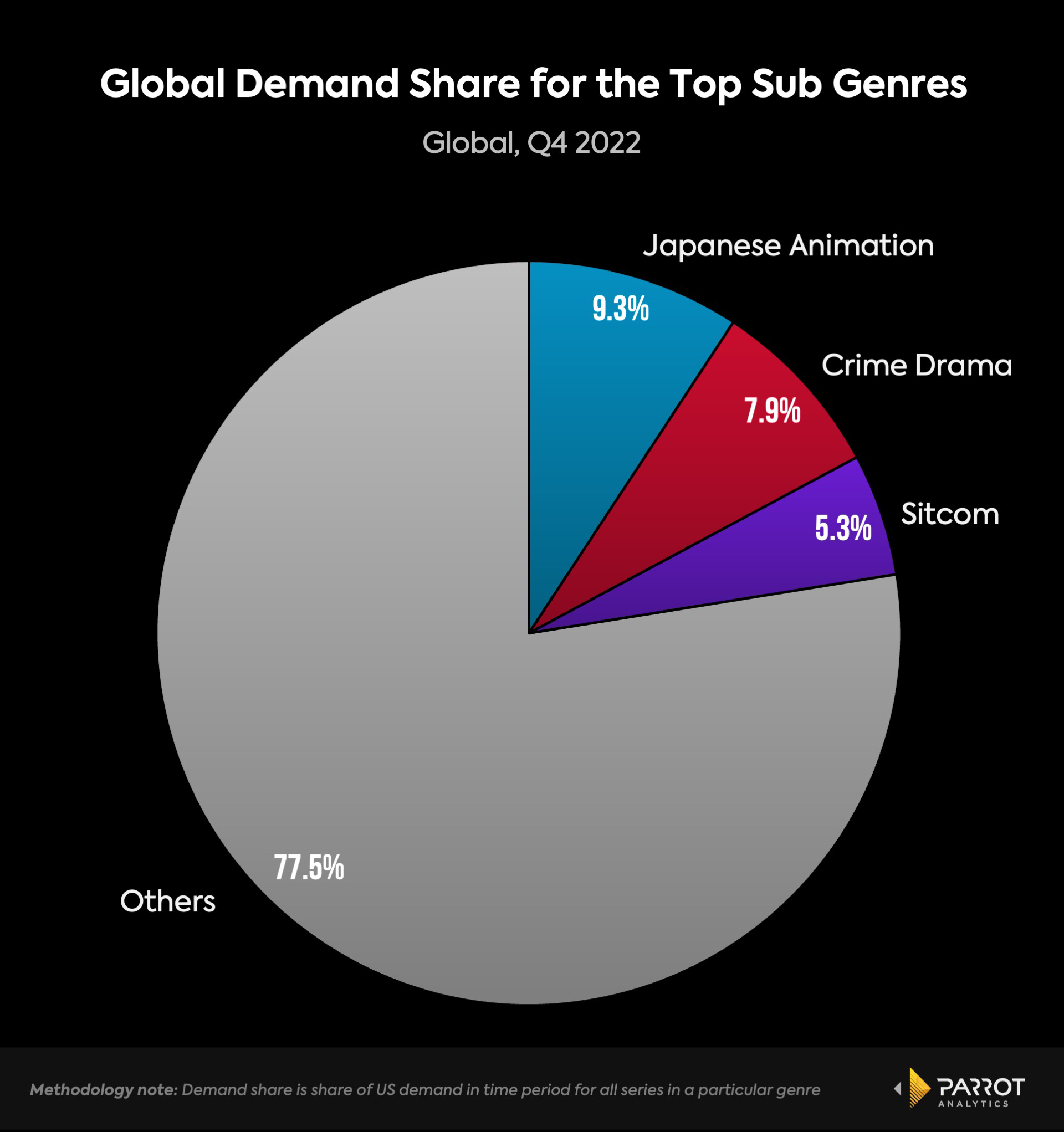 Filling specific needs is the next step. For example, AMC Networks' TV content skews male (52%) while Netflix skews female (54%), representing an opportunity to help balance out the former's audience demographic should it ever be interested in acquiring specific Netflix programming. Similarly, Netflix's biggest age demographic is viewers born between 1998-2003 (27.4%) while Paramount TV content over-indexes with GenX+ (29.4%). It's another whitespace opportunity for Netflix to help fill in the market voids of its peers (for a price). 
Within the UCAN market, which is highly saturated and competitive, Netflix can focus on trying to license titles to broadcast, cable and FASTs, which do not represent as direct competition as rival SVOD platforms. Outside of the competitive UCAN market, Netflix can look to partner with smaller rivals. For example, SkyShowtime is rolling out across Europe and is a joint venture between Comcast and Paramount Global. The new platform recently acquired 21 HBO Max European originals. Additionally, non-English titles — which often struggle to break through in the UCAN market, with exception — can be licensed to local region specific streamers. Below is a list of Netflix originals that boasted the highest travelability in 2022.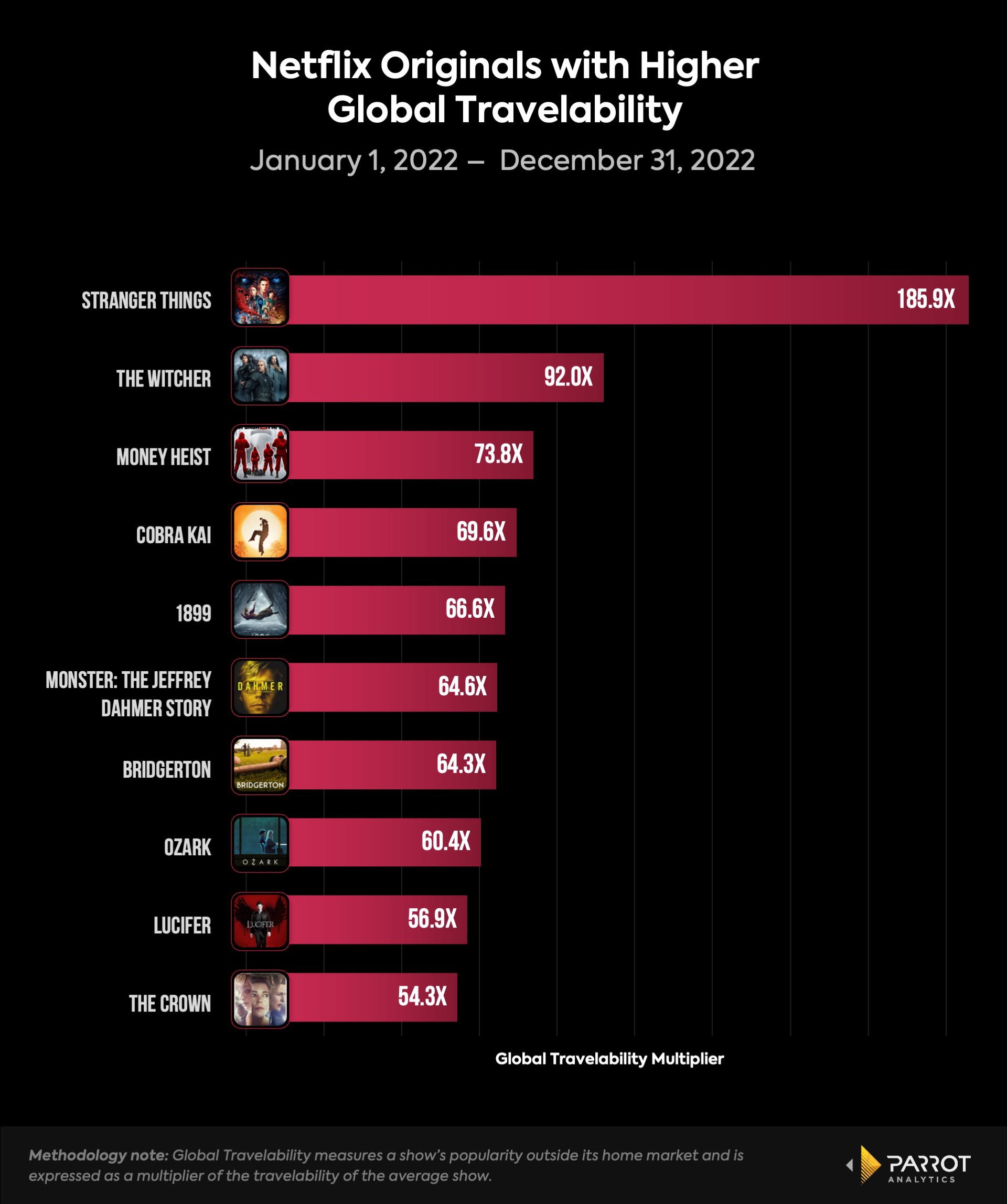 "This is a landmark deal for SkyShowtime, giving us an immediate foothold in the original programming space well ahead of plan," SkyShowtime CEO Monty Sarhan said of its licensing agreement with HBO Max, highlighting the value sellers bring to embryonic expansion efforts.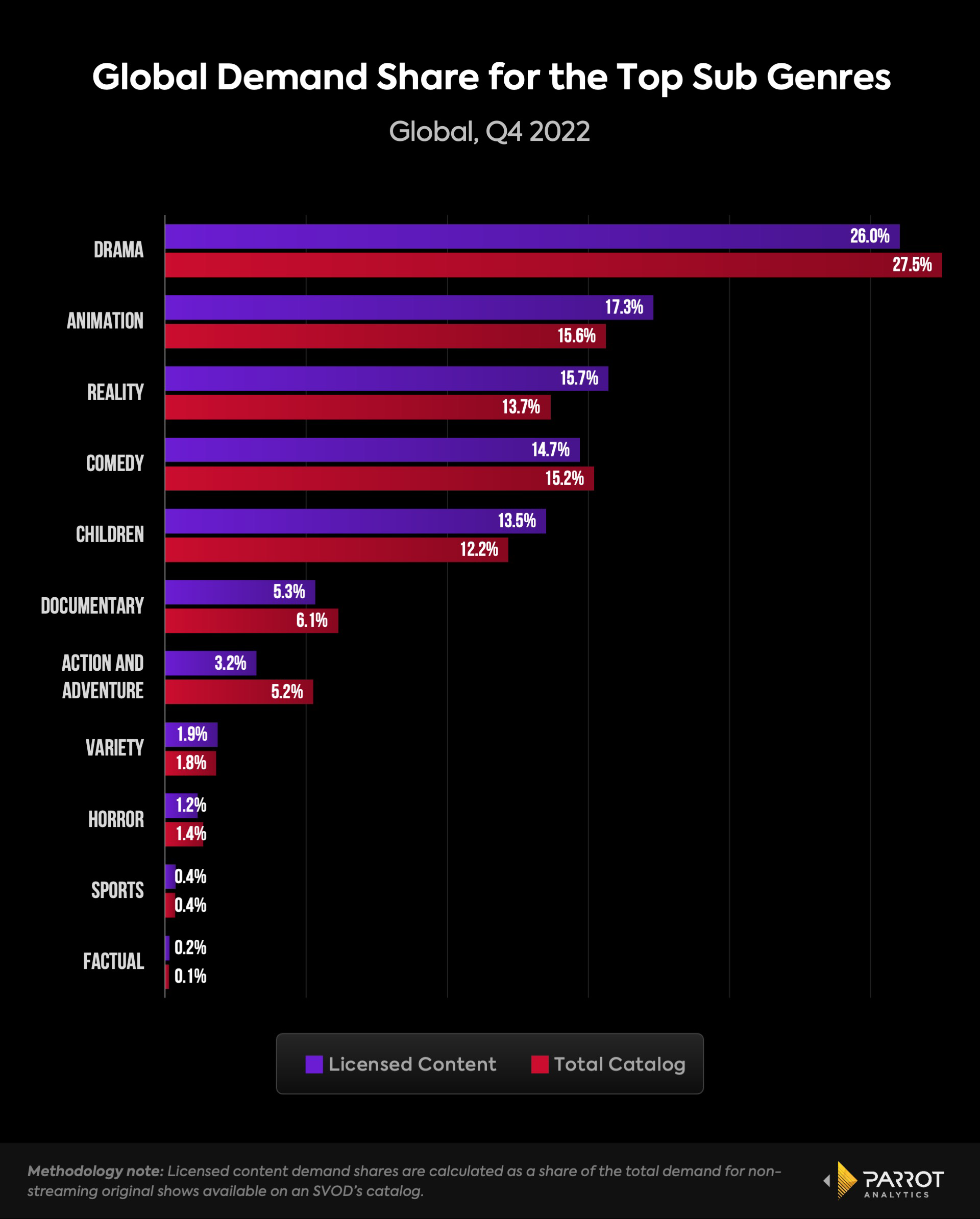 On a more micro level, Netflix can begin by licensing original series that have already concluded. In this instance, Netflix has largely earned the bulk of the money it's going to earn on these titles, which may no longer be top tier contributors to customer acquisition and retention. 
Ozark, which concluded a celebrated four-season run last year and counted Canada, the United Kingdom, Australia, the Netherlands and South Africa among its top markets outside the US in 2022, is a prime candidate. According to Parrot Analytics content valuation data, the popular crime drama generated $196.9 million in domestic (United States and Canada) revenue for Netflix from Q1 2018 to Q3 2022. In Europe, the Middle East and Africa (EMEA) that number is $124 million while Latin America (LATAM) accounts for $40.1 and the Asia Pacific region (APAC) accounts for $21.4 million in that same timeframe. Around 48.5% of its revenue generation came from outside the UCAN market in that stretch.
Fellow crime drama Narcos, which Netflix has already used in licensing experiments (more on that below), and Narcos: Mexico are also strong contenders. Both series counted India, Bulgaria, Mexico and Denmark among its 10 most travelable markets outside the US in 2022. If Netflix were to license all 50 episodes combined across both shows for three years, it would be worth an average of $35.4 million to HBO Max and $35.7 million to Amazon Prime Video, according to Parrot Analytics content valuation data. Sitcom Grace and Frankie — which concluded its seven-season, 94-episode run last year — would be worth an average of $3.3 million to HBO Max over three years and $3.9 million to Prime Video.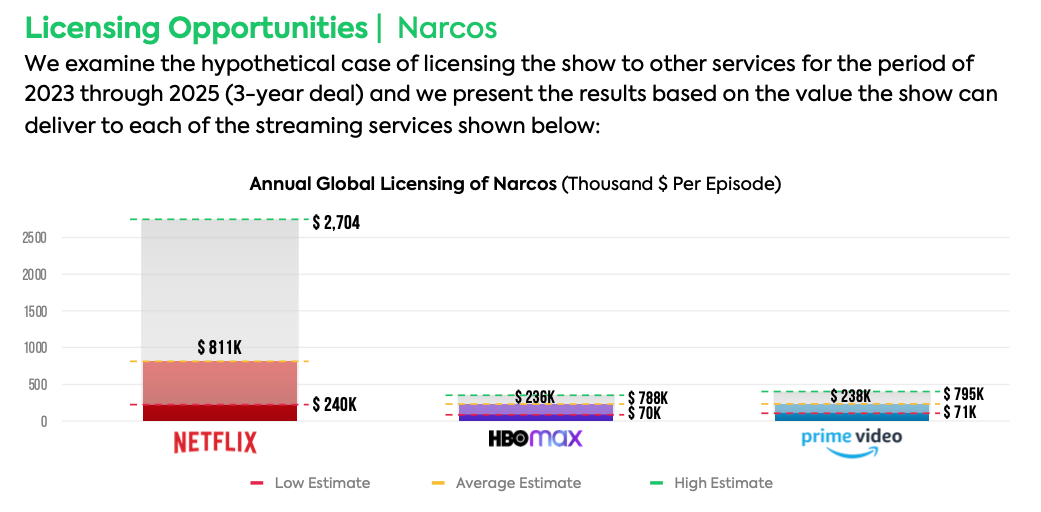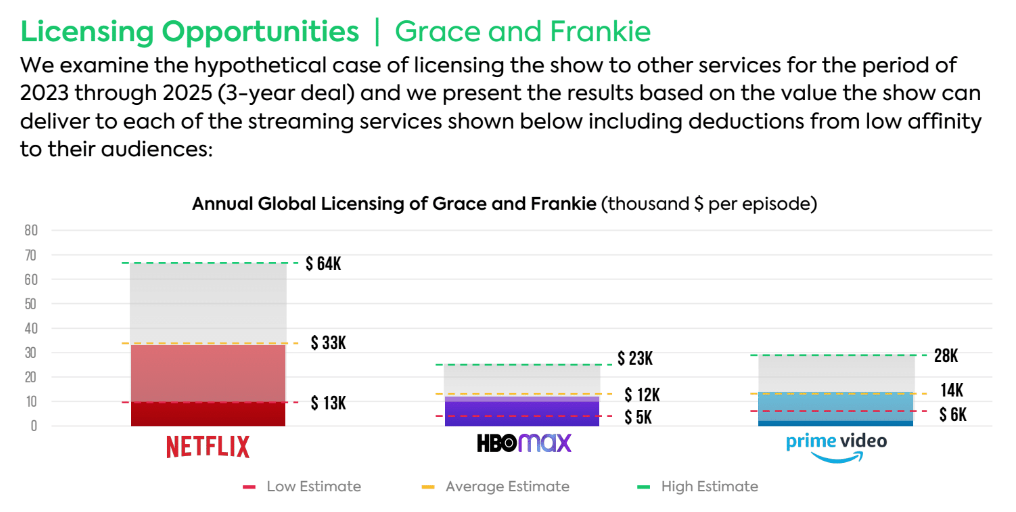 Early seasons of longer-running active shows can be strategically deployed in non-exclusive licensing deals to bring in revenue and help garner additional awareness and demand for upcoming new seasons on Netflix. We can already see this happen the other way around. Non-Netflix original shows such as AMC's Breaking Bad benefited from the famous "Netflix Bump." Audiences have long caught up on the most recent seasons of AMC's Better Call Saul and The Walking Dead, ABC's Grey's Anatomy and more on Netflix ahead of their new linear season debuts. 
Per Parrot's platform affinity data, South Korean original Extraordinary Attorney Woo has the best fit in the US with Hulu, generating 3.9 times more affinity lift with its catalog then what it currently achieves on Netflix. This means that customers who watch Woo are more likely to engage with a Hulu title afterward. In South Korea, Apple TV+ offers a marginally better fit (1.4x). Both platforms could be considerations for the show's first season ahead of a potential second season. 
FAST services such as Facebook Watch (1.6% US audience demand share in Q3 2022), Roku (1.2%), Crackle (0.3%) and Amazon's Freevee (0.2%) are prime destinations for Netflix originals that were cancelled after one season. Shows such as 1899 (51.21x more demand worldwide than the average title in its first month of release), I Am Not Okay With This (17.46x) and Cursed (38.23x) all performed well and drew strong online support from fans after they were cancelled following their rookie seasons. In fact, Netflix has an impressive roster of one-and-done series that can be repurposed as the company has largely wrung all of the value it can out of these short-lived series (as long as they're fully owned in-house). As FAST services take on an increasingly significant emphasis in the industry (Warner Bros. Discovery is developing its own free ad-supported service for 2023), they represent a growing outlet to further monetize content.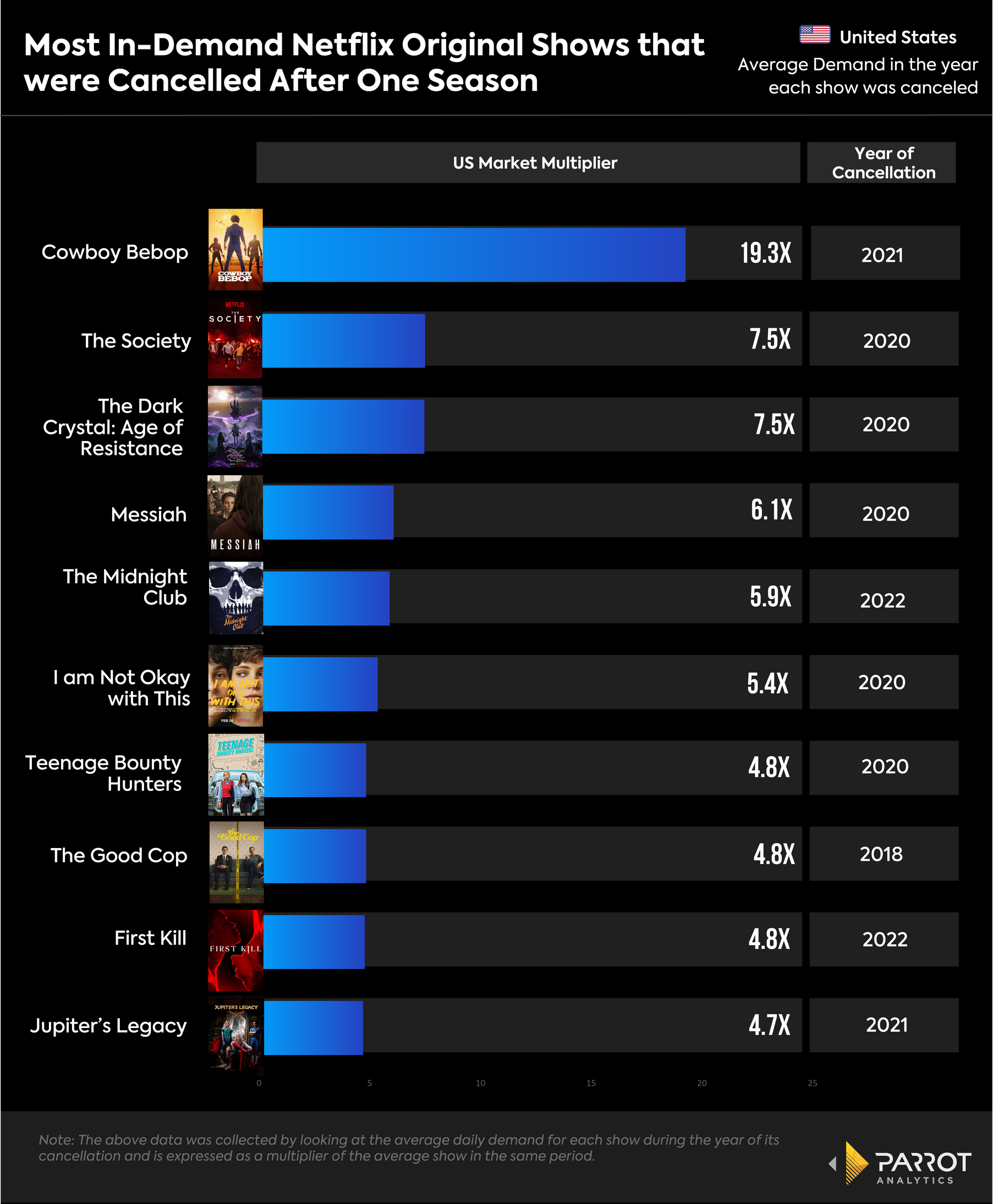 For movies, we found that audience demand levels tend to drop off and not recover 72 days after the release of a Netflix original movie. While seasonal original movies such as The Christmas Chronicles enjoy cyclical spikes in audience demand and consumption, date agnostic movies could be licensed out to competitors looking to beef up movie libraries following the first few months of Netflix exclusivity. 
Netflix films tend to skew female (51.4%) while movie libraries for rivals such as AMC Networks (53.9%), Lionsgate (56.3%), Warner Bros. Discovery (60%) and Paramount (60.7%) skew male. Again, this is a whitespace opportunity to help competitors expand their audience demographics. 
While Don't Look Up appears to have broken even, blockbusters movies like Red Notice and The Gray Man, both of which cost Netflix $200 million to produce, are projected to top out at $80 million in cumulative revenue contribution to Netflix through 2028. As such, Netflix could consider licensing the star-studded tentpoles in order to elicit additional value from their investment. (Or, put them in movie theaters first, but that's a conversation for another day). 
Traditional movie windows typically include theatrical release, electronic sell-through (EST), DVD/VOD rental, Pay One, Network, and Pay Two. That's six (!) monetization opportunities in the lifetime of a single movie. (Top Gun: Maverick became the best-selling digital sell-through title in the US in its first week of release, according to Paramount Home Entertainment, for example). This standard model underscores the potential revenue most streamers are eschewing by keeping original films exclusively in-house in perpetuity long after they've maximized their customer acquisition and engagement value. 
"This idea of expensive films going direct to streaming, we cannot find an economic case for it. We can't find an economic value for it," Warner Bros. Discovery CEO David Zaslav said last August. 
This wouldn't be the first time Netflix considered such a move either. Last summer, the company reportedly considered syndicating some of its older original series to broadcast networks. In fact, this strategy appears to be a lingering consideration for the company as it reportedly held talks in 2021 with then ViacomCBS and NBCUniversal about licensing original series and movies to external outlets, including linear networks. As Parrot has previously covered, broadcast and linear networks still represent value for streaming services, particularly as promotional platforms for key content. Previously, Netflix original Narcos aired on Univision in 2016 and appeared on Paramount Global's FAST service Pluto TV in 2020.
Given the established track record, licensing originals externally would not be nearly as dramatic of a strategic 180 as Netflix's recently launched advertisement-supported tier. In doing so, Netflix could potentially generate hundreds of millions in new revenue.
Demand and Volume
In the US, seven of the top 100 most in-demand TV series of 2022 were Netflix originals. Globally, 18 of the 100 most in-demand TV series of last year were Netflix originals. In Q4 alone, Netflix accounted for seven of the 100 most in-demand shows in the US and an industry-leading 15 globally. Despite falling consistently in recent quarters as competition mounts, Netflix still posted an industry-leading 40.9% US demand share for all streaming originals in Q4 and a first-place global demand share for streaming originals of 41.5% in Q4. All of this is a fancy way of saying Netflix creates highly sought after content.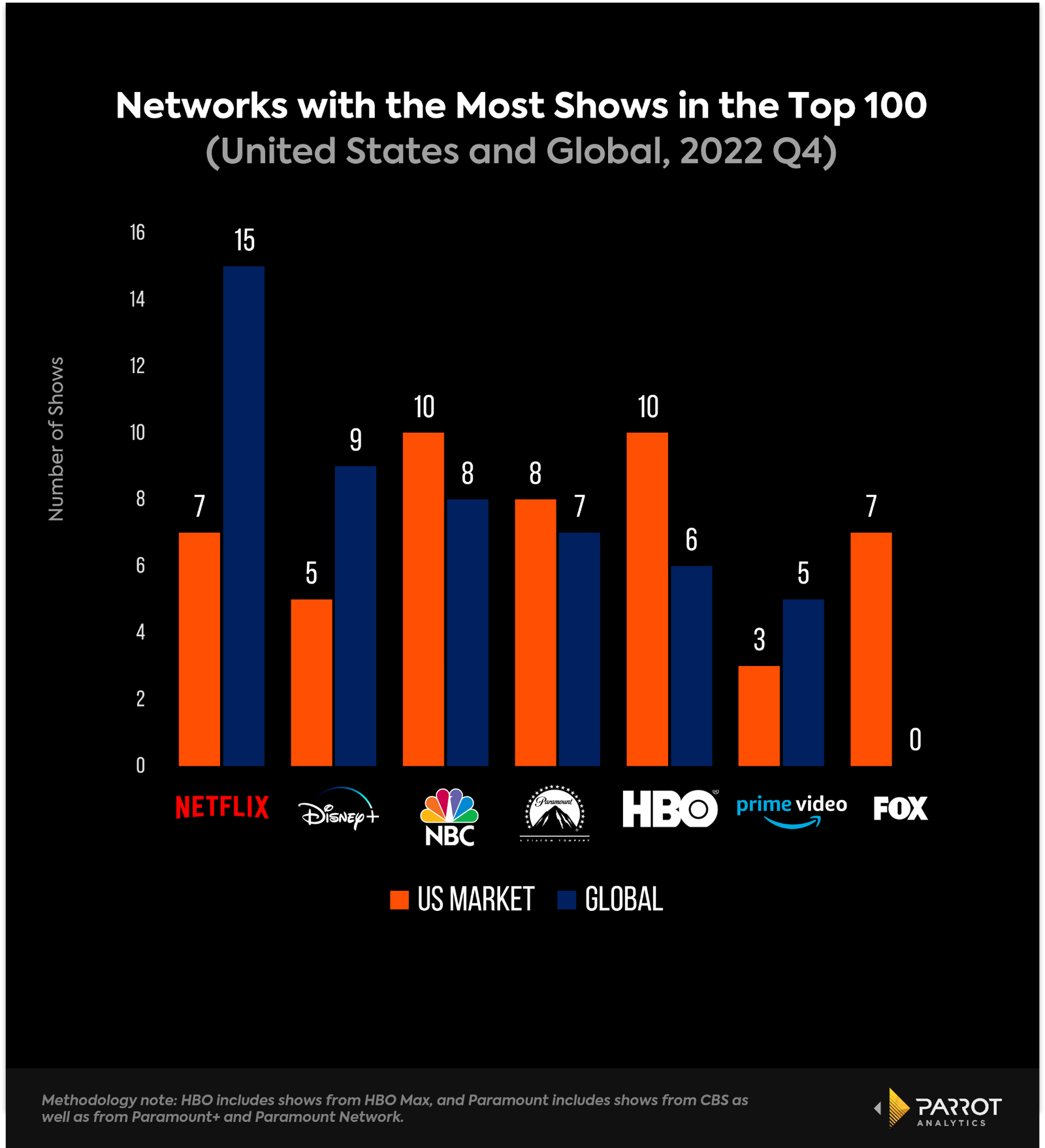 But the company still has to prioritize its own streaming service first and foremost. Licensing movies and shows externally doesn't make sense if it would come at a significant expense of its own library. Fortunately for Netflix, that isn't the case in terms of volume. In Q3, Netflix broke its own record for the number of original episodes released in a single quarter with 1,026. That's five times more than any of its SVOD rivals. It premiered 159 original and exclusive shows in Q4, besting its previous record of 143 in Q4 2021.
On the film side, Netflix boasts an industry-leading 16.5% of all SVOD movie supply in the US as of Q3. When accounting for films, documentaries and stand up specials, Netflix released an average of 28.5 new "movie" titles per month (Jan. 2022-September 2022). So there's more than enough content to keep Netflix's pipeline of engagement flowing smoothly while also supplying the industry with select titles.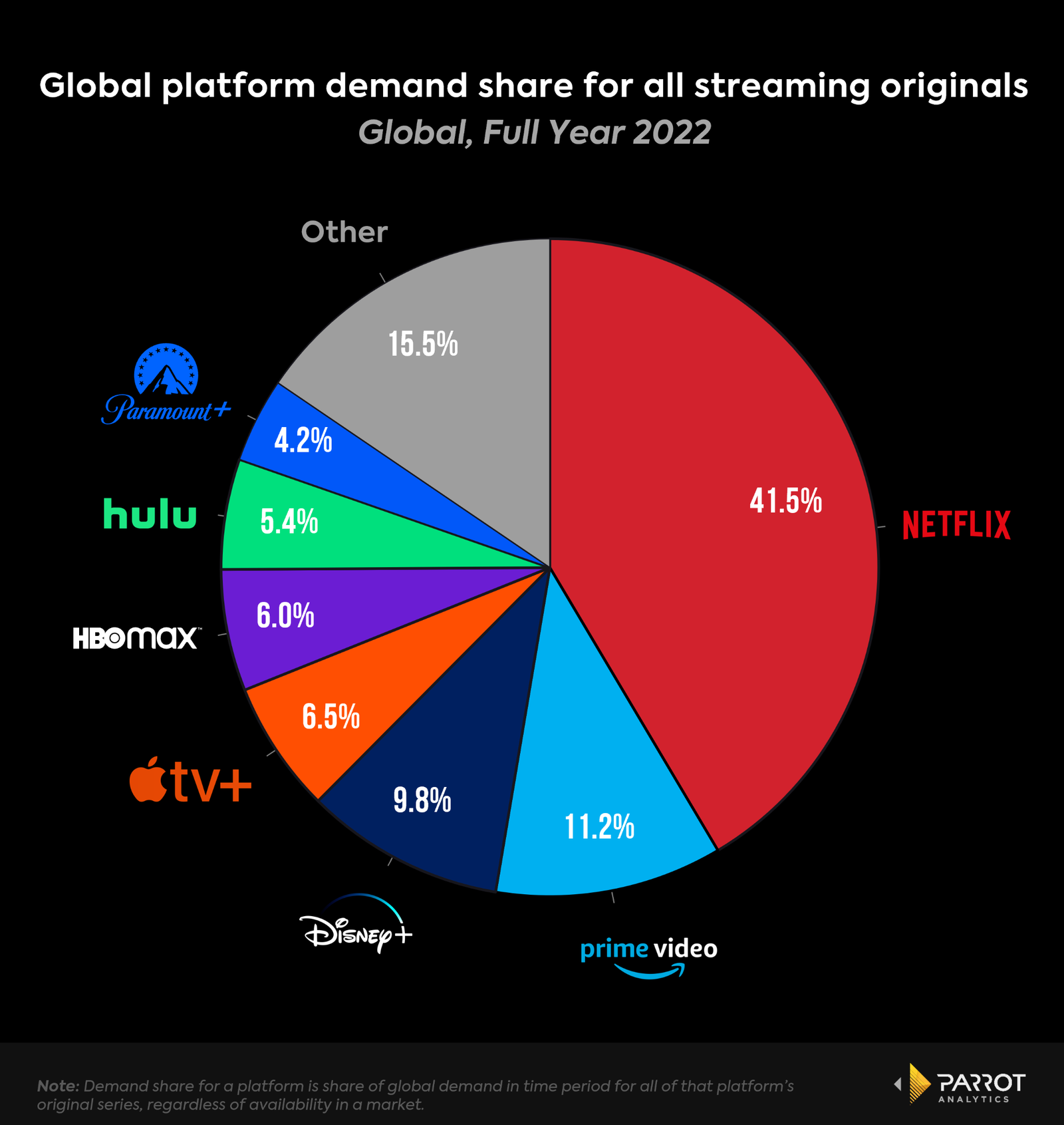 Globally, Netflix has stronger demand for a significant portion of its originals than in the US, signifying that Netflix can license its original series to a number of third party partners in various countries largely without sacrificing a competitive edge in the saturated and crucial domestic market. 
Outside of Netflix
Companies like Warner Bros. Discovery, NBCUniversal, Disney, and Paramount have the core advantage of owning highly in-demand original series from a breadth of their various networks alongside deep catalogs of valuable TV series and films. Unlike Netflix, Amazon, and Apple, these companies can pull from the well to monetize their content across several different pathways: exclusive licensing, non-exclusive licensing, exclusively holding onto something, or implementing various windowing. TV series and films can play off one another, intertwined to generate significant brand recognition across a portfolio of investment areas, approaching the new entertainment world like LEGO. Everything is built brick by brick. 
Corporate demand share illustrates how demand for original and catalog series breaks down by owner, which is key to assessing the power that many organizations hold when it comes to licensing their various titles. While the value of a particular title depends on an assortment of supplementary aspects — audience demographic, affinity to platform, acquisition and retention abilities — having a large demand share speaks to potential capability to demand higher fees in negotiations. Disney leads with a whopping 19.8% of all demand for series in the US as of Q3 2022 (the company's fourth quarter), followed by a combined Warner Bros. Discovery at nearly 18% and Paramount at 12.4%.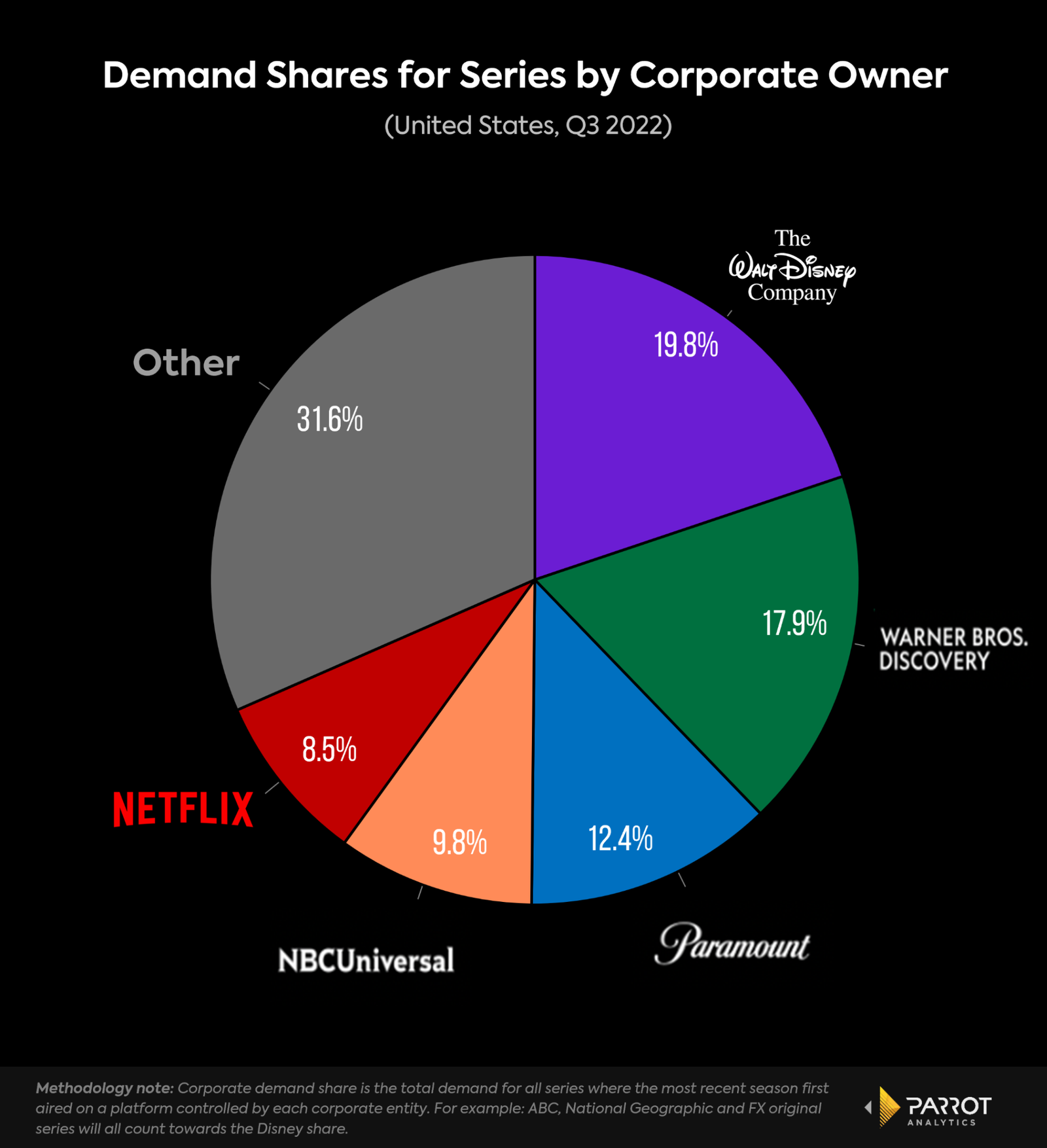 So while Netflix dominates demand share for original series, both in the US and globally, it has the lowest amount of corporate share due to its lack of catalog. A core example of how this parlays into an increasingly advantageous position for the aforementioned companies is CBS' Criminal Minds. The series goes back and forth between a few key streaming players, but three are most notable: Netflix, Hulu, and Paramount+. (Note: At the time of this writing, the series was not available on Netflix.) Netflix saw the most meaningful revenue generated when it was streaming the first 12 seasons compared to both Hulu and Paramount+. More importantly, Criminal Minds played a strong role in customer retention on Netflix. Churn is increasingly one of the biggest issues — if not the biggest issue. For Netflix, a company whose free cash flow is solely dependent on a sustainable subscriber base, strong average revenue per user, and incremental global growth, a title like Criminal Minds is arguably vastly more valuable in the short term than it is to Paramount+, where the retention and acquisition potential isn't as strong. 
Understanding the value of a series to different platforms in the marketplace can help from the buying and selling side of the equation. Ted Lasso is one of Apple TV+'s most valuable series, accounting for 16% of total demand for all Apple TV+ series in 2022. The show is produced by Warner Bros. Television, and Warner Bros. Television will retain the linear rights to the show. While Ted Lasso is actually more valuable to HBO Max in a five year period than it is Apple TV+, but is worth far less to a platform like Amazon Prime Video. 

Just as important to the conversation about tangible value is intangible value, like brand creation and platform sentiment that certain titles bring. For example, while Ted Lasso is more valuable to HBO Max because of the audience overlap and content affinity, along with other data points, the increased sentiment that the series brings to Apple TV+ as a platform is arguably more lucrative for a platform still trying to establish itself. If positive sentiment for Apple TV+ increases alongside a series likeTed Lasso, then the perceived value of the subscription may be greater in customers' minds. It could be the difference between customers deciding to sign up for Apple TV+ or not.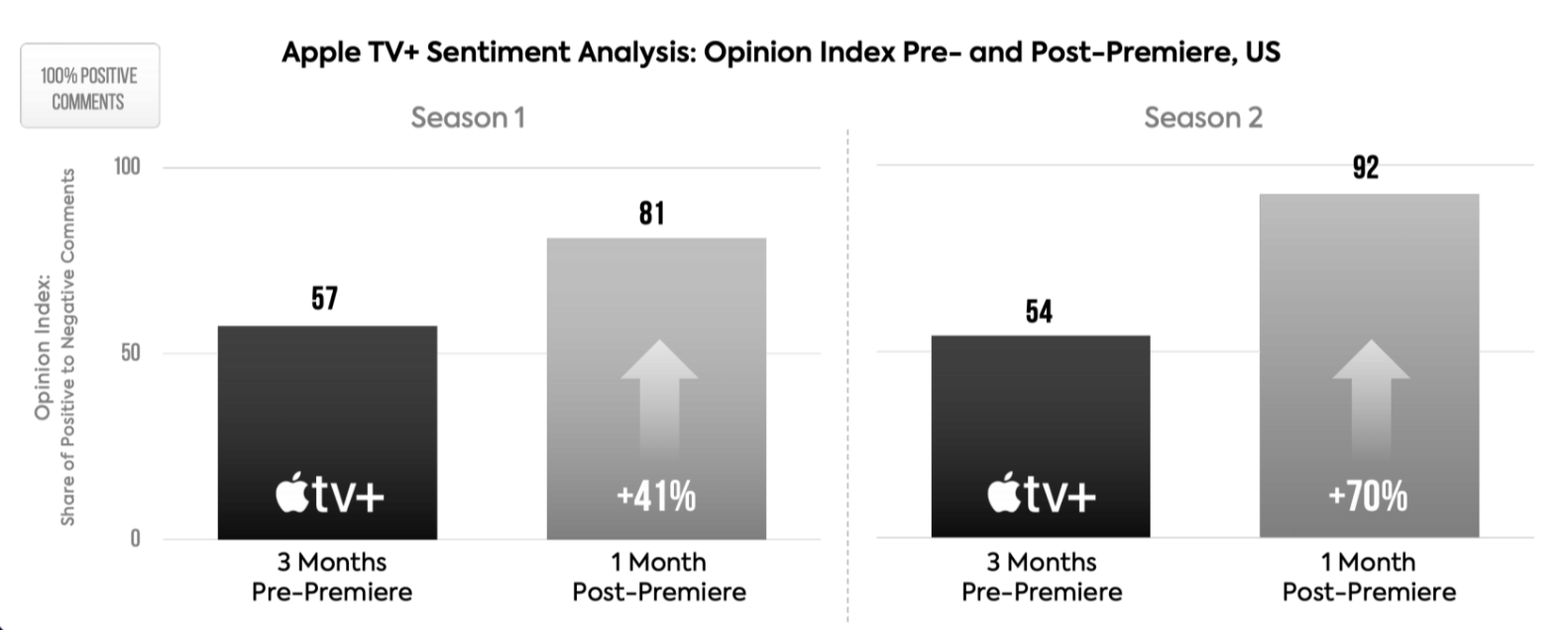 Making decisions about whether or not to license a title, sell a series, or offload a series comes down to when a title stops being more valuable for the original player and starts being more valuable for another player. If a title is no longer being amortized, and is no longer driving meaningful subscriber acquisition or retention for an SVOD platform, it may find more value on a FAST platform where pure engagement is the most direct metric of success. A show like Amazon's Marvelous Mrs. Maisel showcases this strategy, and can be offloaded for a period of time to Freevee, which ensures that Amazon receives the advertising revenue for the title. 

Revenue
Linear television long subsisted on long-tails of revenue for major hits. A breakout broadcast original would eclipse 100 episodes on its original network and enter off-network syndication, where it was re-sold to basic cable, local broadcast or individual stations. DVD sales would contribute additional revenue as would VOD. With the advent of SVOD, streaming broadcast rights also represent another moneymaking opportunity in the lifelong monetization timeline of linear originals. 
But in the streaming era, digital originals are largely kept exclusive to one platform, eliminating all of those monetization windows and relying solely on platform subscription revenue for a return on investment. That math isn't exactly favorable. 
In 2012, Netflix and Disney signed a film licensing deal estimated to be worth up to $350 million annually. Fast forward and Disney lost out on more than $1 billion in Q2 2022 alone as it ended various licensing agreements. 
In 2014, Netflix signed a Pay-One licensing deal with Sony Pictures Animation, swiping the asset away from Starz in a moved that was estimated to be worth around $35 million per year. In 2021, Netflix signed a post-PVOD five-year film licensing agreement with Sony estimated to be worth $1 billion.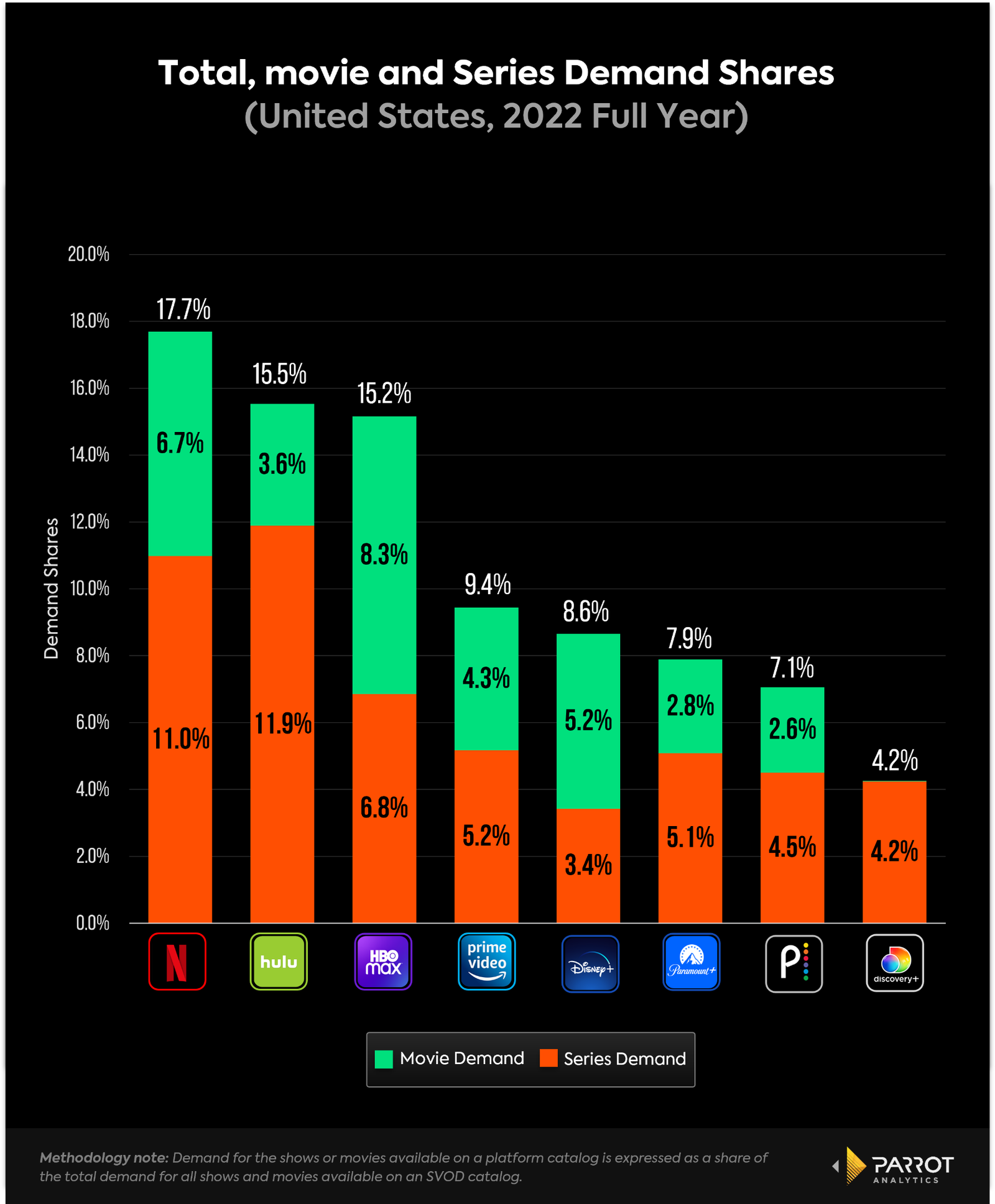 In 2021, Sony signed a Pay-Two window film licensing deal with Disney also estimated to be worth in the ten-figure range. For the fiscal year ending March 31, 2022, Sony Pictures Entertainment saw a 172% increase in operating income to $1.67 billion and a 55% increase in revenue to $9.5 billion. While Spider-Man: No Way Home had a lot to do with that, the company also credited higher licensing revenues from digital streaming services for film/TV titles and higher licensing revenues for catalog titles. The company again credited higher TV licensing in its Q1 2022 earnings. 
In Q2, 2022, Paramount Global reported that TV "licensing and other" revenues grew 27% year-over-year (and reached $2 billion by the end of the year's first half). Filmed "licensing and other" revenue was $1.0 billion for the first half of 2022. Fourth-quarter revenue at NBCU's studios unit increased 13.1% to $2.7 billion "due to higher content licensing and theatrical revenue." The former improved by 15.9 percent. 
Netflix would likely not be able to approach the high end of these revenue figures due to a lack of long-term library and platform-first priority. However, the last decade of licensing revenue history provides a range of lucrative floor-to-ceiling comparisons. 
Conclusion
Netflix benefits from being the market-leading streaming service with the most subscribers and largest library of originals, making it easier for the company to license content externally. But while HBO Max and other premium SVOD players may not be quite as large, that doesn't mean they can't also benefit from the same strategy. 
Whereas Netflix is the by-and-far leader in the originals space, new players in the streaming space that come from decades of linear television have the catalog offering to generate significant cash flow from licensing out an array of titles to invest new originals or other innovations. HBO Max, Paramount+, Peacock, and Hulu don't have to be the homes for every title within their parent company's catalog. Exclusivity is important, but so is strategic approaching to exclusivity.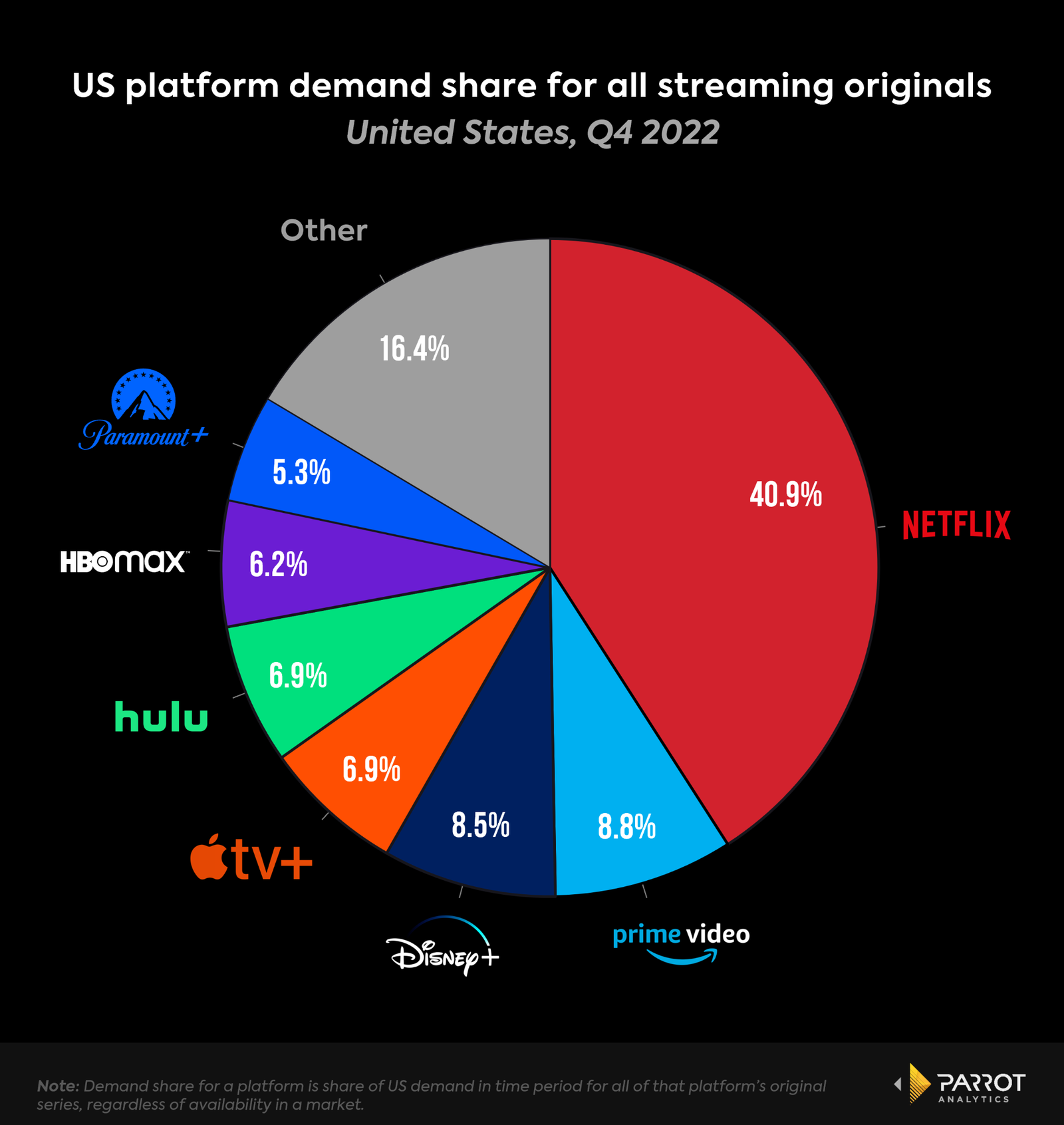 In-house growth will continue to be a priority across the industry; no company wants to entirely mortgage their future (and streaming very much remains the future) for short-term financial relief. But as profit and cash flow resume central focus during this ongoing transition from legacy entertainment to direct-to-consumer, reopening multiple windows of monetization (and promotion) can help increase revenues and audience awareness. It creates a longer lifespan of value for the content and the companies that spend lavishly to create them. 
What is old is new again and it's in the SVOD field's best interest to recreate the lucrative syndication system that benefitted linear television for decades. 
---