To say that a lot has happened to the entertainment industry and, subsequently, the streaming revolution, would be the definition of an understatement.
Netflix produced nearly 60% of its most in-demand premieres in 2022, and also saw its market cap fall more than $120 billion as Wall Street changed the fundamentals for measuring streaming success. Former Disney CEO Bob Iger returned as current CEO, with Bob Chapek leaving the company on the heels of Strange Worlds recording a $100 million loss, streaming costs bubbling up to $4.5 billion, and a 100% Hulu ownership on the horizon. Paramount+ and Peacock ushered in a return to live programming, instituting new strategies that will ideally separate them from other offerings. Apple TV+ started to find its groove, and Amazon Prime Video added to its franchise pile with new spinoffs of The Boys and The Lord of the Rings: The Power of the Rings. 
FAST and AVOD continued to make dents in streaming market share, theatricality rebounded compared to 2021 (although still lags behind 2019), and social video platforms like TikTok and YouTube continued to give traditional entertainment a run for its money when it comes to attention, but also helped create global zeitgeist moments that drove the success for several series, including Netflix's Wednesday. 
As we head into 2023, everything is going to become more turbulent. The ad market is softening as a recession looms over the United States and other parts of the globe. Cord cutting is accelerating, which removes the most sustainable part of revenue for many of these companies at a time when streaming is growing but not profitable. Stronger competition means that churn rates are increasing, going from 3% in January 2019 to 6% in September 2022. Higher interest rates amidst strong inflation means customers may have to make decisions about what streaming platforms to keep, which ones to get, and whether it's time to cut cable. 
A big part of looking forward is looking back and reflecting. Parrot Analytics' Brandon Katz, Industry Strategist, and Julia Alexander, Director of Strategy, write on the Biggest Trends and Biggest Lessons of 2022 and Biggest Projections for 2023. 
Content Is No Longer King
Never before in the history of Hollywood has there been a greater volume of high quality content than there is right now. Across broadcast, cable and streaming, a record 357 scripted series aired through the end of June this year, a 16% increase from the same span last year that puts Hollywood on pace to shatter its 2021 record of 559 scripted series. While the domestic box office still crawls its way back to pre-pandemic levels, US ticket sales year-to-date are at least up 85% vs. last year. 
This growth is reflected in our data as the average worldwide audience demand for the top 10 TV series from Jan. 1, 2022-Nov. 30, 2022 (64.96x) is 14% greater than the same span last year (56.98x). For movies, it's even more pronounced with 2022 average audience demand for the top 10 movies (66.22x) dwarfing 2021's (37.6x) by 76.1%.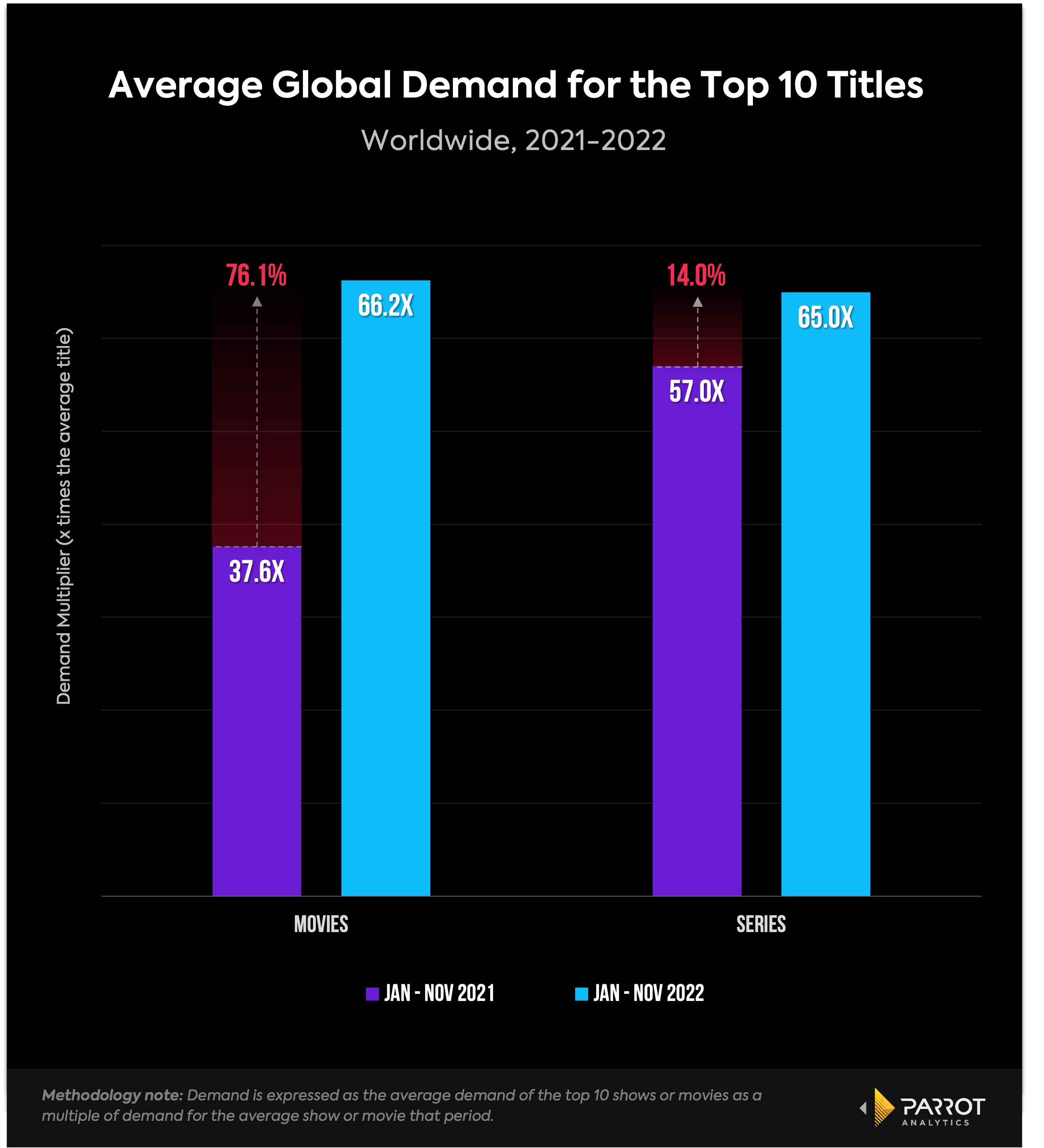 Yet despite the ever present march toward more, more, more — which includes the record-breaking performances of countless Netflix titles this year and waves of critical accolades and adulation splashing around the industry — Wall Street doesn't seem to care one bit. In fact, the biggest takeaway from 2022 is that Sumner Redstone's famous adage that "content is king" may no longer apply. 
"We are primarily a content company and the mechanisms for the monetization of content are in disarray," AMC Networks chairman James Dolan wrote in a dour memo to employees in late November. It might as well serve as a microcosm for the industry writ large.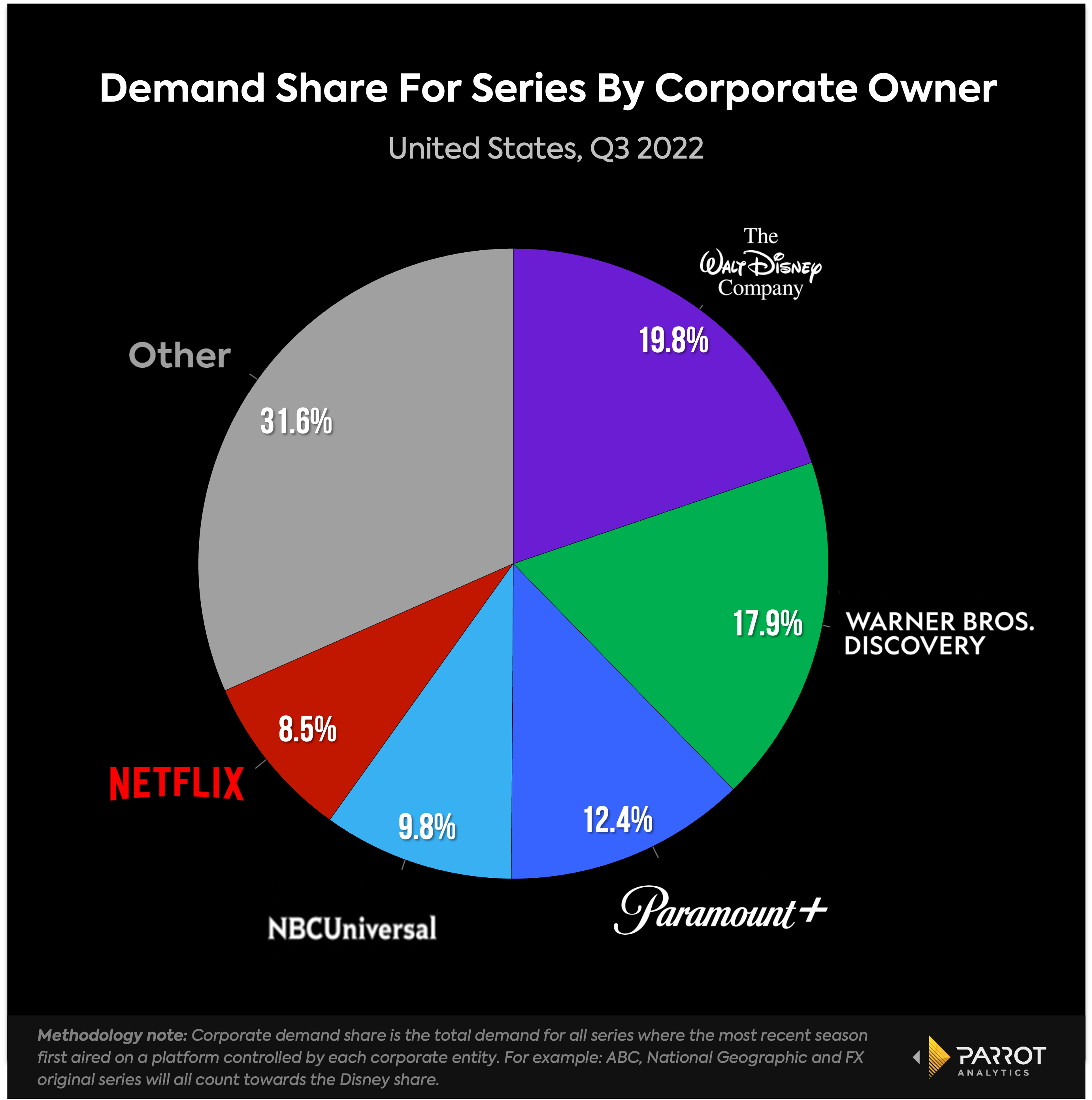 The five leaders in corporate demand share — which assesses companies as content creators for both in-house platforms and as licensers of content externally — this past quarter continue to churn out high profile titles, yet investors have seemingly lost faith. Wall Street pulled a dramatic 180 on direct-to-consumer business after Netflix lost subscribers for the first time in 10 years back in April. Investors have since reevaluated SVOD's global total addressable market, which some once forecasted to reach 1.25 billion worldwide subscriptions by 2024. This has coincided in a drop in worldwide original demand share for Netflix (45.1% to 40.9%) and HBO Max (6.9% to 5.7%) through the first three quarters of 2022.

With such lofty heights now potentially out of reach, attention has been refocused on streaming's business model…which has been found wanting. Netflix is the only premium SVOD service projected to be cash flow positive this year. As a result, share prices have fallen for all of the above companies in 2022 (as of Dec. 12). Nothing from the dominance of the NFL to the gallant return of Disney's golden goose Bob Iger has reversed the trend just yet:
Warner Bros. Discovery (-56%)*

Share Price as of Dec. 14: $10.96

Netflix (-47%)

Disney (-41%)

Paramount Global (-40%)

Comcast (-29%)
*April 4-Dec. 12
Total pay-TV subscriptions, which used to be the lifeblood of the industry's moneymaking efforts, have fallen by 15.4 million since Q3 2018. The percentage of American households that subscribe to the cable-TV bundle has fallen from 90% in 2010 to 55% this past quarter. In the same time, broadcast rights for major North American sports have tripled while the cost of scripted entertainment has ballooned (we love Stranger Things, by why does any show cost $30 million per episode?). 
"If the [literal] decimation of the cable ranks in 12 months' time isn't sufficiently alarming, try zooming out a bit," Sportico sports media reporter Anthony Crupi wrote in September. "In eight years' time, 35.1 million households have parted ways with the likes of Comcast, Spectrum, DirecTV and DISH Network, and while the initial defections were minimal—in the second quarter of 2015, the rate of churn worked out to less than 1%—the losses have mounted in conjunction with the proliferation of alternative viewing platforms."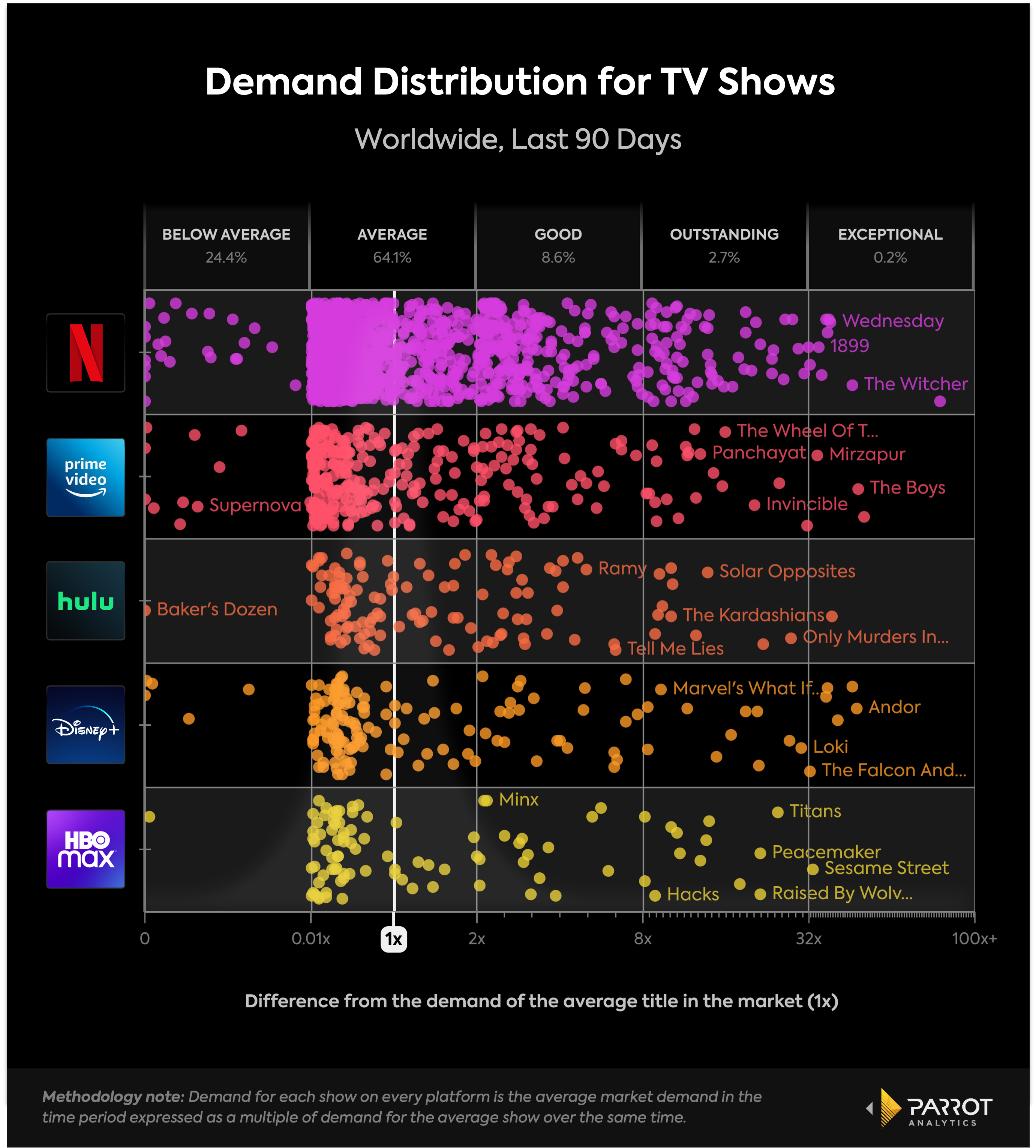 The acceleration of cord-cutting is eating into media margins and diminishing the resource pool companies use to subsidize the cash-burning transition to SVOD. The latter has not been able to offset the former as once hoped. Disney put the exclamation point on this trend by losing $1.5 billion on its direct-to-consumer division in just one quarter, contributing to the shocking ouster of former CEO Bob Chapek. 
All this compounds ongoing concern about how internet-delivered services tilts the balance of power in favor of the consumer, leading to volatile churn rates that put a ceiling on streaming's upside regardless of the faucet flow of attractive content.
"Stubbornly high churn may render streaming permanently unprofitable for some streamers, even at scale," Doug Shapiro, former chief strategy officer at Turner Broadcasting, wrote in November. "Although streaming is currently unprofitable for the big media companies, most expect it will become profitable as the business matures. If churn stays high this may prove wrong."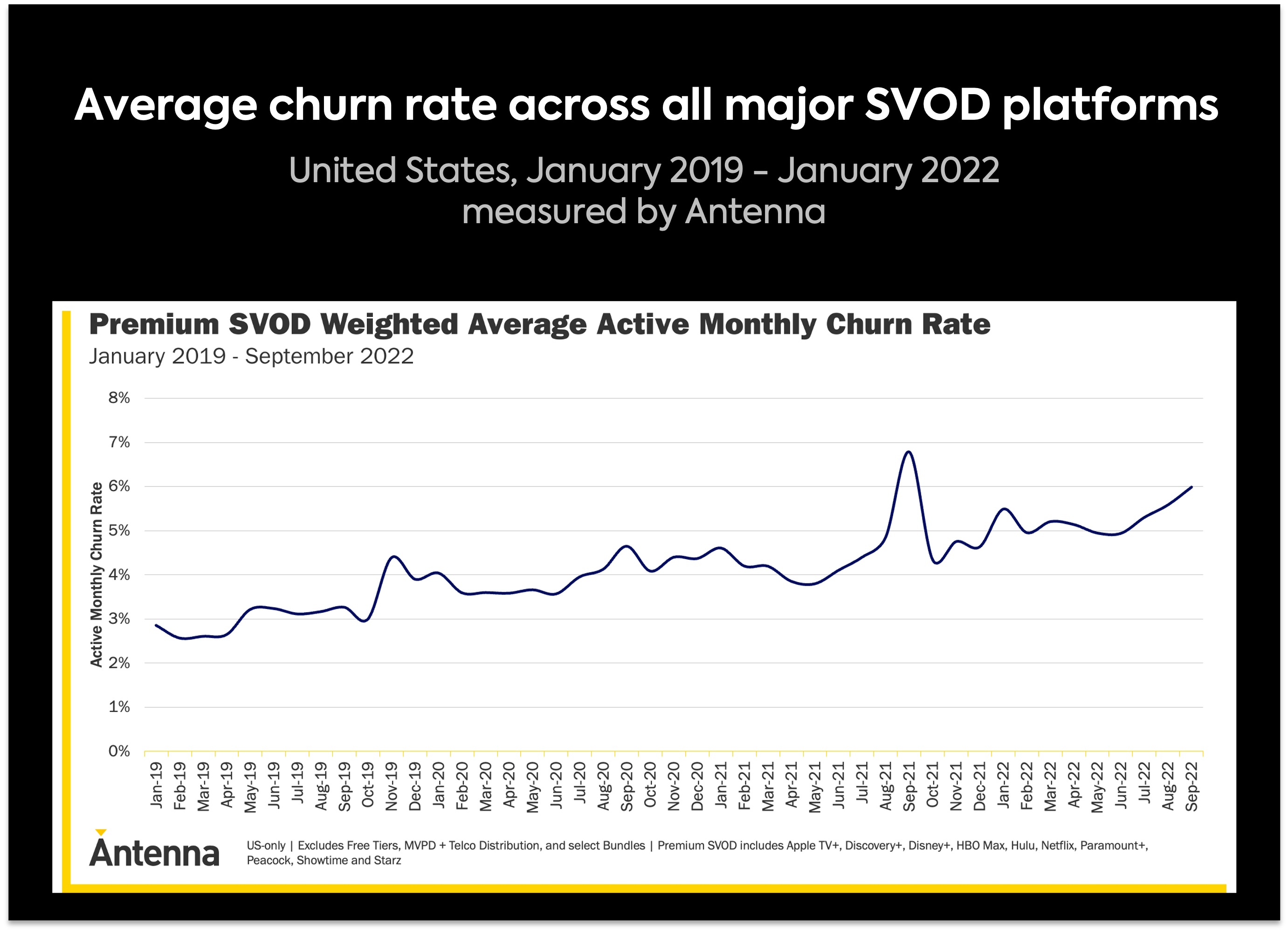 The average monthly churn rate for premium SVOD services in the US reached 5.8% in September, according to research firm Antenna. The market has seen steady year-over-year increases from 2019 (3.2%), 2020 (4.0%) and 2021 (4.5%). Netflix, long the industry leader in monthly churn rate, has seen its rate rise from an envy-inducing 2.0% in 2021 to 3.4% in Q2 2022 and 3.5% in Q3 2022. (Discovery+, Disney+, Showtime, Starz, Hulu and Paramount+ also saw their churn rates rise this year vs. 2021). 
If audiences will always flock toward in-demand shows and movies, as the industry has been conditioned to believe, then why are these churn spikes (and earlier subscriber losses) mounting as Netflix releases a handful of its top 10 most-watched films and series of all time this year? (The Gray Man, The Adam Project, Stranger Things 4, Dahmer, Wednesday, All of Us Are Dead and Extraordinary Attorney Woo). A January price hike helps explain the early year turnover; steady declines in audience demand for US originals partially accounts for the year-long trend.
With the domestic United States and Canada (UCAN) streaming markets largely saturated with competition and concerns about the comparatively smaller average revenue per user (ARPU) streaming totals overseas, industry pivots to compensate for the market downturn have raised more questions than answers thus far. 
From November to December, Netflix and Disney+ both introduced advertisement supported tiers in order to generate more revenue and hopefully reignite subscriber growth with more pricing flexibility. Yet these offers also carry the potential threat to impact the perceived value of the services, not to mention cannibalize too many premium subs and struggle to monetize in a weakened ad market. (Netflix's ad-tier is reportedly struggling to meet viewership guarantees to advertisers). Relatedly, Paramount Global CEO Bob Bakish recently said that the split between subscribers on the ad-supported tier vs. the premium tier for Paramount+ is roughly 50-50. Still, the company's D2C division has lost $1.24 billion in 2022 as of September 30.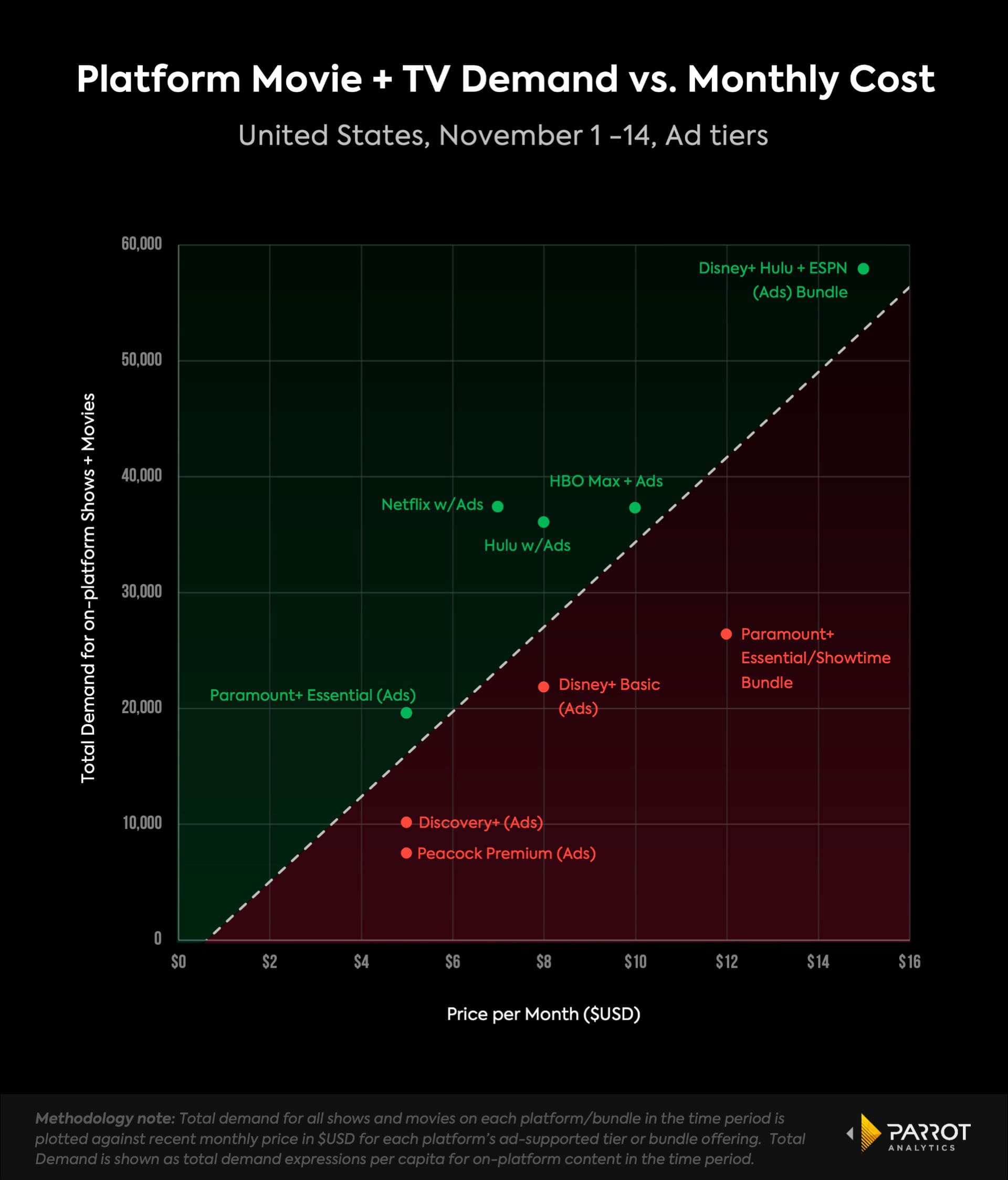 Zooming out, uncertainty remains as to how effectively companies can monetize successful free ad-supported streaming TV services (FASTs) networks such as Pluto TV and The Roku Channel. The US advertising economy shrank for the fifth consecutive month in October. That may only worsen if we enter a full fledged recession. 
Meta's gamble on the metaverse is burning tens of billions per year with questionable promise of future mainstream application (the company's stock is down 66% YTD). Perhaps unsurprisingly, major tech giants such as Apple aren't interested in chasing the metaverse in materially significant ways. Microsoft's attempt to double down on gaming with the $69 billion acquisition of Activision Blizzard is being met with resistance from the Federal Trade Commission. 
Even Universal, which has been the studio most committed to theatrical in the pandemic and currently leads the industry in 2022 domestic box office marketshare, is struggling with higher operating costs eating into profit (adjusted EBITDA fell 6% in Q3 in the studio division). Another example of a winning strategy (they're doing well theatrically!) falling prey to macroeconomic conditions. 
Again, audiences have more options available to them than ever before. Disney, Comcast, WBD, Amazon, Netflix, Paramount Global, Fox, Apple, Lionsgate and AMC Networks are estimated to spend $140 billion across entertainment and sports content in 2022. But the plethora of enticing titles are no longer enough to properly monetize large audiences in a way that consistently builds profit. The industry has evolved beyond "content is king" to focus far more on the underlying economics. The picture being painted isn't a pretty one and no company has figured out the right sales pitch to Wall Street just yet. 
Click here for Julia Alexander's biggest lessons of 2022.
Comedy Split + Genre Wars
The strategic allocation of content resources has taken on new importance as the entertainment media sector fights for financial stability. In other words, everyone is attempting to figure out the right combination that will lead to a knockout victory. As such, 2022 served as a testing ground for genre investment and scheduling. 
For example, the most in-demand subgenre in the United States in Q3 was the sitcom, outranking its global position (3rd) in the same timeframe. Perhaps this shouldn't be a surprise as the streaming rights to The Big Bang Theory ($1 billion-plus) The Office ($500 million), Seinfeld ($500 million) and Friends ($425 million) previously fetched massive nine- and ten-figure totals on the open market. These are all among the 100 most in-demand TV series in the US from Jan. 1, 2022-Dec. 9, 2022 as sitcoms in the US are in high supply and high demand. (The most popular sitcoms largely hail from broadcast and linear networks, highlighting the value the old guard still provides).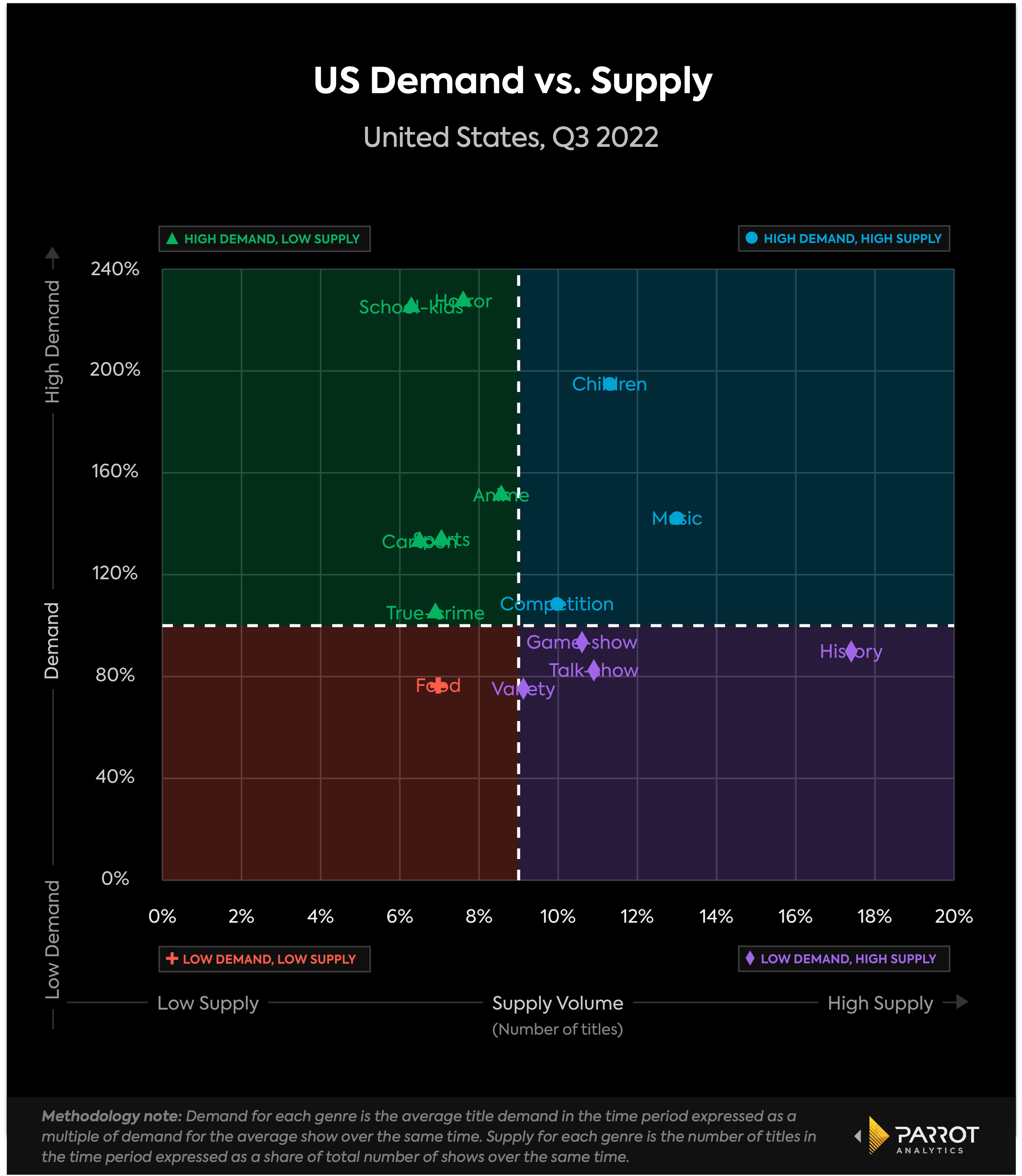 Globally, the comedy genre overall captured a 13.5% share of audience demand in Q3, the second largest behind only drama (39.2%). If we look at global demand vs. supply last quarter, we find that comedy is one of the most highly saturated genres in entertainment: 
High Demand/High Supply in UCAN

High Demand/High Supply in LATAM

High Demand/High Supply in Africa

High Demand/High Supply in Middle East

High Demand/High Supply in Asia

High Demand/High Supply in Europe
Yet when we hyper focus on the sitcom subgenre, we discover it is in low supply in every major market outside of the US (where it's in high supply):
High Demand/Low Supply in LATAM

High Demand/Low Supply in Africa

High Demand/Low Supply in Middle East

High Demand/Low Supply in Asia

High Demand/Low Supply in Europe
Streaming services have been largely unsuccessful in recreating the sitcom dynamic with a few exceptions that provide fresh reinterpretations of the genre such as Ted Lasso (Apple TV+), Only Murders in the Building (Hulu) and Big Mouth (Netflix). But there exists whitespace opportunity for direct-to-consumer platforms to invest more in sitcoms, which typically costs less to produce than drama and sci-fi, to help build marketshare in overseas regions. Sitcoms are often the sort of lean back laundry-folding television options that garner high engagement to help retain customers and reduce churn. Certain top tier sitcoms such as Seinfeld also help to acquire new customers.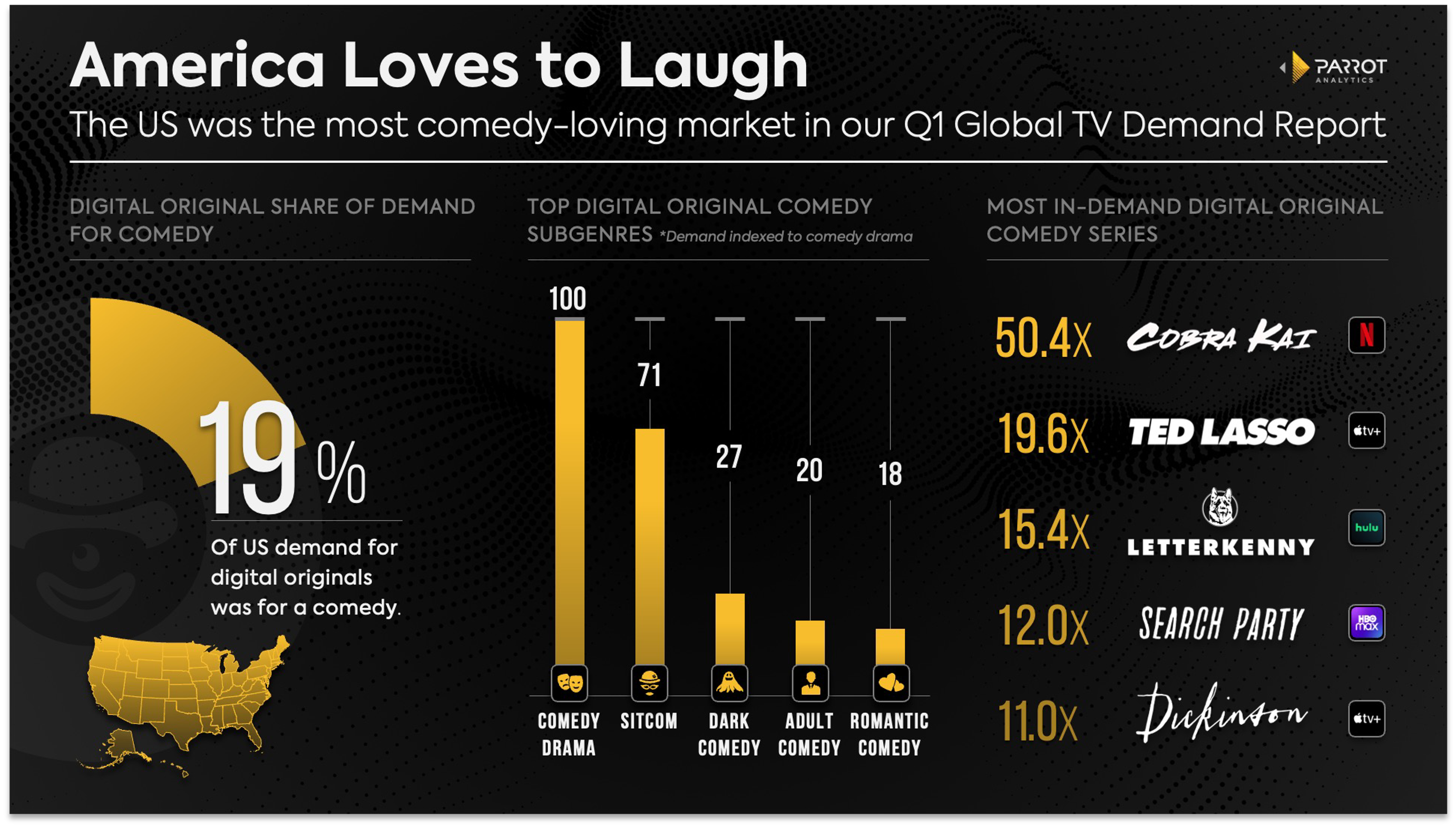 In the first year of its contract from October 2021 through October 2022, Seinfeld generated $106M in revenue contributions for Netflix. In other words, Netflix is getting almost exactly what the company paid for in global licensing rights. It was key for Netflix to pay $500 million for a five year deal in order to stay competitive in the sitcom space. 
Seinfeld is relatively better than a procedural like Grey's Anatomy at attracting new subscribers. More importantly, it's also better at engaging subscribers who are at high risk of churning.
There's also an argument to be made that broadcast and linear networks, long home to the biggest breakout sitcoms, should further emphasize this storytelling lane to secure high-upside overseas distribution (a strategy that generated the bulk of The CW's revenue prior to its sale to Nextstar). At least in the cases for companies whose international SVOD footprint remains minimal, such as NBCU (Peacock) and Paramount Global (Paramount+).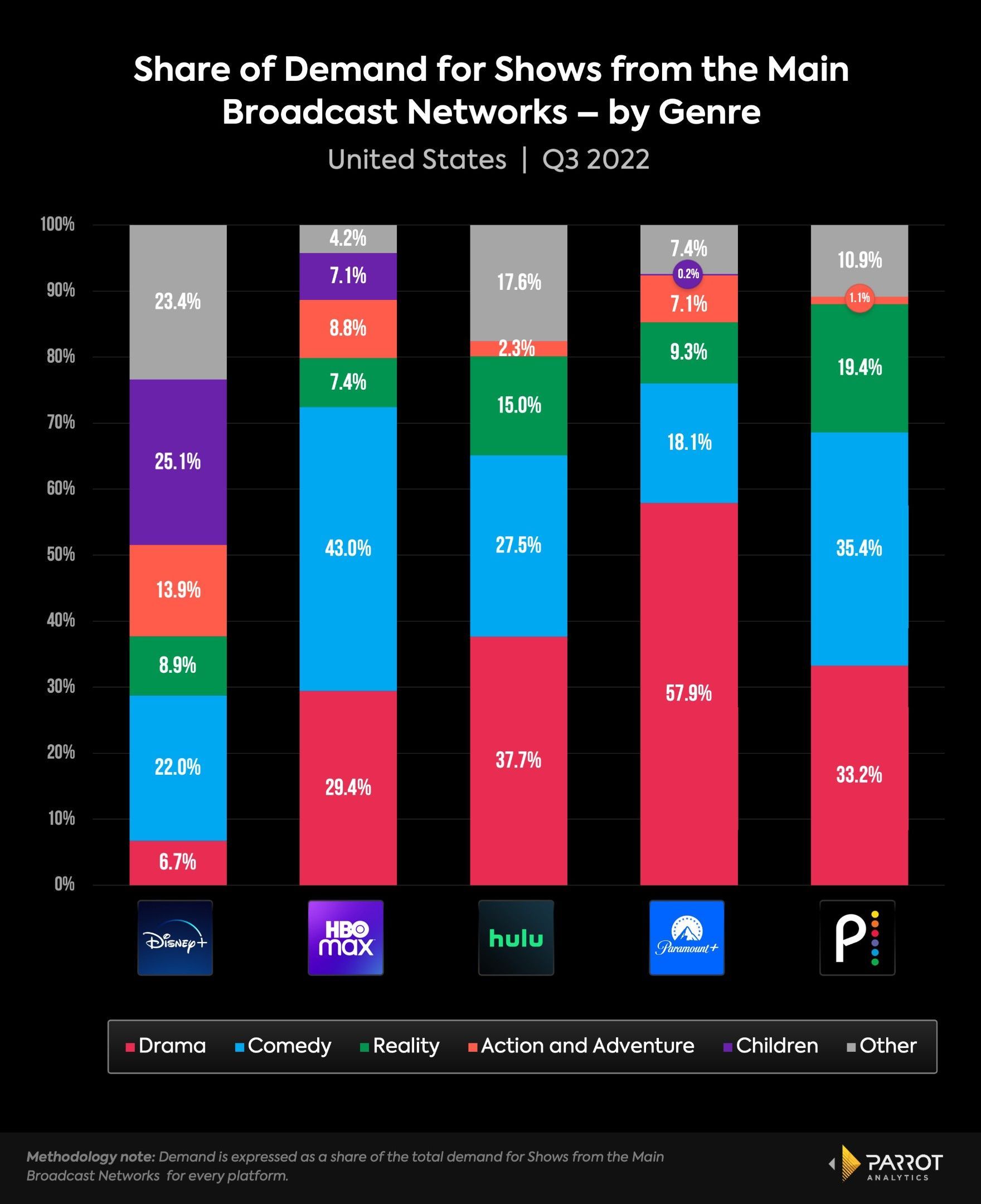 Elsewhere, the industry is also still figuring out how best to schedule its big budget home run swings that fall into the genre entertainment category (sci-fi, fantasy, serial killer, etc.). The summer into fall window included a deluge of high-profile and expensive genre entries: Ms. Marvel (Disney+), The Sandman (Netflix), House of the Dragon (HBO), She-Hulk: Attorney at Law (Disney+), The Lord of the Rings: The Rings of Power (Amazon Prime Video), Dahmer—Monster: The Jeffrey Dahmer Story (Netflix) and Andor (Disney+). These were largely among each platform's biggest bet of the year. (To say nothing of Netflix's Stranger Things 4 and Disney+'s Obi-Wan Kenobi going head-to-head over Memorial Day Weekend in May this year). 
Did the overlapping competition between many of these series across the June-September stretch help or hurt performance? Some may argue that the direct competition between series such as House of the Dragon and Rings of Power added an entire media cycle's worth of attention to both shows. From Jan. 1, 2022-Dec. 9, 2022 in the US, Rings of Power (10.61x), Ms. Marvel (10.88x), Andor (11.48x) The Sandman (11.6x), She-Hulk (14.62x), House of the Dragon (19.82x) and Dahmer (25.77x) all achieved outstanding levels of audience demand, putting them among the top 2.7% of all TV titles in the market in that span. Eight of the 10 most in-demand premieres of Q3 in the US were shows that premiered while House of the Dragon and Rings of Power were both still releasing episodes. That's good! 
However, Ms. Marvel, She-Hulk and Andor did not perform on the same level as previous Marvel and Star Wars series. HOTD is unsurprisingly far behind Game of Thrones in audience demand despite the lack of new episodes for the latter. And the peak US demand ranking for Rings of Power (#7), the most expensive series of all time, is behind Prime Video's other splashy fantasy series The Wheel of Time (#4) as well as flagship series The Boys (#2). 
While all of these series were successful in garnering audience demand in a vacuum, it can be argued that the avalanche of high-profile competition played a role in preventing some of them from reaching their ceilings. Similar to the swelling supply of Emmys hopefuls released in April and May earlier this year, some titles are inevitably overshadowed when the market is flooded with options in the same taste cluster. While individual companies can't always base its scheduling against the competition's, it's clear that the industry is still learning how to balance the new volume of blockbuster content across the release schedule in order to maximize visibility and exposure. 
Click here for Julia Alexander's biggest trends of 2022.
Further Integrating E-Commerce Packaging & Bundling
After making strides in 2022, Hollywood will continue further integrating commerce and layered experiences into media in 2023 in order to provide more value to consumers and unlock new revenue streams. 
This past year, Roku and Walmart partnered to offer a first-of-its-kind product discovery and expedited checkout experience via direct purchase from the streamer. Essentially, viewers can now click on a product advertisement and be taken directly to checkout, all within the same digital ecosystem. No clicking in and out of apps. This helps combine the targeting and optimization of connected TV advertising — an advantage ad-buyers love — with a shorter bridge between consumer and product. Expect additional retail giants and online platforms to strike similar agreements in the coming year. 
Speaking of Walmart, Walmart+ membership now features access to Paramount+. It's an effort to offer consumers an enticing bundle package (à la Amazon Prime and Apple One) and help the streamer with attempted scale. On the programming side, Paramount Global has also rolled out a Paramount+ with Showtime bundle as well. These strategies are designed to offer more services and content within one subscription, increasing the value perception in the eyes of consumers and reducing churn. Similarly, YouTube is even exploring streaming distribution packages to get in on the action. These are all ways to reduce risk in increasingly uncertain economic times, reach new pockets of consumers, and target new revenue streams. Expect creative partnerships to continue forming in the new year. 
Meanwhile, Disney+ subscribers received exclusive early access to Disney merchandise on the company's shopDisney e-commerce site in addition to limited offers of 25% select Disney resorts and parks. It's an attempt to further position the streamer as a driver of the company's contemporary flywheel. This isn't wholly unlike Amazon Prime members receiving 10% discounts at Whole Foods. Everyone at the intersection of Hollywood and Silicon Valley is trying to stack services on top of one another all for the convenient price of one subscription. 
Interactive shop-able media and offers that funnel users to other divisions within a company can help wring more revenue out of streaming platforms while also increasing usage and improving brand loyalty. It also offers unique opportunities for influencer-led brands such as Candle Media, which holds large stakes in Reese Witherspoon's Hello Sunshine and its waterfall of community brands such as Reese's Book Club and its assortment of consumer products, as well as Will Smith's Westbrook Inc. 
These are ways to add varied value that couples viewer behavior data with purchasable offers. The entire idea is to expand consumer's accessibility and experience while fully leveraging brand name IP by creating new avenues of engagement. This idea of eventizing the digital ecosystem is a theme former WarnerMedia CEO Jason Kilar touched on in a recent op-ed as he looked toward the future of the industry:
"Those entertainment companies that earn robust, authentic digital relationships with customers have the chance to deliver profoundly positive experiences and financially meaningful results. These experiences are likely to include digital theme parks (how fun would it be for kids to claim their dorm rooms at Hogwarts?), socially fulfilling videogames, digital goods and epic, live digital events that speak to the biggest of fans."
Though these efforts requires strong technological infrastructure, which is expensive and time consuming to establish, it is the next arena in which Hollywood heavyweights will be trading haymakers. 
Mergers & Acquisitions
Despite macroeconomic fears, the TMT sector's share price slide will present discounted value deals in the M&A market for companies with cash on hand. At least one of AMC Networks, Lionsgate, Paramount Global, Warner Bros. Discovery, Roku, or Netflix will be sold in the next 18 to 36 months. 
Meanwhile, the recent sale of 60% of Brad Pitt's production banner Plan B in a deal that valued the company at $300 million underscores the emphasis still being placed on smaller content funnels with proven track records and infrastructure. This opens the door for similar companies such as A24, Imagine Entertainment, Bron Media, NEON and others to potential explore a sale. At the same time, gaming remains the next big battleground of Hollywood, representing scale opportunities for several companies. 
A record $3 trillion in monetary volume involved in spin-offs or split-offs was announced in connection to 2021 merger and acquisition activity. This is particularly relevant to major companies such as Paramount Global (CBS) and NBCU (NBC) as they would potentially be required to separate from broadcast networks to receive regulatory approval for future deals. Elsewhere, Lionsgate has previously explored shedding Starz while Discovery was only able to scoop up Warner Bros. after AT&T spun-off the media company. 
NBCU owner Comcast is potentially waiting until Discovery makes Warner Bros. available in yet again in two years. AMC Networks' TV audience — comprised of 52% male viewers while millennials (33%) and Gen X+ (28%) are the two largest age demographics — pairs nicely with Paramount's 53% female audience with a strong overlap in GenX+ (29%). Though Netflix isn't interested in linear attachments, its 54% female audience stronger showing with Gen Z (24%) and Zennials (27%) would complement AMC's footprint with slightly older viewers. 
On the movie side, Lionsgate — home of the John Wick and Hunger Games franchise and long thought to be a potential acquisition target — has a 56% male movie audience with strong affinity in the millennial (30%) and Gen Z (26%) demos. As YouTube, TikTok and other short form content platforms continue to soak up attention marketshare, finding traditional media that appeals to younger viewers becomes increasingly valuable. Its library might be a fit with Netflix, whose movie audience skews female (51%) and surprisingly older (Gen X+ represents the platform's largest movie audience share at 27%). 
Disney has tried and failed in its prior forays into gaming which, along with succession, remains the one pock mark on Bob Iger's resume. Before his exit in two years, this could be a rough patch he looks to rectify to further monetize Disney's war chest of franchise IP. Nintendo's $40 billion in enterprise value may be too large to swallow for Disney's debt load (not to mention regulators), so taking Netflix's more focused route of snatching up a handful of moderately priced gaming studios could be the the desired strategy. Outside of gaming, Iger could bring former Disney execs Kevin Mayer and Tom Staggs back into the fold by acquiring their Candle Media. 
Toy company Hasbro ($12 billion enterprise value) recently put up TV and film outfit eOne for sale. The former would immediately boost any company's merchandise and consumer products division while the latter is a niche company with its hand in recent hits such as Yellowjackets, Naked and Afraid and The Woman King. 
As the ad market continues to weaken, Roku and its army of hardware alongside a sliding stock price will make a lot of sense for a bigger media player.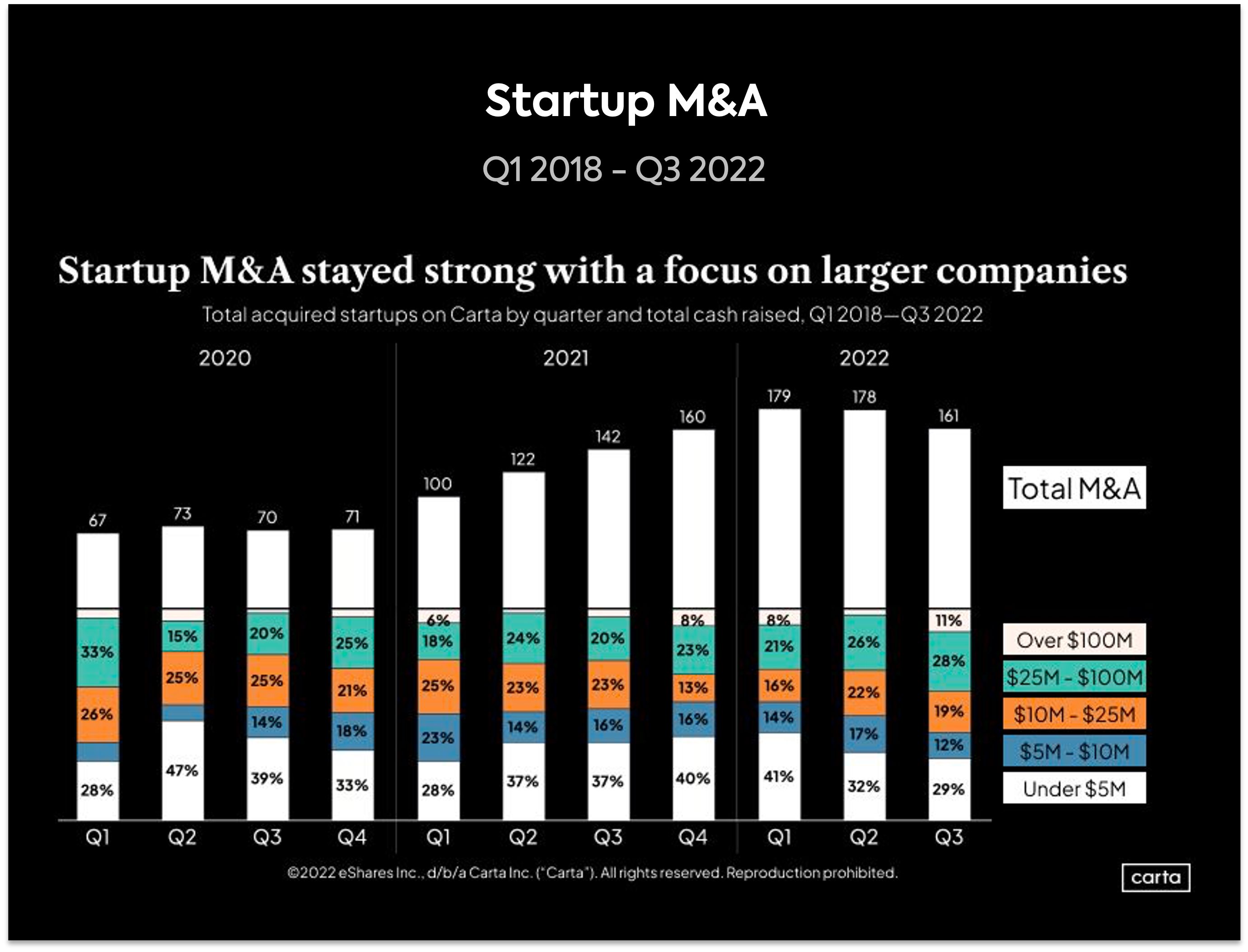 Carta data suggests the startup M&A market is still active, mostly concentrated in the $25 million-$100 million and $100 million-plus ranges (with under $5 million decreasing from Q1-Q3, though still heavy). It's worth noting that withdrawn volume accounted for around $700 billion in 2021, surpassing 2020, 2019 and the last five-year average ($628 billion) as more large deals face regulatory scrutiny, per JP Morgan. But 2023 can remain active in the smaller ranges with a select few grand scale deals.
Click here for Julia Alexander's biggest predictions for 2023.
Conclusion
Last year was one of great transition for the entertainment media industry. The status quo of the last several years, which saw streaming occupy the bulk of major media's core strategy, endured a massive reset. Though progress was made in certain sectors as the industry continues to recover from the pandemic, concern blankets many other crucial areas. Perhaps the defining trait of this past year was the pervading sense of uncertainty it cast on the future. Can streaming ever be profitable enough to offset the decline of legacy TV? Where does content fit in the hierarchy of this new world order? What is the future of theatrical? Questions abound. 
If the industry can learn from the biggest trends and lessons of the past 12 months, then 2023 can be a pivotal step forward. Carefully calculated scheduling and genre/sub-genre expansion in key markets, additional streaming tiers that provide financial flexibility rolled up into creative bundling, strategic consolidation and focus. The seeds of long term new visions realities will be watered in the upcoming year.
---